WolverineNation Mailbag
March, 14, 2012
3/14/12
10:54
AM ET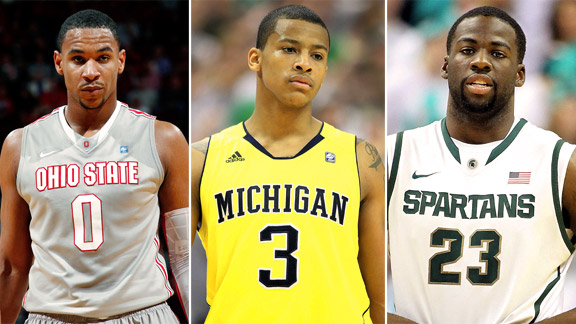 Getty Images/US Presswire/US PresswireMichigan needs to exceed NCAA expecations to prove it belongs with OSU and MSU.
Michigan has its men's basketball team in the NCAA tournament, its women's team in the NCAA tournament, its hockey team in the CCHA tournament, and spring football is right around the corner.
And on top of that, St. Patrick's Day is on Saturday and the sun has come out of hibernation in Ann Arbor. What more could anyone ask for?
Oh, a WolverineNation mailbag? Well, I've got you covered.
To continue reading this article you must be an Insider
Insider
Maryland Rallies Past Michigan
C.J. Brown and Wes Brown each rushed for a touchdown in the fourth quarter to help Maryland edge Michigan 23-16.
Maryland Rallies Past Michigan
VIDEO PLAYLIST
MICHIGAN FB RECRUITING SCORECARD
mikerothstein

Michael Rothstein


The #Lions defense struggles on defense for the first time all season: http://t.co/0bRQl5Aoas
about an hour ago

mikerothstein

Michael Rothstein


One thing the #Lions showed over the past two weeks -- how far they are from truly contending. Story: http://t.co/6KWQ0pevnv
about an hour ago

UMGoBlog

Michigan Football


Hi Zach
about an hour ago

bigtenconf

Big Ten Conference


Congratulations to @OhioState_MSOC for a successful 2014 season #B1GMSOC
about 3 hours ago

ChantelJennings

Chantel Jennings


The presser question to best all presser questions: "Mark Helfrich, which is your favorite: Jesus, girls or Marcus Mariota?"
about 3 hours ago

mikerothstein

Michael Rothstein


Good night from Gillette. #Lions #Patriots http://t.co/hOUmwB5TQC
about 4 hours ago

mikerothstein

Michael Rothstein


Checking on that playoff stuff now because there might be a mistake in there. Here's the ESPN standings right now http://t.co/wdgI0tjOfn
about 4 hours ago

mikerothstein

Michael Rothstein


As of right now, the #Lions tenuously hold the No. 6 spot in the NFC. Have tiebreak over Seattle b/c of strength of victory.
about 4 hours ago

bigtenconf

Big Ten Conference


.@OhioState_MSOC vs. Notre Dame has kicked off #B1GMSOC
about 5 hours ago

bigtenconf

Big Ten Conference


Congratulations to @MarylandMSoccer on a very successful 2014 season #B1GMSOC
about 5 hours ago

mikerothstein

Michael Rothstein


#Lions C Dominic Raiola cuts a #Patriots player on the game's final play. #Patriots player says it's boneheaded: http://t.co/Uu21VexcKN
about 5 hours ago

mikerothstein

Michael Rothstein


#Lions will stick with Joe Lombardi as offensive play caller and other notes after loss to #Patriots: http://t.co/57j9JP9K25
about 6 hours ago

mikerothstein

Michael Rothstein


This week's #Lions #Patriots game balls video, where I go with one of the only good things for Detroit: http://t.co/N4if0YYKyX
about 6 hours ago

mikerothstein

Michael Rothstein


The last time the #Lions went two straight weeks without an offensive touchdown was Sept. 3 to Sept. 10, 2000 via @ESPNStatsInfo
about 6 hours ago

mikerothstein

Michael Rothstein


From looking back at our internal numbers, can't find any point between 2001 & now the #Lions have gone back-to-back games w/o off touchdown
about 6 hours ago

bigtenconf

Big Ten Conference


.@MarylandMSoccer vs. UMBC is underway #B1GMSOC
about 7 hours ago

mikerothstein

Michael Rothstein


Caldwell said he won't think about changing play callers on offense. #Lions
about 7 hours ago

mikerothstein

Michael Rothstein


Rapid Reaction from the #Patriots' 34-9 win over the #Lions: http://t.co/q5c9zzAHpq
about 8 hours ago

mikerothstein

Michael Rothstein


That's #Patriots 34, #Lions 9. Eight quarters and counting without a TD or sack for the Lions
about 8 hours ago

RivalsFriedman

Adam Friedman


#Rivals100 TE Chris Clark "RT @Clark8Chris: I'll be at the #unc nc state game so hyped" @HeelIllustrated @RowlandRIVALS
about 8 hours ago

bigtenconf

Big Ten Conference


Ted Allen of @LifeAtPurdue is the host of "Chopped" on @FoodNetwork & contributes to @Esquiremag. #B1GAlumni http://t.co/NbRKBFyv9M
about 8 hours ago

bigtenconf

Big Ten Conference


Congratulations to @PennStateMSOC for a great 2014 season #B1GMSOC
about 8 hours ago

mikerothstein

Michael Rothstein


Through three quarters, #Lions targets: Tate 9, Calvin 6, Ross 3, Ebron 3, Riddick/Fuller/Fauria 2, Bell 1.
about 8 hours ago

mikerothstein

Michael Rothstein


That's seven quarters now without a touchdown or quarterback sack for the #Lions.
about 8 hours ago

mikerothstein

Michael Rothstein


#Lions LB Ashlee Palmer now OUT with brain injury.
about 9 hours ago

mikerothstein

Michael Rothstein


FWIW, Calvin Johnson was not in on that third down play. #Lions
about 9 hours ago

mikerothstein

Michael Rothstein


Tom Brady has 63 300 yard passing games in his career. Ties Dan Marino for No. 3 all-time. #Patriots #Lions
about 9 hours ago

bigtenconf

Big Ten Conference


Congratulations to @IUMensSoccer for a successful 2014 season #B1GMSOC
about 9 hours ago

mikerothstein

Michael Rothstein


The #Lions are also working on six-plus quarters without a quarterback sack along with the no touchdowns.
about 9 hours ago

bigtenconf

Big Ten Conference


.@PennStateWSOC defeats Virginia Tech, 2-1 to advance into the quarterfinals #B1GWSOC
about 9 hours ago

bigtenconf

Big Ten Conference


.@MSUmsoccer defeats Oakland, 1-0 to advance into the Third Round #B1GMSOC
about 9 hours ago

mikerothstein

Michael Rothstein


#Lions LB Josh Bynes, one of the guys down, popped back up. So did Darius Slay.
about 9 hours ago

mikerothstein

Michael Rothstein


Two #Lions look like they are down on the play.
about 9 hours ago

mikerothstein

Michael Rothstein


Tom Brady had 233 yards passing in the first half. The #Lions had 181 yards of offense in the first half. #Patriots
about 9 hours ago

mikerothstein

Michael Rothstein


The #Lions are at six quarters and counting with no touchdowns. At the half, #Patriots 24, #Lions 6.
about 9 hours ago

mikerothstein

Michael Rothstein


@GregBishopSI oh the calories!
about 10 hours ago

mikerothstein

Michael Rothstein


Theo Riddick's nine-yard run is a career-long. #Lions #NotreDame #run
about 10 hours ago

mikerothstein

Michael Rothstein


Tom Brady's passer rating (123.3) is higher than Matthew Stafford's passing yards right now (109). #Lions #Patriots
about 10 hours ago

bigtenconf

Big Ten Conference


.@PennStateMSOC vs. Syracuse has kicked off #B1GMSOC
about 10 hours ago

ChantelJennings

Chantel Jennings


A deeper dive into what FSU and UCLA's rankings on Tuesday will tell us about the committee and what it values: http://t.co/0RMXPmdBX8
about 10 hours ago

mikerothstein

Michael Rothstein


Kyle Van Noy looks like he'll be getting some run to start this series. #Lions
about 10 hours ago

ESPN_BigTen

ESPN BigTen


Big Ten Power Rankings: Week 13 http://t.co/McrTS00sBu
about 10 hours ago

mikerothstein

Michael Rothstein


#Lions LB Ashlee Palmer walking to the locker room right now. Was being evaluated for brain injury.
about 10 hours ago

MikeReiss

Mike Reiss


From @ESPNStatsInfo: LeGarrette Blount now has 8 rush TDs in 17 games with the Patriots and 15 TD in 51 games with all other teams.
about 10 hours ago

mikerothstein

Michael Rothstein


Golden Tate now has over 1,000 yards this season. First career 1K season. #Lions
about 10 hours ago

mikerothstein

Michael Rothstein


#Lions LB Ashlee Palmer being evaluated for head injury. Return questionable.
about 10 hours ago

mikerothstein

Michael Rothstein


Tom Brady was impressive on that drive. 6-8 on that drive (one incompletion was a drop) and Tim Wright was wide, wide open on the TD. #Lions
about 10 hours ago

mikerothstein

Michael Rothstein


The #Lions are using the three-safety nickel (the IAQ nickel) a lot today. Opened each drive with it.
about 10 hours ago

mikerothstein

Michael Rothstein


Riley Reiff (knee) questionable to return. He's holding his helmet on the sidelines, though. #Lions
about 11 hours ago

mikerothstein

Michael Rothstein


Ansah appears to be OK. He's back on the field to start this series. #Lions
about 11 hours ago

mikerothstein

Michael Rothstein


Reiff is working on get-offs off on the side here. #Lions
about 11 hours ago

mikerothstein

Michael Rothstein


Ezekiel Ansah being looked at by trainers for the #Lions
about 11 hours ago

bigtenconf

Big Ten Conference


.@IUMensSoccer vs. Xavier is underway #B1GMSOC
about 11 hours ago

bigtenconf

Big Ten Conference


.@MSUmsoccer vs. Oakland has kicked off #B1GMSOC
about 11 hours ago

mikerothstein

Michael Rothstein


It looks like doctors/trainers are looking at Reiff's left knee. #Lions
about 11 hours ago

mikerothstein

Michael Rothstein


Cornelius Lucas in at LT for Riley Reiff. #Lions
about 11 hours ago

bigtenconf

Big Ten Conference


.@PennStateWSOC vs. Virginia Tech is underway #B1GWSOC
about 11 hours ago

mikerothstein

Michael Rothstein


#Lions lose toss. #Patriots defer. Detroit getting ball first.
about 11 hours ago

mikerothstein

Michael Rothstein


Just a reminder, the #Lions have not had a rushing touchdown since Week 7 against New Orleans. Actually have been 13 quarters without one.
about 11 hours ago

DevG98

Devin Gardner


It's been such a true blessing to be apart of the Michigan family! Thank you to all of my brothers… http://t.co/9j5FSlyMKo
about 11 hours ago

BTN_Michigan

Big Ten Network


#Michigan news: Big Ten Power Rankings: Minnesota moves up to No. 4 this week http://t.co/I1SM7Y2Nl8
about 11 hours ago

mikerothstein

Michael Rothstein


From earlier, Reggie Bush inactive for #Lions: http://t.co/TmZ3ERqzA5
about 12 hours ago

BigTenNetwork

Big Ten Network


Here's where your team lands on our latest #B1G Power Rankings, presented by @ArcelorMittalUS http://t.co/9Ag33n2Iwx http://t.co/2YWBZiI7ln
about 12 hours ago

mikerothstein

Michael Rothstein


A Matthew Stafford conversation with Michelle Beadle: http://t.co/bYcutonyC6
about 12 hours ago

mikerothstein

Michael Rothstein


What to watch for today when the #Lions face the #Patriots: http://t.co/WM8g5FZa2U
about 12 hours ago

mikerothstein

Michael Rothstein


Inactives for #Lions: RB Reggie Bush, QB Kellen Moore, WR Ryan Broyles, TE Kellen Davis, DT Nick Fairley, RG Larry Warford, DE Larry Webster
about 12 hours ago

mikerothstein

Michael Rothstein


Reggie Bush inactive for Lions
about 12 hours ago

mikerothstein

Michael Rothstein


Reggie Bush just did some ladder drills and agility stuff. He's clearly testing the ankle right now. #Lions
about 13 hours ago

mikerothstein

Michael Rothstein


Reggie Bush is on the field with cleats and gloves. Isn't doing a ton else, though. #Lions
about 13 hours ago

bigtenconf

Big Ten Conference


Check out the football stat leaders with just 1 weekend remaining, beginning now @B1Gfootball.
about 13 hours ago

ESPN_BigTen

ESPN BigTen


Best of the visits: Big Ten http://t.co/V5r3llnawH
about 13 hours ago

mikerothstein

Michael Rothstein


Today's work view inside Gillette Stadium. #Lions #Patriots http://t.co/3fQx9Ax4a4
about 13 hours ago

ESPN_BigTen

ESPN BigTen


Playoff picture: Week 14 http://t.co/hcM6hyZ0sN
about 13 hours ago

mikerothstein

Michael Rothstein


Just saw Dominic Raiola jetting around outside Gillette Stadium on a cart getting a ride from one side to the other. #Lions
about 14 hours ago

mikerothstein

Michael Rothstein


Good morning from Foxboro or is it Foxborough? Anyway #Lions #Patriots http://t.co/Fm74gxZB0k
about 14 hours ago

BTN_Michigan

Big Ten Network


#Michigan news: How did we do? Week 13 Big Ten football predictions revisited http://t.co/1tXMdI7EpV
about 14 hours ago

bigtenconf

Big Ten Conference


Check out a rundown of yesterday's top performers on the football field, starting now @B1Gfootball.
about 14 hours ago

ESPN_BigTen

ESPN BigTen


Big Ten helmet stickers: Week 13 http://t.co/bAOBjnNN1i
about 15 hours ago

ScoutMichigan

Go Blue Wolverine


#GoBlue Kinnel Staying Mum On Future - With his team one game away from making a state championship appeara... http://t.co/SlhTONICQr
about 21 hours ago

DesmondHoward

Desmond Howard


A dominant performance by @MannyPacquiao (he scored 6 knockdowns) over Algieri.
about 23 hours ago

DesmondHoward

Desmond Howard


A dominant performance by @MannyPacquiao (he score 6 knockdowns) over Algieri.
about 23 hours ago

UMGoBlog

Michigan Football


Loss to Maryland Should Seal Brady Hoke's Fate http://t.co/HAeUrcDuxc
1 day ago

ChantelJennings

Chantel Jennings


P.S. If that quote isn't made into a shirt in the next 30 minutes, then the internet is useful for nothing.
1 day ago

ChantelJennings

Chantel Jennings


"Jesus, girls and Marcus Mariota." This sounds about right... http://t.co/gA5EoG7PWE
1 day ago

ScoutMichigan

Go Blue Wolverine


#GoBlue Gardner Leaves Big House in Defeat - Michigan QB Devin Gardner's final home game ends with a 23-16 ... http://t.co/mbfHn47OW5
1 day ago

DesmondHoward

Desmond Howard


WOW!! I can't believe that @USC_Athletics are getting beatdown by @UCLAFootball like this!
1 day ago

ScoutMichigan

Go Blue Wolverine


#GoBlue Recap: After U-M Loss, Retention Unlikely? - Michigan made some costly second half mistakes as the ... http://t.co/uegQcwub0T
1 day ago

DesmondHoward

Desmond Howard


There's a good chance we have a future U.S. president in @CokeZero #SectionZero today. http://t.co/Focmp5gLjX
1 day ago

DesmondHoward

Desmond Howard


A Heisman® pose for the highlight reel. #ShowYourHeismanSweeps 4Chance2Win @Cheezit. Rules: http://t.co/ilth2WTTre http://t.co/CFAPhk0Wcq
1 day ago

BigTenNetwork

Big Ten Network


See what grade @BTNTomDienhart gave your #B1G team in Week 13 - http://t.co/FPhGIn9uZs http://t.co/zoaUttn85b
1 day ago

BTN_Michigan

Big Ten Network


#Michigan news: Tom's Take: Week 13 Big Ten honors, grades, stock reports & numbers http://t.co/g2xJb8Hu2q
1 day ago

ScoutMichigan

Go Blue Wolverine


#GoBlue Hoke: 'We're Disappointed' - VIDEO: Brady Hoke addresses the media after Michigan's 23-16 loss to M... http://t.co/Euyzb3BBHM
1 day ago

ChantelJennings

Chantel Jennings


Oregon wins the games but Freeman wins the "postgame presser outfit" competition. #SleepIsForSuckers #NewLifeMotto http://t.co/6nZGDe44Nl
1 day ago

TimS_Wolverine

Tim Sullivan


LOL at the dude subtweeting me whining about putting up a news item… as he directly tweets at U-M players for not having heart. Winner.
1 day ago

ScoutMichigan

Go Blue Wolverine


#GoBlue Terps Sink Michigan, 23-16 - As the rain started pour down on Michigan stadium, the football team's... http://t.co/xeUFnfOvHZ
1 day ago

BTN_Michigan

Big Ten Network


#UMich video: Maryland at Michigan - Football Highlights http://t.co/KjSHKCLQxp
1 day ago

ESPN_BigTen

ESPN BigTen


What we learned in the Big Ten: Week 13 http://t.co/72eKuJadIO
1 day ago

ESPN_BigTen

ESPN BigTen


Video: Maryland 23, Michigan 16 http://t.co/yjNhuRBS2I
1 day ago

ESPN_BigTen

ESPN BigTen


Welcome to the new normal at Nebraska http://t.co/ITVSJcwm6A
1 day ago

ESPN_BigTen

ESPN BigTen


Video: No. 16 Wisconsin 26, Iowa 24 http://t.co/7P5G9bSkrL
1 day ago
BLOG ARCHIVE:
CATEGORIES: