Michigan predictions for 2014: No. 4
March, 18, 2014
3/18/14
9:30
AM ET
There's quite a bit we've already learned about Michigan through this 2014 spring season and the scrimmage will reveal even more. However, this spring really only matters because it's a launching point for what happens next season.. So, to look forward to next fall, here are five predictions for Michigan football in 2014.
No. 4: Derrick Green and De'Veon Smith will account for at least 150 yards in eight games in 2014.
Why:
Offensive coordinator Doug Nussmeier believes in a running back by committee game plan, which was a huge change from the featured back days of Al Borges.
Nussmeier said that he likes to spread the carries around so that it's not just one guy taking the pounding on every down, which means he intends for his running backs to run. That wasn't always the case last season. Likely, the two backs carrying the most load will be Green and Smith.
[+] Enlarge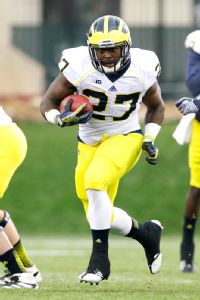 AP Photo/Nam Y. HuhDerrick Green is expected to share the rushing load with De'Veon Smith this season.
Both showed promise last season and with another year under their belts of training and conditioning, they should be able to come into the fall more prepared for the daily grind. Green had 83 carries for 270 yards (3.3 yards) while Smith had 26 carries for 117 yards (4.5 yards).
What's impressive about those numbers is how little negative yardage the two had as freshmen. Green accounted for a loss of 20 yards, which means he accounted for one loss of a yard for every 13.5 yards he gained. Smith accounted for a loss of 2 yards, which means he accounted for a loss for every 58.5 yards gained.
Fitzgerald Toussaint
, the Wolverines' featured back last season, accounted for a loss of 78 yards while gaining just 648 yards meaning he accounted for one yard of loss for every 8.3 yards he gained.
Toussaint carried the ball so much more frequently than either Green or Smith. But it does show that when given the opportunity, both Green and Smith were more productive -- in limited action -- than Toussaint.
But, like last season, that won't matter quite as much as the offensive line. If 2013 taught Michigan fans anything it was that a subpar O-line can railroad a team that has weapons. The Wolverines had two great tackles, but the interior of the line was in constant state of change and because of that the offensive didn't really get going until November.
Because of injuries, there's a decent chance the Wolverines won't actually be able to put their best five offensive linemen on the field together until fall camp. But even if they manage to do that, they'll be ahead of where they were last year. If and when the O-line pulls it together, Green and Smith can get to work.
Stats to know:
Looking at how many rushing yards opponents allowed is a good gauge, but it's all on a sliding scale. If a team allowed 250 passing yards a game then teams might not have rushed against them as much because there was little reason. However, a team might've been stout in the secondary and porous on the defensive line.
So with that in mind, here are the rushing yards per game as well as the yards per rush (which give a better idea of exactly how well teams defended the run). But again, since opponents differ, Miami (Ohio) giving up 5.1 yards per rush last year -- mostly to MAC teams -- is quite different that Indiana giving up 5.4 yards per rush mostly in the Big Ten.
Appalachian State: 220 rushing yards per game | 4.9 yards per rush
Notre Dame: 168 rushing yards per game | 4.2 yards per rush
Miami (Ohio): 223 rushing yards per game | 5.1 yards per rush
Utah: 130 rushing yards per game | 3.5 yards per rush
Minnesota: 158 rushing yards per game | 4.5 yards per rush
Rutgers: 101 rushing yards per game | 3.1 yards per rush
Penn State: 144 rushing yards per game | 3.9 yards per rush
Michigan State: 86 rushing yards per game | 2.8 yards per rush
Indiana: 238 rushing yards per game | 5.4 yards per rush
Northwestern: 167 rushing yards per game | 4.2 yards per rush
Maryland: 149 rushing yards per game | 3.7 yards per rush
Ohio State: 109 rushing yards per game | 3.3 yards per rush
Just by looking at those numbers, it's pretty obvious that Smith and Green will have a harder time against Utah, Michigan State and Ohio State. There's a greater chance that the duo won't hit 150 in those games and since they are young, it's likely that there'll be another game where they miss that mark as well .
Another important number to consider when looking at rushing stats is how many times defenses held offenses to no gain or negative rushes. Again, no surprise here that Michigan State leads the Wolverines' 2014 opponents in that category.
In 2013, the Spartans stopped opposing offenses at the line of scrimmage, or behind it, 131 times. What some people might find surprising is that Maryland did the same. The Terrapin defense accounted for 131 stops like that. Teams like Indiana (101), Northwestern (106) and Notre Dame (107) weren't as strong in that category.
By looking at yards per rush as well as how often defenses stopped offenses at the line of scrimmage, there's a pretty good indicator of the games when Smith and Green could go off for major yardage -- Indiana, Miami (Ohio), Northwestern.
The countdown:
Michigan C Cites Concussions In Decision To Quit
BIG TEN SCOREBOARD
Thursday, 9/3
Friday, 9/4
Saturday, 9/5
Sunday, 9/6
Monday, 9/7