B1G coaches should heed Meyer challenge
February, 8, 2013
2/08/13
8:00
AM ET
From the moment Urban Meyer became Ohio State's coach, the Big Ten recruiting landscape began to shift.
How many times in the past 14 months have you read about the "Meyer Effect" or the "SEC-style recruiting" Meyer has brought to a stodgy league? Meyer made a splash during the weeks after his hiring by flipping several recruits who had been committed to other Big Ten programs, leading some to criticize him for violating the mythical agreement between Big Ten coaches to leave recruits alone. Meyer engaged in less intra-league recruit-flipping in the most recent recruiting cycle. He merely signed a decorated class that stacks up with any in the country.
Ohio State's recruiting is on the upswing. The same goes for the Buckeyes' archrival, Michigan, which also signed a top-10 class Wednesday. But the rest of the Big Ten isn't nearly as relevant on the national scale. The Big Ten had
only four classes rank in the top 25

, according to ESPN Recruiting Nation. While some classes drew better marks from other recruiting services, no one can argue the Big Ten is the nation's bigwig recruiting conference. In fact, it's probably fourth behind the SEC, ACC and Big 12.
[+] Enlarge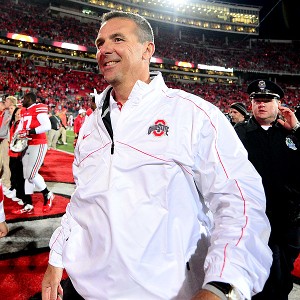 Andrew Weber/US PresswireUrban Meyer's success on and off the field ought to keep his Big Ten colleagues from tuning him out.
Meyer thinks this is a big problem. How big? He intends to address recruiting directly with the other Big Ten coaches when they hold their annual business meeting Monday at league headquarters in Park Ridge, Ill.
As you've likely heard by now, Meyer told
97.1 The Fan in Columbus

on Thursday that
the Big Ten needs to pick it up
on the recruiting trail.
"Our whole conversation [at the Big Ten coaches meeting] needs to be about 'How do we recruit?'" he told the radio station. "When you see 11 of the SEC teams are in the top 25 that's something that we need to continue to work on and improve."
He called the recruiting discussion "essential," and he'll spearhead it Monday.
How will his colleagues react? Meyer is relatively new to the Big Ten (although so are most of the league coaches), and he hasn't exactly made a ton of friends with his recruiting approach. These coaches are competitive, prideful men, and they might not respond well to a guy challenging their recruiting performance, even if that guy is, for the most part, getting the better of them on the trail. They don't want to be told how to do their jobs.
Expect a few eye-rolls in Park Ridge on Monday.
But the recruiting discussion is important, along with the many other big-ticket items -- number of league games, future division alignment, etc. -- that must be addressed. The current approach around the league doesn't seem to be working all that well. And while Meyer might not be Mr. Popular, he's also the only guy in the room to have won a national championship as a head coach (two of them, in fact). He's a fiercely competitive recruiter who emphasizes and embraces the process. And he also went 12-0 in his first season as a Big Ten coach.
How can the Big Ten collectively improve in recruiting? There's no easy answer, but there's no doubt the league has to improve. Campuses can't be relocated, but strategies can be changed. As Scott Dochterman detailed,
Big Ten teams are spending more on recruiting
than ever.
It'll be fascinating to see how Meyer's challenge is received. Every Big Ten coach understands recruiting is important. But the Big Ten culture is still largely rooted in player development, and there are quite a few coaches in the league who are turned off by elements of recruiting, whether it's the star system, the hat dances on signing day or recruits committing and decommitting left and right. Ask yourself: How many Big Ten coaches truly love recruiting? Now compare that number to the coaches in the SEC and ACC.
Meyer is one of the few Big Ten coaches I've covered who often references the star system when discussing recruits. Does that make him a better recruiter? No. But he's very much aware of the modern recruiting landscape -- the good, the bad and definitely the ugly -- and doesn't dismiss it as nonsense. Michigan's Brady Hoke also has this awareness, although he's much more understated about it.
Meyer doesn't have all the answers, but his approach works. Like it or not, the Big Ten coaches should embrace the recruiting discussion. Something has to change.
Michigan C Cites Concussions In Decision To Quit
BIG TEN SCOREBOARD
Thursday, 9/3
Friday, 9/4
Saturday, 9/5
Sunday, 9/6
Monday, 9/7