Exit Interview: QB Jack Kennedy
February, 12, 2013
2/12/13
9:10
AM ET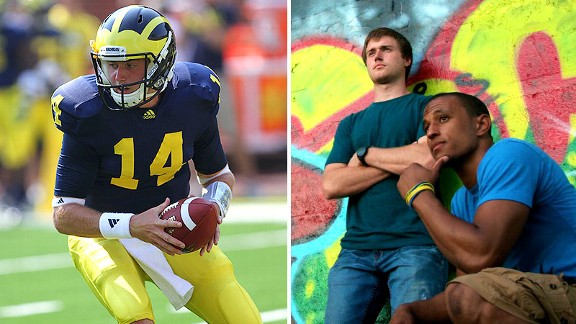 Icon SMI, Courtesy of Ryan DoyleJack Kennedy the performer (with WR Joe Reynolds) has a brighter future than Kennedy the QB.
'Exit Interview' is a concept started at WolverineNation last year where we chat with players leaving Michigan about their experiences with the Wolverines and in some cases, what's next.
Quarterback Jack Kennedy didn't play much at Michigan, with one pass completion for 7 yards and one carry for 6 yards. But Kennedy ended up fairly well known with the Wolverines not because of his play on the field, but for his ability to rap and his musical duo with Michigan wide receiver Joe Reynolds, JDK and Rey.
Q: You had a different career than most because of your music. How would you describe your career?
To continue reading this article you must be an Insider
Insider
Maryland Rallies Past Michigan
C.J. Brown and Wes Brown each rushed for a touchdown in the fourth quarter to help Maryland edge Michigan 23-16.
Maryland Rallies Past Michigan
VIDEO PLAYLIST
MICHIGAN FB RECRUITING SCORECARD
mikerothstein

Michael Rothstein


Just saw Dominic Raiola jetting around outside Gillette Stadium on a cart getting a ride from one side to the other. #Lions
6 minutes ago

mikerothstein

Michael Rothstein


Good morning from Foxboro or is it Foxborough? Anyway #Lions #Patriots http://t.co/Fm74gxZB0k
10 minutes ago

BTN_Michigan

Big Ten Network


#Michigan news: How did we do? Week 13 Big Ten football predictions revisited http://t.co/1tXMdI7EpV
23 minutes ago

bigtenconf

Big Ten Conference


Check out a rundown of yesterday's top performers on the football field, starting now @B1Gfootball.
36 minutes ago

ESPN_BigTen

ESPN BigTen


Big Ten helmet stickers: Week 13 http://t.co/bAOBjnNN1i
about an hour ago

ScoutMichigan

Go Blue Wolverine


#GoBlue Kinnel Staying Mum On Future - With his team one game away from making a state championship appeara... http://t.co/SlhTONICQr
about 7 hours ago

DesmondHoward

Desmond Howard


A dominant performance by @MannyPacquiao (he scored 6 knockdowns) over Algieri.
about 8 hours ago

DesmondHoward

Desmond Howard


A dominant performance by @MannyPacquiao (he score 6 knockdowns) over Algieri.
about 8 hours ago

UMGoBlog

Michigan Football


Loss to Maryland Should Seal Brady Hoke's Fate http://t.co/HAeUrcDuxc
about 9 hours ago

ChantelJennings

Chantel Jennings


P.S. If that quote isn't made into a shirt in the next 30 minutes, then the internet is useful for nothing.
about 10 hours ago

ChantelJennings

Chantel Jennings


"Jesus, girls and Marcus Mariota." This sounds about right... http://t.co/gA5EoG7PWE
about 10 hours ago

ScoutMichigan

Go Blue Wolverine


#GoBlue Gardner Leaves Big House in Defeat - Michigan QB Devin Gardner's final home game ends with a 23-16 ... http://t.co/mbfHn47OW5
about 11 hours ago

DesmondHoward

Desmond Howard


WOW!! I can't believe that @USC_Athletics are getting beatdown by @UCLAFootball like this!
about 11 hours ago

ScoutMichigan

Go Blue Wolverine


#GoBlue Recap: After U-M Loss, Retention Unlikely? - Michigan made some costly second half mistakes as the ... http://t.co/uegQcwub0T
about 12 hours ago

DesmondHoward

Desmond Howard


There's a good chance we have a future U.S. president in @CokeZero #SectionZero today. http://t.co/Focmp5gLjX
about 12 hours ago

DesmondHoward

Desmond Howard


A Heisman® pose for the highlight reel. #ShowYourHeismanSweeps 4Chance2Win @Cheezit. Rules: http://t.co/ilth2WTTre http://t.co/CFAPhk0Wcq
about 12 hours ago

BigTenNetwork

Big Ten Network


See what grade @BTNTomDienhart gave your #B1G team in Week 13 - http://t.co/FPhGIn9uZs http://t.co/zoaUttn85b
about 12 hours ago

BTN_Michigan

Big Ten Network


#Michigan news: Tom's Take: Week 13 Big Ten honors, grades, stock reports & numbers http://t.co/g2xJb8Hu2q
about 12 hours ago

ScoutMichigan

Go Blue Wolverine


#GoBlue Hoke: 'We're Disappointed' - VIDEO: Brady Hoke addresses the media after Michigan's 23-16 loss to M... http://t.co/Euyzb3BBHM
about 13 hours ago

ChantelJennings

Chantel Jennings


Oregon wins the games but Freeman wins the "postgame presser outfit" competition. #SleepIsForSuckers #NewLifeMotto http://t.co/6nZGDe44Nl
about 13 hours ago

TimS_Wolverine

Tim Sullivan


LOL at the dude subtweeting me whining about putting up a news item… as he directly tweets at U-M players for not having heart. Winner.
about 13 hours ago

ScoutMichigan

Go Blue Wolverine


#GoBlue Terps Sink Michigan, 23-16 - As the rain started pour down on Michigan stadium, the football team's... http://t.co/xeUFnfOvHZ
about 14 hours ago

BTN_Michigan

Big Ten Network


#UMich video: Maryland at Michigan - Football Highlights http://t.co/KjSHKCLQxp
about 14 hours ago

ESPN_BigTen

ESPN BigTen


What we learned in the Big Ten: Week 13 http://t.co/72eKuJadIO
about 14 hours ago

ESPN_BigTen

ESPN BigTen


Video: Maryland 23, Michigan 16 http://t.co/yjNhuRBS2I
about 14 hours ago

ESPN_BigTen

ESPN BigTen


Welcome to the new normal at Nebraska http://t.co/ITVSJcwm6A
about 14 hours ago

ESPN_BigTen

ESPN BigTen


Video: No. 16 Wisconsin 26, Iowa 24 http://t.co/7P5G9bSkrL
about 14 hours ago

ChantelJennings

Chantel Jennings


Oregon jumbotron had Western Carolina up four on Alabama. The Oregon fans were quite a bit excited... too bad it's not true. At all.
about 14 hours ago

TimS_Wolverine

Tim Sullivan


The worst part of a school (any school) losing a commit is the sprouting all these dumbasses on Twitter who talk crap.
about 15 hours ago

ESPN_BigTen

ESPN BigTen


Melvin Gordon has TIED the B1G single-season rushing record set in 1996 by Ron Dayne with 2,109 yards. Wiscy took a knee late, gets the W
about 15 hours ago

ChantelJennings

Chantel Jennings


Michigan congressman -> RT @john_dingell Go... Blue?
about 15 hours ago

TimS_Wolverine

Tim Sullivan


Story on Mike Weber's decommitment from Michigan: https://t.co/z0W06sDZhD
about 15 hours ago

ChantelJennings

Chantel Jennings


Oregon takes a 37-3 lead over Colorado (could be 51-3...). Really curious what an Oregon-FSU semifinal would look like. #TBTtoBamaUND2013
about 15 hours ago

ESPN_BigTen

ESPN BigTen


FINAL: Maryland 23, Michigan 16. Terps move to 7-4. Wolverines need to upset OSU to get to a bowl.
about 15 hours ago

umichfootball

Michigan Football


Final: Maryland 23 - Michigan 16
about 15 hours ago

UMGoBlog

Michigan Football


Game over Maryland 23 Michigan 16 #GoBlue
about 15 hours ago

UMGoBlog

Michigan Football


RT @TheBlockhams: A thousand words. He knows. http://t.co/07WCJctsvc
about 15 hours ago

UMGoBlog

Michigan Football


The Hoke era is evaporating before our eyes #GoBlue
about 15 hours ago

ChantelJennings

Chantel Jennings


Ohhhhh. Interesting... RT @SprowESPN Florida State vs Arkansas on a neutral field next Saturday. Spread?
about 15 hours ago

umichfootball

Michigan Football


Turnover on downs, Maryland will take over at their own 49 yard line with 4:16 to play.
about 15 hours ago

UMGoBlog

Michigan Football


Michigan turns it over on downs #GoBlue
about 15 hours ago

UMGoBlog

Michigan Football


Ugh RT @mikeweber25: I'm decommitting from UM thank you Michigan for the love and support I'll remake my decision at the army bowl
about 15 hours ago

ESPN_BigTen

ESPN BigTen


More bad news for U-M. Just as Terps take the lead - putting a dent in U-M's bowl hopes - a 4-star recruit decommits https://t.co/1OtjyrdbkW
about 15 hours ago

mikeweber25

Mikey


I'm decommiting from the university of Michigan thank you Michigan for the love and support I'll remake my decision at the army bowl
about 15 hours ago

ESPN_BigTen

ESPN BigTen


3rd-and-15 -- and Rudock scrambles for a first down. Great awareness. This game isn't over just yet ...
about 15 hours ago

ChantelJennings

Chantel Jennings


I get that FSU is undefeated. But seriously, what top 10 (top 20?) team wouldnt be against that schedule? Heck, I bet Marshall would be too.
about 15 hours ago

UMGoBlog

Michigan Football


Michigan's trip to the Quick Lane Bowl is in jeopardy #GoBlue
about 15 hours ago

BTN_Michigan

Big Ten Network


TD MD: 1-yd run by W Brown. Q4: MD 23, MICH 16 LIVE STREAM: http://t.co/0d0Kx2WepQ
about 15 hours ago

umichfootball

Michigan Football


Touchdown, Maryland. Terps now lead 23-16 with 5:59 to play.
about 15 hours ago

UMGoBlog

Michigan Football


Maryland 23 Michigan 16 5:59 Q4 #GoBlue
about 15 hours ago

UMGoBlog

Michigan Football


TD Maryland #GoBlue
about 15 hours ago

ESPN_BigTen

ESPN BigTen


Maryland takes the lead on a Wes Brown TD with six minutes to play. 22-16 with extra point coming soon.
about 15 hours ago

BTN_Michigan

Big Ten Network


C Brown hits A Etta-Tawo on 36-yd pass. Brown 165 yds passing. Q4: MD 16, MICH 16 LIVE STREAM: http://t.co/0d0Kx2WepQ
about 15 hours ago

UMGoBlog

Michigan Football


Maryland receiver WIDE OPEN 1st Down and goal at the 3 #GoBlue
about 15 hours ago

UMGoBlog

Michigan Football


1st Down Maryland at the 32 #GoBlue
about 15 hours ago

ChantelJennings

Chantel Jennings


Arkansas = FGSU. RT @Andy_Staples If football had a 64-team field, Arkansas would be that 10-seed that comes in ... and blows up everybody.
about 15 hours ago

UMGoBlog

Michigan Football


Brandon is gone but his shady accounting remains RT @misterAndyReid: THE MICHIGAN DIFFERENCE: when 80,000 = 100,000 #goblue
about 15 hours ago

umichfootball

Michigan Football


Matt Wile's FGA is no good (39 yards). Maryland will take over at their own 22 yard line with 9:13 in the 4th.
about 15 hours ago

UMGoBlog

Michigan Football


Attendance 101,717 *cough* #GoBlue
about 15 hours ago

UMGoBlog

Michigan Football


Michigan 16 Maryland 16 Q4 9:13 #GoBlue
about 15 hours ago

UMGoBlog

Michigan Football


Missed FG Michigan #GoBlue
about 15 hours ago

UMGoBlog

Michigan Football


Everybody just sacked Devin Gardner loss of 8 #GoBlue
about 15 hours ago

umichfootball

Michigan Football


Darboh, in traffic, holds on, 1st down after the 23 yard reception at the Maryland 37 yard line.
about 15 hours ago

UMGoBlog

Michigan Football


Devin Gardner to Darboh for 23 yards #GoBlue
about 15 hours ago

UMGoBlog

Michigan Football


1st and 10 and Michigan 25 yl #GoBlue
about 15 hours ago

BTN_Michigan

Big Ten Network


TD MD: 8-yd run by C Brown. Q4: MD 16, MICH 16 LIVE STREAM: http://t.co/0d0Kx2WepQ
about 15 hours ago

umichfootball

Michigan Football


Next play, Maryland finds the endzone. We're tied at 16 early in the 4th.
about 15 hours ago

ESPN_BigTen

ESPN BigTen


Craddock lines up for a FG, nails it -- and U-M is called for roughing the kicker. Terps' drive continues ... and leads to a TD. #That'sUM
about 15 hours ago

UMGoBlog

Michigan Football


Michigan 16 Maryland 16 14:47 Q4 #GoBlue
about 15 hours ago

UMGoBlog

Michigan Football


TD Maryland #GoBlue
about 16 hours ago

UMGoBlog

Michigan Football


Maryland 1st and goal at the 8 #GoBlue
about 16 hours ago

umichfootball

Michigan Football


Roughing the kicker flag is thrown; will be an automatic 1st down for Maryland, at the Michigan 8 yard line.
about 16 hours ago

UMGoBlog

Michigan Football


FG good, but roughing the kicker gives Maryland a 1st Down #GoBlue
about 16 hours ago

ESPN_BigTen

ESPN BigTen


Brad Craddock's 4th field goal is pre-empted by a roughing the kicker penalty. Maryland 1st-and-goal now with a chance to tie.
about 16 hours ago

UMGoBlog

Michigan Football


The rain is coming down, out comes the rain gear #GoBlue
about 16 hours ago

umichfootball

Michigan Football


Maryland will be at the Michigan 17 yard line, 3rd & 12, to start the 4th.
about 16 hours ago

umichfootball

Michigan Football


End of the 3rd:• Michigan 16• Maryland 9
about 16 hours ago

ESPN_BigTen

ESPN BigTen


After three quarters at Michigan, Wolverines lead Maryland 16-9, but Terps are in the red zone.
about 16 hours ago

UMGoBlog

Michigan Football


Michigan 16 Maryland 9 end of Q3 #GoBlue
about 16 hours ago

UMGoBlog

Michigan Football


You're never wrong using TOs in Q2 but always wrong in Q3 #GoBlue
about 16 hours ago

UMGoBlog

Michigan Football


It's hard to gauge how good the Michigan defense is when Indiana, Northwestern and Maryland are so bad #GoBlue
about 16 hours ago

ChantelJennings

Chantel Jennings


We've had about four ridiculous or near-ridiculous catches in a row here. Mariota and his receivers are just showing off now.
about 16 hours ago

umichfootball

Michigan Football


Can't convert on 4th & 6; Maryland will takeover at their own 32 with 3:09 in the 3rd.
about 16 hours ago

umichfootball

Michigan Football


Timeout, Michigan. 4th & 6 at the Maryland 32 yard line.
about 16 hours ago

UMGoBlog

Michigan Football


Devin Gardner to AJ Williams 12 yd gain 1st Down #GoBlue
about 16 hours ago

BTN_Michigan

Big Ten Network


#UMich video: Devin Gardner 15-Yard Touchdown http://t.co/M954tOYk8w
about 16 hours ago

umichfootball

Michigan Football


With the penalty (block in the back), we'll be lined up at our 30 yard line with 7:34 in the 3rd.
about 16 hours ago

UMGoBlog

Michigan Football


1st and 10 Michigan at the 30 :( #GoBlue
about 16 hours ago

umichfootball

Michigan Football


😞.
about 16 hours ago

UMGoBlog

Michigan Football


TD return called back #GoBlue
about 16 hours ago

umichfootball

Michigan Football


Wait, there's a flag...
about 16 hours ago

UMGoBlog

Michigan Football


Dennis Norfleet takes it to the house..flag on the field #GoBlue
about 16 hours ago

ESPN_BigTen

ESPN BigTen


ICYMI: Melvin Gordon has crossed the 2,000-yard mark. He now has 2,050 yards on the season and needs just 60 more to break a Wiscy record
about 16 hours ago

umichfootball

Michigan Football


THERE IT IS.
about 16 hours ago

umichfootball

Michigan Football


GODIN. SACK.Terps to punt.
about 16 hours ago

BigTenNetwork

Big Ten Network


Enough with the field goals! Devin Gardner runs it in for a @umichfootball TD. http://t.co/E7Ihm8Yjxe
about 16 hours ago

umichfootball

Michigan Football


.@DevG98 (449) has passed Tom Brady (443) in career completions; No. 98 is now 5th all-time in completions at Michigan.
about 16 hours ago

umichfootball

Michigan Football


.@DevG98's 15-yard TD run caps a 66 yard, 10 play drive. Up 16-9 with 10:25 in the 3rd.
about 16 hours ago

BTN_Michigan

Big Ten Network


Devin Gardner scores the first TD of the game against Maryland in the third quarter. Brought to you by @Buick. http://t.co/6v4NycokoY
about 16 hours ago

BTN_Michigan

Big Ten Network


TD MICH: 15-yd run by D Gardner. Q3: MICH 16, MD 9 LIVE STREAM: http://t.co/0d0Kx2WepQ
about 16 hours ago
BLOG ARCHIVE:
CATEGORIES: