Michigan Wolverines:

Connecticut Huskies
September, 22, 2013
9/22/13
2:46
AM ET
EAST HARTFORD, Conn. -- This is Michigan.
Where it seems an acceptable explanation for why a player might be a good pass rusher or wide receiver is simply because he is a "Michigan man."
Where coach Brady Hoke praises his team for its resiliency after a 24-21 victory over UConn. It's where a team -- ranked No. 15 in the nation -- needed resiliency to put away a team that lost to Towson in Week 1.
It's where the current team is cloaked in the history of the previous 133 teams. It's where the quarterback, once shrouded in Heisman hype, is given the No. 98 to honor a 1940 Heisman winner but then ends up turning the ball over eight times the first three games he wears that uniform.
That is Michigan? Really?
"We all are trying to figure out where we're at as a team," Hoke said after his team left the field the second week in a row without really being able to celebrate the victory.
It might just be semantics, but "where they are" is not quite "who they are." It's two different statements. The latter seems to be the bigger question the Wolverines face right now. They're staring the Big Ten schedule in the face -- with a bye week to help their bruised bodies and egos -- but they still aren't sure who they are.
It's certainly not Michigan to admit that it doesn't have an identity. Especially this close to the conference schedule.
But some time after Under the Lights and during the Akron Hangover and the East Hartford Horror, Michigan was supposed to look like a complete team. And it hasn't.
Michigan, right now, is Jekyll and Hyde -- a team making highlight reel plays one down and making bad teams look dominant the next.
It has succeeded in making wins embarrassing -- something few former Michigan players would've ever thought possible.
If there is a silver lining it's that they know what they want to be. And at their best, that's what they are.
But the downfall comes in the distance between how good their good is and how bad their bad is, and that fact that it should never be this hard to find their good against subpar teams.
Playing down to the level of competition is a trait of the decent, of the mediocre.
Not of Michigan.
Michigan knows it wants to be a team that pounds the ball down defenses' throats. And against UConn, the run game showed some life. Running back
Fitzgerald Toussaint
rushed for 120 yards and two touchdowns on 24 carries.
Want to know who did better?
Towson's
Terrance West
in Week 1. He rushed for 156 yards and two touchdowns against UConn. And in week two Maryland's
C.J. Brown
rushed for 122 yards last weekend (though he only scored one TD).
Michigan wants to be a good passing team with a pocket presence and a quarterback who makes solid decisions. But Gardner threw for 97 yards and was 11-of-23 with two interceptions and no passing touchdowns.
Take a guess (or two) at who did better.
Towson's
Peter Athens
threw for 192 yards and one touchdown with just one interception and finished the day 13-of-20. Maryland's Brown finished his day against UConn with 277 passing yards and one touchdown as well as just one interception and a 15-of-28 performance.
Michigan wants to be great -- or at least better than its equivalents at Towson and Maryland.
It wants a stout defense and at times against UConn, it looked that way. But it also gave up big plays -- a rush of 16 yards, passes of 18, 19 and 26 yards. They're not deal breakers by any means. But a Michigan defense shouldn't give those up to UConn offense.
On Saturday, Michigan needed its defense to come up big and it did. The defense coming up big isn't the problem, it's the fact -- once again -- that Michigan needed it to.
After spotting UConn a 21-7 lead, the Wolverines needed to claw their way back. And late in the fourth quarter, they were finally hitting their stride.
Linebacker
Desmond Morgan
came up with a huge one-handed interception in the fourth quarter while the Wolverines were down seven.
"That was pretty spectacular," Gardner said of the play. "That's going to be replayed a long time in Michigan history."
And it will. It was full of athleticism and perfect timing. Morgan should be proud of that play and Michigan needed it. On its own, that play was beautiful.
But the surroundings of that play will spoil it for those who remember.
Because the greatest plays in Michigan football history, the ones that are replayed for a long time, aren't supposed to come against UConn.
Charles Woodson's famous interception was against Michigan State. Desmond Howard's pose came in the Ohio State game and "The Catch" came against Notre Dame. Braylon Edwards' famous grab was in a Michigan State game in triple OT.
That's when great Michigan men are made. Not in East Hartford, Conn. Not against Akron. Not when so many holes are evident.
At some point, the Wolverines will need to look complete. At some point, they need to find an identity. At some point, they need to be this "Michigan" that is preached about if they want to be relevant.
And Hoke believes they can get there, he believes they can be who they want to be.
"I know our team, we know our team," he said. "They realize the things that they need to do better and we've got to give them the tools to do those things better, that's our job and we'll do that."
That, apparently, is Michigan. At least for right now.
September, 22, 2013
9/22/13
12:05
AM ET
EAST HARTFORD, Conn. -- Michigan wanted to take the field on Saturday and prove last weekend's 28-24 win over Akron was something of an aberration in their season. However, what the Wolverines did was the exact opposite. If anything, they looked less composed than they did against Akron and spent a good portion of their game against UConn trailing, before a fourth-quarter rally
pushed Michigan to a 24-21 win
.


It was over when:
The Huskies failed to convert on fourth-and-29 with 1:48 left in the game. It was far from the position Connecticut would want to be in, but after the night the Huskies had, it seemed all too possible that redshirt junior quarterback
Chandler Whitmer
would be able to create something out of nothing. Whitmer somehow managed to connect on a 26-yard pass to junior wide receiver
Deshon Foxx
, but it wasn't enough, and Michigan took a knee with a 24-21 lead.
Gameball goes to:
Whitmer. Coming into the matchup with the Wolverines, Whitmer had thrown only three touchdown passes all season. Against Michigan, the 6-foot-1 signal-caller threw for 159 yards and two touchdowns with just one interception while picking apart the Michigan defense.
Stat of the game:
Devin Gardner
went cold midway through the first quarter and didn't find a spark until the third quarter. In that time span, Gardner was not only 0-of-7 passing, but he threw one interception, fumbled the ball, was sacked twice (for a total loss of 17 yards) and carried the ball seven times for 32 yards.
What Michigan learned:
Maybe it wasn't all preparation. The Wolverines blamed their close Akron victory on a poor week of prep, but this past week they said they prepared better than ever. But the result was largely the same. Perhaps, they need to look more closely at the chemistry of both lines -- an offensive line that failed to get much push all game (though
Fitzgerald Toussaint
was able to spring out a few times and finish the game with 120 yards on 24 carries) and a defensive line that gave the Huskies huge holes to run through time and time again. And maybe they need to look at Gardner -- a QB who has been lauded as cool under pressure -- who, for most of the past eight quarters, has been anything but.
What it means:
Michigan goes into its bye week with the taste of two really nasty games left in its mouth. Gardner had said it always feels like forever when he has to wait to get on the field after a bad performance. Now he has to wait two weeks, and at the end of the road is the beginning of the Big Ten schedule for a Michigan team that is still searching for its identity.
September, 20, 2013
9/20/13
9:00
AM ET
Last season the Michigan football team had camoflauge shirts that read "Road Warriors." Then the Wolverines went 2-5 away from Ann Arbor.
Their only wins came against Minnesota and Purdue, teams that finished a combined 5-11 in Big Ten play.
Ask Michigan coach Brady Hoke what the Wolverines' issue was on the road last season and he has a simple diagnosis.
[+] Enlarge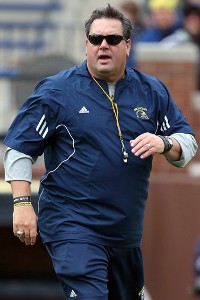 Leon Halip/Getty ImagesBrady Hoke is at a loss to explain the turnovers that plagued his team on the road last season.
"Turnovers. Turnovers. Turnovers," Hoke said. "That's what has plagued our team."
Against Alabama, Michigan turned the ball over three times. Against Notre Dame, it was a very memorable six. In Columbus, Michigan gave Ohio State the ball four times.
All in all, the Wolverines turned the ball over 20 times away from Michigan Stadium and just seven times when they were playing inside the Big House. Broken down that means the Wolverines' offense averaged just 1.2 turnovers per game inside the Big House, and 2.9 per game away from home.
Obviously, some of that has to do with the caliber of the teams they played on the road and at home.
The Wolverines played Air Force, Massachusetts, Illinois, Michigan State, Northwestern and Iowa at home -- not exactly an impossible schedule by any account. However, Michigan dropped games at neutral sites to Alabama and South Carolina, and lost to Notre Dame, Nebraska and Ohio State on the road.
But it seems pretty straightforward. When an offense gives the defense the ball, bad things happen.
The problem with Hoke's diagnosis is that he doesn't have a remedy.
"I don't know [why it happens]. I have no idea," Hoke said. "You wouldn't think it would. It did last year."
Road games -- especially the first of the season -- are always a unique experience for a young team. The Wolverines have a fair amount of true and redshirt freshmen in their three deep and those are players who have likely never flown to a game or stayed in a hotel (with the amount of structure Michigan enforces) the night before a game.
Hoke joked that he needed to bring nannies or au pairs along for the trip, but he'll have plenty of senior leadership to make sure the young players are keeping their focus.
They know that these games can be exciting but are crucial to the season. It's not all about chartered flights and police escorts to the field. If Michigan can't make a statement on the road against UConn, it'll only get harder from here.
The Wolverines will follow this trip up with road games at Penn State, Michigan State, Northwestern and Iowa.
Michigan might be 17-0 under Hoke in the Big House, but unfortunately for the Wolverines, they can't win Big Ten championships playing only at Michigan Stadium.
August, 26, 2013
8/26/13
9:00
AM ET
ANN ARBOR, Mich. -- It has been about nine months since the Wolverines played a game in Michigan Stadium. This weekend, the Wolverines will hit the field against Central Michigan and begin their month of nonconference opponents that they hope will prepare them for the Big Ten slate.
The Wolverines' schedule this season is favorable for a chance to get to the Big Ten title game, but before they can even get to conference play, they need to answer a few questions.
1. Will Michigan actually be challenged?
I'm not going to say that they won't be challenged by any of these teams. Notre Dame is always a challenge, and that's an opportunity for one of those signature wins that teams look for in the nonconference schedule. Michigan might not be challenged hugely by the other three teams (at least, not like it was against Alabama last season), but, the Wolverines will be challenged by themselves. These games allow the Wolverines to iron out the kinks in their offense and defense while building depth at positions. Michigan's interior offensive line will be entirely new and their defensive front has a new look, too. The Wolverines' secondary features new faces and guys at entirely new positions (here's looking at you, free safety
Courtney Avery
). So while Central Michigan, Akron and Connecticut might not provide the drama or build-up (hello, MACtion), it will help Michigan prepare for the Big Ten season as it develops an identity.
2. Can the defensive line get a four-man rush?
This was a question that was consistently asked last season. According to Greg Mattison the defensive line is vastly improved and is getting to the quarterback.
Frank Clark
has been heralded as a top rush end, but can he be a Brandon Graham-like game changer? Three of the four teams Michigan faces in the nonconference schedule feature transitioning O-lines, which will obviously aid Michigan in looking like it has a solid four-man rush. CMU lost tackle Eric Fisher, the No. 1 overall pick in the NFL draft. Notre Dame and Akron are both replacing two starters on their offensive lines. UConn actually returns all five of its starters on the offensive line, but last season the Huskies only averaged 318 yards of offense per game, so how effective that experience will be remains up in the air. But if the Wolverines are going to be successful in the Big Ten, their defensive front must be stout. With the absence of linebacker
Jake Ryan
until at least October, Michigan will be better off if it doesn't have to blitz every other play in order to make opposing quarterbacks uncomfortable in the pocket.
3. How tricky is Al Borges going to get?
[+] Enlarge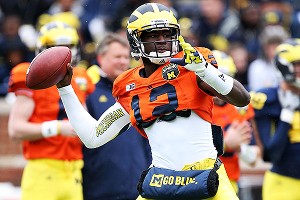 Leon Halip/Getty ImagesMichigan's Devin Gardner finally gets to put away the noncontact jersey this Saturday, although don't expect him to run too much in the nonconference season.
Don't expect Borges to unload his playbook, but I do think we'll see a few wrinkles in the season opener just to make sure Brian Kelly and Notre Dame are on their toes coming in to the Big House the following weekend. Borges and the rest of the offense will probably have a bit of a chip on their shoulders after their performance last season against the Irish. But the Wolverines will probably use their games against Akron and Connecticut to shore up the aspects of their offense not firing on all cylinders at that time. For example, they might run more toward
Michael Schofield
and Kyle Kalis' side as
Taylor Lewan
doesn't need quite as much work, or maybe
Joe Reynolds
or younger receivers will be targeted more. And without Denard Robinson, how does Borges' level of trickery and wrinkles change with
Devin Gardner
?
That brings us to our next question…
4. How good is Gardner?
Gardner stepped in last season and finished out the season in an impressive fashion. With spring ball and the full offseason to gain chemistry with receivers and the offensive line, he should show major strides. Obviously, losing sophomore wide receiver
Amara Darboh
for the season is a blow, but Gardner can use the nonconference schedule (and the lack of elite defensive backs he'll face) to build chemistry with other guys. Brady Hoke said Reynolds,
Jehu Chesson
and
Jeremy Jackson
were the three receivers stepping forward in Darboh's absence.
Assuming Michigan can be effective in the run game, it should open up things in the air for Gardner. He was recruited as a dual-threat QB, and he has those skills. but Michigan might be a bit more conservative with him -- especially in the nonconference schedule -- just because if he goes down, the Wolverines are looking at a true freshman and then a walk-on, which doesn't exactly inspire confidence for a championship season. But with Gardner being Gardner, don't be too surprised if he tests the waters a bit. He's not afraid to run, and if the opportunity presents itself, he'll be looking to make plays by any means necessary.
5. Can Michigan stay healthy heading into the Big Ten schedule?
It's no secret that Michigan is not deep at a few key positions at this point. If Gardner goes down, Michigan will scramble. If
Fitzgerald Toussaint
goes down, will Michigan will turn to
Thomas Rawls
?
Justice Hayes
?
Drake Johnson
?
Derrick Green
? Green came in highly touted but hasn't impressed in fall camp the way most thought he would. Darboh's injury leaves snaps open for wide receivers, but with any more injuries, the Wolverines could be working with a third-string receiver.
Defensively, Michigan is in a better place with depth, considering a lot of young players got experience last season, and Mattison has built depth at each position through recruiting.
Jibreel Black
missed some time during fall camp, which is likely why Frank Clark played some at three-technique. But having D-linemen with experience at multiple positions will only help. These four games can help Michigan to build that kind of experience.
April, 22, 2013
4/22/13
9:58
AM ET
The RN Top 10 will appear throughout the camp and combine season and rank prospects based strictly on their on-field performance at that particular event. It does not reflect their overall prospect ranking.
ASHBURN, Va. – The East Coast and mid-Atlantic states represented well on Sunday as eight players earned invites to The Opening at the Nike Football Training Camp outside of Washington, D.C. Defense ruled the day, led by two five-star prospects from Virginia.
10. Nick Scott
Fairfax (Va.) Fairfax |RB| 5-11, 180
Scott stood out among a field of backs who were overshadowed by the prospects at nearly every other position. He earned the attention of coaches for his strong play and versatility but missed the MVP award, which went to
Vincent Lowe
(Chesapeake, Va./Grassfield), who also posted the top SPARQ score.
Scott committed to Penn State in February over an offer from Boston College.
ESPN national recruiting analyst Craig Haubert's take
: "He's got a great frame, and what I like about him as a Penn State verbal, he's a versatile player. He may not run by you, but he does a good job in route-running."
December, 11, 2012
12/11/12
6:03
PM ET
[+] Enlarge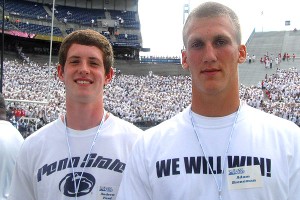 Courtesy Breneman FamilyQB Andrew Ford (left) is a high school teammate of Penn State pledge Adam Breneman, one of the top tight ends in the 2013 class.
ESPN Watch List quarterback
Andrew Ford
has new interest from a wide range of schools. Connecticut, Michigan State, Tennessee and Northwestern are the latest schools to recruit the junior pocket passer from Camp Hill (Pa.) Cedar Cliff.
Ford has previously seen interest from Maryland, Michigan, Penn State and Rutgers. The Nittany Lions have a strong connection, as Ford's former teammate, tight end
Adam Breneman
, is committed to sign with Penn State in February.
"I've been hearing from all schools he visited in the fall and also some new schools like UConn, Michigan State, Tennessee and Northwestern," the 6-foot-2, 178-pound junior said.
Ford hasn't received his first scholarship offer. That seems to just be a matter of time.
To continue reading this article you must be an Insider
August, 14, 2012
8/14/12
11:21
AM ET
With 54 catches and over 1,100 yards receiving as a sophomore, Tarpon Springs (Fla.) East Lake wide receiver
Artavis Scott
was among the top performing Class of 2014 prospects in the state last season.
Now the 5-foot-10, 175-pound junior is looking for an encore and comes into the 2012 season training camp with tons of momentum after a productive offseason.
Scott took part in several offseason events including Florida State's camp, Friday Night Lights at Florida, UCF's team camp, Al Golden's camp at Miami and most recently the Barbecue at the Big House during a tour of schools that included Ohio State and Notre Dame.
To continue reading this article you must be an Insider
February, 17, 2012
2/17/12
12:00
AM ET
The offensive line is a big need for Michigan in the 2013 class. Since at least four scholarship offensive linemen will be leaving the roster, the staff will most likely look to add the same amount of recruits for this class, if not more.
One offensive line prospect who recently received a Michigan offer is 6-foot-5, 290-pound
John Montelus
(Everett, Mass./Everett). The Michigan offer adds to an already hefty list including Florida, UConn, Boston College, NC State and West Virginia among others.
"Michigan (was an offer he was hoping for) because it is a really big school with good academics, good football team and great fans," he said. "I've been talking to Coach (Darrell) Funk, and I'm going to take a Michigan visit soon."
To continue reading this article you must be an Insider
February, 8, 2012
2/08/12
1:58
PM ET
By
Roger Brown
| ESPN Insider
Offensive tackle
Marcell Lazard
(Bloomfield, N.J./Bloomfield) saw his college options increase Tuesday when South Florida became the latest school to extend a scholarship offer.
Lazard, a 6-foot-6, 290-pound junior, has also received offers from Michigan and Central Florida since national signing day. He has six other offers: Buffalo, Connecticut, Maryland, Miami, Virginia and West Virginia.
He said the offers from Connecticut, Miami, Michigan and West Virginia are the most appealing to to him.
To continue reading this article you must be an Insider
Harbaugh: Split With 49ers Not Mutual
BIG TEN SCOREBOARD
Thursday, 9/3
Friday, 9/4
Saturday, 9/5
Sunday, 9/6
Monday, 9/7