August, 13, 2014
8/13/14
3:00
PM ET
BATON ROUGE, La. -- Les Miles didn't offer many specifics about LSU's first preseason scrimmage on Wednesday -- particularly about which quarterbacks completed the two touchdown passes -- but the Tigers' coach described the 26-play scrimmage as "pretty productive."
Miles confirmed that freshmen
Leonard Fournette
and
Malachi Dupre
are both dealing with injuries, adding that tailback Fournette ran a handful of times in "thud" drills (not full contact) and that he should participate in a greater role in Saturday's full scrimmage.
"He really could have been involved today, but [with] a little bruise, we decided not to," Miles said.
[+] Enlarge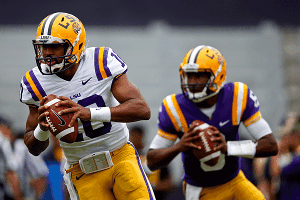 Derick E. Hingle/USA TODAY SportsCoach Les Miles said that QBs Anthony Jennings, left, and Brandon Harris are both grasping LSU's offense.
He made similar comments about wide receiver Dupre, who already missed a couple of practice days with an undisclosed injury.
"He's really nicked and on the heal and they don't think it's anything major in any way, but we've just got to continue to treat and get him going," Miles said.
He didn't say which quarterbacks threw the passes, but Miles did reveal that
Avery Peterson
and
Travin Dural
caught touchdowns in the scrimmage.
Speaking generally, he said that quarterback contenders
Anthony Jennings
and
Brandon Harris
are in command of the offense most of the time. The rest remains a work in progress.
"They're young, they're both engaged in leadership and want to have command of the offense -- and they do for the most part," Miles said. "They don't know what command is. They don't necessarily understand exactly what has to be communicated to make this thing go easy. They're learning.
"I'd say 70 percent of today was just very, very well done and 30 percent's probably not enough for anybody that sits in the stands to even notice. And yet that 30 percent we expect from our quarterbacks."
Miles said defensive tackle
Quentin Thomas
-- initially thought to be lost for the season with a torn bicep -- worked in individual drills on Wednesday and might still play this season.
"Today he went through individual and moved and used his hands. It's one of those things when you have a big old arm and you get it nicked, you can't quite tell what it is and what it isn't initially. Frankly he's as fortunate as he could be."
Miles added that the Tigers' occupational therapist, "looked at it and he says there's absolutely no reason to do anything else than rehabilitate and let him play."
Thomas' versatility:
One of the primary benefits of LSU's "Mustang" defense is that it's difficult to tell which rushers will attack the line of scrimmage on any given play. So perhaps it fits that one of the Tigers' key players in that package is
Dwayne Thomas
, since you never know where he might play.
Thomas said he has learned the duties of every position in the secondary, joining
Jalen Mills
as the only Tiger defensive backs who can do that.
"Corner, safety, nickel and dime -- I pretty much know the entire defense," Thomas said. "Wherever Coach [Corey] Raymond needs me, I just go fill in. It's a great opportunity to do that. Being able to be in the mix of any position is good for the next level."
Thomas said he added safety to his repertoire since the end of last season, having worked at the position throughout spring practice.
"Once I got safety down pat, that was like the last position I had to learn for the entire defense," Thomas said. "I had already been doing nickel and dime and corner. After the spring passed, getting all the safety reps down pat was just fantastic."
But it's that Mustang role where Thomas might make the biggest impact. Because of his speed off the edge -- aided by his ability to jump the snap count, work with assistant coach Brick Haley on the finer points of pass rushing and film study of former Mustang standouts Tyrann Mathieu and Ron Brooks -- Thomas could be even more valuable in that role this season.
"Dwayne really gives us what we're looking for at that position. He does a great job there," defensive coordinator John Chavis said when asked about who will play the rushing positions in the Mustang. "Jalen Mills has played a lot at that position. I'm not ready to say anything other than we expect Thomas to be one of those guys."
Kick returners:
Dural said one factor will probably determine who eventually wins LSU's kickoff and punt return jobs.
"We're battling every day to see who's going to drop the ball first," Dural chuckled.
Dural listed a half-dozen candidates who are contending for the return jobs when they catch balls before and after practice each day.
"It's just me,
Tre White
, Leonard, Jamal [Adams], Malachi,
Trey Quinn
. We're all back there battling for a spot," Dural said. "Everybody wants to be that dynamic player. Everybody wants to be the kickoff guy or [punt]."
LSU had one of the nation's best return men last year in Odell Beckham, who entered the NFL draft after winning the Paul Hornung Award as college football's most versatile player. Dural said it won't be easy to replace the explosive Beckham, but he believes the Tigers have plenty of promising candidates.
"It's hard to replace someone like that, but we have a lot of guys who have the ability to make those plays," Dural said. "Tre White, he's a guy that can return punts and return kickoffs as well as Leonard. Leonard's back there returning both of them. So as the season goes on, whoever that guy may be, you'll start to see him make those types of plays that Odell did."
May, 10, 2013
5/10/13
10:00
AM ET
BATON ROUGE, La. -- GeauxTigerNation writer Gary Laney answers your questions:
From: Biff (Chicago)
: Do the recruiting coaches feel any advantage in having someone like
Lavar Edwards
, who wasn't a starter his senior year, get drafted into the NFL? Does it give them valuable ammunition for getting four- and five-star rated players to know that at LSU you don't have to be a starter to be an NFL player?
[+] Enlarge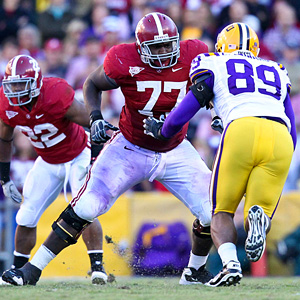 Derick E. Hingle/US PresswireLSU defensive end Lavar Edwards was a fifth-round pick of the Tennessee Titans.
Gary Laney:
You'd better believe LSU will use players like Edwards to sell the program's player development ability.
January, 9, 2013
1/09/13
8:00
AM ET
BATON ROUGE, La. -- LSU has lost nine juniors who have declared for the NFL draft, a total that is likely finished for this year, though there have been reports that left tackle
Chris Faulk
, who missed all but one game with a knee injury, is considering an early departure.
Assuming Faulk comes back to Baton Rouge, LSU won't lose underclassmen again until next year. Who are they likely to lose? Here are the leading candidates:
To continue reading this article you must be an Insider
January, 4, 2013
1/04/13
2:52
PM ET
BATON ROUGE, La. -- By the middle of August camp, free safety
Eric Reid
was the only returning starter in LSU's vaunted secondary.
[+] Enlarge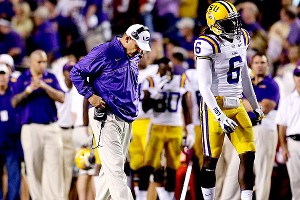 AP Photo/Bill HaberCraig Loston will have to step into a leadership role with the departures of Eric Reid and Tharold Simon.
After Heisman Trophy finalist Tyrann Mathieu was dismissed from the team, Reid, the junior free safety from Geismar, became the elder statesman and responded with a solid, 91-tackle, two-interception season during which he was the Tigers' unquestioned leader in the secondary and became a consensus All-American.
His end of the bargain held up, Reid announced his decision Friday to leave LSU for the NFL. He wasn't the only one.
In a mild surprise, junior cornerback
Tharold Simon
also declared for the draft after leading the team with four interceptions and 13 passes defended. A first-year starter in 2012, he was a key piece to the LSU secondary in 2011 as the fifth defensive back whose presence allowed the Tigers to use Mathieu as a nickel back.
With their departures, all six of LSU's primary defensive backs on the 2011 team -- Simon, Reid, Mathieu, cornerback Morris Claiborne, safety Brandon Taylor and dime back Ron Brooks -- probably will be on NFL rosters next season.
Regardless, LSU looks to be in better shape next season than it was entering 2012. Where only two of the top six DBs returned for the 2012 season, the Tigers should still have four of their top six back next season.
Junior strong safety
Craig Loston
probably will return for his senior year and starting cornerback
Jalen Mills
, nickel back
Jalen Collins
and dime back
Micah Eugene
were all freshmen.
That bodes well for the Tigers' secondary, which outperformed expectations most of the year, given that Mathieu's departure forced LSU to have to start a true freshman, Mills, in his place. The Tigers did struggle down the stretch, allowing four straight 300-yard passing games to finish the season.
Developing young talent will be crucial this offseason.
Ronald Martin
, Eugene,
Corey Thompson
and
Jerqwinick Sandolph
are young safeties who might vie for Reid's free safety spot. LSU has one 2013 recruit committed,
Jeremy Cutrer
. But LSU is pursuing more, including ESPN 150 safety
Priest Willis
.
At cornerback, Collins figures to replace Mills and LSU also returns
Dwayne Thomas
and
Derrick Raymond
and has a talented class of cornerbacks coming on signing day, including three four-star prospects --
Jeryl Brazil
,
Tre'Davious White
and
Rickey Jefferson
-- and three-star
Rashard Robinson
.
September, 17, 2012
9/17/12
9:41
AM ET
BATON ROUGE, La. -- It was Oct. 22 of last season, the last time LSU and Auburn met, that we found out just how deep LSU really was.
[+] Enlarge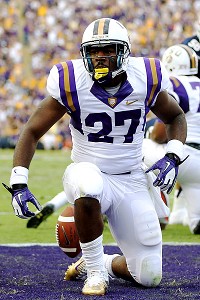 Jamie Squire/Getty ImagesKenny Hilliard rushed for two touchdowns and 65 yards against Auburn in 2011 while filling in for a suspended Spencer Ware.
The Bayou Bengals were without three key players that day in running back
Spencer Ware
and defensive backs Tyrann Mathieu and
Tharold Simon
, all suspended for one game for violation of the school's drug policy.
Instead of it being a devastating blow, LSU simply shrugged it off.
Ron Brooks
, starting for Mathieu, had an interception he returned for a touchdown. Derrick Bryant, a rarely-used senior, took the fifth defensive back role and had a sack. Little-used true freshman running back
Kenny Hilliard
took Ware's role as LSU's physical runner and rambled for 65 yards on 10 carries.
To continue reading this article you must be an Insider
September, 2, 2012
9/02/12
10:57
AM ET
BATON ROUGE, La. -- If you're looking for a vulnerability in No. 3 LSU's defense, you don't have to go much further than the scoring summary of Saturday's 41-14 win over North Texas:
"UNT:
Brelan Chancellor
80 pass from
Derek Thompson
(Olen kick)."
Then, later:
To continue reading this article you must be an Insider
August, 31, 2012
8/31/12
9:39
AM ET
GeauxTigerNation writers Gary Laney and David Helman get you ready for the season with a daily breakdown throughout August of what LSU is facing in the fall -- from its opponents to its road trips to who it's recruiting. Today, in the final countdown, Laney and Helman give their predictions:
GARY LANEY
12-1, first in SEC West:
LSU will be better on offense but maybe not quite as good on defense.
To continue reading this article you must be an Insider
August, 28, 2012
8/28/12
8:54
AM ET
BATON ROUGE, La. -- Locally, anybody paying attention saw it coming. Nationally, however, it was a "wow" moment.
LSU's first game week depth chart released Monday for the season opener against North Texas revealed it would replace its dismissed Heisman Trophy finalist, Tyrann Mathieu, with true freshman
Jalen Mills
.
How did a program so deep with secondary talent -- it's produced back-to-back cornerbacks drafted early in the first round -- come to this?
To continue reading this article you must be an Insider
August, 17, 2012
8/17/12
9:09
AM ET
The clock has sped up for the development of LSU cornerback
Tharold Simon
.
[+] Enlarge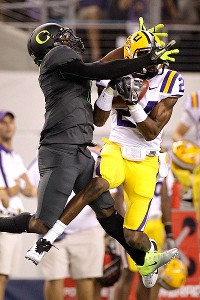 AP Photo/Tony GutierrezLSU's Tharold Simon is ready to help lead the secondary in 2012.
Like the steady line of Tiger stars at cornerback in recent years, Simon was supposed to enjoy a season being the "other" starter next to the superstar. He would start for the first time this season while lined up opposite
Tyrann Mathieu
. From there, he'd be "the man" next year.
But with Mathieu getting kicked off the team last week, the junior from Eunice, La., will have to instead be ready to be the leader of the cornerbacks.
To continue reading this article you must be an Insider
July, 27, 2012
7/27/12
7:00
AM ET
GeauxTigerNation writers David Helman and Gary Laney break down the competitions, issues and talking points of LSU's August camp. Players report to campus Aug. 1 and we'll have a preview segment every weekday in July leading up to the day the players report:
The basics of LSU's secondary are pretty obvious.
Monstrous cornerback
Tharold Simon
is going to start on one side of the Tigers' defense. Preseason All-SEC safety
Eric Reid
is going to anchor the last line of defense. If he can keep himself healthy, veteran
Craig Loston
should hold down the strong safety spot. And fellow All-SEC selection
Tyrann Mathieu
seems to have an early bead on the other starting corner spot.
To continue reading this article you must be an Insider
May, 3, 2012
5/03/12
10:33
AM ET
With spring football and the NFL draft in the books, here are five things to know about LSU's secondary:
[+] Enlarge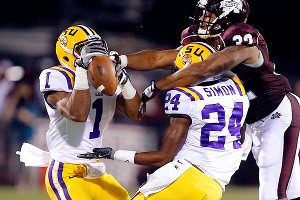 Butch Dill/Getty ImagesEric Reid (1) might be taken in the first round of the NFL draft in 2013.
1. LSU's still DBU:
For the second straight year, LSU had the NFL draft's first selected defensive back when cornerback
Morris Claiborne
went No. 6 overall to the
Dallas Cowboys
a year after
Patrick Peterson
went No. 5 overall to the
Arizona Cardinals
.
Claiborne, safety
Brandon Taylor
(third round, Chargers) and cornerback
Ron Brooks
(fourth round, Bills) became the first trio of LSU defensive backs to be selected in the same draft since the 1960s, when the AFL and NFL held separate drafts. And LSU has had defensive backs selected in six straight drafts, including first-rounders Claiborne, Peterson and
LaRon Landry
(No. 6 overall pick in 2007 by Washington).
So LSU's place as a producer of NFL-quality DB talent has never been stronger. Already, ESPN's Todd McShay has projected safety
Eric Reid
as a first-rounder for next year. So don't expect the NFL-quality defensive backs coming out of Baton Rouge to end any time soon.
April, 28, 2012
4/28/12
11:11
PM ET
LSU couldn't maintain its weekend trend of earning two draft picks, as the Tigers mustered just one more pick in the 2012 NFL Draft on Saturday afternoon.
[+] Enlarge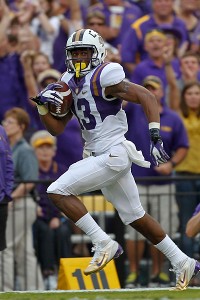 Derick E. Hingle/US PresswireRon Brooks was selected by Buffalo in the fourth round of the NFL draft.
That honor went to Ron Brooks, who didn't have to wait too long in Saturday's marathon, which covered rounds four through seven. Brooks was taken 29th in the fourth round (124th overall) by the Buffalo Bills. Brooks' fantastic numbers at this winter's NFL combine undoubtedly helped boost his draft stock. The former dime back didn't manage much time as a starter in Baton Rouge, but he made up for the lack of playing time with a jaw-dropping 4.37 40-yard dash at the combine.
Buffalo is slowly becoming a bit like LSU-North in recent years. Much like the New England Patriots, who seem to continually look at Tiger prospects, the Bills now feature three LSU alums on their defense. In addition to Brooks, Buffalo drafted former LSU linebacker Kelvin Sheppard 68th overall last spring, and they drafted Tiger DT Kyle Williams in the fifth round of the 2006 draft.
No other Tigers heard their names called in the remaining three rounds of the draft, giving LSU a total of five players drafted in 2012. Interestingly enough, that number is the lowest total for LSU since 2007. Five LSU players were drafted in 2007, which was also the last time LSU had multiple first round picks before Morris Claiborne and Michael Brockers were taken in the first round Thursday night.
The draft might have ended with just five players taken, but several more LSU prospects were involved in a flurry of free agent activity on Saturday night.
John Chavis Suing Texas A&M, LSU
SEC SCOREBOARD
Thursday, 9/3
Saturday, 9/5