January, 26, 2015
Jan 26
8:00
AM ET
Editor's note:
We broke down LSU's need to improve at quarterback as part of our SEC blog's positional series two weeks ago. This week on the LSU blog, we continue our position-by-position look at the 2015 Tigers.
Leonard Fournette
did not live up to preseason Heisman Trophy buzz last fall, but he still set LSU's freshman rushing record with 1,034 yards. Now, with seniors
Terrence Magee
and
Kenny Hilliard
working to earn NFL roster spots, Fournette is in position to become the Tigers' feature back as a sophomore.
"I talked to Leonard and his mindset is very strong right now," offensive lineman
Vadal Alexander
said on Jan. 16 after announcing his decision to return for his senior season. "He's ready to go back to work. I talked to him actually today walking from class and he's ready to go. We're ready to make this offense explosive. Along with him and the whole offense, we're ready to do big things."
During his freshman season, Fournette displayed glimpses of the potential that made him ESPN's top overall prospect in the 2014 recruiting class. His 264 all-purpose yards (including 143 rushing yards and a 100-yard kickoff return touchdown) in a bowl loss to Notre Dame made for one of the most dynamic performances in LSU postseason history, and his power running was the driving force in key SEC wins against Florida and Texas A&M.
If he and fellow sophomore
Darrel Williams
take a step forward like their former teammates expect, LSU's running game should remain in good shape.
[+] Enlarge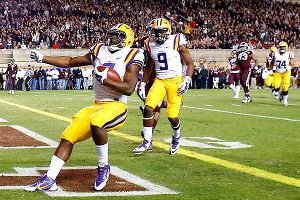 Scott Halleran/Getty ImagesLeonard Fournette will shoulder even more of the load for LSU in 2015 after an outstanding freshman season.
"I expect a lot out of those boys, especially with Leonard and Darrel," ex-Tigers fullback Connor Neighbors said. "They probably could be the two best backs we've ever had. Leonard's shown flashes of what he can do, and so has Darrel in some cases.
"But I know once Kenny and Terrence leave, Darrel's role is going to expand. He's a hell of a back just like Leonard is. He just has to wait his turn. It's hard when your classmate is the same age and gets a little more playing time. I know how that feels. But once he steps up, it's going to be great."
Williams was the less-heralded prospect out of LSU's 2014 running back signees but became a valuable reserve, particularly in short-yardage situations. Magee agreed with Neighbors' assessment that Williams' role should expand, partially because of LSU's traditional philosophy of spreading around the carries and partially because of Williams' ability to avoid fumbling.
"It's always running back by committee here," Magee said. "Since he's been here, the biggest thing that I've seen about him, he does a great job of taking care of the ball. Since he's been here, I can only remember him fumbling the ball twice. That plays a big part in playing running back -- you've got to take care of the ball. He does a great job in pass protection, so I think he's going to find his way on the field very easily next year on third downs as well as first and second down."
The biggest question surrounding the group will be depth. Neighbors and
Melvin Jones
are out of the picture, leaving
John David Moore
as the Tigers' only player with game experience at fullback. And with Magee and Hilliard completing their eligibility, Fournette and Williams will be entrusted with helping verbal commits
Derrius Guice
and
Nick Brossette
get ready to play as freshmen.
"I know they're going to bring in two great young freshmen and hopefully they can learn from Darrel and Leonard and be able to contribute to the team next year," Magee said.
It helps that
David Ducre
, who can play fullback and tailback, is already on campus as an early enrollee. Perhaps he wasn't as high-profile a prospect as LSU's tailback commits, but LSU believes it got a steal in Ducre, whose versatility could make him an immediate weapon.
The most important figure will be Fournette, though. He should be the centerpiece of LSU's offense in 2015, and based on his performances when LSU continuously fed him the ball in 2014, that should be a good thing for the Tigers.
BREAKDOWN
Returning players:
TB: Leonard Fournette (187 carries, 1,034 yards, 10 TDs; 7 receptions, 127 yards; 1,786 all-purpose yards), Darrel Williams (64-302, 3 TDs; 6-63 receiving). FB: John David Moore (No carries).
Departed players:
TB: Terrence Magee (112-571, 3 TDs; 17-171 receiving), Kenny Hilliard (90-447, 6 TDs; 4-35 receiving). FB: Connor Neighbors (No carries, 4-27 receiving), Melvin Jones (4-12; 5-22 receiving, TD).
Committed prospects:
TB: Derrius Guice (No. 8 RB, No. 96 overall on ESPN 300, four stars), Nick Brossette (No. 12 RB, No. 121 overall, four stars). FB: David Ducre (No. 35 RB, four stars, early enrollee). ESPN lists Fournette's younger brother Lanard, who committed to LSU over the weekend, as a running back (No. 100 at the position, three stars), but it's possible that he will play receiver in college.
Outlook:
This will be a young bunch with seniors Magee, Hilliard and Neighbors completing their eligibility. Fournette's presence obviously solidifies the position, but the Tigers will enter the season with very little experience at fullback and only Fournette and Williams with on-field work at tailback. Ducre will get a leg up by participating in spring practice and tailback commits Guice and Brossette should have a chance to contribute as freshmen should they sign with the Tigers next month.
Best recruiting classes in the past 10 years