LSU Tigers:

Mississippi State Bulldogs
May, 28, 2013
5/28/13
11:00
AM ET
LSU coach Les Miles doesn't have a problem playing eight SEC opponents every season.
Miles also realizes the Tigers could play nine SEC games in the very near future.
Miles just doesn't think it's fair that LSU has to play Florida every season, while other teams in the SEC West don't.
[+] Enlarge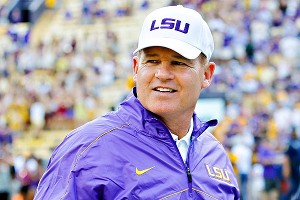 Derick E. Hingle/US PresswireUnder the current SEC scheduling format, Les Miles and LSU play Florida every season.
As SEC presidents, athletics directors and coaches convene this week for the league's annual spring meetings in Destin, Fla., long-term scheduling has become the hot-button issue.
The league is expected to vote whether to change its current 6-1-1 format, in which teams play each opponent from their respective division, along with one rotating foe and one permanent opponent from the opposite division. SEC officials could vote this week to add a ninth conference game or at least eliminate permanent crossover opponents.
The SEC adopted its current scheduling format to ensure that longstanding rivalries like Alabama-Tennessee and Georgia-Auburn would survive expansion.
By drawing the Gators as a permanent crossover opponent, Miles believes the Tigers drew the short end of the stick.
Miles won't complain about the scheduling format publicly, but he knows LSU is at a disadvantage.
And Miles is probably right.
"When they give us our schedule, I'm looking forward to having a great competition," Miles said.
Since 2000, LSU has played Florida and Georgia -- two of the SEC East's best programs -- a total of 17 times. Auburn is the only SEC West team which has faced those teams more often, playing them 19 times. Arkansas, Mississippi State and Ole Miss have faced them a total of 10 times each, while Alabama has played them only eight times.
While it's not fair that LSU has faced the Bulldogs and Gators nearly twice as often as Alabama has played them since 2000, Miles' argument might fall on deaf ears. Auburn and Georgia aren't going to surrender the longtime series -- the Deep South's Oldest Rivalry has been played 116 times since 1892. Likewise, Alabama and Tennessee have played 95 times since 1901, a game so revered it's named for its traditional place on the calendar, the Third Saturday in October.
And Ole Miss would probably rather play Vanderbilt every season instead of Florida, Georgia or South Carolina, and Mississippi State isn't going pass up a chance to play Kentucky every year.
"There's never going to be a fair way," said Texas A&M coach Kevin Sumlin, whose Aggies drew Missouri as a permanent crossover opponent. "If you look back seven or eight years ago, you would have said the SEC East was the strongest division. You can't say what's fair, because things change in this league. You can't look at tradition. Ten years ago, you might have wanted to play South Carolina. Now you don't want anything to do with them. You don't know what Tennessee is going to do with a new coach. I know Butch Jones is going to do a great job."
Florida-LSU has become one of the league's most anticipated games every season. They've been two of the league's most dominant teams over the past decade. They've combined to appear in seven SEC championship games since 2003, and they've combined to play in nine BCS bowl games, including five BCS national championship games. In their past 10 meetings, LSU and Florida were both ranked in the top 25 of the coaches' poll nine times. Conversely, Alabama and Tennessee were both ranked only once in their past 10 meetings.
The loser of the Florida-LSU regular-season game has paid dearly over the past 10 seasons. LSU's 23-10 loss at Florida in 2006 knocked the Tigers out of the SEC championship game (the Gators defeated Arkansas 38-28 and then blasted Ohio State 41-14 to win the BCS title). Last year, LSU's 14-6 loss at Florida probably cost it a spot in the AT&T Cotton Bowl, if not another trip to a BCS bowl game.
Florida's losses to LSU in 2002, '05 and '07 kept them out of the SEC championship game and potentially BCS bowl games.
November, 9, 2012
11/09/12
10:00
AM ET
By
Mackenzie Kraemer, ESPN Stats & Info
| ESPN.com
AP Photo/Aaron M. SprecherZach Mettenberger has shown improvement under center lately.
When
Zach Mettenberger
was named the starting quarterback early in the offseason,
LSU
fans were hopeful that he would be able to improve a passing game that finished 10th in the SEC in passing in 2011.
However, for most of this season, that hasn't been the case. While in his first eight games, Mettenberger averaged slightly more yards per game (177.4), he also had more turnovers (7) than Jordan Jefferson and Jarrett Lee had combined last season (6).
Despite those struggles, in the biggest game of his young career last Saturday against
Alabama
, Mettenberger rose to the occasion.
After completing just 46.2 percent of his passes in his first four SEC games, Mettenberger completed 24 of 35 passes (68.6 percent) for a career-high 298 yards.
He was especially strong in the second half, going 14-of-17 for 206 yards. It had been 31 games since the last time a quarterback threw for 200 yards in a half against Alabama's defense.
The question going forward is whether Mettenberger's play in the second half is a trend or a fluke. His play on third downs and against the blitz bodes well for future success.
On third downs, Mettenberger converted eight first downs through the air, tying the most allowed by Alabama in the Nick Saban era. Last season, in two meetings, LSU did not convert a single third down through the air against the Crimson Tide, throwing for more interceptions (1) than yards (0).
In Mettenberger's first four SEC games, he converted just 34.3 percent of his third-down pass attempts into first downs with three turnovers. Against Alabama, he converted 57.1 percent of his passes into first downs, including 85.7 percent in the second half (6-for-7).
Mettenberger also showed marked improvement against the blitz, particularly in the fourth quarter. Mettenberger was 7-of-8 for 118 yards and a touchdown in the fourth quarter against Alabama when the Tide sent at least five pass-rushers. That's more yards than either he had or Alabama had allowed in those situations in a full game until then. Mettenberger also completed three passes of at least 20 yards against the blitz, one more than he had in his previous four SEC games combined.
Downfield passing had been another area in which Mettenberger was expected to improve LSU's offense. In non-conference games, Mettenberger completed 66.7 percent of his passes that travelled at least 15 yards in the air. However, in conference play, Mettenberger is just 6-of-30 on deep passes (20 percent). But in the fourth quarter against Alabama, Mettenberger was 2-of-3 for 58 yards on deep passes.
While Mettenberger comes in after the best half of his career, this week's opponent has struggled defensively the last two weeks.
Mississippi State
has allowed opposing quarterbacks to complete 77.8 percent of passes the last two weeks without an interception (both losses). During its 7-0 start, Mississippi State intercepted 12 passes, so Saturday's game is a good litmus test to see if Mettenberger truly has turned the corner.
March, 19, 2012
3/19/12
4:11
PM ET
GAINESVILLE, Fla. -- ESPNU 150 Watch List defensive tackle
Rod Crayton
(Dadeville, Ala./Dadeville) was one of several big-time prospects to visit Gainesville on Saturday. The 6-foot-1, 300-pound defensive tackle has offers from LSU, Tennessee, Mississippi State, Arkansas, Michigan and many others, but the Gators have not offered.
Crayton though, believes after his visit to Florida an offer could come soon.
"It was great. I really enjoyed practice," Crayton said. "I really enjoyed talking with coach [Dan] Quinn and coach [Bryant] Young. They haven't offered me yet because they have concerns about my height, but they said they will talk it over as a staff and get back to me. I think they are really interested in me."
Recapping Florida Opening Regionals
SEC SCOREBOARD
Thursday, 9/3
Saturday, 9/5