LSU Tigers:

LSU dismisses Tyrann Mathieu
August, 18, 2012
8/18/12
11:49
AM ET
The
Associated Press Top 25
preseason poll came out 16 days after the
USA Today coaches' poll
.
That means the media members who voted for the poll that came out Saturday morning had one piece of information the USA Today voters did not:
Tyrann Mathieu
, Heisman Trophy finalist and Bednarik Award winner, is off LSU's team.
With that fact in mind, AP voters voted LSU No. 3 in their preseason poll. The coaches voted the Tigers No. 1 on Aug. 2, before Mathieu was dismissed from the team Aug. 10.
August, 12, 2012
8/12/12
10:41
AM ET
This LSU team's reaction to the sudden dismissal of
Tyrann Mathieu
is equatable to ripping off a Band-Aid.
[+] Enlarge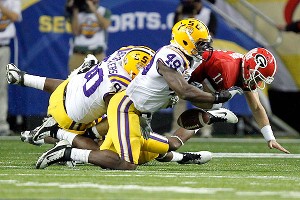 Josh D. Weiss/US PresswireBarkevious Mingo (49) said LSU won't lose any swagger because of Tyrann Mathieu's dismissal.
Early Saturday afternoon, about 24 hours after the Tigers' star cornerback was booted off the LSU roster, members of the team met with the media for the first time. But more telling than their disappointment was their acceptance and resolve in the face of the situation.
"We were all sad for him because we love him like a brother," said defensive end
Barkevious Mingo
. "But it's just one of those things that has to happen."
Mingo is a member of Les Miles' 22-man unity council, a contingent of leaders made up from every part of the Tigers' roster. The head coach's message for his leaders and for his team is the same one he delivered to reporters Friday afternoon -- they must push forward.
"There were some emotional feelings in this building, but I think they understand that they've got to go on," Miles said. "The easiest place, where the understanding of what transpired was here, because they're informed -- they got it."
Of course, there's plenty to be said about how best to replace the Honey Badger's production on the field. Miles was asked incessant questions Saturday about how best to replace Mathieu at both the cornerback and nickelback positions. But that doesn't account for the energy the undersized defensive back brought to the team. Mathieu's confidence, his all-out approach during games and his steady flow of trash talk helped contribute to his Honey Badger mystique just as much as his big plays.
August, 11, 2012
8/11/12
12:19
PM ET
After all his contributions, it's easy to forget that
Tyrann Mathieu
was once an unheralded true freshman. His dismissal from LSU's roster leaves the Tigers with just one experienced cornerback. It also leaves a massive hole at nickelback -- the spot where the Honey Badger caused the majority of his chaos.
[+] Enlarge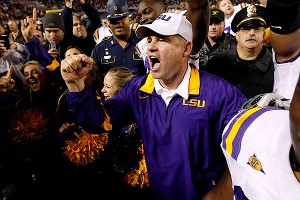 AP Photo/Dave MartinLes Miles has a lot of talent in the secondary, but with Tyrann Mathieu's dismissal, there is a lack of experience.
So who takes over in these two spots?
1. CB Jalen Collins:
Take a gander at the roster and find a better replacement cornerback than Collins -- there isn't one. The Olive Branch, Miss., native is only a redshirt freshman with no in-game experience, but that makes him the second-most experienced corner on the team behind
Tharold Simon
. The rest of LSU's corners are straight from high school. Collins impressed last spring, but he was picked on often during the team's spring game in April. On a defense this talented, he'll be the weak link by default, but the Tigers have a good history of youngsters stepping up.
August, 10, 2012
8/10/12
5:57
PM ET
After LSU
dismissed Tyrann Mathieu from the team
Friday, who are the best candidates to emerge as LSU's primary playmaker? Here are some candidates.
[+] Enlarge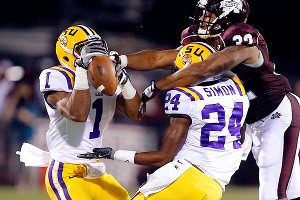 Butch Dill/Getty ImagesEric Reid (1) might fill LSU's primary role of playmaker with the dismissal of Tyrann Mathieu.
1. WR Odell Beckham, Jr.
: Already the likely candidate to be the go-to receiver for quarterback
Zach Mettenberger
, Beckham's role increased Friday. Head coach Les Miles called Beckham a "very talented punt returner," a role Mathieu excelled in. If Beckham proves to be that, his star could rise quickly as he also sees his receiving production increase.
2. S Eric Reid:
The thing LSU will miss the most from Mathieu will be his ability to create turnovers. Reid may be asked to do a bit more of that. Already a pre-season all-American and a candidate to be a first-round NFL draft pick at the end of the season, Reid's been known more for his steady play than as a big-play maker. With Mathieu gone, he may need to become more of a big-play creator.
To continue reading this article you must be an Insider
August, 10, 2012
8/10/12
3:17
PM ET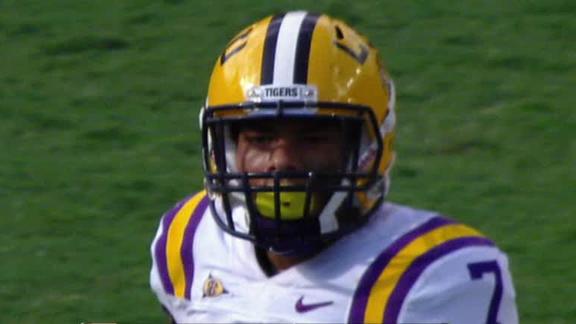 LSU's football team has been down this road before.
It was almost a year ago that the brawl in the parking lot of a Baton Rouge bar went down and starting quarterback Jordan Jefferson was subsequently suspended for the first four games of the season after initially being charged with felony second-degree battery.
Jefferson was accused of kicking somebody in the face, and everybody wondered at the time whether it would also be a kick in the face to the Tigers' season.
Well, we all know how things played out. LSU won 13 straight games against a killer schedule before losing to Alabama in the BCS National Championship Game, and the team was the essence of resiliency.
[+] Enlarge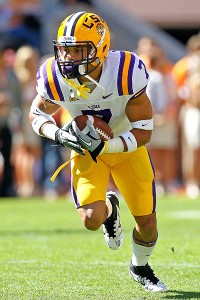 Kevin C. Cox/Getty ImagesTyrann Mathieu proved to be a clutch playmaker on both defense and special teams last season.
The Tigers are going to need that same fortitude this season after Friday's announcement by coach Les Miles that All-American junior cornerback and return specialist
Tyrann Mathieu
had been dismissed from the team for a violation of team and school policy.
Before anybody says that Mathieu won't be that big a loss and that he was overrated as a cover cornerback, I say go back and look at how many clutch plays he made, how many times he changed the entire complexion of games with a turnover or punt return and how he was the one who so many times set the tone for LSU's defense.
He was an outstanding college football player and as dynamic a difference-maker on special teams as he was on defense.
As Miles said in his news conference, the Tigers will definitely miss him.
But this was already a team on a mission after last season's bitter disappointment in New Orleans, a team brimming with strong leadership and a team that has the talent and the wherewithal to overcome a loss like Mathieu.
Even before Friday's news broke, LSU junior defensive tackle
Bennie Logan
was raving the day before about the makeup of this team.
"What makes this team so good is that all we know is working hard and working together," Logan said. "We were wounded by what happened last year in the [national] championship game. Now, it's just a scar, but it's a scar that reminds us and motivates us, and we're not going to let anything get in the way of getting back there and finishing the job this year."
Don't underestimate the role Miles plays in these situations, either. We've all made fun of his Les-isms and the way he comes across at times, but he's a master at rallying his team in the face of adversity.
And no matter what you think of his clock management, his offensive game plan last season against Alabama in the title game or the way he wears his cap, he relates well to his players. More importantly, his players play their rear ends off for him.
It also helps that LSU defensive coordinator John Chavis has been adamant about playing so many young players and getting guys ready to play.
The Tigers don't have a proven roamer in the defensive backfield the caliber of Mathieu, but they have plenty of talent. Junior cornerback
Tharold Simon
was already a more polished cover guy than Mathieu, and Simon needs to show just how good he is this season.
Junior
Eric Reid
is one of the premier safeties in America and the unquestioned leader back there now.
Chavis was already excited about what redshirt freshman cornerback
Jalen Collins
and redshirt freshman safety
Micah Eugene
could add to the equation this season. Their roles just got a whole lot bigger.
True freshmen
Jalen Mills
and
Dwayne Thomas
also will see more reps at cornerback.
Depth at cornerback will be an issue, and taking away a playmaker like Mathieu is a blow to any defense. But these Tigers know the drill.
They're too talented, too battle-tested and too driven to let one player's dismissal -- as decorated as that player might be -- sidetrack them from getting back to college football's biggest stage in January.
August, 10, 2012
8/10/12
3:16
PM ET
At the end of the day,
Tyrann Mathieu
just couldn't stop thinking about himself.
Months after proclaiming he was changed, humbled and ready to lead, Mathieu's selfishness cost him his LSU career, as
Les Miles announced his player's dismissal at a news conference Friday
.
[+] Enlarge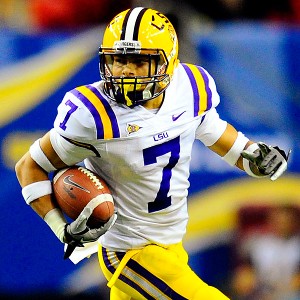 Dale Zanine/US PresswireTyrann Matheiu emerged last season as one of the nation's top cornerbacks and punt returners.
Miles, with disappointment scribbled all over his face, stood up and announced to the college football world that one of the most exciting players in the game -- and a Heisman Trophy finalist a year ago -- is no longer a part of LSU's football because he violated team policies again.
One of the best game-changers and playmakers -- regardless of position – that the game had to offer claimed to have learned from his mistakes, but he is now leaving a team capable of making back-to-back national championship runs.
The face of LSU's program, who went with the celebrity flow by posing for preseason magazine shots this year and showed off his punt-returning skills to the nation on ESPN, let his team and its fan base down by once again thinking of himself first.
Miles didn't give details as to what Mathieu did to earn a one-way ticket out of Baton Rouge, but from the way Miles sounded during his press conference, Mathieu had run out of chances. And Miles had run out of patience with the Honey Badger.
"This is a very difficult day for our team," Miles said. "We lose a quality person, teammate and contributor to the program. However, with that being said, we have a standard that our players are held to, and when that standard is not met, there are consequences.
"It's hard because we all love Tyrann. We will do what we can as coaches, teammates and friends to get him on a path where he can have success. We are going to miss him."
What they'll miss on the field is his unbelievable playmaking ability. Mathieu had a true nose for the ball, constantly locating and flying to it no matter where he lined up, and amazing vision. He wasn't the biggest player or the best cover man, but he just had a way of disrupting things that few could mimic. And on special teams, he proved he could completely change the landscape of a game with one cut.
During his two years at LSU, he totaled 133 total tackles (16 for loss), grabbed four interceptions and forced 11 fumbles (most in school history). He also recovered eight fumbles and averaged 15.59 yards per punt return (with two scores) last year.
The Tigers will now look to a committee of players to replace Mathieu. Redshirt freshman
Jalen Collins
could get work at corner, while true freshmen
Dwayne Thomas
,
Deion Jones
and
Corey Thompson
could get work at nickel. Redshirt freshman safety
Micah Eugene
could also get some work there.
But none are the Honey Badger.
In January, Mathieu sat at a podium inside the Marriott Convention Center in New Orleans just days before the national championship expressing his feelings about his celebrity status and how it transformed him.
He admitted to getting carried away with his Honey Badger persona that took the Internet and college football by storm. The T-shirts, signs, videos and slogans that made him so captivating and famous slowly began to inflate his ego. He went from playing with a chip on his shoulder to playing like he owned the world.
Then, just as he was sitting on top of the world, he was suspended halfway through the season for reportedly failing a drug test. Mathieu later said his one-game suspension helped him realize he wasn't as invincible as he thought. It helped bring him back to reality and made him truly cherish his time with his team.
But the past caught up with Mathieu, who leaves a team poised to be better in 2012. The offense is expected to take off with quarterback
Zach Mettenberger
, and the defense, which ranked second nationally last year, had a chance to be even better, too. But Mathieu won't be around to help.
LSU has met distractions before, but to lose someone with so much talent and status is a real shot to a team hungry to make up for last year's championship failure. This team will regroup, but it has to feel betrayed.
The childlike smile, blonde hair and charismatic play that made Mathieu so endearing in Baton Rouge are all gone. And Mathieu has no one to blame but himself.
August, 10, 2012
8/10/12
3:14
PM ET
By
GeauxTigerNation staff
| ESPN.com
The analysts are breaking it down and the team will now look for a way to fill the void. Now we want your thoughts on Tyrann Mathieu's dismissal ...
Will LSU's title chances take a huge hit? Take your stance on the GeauxTigerNation
message board

.
Do the rankings need to be adjusted now?
Vote here
on SportsNation.
With the Honey Badger's dismissal, what will be hurt most, LSU's defense or special teams?
Voice your opinion here
.
And don't forget to
watch
College Football Live on Friday at 2:30 p.m. CT for more reaction and analysis.
August, 10, 2012
8/10/12
2:14
PM ET
By
ESPN.com staff
| ESPN.com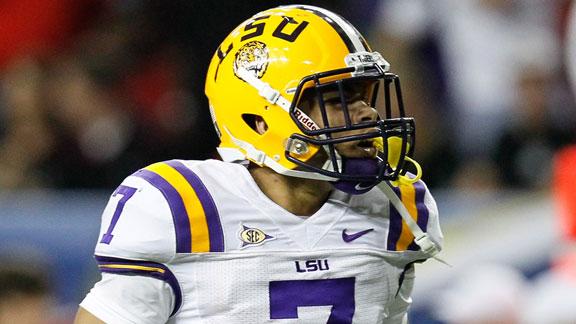 LSU has dismissed Heisman Trophy finalist Tyrann Mathieu from its football program for violating school and team rules. A source told ESPN's Joe Schad on Friday that Mathieu has been looking for a new school to play for this season.
Read
more on Mathieu's dismissal from LSU
.
Marcus Spears reviews LSU Pro Day
SEC SCOREBOARD
Thursday, 9/3
Saturday, 9/5