April, 23, 2014
Apr 23
9:00
AM ET
LSU's Tiger Stadium has never been much fun for opposing teams to visit.
Alabama coach Bear Bryant famously once said that it "happens to be the worst place in the world for a visiting team" and that when the home crowd was at its loudest, standing on the field with the sound waves beating down was "like being inside a drum."
If it's possible, Tiger Stadium might get even louder this fall, once a nearly completed construction project at the south end zone encloses that end of the stadium.
"I suspect the noise will be a good, quality 10 decibels higher," cracked Les Miles, who is 57-7 at home since taking over as the Tigers' coach in 2005.
[+] Enlarge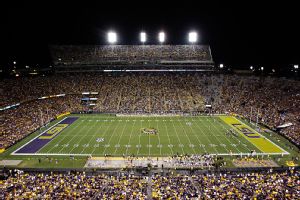 AP Photo/Gerald HerbertHow loud will things get at LSU?
That kind of decibel increase is unlikely, but it makes sense that with roughly 100,000 people now able to occupy the stadium and with a completely enclosed south end, it will be more difficult for sound to escape. And that means the nation's most hostile environment might become just a bit more difficult to endure than it was before.
LSU fans at the April 5 spring game were able to see the project in its finishing stages. What was once an open-ended south end will feature about 60 suites and 3,000 club seats by the time the 2014 season begins, plus 1,500 general public seats and a pair of video boards at the corner of either end zone.
Athletic director Joe Alleva recently wrote in a letter to fans that the expansion will push the stadium's capacity from 92,542 to beyond 100,000 -- making it one of just seven across the country to surpass the century mark.
"It's beautiful. It's just rising up," Miles said. "You can really see where the [video boards are] going to be. It's always been magnificent, it's just going to have more."
The stadium's reputation has expanded along with its seating capacity since it opened as 12,000-seat facility in 1924. It was at 78,000 by the time LSU completed its original upper-deck expansion in 1978. It reached its current capacity with the 2006 completion of a $60 million renovation of the west upper deck. Before the south end zone construction project -- which the Tiger Athletic Foundation said would be privately funded -- the most recent major renovation came in 2009, when LSU added a 27-by-80 high-definition scoreboard at the north end zone.
Such renovation projects sometimes have a way of altering the playing conditions within a stadium, particularly when it comes to the wind that affects kicks and punts. A reporter's question on that subject actually provided Miles with an opportunity to deliver one of his trademark wacky responses after the Tigers' spring game.
"We're going to do a dynamic wind-change study. It's going to have to do with confetti and confetti droppings," Miles said with a grin. "For instance, you section it off -- and I just want you to know we learned this by how they're searching for that plane [Malaysia Airlines Flight 370] -- basically you're going to drop confetti in one area, the pieces are uniformly cut and then you watch where it goes and you film that. And one section over, you drop it. And one section over, you drop it. And you bring it out to the 50 and you map it all the way back.
"Certainly we'll keep that to ourselves after we find that out. But I'm not certain we'll do that, either."
That was Miles' unique way of saying that he doesn't think the new addition will have much of an impact on field-goal tries, meaning that stadium aesthetics and game-day decibel level will be the most noticeable changes once the project is complete.
"For us, the 50-yard line has a pretty breezy feel. And then back in to both sides, [the wind] really quiets pretty comfortably, and I think that's going to be consistent," Miles said. "It just appears that way."
May, 30, 2013
5/30/13
9:00
AM ET
DESTIN, Fla. -- If Florida coach Will Muschamp and athletic director Jeremy Foley have their way, both LSU and Florida State will stay on the Gators' schedule regardless of how many SEC games are on Florida's slate.
It's a good call by Muschamp and Foley because both games are big for the program, and big for the money pot. Anyone who knows anything about Florida football recognizes the bitterness and enthusiasm the Gators' rivalry with the Seminoles, which dates back to 1958, exudes.
"The Florida State game is very important to us," Foley said. "I don't see that changing."
[+] Enlarge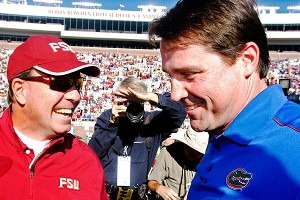 AP Photo/Phil SearsFSU's Jimbo Fisher (left) and Florida's Will Muschamp are good friends and have a lot in common, but this year they have seen their programs head in opposite directions.
Keeping Florida State on the schedule is a no-brainer for the Gators, but there has been plenty of talk about potentially ending the Florida-LSU series, especially from LSU's camp. This game has been played for 42 consecutive years, and the two became permanent cross-division opponents when the SEC split into divisions in 1992. But LSU coach Les Miles and athletic director Joe Alleva have been very public this week about getting rid of permanent crossover opponents.
Muschamp understands LSU's stance on moving from the current 6-1-1 format to a 6-2 format, which has two crossover rotators and no permanent opponent, but he believes this game is too important to scrap.
"It's a great game for our league," Muschamp said. "I've been on both sides of it as a coordinator and now as a head coach. It's a national game for our league.
"At the end of the day, a 6-2 format is probably the fairest format -- if you want to be honest -- but I do enjoy the rivalry."
Miles, whose Tigers already share a division with Alabama and Texas A&M, doesn't want to have to continue playing one of the East's top teams every year if other squads don't face similar challenges.
"I think you play your division, rotate two teams [from the other division]," Miles said. "Everybody in the country can honor and visually see that that's the honest, straightforward way to do it."
I understand where Miles is coming from. Alabama and Georgia are dealing with permanent opponents who have fallen in recent years, while LSU played 11-win teams in Florida and South Carolina last year, going 1-1 against them. This fall, the Tigers host Florida and play at Georgia, both of which will probably be top-10 teams entering the fall.
Alabama's East opponents are Kentucky and Tennessee (permanent), which both have new head coaches.
"I'm totally opposed to permanent opponents," Alleva said. "It has nothing to do with Florida. I think it's a competitive disadvantage to every team in the league to have a permanent opponent. I think they all should rotate. It's better for our fans, it's better for our players. We have players who never get to play against some SEC teams. So from a competitive standpoint, from a student-welfare standpoint, from our fans' standpoint I think we should just play six in our division and rotate the other two."
It's going to be tough for LSU to get rid of Florida because of other more historical crossover rivalries, such as Alabama-Tennessee and Georgia-Auburn. SEC commissioner Mike Slive has been adamant about not getting rid of those games and said a hybrid format with only some teams having permanent crossover opponents hasn't been discussed.
"The rivalry games are important," Slive said. "Otherwise I would have given you the [scheduling] format last Monday."
One rivalry the Gators aren't high on is the one against Miami. This fall, Florida will play Miami for the fifth time since 2002, but Foley doesn't consider the rivalry, which was hot before the 1990s, much of a priority -- especially if the SEC moves to nine conference games.
"You never say never, but that's not high on the agenda right now," Foley said. "For me to sit here and say, 'Well, we'll do that down the road,' there's too many unknowns in scheduling right now. If you're at nine conference games plus Florida State, I'd probably tell you it's unlikely. There's been no conversation between us and the University of Miami."
December, 13, 2012
12/13/12
7:30
AM ET
BATON ROUGE, La. -- All told, it seems most around LSU feel pleased to go the Chick-fil-A bowl.
Now, it's about getting the fans excited too.
LSU coach Les Miles said during a Wednesday news conference that the Chick-fil-A bowl game -- between his No. 8 Tigers and No. 14 Clemson in a matchup of 10-2 teams -- is one of the better bowl pairings of the season. He added that with several players from the area, Atlanta is a place where his guys "love to play" and that Clemson is an opponent they can embrace.
And both Miles and athletic director Joe Alleva seemed to endorse Chick-fil-A Bowl CEO Gary Stokan's claims that their bowl is "BCS without the letters" and is consistently rated as one of the top three or four bowls in terms of how it's run -- regardless of where it is in the bowl pecking order.
Stokan seemed to find the talk of possible fan apathy quite obscure.
He said they are expecting their 17th straight Chick-fil-A Bowl sellout, the second longest streak of bowl sellouts behind the Rose Bowl. He said the bowl could sell out by Dec. 17. The New Year's Eve game has little competition for sports TV audience and he said LSU's 2005 win over Miami is one of the highest rated games in ESPN television history.
If there's dissatisfaction with LSU's bowl placement, you didn't see it Wednesday. Alleva and Miles seemed pleased enough and the big winner is the Chick-fil-A Bowl, which managed to land a 10-game winner from the SEC despite being sixth in the pecking order. One late touchdown by Alabama was all that kept LSU from winning the SEC West, playing for the SEC championship and possibly for the national championship.
"We are ecstatic to have LSU," Stokan said.
If he has his way, Atlanta will become a frequent home of national title contenders.
The city is making a bid to host semifinal and national championship games starting in 2014 when college football goes to a four-team playoff. Atlanta is close to
getting a new stadium
to replace the Georgia Dome, a 20-year-old former Olympic Games venue in good condition but already the 10th-oldest in the NFL. With its facilities, its city and its ambition, The Chick-fil-A bowl already doesn't feel like a bowl that would only get the No. 5 or No. 6 team in the SEC.
November, 30, 2012
11/30/12
8:30
AM ET
Taking your questions on LSU football and recruiting:
Do you think the talks with Arkansas were ever serious for Les Miles? Did Miles use it as leverage for more money?
Miles used the word "sincere" to describe his dialogue with Arkansas over its job opening. That's probably a good word choice because it reflects that Miles took it seriously and listened, but falls short of any suggestion that Miles was ever anywhere near leaving Baton Rouge.
To continue reading this article you must be an Insider
August, 22, 2012
8/22/12
1:30
PM ET
BATON ROUGE, La. -- LSU's Tiger Stadium got its start as a 12,000-seat venue in 1924, but by 1931, iconic Louisiana governor Huey P. Long wanted a football power at the state's flagship school, so he wanted the stadium expanded.

LSU's president, however, wanted new dormitories. So Long, ever the deal-maker, had a compromise: Build the dorms as part of the stadium expansion. So Tiger Stadium was expanded by 10,000 seats to 22,000 and housing for 1,500 students was added within the walls of the stadium, creating an exterior to the stadium that looked like a stadium-shaped dormitory.

Eighty years and numerous stadium expansions later, Tiger Stadium currently seats 92,542 and will expand to close to 100,000 seats with construction due to start this fall on the stadium's south side -- the old dorms were no longer used, but sat in disrepair, as did many of the older parts of the stadium.


April, 10, 2012
4/10/12
9:45
AM ET
Joe Alleva's base salary as LSU's director of athletics is $525,000 a year, according to various reports.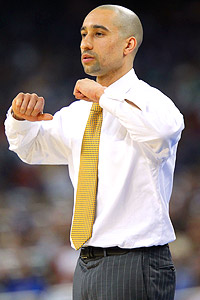 Andy Lyons/Getty ImagesShaka Smart would be a home-run hire for the LSU Tigers.
It's times like these when he earns it.
He's caught in a search for a men's basketball coach where a local candidate has emerged in Johnny Jones. But the North Texas coach isn't
universally
the local favorite. And that will make for an interesting and difficult dynamic for Alleva to navigate.
To continue reading this article you must be an Insider
April, 9, 2012
4/09/12
12:45
PM ET
Johnny Jones' candidacy for the vacant LSU head basketball coach position has picked up a trio of notable endorsements.
[+] Enlarge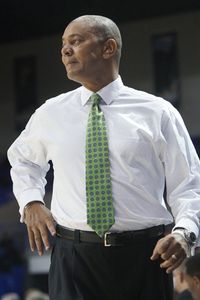 AP Photo/Danny JohnstonNorth Texas coach Johnny Jones might be on LSU's list.
After Collis Temple Jr., one of the school's more prominent ex-players, opined that the North Texas coach and former LSU point guard and assistant coach should get the LSU job on Friday, outgoing coach Trent Johnson echoed those sentiments to a Baton Rouge magazine on Saturday. And Dale Brown, the winningest and most prominent former LSU coach, also gave Jones a ringing endorsement Monday.
"I read (athletic director) Joe Alleva's comments in the paper today describing what the next coach needed to be - integrity, discipline - and what he was describing was Coach Johnny Jones," Brown said.
To continue reading this article you must be an Insider
No. 2 CB Sheffield Talks Recruiting
SEC SCOREBOARD
Thursday, 8/28
Saturday, 8/30
Sunday, 8/31