LSU Tigers:

Jerald Hawkins
April, 10, 2014
Apr 10
2:00
PM ET
BATON ROUGE, La. -- LSU's spring practice is officially in the books. Now that it's over, we thought it might be fun to review two sets of our predictions from before the spring and see how close we came.
Prediction No. 1: Freshmen will contend for playing time
[+] Enlarge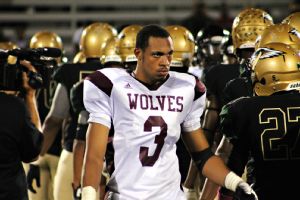 Max Olson/ESPN.comLSU early enrollee Edward Paris is making an impact at defensive back.
Outcome:
Although it's clear that freshmen such as tailback
Leonard Fournette
, receiver
Malachi Dupre
and safety
Jamal Adams
-- none of whom will arrive until this summer -- are likely contributors in 2014, this prediction mostly referred to the redshirt freshmen who will see their first action this fall. It also referred to early enrollees defensive back
Edward Paris
and quarterback
Brandon Harris
, who participated in spring practice and stand a good chance of playing this season.
We were hardly going out on a limb here, but it appears as though plenty of redshirt freshmen secured 2014 playing time over the last month. Players worth mentioning from that group include receiver
John Diarse
and defensive linemen
Frank Herron
,
Maquedius Bain
and
Greg Gilmore
.
Prediction No. 2: Anthony Jennings keeps the QB job
Outcome:
To be determined. Harris clearly outplayed Jennings in last Saturday's spring game, but LSU's coaches and players insist the competition is far from over. Jennings etched his name into LSU lore by leading the game-winning touchdown drive against Arkansas last year in relief of an injured
Zach Mettenberger
, but his mediocre performance in the Outback Bowl and highly average spring game -- he threw two interceptions, both to linebackers who returned them for touchdowns -- leave this race wide open.
Jennings might very well start the opener against Wisconsin, but we can't claim victory (or accept defeat) on our quarterback prediction at this point.
Prediction No. 3: Right guard isn't the only offensive line job that's up for grabs
Outcome:
Right guard is the only spot that didn't return a starter, so it was clearly up for grabs. We were curious as to whether new offensive line coach Jeff Grimes might shake things up along the line, but it doesn't appear that he did.
Returning starters
La'el Collins
,
Vadal Alexander
,
Elliott Porter
and
Jerald Hawkins
apparently held onto their starting roles, although it wouldn't be completely untrue to say that some of their jobs were up for grabs had one of the reserves put together a dominant spring. Nonetheless, the right guard battle --
Evan Washington
,
Fehoko Fanaika
and
Ethan Pocic
all remain in the running for the job -- was the only one that seemed highly competitive this spring.
Prediction No. 4: Rashard Robinson keeps rising at cornerback
Outcome:
Another fairly safe prediction here. As long as Robinson remains on the active roster, it seems highly likely that he will build upon his late charge in 2013 and become a star in the secondary.
Harris and
Rob Bolden
teamed up to beat him on a pretty throw down the sideline in the spring game, but Robinson otherwise held up well last Saturday. After shutting down Texas A&M superstar
Mike Evans
last season, Robinson has LSU fans excited about his potential -- and he didn't seem to hurt his cause on the practice field this spring.
Prediction No. 5: Danielle Hunter improves as a pass rusher
Outcome:
Anyone who saw Hunter manhandle the second-string offensive line in the spring game -- including back-to-back sacks on one possession -- would say this prediction seems to be sound.
LSU posted just 27 sacks last season, which was a big drop-off after the last few Tigers teams boasted at least one or two scary pass rushers.
Jermauria Rasco
led the team with just four sacks, and Hunter tied for second with three.
It would be a major upset -- and a big disappointment -- if Hunter fails to exceed that total this fall.
Now let's take a look at our predictions for five players to watch during the spring: Paris, Jennings, Fanaika, wide receiver
Quantavius Leslie
and defensive lineman
Mickey Johnson
.
There were some hits and misses here. Jennings was an obvious choice since he and Harris were clearly going to battle for the quarterback job. Picking either one made sense, but we went with Jennings since he was the more experienced player. Harris was the contender who generated all of the positive buzz in the spring game, however.
Fanaika, Leslie and Johnson are all veterans at positions with major playing time available, so they seemed like good picks. Fanaika is still a leading contender to start at right guard and Leslie had a productive second scrimmage (four catches, 135 yards and three touchdowns), although he was quiet in the spring game. But Johnson dealt with injuries during the spring and was not a factor in the Tigers' competition at defensive tackle.
The problem with our Paris prediction was that we projected him as a contender at safety, which is where ESPN listed him as a prospect. The early enrollee practiced at cornerback during the spring, so we can't feel too good about that prediction. But he was working with the second-team defense by the end of the spring, so at least he flashed some potential.
If we could redo the list, we'd place Harris, Washington, Diarse, Bain and sophomore
Kendell Beckwith
-- who shifted to middle linebacker this spring -- on there.
March, 25, 2014
Mar 25
9:00
AM ET
BATON ROUGE, La. -- There are distinct differences between the coaching style of
LSU
's new offensive line coach, Jeff Grimes, and the methods of his predecessor, Greg Studrawa. Perhaps the most obvious for an outside observer is that the decibel level on the practice field has dropped several notches.
Hard-nosed and extremely vocal, Studrawa -- whom Les Miles did not retain after the 2013 season, and who has since accepted the same job at Maryland -- could have come straight from Central Casting to play the role of an offensive line coach. Grimes, on the other hand, does his teaching without all the yelling.
[+] Enlarge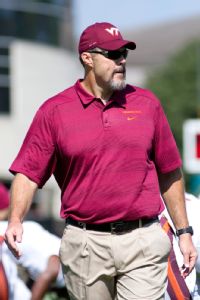 Jeff Lack/Icon SMIFormer Hokies O-line coach Jeff Grimes has brought an "attention to detail and technique" to LSU, according to coach Les Miles.
"If [Grimes is] on the practice field, you probably wouldn't even notice him. You notice Stud because he was out there yelling and doing all those things and being passionate like that," left guard
Vadal Alexander
said. "Grimes is just a guy that just wants everything to be perfect. He's kind of like Coach Miles. They're both kind of the same in that facet. So I can tell you right now, we're better this week than we were last week just because of Coach Grimes."
That's not to say that Grimes lacks an edge. It's there when necessary -- just not as loud.
"He's upfront. He won't sugarcoat anything. He'll just tell you how it is," said senior
Fehoko Fanaika
, who is battling for the Tigers' starting right guard spot.
LSU's offense relied heavily on a foursome of NFL-caliber skill players in quarterback
Zach Mettenberger
, tailback
Jeremy Hill
and receivers
Odell Beckham
and
Jarvis Landry
-- a group that helped the Tigers become the first SEC team to boast a 3,000-yard passer, a 1,000-yard rusher and two 1,000-yard receivers.
However, the Tigers' offense was fairly average overall, ranking in the middle of the SEC pack in both total offense (seventh, 453.3 ypg) and scoring offense (sixth, 35.8 ppg). The offensive line's play certainly factored into those middling results, ranking 57th nationally with an average of 1.92 sacks allowed per game.
Miles, however, believes Grimes' focus on "attention to detail and technique" will help a line that returns four starters become a more effective group this fall.
"I think we'll be better. I really do," Miles said. "But it has to do with the duality of veteran offensive linemen getting to a point in their career where they're making the final adjustments and Jeff coming in with a real nice focus for them there. I think it should be pretty quick."
Just because Alexander, left tackle
La'el Collins
, center
Elliott Porter
and right tackle
Jerald Hawkins
are all back doesn't mean Grimes has guaranteed starting roles to the returning starters. The Tigers have at least seven linemen whom the coaches like -- throw Fanaika (guard),
Evan Washington
(guard or tackle) and
Ethan Pocic
(center, guard or tackle) into the mix -- and want to evaluate as potential starting combinations.
"Everyone's been moving around a lot. Coach Grimes has been moving us around. He's trying to see where he likes people at," Pocic said.
That type of experimentation is fairly common during the spring even among coaches who didn't just arrive on campus. But in this case, Grimes is simply getting a feel for his personnel -- and they're getting a feel for him, which they quickly noticed does not include the in-your-face tactics one might expect from an offensive line coach.
"Coach Grimes is one of the most specific, technical guys you'll meet in your life. Automatically, right off the bat, he got us better," Alexander said. "Coach Stud was a great coach and I love him. He got us better, as well, but just Coach Grimes has a different way of approaching things. He's more mellow."
In Grimes' profession, results are what matter, not coaching methods. He has been successful in that regard, most notably during Auburn's 2010 BCS championship run, but also in stops at Virginia Tech, Colorado, BYU, Arizona State and Boise State.
Starting with his first practice on campus, Grimes' reputation as a technician caught his head coach's attention. Miles said last week that it was paying off, with linemen picking up the finer points of their positions that can lead to an overall more productive performance from his group.
"I think our guys are responding to it," Miles said. "I think the guys are really in position to do so in other words. It's pretty much a veteran group and there's always the final footwork, if you will, or the final course, the head placement. I think Jeff's coming in at the right time for these guys and making that point."
March, 14, 2014
Mar 14
3:30
PM ET
BATON ROUGE, La. –
Evan Washington
grinned Tuesday when a reporter joked that
Fehoko Fanaika
said he plans to "smoke" him in the competition to become LSU's starting right guard.
[+] Enlarge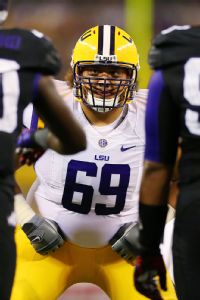 Ronald Martinez/Getty ImagesFehoko Fanaika, who has lost 30 pounds since joining LSU as a juco transfer, is competing with Evan Washington and Ethan Pocic to start at right guard.
"I hope that's his mentality," Washington said. "It needs to be a tough battle."
Fanaika made no such comment, but make no mistake: he has no intention of handing over the job to Washington -- a senior who is shifting from offensive tackle in an effort to win the position -- or
Ethan Pocic
without a fight.
"We want the best out there," Fanaika said. "If someone's beating me out, that's probably going to be hard to do, but I'd want him on the field more than me. I want the best."
So does new offensive line coach Jeff Grimes, who has a long way to go before he settles on anything, however. Pocic said Grimes has been moving his linemen around throughout LSU's early practices in order to identify the combinations he likes.
It's unclear whether one of those combinations will include Pocic at center. An early enrollee last year, Pocic backed up
Elliott Porter
at center during the fall. Pocic said Tuesday that he had practiced only at guard and tackle so far this spring, but Coach Les Miles said Pocic spent about half of Thursday's practice at center.
"When I came in, I went to center and just the whole basic stuff was pretty hard -- like snapping and stepping -- but once you really get the hang of it, you get more into a groove," said Pocic, who played left tackle in high school. "The good part about playing center is you've basically got to know what everyone's doing, so when it's time to play a different position, I pretty much already know it because you've got a good overall base of what the O-line's doing."
If the rotation in the periods of practice that were open to the media are any indication, the seniors are Grimes' top two options at right guard. For the most part, Washington was the first to work alongside starting right tackle
Jerald Hawkins
in drills, but he and Fanaika are both getting their chances to impress the new position coach.
"It's pretty much a great battle right now," Hawkins said. "They both know what they're doing -- especially Evan Washington and Hoko [Fanaika]. They know the playbook from last year, so it's just who really wants it more."
Fanaika said he now weighs 340 pounds after tipping the scales at approximately 370 when he transferred from College of San Mateo junior college last January. He said he wants to get down to 330 pounds before the season.
In addition to dropping more weight, Fanaika said he also needs to prove to Grimes that he's mentally and physically tough enough to claim the job.
"I'm not there, but I'm just trying to get better every day -- as well as everyone who's trying to fight for it," Fanaika said.
That fight will continue for the next couple of weeks, although Washington predicted there will be a clear leader by the time the spring game arrives on April 5.
"I feel like everyone has a chance right now," Fanaika said. "[Grimes] came in actually telling us that no one has a guaranteed spot. We're all going to come out here and work and the best five will start."
March, 5, 2014
Mar 5
9:00
AM ET
BATON ROUGE, La. -- A brand-new version of LSU's football team will take the field this week for its first spring practice.
In previous weeks, we've broken down several players and position groups to watch this spring. This week, leading up to Saturday's first team workout, we'll make five predictions related to the Tigers' upcoming practices.
Today's prediction: Right guard isn't the only offensive line job up for grabs
[+] Enlarge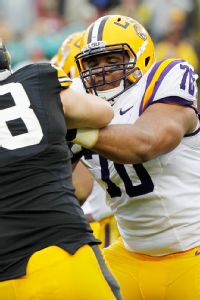 Kim Klement/USA TODAY SportsLa'el Collins is one of four starters back on the LSU O-line, but that doesn't mean their jobs are safe.
Take a look at LSU's depth chart and it's clear that experience isn't an issue among the starters. Left guard
Vadal Alexander
and right tackle
Jerald Hawkins
started all 13 games last season while rising seniors at left tackle,
La'el Collins
, and center,
Elliott Porter
, both started 12.
So that means the Tigers only have one offensive line spot that is open for true competition, right? Maybe, but I'm not sure that will be the case.
Les Miles hired a new offensive line coach, Jeff Grimes, during the offseason and the message he will undoubtedly send this spring is that everyone has a clean slate. He made that very point two weeks ago in a local radio interview, noting that he watched only enough film of the group to get a general idea of what the individual players can do. He wants to see them earn their jobs, starting now.
Now you can comfortably assume Collins will remain as the starting left tackle. He's widely considered one of the nation's better senior offensive tackles and could conceivably become a first-round NFL pick in 2015. Hulking junior Alexander (LSU lists him at 6-foot-6 and 342 pounds) has a similar pedigree among 2016 guard prospects.
So where will the most competition occur? Right guard is obvious since the Tigers must replace
Trai Turner
, who seems to have impressed NFL scouts since deciding to leave after his redshirt sophomore season.
Massive senior
Fehoko Fanaika
(6-6, 348) might be the answer there, but there are other candidates. One of them might be
Ethan Pocic
, who could also push Porter -- whom he backed up at center last season as a true freshman -- for playing time. Another might be
Evan Washington
, who is officially listed as a tackle.
As a sophomore Hawkins naturally had his ups and downs in his first season as a starter, so Grimes will certainly look for more consistency out of him this season before handing him the starting spot once again. But the Tigers shifted Alexander from right tackle to left guard last season to make way for Hawkins, so clearly they liked the athletic Hawkins' potential.
The safe money is on experienced players holding onto their starting spots. And it wouldn't be much of a surprise if Collins, Alexander, Porter and Hawkins man four of the five line spots when the Tigers open the season against Wisconsin.
Grimes has been around the block a time or two, though. This is his eighth different coaching stop since grabbing his first college job coaching the offensive line at Hardin-Simmons in 1998. He knows that the best way for a new coach to motivate players is to give everyone a fair shot and then let them earn their jobs.
That's what he'll do with his new players and, even if the starters remain the same, it's safe to predict that a fresh competition might help the line improve this fall.
February, 28, 2014
Feb 28
9:00
AM ET
BATON ROUGE, La. -- We're closing in on the start of spring practice at LSU, so this week let's take a look at five position battles worth watching this spring.
We covered the wide receivers, defensive tackles, quarterbacks and safeties in the first four installments. We conclude this week's series with the offensive line, which will break in a new position coach, Jeff Grimes, and at least one new starter this fall.
[+] Enlarge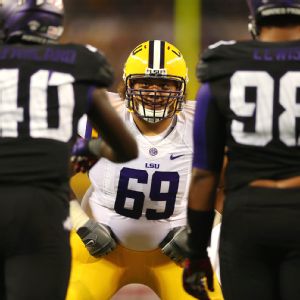 Ronald Martinez/Getty ImagesThis will be a big spring for Fehoko Fanaika, who hopes to earn LSU's starting right guard spot.
Returning starters:
Left tackle
La'El Collins
(second-team All-SEC and 12 starts in 2013), left guard
Vadal Alexander
(13 starts), center
Elliott Porter
(12 starts) and right tackle
Jerald Hawkins
(13 starts) are all back, helping the line rank among the most experienced position groups on the Tigers' roster.
Departures:
Right guard
Trai Turner
(13 starts) entered the NFL draft after a redshirt sophomore season where he became a second-team all-SEC pick. ESPN Scouts Inc. ranks him as the No. 5 guard and No. 113 overall prospect in the upcoming draft.
Returning reserves:
Although Grimes could always elect to shake up the lineup, the most intriguing position at this point is the one that lost a starter: right guard. We recently wrote about how this will be a big spring for
Fehoko Fanaika
to prove that he deserves to inherit Turner's starting spot. Fanaika was an early enrollee after transferring from the College of San Mateo junior college last January and played in 12 games as a backup. The 6-foot-6, 348-pound mauler must now prove he deserves a starting spot. Other reserves of note are
Ethan Pocic
, Porter's backup at center who could play other positions if necessary, and rising sophomore tackle
Josh Boutte
. Tackle
Evan Washington
and guard
Jonah Austin
also played last season, with Washington earning a start against Furman.
Newcomers:
Guards
K.J. Malone
and
Andy Dodd
both redshirted last season after arriving at LSU as four-star prospects. The Tigers signed just two offensive linemen in this class, both of whom will arrive in the summer. One of them,
Garrett Brumfield
, was ESPN's No. 1 guard prospect for 2014, so he might make the guard competition interesting in August if Fanaika doesn't nail down the job this spring. The other signee is four-star guard
William Clapp
.
What to watch:
Beyond the candidates for the right guard spot, it's worth watching how Grimes decides to use his returning players. He said in a local radio interview last week that LSU's line was good, but rarely great in 2013, adding that he hadn't evaluated individual players too closely yet, so that he could give them all a fair shake when they start practicing together. The four returning starters have a decided experience advantage, but Grimes hasn't developed any preferences yet. This will be a valuable evaluation time for the Tigers' new assistant coach.
January, 15, 2014
Jan 15
6:15
PM ET
BATON ROUGE, La. – Virginia Tech assistant coach Shane Beamer confirmed Wednesday what several media outlets had already reported: Fellow Hokies assistant Jeff Grimes will replace Greg Studrawa as LSU's offensive line coach.
Congrats to @coachgrimey on his move to LSU. Excited for him to get closer to his TX roots. Thanks for making our OL better this past year

— Shane Beamer (@CoachSBeamer) January 15, 2014
Grimes spent the last season as offensive line coach and running game coordinator on Frank Beamer's Virginia Tech staff, following a four-year tenure as the line coach at Auburn – a stretch that includes the Tigers' 2010 BCS title run.
LSU coach Les Miles told reporters Tuesday that he didn't expect to announce a hire for approximately a week, but listed some of the attributes he values in a new assistant.
"He's got to be a guy that can show us that he can improve what is already really a pretty good line," Miles said. "And he's going to have to have run-pass technical expertise, he's got to have guys he's put in the league. Coaching in the league is a thought – not necessarily a prerequisite, but certainly a consideration."
Grimes, a 20-year coaching veteran and native of Garland, Texas, does not have NFL experience on his resume. His players have earned their share of postseason accolades, however, with several reaching the pros. Out of the five starters on Auburn's 2010 offensive line, four earned All-SEC or All-America honors in their careers and two became NFL draft picks.
Grimes' 2001 offensive line at Arizona State had four seniors drafted the following spring, including first-round pick Levi Jones.
[+] Enlarge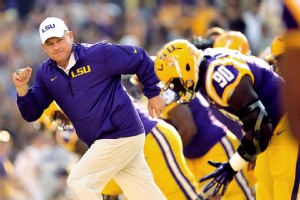 Stacy Revere/Getty ImagesLes Miles is confident that LSU's 2014 offensive line will be a dominant one.
The 45-year-old Grimes also has made stops at Colorado, BYU, Boise State and Hardin-Simmons as an assistant.
He inherits an offensive line that returns four starters – including second-team All-SEC left tackle
La'El Collins
, who announced Tuesday that he will return for his senior season – and loses only guard
Trai Turner
, who decided to forgo his remaining eligibility in order to enter the draft.
The returning starters – Collins, center
Elliott Porter
, right tackle
Jerald Hawkins
and left guard
Vadal Alexander
– collectively started all but two games in 2013.
"I think we'll be a dominant offensive line, without question," Miles said. "There's a number of guys that really are back out there that will step forward and have an opportunity to be really significant. I think obviously La'El returning will just bolster that group."
January, 14, 2014
Jan 14
6:58
PM ET
BATON ROUGE, La. -- La'El Collins would have been an NFL draft pick this year. He might have even been an early-round pick this year. But unlike seven teammates, Collins announced on Tuesday that he will return for the 2014 season at LSU in order to complete his degree and improve his pro stock.
[+] Enlarge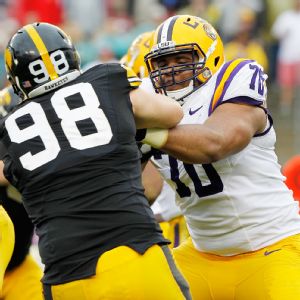 Kim Klement/USA TODAY SportsWith La'El Collins returning for his senior season, LSU will have four of five returning starters back on its offensive line.
"Going to the draft early and maybe going late first, early second -- who knows? -- I know for a fact that if I came back to school, I could earn my degree and have a better chance and a better opportunity to go higher in the draft next year," Collins said. "It all kind of came together and it all made sense."
Collins announced his decision at an on-campus press conference alongside coach Les Miles and fellow rising seniors
Jordan Allen
,
Kenny Hilliard
,
Elliott Porter
and
Jermauria Rasco
-- all of whom also plan to return in 2014.
Miles credited the returning players for making decisions that will allow them to further develop before making the leap for the pros -- often a risky proposition, as several of the 11 Tigers who left school early after last season can attest. Only nine of those 11 got drafted and six were taken in the third round or later.
"I'm absolutely sure," Miles said when asked if the departed Tigers' fates this season might have impacted the decisions of the players who chose to stay. "There were some unusual decisions made last year in my mind."
Collins, Miles said, was a safe bet to become an NFL draft pick, but he emphasized that players need to strongly consider the possibilities should their pro stock sits on shakier ground.
"What we try to tell them is this: let's not give the NFL a deal. There's no reason for it," Miles said. "The guaranteed money, the best position to go into the draft is the first round. What we want to encourage is to really view your decision in relationship to where you can be and where you are. These guys, they made great decisions."
Collins was a second-team All-SEC selection this season after taking over as the Tigers' left tackle. He started all 13 games in 2012 at left guard, leading to some question about where he might eventually land in the pros.
He said NFL teams have offered mixed feedback as to which position he will play, but Miles said another college season at tackle will provide an opportunity to convince scouts that he can be a tackle.
"If I was sitting in an NFL room right now, I'd be sitting there questioning that. That would be a real question," Miles said. "I think this year his piece is to improve and to make his last year his best year. And then I see tackle (in the NFL)."
The Tigers' offense lost five productive underclassmen with eligibility remaining -- receivers
Jarvis Landry
and
Odell Beckham
Jr., running backs
Jeremy Hill
and
Alfred Blue
and offensive guard
Trai Turner
-- as well as senior quarterback
Zach Mettenberger
, so LSU's 2014 offense will feature an entirely new set of skill-position players. The offensive line should return four starters, however, in Collins and center Porter, right tackle
Jerald Hawkins
and left guard
Vadal Alexander
.
Miles said he expects the group to be dominant next season and Porter and Collins both predicted that it will be the strength of the rebuilding offense.
"Last year was our first year really playing together as a whole and I think that with another year under our belt, it's going to be a great season," Collins said. "For me the game is won in the trenches, so if we come out and do the things that we're capable of doing, I think we'll have a great season."
Getting Collins back makes that a much more likely proposition. He didn't give the NFL a deal, to use Miles' expression, giving LSU another season with arguably its top offensive lineman and providing Collins with another season to prove where he belongs on 2015 draft boards.
"I don't think there's any question that he has the potential to be a very early draft pick at left tackle," Miles predicted.
November, 20, 2013
11/20/13
12:30
PM ET
Talking quarterbacks, BCS bowls, penalties, turnovers and even a punter in today's edition of the lunchtime links:
August, 13, 2013
8/13/13
10:00
AM ET
BATON ROUGE, La. -- When LSU offensive lineman
Vadal Alexander
moved to left guard last week following what may be a career-threatening injury to projected starter
Josh Williford
, Alexander was left with the possibility of starting at a second position on the offensive line in as many seasons.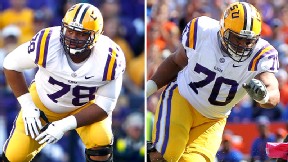 USA TODAY SportsVadal Alexander (left) and La'el Collins, should provide LSU with some dominant efforts on the left side of the O-line.
"As long I've been here, I've always known there's a chance I'd play [guard]," said Alexander, who spent the better part of last season starting at right tackle as a true freshman." It just worked out at tackle last year."
What's comforting for Alexander is, as he slides into his new spot, he can lean on the knowledge of left tackle
La'el Collins
, who spent 2012 as the starter at left guard.
"La'el knows the position well," Alexander said.
It is sharing Alexander can reciprocate because of the quirk to this season's LSU offensive line that Williford's injury precipitates.
Collins was last fall's starter at left guard, and Alexander was at right tackle. Now Collins is at tackle and Alexander at guard.
"We try to help each," Alexander said. "So, I'll be like, La'el, 'remember to do this' and La'el will be like, 'Hey, watch for this.'"
Together, Collins and Alexander combine to form a potentially outstanding left side of the line. Moving Alexander gives the Tigers "some real power at that left side with he and La'el Collins," head coach Les Miles said.
"I think we can dominate," Alexander said. "In my opinion, we have the potential to be one of the best sides [of an offensive line] in the country."
Even if the side didn't come together in a conventional way.
Ever since Chris Faulk, then a returning starter at left tackle, was lost for the season to a knee injury after 2012's season opener, folks have been waiting for Collins, the No. 8 player in the 2011 ESPN 300, to make the move. Left tackle is made for elite talents like him.
But Miles balked at making the move at that time, choosing to keep Collins at left guard, where he was still learning the ropes, rather than force him to learn a second position. It was better, Miles decided, to move jack-of-all-trades senior Josh Dworaczyk to the edge.
Once the season ended and with both Dworaczyk and Faulk departed, the Collins move happened, and he feels like a better player for it.
"I feel like a complete offensive lineman," Collins said. "I can still move inside and play guard. It's still in me and it's easy to me. Being able to play tackle, that's become easy to me, so it's a great transition."
Williford, who started a year and a half at right guard before being lost for the season to a concussion suffered in the 2012 Florida game, seemed like a natural to slide over to the left side to Collins former spot.
Trai Turner
, who started at right guard after Williford's injury, returns to that spot.
But there was always an eye on Alexander for the guard position. Like Turner, Alexander became a starter last season because of attrition (first, the injury to Faulk, then the departure of tackle Alex Hurst). But after a bad outing against Clemson in the Chick-fil-A Bowl, many wondered if he wasn't better suited for guard.
There's no doubting Alexander's enormous size (he's listed at 6-foot-6, 342 pounds) and strength, but some questioned his footwork to compete pass rushers off the edge. While that criticism might not be fair -- Alexander was coming off minor knee surgery in the bowl game -- the possibility of moving inside was always on the table.
"I can play both," Alexander said. "I listen to my coach. They think it's best for the offensive line as a whole, but I can play both."
What made the move possible was a great offseason for redshirt freshman tackle
Jerald Hawkins
, which has continued at camp.
"We really think that Hawkins has had as quality a camp to this point as anybody," Miles said.
So when Williford suffered his second concussion in a year last week, the move was easy. Hawkins slid in at right tackle and Alexander bumped over to right guard. It left the Tigers with a remarkable new look. While Collins, Alexander and Turner give the Tigers three returning starters, only Turner is back at the position he started last year.
But there is no questioning the talent. Hawkins was just waiting to find a place.
"Having Jerald at right tackle is kind of putting your best five out there," Alexander said.
But will they be five that play with chemistry and savvy? To Collins, being able to draw off each others experience will lead to just that.
"That's what the O-line is about," he said. "Guys who know what's going on at every position of the line and just be able to help the guy onside you.
"That's chemistry."
March, 14, 2013
3/14/13
10:00
AM ET
BATON ROUGE, La. -- Here are things to know as LSU starts spring practice:
Practice dates:
March 14, 15, 16, 19, 21, 23 (scrimmage), 25, 26 and 28. After spring break, resumes April 9, 11, 13 (scrimmage), 16, 18 and 20 (spring game).

What's new:
Offensive coordinator Cam Cameron will install his new offense, and four new starters will man the defensive line.
What's old:
The Tigers have eight returning starters on offense, led by quarterback
Zach Mettenberger
.
Offensive outlook:
Starters returning (8):
QB Mettenberger, RB
Jeremy Hill
, FB
J.C. Copeland,
WR
Jarvis Landry
, WR
Odell Beckham
, LT
La'el Collins
(moved from left guard), LG
Josh Williford
(moved from right guard), RG
Trai Turner
, RT
Vadal Alexander
.
New starters:
TE
Dillon Gordon
or
Logan Stokes
, C
Elliott Porter
. Key reserves -- QB
Stephen Rivers
, RBs
Alfred Blue
,
Kenny Hilliard
and
Terrance Magee
, FB
Connor Neighbors
, LT
Jerald Hawkins
, RG
Fehoko Fanaika
, RT
Ethan Pocic
, WR
James Wright
,
Kadron Boone
,
John Diarse
and
Travin Dural
, TE
Travis Dickson
.
March, 13, 2013
3/13/13
4:15
PM ET
BATON ROUGE, La. -- LSU coach Les Miles took the podium for his pre-spring practice news conference Wednesday with a red left eye he said was the result of a case of pink eye.
It looked, however, like it might have been something else, like a symbolic black eye that came from a jab thrown by Clemson in the Chick-fil-A Bowl, or from a hook fired by a couple of surprisingly early departures from his team to the NFL, part of a whopping 13 NFL departures after a 10-3 season.
At any rate, Miles looked ready to put the pink eye, and any symbolic black eye, behind him as LSU begins drills on Thursday.
Here is what we learned from Miles on Wednesday:
[+] Enlarge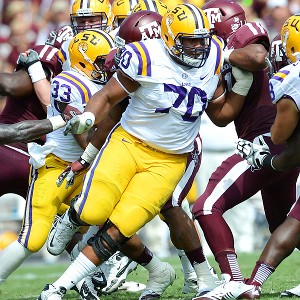 Patrick Green/Icon SMILa'el Collins might see some shuffling along the offensive line this spring.
1. La'el Collins will get first shot at left tackle:
Collins was one of the highest-rated offensive tackles in the country coming out of high school in 2011, but he was the Tigers' starting left guard as a sophomore in 2012.
Miles confirmed that Collins, now a junior, will get his chance to slide over to tackle, but added that redshirt freshman
Jerald Hawkins
will get a look at the position as well. If Hawkins proves to be the better tackle candidate, Collins would move back inside.
Miles said if Collins indeed wins the left tackle spot, senior
Josh Williford
would be the likely choice to start at left guard. Junior college transfer
Fehoko Fanaika
came to LSU at 370 pounds, Miles said, and is more likely to play on the right side, where
Trai Turner
returns as the starting guard, Miles said.
2. Lamin Barrow gets first shot at MLB:
Miles also indicated that
Barrow would get the first shot at the vacant starting middle linebacker role, a spot vacated by
Kevin Minter
's early NFL departure.
Miles said Barrow " can do the job outside," where he excelled with 107 tackles at weak-side linebacker last season. If one of LSU's six Class of 2012 linebacker recruits or another veteran -- Miles mentioned junior
D.J. Welter
-- steps up at middle linebacker, Barrow can easily move back to his weak side spot.
3. Bolden, Maclin out:
Miles said quarterback
Rob Bolden
, who made news when he transferred from Penn State to LSU last summer following the NCAA fallout from the Jerry Sandusky scandal, will not participate in spring practice after undergoing knee surgery in the off-season.
March, 13, 2013
3/13/13
10:00
AM ET
As LSU prepares to begin spring practice March 14, GeauxTigerNation will take daily looks at aspects of the spring camp. This is the eighth in the series:
BATON ROUGE, La. -- LSU begins springs football practice Thursday with plenty of question marks, from adjusting to a new offensive coordinator to replacing the entire defensive line.
Here are the big story lines as practice gets set to start Thursday and continue until the spring game April 20:
1. What's the Cam Cameron effect?
It's really going to be hard to pinpoint the Cameron influence on the offense until the Tigers start taking snaps in games next fall.
But if we start seeing
Jeremy Hill
taking swing passes from
Zach Mettenberger
and tight ends getting targeted repeatedly in passing drills, we'll know where that came from.
March, 6, 2013
3/06/13
10:00
AM ET
As LSU prepares to begin spring practice March 14, GeauxTigerNation will take daily looks at aspects of the spring camp. This is the third in the series:
BATON ROUGE, La. -- If you watched the NFL combine, you saw former LSU defensive linemen and defensive backs lining up to take their turns in drills.
So you want to know the areas of need as we head to the spring?
The combine gave you most of the answers.
Defensive end
Players lost: Barkevious Mingo, Sam Montgomery, Lavar Edwards, Chauncey Aghayere
Experience returning: Jermauria Rasco
Other candidates: Danielle Hunter, Jordan Allen, Justin Maclin.
Outlook: LSU won't have all of its candidates until August, when a trio of true freshmen arrive. But it'll be interesting to see who emerges out of the four veterans. Rasco worked his way into the top four last season and Hunter was a nice special teams player. Allen is coming off a knee injury. Any strong play from these four would be great news in the spring.
Defensive tackle
Players lost: Bennie Logan, Josh Downs
Experience returning: Anthony Johnson, Ego Ferguson
Others: Quentin Thomas, Mickey Johnson, Christian LaCouture.
Outlook: LSU is a little more solid here than at end because Johnson and Ferguson have seen plenty of snaps. Ferguson needs to step his game up though. There's a lot of talk that Thomas is a guy who might step up and earn significant playing time, possibly even challenging Ferguson for a starting spot. True freshman Maquedius Bain and Greg Gilmore will arrive in August. Another freshman, LaCouture, is already on campus.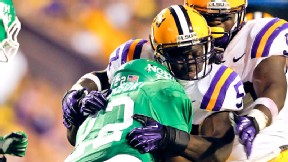 Derick E. Hingle/US PresswireLamin Barrow is one of several options that LSU has to replace Kevin Minter at middle linebacker.
Middle linebacker
Player lost: Kevin Minter
Experience returning: Lots of players, but are there any natural MLBs?
Outlook: This position is more a matter of finding the right guy than finding a guy. Does LSU move weak linebacker Lamin Barrow there? Does D.J. Welter, who was second team in the Chick-fil-A bowl after missing the season for academic reasons, get a shot? How about young Ronnie Feist? There are no shortage of candidates. It's just a matter of finding the right fit.
Left tackle
Player lost: Chris Faulk, Josh Dworaczyk
Experience returning: La'el Collins (could be moved from left guard), Vadal Alexander (could be moved from right tackle).
Others: Jerald Hawkins, Evan Washington, Jonah Austin, Ethan Pocic.
Outlook: Like middle linebacker, there are candidates here, but which one is the best fit? Collins was a highly-regarded prospect coming out of high school, but he got comfortable at left guard as a sophomore and there could be a reluctance to move him. Hawkins is a talented redshirt freshman, but do you really want a redshirt freshman blocking quarterback Zach Mettenberger's blind side? Alexander, last year's starter at right tackle, could be an option as well, but that would leave the Tigers having to find a new starter for two positions.
January, 4, 2013
1/04/13
10:17
AM ET
BATON ROUGE, La. -- There are some unknown variables when trying to figure out where true freshmen might play a big role on a team.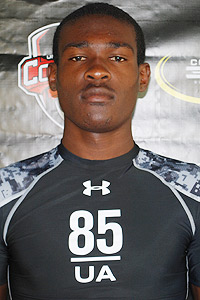 Davide De Pas/ESPN.comClass of 2012 wide receiver Avery Johnson looks to re-enroll after going to prep school for a year. He could contribute to LSU as soon as next season.
Take LSU right tackle
Vadal Alexander
. The 2012 signee became a true freshman starter at right tackle halfway through the season, something nobody saw coming. But when left tackle
Chris Faulk
suffered a season-ending knee injury, it opened the door for Alexander to move into the lineup, and he took the job and ran with it after another veteran starting tackle,
Alex Hurst
, left the team.
Similarly, with a veteran stable of running backs returning, few saw true freshman
Jeremy Hill
emerging as a primary running back for LSU this year. Yet, it took only one injury -- to original starter
Alfred Blue
-- to get Hill the break he needed to start getting carries and eventually become the starter and the Tigers' leading rusher.
To continue reading this article you must be an Insider
Kevin Toliver II Climbs New ESPN 300
SEC SCOREBOARD
Thursday, 8/28
Saturday, 8/30
Sunday, 8/31