September, 25, 2014
9/25/14
9:00
AM ET
BATON ROUGE, La. -- In the first, second and fourth quarters last Saturday, Mississippi State's offense converted just one out of nine third downs. But in the Bulldogs' key third-quarter run – a stretch where they pushed their lead from 17-10 to 34-10 – State's offense didn't just convert on third down, it made some of its biggest plays of the entire game.
The Bulldogs converted four out of five of their third-down situations in that third quarter and averaged 30.8 yards per play. That included a pair of long touchdowns -- a 56-yard run by quarterback
Dak Prescott
and a 74-yard pass from Prescott to
Jameon Lewis
-- where the Bulldogs exploited huge holes in the LSU defense.
[+] Enlarge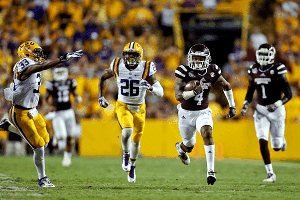 Derick E. Hingle/USA TODAY SportsLSU defenders say that many of Mississippi State's big plays last Saturday -- like Jameon Lewis' TD reception -- were the result of mental breakdowns.
"We had the momentum at the start of the third quarter," LSU middle linebacker
D.J. Welter
said, referring to the Tigers' defensive touchdown on the first play of the second half. "That kind of hurt us throughout the whole second half was not getting off the field on third down. And when they started moving the ball, it kind of got their momentum back and it really hurt us."
We examined Mississippi State's third-down success during the quarter
in a post earlier this week
. Today let's look at it from an LSU perspective. Prescott's improvisational skills and his running ability were key factors in several of those big plays, which is relevant since the Tigers will soon face other quarterbacks with similar run-pass ability.
If there is a silver lining to the many big plays LSU surrendered in the game, it's that player after player insisted that their biggest problems against State – like aligning improperly or failing to make the proper pre-snap adjustments – were correctable mental errors instead of physical issues.
"I'm not taking anything away from Dak as a quarterback. The dude's impressive, he's a good athlete, you see him on film and he makes big plays," Welter said. "But [if] we definitely played our techniques, it could have helped us out a lot in that game in not giving up those big busts that he had. When we gave it to him, he took it from us -- and give props for that -- but it definitely was a mistake in our technique."
Take Prescott's long touchdown run, for example. The Bulldogs spread out LSU's defense with five receivers and Welter oddly lined up in a gap between right defensive tackle
Davon Godchaux
and right end
Tashawn Bower
, leaving nobody in the center of the field. When Prescott broke through a hole between defensive linemen
Christian LaCouture
and
Deondre Clark
, State's quarterback needed only to break a tackle attempt by safety
Jalen Mills
in order to find himself with acres of running room on his way to the end zone.
On several of the Bulldogs' other third-quarter conversions, defenders showed their concerns about State's running game by either chasing Prescott or biting on run fakes, which created holes for the Bulldogs to exploit.
"Most of the key third downs, it wasn't so much what they did, it was so much things that we didn't do well," cornerback
Tre'Davious White
said. "They played a great game – not to take things away from them – but if we just do the little things, the things that we're taught to do, we don't put ourselves in that position."
Tiger Stadium's legendary decibel level actually hurt, as well, the players said. There were times where it was so loud in the stadium that all of the defenders failed to hear the Tigers' pre-snap calls. Several LSU defenders admitted that they must do a better job communicating between plays in order to prevent future busts.
"While it's being so loud in our stadium, the loudest crowd out there, it's kind of hard to be yelling at each other, so we've got to get our signals down pat so everybody's on the same play before they snap the ball and get there faster," defensive back
Dwayne Thomas
said.
This was LSU's first big game in expanded Tiger Stadium, so perhaps some growing pains were inevitable as the defense adjusts to the noise created by 10,000 extra people in the stands. But while that might have been a factor, it's hard to imagine that a home-field disadvantage was a major reason for so many defensive lapses.
With several high-scoring spread offenses fast approaching on the schedule, the Tigers must clean up their missed assignments, play tougher along the line of scrimmage and tackle more effectively in the future or this will not be their last rocky defensive outing. LSU has actually been effective on third down overall -- opponents have converted 16 of 57 attempts, with LSU's 28.1 percent conversion rate ranking fourth in the SEC -- but it probably can't afford to surrender so many big plays in those situations again.
"I feel like we could be a whole lot better all around as far as communicating, tackling, all that," linebacker
Kendell Beckwith
said. "We've just got to get back to the old LSU way, being a dominant, dominant defense, and that starts in practice."
September, 24, 2014
9/24/14
11:00
AM ET
BATON ROUGE, La. -- Would the real LSU secondary please stand up?
Entering last Saturday's game against Mississippi State, the Tigers boasted arguably the nation's most dominant defensive backfield. They hadn't allowed a completion of more than 15 yards in the first three games. (Opponents were 0-for-17 on throws of at least 15 yards.) The Tigers had held opposing quarterbacks to a Total QBR of 11.2, which was the best among all FBS defenses.
Against Mississippi State and quarterback
Dak Prescott
, however, the Tigers were anything but dominant. Prescott hit a 25-yard completion on Mississippi State's first play from scrimmage and finished the night 4-for-8 on throws of 15-plus yards with an average of 20.6 yards per attempt.
[+] Enlarge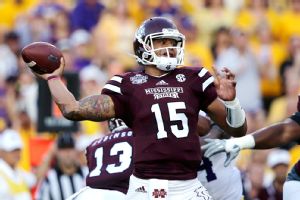 AP Photo/Gerald HerbertDak Prescott's ability to freelance outside the pocket gave the Tigers fits on Saturday.
The Bulldogs finished with 570 yards of total offense, including 268 passing yards and two touchdowns by Prescott, which represented the highest yardage total allowed by an LSU defense since 2001.
"It doesn't sit with none of us pretty good," LSU safety
Jalen Mills
said after the game. "Going into practice, we kind of wish that we could skip Sunday and go straight to Monday. Going into practice, if you don't want to practice on Monday and bring full intensity, don't come out there at all."
No. 17 LSU (3-1) will most likely improve to 4-1 after a visit from New Mexico State (2-2) on Saturday, although oddly enough, the Aggies have the exact same passing yardage total (1,067 yards) through four games as Mississippi State. But defending quarterback
Tyler Rogers
(264 passing yards per game, nine touchdowns six interceptions), receiver
Teldrick Morgan
(116 receiving ypg, four TDs) and NMSU's spread passing attack will be good practice for some of the SEC offenses the Tigers will face down the road.
Several of them will look to air it out against LSU, and the Tigers' secondary for the first time looked vulnerable last weekend. Mississippi State had five pass plays that went at least 20 yards, although the good news for LSU is that only one of those completions was a downfield throw where a receiver beat man-to-man coverage. Even on that play -- a 26-yard back-shoulder completion to
De'Runnya
Wilson in the first quarter -- LSU cornerback
Tre'Davious White
provided tight coverage, but Prescott simply made a good throw to a receiver with a serious size advantage who made the stronger play for the ball.
One of the other long completions was a misdirection screen pass to H-back
Malcolm Johnson
, and two others -- a 44-yard pass to Wilson in front of safety
Ronald Martin
and a 21-yard connection with
Jameon Lewis
before cornerback
Jalen Collins
' big hit failed to dislodge the ball -- came against zone coverage.
The most painful completion of the night (a 74-yard touchdown pass to Lewis) came when Prescott extended the play by scrambling once the pocket collapsed. Bulldogs receivers Wilson and Lewis were both in Martin's zone along the sideline, and Martin broke toward Wilson instead of Lewis as Prescott started to throw. With the LSU safety out of the picture, Lewis caught the ball at the Mississippi State 45 and went untouched for a score that put State up 31-10 in the third quarter.
Prescott also proved that the Tigers needed extra practice on coverages when quarterbacks begin to improvise.
"When you're in man-to-man and it's a scramble drill, it's quite easy because you can just lock on your man and just run whatever he runs," White said. "But when we're in a zone coverage and you're forced to do a scramble drill, it's quite tough. You've got to grab whoever's in your zone.
"If two people are in your zone at the same time, it's hard to cover two guys. That's probably what happened on some of the scramble drills, so we were basically in zone coverage and two guys were in one guy's zone."
That doesn't explain all of LSU's coverage breakdowns, nor does it provide much solace with dual-threat quarterbacks such as Texas A&M's
Kenny Hill
, Auburn's
Nick Marshall
, Alabama's
Blake Sims
and Ole Miss'
Bo Wallace
ahead on the schedule.
Those players will also be able to freelance with their feet once the pocket collapses, and if LSU's secondary doesn't solve its coverage issues between now and then, Prescott won't be the last quarterback to make the Tigers look bad.
"We're going to see a guy like him again -- probably not as big, but we'll see a guy [with] probably the same kind of skill set that he has," White said. "But it's just a learning curve for us. We just want to move forward and just try to improve."
That was a theme in LSU coach Les Miles' Monday press luncheon. Whether it was scheme, personnel or coaching, Miles said it was all under review this week as the Tigers attempt to correct their problems. On defense, one of their biggest concerns, both last Saturday and moving forward, is doing a better job against quarterbacks who can create while on the move.
"We recognize what just happened, and we don't want it to happen again," Miles said.
June, 20, 2014
6/20/14
9:00
AM ET
Today, our SEC position-by-position rankings move to an area that will see plenty of turnover throughout the league: special teams.
There are a ton of SEC heavyweights who lost key special teamers, like league champ Auburn -- which lost punter Steven Clark, kicker
Cody Parkey
, now-legendary return man
Chris Davis
and kickoff returner/tailback
Tre Mason
-- LSU (All-American
Odell Beckham
) and Alabama (punter
Cody Mandell
and kicker Cade Foster). That's just a start.
The league is full of dynamic playmakers who can become stars in the return game, but as of right now, many SEC teams have questions to answer on special teams. That's why teams that have returning veterans at those positions sit high in our rankings.
Special teams position rankings

1. Texas A&M:
There aren't many SEC teams that can make this claim, but the Aggies have a clean sweep of returning specialists. Leading the way is an All-American and Ruy Guy Award finalist at punter,
Drew Kaser
, who broke the school record with a 47.4-yard average last season. Texas A&M also has kicker
Josh Lambo
(8-for-10 on field goals in 2013), kickoff returner
Trey Williams
(25.2 yards per return, fifth in the SEC) and punt returner
De'Vante Harris
(6.7 yards per return, sixth in the SEC) back this fall. That's a solid collection of talent that should help an Aggies team that certainly has some questions to answer on offense and defense.

2. Missouri:
This is another squad that returns the key figures from a season ago, led by versatile return man
Marcus Murphy
. Murphy was fifth in the SEC in punt returns (7.0) and 11th in kickoff returns (22.2) while also contributing to the Tigers' solid running game.
Andrew Baggett
(18-for-25 on field goals, 8.6 points per game) was the SEC's second-leading scorer among kickers, and he returns along with punter
Christian Brinser
(41.0 yards per punt).

3. Georgia:
Truth be told, Georgia was frequently terrible on special teams last season. The Bulldogs struggled to generate much of anything in the return game and experienced some issues with blocked punts. Coach Mark Richt changed the way the coaching staff will address special teams during the offseason, and perhaps that will make a difference. The individual specialists are actually pretty good -- particularly kicker
Marshall Morgan
, who should generate some All-America attention himself. Morgan was 22-for-24 (91.7 percent) and led all SEC kickers with an average of 10.3 points per game, truly one of the best seasons by a kicker in school history. Punters
Collin Barber
and
Adam Erickson
were mostly average, which is more than can be said for the Bulldogs' return men. Keep an eye on freshman
Isaiah McKenzie
in August to see if he has a chance to contribute in the return game.

4. LSU:
The return game will certainly suffer a blow without electric All-American Beckham -- the winner of last season's Paul Hornung Award as the nation's most versatile player -- but LSU has no shortage of athletic players (running back
Terrence Magee
is one option) whom the coaches can plug into Beckham's old spots. The Tigers are solid at kicker with
Colby Delahoussaye
, who led the SEC by making 92.9 percent of his field goals (13 of 14). They held a competition for the punting job during the spring between hot-and-cold
Jamie Keehn
(41.0 ypp) and walk-on
Trent Domingue
.

5. South Carolina:
Here's another one where experience helps, although the Gamecocks have much to improve upon this season. Punter
Tyler Hull
(37.8 ypp) is back, but South Carolina ranked last in the SEC with an average of 34.1 net yards per punt. They were mediocre both returning and covering kickoffs and at returning punts, although
Pharoh Cooper
(22.4 ypr on kickoffs and 4.4 ypr on punts) might be a breakout candidate for the Gamecocks this fall.
Elliott Fry
was a solid performer (15-for-18 on field goals, fourth in the SEC with 7.6 ppg) at place-kicker in 2013.

6. Alabama:
The Crimson Tide should rank higher on this list by season's end. After all, they have arguably the SEC's top return man in
Christion Jones
(second in the league with 28.7 ypr on kickoffs and second with 14.0 ypr on punts). But they also lost a dynamic punter in Mandell and a place-kicker, Foster, who was solid last season before melting down in the Iron Bowl. Perhaps
Adam Griffith
(1-for-3 on field goals) will take over the kicking job, but Alabama also has high hopes for signee
J.K. Scott
, who is capable of kicking or punting in college.

7. Arkansas:
The rankings start getting murky around the middle of the pack. Arkansas has a phenomenal punter back in ambidextrous Australian
Sam Irwin-Hill
(44.3 ypp, fifth in the SEC), but the Razorbacks also lost kicker Zach Hocker (13-for-15 on field goals) and punt returner Javontee Herndon. Kickoff returner
Korliss Marshall
(22.2 ypr, 10th in the SEC) is back. It would be huge for Arkansas if signee
Cole Hedlund
, USA Today's first-team All-USA kicker for the Class of 2014, can come in and take over Hocker's job.

8. Florida:
We're speculating here that
Andre Debose
comes back healthy and reclaims his job as the Gators' kickoff return man. That would be a big deal since Debose is tied for the SEC's career lead with four kickoff returns for touchdowns. Now-departed Solomon Patton did a great job in his place last season, averaging 29.2 ypr. The Gators also lost punt returner Marcus Roberson (9.2 ypr). The big issue, though, is at kicker, where former top kicking prospect
Austin Hardin
(4-for-12 on field goals) was awful last season and eventually gave way to
Francisco Velez
(6-for-8). Likewise,
Johnny Townsend
(42.0 ypp) took over at punter for former Groza finalist
Kyle Christy
(39.6) because of a slump, although both are back.

9. Kentucky:
Although the Wildcats lost a solid kicker in
Joe Mansour
(12-for-14 on field goals), they still have several solid players returning. They include punt returner
Demarco Robinson
(10.4 ypr), kickoff returner
Javess Blue
(20.4 ypr) and punter
Landon Foster
(41.3 ypp).
Austin MacGinnis
, one of the nation's better kicking prospects in 2013, claimed the place-kicking job during spring practice.

10. Auburn:
As with Alabama, we expect Auburn to move up this list during the season. They have the No. 1 kicking prospect from 2013, redshirt freshman
Daniel Carlson
, taking over for Parkey at place-kicker. They have speedster
Corey Grant
as an option at kickoff return. And they have another talented redshirt freshman,
Jimmy Hutchinson
, inheriting the reliable Clark's spot at punter.
Quan Bray
might be the man who takes over at punt returner for Davis, who averaged 18.7 ypr (which doesn't include his 109-yard field goal return to beat Alabama), but he could face a challenge from candidates like
Trovon Reed
,
Marcus Davis
or
Johnathan Ford
.

11. Tennessee:
Considering how the Volunteers lost punter/kicker Michael Palardy (third in SEC with 44.5 yards per punt and 14-for-17 on field goals), it's a good thing that they signed top kicking prospect and Under Armour All-American
Aaron Medley
. Tennessee has return man
Devrin Young
(25.9 ypr on kickoffs and 7.9 on punts) and backup punt return man
Jacob Carter
(9.3 ypr) back, as well.

12. Mississippi State:
The Bulldogs return most everyone from last season (minus punter
Baker Swedenburg
, who averaged 42.5 ypp), but it remains to be determined whether that's a good thing. They were mediocre or worse in most special teams departments in 2013 – especially at place-kicker, where
Devon Bell
(6-for-14 on field goals) and
Evan Sobiesk
(3-for-6) were hardly reliable. Bell (41.2 ypp) was a decent punter, but could face a challenge from signee Logan Cooke on kickoffs and punts. Return man
Jameon Lewis
(23.5 ypr on kickoffs and 2.3 on punts) is back, as is speedster
Brandon Holloway
(37.7 ypr on three kickoffs and 18.0 ypr on two punts), who is trying to crack the starting lineup at running back, but could become a dynamic return man if given the opportunity.

13. Ole Miss:
By losing punter
Tyler Campbell
(44.4 ypp, fourth in the SEC), kicker
Andrew Ritter
(16-for-24 on field goals) and punt returner Jeff Scott (12.7 ypr), Ole Miss has plenty of holes to fill. They have kickoff returner
Jaylen Walton
(20.6 ypr) back and also signed the No. 2 kicking prospect for 2014,
Gary Wunderlich
, who is capable of becoming a standout performer as both a kicker and punter.

14. Vanderbilt:
New coach Derek Mason didn't seem particularly enthused about his special teams units after spring practice. The Commodores lost kicker Carey Spear (15-for-19 on field goals) and potential replacement
Tommy Openshaw
struggled during spring scrimmages, potentially opening the door for a walk-on. Punter
Taylor Hudson
(42.9 ypp, seventh in the SEC) is back, but he and competitor
Colby Cooke
were apparently not very consistent this spring, either. Vandy lost punt returner Jonathan Krause (3.6 ypr) and returns leading kickoff return man
Darrius Sims
(22.8 ypr, eighth in the SEC).
June, 11, 2014
6/11/14
1:00
PM ET
By
Alex Scarbrough
| ESPN.com
Earlier today we
ranked all 14 teams
based on their receivers and tight ends. Now it's time to focus on the specifics and rank the best of the best in the SEC.
Top 10 wide receivers
[+] Enlarge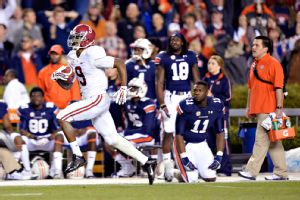 John David Mercer/USA TODAY SportsAfter a slow start, Amari Cooper reminded everyone just how talented he is by the end of the season
1. Amari Cooper, Jr., Alabama:
For much of last season, he wasn't himself. His feet weren't 100 percent and it showed. But the Cooper who flashed All-SEC ability as a freshman returned to form in his final two games as a sophomore, racking up 15 receptions for 309 yards and a touchdown. He's a guy who demands -- and routinely beats -- double coverage. Under new offensive coordinator Lane Kiffin, he could become an even greater focal point of the passing game.
2. Laquon Treadwell, So., Ole Miss:
Everyone had the feeling he'd be special in his first year at Ole Miss, but it came as a surprise just how ready he was to compete in the SEC. Playing slot, he was one of the best receivers in the league, finishing second only to
Jordan Matthews
in receptions (72). As a result, coaches voted him SEC Freshman of the Year. At 6-foot-2 and 224 pounds, he has the frame to challenge smaller defensive backs. But it's his hands and ability to create space that make him special. With
Donte Moncrief
now gone, he'll transition to the outside and continue to be a favorite of quarterback
Bo Wallace
.
3. Sammie Coates, Jr., Auburn:
His game has always been about speed. Running the deep post, he could simply sprint by defenders. But as a junior, Coates is trying to develop a more well-rounded game, focusing on his footwork and strength. It's scary to think that at 6-2 and 200 pounds, he's just now learning how to control his body. If he can become more of an option in the short to intermediate passing game then we could see Coates' game go to another level.
4. Jameon Lewis, Sr., Mississippi State:
Consistency is the key for Lewis. Though he finished last season with significant numbers (1,040 total yards, 8 touchdowns), he also came up missing in a few big games (South Carolina, Texas A&M and Alabama, for example). At 5-9 and 195 pounds, he's someone coach Dan Mullen will look to get the ball in space, whether that's on screens or even running the Wildcat. With his burst and elusiveness, he's a threat to find the end zone every time he touches the football.
5. Malcolm Mitchell, Jr., Georgia:
Every conversation involving Mitchell requires the caveat "if healthy." After putting up 40-plus receptions as a freshman and a sophomore, he was lost for all of last season with a torn ACL. Now, as
Hutson Mason
put it, "He's about as close to 100 percent as he'll be." If healthy, he's a matchup nightmare with the ability to score from anywhere on the field.
6. Christion Jones, Sr., Alabama:
Like Lewis, Jones is another elusive sub-6 foot receiver coaches look to get the ball whenever possible. Because when he touches the football, he has the ability to make someone miss and score. With
Kevin Norwood
and
Kenny Bell
no longer on campus, expect more looks for Jones.
[+] Enlarge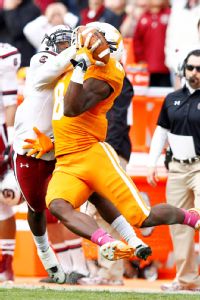 Charles Mitchell/Icon SMIMarquez North has the size, speed and hands to make a big impact for the Vols.
7. Marquez North, So., Tennessee:
Do we have to remind you of his
one-handed catch
against South Carolina? Do we have to point out that he's 6-4, 221 pounds and can run after the catch? If you saw him rack up 38 catches and 496 yards as a true freshman last year, you probably can't forget it. It's scary to think what he could do with consistent play at quarterback.
8. D'haquille Williams, Jr., Auburn:
There may not be a more hyped receiver in the SEC this year than Williams. And it's with good reason. He wasn't just the No. 1 receiver in ESPN's
Junior College 50
, he was the No. 1 player overall. At 6-2 and 216 pounds, his athleticism is spectacular. While it remains to be seen how he grasps the offense and how he jells with quarterback
Nick Marshall
, all the ingredients are there for Williams to be one of the best receivers in the league.
9. Ricky Seals-Jones, RS Fr., Texas A&M:
We could have put any one of three Aggies receivers on this list.
Malcome Kennedy
has a history of solid production, and
Speedy Noil
has the potential to be a star in this league. But in balancing potential and experience, Seals-Jones won out. After redshirting last season, he should have a good grasp of the offense. And at 6-5 and 225
10. Travin Dural, So., LSU:
You'll have to forgive everyone for overlooking Dural last season.
Jarvis Landry
and
Odell Beckham
were that good. But their departures have created a vacuum at receiver, and Dural appears ready to step into that vortex. Lanky and explosive, he could become a favorite target of whoever starts under center for LSU.
June, 11, 2014
6/11/14
9:00
AM ET
We continue our breakdown of each position group in the SEC on Wednesday by looking at a group that might be low on name recognition but quite high -- and deep -- on talent.
Mike Evans
,
Odell Beckham Jr.
and
Jordan Matthews
are all off to the NFL. Now a new group of playmakers is ready to emerge.
Who will be this season's star pass-catchers? Let's find out.
Wide receiver/tight end position rankings

1. Alabama:
Like so many on this list, all of it depends on who is throwing the football. If
Jacob Coker
shows he can spin it, then Alabama will have the best group of pass-catchers in the SEC -- maybe the country. It isn't just
Amari Cooper
and
O.J. Howard
, whom you will read about later this afternoon. Howard, who was underutilized in the passing game last year, is poised to have a breakout sophomore campaign. But there's also veteran
DeAndrew White
, all-purpose star
Christion Jones
and depth that includes a litany of former blue-chip prospects.

2. Texas A&M:
Too bad
Johnny Manziel
didn't stay another year because he might have really enjoyed the guys he was throwing to.
Malcome Kennedy
, he of 60 receptions and seven touchdowns last season, isn't even the most exciting receiver on the field. That honor belongs to one of two freshmen.
Ricky Seals-Jones
, who redshirted last season, would have reminded Manziel so much of Evans, an impossibly tall target who can go up and get the ball. And then there's
Speedy Noil
, the No. 1 athlete in the 2014 class, who looks like a dangerous weapon at slot receiver. With tight end
Cameron Clear
working the middle of the field, the Aggies should be able to stretch the field effectively.

3. Georgia:
How can you not like
Chris Conley
? Not only did he write and direct a "Star Wars" fan film, he's also a pretty good receiver with 45 catches for 651 yards last season. Starting opposite him, if his health holds up, should be
Malcolm Mitchell
. The redshirt junior has loads of potential, as he was second on the team in receiving in 2011 and 2012. Throw in
Jay Rome
, one of the more underrated tight ends in the SEC, and that's a good group for quarterback
Hutson Mason
to work with.

4. Auburn:
Nick Marshall
is progressing as a passer at the right time. His receiver corps, which looked thin at times last season, is set to make a big jump.
Sammie Coates
, Auburn's leading man, has the potential to become much more than a speed demon who can run a nasty post.
Ricardo Louis
,
Quan Bray
and
Marcus Davis
are all guys who have shown flashes of talent. Then there's
D'haquille Williams
, the former No. 1 junior college receiver. The 6-foot-3, 210-pound target has all the tools to become one of the best receivers in the SEC.

5. Ole Miss:
Offensive coordinators love it when they can stretch the field both vertically and horizontally.
Laquon Treadwell
, who as a true freshman trailed only
Jordan Matthews
for the most receptions in the SEC last season, is the type of home-run threat to keep safeties on their heels.
Evan Engram
, who made a positive impression as a rookie himself before succumbing to injury, gives Ole Miss a one-two punch by demanding coverage in the middle of the field because he's simply too athletic a tight end to be covered by most linebackers in the league.

6. South Carolina:
They're on the small side. Let's get that part out of the way. There's not a 6-3 or 6-5 receiver
Dylan Thompson
will be able to lob the ball to this season. But nonetheless, he's got some options.
Damiere Byrd
is one of the fastest receivers in the SEC, and
Pharoh Cooper
is another guy who is dangerous with the ball in space. That's not to mention
Shaq Roland
, who has All-SEC type talent. Though his 6-1 frame might not excite you, he's one of those guys who can create separation and get the ball in traffic. If there's one spot you'd like to see the Gamecocks progress, it's at tight end. And with
Jerell Adams
and
Rory Anderson
, there's potential to improve.

7. Mississippi State:
Dan Mullen needs to find some playmakers on offense. Outside of running back, his ability to develop talent at receiver and tight end has been somewhat of a disappointment. This year could change that.
Jameon Lewis
has the upside of a poor man's
Percy Harvin
, someone who can take it the distance any time he touches the football.
De'Runnya Wilson
, a 6-5 target with a hoops background, is just the type of over-the-top threat to play off the small, speedy Lewis. With a good group of running backs and a quarterback who can extend plays, expect more from the passing game in 2014.

8. Tennessee:
Butch Jones has a lot to be excited about when it comes to his receivers this season. But until the status of
Pig Howard
is determined, that excitement is on hold. The talented receiver was forced to miss all of the spring with "personal issues." If he can return and join
Marquez North
, it would make for a formidable one-two punch. Add top signee
Josh Malone
into the mix and whoever starts under center should be happy with what he's working with. That said, without a single starter returning on the offensive line, time for the quarterback to throw downfield could be a big obstacle.

9. LSU:
Yes, the team's top two receivers are gone.
Jarvis Landry
and Beckham were both the real deal last season, accounting for 66 percent of all receptions. And, yes, LSU is replacing its quarterback, too. But we're betting on potential here.
Travin Dural
and
John Diarse
have the tools to be starters in this league. And then there are the freshmen. LSU signed two the top three receivers in the 2014 class -- No. 1
Malachi Dupre
and No. 3
Trey Quinn
-- in addition to
Jacory Washington
, the No. 5 tight end in the country.

10. Florida:
It's time to prove it, Florida. We've heard for a few years now how the receivers were getting better. But last season was the same old story with no real playmakers on the outside. Maybe new offensive coordinator Kurt Roper will change that.
Demarcus Robinson
seems in line for a big sophomore bump, along with
Ahmad Fulwood
and
Chris Thompson
. With seniors
Quinton Dunbar
and
Andre Debose
back, there's a good amount of depth to lean on. But until we see consistent results from the Gators' receivers, we'll have to wait and see if this really is the year.

11. Missouri:
Gary Pinkel had to let Dorial Green-Beckham go. But what a waste of talent it was. He would have easily been the most talented receiver in the SEC. Now his future, and that of Missouri's offense, is up in the air as the Tigers fail to return any of their top three pass-catchers from last season. Seniors
Bud Sasser
and
Jimmie Hunt
are back, which helps, but more receivers will need to emerge to help
Maty Mauk
in the passing game.

12. Kentucky:
Javess Blue
quietly was one of the most productive receivers in the SEC last season, despite having little consistency at quarterback. Blue, now a senior, finished 14th in the league with 43 catches for 586 yards and four touchdowns. He'll anchor a group that has some potential.
Ryan Timmons
, a former four-star prospect in the 2013 class, could break through after playing in all 12 games as a freshman. And as far as true freshmen go, look for Kentucky to lean on its 2014 class that includes
Thaddeus Snodgrass
,
T.V. Williams
,
Dorian Baker
and
Blake Bone
.

13. Arkansas:
Someone needs to take the load off of
Hunter Henry
this season. Henry, who caught 28 passes and four touchdowns as a true freshman in 2013, stands to make up the majority of the Razorbacks passing game now that
Javontee Herndon
, the team's leading receiver in 2013, is gone. So is
Kiero Small
, the fourth-leading receiver. The good news:
Demetrius Wilson
, who missed all of last season, returns. Wilson, a big target at 6-foot-3, could be a difference-maker.

14. Vanderbilt:
You don't replace
Jordan Matthews
. You don't replace the man with the most career receptions in SEC history. Vanderbilt will try, but it's going to be difficult. And it's going to be even more of an uphill battle considering that
Jonathan Krause
, the team's second-leading receiver, also is gone. With those two no longer on campus, look for
C.J. Duncan
and
Jordan Cunningham
to step up.
May, 8, 2014
5/08/14
9:00
AM ET
Running? Receiving? Fielding kicks? Those are all fine qualities to have. But what about the guys that do it all?
More and more offenses are moving away from the typical pro-style schemes and formations of generations past. A tight end isn't just a tight end anymore. A running back isn't just a running back. A wide receiver isn't … well, you get the point. Alabama's
O.J. Howard
can put his hand on the ground at tight end or H-back, or he can split out at wide receiver. South Carolina's
Pharoh Cooper
is listed as a wide receiver, but he's just as valuable a running back or return specialist for the Gamecocks.
Jameon Lewis
can line up at receiver, running back or quarterback for Mississippi State.
[+] Enlarge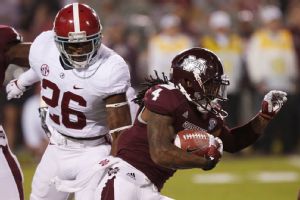 AP Photo/Rogelio SolisVersatile and dangerous weapons like Mississippi State's Jameon Lewis make plays no matter where they line up or how they get the ball.
Up and down the SEC, there are athletes who do it all on offense -- and sometimes special teams, too.
Often on the SEC Blog we rank the top players by each position for the coming year. But it's time we give Mr. Versatile his due. With that said, here's a look at the league's top all-purpose offensive athletes in 2014.
Pharoh Cooper, South Carolina
Bruce Ellington
will be missed, but don't weep for the Gamecocks. It's Pharoh Cooper to the rescue. Coach Steve Spurrier called Cooper a "natural talent." His numbers as a true freshman were promising -- 655 all-purpose yards -- and enough to land him on the Freshman All-SEC team. But he could do even more as a sophomore. He'll continue to factor into the return game, play wide receiver and even take some direct snaps at quarterback.
Christion Jones, Alabama
Alabama may not run the most inventive offense in the SEC, but it finds a way to get Jones the football. The lightning-quick senior has started at wide receiver and in the return game each of the past two seasons. He carried the ball 13 times for an average of 17 yards in 2013 and finished 14th in the SEC with in all-purpose yards per game (102.7). Additionally, he returned two punts and one kickoff for a touchdown last season.
Jameon Lewis, Mississippi State
Had
Damian Williams
been unable to play against Ole Miss, Dan Mullen would have turned to Lewis as his starting quarterback. Seriously. With
Tyler Russell
sidelined and
Dak Prescott
injured, the 5-foot-9 junior would have been forced under center. Thankfully that never happened, but it's just a taste of Lewis' versatility. The speedy Mississippi native is someone Mullen looks to get the ball in space, whether that's at receiver, running back or quarterback. He not only led the team with 923 yards receiving, he finished fifth in rushing with 117 yards. All told, he had five receiving touchdowns and three rushing touchdowns. He even threw three passes, completing all three attempts for touchdowns.
Ricardo Louis, Auburn
Last season's Georgia game might have been a glimpse of the future for Louis. The former No. 5 athlete in the ESPN 300 broke out in a big way against the Bulldogs, rushing for 66 yards on five carries while catching four passes for 131 yards and a touchdown. Even before his memorable game-winning Hail Mary, he was a difference in the game. His ability to play both receiver and running back makes for a tough matchup for any defense. And with
Tre Mason
and
Chris Davis
gone from the return game, Louis could become a factor there as well.
[+] Enlarge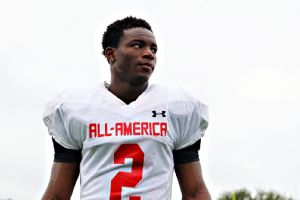 Miller Safrit/ESPN.comTexas A&M signee Speedy Noil, who was ranked as the No. 1 athlete in the 2014 class, could make an immediate impact.
Speedy Noil, Texas A&M
Too soon? Not after all we've heard coming out of College Station, Texas, about the talented true freshman. Noil may not be
that
No. 2 this fall, but he could conjure up memories of Johnny Football with his ability to make plays in space. The former five-star prospect and No. 1-rated athlete in the ESPN 300 drew rave reviews from coaches and teammates this spring. He's already said to be the presumptive starter opposite
Ricky Seals-Jones
. Good luck covering those two as Seals-Jones is a monster at 6-5 and Noil is an elusive burner at 5-11. In addition to spending time at receiver, look for coach Kevin Sumlin to get Noil the ball in space wherever possible, whether that's in the return game, at running back or even taking direct snaps at quarterback.
Five more to watch:
January, 9, 2014
1/09/14
9:00
AM ET
Catch your breath yet?
What a bowl season, starting really with Texas A&M's heart-stopping comeback to beat Duke 52-48 in the Chick-fil-A Bowl and carrying all the way through the VIZIO BCS National Championship with Florida State's last-minute drive to beat Auburn 34-31.
The SEC finished 7-3 in the postseason, and we're honoring some of the best individual performances with our all-bowl team:
OFFENSE
[+] Enlarge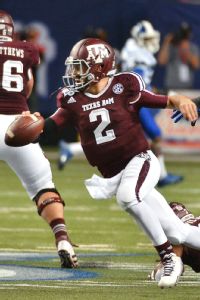 Chuck Liddy/Raleigh News & Observer/Getty ImagesJohnny Manziel's final game at Texas A&M was a memorable one as he threw four TDs and rallied the Aggies from a 21-point deficit.
QB: Johnny Manziel, Texas A&M:
Yes,
Connor Shaw
was sensational, too, but Manziel brought the Aggies back from a 21-point halftime deficit. He threw four touchdown passes and ran for another in a memorable farewell for Johnny Football.
RB: Tre Mason, Auburn:
Until Florida State's late touchdown drive, it looked as if Mason's 37-yard touchdown run would be what everyone was talking about from the BCS title game. He finished with 195 rushing yards against one of the top defenses in the country.
RB: Jeremy Hill, LSU:
LSU fans got a nice surprise this week when reports surfaced that Hill planned to return for his junior season. A few days earlier, he gave them a memorable performance in the Outback Bowl with 216 rushing yards and two touchdowns.
WR: Jameon Lewis, Mississippi State:
The Rice secondary had no answers for the speedy Lewis, who finished with nine catches for a school-record 220 yards. He had a 28-yard catch to set up the Bulldogs' first touchdown, a 35-yard catch to set up their second touchdown and a 65-yard catch to set up their fourth touchdown, all in first half.
WR: Bruce Ellington, South Carolina:
Ellington is leaving early for the NFL and made some NFL-like catches in his farewell. His one-handed, bobbling catch on the fourth-and-7 play was huge. He finished with six catches for 140 yards and two touchdowns and also threw a touchdown pass.
TE: Arthur Lynch, Georgia:
Lynch would love to have that last pass back, but he still hauled in six catches for 69 yards, including receptions to help set up a couple of field goals.
All-purpose: Derrick Henry, Alabama:
Get ready to see a lot of Henry next season for the Tide. The freshman running back rushed for 100 yards on eight carries, including a 43-yard touchdown run, and also had a 61-yard touchdown catch.
OL: Jake Matthews, Texas A&M:
As left tackles go, Matthews set the standard this season. He was pretty close to flawless in the bowl game, as the Aggies rolled up 541 total yards in their stirring comeback against Duke.
OL: Greg Robinson, Auburn:
The BCS title game turned out to be Robinson's final game for Auburn. The junior left tackle is turning pro and heads to the next level on the heels of the kind of performance that became the norm for him this season.
OL: Gabe Jackson, Mississippi State:
The Bulldogs racked up 533 yards of total offense in their 44-7 rout of Rice in the AutoZone Liberty Bowl, and Jackson was his usual dominant self at left guard.
OL: Wesley Johnson, Vanderbilt:
The veteran of that Vanderbilt offensive line asserted himself in the fourth quarter when Houston climbed back into it, and the Commodores made a living running behind him.
C: Reese Dismukes, Auburn:
There aren't many centers in America better than Dismukes, and he can hold his head high over the way he played against a talented Florida State interior on defense.
DEFENSE
[+] Enlarge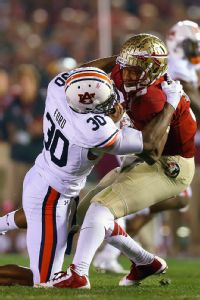 Jeff Gross/Getty ImagesAuburn's Dee Ford showed why he is one of the nation's best when he recorded two sacks against FSU in the national title game.
DL: Dee Ford, Auburn:
Ford had already established himself as one of the top pass-rushers in the SEC this season and then went out and showed it on the biggest stage with two sacks in BCS title game.
DL: D.T. Shackelford, Ole Miss:
The Rebels' resilient senior defensive end went out in style with seven total tackles, including a sack, and also had two quarterback hurries.
DL: Kony Ealy, Missouri:
Michael Sam
received most of the publicity this season for the Tigers, but Ealy was equally productive. He closed out his career with two sacks in the AT&T Cotton Bowl, giving him 9.5 on the season.
DL: Preston Smith, Mississippi State:
Smith spearheaded a suffocating defensive effort by the Bulldogs with six total tackles and a quarterback hurry. Rice, after scoring a touchdown on its second possession, was held to 66 total yards the rest of the way.
LB: Serderius Bryant, Ole Miss:
Bryant tied for the team lead with eight tackles, including two for loss, and also forced a fumble that led to a safety. The Rebels limited Georgia Tech's option offense to 17 points and 151 rushing yards.
LB: Andrew Wilson, Missouri:
The Tigers' senior middle linebacker was everywhere against the Cowboys with 15 total tackles to earn Cotton Bowl Defensive MVP honors.
LB: Skai Moore, South Carolina:
Only a freshman, Moore had two interceptions in the Capital One Bowl, the last one coming in the end zone in the fourth quarter with Wisconsin driving.
CB: E.J. Gaines, Missouri:
Gaines was one of the most complete cornerbacks in the SEC this season. He capped his career with seven tackles against the Cowboys and an interception at midfield that helped set up a touchdown.
CB: Andre Hal, Vanderbilt:
Despite playing with a brace on his elbow, Hal led Vanderbilt with nine total tackles, including an interception to seal the game, and also broke up three passes.
S: Craig Loston, LSU:
Loston finished with six total tackles, including three for loss. He also had a key interception in the fourth quarter with Iowa threatening on fourth-and-1 at the LSU 16.
S: Toney Hurd, Jr., Texas A&M:
Even though Texas A&M was torched on defense, Hurd's 55-yard interception return for a touchdown with 3:33 to play was the decisive blow for the Aggies.
SPECIAL TEAMS
K: Marshall Morgan, Georgia:
Morgan kept the Bulldogs in the Taxslayer.com Gator Bowl by making all four of his field-goal attempts.
P: Steven Clark, Auburn:
Clark kept Florida State pinned deep most of the night with perfectly placed punts that looked like pitching wedges. He dropped five of his six punts inside the 20, including one at the 6, one at the 4 and one at the 2.
RS: Marcus Murphy, Missouri:
One of the top return specialists in the conference, Murphy combined for 136 yards on kickoff and punt returns against Oklahoma State. He had a long of 38 yards on a first-quarter punt return.
September, 23, 2013
9/23/13
9:00
AM ET
Another week means another set of Power Rankings in college football's top conference:

1. Alabama (3-0, 1-0 SEC; last week: 1):
The Crimson Tide looked a little sluggish at times in a 31-6 win over Colorado State, but did you really think Nick Saban was going to have his guys hammer a former assistant? Yeah, neither did I. People are getting a little concerned with this team, especially with the shaky play in the secondary, but Saban has never been one for truly mashing cupcakes.
2. LSU (4-0, 1-0 SEC; LW: 2):
The Bayou Bengals just keep rolling, but Auburn certainly gave LSU its best test so far. Gus Malzahn's up-tempo spread registered 437 yards on LSU's defense, including 213 on the ground. But LSU spent another day in the 200-200 club when it came to passing and rushing.
Jeremy Hill
had a monster game with 183 yards and three touchdowns on 25 carries.
3. Texas A&M (3-1, 0-1 SEC; LW: 3):
We wanted to see improvement from the Aggies' defense and we got it on Saturday. While the defense did surrender 434 yards, it allowed only 13 points. That's 20 points fewer than the average allowed going into the game!
Johnny Manziel
had another big outing and the offense churned out nearly 600 yards.
4. Georgia (2-1, 1-0 SEC; LW: 4):
If not for some major special teams blunders, the Dawgs would have had a much larger margin of victory over North Texas. Special teams has been a problem for Georgia over the last few years, and that's dangerous heading into the meat of conference play. The offense is still red-hot, while the defense allowed just one score and finally kept an opponent under 450 yards of offense (245).
5. South Carolina (2-1, 1-1 SEC; LW: 5):
The Gamecocks were off this week, which should have given the defense more time to prep and study what it did against Vanderbilt. That was an impressive showing by this group, and it has to keep going with a tricky road trip to face unbeaten Central Florida this weekend.
6. Ole Miss (3-0, 1-0 SEC; LW: 6):
The Rebels were off, which meant guys could get healthy, but it did slow down some of the momentum from that huge win at Texas. No problem. All Ole Miss has to do is get up for a trip to Tuscaloosa to take on No. 1 Alabama. With an offense that's averaging a little less than 500 yards per game and is scoring almost 40 points a contest, Saturday's showdown should be pretty fun.
7. Florida (2-1, 1-0 SEC; LW: 7):
The Gators were dealt a tough blow when starting quarterback
Jeff Driskel
went down with a broken fibula in the first quarter in their 31-17 win over Tennessee. He's out for the season and now fourth-year junior backup
Tyler Murphy
is in. While he looked good against Tennessee, you can't measure too much against a defense with as many holes as the Vols have. Even with an elite defense, Florida is still quite the enigma in the East.
8. Missouri (3-0, 0-0 SEC; LW: 10):
All of a sudden, the Tigers' offense looks pretty exciting as it's averaging 47 points and almost 600 yards a game. Say what you will about the competition it's had to face; this team is on fire when it has the ball and that's something we didn't see at all last year. Going on the road to blow out Indiana was a nice victory for Mizzou as it prepares for its last nonconference foe (Arkansas State) before conference play begins.
9. Auburn (3-1, 1-1 SEC; LW: 8):
The Tigers' offense was able to move the ball against LSU, but turning it over three times and going 6-for-17 on third downs won't win you many games in this conference. Also, giving up nearly 7 yards per play to LSU won't help you out, either. It's still a work in progress on the Plains, but you can see the development continue across the board for Malzahn's team.
10. Vanderbilt (2-2, 0-2 SEC; LW: 9):
It was a win, but it wasn't the most glamorous win for the Commodores this weekend. Credit the UMass defense, which held Vandy to just 239 yards and 10 points through the first three quarters. Then the Dores wore down UMass to score 14 more points and generate 167 yards in the fourth quarter.
11. Arkansas (3-1, 0-0 SEC; LW: 11):
The Razorbacks really gave up a golden opportunity on the road against Rutgers. After leading 24-7 late in the third quarter, the Scarlet Knights rallied to score 21 unanswered points in their 28-24 win. The Hogs' ground game, which was averaging a little less than 300 yards per game, managed just 101 yards against Rutgers. That was a bad loss for a team in rebuilding mode.
12. Mississippi State (2-2, 0-1 SEC; LW: 13):
Quietly, Mississippi State ran Troy out of the state Saturday with an impressive 62-7 win over the Trojans. With
Dak Prescott
still handling quarterback duties, the Bulldogs gained 551 yards of offense and both Prescott and receiver
Jameon Lewis
rushed for, threw for and caught touchdowns Saturday night. The defense also held Troy to only 186 yards of total offense.
13. Tennessee (2-2, 0-1 SEC; LW: 12):
When the Vols went up 7-0 in the first quarter against Florida, people in the press box joked that Butch Jones should just take a knee every down before punting in order to keep the ball away from Florida's defense. Well, he didn't, and his team turned it over six times, including four interceptions between
Nathan Peterman
and
Justin Worley
. The offense is in desperate need of playmakers and a consistent quarterback, while the defense allowed a quarterback with no true game experience to lead the Gators to a season-high 31 points and 218 total yards with two touchdowns.
14. Kentucky (1-2, 0-1 SEC; LW: 14):
The Wildcats were off after a tough loss to Louisville the previous week. The defense played better against the Cardinals and now has to face a Florida team with a new, very inexperienced quarterback. The question is whether the Wildcats' situation at quarterback is any better.
August, 5, 2013
8/05/13
3:17
PM ET
A little lunchtime reading from around the SEC:
Haskins, McElwain Shine At IMG Regional
SEC SCOREBOARD
Thursday, 9/3
Saturday, 9/5