June, 18, 2014
6/18/14
11:30
AM ET
BATON ROUGE, La. -- The idea for this week's
"Position U" series
actually came about during spring football practice at
LSU
-- which I assume some of you know was my first covering the Tigers.
During post-practice interviews with Tigers players, it was common to hear defensive backs refer to LSU as "DBU" (short for "Defensive Back University) when discussing the team's proud decision in the secondary. After hearing that over and over for a while, I started thinking about how to ascertain whether that was actually the case.
[+] Enlarge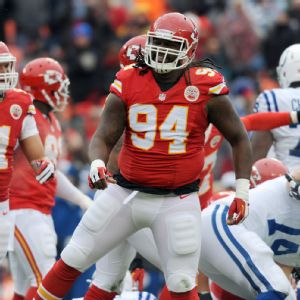 Denny Medley/USA TODAY SportsSuccessful defensive linemen such as Tyson Jackson made LSU 'DLU' in the 'Position U' rankings.
Is LSU actually DBU? How would you even measure that? It seemed like a fun game to play during the summer when we don't have any football to actually watch, so I came up with a formula, pitched it to the bosses and set out to determine which major programs (I tallied results for each member of the big five conferences for 2014, plus independents Notre Dame and BYU -- 66 schools in all) deserve to claim the title at each position for the 2000s.
So I gathered the results of every NFL draft, each of 20 college football's top individual awards, coaches' first-team all-conference selections and consensus All-America picks for each season since 2000-01 and came up with a point system to reward those accomplishments. The team with the most points won the "Position U" title for the 2000s.
It isn't a perfect system -- for instance Notre Dame deserves to rank toward the top of the list at tight end, but the Fighting Irish is penalized in this system by not playing in a conference and thus losing out on that category of points -- and I actually considered leaving the independents out of the equation. I decided, however, to include them and simply include that asterisk within the stories.
The system is also generous to programs such as Louisville that competed in smaller conferences and earned points against lesser competition before jumping into the bigger pond of major-conference football. But otherwise, I think keeping things simple and basing it on the criteria I selected is an effective way of gauging overall excellence.
So since this is an LSU blog, let's take a quick look at how the Tigers fared -- and there was plenty of excellence to gauge:
Quarterback:
Tied for 16th place with 32 points. No. 1 overall NFL draft pick
JaMarcus Russell
is the headliner here as one of only two LSU first-team all-conference picks and as the only QB to go in the first three rounds. The Tigers had six QBs drafted overall.
Running back:
Tied for 16th with 56 points. Eleven draft picks (including first-rounder
Joseph Addai
) and three first-team All-SEC picks (
LaBrandon Toefield
, Charles Scott,
Stevan Ridley
) were the highlights.
Wide receiver:
Second with 124 points. I was well aware of LSU's numerous star wideouts through the years, but I have to admit being a bit surprised when I saw that the Tigers trailed only USC in the position rankings. That's impressive stuff -- and it's largely because of the 14 wideouts that the Tigers who have been drafted since 2001.
Tight end:
Tied for 40th with 10 points. The Tigers have had only one all-conference pick (
Robert Royal
) and two draft picks at tight end (Royal and
Keith Zinger
) since the 2000-01 season.
Offensive line:
Tied for 21st with 94 points. Although the Tigers have had nine all-conference picks and seven draft picks from the line since 2000-01, it has been a bit of a disappointment overall -- which is part of the reason why Jeff Grimes is now coaching the group. The Tigers have not had a first-round offensive lineman in this time period and only had one second-rounder.
Defensive line:
First with 200 points. This was no surprise at all. Not with 21 draft picks (including first-rounders
Glenn Dorsey
,
Marcus Spears
,
Tyson Jackson
,
Michael Brockers
and
Barkevious Mingo
) and a bunch of awards, all-conference picks and three All-Americans (Dorsey, Spears and
Chad Lavalais
). Texas was close, but the Tigers earned the top spot.
Linebacker:
Tied for 22nd with 60 points. I realize that LSU's defensive star power has been on the line and in the secondary, but I kind of expected LSU to fare a bit better here. But the Tigers had just seven all-conference linebackers and five draft picks -- only two of whom (
Kevin Minter
and
Kelvin Sheppard
) went in rounds 1-3.
Defensive back:
Third with 218 points. Well, they aren't DBU after all, but the Tigers did fare extremely well. With six All-Americans and four national awards, LSU threatened Oklahoma for second on the list, but finished a ways behind champion Ohio State.
Kicker:
Tied for 27th with 28 points. The Tigers did have a consensus All-America kicker (Josh Jasper in 2010), but had just two all-conference kickers and one punter. Seventh-round pick
Donnie Jones
became the only draftee at either position in 2004.
January, 13, 2014
1/13/14
10:30
AM ET
It's time to celebrate the best of the best in the SEC during the BCS era.
So what we've done is taken on the monumental task of selecting an All-SEC team from the BCS era, which officially ended last Monday with Florida State's 34-31 victory over Auburn in the VIZIO BCS National Championship.
To be eligible, a player had to have played at least one season in the SEC at any time between 1998 and 2013. More weight was given to those players who had longer careers and displayed consistency over the course of their careers.
Before the second-guessing commences, there were some spectacular players -- even a few players who won national awards such as the Heisman Trophy -- that were left off this team.
Nonetheless, it's one star-studded team.
Here's a look:
OFFENSE
[+] Enlarge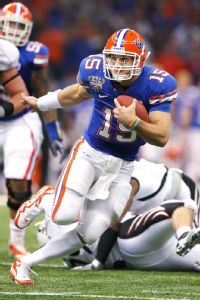 Derick E. Hingle/USA TODAY SportsTim Tebow accounted for more touchdowns than any player in SEC history.
QB -- Tim Tebow, Florida:
A tough call at quarterback, but Tebow had a hand in two national championships, won the Heisman Trophy in 2007 and accounted for more touchdowns (145) than anybody in league history.
RB -- Mark Ingram, Alabama:
In 2009, Ingram became the first Alabama player to win the Heisman Trophy with a 1,658-yard rushing season. He rushed for 42 career touchdowns, breaking Shaun Alexander's school record.
RB -- Darren McFadden, Arkansas:
A two-time winner of the Doak Walker Award, McFadden averaged 120.8 rushing yards per game for his career, second only to Herschel Walker and Emmitt Smith in the SEC.
WR -- A.J. Green, Georgia:
He combined speed, size and incredible body control to haul in 23 touchdown catches in 31 career games. Green caught more than 50 passes in each season from 2008 to 2010.
WR -- Josh Reed, LSU:
The Biletnikoff Award winner as the top receiver in the country in 2001, Reed hauled in 17 touchdown catches in his last two seasons. He set the SEC single-season record in 2001 with 1,740 receiving yards.
TE -- Jason Witten, Tennessee:
It's hard to beat Witten in any era as both a receiving and blocking tight end. He had seven career touchdown catches, including five during his All-SEC junior season in 2002.
AP -- Percy Harvin, Florida:
Harvin was Mr. Everything for the Gators on their 2008 national championship team and a two-time All-American. He finished his career with 32 touchdowns (19 rushing and 13 receiving).
OL -- Shawn Andrews, Arkansas:
Andrews is the last player to win the Jacobs Award as the SEC's top blocker in back-to-back seasons (2002 and 2003). The Hogs' massive offensive tackle was a consensus All-American in both of those seasons.
OL -- Barrett Jones, Alabama:
Jones was a part of three national championship teams at Alabama and started at every position on the line but left guard during his career. He won the Rimington Trophy in 2012 as the country's top center and won the Outland Trophy a year earlier as the Tide's left tackle.
OL -- Marcus McNeill, Auburn:
A two-time All-America selection at offensive tackle, McNeil paved the way for the Tigers' explosive rushing attack and was a huge part of their unbeaten 2004 SEC championship team.
OL -- Chris Samuels, Alabama:
The Crimson Tide have been stocked with menacing offensive linemen during their storied history, and Samuels is right there near the top. The big offensive tackle won the Jacobs Award and Outland Trophy in 1999 and helped lead Alabama to an SEC title.
C -- Maurkice Pouncey, Florida:
Also a standout guard earlier in his career, Pouncey gravitated to center and won the Rimington Award in 2009 as the nation's top center. He was a devastating blocker and made 40 starts in 41 career games.
DEFENSE
DL -- Glenn Dorsey, LSU:
The most decorated SEC defensive tackle of the BCS era, Dorsey won the Outland Trophy and both the Lombardi and Nagurski awards in 2007. He was the centerpiece of that LSU national championship defense in 2007.
DL -- John Henderson, Tennessee:
A two-time All-American, Henderson is one of just five defensive players in the BCS era to win the Outland Trophy (2000) as college football's most outstanding interior lineman.
[+] Enlarge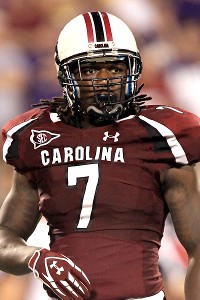 Streeter Lecka/Getty ImagesJadaveon Clowney had 24 sacks in three seasons at South Carolina.
DL -- Jadeveon Clowney, South Carolina:
Even though his numbers dipped this season, Clowney remains one of the most disruptive defensive ends to play in the SEC during the BCS era. He finished with 47 tackles for loss, including 24 sacks, in 36 career games.
DL -- David Pollack, Georgia:
Pollack joined Herschel Walker as Georgia's only three-time, first-team All-Americans. He racked up a school-record 36 sacks from his defensive end position and was a two-time SEC Defensive Player of the Year in helping the Bulldogs win the 2002 SEC title, their first in 20 years.
LB -- C.J. Mosley, Alabama:
Mosley is the only player in the Nick Saban era at Alabama to have back-to-back 100-tackle seasons and was a part of two national championship teams. He was terrific in coverage and an even better tackler.
LB -- Patrick Willis, Ole Miss:
Before he found stardom in the NFL, Willis terrorized the SEC and won the Butkus Award in 2006 as college football's top linebacker. He was a tackling machine for the Rebels and the quintessential middle linebacker.
LB -- Al Wilson, Tennessee:
The heart and soul of Tennessee's 1998 national championship team, Wilson was a playmaking machine at middle linebacker for the Vols. He was a two-time All-SEC selection and consensus All-American his senior season.
CB -- Champ Bailey, Georgia:
One of the most versatile players in SEC history, Bailey participated in more than 1,000 plays during the 1998 season and won the Bronko Nagurski Trophy as the nation's best defensive player.
CB -- Patrick Peterson, LSU:
No matter where Peterson lined up, he was the most explosive player on the field. As a cornerback, few were better. He won the Thorpe and Bednarik awards in 2010 and scored touchdowns three different ways during his career: punt return (two), interception return and return of a blocked field goal.
S -- Mark Barron, Alabama:
The Crimson Tide's 2011 national championship defense was dripping with talent, but Barron might have been the best of the bunch. He was a three-time All-SEC selection and two-time All-American.
S -- Eric Berry, Tennessee:
Berry was as good in coverage as he was blowing up ball carriers. He won the Jim Thorpe Award in 2009 as the top defensive back in the country and was a finalist the previous year. He finished with 14 career interceptions.
SPECIAL TEAMS
PK -- Billy Bennett, Georgia:
Bennett is the SEC record holder with 87 made field goals from 2000 to 2003. Bennett was equally accurate, connecting on 79 percent of his kicks.
P -- Dustin Colquitt, Tennessee:
A finalist for the Ray Guy Award in both 2002 and 2003, Colquitt averaged 43.1 yards a punt during his career. As a junior in 2003, he had 19 punts of 50 yards or longer and 21 punts downed inside the 20-yard line.
RS -- Derek Abney, Kentucky:
His eight career returns for touchdowns (six punts and two kickoffs) are an SEC record, and six of those came during one season (2002). Abney set seven NCAA records, 11 SEC records and 14 school records.
December, 31, 2012
12/31/12
8:00
AM ET
To gear up for 2013 national signing day, GeauxTigerNation's Gary Laney will break down every commitment in the Tigers' 2013 recruiting class.
Vitals:
DT
Greg Gilmore
, Hope Mills, N.C./South View, 6-foot-4, 285 pounds
Committed:
Nov. 8, 2012
December, 11, 2012
12/11/12
7:58
AM ET
BATON ROUGE, La. -- Leading up to the Chick-fil-A Bowl, we'll take a daily look at a key LSU player. We'll examine how he has done and what his challenges are for the Clemson game.
Bennie Logan, DT, Junior
Accomplishments:
Stout and with long arms, Logan is an established run stuffer who has some ability to make an impact in the passing games. Fairly active for a 4-3 tackle, Logan had 36 tackles -- five for loss -- broke up three passes and picked up two sacks. He has a knack for getting his hand on footballs, with three passes batted down plus a blocked kick this season. A second-team all-SEC pick, Logan projecs to be a possible first-round draft pick in the 2013 draft.
Shortcomings:
For a potential first-round draft pick, Logan isn't dominant as a pass rusher. In fact, when LSU goes to a three-lineman look on passing downs, it's usually Logan who gets subbed out for the extra defensive back. He has hardly put up the classic LSU dominant defensive tackle numbers players such as Glenn Dorsey and Drake Devis up up before him.
Against Clemson:
This is a last chance for Logan to make an impression before he likely leaves for the riches of the NFL. That should give Logan plenty of motivation heading into the Chick-fil-A Bowl. A dominant performance in Atlanta can go a long way of improving Logan's draft status, making him a player who could safely fall in the first round. If he has a shaky game, it could send him to the second round.
December, 4, 2012
12/04/12
7:30
AM ET
BATON ROUGE, La. -- Leading up to the Chick-fil-A Bowl, we'll take a daily look at a key LSU player. We'll examine how he has done and what his challenges are for the Clemson game.
Accomplishments:
Downs was never able to stay healthy enough to reach his potential before this season, so it's safe to say his biggest accomplishment was staying healthy enough to play in all 12 games his senior season. Not only did he play, he repeatedly held off challenges from talented sophomore
Anthony Johnson
for the starting job (Downs started nine of 12 games). While not extremely productive, he did have 3.5 tackles for loss and 2.5 sacks while splitting time at the position with Johnson.
Shortcomings:
Not the tallest defensive tackle, Downs is more of a run stopper than a big-play maker in the mold of a Glenn Dorsey or even Johnson. He had just 15 tackles in his senior season, hardly numbers one would expect from a starter. You always hold your breathe with Downs every time he's shaken up, fearing a major injury, though it's fair to point out he's bounced back from every minor injury this season.
Against Clemson:
LSU is going to have its hands full chasing Clemson quarterback
Tajh Boyd
around, given Boyd's ability to run (492 yards). With ends
Barkevious Mingo
and
Sam Montgomery
perhaps having to contain Boyd in the pocket, it will be important for LSU to be able to generate pressure from up the middle with Downs and
Bennie Logan
.
September, 27, 2012
9/27/12
9:00
AM ET
BATON ROUGE, La. -- Watching a recording of LSU's 12-10 win over Auburn last week to focus on the play of defensive tackle
Anthony Johnson
can be impressive and frustrating at the same time.
Pick a random play. There's a pretty good chance you'll see him come off the ball faster than the Auburn offensive line could react. Chances are, he'll get in his gap, control it, then pursue the football. Chances are -- and this is the frustrating part -- you'll then notice the play develop to the outside, as far away as Auburn could get from where Johnson was in the middle of the line.
It was the story of his night.
To continue reading this article you must be an Insider
Marcus Spears reviews LSU Pro Day
SEC SCOREBOARD
Thursday, 9/3
Saturday, 9/5