January, 21, 2014
1/21/14
6:30
PM ET
BATON ROUGE, La. -- LSU on Tuesday confirmed
last week's report
that Jeff Grimes will be the Tigers' offensive line coach and running game coordinator.
"Jeff comes to our staff with great experience and as a coach who is very familiar with the SEC," LSU coach Les Miles said in a university release. "He helped Auburn win a national title in 2010 and has been part of some very successful programs.
"He's a tremendous technician and will do a great job teaching our offensive line. He has a track record of putting guys in the NFL and producing outstanding offensive linemen. He's a great addition to the staff and I'm looking forward to working with him for many years."
Grimes was a member of Gene Chizik's staff at Auburn from 2009-12 and spent last season coaching the offensive line at Virginia Tech. He also has made stops at Colorado, BYU, Arizona State, Boise State and Hardin-Simmons as an assistant and Rice and Texas A&M as a graduate assistant.
His new LSU offensive line returns four starters from last season, including second-team All-SEC honoree
La'El Collins
at left tackle.
October, 17, 2013
10/17/13
10:15
AM ET
Here are 10 things to watch in the SEC this week:
[+] Enlarge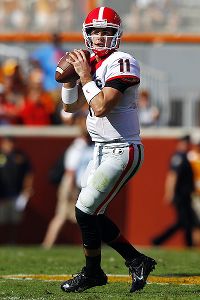 AP Photo/Wade PayneAaron Murray is on the verge of breaking several SEC career records, but also needs to help keep Georgia in the SEC East race.
1. Missouri offense vs. Florida defense:
Missouri earned its biggest victory in its year-plus in the SEC last weekend when it beat Georgia. The Tigers' challenging October schedule continues this week when No. 22 Florida brings its fearsome defense to Columbia, and the Tigers must face those Gators without starting quarterback
James Franklin
, who separated his shoulder against Georgia. Freshman
Maty Mauk
did a fine job against Georgia's subpar defense, but he will face few stiffer challenges than what he'll face Saturday against a Florida defense that is allowing just 235.3 yards per game. Mizzou is third in the SEC in total offense with an average of 515.7 yards per game, so the many talented skill players at Mauk's disposal will have to give the new starter a hand on Saturday.
2. Record watch in Nashville:
In Saturday's Georgia-Vanderbilt game, a handful of SEC career records could fall. With 112 career touchdown passes, Georgia quarterback
Aaron Murray
is just two behind Danny Wuerffel's SEC career record. And with 12,203 career yards of total offense, Murray needs 29 yards to match Tim Tebow's SEC mark. On the other sideline, Vandy's
Jordan Matthews
needs 97 receiving yards to match Terrence Edwards' SEC career record of 3,093 yards. Matthews had 119 receiving yards against the Bulldogs last season.
3. Gators running game:
With the news this week that running back
Matt Jones
became the seventh Florida player to suffer a season-ending injury, the Gators' running game is now largely in the hands of
Mack Brown
and freshman
Kelvin Taylor
. Brown has been solid enough thus far, rushing for a team-high 340 yards. But Taylor is the guy many Gators fans are excited about. The son of UF great Fred Taylor, Kelvin Taylor has rushed 16 times for 98 yards (6.1 per carry), including 10 carries for 52 yards in last week's slugfest against LSU. Missouri's run defense ranks third in the SEC at 126.2 YPG, but Georgia freshmen
J.J. Green
and
Brendan Douglas
ran for 157 yards and averaged 6 yards per carry against the Tigers' last week. The Gators probably need Brown and Taylor to be similarly productive in order to hang with the Tigers' prolific offense.
4. Marshall back for Auburn:
After sitting out last week's blowout win against Western Carolina with a knee injury, Auburn quarterback
Nick Marshall
returns to the lineup this week against Texas A&M. Marshall rushed for 140 yards -- the most by an SEC quarterback this season -- in his last game, the Tigers' 30-22 win on Oct. 5 against then-No. 24 Ole Miss. He led the resurgent Tigers to a 4-1 record before taking a seat last week while true freshman
Jeremy Johnson
played for the first time -- and won SEC Freshman of the Week honors -- against the overmatched Catamounts.
5. Can Georgia recover?
With half a dozen starters sidelined last week against Missouri, Georgia lost its first home game since September 2011. Now the Bulldogs limp to Vanderbilt, where they have struggled in two of their last three visits before earning narrow wins. UGA hopes to reach next week's open date with its SEC East hopes still intact. All-SEC tailback
Todd Gurley
likely still won't play this week, so the Bulldogs' offense must hope Murray, freshman tailbacks Green and Douglas and their crew of replacement wideouts can generate enough offense to outscore the slumping Commodores.
6. Vols back from open date:
The last time we saw Tennessee, it came within an eyelash of upsetting then-No. 6 Georgia in overtime. First-year coach Butch Jones' team took last weekend off and now has another enormous test on its hands: a visit from No. 11 South Carolina, which finally seems to be hitting its stride after some early struggles. Volunteers fans are optimistic about the new coaching staff, but their team hasn't beaten a ranked opponent in its last 19 tries. Their next four opponents are all ranked in this week's AP Top 25.
[+] Enlarge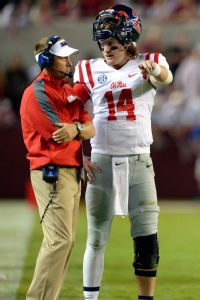 John David Mercer/USA TODAY SportsHugh Freeze and Bo Wallace will try to snap Ole Miss' losing streak against LSU this weekend.
7. Can Hogs "snap out of it?"
Arkansas coach Bret Bielema said this week that he doesn't want his players to be a bunch of "Debbie Downers" after Saturday's 52-7 loss to South Carolina. That was the Razorbacks' fourth straight loss, the most lopsided loss of Bielema's coaching career and matching his worst defeat as a head coach. Unfortunately for Arkansas, it visits No. 1 Alabama on Saturday, where it will be a four-touchdown underdog. It could be a long second half of the season for the Razorbacks.
8. Maintaining historic run:
The SEC set a record when Auburn jumped into this week's AP Top 25, giving the conference eight ranked teams. But that historic total might be short-lived. At No. 24, Auburn will likely drop out if it loses on Saturday at No. 7 Texas A&M. No. 15 Georgia and No. 22 Florida also can't afford a loss if they want to remain in the poll next week.
9. Repeat performance for Aggies?
Johnny Manziel
and the Texas A&M offense gained 671 total yards, the most ever allowed by an Auburn defense, in last season's 63-21 win against the Tigers. Those 63 points also represented the third-most points ever scored against the Tigers. If that wasn't the last straw for then-coach Gene Chizik and his staff, it was awfully close. New coach Gus Malzahn has instilled new optimism on the Plains. The Tigers are a ranked team for the first time since November 2011, but the Aggies are still a two-touchdown favorite.
10. Rebs on the ropes:
Ole Miss was one of the feel-good stories of the season just a few weeks ago, with the Rebels' Sept. 14 win helping them jump to No. 21 in the polls. But entering Saturday's home game against LSU, Hugh Freeze's club has lost three straight games: a shutout loss to top-ranked Alabama followed by narrow losses to Auburn and Texas A&M. LSU has won nine of the last 11 against the Rebels, although three of the last four have been decided by a touchdown or less. Keep your eyes on Oxford on Saturday night. This game often has a way of remaining surprisingly competitive.
December, 5, 2012
12/05/12
10:15
AM ET
We've come to the end of the regular season for the SEC, so here is our final batch of power rankings until the new year:

1. Alabama (12-1; last week: 1): No, Alabama wasn't perfect in its 32-28 victory against Georgia in the SEC title game, but talk about resolve. This team trailed by 11 in the second half, but fought back with a punishing running game and just wore down one of the most talented defenses around to throw itself into the Discover BCS National Championship against Notre Dame. The Crimson Tide will now play for their second national championship in a row, and third in four years.

2. Florida (11-1; LW: 3): The Gators didn't win their division and weren't in Atlanta, but it's hard to find a team with a better résumé. Florida finished the season with four wins against teams currently ranked in the top 12 of the BCS standings. Three of them are in the top 10. Florida is headed to a BCS bowl for the first time since 2009. The Gators will face Louisville in the Allstate Sugar Bowl.


December, 5, 2012
12/05/12
9:00
AM ET
Here we are again talking about another potential national championship for the SEC.
Weren't we having this same conversation last year, the year before that and the year before that?
In fact, does anybody really remember the last time we weren't having this conversation?

The BCS Championship Game festivities will again include an SEC team this season, and once again, it's Alabama carrying the banner for the league.
If you think everybody else in college football is tired of seeing the SEC win all the time, try taking the temperature of fans in Baton Rouge, La., or Athens, Ga., or Auburn, Ala., over how tired they are of seeing Alabama win all the time.
November, 26, 2012
11/26/12
1:00
PM ET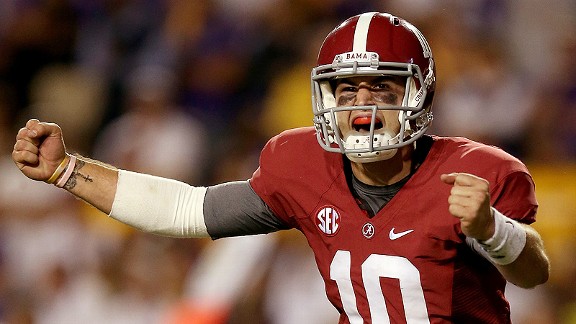 Matthew Stockman/Getty ImagesAlabama and the rest of the SEC have proven they're the cream of the crop in college football.
For the seventh straight season, the SEC is headed to the national championship.
The conference has six teams ranked in the top 10 of
the BCS standings
, including three -- Alabama, Georgia and Florida -- in the top four.
Six teams have two or fewer losses on the season, while two more have eight wins.
Six teams rank in the top 25 in defense, and three rank in the top 25 in offense.
Nine of the SEC's 14 teams are bowl eligible and if not for some dubious play calling on the side of USC in its game with Notre Dame over the weekend, the country would almost have been assured to see yet another all-SEC national championship.
The SEC also has a nation-best six teams ranked in the AP, USA Today and Harris Interactive Polls. The SEC has now had at least five teams ranked in at least one AP Top 25 poll every year since expansion in 1992. Just as in 2011, the conference has had at least five teams ranked in every AP poll throughout the season.
Compared to other BCS conferences, the SEC is tied with the Big 12 with the most bowl eligible teams. With only 10 teams, all but one Big 12 team -- Kansas -- is bowl eligible. And if there weren't postseason bans at Ohio State and Penn State, the Big Ten would have nine, too.
The SEC's resume shows that in a year in which some people called it overrated, the conference still has all the clout it entered the year with and will leave the 2012 season with the label as the nation's top football conference yet again.
More than half of the SEC is postseason bound and if Ole Miss wins its bowl, the league will have nine teams with a winning record when the 2012 season officially comes to a close.
People will point to the SEC's out-of-conference schedules, but the SEC as a whole has a history of staying very comfortable when it comes to nonconference opponents. It's a real drag, yes, but there are ample opportunities for voters to deduct points from SEC teams because of softer non-SEC opponents. But they don't.
And you can look at the teams' strength of schedule, but the SEC actually has some of the tougher schedules out there. Nine SEC teams are ranked within the top 25 when it comes to strength of schedule, including six in the top 10. Florida and Missouri are No. 1 and 2, respectively.
Of the six teams ranked in the top 10 of the BCS standings, four are ranked in the top 25 of schedule difficulty.
When you look at the SEC, more than the top half pulled its weight in 2012. And when the SEC took on the ACC in two top-12 road matchups in front of the nation over the weekend, the SEC dominated, with Florida beating Florida State
37-26
and South Carolina beating Clemson
27-17
.
It has been a very good year for the conference, but you can't completely dismiss the naysayers. They do have a point when it comes to the strength of the conference from top to bottom.
Nine bowl-eligible teams and six top-tier teams speaks volumes, but there is also a very dark side to the SEC.
With Sunday's firing of Gene Chizik, Auburn joined Arkansas, Kentucky and Tennessee as teams that will be hiring new head coaches in the coming weeks. Those four teams combined to go a dreadful 14-34, with only three conference wins. Add 5-7 Missouri, and the SEC had five teams fail to reach .500.
Last year, the SEC had only three teams fail to reach the .500 mark during the regular season and had nine bowl-eligible teams. In 2010 and 2009, only two teams fell below .500 before the postseason and 10 went bowling.
It might be bright and sunny at the top, but it's doom and gloom at the bottom, and that affects the overall perception of the league.
But in the end, the power at the top outweighs the sludge at the bottom. If the playoff started this season, the SEC probably would have two teams in, and right now, the top six teams are playing their best ball of the year.
Some may dismiss the conference's strength this year because of the struggles at the bottom, but the top appears stronger than ever.
November, 19, 2012
11/19/12
9:00
AM ET
After everything that happened over the weekend, our power rankings didn't really change heading into the final week of the regular season:

1. Alabama (10-1; last week: 1): The Tide didn't have much competition lining up opposition over the weekend, but Alabama took care of business in dominating fashion. Then the team watched as Kansas State and Oregon lost, propelling the Tide back into the BCS title game hunt. Beat Auburn and Georgia, and Alabama is headed back to the national championship. Well played, Nick Saban.


October, 21, 2012
10/21/12
11:33
AM ET
The eighth week of the college football season has come and gone, so let's take a look at what we learned Saturday in the SEC:
[+] Enlarge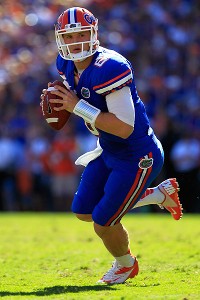 Chris Trotman/Getty ImagesJeff Driskel threw four touchdown passes in Florida's 44-11 rout of South Carolina on Saturday.
1. Clarity in the East race:
Florida just keeps finding ways to win after seemingly finding ways to lose a year ago. Now, the Gators are a win from clinching the Eastern Division title and earning a berth in the SEC championship game. They pounced on a mistake-prone South Carolina team Saturday for a 44-11 win and can lock up the East crown next weekend with a win over rival Georgia in Jacksonville, Fla. The Gators are doing it with superior defense and special teams, excellent adjustments at halftime and a belief that they're going to wear you down in the second half. While Georgia has looked listless at times during its past two outings (a 29-24 win over Kentucky on Saturday and a 35-7 loss to South Carolina on Oct. 6), the Bulldogs can take a commanding position in the East race with a win over the Gators. From there, Georgia would have a home game with Ole Miss and a road game with Auburn remaining. Florida's only remaining league game after this weekend is Missouri at home on Nov. 3. The Bulldogs have won just four of the past 22 meetings in this series, including a 24-20 victory last season. Georgia hasn't won two in a row over Florida since winning three straight from 1987 to 1989. The Bulldogs were without star outside linebacker
Jarvis Jones
(ankle) in their win over Kentucky, and coach Mark Richt said Sunday that he's not sure Jones will be able to play against Florida.
2. South Carolina quarterback controversy:
Sometimes you'd swear that Steve Spurrier almost likes controversy at the quarterback position. Then again, maybe he's just such a perfectionist that his patience with his signal-callers is razor-thin. Either way, Spurrier is clearly down on
Connor Shaw
after the Gamecocks struggled on offense for the second straight week Saturday in a 44-11 loss to Florida. Afterward, Spurrier said South Carolina "stunk from the get go" and called it a "pitiful performance." He didn't place all of the blame on Shaw but noted that the quarterback missed several open receivers and was "still running all over the place." Shaw was benched at halftime in favor of backup
Dylan Thompson
, and Spurrier said he didn't know which way he would go at quarterback this coming weekend against Tennessee. Shaw has committed three turnovers in the past two games and been sacked six times, but the Gamecocks' problems on offense run a lot deeper than just Shaw. They haven't been able to run the ball effectively the past two weeks.
Marcus Lattimore
got just three carries against Florida, and the receivers aren't making any big plays down the field. Shaw certainly hasn't played his best football the past two games, but he is the same guy the South Carolina coaches were lauding earlier this month for being such a winner and the same guy who's been playing through a hairline fracture in his throwing shoulder.
September, 27, 2012
9/27/12
9:00
AM ET
BATON ROUGE, La. -- Watching a recording of LSU's 12-10 win over Auburn last week to focus on the play of defensive tackle
Anthony Johnson
can be impressive and frustrating at the same time.
Pick a random play. There's a pretty good chance you'll see him come off the ball faster than the Auburn offensive line could react. Chances are, he'll get in his gap, control it, then pursue the football. Chances are -- and this is the frustrating part -- you'll then notice the play develop to the outside, as far away as Auburn could get from where Johnson was in the middle of the line.
It was the story of his night.
September, 23, 2012
9/23/12
11:00
AM ET
AUBURN, Ala. -- LSU's offense, unlike last year's version, has a tendency to turn the ball over, especially in the red zone.
And the special teams? Last season was near perfection for a unit that routinely flipped the field. This year, the Tigers are missing field goals, getting penalties on returns and at times are just plain sloppy.
The defense, however, is vintage.
In Saturday's 12-10 win over Auburn, No. 2 LSU allowed the Plainsmen's offense a season-low 183 yards. It was another dominant performance from a unit that entered the night leading the SEC in total defense at 205 yards a game.
[+] Enlarge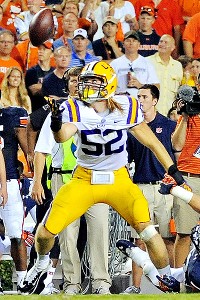 Shanna Lockwood/US PresswireLSU linebacker Luke Muncie forced one of Auburn's three turnovers.
Unlike LSU's three previous performances, the Tigers needed every stop it could get against Auburn in what was LSU's first close game of the season.
"We were tested," said defensive end
Sam Montgomery
, who was at his disruptive best with 3.5 tackles for loss, including his second sack of the season. "I loved this. I loved the challenge."
The LSU defense kept answering challenges, even when other parts of the team struggled. The offense shot itself in the foot with a fumble in the red zone and another fumble that set Auburn up for a short field on its only touchdown. LSU has now failed to score in red zone possessions more times in four games this season (5) than it did in 14 games last season (4).
The special teams had destructive moments, including one punt return where the return team was flagged for not only a hold on the return, but a dead ball personal foul. There was also a missed field goal late in the game.
"Sloppy," head coach Les Miles called the performance.
Maybe he should leave the defense out of that critique. The defense was even turning the failures of the other phases of the game into positives. When quarterback
Zach Mettenberger
fumbled a snap on a third-and-goal in the first quarter, giving Auburn the ball at its own 3, Montgomery dumped Auburn running back
Tre Mason
in the end zone on the very next play for a safety, giving LSU a 2-0 lead and what was eventually the final margin of the game.
LSU's offense took the ensuing free kick and marched down for its only touchdown of the night. Montgomery's play had turned the negative of the first turnover into nine points for LSU.
It was one of those nights where the defense had to carry the load and make it hard for the opposing offense to carry its load
Auburn had to earn all nine first downs (none by penalty). Quarterback
Kiehl Frazier
ran for his life most of the night and often didn't get away. Safety
Micah Eugene
, who has found a niche as a blitzing dime back in long-yardage packages, had two of LSU's four sacks of Frazier. Montgomery was in his face all night and
Barkevious Mingo
had three of LSU's five quarterback hurries.
How disruptive was LSU? Of Auburn's 52 plays, 14 resulted in negative yards and two in interceptions.
"We played a great team," said Frazier, who threw for just 97 yards, completing 13 of 22 passes. "We have to give them all their credit. There's a reason why they're No. 2 in the country."
LSU was at its best in the second half.
After halftime, LSU got both of its interceptions of Frazier, including an interception of his last-play desperation heave by
Tharold Simon
, his first of the season. Linebacker
Luke Muncie
picked him off and often blanketed Frazier's favorite and most reliable target, tight end
Philip Lutzenkirchen
.
Most importantly, LSU shut out Auburn in the second half after a late AU field goal on its only sustained drive of the night -- 9 plays, 42 yards -- gave the home team a 10-9 lead shortly before halftime.
It started with an impassioned plea by Montgomery at halftime -- "He told them to 'play like me,' Miles said," -- and continued with inspired play. With the offense, which got off to a strong start, sputtering after halftime, the defense stayed under pressure, but kept playing sound football.
Auburn tried to beat LSU with misdirection, but often those plays would result by a disciplined LSU lineman staying home and dumping the Auburn ball-carrier for a loss. Auburn coach Gene Chizik said that running inside on LSU was "extremely difficult" and thought the best bet was to use misdirection to get to the perimeter.
With the Tigers usually not biting on the misdirection, a third of Auburn's 30 run plays resulted in lost yardage. And six of 26 pass plays ended in interceptions and sacks. Almost a third of Auburn's plays were disasters for the offense.
LSU had its disasters too, just not by a defense that was too busy carrying a Tigers team that, otherwise, looked vulnerable in its first real test of the season.
September, 22, 2012
9/22/12
6:10
PM ET
AUBURN, Ala. -- Greetings from the Plains.
It's a hot one out here, even though it's technically fall. But that's the South ...


Props to Auburn's student section for coming out early and coming out fired up. While I was walking around this town and eating at Momma Goldberg's, I didn't get much of a positive vibe from Auburn fans. People who I talked to seemed to be hoping for more of a good effort from their Tigers than a win over No. 2 LSU.
But the students flooded the student section as soon as they were let loose inside Jordan-Hare Stadium. Good for them.
Hey, crazy things always happen in this game.
On paper, things certainly aren't in Auburn's favor. LSU pounds the ball with its running game and pounds opponents up front with its defensive line. LSU entered the day with the SEC's best rushing game and defense. The Bayou Bengals like to pressure the quarterback, and that isn't good for Auburn quarterback
Kiehl Frazier
, who has struggled mightily through the first three games of the season. He has to play with more confidence, but he'll have his hands full with the likes of
Barkevious Mingo
,
Sam Montgomery
and
Bennie Logan
up front.
If Auburn is going to pull the upset, its offense has to generate some sort of running game in order to open things up for Frazier. The problem, however, is that LSU doesn't like to give up rushing yards. Through three games, LSU has surrendered just 141 rushing yards.
To put that in perspective, LSU has scored 145 points on the season.
If Auburn wants to have a chance in this game, it has to toughen up on both offense and defense. Coach Gene Chizik has stressed just how physical this team has to be week in and week out in the SEC, and through three weeks, these Tigers just haven't been tough enough.
That has to change this evening.
September, 20, 2012
9/20/12
8:00
AM ET
BATON ROUGE, La. -- To Auburn coach Gene Chizik, No. 2 LSU is playing "at the top of its game." But that game, to this point, has not been against opponents like Auburn that are built to combat physical SEC opponents like LSU and have the resources to get it done. With LSU heading to the Plains, what will that mean Saturday when the two SEC West Tigers meet?
1. An opportunity, a stumbling block?
For 1-2 Auburn, a win Saturday would erase the memories of early struggles, including losses to Clemson and Mississippi State and a near-loss, in overtime, against Louisiana-Monroe while cooling down the seat of coach Gene Chizik. For 3-0 LSU, Auburn represents the first team with the physicality and SEC speed to challenge LSU at its strengths.
To continue reading this article you must be an Insider
May, 18, 2012
5/18/12
3:14
PM ET
We're putting spring behind us and looking toward the fall with our post-spring power rankings:
1. LSU:
The Tigers had one of the best springs around. Things were quiet off the field, and the offense rallied behind quarterback
Zach Mettenberger
. Coach Les Miles was very impressed with Mettenberger's play and maturity, and expects LSU's offense to be more balanced with him under center. LSU can still use four or five running backs as well. Defensively, the Tigers are stacked once again, especially up front with two potential first-rounders in ends
Sam Montgomery
and
Barkevious Mingo
. Questions surround the inexperienced linebackers, but
Kevin Minter
had a tremendous spring in the middle. On paper, LSU is equipped with the talent to make another title run, and gets Alabama at home this year.
Marcus Spears reviews LSU Pro Day
SEC SCOREBOARD
Thursday, 9/3
Saturday, 9/5