July, 16, 2013
Jul 16
8:00
AM ET
Editor's note: This week, GeauxTigerNation and TideNation will examine all aspects of the LSU-Alabama rivalry during the Nick Saban-Les Miles era. Today's stories focus on the past and future of the schools' recruiting battles.
The LSU-Alabama rivalry extends well beyond the football field. Since Nick Saban took over the Tide, he and Tigers coach Les Miles have clashed in some epic recruiting battles. Through that, both coaches have learned that you can't get everybody on your wish list, regardless of ties or proximity.
Here's a list of five prospects who got away from Alabama and five who got away from LSU in what has become one of the nation's top recruiting rivalries.
Five who got away from Alabama:
WR Chris Tolliver
, 2008 (Rayville, La./Rayville): It was a classic Tide-Tigers battle for Tolliver, the nation's No. 11 wide receiver. He took official visits to Alabama and LSU in consecutive weeks right before he made his decision. Although he chose to stay in state, the Tide were able to steal his teammate and fellow wide receiver
Kenny Bell
the following year.
To continue reading this article you must be an Insider
May, 9, 2013
May 9
10:00
AM ET
GEISMAR, La. -- Behind the football offices and locker rooms at Dutchtown High School in Baton Rouge's southeast suburbs sits a series of trailers, temporary classrooms that prove the barely 11-year-old school already is overcrowded.
"We'll probably build a freshman campus next," said football coach Benny Saia, who already is lamenting a land-locked campus where the band soon might have to share practice space with the football team if additional buildings spring up. "What will probably happen is they'll build a new school out in (nearby) Galvez."
[+] Enlarge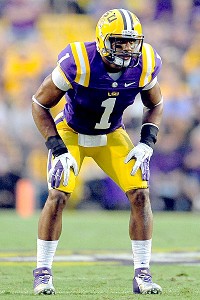 Stacy Revere/Getty ImagesEric Reid, a first-round pick by the 49ers, was one of three Dutchtown alumni to reach the NFL this spring.
Dutchtown High is indeed the classic example of American suburban growth. Just one freeway exit on Interstate 10 from Baton Rouge, it sits in a hot growth area of unincorporated bedroom towns filled with new neighborhood developments mixed with homesteads that maintain their rural feel from before the western part of Ascension Parish blew up in the 1990s. A campus built to accommodate 1,500 students is bordering on 2,000 and growing.
"Everybody wants their kids in Dutchtown now," said Saia, a long-time Baton Rouge-area coach.
Including, it would appear, football players.
To continue reading this article you must be an Insider
February, 19, 2013
Feb 19
7:00
AM ET
Several of RecruitingNation's SEC sites will look this week at the players headed to the NFL combine, which begins Friday in Indianapolis. Today: Quarterbacks, running backs and wide receivers.
Perhaps it says something about LSU's offense in 2012 that among a record 13 players invited to the NFL combine from the Tigers, only two are offensive skill players who are generally considered, at this point, marginal talents. Running backs Spencer Ware and Michael Ford are the only skill players invited to Indianapolis, which is understandable when one considers LSU was 10th in the SEC in total offense. It's also a sign of youth. Quarterback
Zach Mettenberger
, fullback
J.C. Copeland
, running back
Jeremy Hill
and all of LSU's primary threats at wide receiver will return in 2013.
January, 14, 2013
Jan 14
6:48
PM ET
BATON ROUGE, La. -- It didn't take long in the recruiting process before it began to seem like LSU would not keep its most local target on campus.
To continue reading this article you must be an Insider
January, 9, 2013
Jan 9
9:00
AM ET
Well, Nick Saban and his gang of future NFL ballers proved to us once again that it is indeed Alabama's world, after claiming their second consecutive national title and third in four years Monday night. That ringing in your ears is just the sound of "Roll Tide" being repeated over and over in your head. I've learned there's nothing we can do about it.
But will 2013 bring college football a team that can really stop the Tide? I mean, REALLY stop Alabama from winning a third straight national championship? Well, ESPN's Mark Schlabach seems to believe that the road to Pasadena is paved in crimson and white, as he has Alabama No. 1 in his Way-Too-Early-Top 25 for 2013.
It's hard to blame him at this point. Sure, Alabama's offensive line won't be nearly as good with Barrett Jones and Chance Warmack leaving. And it will take even more of a hit if/when D.J. Fluker decides to turn pro. But with quarterback AJ McCarron, running back T.J. Yeldon (we're assuming Eddie Lacy and his sweet spin move are headed to the NFL), wide receiver Amari Cooper and a host of studs on the defense returning, Alabama will again be the team to beat.
[+] Enlarge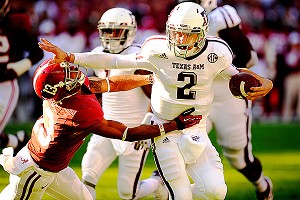 John David Mercer-USA Today SportsJohnny Manziel and Texas A&M, ranked fifth by Mark Schlabach, host way-too-early No. 1 Alabama on Sept. 14 in the SEC opener for both teams.
Oh, and a not-so-tretcherous schedule won't hurt the Tide's chances either.
But there are some quality teams in the SEC that will fight to dethrone Alabama, and Schlabach has four in his top 10. Texas A&M, which returns the Heisman-winning Johnny Football, ranks fifth, Georgia is sixth, South Carolina is seventh and Florida is 10th. The thing about all those teams is that they all return their starting quarterbacks, with Georgia's Aaron Murray being one of the best in the country alongside Johnny Manziel.
South Carolina will be one of the more balanced teams in the SEC next fall, and if Florida can actually find a passing game in 2013, watch out because that defense will still be fierce, even with a few junior defections.
LSU, checking in at No. 13, is the only other SEC team in Schlabach's top 25. The Tigers are expected to have a better offense, especially with Zach Mettenberger finally finding his comfort zone under center, but a poor offensive showing in the Chick-fil-A Bowl defeat to Clemson and the loss of junior running backs Michael Ford and Spencer Ware create an uneasy feeling around the offense. Plus, the defense just took a beating as a result of juniors departing for the NFL, especially up front. All-American punter Brad Wing also left.
The good news for LSU is that running back Jeremy Hill is returning, and he'll only be a sophomore.
It's a good list to start off with, but where in the world is Vanderbilt? The Commodores are coming off of a historic season in Nashville. There were nine wins that included a bowl victory, five conference wins and a seven-game winning streak. The quarterback and running back spots might be up for grabs, but Jordan Matthews is coming back, along with fellow receiver Chris Boyd. And most of the rest of the offense remains intact.
The defense will lose a lot up front, but linebacker Archibald Barnes and cornerback Trey Wilson are the only other significant losses.
There was room for Vandy in there somewhere ...
November, 1, 2012
11/01/12
12:20
PM ET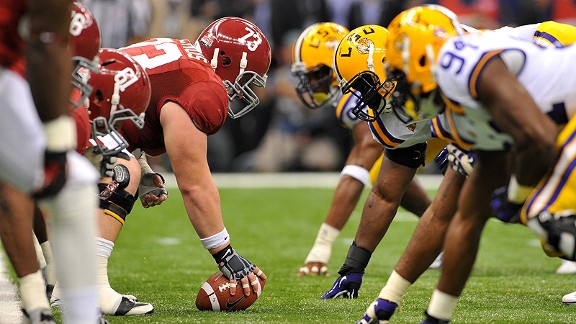 Cal Sport Media/AP ImagesThe stakes are always high when the Crimson Tide and Tigers square off.
Growing up in Baton Rouge, La., LSU junior safety
Eric Reid
was accustomed to seeing that overwhelming sea of crimson march into his city every other year.
And he hated it more each time.
During his younger days, he detested the sight of that gray elephant and he absolutely loathed two words shouted so confidently by those outsiders from two states over: "Roll Tide."
Reid, who grew up a staunch LSU fan, was always excited for the Tigers' traditional rivals, but Alabama week brought more emotion. The hatred he carried around as a youngster was real and just the mere thought of losing to Alabama made Reid sick.
"I had that bitter feeling whenever 'Alabama' came off my tongue," Reid said.
Now, Reid's feelings toward the Crimson Tide have only intensified. After playing Alabama three times in his two-plus years with the Tigers, his hatred has transformed into respect. There's still bitterness, but he also has gained some civility.
And when Alabama week rolls around, he can't help but have a different sort of excitement. It feels like a real traditional rivalry game to Reid and has been
the
game in college football the past two years. It might even be the sport's best rivalry at the moment.
"I do think it's up there with the big ones," Reid said. "Everybody knows when Alabama and LSU are playing each other. It's grown significantly over the past couple of years.
"Whenever Alabama and LSU play each other, it's going to be a big game."
When people talk about college football's best rivalries, no one forgets Ohio State-Michigan, Alabama-Auburn or Army-Navy. You also have Florida-Florida State, Oklahoma-Texas and Miami-Florida State.
But it's clear we now have Alabama-LSU, and while it doesn't have the tradition of some of the other national rivalries, recent history has it soaking up all the national spotlight. And with the way these two giants have been able to recruit, it isn't going away anytime soon.
Like last year's two meetings, championship implications are on the line for Saturday's matchup between No. 1 Alabama (8-0, 5-0 SEC) and No. 5 LSU (7-1, 3-1) in Baton Rouge. There was the national championship quarterfinal in Tuscaloosa, Ala., in Game 1 and the actual national championship in Game 2.
Like most traditional rivalries, trophies are at stake when these two play.
While the national audience is just now catching onto Alabama-LSU, this game is nothing new to the Deep South. Alabama leads the all-time series 46-25-5, but the real bitterness started when Nick Saban returned to the SEC and went to Alabama in 2007. Two years removed from bringing LSU its second national championship, Saban was done with the pros and back in the same division -- and less than 350 miles from Baton Rouge.
[+] Enlarge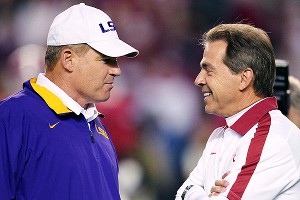 Marvin Gentry/US PresswireLes Miles and Nick Saban are 3-3 against one another as head coaches.
There was tremendous buildup to Saban's first game against LSU in 2007 -- a 41-34 loss for the Tide -- but things reached a boiling point when he returned to the Bayou in 2008 and escaped with a 27-21 overtime win. He won again in 2009 and will enter Saturday's game tied 3-3 with Les Miles in this series.
It probably doesn't help LSU fans when they look up and see Saban holding two crystal balls as Alabama's coach.
What really gives this game life is the national importance it has. The national championship really is on the line for both teams … again.
"People become more and more interested in those kinds of games, regardless of the league that they're in," Saban said.
It's a game that has taken the country by storm, and to LSU defensive end
Sam Montgomery
, its magnitude is something younger players won't truly comprehend until Saturday.
"Get ready. It's going to be the closest, most competitive thing you ever did in your life -- hopscotch to basketball to playing video games," Montgomery said.
"They don't understand, but I hope soon they will.
"It's a true battle where only the mean can survive and make plays."
Miles was inside Ohio State-Michigan and isn't ready to say this rivalry is there, yet. However, he did acknowledge that players and fans have a different look about them during Alabama week.
The same can be said for those in Tuscaloosa, especially running back
Eddie Lacy
, who attended Reid's high school (Geismar, La./Dutchtown). He knows all too well that this is a love-hate affair.
"You just know they don't like each other," Lacy said. "That's pretty much all you need to know."
Everyone with any ounce of college football fandom will tune into this game. So much talent will be on the field, and just like last year, the winner will be a front-runner on the path to the BCS title.
There's no turning back, and there's no time to hide any sort of spite come Saturday night.
"There's bad blood between the two teams when we play just because of who you're lining up against," Reid said.
November, 1, 2012
11/01/12
11:45
AM ET
BATON ROUGE, La. -- Saturday will be a who's who of Louisiana's top prospects in one place when LSU hosts Alabama at Tiger Stadium.
The night before, the state's best high school players will be scattered throughout the state, closing their regular seasons, many playing games with strong district-championship and postseason ramifications. Here are the best games involving players headed for major college programs:
Geismar Dutchtown (7-1) vs. Baton Rouge Catholic (6-2):
The championship will be on the line in District 5-5A, which includes the largest city and suburban schools on the south side of Baton Rouge. Dutchtown, the alma mater of LSU's
Eric Reid
and Alabama's
Eddie Lacy
and
Landon Collins
, has another SEC-level recruit in Mississippi State commit
Shelby Christy
.
To continue reading this article you must be an Insider
August, 27, 2012
8/27/12
10:30
AM ET
We all know that there is more to football than just big dudes smashing into each other.
Sure, they provide most of the entertainment, but you can't have a college football season without some fearless predictions to start the year off with. Yes, us media folk are allowed a little fun and some of the attention.
Last year, fellow SEC blogger Chris Low and I split our predictions up, as we came up with 10 each that can be viewed
here
and
here
. This year, we're cleaning things up and creating just one list of 10 SEC predictions for the 2012 season.

We both had are share of hits and misses last year. I only got one of my 10 predictions correct when I said that Chris Rainey would score touchdowns three different ways. I crossed that off Week 1. Some I missed on were predicting that the Heisman trophy would stay in the SEC, Brandon Bolden finally getting 1,000 rushing yards,
Zach Mettenberger
having more touchdowns than Jarrett Lee and the SEC sending 10 teams bowling.
I was pretty close with my prediction that Morris Claiborne would lead the SEC in interceptions and Tyrann Mathieu would lead in defensive touchdowns. Claiborne was third with six, while Mathieu finished with four total touchdowns with two being defensive.
However, Chris showed his veteran ability and hit on seven of his 10. He really is a showoff. But he did whiff on
Spencer Ware
rushing for 1,200 yards. Ware only got 707 yards.
Enough of the walk down memory lane, here are our 10 fearless predictions for 2012:
August, 20, 2012
8/20/12
7:00
AM ET
GeauxTigerNation writers Gary Laney and David Helman get you ready for the season with a daily breakdown throughout August of what LSU is facing in the fall, from its opponents, to its road trips to who it's recruiting. Today, Gary Laney asked the questions in a Q&A with Alex Scarborough of ESPN.com's TideNation, which covers all things Alabama:
[+] Enlarge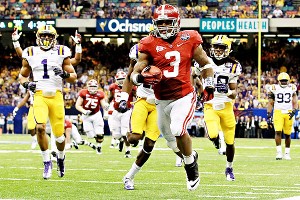 Ronald Martinez/Getty ImagesRevenge will be a motivating factor for LSU when the Tigers face Alabama this season.
Q: What's going to be harder to replace, Trent Richardson's running or all of quarterback AJ McCarron's favorite targets?
A:
If you're talking in terms of production, I think there are other, more troubling areas than the running or passing game, namely the secondary.
Eddie Lacy
is a load at running back and there are legitimately two or three capable backups behind him. The rotation could remind LSU fans of when Nick Saban used Joseph Addai and others to win the title in 2003.
To continue reading this article you must be an Insider
August, 8, 2012
8/08/12
7:17
AM ET
In a conference with seven members ranked in the top 25, it's a given LSU is going to run into some playmakers in its bid for conference supremacy this fall.
[+] Enlarge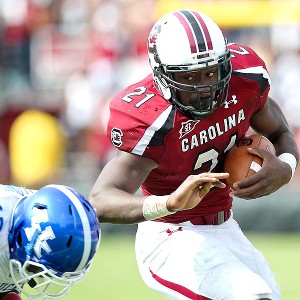 Daniel Shirey/US PresswireSouth Carolina's Marcus Lattimore is one of many offensive stars LSU will have to plan for in 2012.
With that in mind, here's a look at five offensive game changers LSU fans should be excited (and maybe a bit nervous) about facing.
1.
Keith Price
,
Washington QB:
Tiger fans are going to get a good look at their revamped secondary early on in the 2012 campaign, when the Huskies visit Sept. 8.
To continue reading this article you must be an Insider
July, 19, 2012
7/19/12
8:32
AM ET
HOOVER, Ala. -- Day 2 of SEC media days sent some media members in to a frenzy, as 24 combined representatives from six teams paraded through The Wynfrey Hotel in Hoover, Ala.
Arkansas tried to steal the show Wednesday, as
Knile Davis
anointed himself as the conference's best running back for the second straight year and interim coach John L. Smith sent a barrage of one-liners through the main ballroom.
But get ready for the crowd Friday. That's when Alabama comes to town, meaning a cluster of Crimson Tide faithful will be packing into the Wynfrey and drowning out every bit of noise with a never-ending series of "Roll Tide."
Joining Alabama is Tennessee, Ole Miss and Georgia.
Here are some things to look out for:
Nick Saban hates comparisons, but expect him to receive a few questions about comparing his current defense to the one he had in 2010. He'll certainly love those.
He and his players will also get a plenty of questions about the offense, especially with quarterback AJ McCarron returning and Eddie Lacy taking over at running back. Unfortunately, neither will be in attendance.
It's no secret that Tennessee coach Derek Dooley's seat is pretty hot in Knoxville, so he should expect to receive questions surrounding his job security. But has he really had enough time to right a ship that was sinking when he arrived and is just now patching up the hole?
Tyler Bray will be in the house. He's one of the league's best quarterbacks and he's confident in his ability, but let's see just how much maturing he's done heading into Year 3.
Georgia has dealt with a handful of offseason distractions thus far, including losing starting running back Isaiah Crowell. Mark Richt and his players should be prepared to answer questions about moving on and where the running game goes from here.
Jarvis Jones and his pursuit to be the nation's best linebacker should be a fun subject to tackle.
Ole Miss coach Hugh Freeze is at SEC media days for the first time. He's asked Rebel Nation for patience and is dealing with a roster that has a lot of holes on it. Can he convince people here that the Rebels are ready to turn things around?
July, 10, 2012
7/10/12
3:05
PM ET
Earlier, we
ranked all 14 SEC running back groups
, so it's time to look at the league's top 10 rushers heading into the 2012 season. As usual, there are some pretty talented backs in the league, so narrowing it down to just 10 backs wasn't easy to say the least. But someone had to do it!
Past rankings:
Like all the other positions, we're looking at overall talent, game-changing ability and experience. We also looked at past performances and projections for 2012.
Here are our top 10 SEC running backs:
[+] Enlarge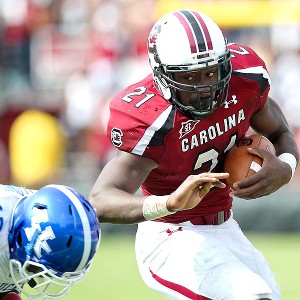 Daniel Shirey/US PresswireMarcus Lattimore is apparently ahead of schedule with his rehab after tearing his ACL last season.
1. Marcus Lattimore, Jr., South Carolina:
He might be the nation's best all-around running back, and all indications are that he's ahead of schedule with his rehab after tearing his ACL halfway through last season. Before his injury, he led the SEC in rushing and has a tremendous combination of size, speed and strength that make him one of the toughest players to stop.
2. Knile Davis, Jr., Arkansas:
Like Lattimore, Davis is coming off of a devastating injury from last year. He had yet another ankle injury that cost him all of his 2011 season, but it sounds like he's more than ready to return to the playing field. He's one of the most dynamic rushers in the country, and when he was healthy in 2010 he averaged 146.9 yards in the last seven games of the season.
3. Christine Michael, Sr., Texas A&M:
He's another back coming off a season-ending injury. Before he tore his ACL last fall, Michael rushed for 899 yards and is a true workhorse. His punch-you-in-the-mouth, explosive, downhill running style will fit right in in the SEC. He should be good to go this fall, and if he's 100 percent he'll certainly challenge for the rushing title.
4. Zac Stacy, Sr., Vanderbilt:
He was a real surprise in the SEC last season and returns as the league's top statistical rusher, with 1,193 yards from a year ago. He isn't the fastest back, but he's strong, works hard and has excellent vision. Last season, Stacy tied for the SEC lead with runs of 40 or more yards, and averaged 5.7 yards per carry against SEC defenses.
5. Eddie Lacy, Jr., Alabama:
Lacy takes over for the very talented Trent Richardson, but he's no slouch. Lacy has shown pretty good explosion and strength when he's had the ball, averaging 7.1 yards per carry last season. Nagging injuries have slowed him in the past, but if he's healthy he'll make plenty of defenders miserable -- and sore -- this fall.
6. Spencer Ware, Jr., LSU:
Ware was one of the top backs in the league during the first part of last season, but was never the same after his midseason suspension. Word is that he's very determined to redeem himself this fall. He's a true bruiser who can soften defenses, and has a knack for pushing through for an extra yard or three.
7. Michael Ford, Jr., LSU:
He's considered the fastest of LSU's five-headed rushing monster and ended up leading the Tigers in rushing last season (756), after starting just three games. Ford might be LSU's best big-play threat at running back, but he's also not afraid to put his head down and knock someone over.
8. Onterio McCalebb, Sr., Auburn:
McCalebb might not be the every-down back the Tigers need in replacing
Michael Dyer
, but he's one of the best home run threats in the league. He's at his best when he takes runs to the outside, and can be deadly in the passing game, too.
9. Dennis Johnson, Sr., Arkansas:
After taking over for Davis last season, Johnson led the Hogs with 670 yards on just 106 carries. He might be known more for his kick return ability, but Johnson could probably start at running back for a few teams in the SEC. He has a solid blend of power and speed, but has to get over his fumbling issues.
10. Nick Griffin, So, Mississippi State:
LaDarius Perkins
might be the starter to open the season and has big-time speed, but Griffin is the complete package and is probably the closest thing the Bulldogs have on their roster to the departed Vick Ballard. The coaches are especially excited about his potential, and it would be no surprise if Griffin eventually takes the bulk of the carries for the Bulldogs this fall.
January, 10, 2012
1/10/12
4:27
PM ET
We officially said goodbye to the 2011 season Monday night and crowned the
Alabama Crimson Tide
as college football's new champions. Now, it's time to shift our focus to 2012. Here's to hoping the Mayans were wrong:

1. Alabama:
The defense will get hit the hardest by graduation and the NFL draft, but Alabama's offense should be better. While it's almost a forgone conclusion that junior running back
Trent Richardson
will declare for the NFL draft, Alabama returns a veteran offensive line, has a good set of up-and-coming receivers and has some pretty talented running backs to work with, including pounder
Eddie Lacy
. Oh, and that quarterback ain't too bad, either.
2. LSU:
The Tigers might have come up short in the big one, but it's not like LSU is going anywhere. That defense that ranked second nationally was made up by a slew of youngsters. LSU returns double-digit starters next year, including most of its front seven. A major bright spot for this team is that former Georgia quarterback
Zach Mettenberger
will now get his chance, and has skill that
Jordan Jefferson
and
Jarrett Lee
lacked.
3. Georgia:
The Bulldogs might return more starters next year than LSU. After surpassing expectations and challenging LSU for the SEC title, the Bulldogs should enter next fall as the favorites in the SEC East. Stud quarterback
Aaron Murray
returns and so do most of his weapons. With arguably the easiest schedule (again) in the SEC, Mark Richt will be expected to take his Dawgs back to Atlanta.
4. South Carolina:
There won't be any sleeping on the Gamecocks in 2012. After getting 11 wins for only the second time in school history, South Carolina should compete for the SEC East for the third straight year. The Gamecocks return a slew of talent, especially on defense, and saw tremendous improvement in quarterback
Connor Shaw
. Also, running back
Marcus Lattimore
should be back and healthy after his devastating season-ending knee injury.
5. Arkansas:
The Razorbacks will lose a lot of key players that have helped Arkansas get to where it is under Bobby Petrino. Defensively, five seniors will say goodbye, while the offense will lose three NFL wide receivers. However, that offensive line, which grew up as the season progressed, will be much better and star running back
Knile Davis
should be back and healthy. Quarterback
Tyler Wilson
is back, so there shouldn't be much dip in the passing game even with some new faces at receiver.
6. Auburn:
Those youngsters on the Plains will be more mature and much improved in 2012. That has to be a scary thought for other SEC members. Auburn doesn't lose much from its 2011 team and gets a great addition to the defensive side of the ball in new defensive coordinator Brian VanGorder. Offensively, there are weapons everywhere, but the key will be finding the right quarterback ... again.
7. Florida:
Will Muschamp's first year as the Gators' head coach didn't go as planned, but there is still a lot of talent in Gainesville, especially on the defensive side of the ball. Florida loses just one starter on defense and should have one of the fastest, most aggressive defensive units around the SEC. Getting that offense going will be key to Muschamp's second year, but with all that turnover, it should be a fresh start for this unit.
8. Missouri:
This new group of Tigers enters 2012 as a factor in the SEC East. Missouri returns nearly everyone from 2011, including quarterback
James Franklin
and running back
Henry Josey
, who both put up solid numbers in 2011. The Tigers will no doubt hit some snags as they transition into their new home, but with all the talent that returns, Missouri won't be a pushover in its first year in the SEC.
9. Tennessee:
Derek Dooley has the pieces in place on both sides of the ball to compete in the SEC East. That young defense won't be so young in 2012 and quarterback
Tyler Bray
returns with his deep-threat sidekicks at wide receiver. With a solid offensive line, the next step for Tennessee is to find a consistent running back to help take the pressure off of the passing game. There's a lot of pressure on Dooley to get things done, and he has the talent to in 2012.
10. Texas A&M:
The Aggies have the pleasure of entering the SEC as a Western Division team. That's not exactly a warm welcome. It doesn't help that Texas A&M is losing a ton from its 2011 team. There could be six NFL draft picks who won't be back in College Station next season. Quarterback
Ryan Tannehill
and top safety Trent Hunter are gone, and so is receiver
Jeff Fuller
.
Christine Michael
should do well as
Cyrus Gray
's replacement at running back, but the core of this team will be gone.
11. Vanderbilt:
Year 1 of the James Franklin era was a success and there shouldn't be a lot of drop-off for the Commodores next season. Vandy loses top defenders Chris Marve, Tim Fugger and Casey Hayward, but a lot of veterans return on that side of the ball.
Jordan Rodgers
is back at quarterback,
Zac Stacy
returns at running back and wide receivers
Chris Boyd
and
Jordan Matthews
will be back. Running back and specialist
Warren Norman
should be back too and the offensive line returns four starters.
12. Mississippi State:
The Bulldogs lose a lot on both sides of the ball in 2012, but should have a top cornerback combo in Johnthan Banks and Corey Broomfield. Losing Fletcher Cox up front will leave a hole on the defensive line and saying goodbye to linebacker Brandon Wilson won't be easy.
Tyler Russell
will probably get the first crack at quarterback for the Bulldogs, but he will be without his safety net in running back
Vick Ballard
. The good thing is that the receivers are back, but this team will have to grow up in a hurry.
13. Kentucky:
The offensive line will have some missing pieces in 2012 and the defense loses six starters, including star linebacker Danny Trevathan.
Maxwell Smith
and
Morgan Newton
will battle at quarterback, but with how 2011 ended, Smith might have the advantage. This team struggled mightily on offense and the problem was that there wasn't a lot of improvement throughout the year. The offseason should be dedicated to find ways to get this offense moving.
14. Ole Miss:
Hugh Freeze steps into a tough situation at Ole Miss. His first order of business needs to be improving the discipline on this team. It was awful in 2011, and if Ole Miss wants to improve it has to clean that up. The defense should get a boost with leader D.T. Shackelford returning from his season-ending knee injury and offensive playmakers
Jeff Scott
,
Donte Moncrief
and
Nickolas Brassell
are back. The offensive line loses some key components, and the quarterback situation is far from figured out.
January, 9, 2012
1/09/12
9:42
PM ET
NEW ORLEANS -- Did Alabama forget that
Trent Richardson
was on the roster in the red zone?
That's two times now that Richardson hasn't gotten the rock when he probably should have inside LSU's 20-yard line. He grabbed just one carry inside the 20 on Alabama's first scoring drive and that resulted in a field goal. On Alabama's last scoring drive,
Eddie Lacy
got the carries inside the 20 and came up short on a third-and-1.
Alabama leads 6-0, but things might be different if Richardson got the ball in these key situations. He should always be Alabama's go-to guy, and he isn't right now in the biggest game of the season. These are the plays he lives for.
LSU Bulks Up 2014 Recruiting Class
SEC SCOREBOARD
Saturday, 12/21
Monday, 12/23
Tuesday, 12/24
Thursday, 12/26
Friday, 12/27
Saturday, 12/28
Monday, 12/30
Tuesday, 12/31
Wednesday, 1/1
Thursday, 1/2
Friday, 1/3
Saturday, 1/4
Sunday, 1/5
Monday, 1/6