July, 28, 2014
7/28/14
9:00
AM ET
BATON ROUGE, La. -- We're a week away from the start of preseason practice for the
LSU Tigers
.
Since several open spots on the depth chart make this arguably the most important freshman class in Les Miles' decade as the Tigers' coach, we thought it might be a good time to offer a refresher on Miles' thoughts about each signee once they officially became Tigers on national signing day.
Keep in mind that this is before two junior college prospects -- offensive lineman Jevonte Domond and tight end Colin Jeter -- joined the class as summer additions, so they are not included in this rundown.
Here's what Miles had to say on what the newcomers might bring to LSU's roster:
[+] Enlarge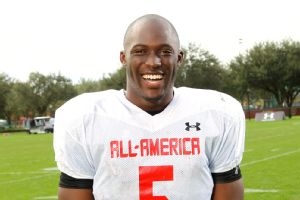 Miller Safrit/ESPNLeonard Fournette, the top prospect in the 2014 class, should get his fair share of carries as a freshman.
Leonard Fournette
No. 1 overall prospect on ESPN 300/No. 1 RB
Miles said:
Not surprisingly, the nation's top overall prospect was a hot topic on signing day. Discussing him publicly for the first time, Miles said, "The inhibitor for a running back, generally speaking, is if he's got great speed, he's not very big. And if he's very, very big, he doesn't have great speed. And so basically you take a big back and you trim him up and you get him faster and you take the small back and you build him up and hope that you don't get him slower. But for Leonard Fournette, it's size and speed and ball skills and great vision. He's a guy that will step in and play."
Malachi Dupre
No. 17 on ESPN 300/No. 1 WR
Miles said:
One of three No. 1 players at a position to sign with the Tigers, wide receiver Dupre "can jump out of this gym," Miles said. "He's a guy that not only has size and height and ball skills and speed, but he has explosiveness that's just different. Those quarterbacks that could miss him would have to throw it low, not high."
Jamal Adams
No. 18 on ESPN 300/No. 2 S
Miles said:
Clearly excited about the Texan's potential, Miles brought up former first-round NFL draft pick
Eric Reid
as a comparison to Adams. "A multi-dimensional athlete. Played offense, defense, special teams return man," he said. "Very tough, physical player. Ran track. Just reminds you of Eric Reid, maybe a little bit better ball skills, maybe a little bit more explosive."
Trey Quinn
No. 29 on ESPN 300/No. 3 WR
Miles said:
One of the most statistically prolific high school receivers in history, Quinn is a "tremendously capable athlete, a guy that can make plays after he catches the ball," Miles said. "His run after catch will be significant."
Clifton Garrett
No. 31 on ESPN 300/No. 2 ILB
Miles said:
The No. 1 player in Illinois, the middle linebacker is "big, physical, fast -- forced fumbles, sacks, going to give us a tremendous presence inside," Miles said.
Brandon Harris
No. 37 on ESPN 300/No. 2 dual-threat QB
Miles said:
The coach said early enrollee Harris "may well be as natural a passer as we've been around" and added that he has "got great arm velocity, great speed. Will really challenge defenses vertically down the field and have the ability to move his feet to extend plays."
Ed Paris
No. 50 on ESPN 300/No. 4 S
Miles said:
The early enrollee, who played cornerback during the spring, has great coverage skills, Miles said. "Again, I say that he is already on campus and has an opportunity to compete this spring for playing time."
Garrett Brumfield
No. 54 on ESPN 300/No. 1 OG
Miles said:
The third No. 1 player at his position, Baton Rouge native Brumfield is an "extremely athletic offensive lineman," Miles said. "Great versatility will give him a chance to play multiple positions."
Devin Voorhies
No. 134 on ESPN 300/No. 16 ATH
Miles said:
Miles said Mississippi's Gatorade Player of the Year, who is slated to play safety. is "just a very versatile athlete with good size. We'll enjoy him in our secondary, as well."
Travonte Valentine
No. 164 on ESPN 300/No. 11 DT
Miles said:
The massive four-star prospect "is one of the premier tackles out of Florida. … Big body, really will clog up the middle and push the pocket."
Jacory Washington
No. 169 on ESPN 300/No. 5 TE (H)
Miles said:
The four-star tight end is "a guy that really is a receiving tight end, can really stretch the field vertically. Again very talented," Miles said. "He went to the Under Armour All-America Game in Orlando and he won the skills competition."
Davon Godchaux
No. 213 on ESPN 300/No. 22 DE
Miles said:
The four-star prospect, who will start out at defensive tackle at LSU, "had a major knee injury that he recovered from in his senior year," Miles said. "But he has a very high motor, very athletic and we look forward to him playing with us in the middle."
Donnie Alexander
No. 261 on ESPN 300/No. 19 OLB
Miles said:
Miles called the New Orleans native "one of the top linebackers in the state. … He will fit into our package very comfortably. He'll be great in space and he is a very vicious tackler."
D.J. Chark
No. 271 on ESPN 300/No. 38 WR
Miles said:
Miles has frequently mentioned the speedy Chark as a future contender for a kick returner job. On signing day, he said Chark is "really a tremendous prospect at the wide receiver spot."
Deondre Clark
No. 273 on ESPN 300/No. 24 DE
Miles said:
With severe winter weather in his native Oklahoma delaying the process, Clark didn't officially sign with LSU until several days after national signing day. But in a release announcing his signing, Miles said Clark "is a very athletic and versatile player who was a standout on both sides of the ball in high school. … He fills a need for us at defensive end. He'll be able to come in and compete for playing time right away."
Tony Upchurch
No. 283 on ESPN 300/No. 42 WR
Miles said:
He contributed at multiple positions in high school, but the big-bodied Upchurch will play receiver at LSU, leading Miles to say he's "a very strong, physical [player] that can catch the ball and will give us a great opportunity to use his size and skill set."
Trey Lealaimatafao
No. 27 DT
Miles said:
Although he recently suffered a serious arm injury and jeopardized his 2014 season when he punched through a window, the four-star defensive lineman reminds Miles of a previous LSU standout. "What he would remind you of is
Drake Nevis
," Miles said. "He is a little taller, maybe a little wider, maybe a little faster, but he has a very high motor and a real acceleration on the field."
William Clapp
No. 22 OG
Miles said:
LSU likes versatility in its offensive linemen and Miles said LSU gets that with Clapp, noting also that he "comes with an LSU background. His father played defensive line at LSU. … Again, very athletic, has good size and mobility that will allow him to play a number of spots."
John Battle
No. 26 S
Miles said:
Although he's listed at cornerback on LSU's preseason depth chart, Miles said at the time that Battle is "one of the rising safety prospects in this class, a four-star recruit. A very bright guy … a very high-character man, a track athlete and a four-point student. Very hard-hitting safety, a very talented guy that we look forward to him lining up in our secondary."
Sione Teuhema
No. 41 DE
Miles said:
A tweener who could contribute as a defensive end or outside linebacker, Teuhema "has an unbelievably high motor and will play with his hands on the ground or play standing up and just to me is a tremendous prospect," Miles said.
Russell Gage
No. 57 ATH
Miles said:
A late addition to LSU's class, Gage was "a multi-sport athlete, displayed toughness and physicality and speed, was very competitive in our camp and we knew of him best and he'll be with us as a corner," Miles said.
Cameron Gamble
No. 6 KTS
Miles said:
Although LSU seems set at placekicker with Colby Delahoussaye, Miles has mentioned Gamble several times as a candidate for the kickoff job in 2014, including on signing day. "Big leg. Nineteen kickoffs went into the end zone as a senior."
Darrel Williams
No. 77 RB
Miles said:
Fournette gets most of the attention, but Miles said of 2,200-yard rusher Williams that "he's a tough, physical running back, runs behind his pads, punishes defenders, displays great balance and vision."
June, 19, 2014
6/19/14
9:00
AM ET
BATON ROUGE, La. – At his national signing day press conference, LSU coach Les Miles ran down a list of names on a sheet of paper, rattling off details about each of the Tigers' signees. But when he got to the new defensive tackle from San Antonio, Miles grinned and had to pause.
"I better call him Trey L. this minute," Miles chuckled while struggling to pronounce
Trey Lealaimatafao
's last name. "It will take me several years to get to that. And I want you to know something, he's a wonderful man and I pray that he'll be forgiving my inability."
Miles predicted it would probably take "a couple years" before he clears that verbal obstacle, adding that his struggles will provide reporters with fodder "to throw at me just about any point in time that you need to."
I can't make any guarantees, but I'd imagine the kid will cut Miles some slack. Sure, questions and jokes about your name might get annoying from time to time, but you definitely get used to it. Continuing to get angry about it won't do any good and would only mean you'd walk around in an irritable state most of the time.
Mr. L. seems to share that perspective. Just this week, he tweeted instructions on how to pronounce it for those who understandably need some assistance.
Instructions to say my last name Lay-Ah-Lah-EE-mata-fow #simple

— TreyLay (@TreyL55) June 17, 2014
Simple, right?
[+] Enlarge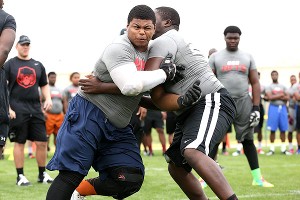 Tom Hauck for Student SportsHis last name isn't the only big thing about Trey Lealaimatafao's (left) game.
Anyway, once he becomes a legit LSU letterman, Lealaimatafao will tie for the longest last name in Tigers football history. I know because I looked it up myself.
These are the things you do when you're a bored college football writer during the summer months. You get a wild hair and comb through the list of lettermen in the media guide, checking to see if the new signee actually has the longest name among the six pages and hundreds of lettermen listed from more than 120 years of Tigers football.
In case you were wondering -- and I know you were -- Lealaimatafao's 13-letter last name ties with 1939 letterman W.H. Froechtenicht for the top spot on this important list. They edge former LSU quarterback
Zach Mettenberger
(12 letters), among others, by a single character.
Among some of the notable long names on the list:
Ricky Jean-Francois
(should hyphenated names count?) and All-SEC honorees Robbie Hucklebridge and Godfrey Zaunbrecher.
Ideally, Lealaimatafao will perform well enough at LSU that he eventually becomes a household name, not one that gives announcers nightmares.
At the very same introductory press conference, Miles compared him to a former Tiger who earned such "household name" distinction among LSU fans a few years back.
"What he would remind you of is
Drake Nevis
," said Miles, referring to the Tigers' former All-SEC defensive lineman. "He's maybe a little taller, a little wider, maybe a little faster, but he has a very high motor and real acceleration on the field."
For now, Lealaimatafao's claim to fame will remain his difficult-to-pronounce last name, but that could change soon enough. If Miles' comparison holds water, the transition might just occur sooner rather than later.
May, 30, 2013
5/30/13
10:00
AM ET
BATON ROUGE, La. -- When players like Tyrann Mathieu,
Anthony Johnson
and
Odell Beckham
star for LSU football teams, you better believe LSU fans don't take it for granted.
All three are from New Orleans, which, as a metropolitan area, has not been the most loyal Louisiana city to the Tigers.
December, 31, 2012
12/31/12
8:00
AM ET
To gear up for 2013 national signing day, GeauxTigerNation's Gary Laney will break down every commitment in the Tigers' 2013 recruiting class.
Vitals:
DT
Greg Gilmore
, Hope Mills, N.C./South View, 6-foot-4, 285 pounds
Committed:
Nov. 8, 2012
To continue reading this article you must be an Insider
December, 11, 2012
12/11/12
7:58
AM ET
BATON ROUGE, La. -- Leading up to the Chick-fil-A Bowl, we'll take a daily look at a key LSU player. We'll examine how he has done and what his challenges are for the Clemson game.
Bennie Logan, DT, Junior
Accomplishments:
Stout and with long arms, Logan is an established run stuffer who has some ability to make an impact in the passing games. Fairly active for a 4-3 tackle, Logan had 36 tackles -- five for loss -- broke up three passes and picked up two sacks. He has a knack for getting his hand on footballs, with three passes batted down plus a blocked kick this season. A second-team all-SEC pick, Logan projecs to be a possible first-round draft pick in the 2013 draft.
Shortcomings:
For a potential first-round draft pick, Logan isn't dominant as a pass rusher. In fact, when LSU goes to a three-lineman look on passing downs, it's usually Logan who gets subbed out for the extra defensive back. He has hardly put up the classic LSU dominant defensive tackle numbers players such as Glenn Dorsey and Drake Devis up up before him.
Against Clemson:
This is a last chance for Logan to make an impression before he likely leaves for the riches of the NFL. That should give Logan plenty of motivation heading into the Chick-fil-A Bowl. A dominant performance in Atlanta can go a long way of improving Logan's draft status, making him a player who could safely fall in the first round. If he has a shaky game, it could send him to the second round.
September, 27, 2012
9/27/12
9:00
AM ET
BATON ROUGE, La. -- Watching a recording of LSU's 12-10 win over Auburn last week to focus on the play of defensive tackle
Anthony Johnson
can be impressive and frustrating at the same time.
Pick a random play. There's a pretty good chance you'll see him come off the ball faster than the Auburn offensive line could react. Chances are, he'll get in his gap, control it, then pursue the football. Chances are -- and this is the frustrating part -- you'll then notice the play develop to the outside, as far away as Auburn could get from where Johnson was in the middle of the line.
It was the story of his night.
To continue reading this article you must be an Insider
Marcus Spears reviews LSU Pro Day
SEC SCOREBOARD
Thursday, 9/3
Saturday, 9/5