LSU Tigers:

Darian Claiborne
November, 22, 2013
Nov 22
2:00
PM ET
How long has it been since Texas A&M traveled to Baton Rouge, La., to play LSU at Tiger Stadium? Aggies coach Kevin Sumlin offers perspective.
"It's a little bit different for our current players than maybe it is for our former students or our fans," Sumlin said. "That was [19] years ago. Guys like [starting middle linebacker]
Darian Claiborne
, shoot, they couldn't even
walk
the last time we went to Tiger Stadium."
[+] Enlarge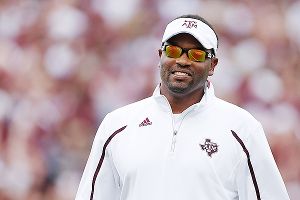 Scott Halleran/Getty ImagesKevin Sumlin will take Texas A&M back to Death Valley for the first time in 19 years.
To be exact, Sept. 3, 1994, was the previous trip the Aggies made to Death Valley. Texas A&M won 18-13, and the teams played the next season at Kyle Field, a 33-17 win for the Aggies.
The 1995 battle was the last of 10 straight and the teams didn't meet again until the Cotton Bowl brought them together in 2010. The major shifts that shook up college football because of conference realignment have broken up many rivalries, but in this particular case, it rekindled an old one, with the Aggies and Tigers becoming conference mates in the SEC West Division.
LSU and Texas A&M have a long history together; the Tigers lead the all-time series 28-20-3. Former Texas A&M coach R.C. Slocum, who coached in seven of those battles, called it a "great rivalry."
"I think over the years it's been a natural thing because the closeness of the two states and the environment," said Slocum, who was born in Louisiana and coached high school football in that state, but grew up in Orange, Texas, virtually on the Texas/Louisiana border. "There were so many people, particularly in Southeast Texas and in Houston in the oil industry that had Louisiana ties. And if you went into southeastern Louisiana and down to New Orleans, again, because of the oil industry, there were a lot of people with Texas ties."
It was a bit of baptism by fire for former LSU coach Gerry DiNardo. When the teams met in 1995, it was DiNardo's first game as the Tigers' coach. And he had the unenviable task of coaching the season opener at raucous Kyle Field.
"I don't know that anybody wants to open up at A&M when you take over a job," DiNardo said with a laugh.
"I really didn't know much about it. I was in the Southeast for four years at Vanderbilt, then I went to LSU. When you first take over a job, there's so many things that you have to do that honestly, you don't pay much attention to your first opponent until it's close up.
"I did have an appreciation for the rivalry. It was a great setting and a good game."
The teams' first meeting dates to 1899 and the teams played sporadically until 1942, which began a series of seven straight years that the teams played. They met annually from 1960 to 1975, then not again until 1986, which started a string of eight consecutive matchups.
The teams were to continue playing through at least the 1997 season, but LSU chose not to play the final two games that were part of a 10-year contract that began in the 1988 season.
[+] Enlarge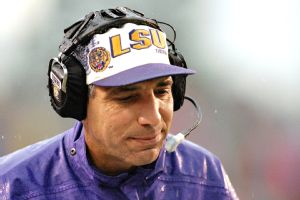 Andy Lyons/Getty ImagesGerry DiNardo's first taste of the rivalry came in his first-ever game as LSU's coach.
DiNardo suspects that the SEC expansion that turned the conference into a 12-team league and split it into two divisions in 1992 was a big factor in ending the rivalry at that time.
"When the SEC went to two six-team divisions, everybody thought they were all going to kill one another," DiNardo said. "I was at Vanderbilt the first year we had that and I'm sitting in the coaches' meetings and coaches were saying, 'We will never win another national championship game.'
"Alabama won it that year and obviously, the rest is history. Just the opposite happened."
Now the teams share the same division and will see each other annually. With Texas A&M not playing longtime rival Texas -- its former Southwest Conference and Big 12 Conference mate -- for the foreseeable future, it could be LSU that emerges as the Aggies' traditional Thanksgiving weekend rival. The teams are scheduled to play on Thanksgiving in 2014.
"I am ecstatic about LSU and being able to play on Thursday of Thanksgiving," Texas A&M athletics director Eric Hyman said when the SEC schedule was announced in August. "To be able to play LSU just makes a natural rivalry, the proximity and everything else."
There also should be some familiarity with players on each side, as LSU recruits Texas and Texas A&M recruits Louisiana. As long as Sumlin and Les Miles are coaching, that will continue. But for it to develop as a rivalry, the teams might have to play each other a few more times consecutively and it won't hurt if both teams are successful -- as they are right now, with both in the top 25 of the BCS standings -- when those meetings occur.
"For our fans, it has the potential [to become a rivalry]," Sumlin said. " . . . I've got a feeling that as soon as we try to get into Tiger Stadium tomorrow at about 12:30, they'll figure out what kind of atmosphere we're playing in and what kind of rivalry it is."
November, 19, 2013
Nov 19
11:30
AM ET
COLLEGE STATION, Texas -- When it comes to the presence schools have in their respective home states, few are stronger than LSU in the state of Louisiana.
The Tigers' success, conference affiliation and game day atmosphere are just a few of the unique advantages for natives of the Pelican State.
[+] Enlarge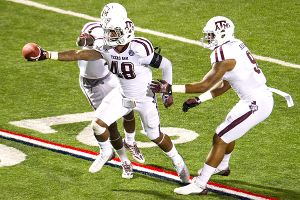 Michael Chang/Getty ImagesTexas A&M freshman Darian Claiborne (48) took over the middle linebacker job before the fourth game of the season.
Port Allen (Louisiana) High School head coach Guy Blanchard vividly remembers the emotions of one of his players,
Darian Claiborne
, when LSU took a tough loss early in 2012.
"When Darian was in January of his junior year (of high school) and LSU lost the national championship game to Alabama, you would have thought his best friend died the next day at school," Blanchard said. "He was a big LSU fan. You can't grow up in Southeast Louisiana and not have some kind of attachment or an eye on the prize, however you want to say it, [to LSU]."
Claiborne, a true freshman, is now the starting middle linebacker for No. 12 Texas A&M, which heads to Death Valley on Saturday to play No. 22 LSU. But Port Allen is fewer than seven miles from the LSU campus, so it's understandable how he could have envisioned a future with the Bayou Bengals.
But Texas A&M's staff developed a strong relationship with Claiborne, a three-star prospect. Furthermore, the Aggies made a strong impression and made it clear they wanted him while LSU didn't officially extend an offer. The Aggies' diligence paid off because Claiborne has played a key part on the A&M defense.
In recent years, Texas A&M has had success recruiting the state of Louisiana. Texas is and will continue to be the home base for Texas A&M recruiting for good reason -- it's fertile recruiting ground that most colleges attempt to pick from, because of the vast number of players and caliber of talent the state produces. But Louisiana is also known for producing high-caliber recruits as well and head coach Kevin Sumlin has made sure to make "The Boot" part of his recruiting footprint.
Currently, the Aggies have nine players that are from Louisiana on the roster and all of them are on the Aggies' two deep. Some of them have been recruited by the current staff, others are holdovers from the previous staff, but all of them currently contribute on the field.
All nine are defensive players and five of them are regular starters: Claiborne, defensive back
Deshazor Everett
, defensive ends
Julien Obioha
, safety Floyd Raven and defensive end
Gavin Stansbury
. The others have played key roles: true freshman cornerback
Noel Ellis
has seen significant time in recent weeks and is the Aggies' future at the nickel cornerback position. Cornerback
Tramain Jacobs
started six games this season while the Aggies' dealt with injuries in the secondary and has been a reliable rotation player among the cornerbacks. True freshman linebacker
Shaan Washington
has found his way onto the field in a special teams capacity but also saw time at linebacker early in the year and defensive tackle
Ivan Robinson
has been a part of the rotation at his position when healthy.
[+] Enlarge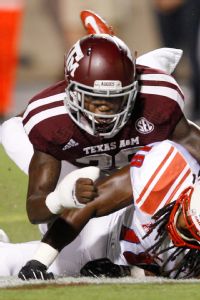 AP Photo/Bob LeveyDeshazor Everett, another Louisiana native, was recruited my Mike Sherman's staff but has been the Aggies' most reliable defensive back.
There's no doubt the Aggies have received bang for their buck with the "Louisianimals," the term former Texas A&M center Patrick Lewis coined for his fellow Louisiana products last season. Claiborne and Everett have been arguably the Aggies' best defensive players this season. Everett has done whatever the Texas A&M coaches have asked, whether it's playing safety while Raven was injured or going back to his traditional position of cornerback, while playing with a broken thumb early in the year. Claiborne got the starting job at middle linebacker -- which is not his traditional position -- before the fourth game of the season and hasn't let go of it.
Stansbury has emerged as a playmaker while Obioha and Raven have each been a steady presence at their respective positions.
Even when he was at Houston, where the Cougars put their primary focus on their own city, Sumlin's staff would travel across the border to recruit talent out of Louisiana. But in the SEC it's a different story, because the caliber of player Texas A&M is searching for is often the same that LSU is trying to keep in state.
With the Tigers being
the
signature program in Louisiana, it makes it all the more difficult to pull a kid out of the state when LSU wants him.
The Aggies are experiencing that in their early SEC years. In this recruiting cycle, the Aggies are going after some of Louisiana's finest, like ESPN 300 athlete
Speedy Noil
and ESPN 300 defensive end
Gerald Willis III
. The Aggies are also trying to make inroads with the top 2015 prospects from the state, like receiver
Tyron Johnson
.
All have LSU offers and the battle for Noil and Willis III has been hotly contested and will be until signing day approaches.
But the Aggies have found success in recruiting prospects from the state that might have been overlooked or not as heavily pursued. If those players continue to play like Claiborne, the in-state powerhouse will start taking notice.
"Yeah, we've run across them at times," said LSU coach Les Miles of seeing A&M recruiting in Louisiana. "We recognize some of the [players] that they have there, and we wish them the very best. It's an opportunity to play in this league, and we're for that."
May, 6, 2013
May 6
10:00
AM ET
BATON ROUGE, La. -- One thing you can say about the track performances of Louisiana's top prospects in football this season is: Well, they had good football seasons.
The Louisiana state high school track and field meet at LSU's Bernie Moore Stadium wasn't kind to many of the state's top football players, who struggled with either injuries or "off" weekends.
The big exception was
Malachi Dupre
, who swept the Class 2A jump events -- the long jump, triple jump and high jump -- and was named outstanding field performer. He was joined by several players off the Patriots football team who dominated the 2A meet.
For others, it was a painful weekend. The nation's top Class of 2014 football prospect,
Leonard Fournette
, had to withdraw from several events after pulling up injured in the Class 4A 4x200 relay.
Jeryl Brazil
won the 3A 100, but pulled up injured in the 200.
Here are the Louisiana football prospects who placed in the Louisiana state meet:
Long jump:
Donald Gage
(Houston signee), Zachary, 24-1 3/4 (5A champion);
Speedy Noil
, Karr, 23-6 (third in 4A); Malachi Dupre, River Ridge John Curtis, 23-5 3/4 (2A champion);
D'Vante Dotson
, Baton Rouge University, 22-6 1/4 (Second in 2A);
Jazz Ferguson
, Bains West Feliciana, 21-81/2 (fifth in 3A)
Triple jump:
Dupre, 44-2 1/4 (2A champion)
High jump:
Dupre, 6-6 (2A champion)
Shot put:
Anthony Taylor (Tulane signee), River Ridge John Curtis, 60-4 (2A champion);
David Elias
(UL-Monroe signee), Geismar Dutchtown, 56-10 1/4 (5A champion);
Eric Thomas
(Tulane signee), River Ridge John Curtis, 56-0 (third in 2A);
Hakim Gray
, 54-6 (Louisiana Tech signee), North DeSoto, 54-6 (3A champion);
Darian Claiborne
(Texas A&M signee), Port Allen, 52-11 1/4 (third in 3A);
RaeJuan Marbley
, Destrehan, 50-8 1/4 (fifth in 5A)
Discus:
Anthony Taylor (Tulane signee), River Ridge John Curtis, 16-1 (2A champion);
Duke Riley
(LSU signee), River Ridge John Curtis, 150-8 (Second in 2A)
Javelin:
Darian Claiborne (Texas A&M signee), Port Allen, 180-0 (second in 3A)
100:
Sherman Badie
(Tulane signee), River Ridge John Curtis, 10.59 (second in 2A);
Richard Allen
(Tulane signee), River Ridge John Curtis, 10.63 (third in 2A); Jeryl Brazil (LSU signee), Loranger, 10.64 (3A champion);
Rashid Bonnette
, Loreauville, 10.92 (fourth in 2A)
200:
Richard Allen (Tulane signee), River Ridge John Curtis, 21.76 (second in 2A);
Terrence Alexander
, River Ridge John Curtis, 21.92 (third in 2A); D'Vante Dotson, Baton Rouge University, 22.56 (fifth in 2A);
Eugene Brazley
(Ole Miss signee), New Orleans Carver, 22.64 (sixth in 2A)
110 high hurdles:
Duke Riley (LSU signee), River Ridge John Curtis, 14.70 (second in 2A)
February, 25, 2013
Feb 25
10:00
AM ET
BATON ROUGE, La. -- How deep is the football talent in Louisiana?
Consider this: Every football bowl subdivision (FBS) conference in the nation has had a least two Louisiana players sign letters of intent with its member schools for the 2013 recruiting cycle, according to the ESPN database of recruits.
Louisiana high schools sent 92 players to 29 FBS programs, the data shows. Players will spread from coast to coast, with players at Stanford (wide receiver
Taijuan Thomas
) and Miami (tight end
Standish Dobard
). And they will play as far north as Kent State and as far south as Hawaii.
To continue reading this article you must be an Insider
November, 21, 2012
11/21/12
9:00
AM ET
In the Louisiana High School Athletic Association football playoffs, Thanksgiving weekend is the time the state's football playoffs shift gears. With each of the five classes down to eight teams, the quarterfinals usually give football fans plenty of intriguing matchups for fans after Black Friday shopping is done.
This year, fans will miss some top prospects.
Jeryl Brazil's
Loranger team was upset by Jennings last week while
Darian Claiborne's
Port Allen team was knocked off by Brusly, spoiling a would-be Brazil-Claiborne showdown in Class 3A.
But most of the state's best players are still alive, some in potentially tight matchups Friday. Here are the best ones.
To continue reading this article you must be an Insider
November, 14, 2012
11/14/12
9:00
AM ET
As Louisiana's high school football playoffs reach their second week, the matchups get better in the five classes, each whittled down to a field of 16 remaining teams, many who feature some of the state's top prospects. In Class 5A, West Monroe and Scott/Acadiana meet in a matchup of traditional powers. In 4A, Neville meets Breaux Bridge in a rematch of an epic semifinal matchup last year. Here are the top games involving major prospects this week:
Class 5A
No. 16 Geismar/Dutchtown (8-2) at No. 1 Metairie/Rummel (10-0):
Dutchtown has plenty of talent, including Mississippi State commit
Shelby Christy
at wide reciever. It was surprising to see the Griffons slip to the No. 16 seed. It's a tough draw for the top-seeded Raiders, led by dual-threat quarterback
Damian Williams
, who sports a Kansas State offer.
No. 9 Monroe/Ouachita Parish (9-2) at No. 25 Ruston (6-5):
The Monroe area, which won three of last year's five state championships last season, showed its toughness again last week when Ruston upset No. 8 seed South Lafourche, creating an all-Northeast Louisiana second-round match. Ouachita features three-star receiver and Washington commit
Caleb Tucker
at linebacker and
Taijuan Thomas
and 2014 ESPN Watch List member
Cameron Sims
at wide receiver.
To continue reading this article you must be an Insider
November, 1, 2012
11/01/12
11:45
AM ET
BATON ROUGE, La. -- Saturday will be a who's who of Louisiana's top prospects in one place when LSU hosts Alabama at Tiger Stadium.
The night before, the state's best high school players will be scattered throughout the state, closing their regular seasons, many playing games with strong district-championship and postseason ramifications. Here are the best games involving players headed for major college programs:
Geismar Dutchtown (7-1) vs. Baton Rouge Catholic (6-2):
The championship will be on the line in District 5-5A, which includes the largest city and suburban schools on the south side of Baton Rouge. Dutchtown, the alma mater of LSU's
Eric Reid
and Alabama's
Eddie Lacy
and
Landon Collins
, has another SEC-level recruit in Mississippi State commit
Shelby Christy
.
To continue reading this article you must be an Insider
October, 25, 2012
10/25/12
8:00
AM ET
BATON ROUGE, La. -- The dream prospect matchups of the non-district schedules are over, and now Louisiana's top teams and top prospects are coming down the home stretch of their regular seasons.
That doesn't necessarily make for compelling blue chip vs. blue chip matchups, but what you have are a lot of top prospects playing big games for their teams this weekend. With LSU off, here are games LSU fans might want to check out around the state this weekend:
New Orleans/St. Augustine (6-2) at Metairie/East Jefferson (6-1):
When you think of high school football, you think of "Friday Night Lights." There haven't been many Friday nights this year for St. Augustine and RB
Leonard Fournette
in urban New Orleans, where a scarcity of stadiums has had the Purple Knights playing many Thursday and Saturday game. This week, the Friday lights will shine on Fournette, one of the top players in the 2014 class, when St. Augustine heads to suburban Metairie for a huge District 10-4A game.
To continue reading this article you must be an Insider
October, 17, 2012
10/17/12
10:20
AM ET
BATON ROUGE, La. -- If LSU offensive tackle
Alex Hurst
is to return to LSU any time soon, you wouldn't know it from the depth chart.
Hurst no longer appears on the depth chart released Tuesday by LSU. Freshman
Vadal Alexander
is listed at the starter at right tackle, and sophomore
Elliott Porter
, also the backup center, is listed as the second-team right tackle.
Sixth-year senior
Josh Dworaczyk
, who started at left tackle last week after Hurst left the team for undisclosed personal reasons, is listed as the starter at left tackle, backed up by junior
Chris Davenport
.
To continue reading this article you must be an Insider
October, 17, 2012
10/17/12
9:31
AM ET
If you followed LSU football in the 1990's, or have at least done your homework in the Tigers' recent run of success, you know there's a lot more to this new SEC series than initially comes to mind. The Tigers and Aggies have played a surprising 50 all-time games -- more total meetings than LSU has with SEC rivals Auburn, Georgia, Vanderbilt, South Carolina and obviously Missouri.
Anyone with a basic understanding of geography also understands the recruiting implications of the two schools' proximity. It's no surprise that LSU's success in recruiting the eastern part of Texas in the past decade has coincided with 12 seasons where Texas A&M failed to notch double digit wins or claim a division or conference championship.
"I certainly know that we enjoy very much going into Texas, and we think Texas is a great place to recruit," coach Les Miles said. "They understand the style of play we have here at LSU, and they enjoy being a part of it."
To continue reading this article you must be an Insider
August, 2, 2012
8/02/12
7:00
AM ET
Welcome to Houston, LSU.
Ok, that's a bit dramatic. Anyone who has been paying attention to LSU football during its run of dominance this past decade knows that Houston has been a big factor in that success.
Brandon Lafell
,
Michael Brockers
,
Terrence Toliver
,
Danny McCray
,
Jarrett Lee
-- all are LSU alums in the NFL, and all came from Houston or its outlying area. This year, starting safety
Craig Loston
and slot receiver
Russell Shepard
hail from Houston. Seventeen Texas-based players are on the Tigers' roster going into fall camp, and eight of them come from the Houston area.
To continue reading this article you must be an Insider
SEC recruiting rewind: Dec. 9