March, 6, 2014
3/06/14
12:00
PM ET
February, 17, 2014
2/17/14
12:00
PM ET
We'll get a small dose of football starting this weekend in the form of the NFL draft combine – a huge group of SEC players will be in attendance – but otherwise we're waiting for spring practices to begin over the next couple of weeks.
Here's some of what is going on around the league while we wait.
January, 29, 2014
1/29/14
11:00
AM ET
It's never too early to start looking ahead to next season. With that in mind, here's an early stab at the top 10 games to watch next season involving SEC teams, which includes both conference and nonconference games:


Aug. 28, Texas A&M at South Carolina:
Life after
Johnny Manziel
begins for the Aggies in the first-ever meeting between these two teams and the first SEC game of the 2014 season, a Thursday night contest that will be televised on the SEC Network.


Aug. 30, LSU vs. Wisconsin, in Houston:
It's not until 2016 that these two teams get it on in historic Lambeau Field, but they'll open next season in Reliant Stadium in what should be a classic Big Ten vs. SEC showdown.


Sept. 13, Georgia at South Carolina:
The winner takes a big step forward in the East race, and the Dawgs have lost each of their last two trips to Williams-Brice Stadium. Plus,
Todd Gurley
vs.
Mike Davis
always makes for entertaining theater.


Sept. 20, Florida at Alabama:
The Gators make a rare appearance in Tuscaloosa, only their fourth trip to Bryant-Denny Stadium since the 1992 expansion and division split. It's the SEC opener for the Crimson Tide, who are unbeaten in league openers under Nick Saban.


Oct. 4, Alabama at Ole Miss:
The Rebels had to play at Alabama each of the last two seasons but finally get the Tide in Oxford next season. This could be the year that Ole Miss puts it all together and makes a run in the West, but doing that will mean snapping a 10-game skid against the Tide.


Nov. 8, Alabama at LSU:
It got away from the Tigers a little bit this season against Alabama in the second half, but when's the last time this game hasn't meant something? Over the last five or six years, it's hard to find a better and/or more meaningful rivalry in college football than Alabama vs. LSU.


Nov. 15, Auburn at Georgia:
Living up to the thriller these two teams played this season on the Plains will be difficult, but we could get a glimpse of the 2014 SEC championship game next November in Sanford Stadium.


Nov. 29, Mississippi State at Ole Miss:
Talk about a rivalry that's been revitalized. The Bulldogs won in overtime this season, their fourth victory over the Rebels in the last five years. But the "school up north" will be looking for a little payback next season, particularly quarterback
Bo Wallace
.


Nov. 29, Auburn at Alabama:
Just when you think you've seen it all in the Iron Bowl,
Chris Davis
delivers a play for the ages with his kick-six. We might never see another ending quite like that one, but it's not too farfetched to think that next season's game could again decide the West race.


Nov. 29, South Carolina at Clemson:
When the Head Ball Coach knows he can get under somebody's skin, he just twists the needle that much harder. South Carolina has won five in a row now over Clemson, and it probably feels like 20 in a row to Dabo Swinney and the Tigers.
November, 13, 2013
11/13/13
5:00
AM ET
1. On the
ESPNU College Football podcast
on Tuesday, I asked Tom Luginbill, our Senior National Recruiting Analyst, to name the head coaches who are the best in the living room, the guys who do the best job of convincing mama to give them her baby. Luginbill went with Dabo Swinney of Clemson, Les Miles of LSU and, in somewhat of a surprise, Jim Mora of UCLA. I say surprise because Swinney and Miles have many years in college football. Mora, an NFL longtimer, has not quite two years.
2. Duke coach David Cutcliffe knows something about teaching quarterbacks. And the essence of teaching is to break down the information into easily understood portions. In discussing his current quarterbacks,
Anthony Boone
and
Brandon Connette
, at his press conference this week, Cutcliffe said, "Every play we run at quarterback, the most important thing about the play is that we have possession of the ball when the play ends. Period. You can't give that lip service." Everyone understands that.
3. As Saturday night games go, seeing undefeated No. 15 Northern Illinois and its outstanding quarterback,
Jordan Lynch
, play once-beaten Ball State would be a treat. As a Wednesday night game, it doesn't get any better. The winner will be the first 10-game winner in the FBS. A victory also will boost the Huskies in their attempt to overtake No. 14 Fresno State in the race for a BCS bid. The Cardinals have gotten to 9-1 by outscoring people. It's hard to imagine they can do that on the road against an offense led by Lynch.
September, 10, 2013
9/10/13
9:00
AM ET
By the time the sun sets Saturday on the East Coast, another one of the preseason heavyweights in the SEC will be sporting a loss.
And in unison, the rest of the college football world will let out a collective cheer.
One of the ways to look at the Alabama-Texas A&M showdown is that the winner will be in primo position to make a run at the national championship.
But there's another subplot to the game in College Station: The loser will be the fourth SEC team ranked in the top 10 of the preseason polls to lose -- only three weeks into the season.
After watching Florida fall last week at Miami and Georgia stumble to open the season at Clemson, the anybody-but-the-SEC crowd is starting to rev its engines and ponder the possibilities.
Maybe the big, bad SEC is showing a few cracks in its foundation, and just maybe this is the year that a BCS National Championship -- the last one, as fate would have it -- is played without an SEC team as a participant.
There are still so many ways this season could go, but the feeling coming in was that the surest way for the SEC's seven-year national championship streak to end was for the league to beat up on itself.
Stay tuned on that front, but it certainly looks like everybody in the SEC has a few warts.
Even Alabama was average at best offensively in its season-opening 35-10 win over Virginia Tech. We'll find out a lot more about the Crimson Tide this weekend, but part of their issues offensively in the opener can be attributed to how physical Virginia Tech's front seven was on defense.
The Hokies flat got after Alabama, and unlike past years when the Tide were playing with an NFL-esque offensive line, they didn't respond particularly well.
Meanwhile, the rest of the college football world is starting to smell blood, SEC blood.
Is that premature?
[+] Enlarge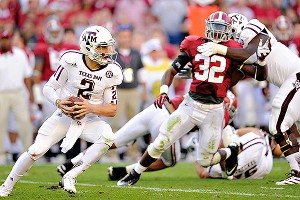 John David Mercer/USA TODAY SportsSaturday's showdown between Alabama and Texas A&M should provide some answers about the path to the national championship.
Sure it is, but it's going to be fascinating to see how it all plays out, because more than ever, it's the SEC versus the rest of college football.
Comparing scores this early in the season is meaningless, but Clemson did beat Georgia, which beat South Carolina.
After Miami took down Florida last week, Clemson coach Dabo Swinney chortled, "How about that ACC? Spunky little old league."
The best part was Swinney flashing the "U" sign as he walked out of the interview room following Clemson's 52-13 pasting of South Carolina State.
The gamesmanship makes it a lot more fun, and Clemson is hardly the only team that's a legitimate threat to the SEC this season.
At first glance, Oregon appears to be faster and more explosive than ever, and nobody's sleeping on Stanford. Louisville could easily go unbeaten when you look at the Cardinals' schedule, and it's not far-fetched to think that an unbeaten team could come out of the Big Ten this season either.
Ultimately, it's probably going to come down to how much damage is doled out within the SEC's own parameters.
What's more, is there another Texas A&M lurking similar to a year ago?
The Aggies went from unranked to taking down Alabama in Tuscaloosa last November and were playing as well as anybody in the country by season's end.
LSU was sort of the forgotten team in the league to begin this season after losing so many star defensive players, but the Tigers' passing game has taken flight under first-year offensive coordinator Cam Cameron and it's hard to see an appreciable drop-off on defense to this point.
Again, though, LSU has to play at Georgia in three weeks and at Alabama in November.
One of the constants in the SEC's national championship run has been suffocating defense. It's not a coincidence that six of the seven national champions during the streak have finished in the top 10 nationally in total defense.
The early returns suggest that some of the offenses are perhaps catching up with the defenses in this league. But, then, maybe some of the defenses this season simply aren't what we've grown accustomed to in the SEC.
South Carolina was torched for 536 yards last week in its loss to Georgia, which has given up 68 points in its first two games, albeit to a pair of top 10 teams.
Texas A&M has been playing with a patchwork unit defensively thanks to suspensions, but the Aggies have given up 59 points in their first two games -- to Rice and Sam Houston State.
Florida is a load on defense, but the Gators haven't shown nearly enough offensively to think that they could be a national championship contender.
LSU's toughest tests are yet to come defensively, which leads us back to the Crimson Tide.
They've won national championships each of the past two seasons despite losing games at home in November.
One of the things that make Saturday's game so pivotal for both Alabama and Texas A&M is that neither team has a tough draw in the East this season. They both avoid Florida, Georgia and South Carolina.
So the path to the national championship gala will clear up considerably for the winner Saturday.
Even so, it's a race after a few laps around the track that has everybody outside the SEC's footprint believing, anticipating and hoping that the league everybody has been chasing for the better part of the past decade may finally be losing a few steps.
December, 10, 2012
12/10/12
2:07
PM ET
BATON ROUGE, La. -- Leading up to the Chick-fil-A Bowl, we'll take a daily look at a key LSU player. We'll examine how he has done and what his challenges are for the Clemson game.
Jarvis Landry, WR, Soph.
Accomplishments:
LSU's leader in receptions (52) and co-leader in touchdowns (4) saw his production go way up in the last third of the season. In the Tigers' last four games, Landry caught 29 passes -- more than half of his catches -- for 320 yards and three of his touchdowns. Among his scores was the one-handed, 22-yard touchdown grab against Arkansas that showed he has grown past his reputation of just a sure-handed possession option and moved into the "playmaker" category. Landry is also a tremendous perimeter blocker and a good special teams player, both as a blocker and in kick coverage.
Shortcomings:
In the Tigers' first eight games, he had just 23 catches, mostly for modest gains as
Odell Beckham, Jr
. held the role as the Tigers' primary deep threat. At times, Landry appeared to be in a funk, just as prone to dropping passes as any of LSU's other struggling receivers. It's yet to be seen whether Landry has truly become a big-play threat or if he was going through a hot streak.
Against Clemson:
Clemson coach Dabo Swinney and his staff will have had more than a month to digest Landry's increased role in LSU's passing game when the two Tigers meet in the Chick-fil-A Bowl. Landry and quarterback
Zach Mettenberger
might have to make subtle adjustments if they are to continue their connection in the bowl game. A big performance in the bowl will have Landry earning plenty of preseason accolades entering his junior year.
December, 2, 2012
12/02/12
11:05
PM ET
LSU Tigers (10-2) vs. Clemson Tigers (10-2)
Dec. 31, 7:30 p.m. ET, Atlanta (ESPN)
LSU take by GeauxTigerNation's Gary Laney:
How does one judge LSU's season?

At 10-2, the Tigers fell short of their preseason No. 1 ranking. They failed to make the SEC championship game, much less defend their conference title.
On the other hand, LSU masterfully overcame a ton of problems.
Tyrann Mathieu, the Tigers' Heisman Trophy finalist at cornerback, was dismissed from the team in August.
Chris Faulk
, the left tackle who seemed destined to be drafted by the second round, was lost to a knee injury after one game, and running back
Alfred Blue
was also lost to a knee injury a couple of weeks later. The Tigers finished the season with three offensive line starters who weren't starters at the beginning of the season.
Yet, by the end of the regular season, LSU seemed to have it figured out.
Zach Mettenberger
was much improved in the passing game, and
Jeremy Hill
emerged as one of the nation's best freshmen running backs. And the defense, though it gave up passing yards late in the season, remained solid, led by end
Sam Montgomery
and linebacker
Kevin Minter
.
So how LSU's season is perceived might come down to how the Tigers play in the bowl. If the offense continues its resurgence and the Tigers win, they will go into the offseason with a rosy outlook. If the Tigers lose and the defense continues to give up passing yards, followed by the seemingly inevitable loss of underclassmen like Montgomery and free safety
Eric Reid
to the NFL draft, it could be an offseason of worry on the bayou.
---

Clemson take by ACC blogger Heather Dinich:
Clemson, much like Florida State this year, was oh-so-close to something bigger than the Chick-fil-A Bowl, but the Tigers' losses to the Seminoles and rival South Carolina ruined the program's chances at a second straight appearance in the ACC championship and a BCS bowl.
That's not to say this wasn't a successful season for coach Dabo Swinney. The Tigers maintained their position as a top 15 team all year, and have thrived behind a high-scoring offense led by quarterback
Tajh Boyd
, who was named the ACC's Player of the Year. In his second season as a starter, Boyd helped lead Clemson to back-to-back 10-win seasons, the first Clemson quarterback to do that since Rodney Williams in1987-88. Clemson had the No. 6 scoring offense in the country this year (42.33) points per game, but was smothered in a 27-17 loss to South Carolina. The defense under first-year coordinator Brent Venables was better, but it wasn't championship-caliber, finishing No. 47 in the county, allowing 24.92 points per game.
Clemson's only ACC loss this year was in Tallahassee to a Florida State team that was ranked No. 4 in the country at the time. Clemson reeled off seven straight wins after that loss and had momentum heading into its regular-season finale against the Gamecocks, but for the fourth straight season, Clemson was outplayed and outcoached by its in-state rival.
Clemson will forever be remembered for its abysmal performance in last year's Discover Orange Bowl, but this matchup against LSU will be a chance for the Tigers to take a monumental step towards redeeming their postseason image.
Recapping Florida Opening Regionals
SEC SCOREBOARD
Thursday, 9/3
Saturday, 9/5