LSU Tigers:

Corey Raymond
April, 14, 2014
Apr 14
9:00
AM ET
Editor's note: With LSU's spring practice now in the rearview mirror, this week we'll empty our notebook from the spring and cover a few topics that we weren't able to hit prior to the Tigers' spring game. We begin with a story on a pair of rising stars in LSU's secondary.
BATON ROUGE, La. -- Shortly after LSU's defense adopted the Seattle Seahawks' "Legion of Boom" moniker, the Tigers tired of breaking huddles by using the nickname that Seattle's feisty secondary gave itself.
But LSU's secondary still has a perfectly good nickname of its own.
[+] Enlarge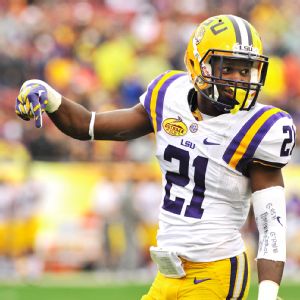 Al Messerschmidt/Getty ImagesCB Rashard Robinson had his best outing of 2013 in LSU's 34-10 rout of Texas A&M.
"We've still got the DBU saying, though," cornerback
Rashard Robinson
said.
DBU as in "Defensive Back University," which might seem boastful, but it suits a program whose secondary has produced seven All-Americans and four first-round NFL draft picks in the last decade.
"That's a lot to live up to. We've got Patrick [Peterson] and them, there were some great players here, so we've got to live up to the hype," said Robinson, who attended the same high school (Ely in Pompano Beach, Fla.) that produced Peterson, a former LSU All-American and current star with the Arizona Cardinals.
The Tigers can go a long way toward upholding that tradition if Robinson and fellow sophomore
Tre'Davious White
continue their upward climb this fall. The duo put a positive spin on what had been an up-and-down 2013 season for DBU by claiming starting jobs by the end of the fall.
The Tigers gave up some big yardage totals while trying to settle on the right personnel last fall -- including a season-high 349 yards to Ole Miss in Game 8 -- but after that point, they allowed just 168.8 passing yards per game in the final five games. Perhaps the highlight of that stretch was the 34-10 dismantling of Texas A&M when first-time starter Robinson locked down Aggies star
Mike Evans
, intercepted his first career pass, and the Tigers handed
Johnny Manziel
(16-for-41 for 224 yards, one touchdown, two interceptions) the worst outing of his college career.
Now, instead of green freshmen, Robinson and White are established starters, and they might just be growing into the program's next shutdown corners.
"I think they're becoming more mature, understand the spot that they're in," LSU coach Les Miles said. "I think they're getting better. They're talented men, and they're getting reps after reps."
For both players, that means focusing on the little things. Robinson, who wasn't cleared to enroll at LSU until two days before the first game last fall, understandably took time to develop the necessary level of confidence.
"I was always peeking towards the sideline, just making sure I wasn't messing up or anything like that, because I always used to hear [defensive backs coach Corey] Raymond yelling and it used to shake me up sometimes," Robinson said. "But now I just relax and have that football swag with my technique and it's been going good."
White entered the starting lineup early last season and spent the spring working on basic elements of cornerback play that make a subtle difference.
"There's some things I still need to work on. I take it as that, but there's some things that I got better at as the spring went along," said White, who led the team with nine passes defended and seven pass breakups last season. "[Things such as] being more physical at the line of scrimmage with the receiver and staying squared, not open as quick as I did last fall."
As long as they stay out of trouble and in good academic standing, White and Robinson have the potential to lead a bounce-back year for LSU's secondary -- and maybe even prove that the DBU nickname still has merit -- in 2014.
"To be honest, we've still got a couple things to work on, but we're not too far away," Robinson said. "We're coming together."
March, 19, 2014
Mar 19
9:00
AM ET
BATON ROUGE, La. --
Jalen Mills
doesn't view himself as a safety. He doesn't view himself as a cornerback, either.
He views himself as both -- which is coming in handy for LSU's defense these days.
"When you come in, you call yourself a defensive back," said Mills, a rising junior who started at safety for the first time in the Tigers' Outback Bowl win against Iowa. "That means you can play corner to nickel to safety to dime. You want to be able to play all positions. You don't want to be a single-position type of guy if you're a defensive back."
[+] Enlarge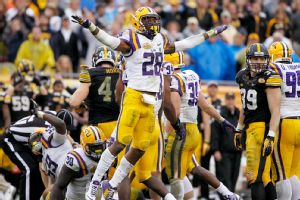 Kim Klement/USA TODAY SportsJalen Mills is helping out at safety this spring after playing the position in LSU's Outback Bowl victory over Iowa.
That's an ideal attitude because Mills is several of those things -- particularly now, when the Tigers must replace starting safety
Craig Loston
and are without part-time starting safety
Corey Thompson
, who is still recovering from offseason knee surgery. Mills is a starting safety in LSU's base defense, remains as the starting nickelback and still finds time to practice in a traditional cornerback role at points.
The Tigers need him most at safety for the time being, which was the message that defensive backs coach Corey Raymond imparted prior to spring practice.
"Him and Chief [defensive coordinator John Chavis], they kind of talked to me or whatever and they were like, 'Right now we need help at safety. You played a pretty good job those last two games of the season. Can you play it for us?' And I was like, 'Yeah,' " Mills said. "And he said, 'But we're still going to need you at corner and you're still going to be our starting nickel when we go Mustang package.' "
With Thompson on the shelf and a group of talented safety signees -- led by ESPN's No. 18 overall prospect and No. 2 safety
Jamal Adams
-- not yet on campus, the Tigers are primarily using Mills and
Ronald Martin
with the first-team defense.
Rickey Jefferson
and
Dwayne Thomas
are also working at safety, and thus far the foursome is pleased with what it has accomplished.
"Rickey, if he keeps coming along, he's going to help us out a lot. Jalen Mills is doing a good job back there, also. And Dwayne Thomas, he's doing a good job," Martin said. "That's the only other ones that we've got working in right now in the spring, just us four. Us guys, we're doing a pretty good job so far, so we're just trying to keep it going."
Perhaps that's a good sign, as safety was a problem area for much of 2013. Loston was the one constant when healthy, but the starting spot opposite him was a revolving door partially because of inconsistency. The Tigers used seven different starting combinations at safety, with Martin, Thompson, Mills and Jefferson all starting at least once.
Once Adams,
Devin Voorhies
and
John Battle IV
arrive on campus this summer, Raymond will have even more safety options from which to choose. And Tigers coach Les Miles said the newcomers will indeed get a long look from the coaching staff.
"We'll have guys back, but I think we'll be looking at some of these young guys that are coming in," Miles said.
Thompson will also be back by then. The rising junior missed the final two games of 2013 after injuring his left knee against Texas A&M and undergoing surgery in December. He said after Tuesday's practice that the knee is back to about 80 percent, but he will not attempt to test it during spring practice.
"I aim to be 100 by May," Thompson said. "I don't want to rush it, get back too early. But then I feel like May is a good time to be 100 and do everything to get in shape and be ready for the season."
So for now, the Tigers will continue to function with the four available safeties -- a group attempting to prove that last season's lapses were only a temporary hiccup for a program known for solid defensive back play. LSU's pass defense totals actually improved slightly (from 206.0 ypg in 2012 to 197.5 last season), but the Tigers' overall defensive slide continued, with Chavis' group dropping from second nationally in total defense in its 2011 SEC championship run (261.5 ypg) to eighth in 2012 (307.6) to 15th last fall (340.7).
That's an 80-yard increase in just a two-year span, and the safeties know they must perform more consistently in order to improve those numbers.
"We've just got to show that we can be leaders out there -- show that we can lead the defense just like those guys in the past like Eric [Reid], Brandon [Taylor], LaRon [Landry] and so on and keep the pedigree going," Martin said.
Continued progress from Mills at the position would offer a big boost, just as he did in his first-ever attempt at playing safety when he intercepted a pass during a comeback win against Arkansas.
Mills still has nuances of the position to learn, such as how to make new reads that are different at safety from those at cornerback, but he believes he is making the transition smoothly.
"I really didn't have a problem with [shifting positions]," Mills said. "Just coming from corner, you know where you want your safety to be sometimes in different types of checks. So just going from cornerback to safety, I know what the corner wants, so I just try to do it."
February, 27, 2014
Feb 27
9:00
AM ET
BATON ROUGE, La. – We're closing in on the start of spring practice at LSU, so this week let's take a look at five position battles worth watching this spring.
We covered the wide receivers, defensive tackles and quarterbacks in the first three installments. Now let's look at the safeties. The Tigers never settled on a starter opposite now-departed senior
Craig Loston
last season.
Returning starters:
None. (No full-time starters, anyway.)
[+] Enlarge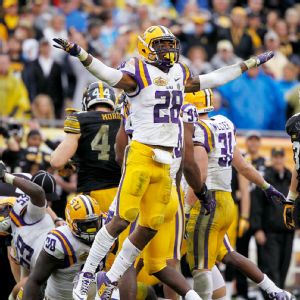 Kim Klement/USA TODAY SportsJalen Mills started at safety in the Outback Bowl.
Departures:
Loston was one of the team's defensive leaders when healthy. He started 10 games, registering 57 tackles, four tackles for loss and tying for the team lead with three interceptions. The Tigers also lost
Micah Eugene
, who started twice early last season before leaving the program in December.
Returning reserves:
Jalen Mills
(67 tackles, four tackles for loss, three sacks, three INTs) slid over from his cornerback position to start in the Tigers' Outback Bowl victory over Iowa. That was his first start at safety, but don't be surprised if he stays there, at least part time. The Tigers worked with seven starting combinations at safety last year, and the other players with starting experience –
Corey Thompson
(23 tackles, 0.5 TFLs),
Ronald Martin
(38 tackles, one INT) and
Rickey Jefferson
(six tackles, 0.5 TFLs) – are all back.
Newcomers:
Early enrollee
Edward Paris Jr.
– ESPN's No. 50 overall prospect and No. 4 safety – is the first member of LSU's star-studded group of safety signees to get a crack at winning some playing time. He is on campus for spring practice, and that might help him win some playing time in the fall. The other new safeties – No. 2 safety and No. 18 overall prospect
Jamal Adams
, ESPN 300 pick
Devin Voorhies
and three-star prospect
John Battle IV
– will get a chance to prove themselves after they arrive in the summer.
What to watch:
This position group dealt with regular turnover last fall, so LSU's coaching staff certainly will be looking to develop more consistency at safety starting this spring. Mills' presence could help stabilize the group a bit, but the Tigers need to establish two starters and a solid depth chart at some point. They don't necessarily have to see that happen during the spring, but it would certainly help if position coach Corey Raymond is able to begin narrowing his options after the spring game.
February, 7, 2014
Feb 7
5:30
AM ET
The Early Offer is RecruitingNation's regular feature, giving you a daily dose of recruiting in the mornings. Today's offerings: The ink was barely dry on the letters of intent for 2014 class when one of the best for the 2015 class came off the board; and what schools and recruiters have jumped out of the gate with success with players that won't sign for another 360-plus days.


January, 4, 2013
1/04/13
2:52
PM ET
BATON ROUGE, La. -- By the middle of August camp, free safety
Eric Reid
was the only returning starter in LSU's vaunted secondary.
[+] Enlarge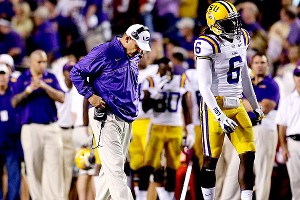 AP Photo/Bill HaberCraig Loston will have to step into a leadership role with the departures of Eric Reid and Tharold Simon.
After Heisman Trophy finalist Tyrann Mathieu was dismissed from the team, Reid, the junior free safety from Geismar, became the elder statesman and responded with a solid, 91-tackle, two-interception season during which he was the Tigers' unquestioned leader in the secondary and became a consensus All-American.
His end of the bargain held up, Reid announced his decision Friday to leave LSU for the NFL. He wasn't the only one.
In a mild surprise, junior cornerback
Tharold Simon
also declared for the draft after leading the team with four interceptions and 13 passes defended. A first-year starter in 2012, he was a key piece to the LSU secondary in 2011 as the fifth defensive back whose presence allowed the Tigers to use Mathieu as a nickel back.
With their departures, all six of LSU's primary defensive backs on the 2011 team -- Simon, Reid, Mathieu, cornerback Morris Claiborne, safety Brandon Taylor and dime back Ron Brooks -- probably will be on NFL rosters next season.
Regardless, LSU looks to be in better shape next season than it was entering 2012. Where only two of the top six DBs returned for the 2012 season, the Tigers should still have four of their top six back next season.
Junior strong safety
Craig Loston
probably will return for his senior year and starting cornerback
Jalen Mills
, nickel back
Jalen Collins
and dime back
Micah Eugene
were all freshmen.
That bodes well for the Tigers' secondary, which outperformed expectations most of the year, given that Mathieu's departure forced LSU to have to start a true freshman, Mills, in his place. The Tigers did struggle down the stretch, allowing four straight 300-yard passing games to finish the season.
Developing young talent will be crucial this offseason.
Ronald Martin
, Eugene,
Corey Thompson
and
Jerqwinick Sandolph
are young safeties who might vie for Reid's free safety spot. LSU has one 2013 recruit committed,
Jeremy Cutrer
. But LSU is pursuing more, including ESPN 150 safety
Priest Willis
.
At cornerback, Collins figures to replace Mills and LSU also returns
Dwayne Thomas
and
Derrick Raymond
and has a talented class of cornerbacks coming on signing day, including three four-star prospects --
Jeryl Brazil
,
Tre'Davious White
and
Rickey Jefferson
-- and three-star
Rashard Robinson
.
November, 16, 2012
11/16/12
3:21
PM ET
Before this season, Houston Lamar safety
John Bonney
already possessed an offer from his father's alma mater, Houston. This week, the 2014 prospect received one from his mother's, LSU.
[+] Enlarge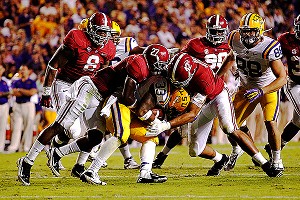 AP Photo/Bill Haber2014 safety John Bonney enjoyed his visit to LSU for the Alabama game.
The six-foot, 175-pound rising star got the news of the LSU offer on Thursday from his head coach at Lamar, Tom Nolen. It was met with excitement from Bonney, who came into the season with offers from Baylor, Houston and SMU.
"I was kind of surprised at first," Bonney said. "I didn't expect anything coming but it was pretty good and I was happy. It's great."
To continue reading this article you must be an Insider
August, 21, 2012
8/21/12
1:37
AM ET
BATON ROUGE, La. --
Alfred Blue
is in a struggle among six talented tailbacks to be one of the two Les Miles wants to carry the load when LSU opens its season against North Texas on Sept. 1.
[+] Enlarge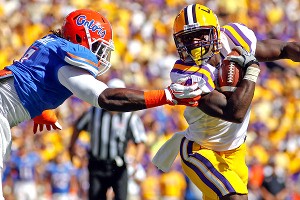 Derick E. Hingle/US PresswireLSU RB Alfred Blue is in tune with Les Miles' by-committee approach at his position.
After featuring four backs, all of whom return, last season, Miles has said during August camp that he wants that pared to two primary backs to start the season. Adjustments will be made as the year goes on and backs get banged up and others offer fresh legs.
Being in that top two for the season opener guarantees nothing going forward. A bad game or a minor injury can put an LSU back on the sideline. A season ago, the Tigers had four running backs who accumulated at least 62 carries in 14 games in Miles' by-committee approach.
To continue reading this article you must be an Insider
August, 5, 2012
8/05/12
12:20
PM ET
For the first time in fall camp, there was a unified LSU team at practice Sunday morning.
[+] Enlarge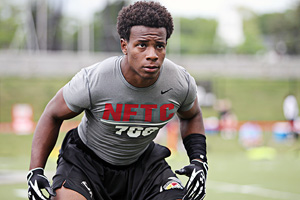 Tom Hauck for ESPN.comLB Kwon Alexander appears to be making a nice transition from high school to LSU.
After three days of split practices -- one with veterans in the morning and the other with newcomers and selected veterans in the afternoon -- the entire team came together Sunday morning. For the first time, we saw reserves gathered together as "scout" teams. And we got to see some impressive youngsters like defensive end
Danielle Hunter
and linebacker
Kwon Alexander
work with their more established teammates.
We also saw the first look at the "Big Cat" drill, the one-on-one trench battle that is a staple of LSU camps. Seeing wide receiver
James Wright
lose his helmet in a collision and wide receiver
Jarvis Landry
and cornerback
Corey Thompson
get tangled right into the crowd of gathered players and cameras were nice reminders that the physicality of August camp is here.
To continue reading this article you must be an Insider
July, 17, 2012
7/17/12
7:00
AM ET
GeauxTigerNation writers David Helman and Gary Laney break down the competitions, issues and talking points of LSU's August camp. Players report to campus Aug. 1 and we'll have a preview segment every weekday in July leading up to the day the players report:
Ron Cooper was steadily preparing LSU defensive backs for NFL futures. Think
Patrick Peterson
. Think
Morris Claiborne
.
So it was only fair that Cooper got a chance to go to the NFL too when he left his job as LSU's secondary coach in February to take the
same position with the Tampa Bay Buccaneers.
To continue reading this article you must be an Insider
February, 27, 2012
2/27/12
10:44
PM ET
BATON ROUGE, La. -- Less than one week after losing Ron Cooper to the Tampa Bay Buccaneers, LSU has found his successor.

A source confirmed published reports on Monday night that the Tigers will announce Nebraska secondary coach Corey Raymond as their new defensive backs coach.

Raymond oversaw a Nebraska secondary that finished 18th in passing yards allowed in 2011.

The hire comes just in time for the Tigers, who lost Cooper a week before the scheduled start of spring practice. LSU begins its spring football season Thursday.

Raymond comes to Baton Rouge after spending a season at Nebraska under Bo Pelini, the Tigers' former defensive coordinator. Returning to LSU serves as a homecoming for Raymond, who started four years at cornerback for the Tigers from 1988 to 1991.

Raymond also served as a football intern and then an assistant strength coach for LSU coach Les Miles from 2006-08.

Raymond is from New Iberia, La., and has several stops at Louisiana high schools on his coaching path. His experience also includes a one-year stint at Utah State and a two-month stay with Indiana before Pelini hired him away in 2011.
Blue Chip Battles: ESPN 300 Update
SEC SCOREBOARD
Thursday, 8/28
Saturday, 8/30
Sunday, 8/31