LSU Tigers:

Chick-fil-A Bowl
December, 31, 2012
12/31/12
8:00
AM ET
BATON ROUGE, La. -- Leading up to the Chick-fil-A Bowl, we'll take a daily look at a key LSU player. We'll examine how he has done and what his challenges are for the Clemson game.
J.C. Copeland, FB, Junior
[+] Enlarge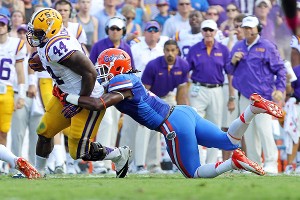 Kim Klement/US PRESSWIRELSU fullback J.C. Copeland had 21 carries for 67 yards and four touchdowns but is better known for his blocking prowess.
Accomplishments:
An old-school battering ram of a fullback, Copeland's vicious lead blocking is a key reason why LSU piled up 2,159 rushing yards and was able to carry the offense for more than half the season while the passing game went through growing pains. A converted high school defensive tackle, Copeland improved his ball skills enough to carry 21 times this season, gaining 67 yards and four touchdowns. In the age of the spread offense, he'll stay on the field far more than one would expect from a fullback.
Shortcomings:
While Copeland was a reliable ball carrier, attempts to get him involved in the passing game went mostly for naught as he only caught three passes, though one was a 42-yard catch-and-run against Alabama. Copeland had a habit of picking up bad personal fouls, sometimes killing drives with hits well after the whistle. It's aggressiveness LSU accepted because it
'
s a product of the mean streak that makes him an effective blocker, but it would sometimes cost the Tigers dearly.
Against Clemson:
Unless they fall behind, expect the Tigers to perhaps try to use their running game to keep Clemson's high-powered offense off the field. Copeland's lead blocking, plus his ability to convert on short-yardage situations as a runner, can play a huge part in that kind of game plan.
December, 30, 2012
12/30/12
5:18
PM ET
BATON ROUGE, La. -- Leading up to the Chick-fil-A Bowl, we'll take a daily look at a key LSU player. We'll examine how he has done and what his challenges are for the Clemson game.
Josh Dworaczyk, LT, Senior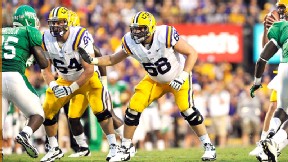 Steve Franz/Louisiana State University/Getty ImagesSenior Josh Dworaczyk was a two-year starter at guard for LSU before bouncing around this season and ending up at left tackle.
Accomplishments:
A sixth-year senior, Dworaczyk relinquished his old job, starting left guard, to become a utility reserve after missing last season with a knee injury. Eventually, that role turned into the starting left tackle job after
Chris Faulk
was lost for the season after one game with a knee injury. Dworaczyk was particularly solid in the second half of the season after missing games because of lingering effects of his injury. His leadership on the offensive line was a key reason why the Tigers' offensive line thrived down the stretch despite starting two freshmen and a sophomore.
December, 29, 2012
12/29/12
8:00
AM ET
BATON ROUGE, La. -- Leading up to the Chick-fil-A Bowl, we'll take a daily look at a key LSU player. We'll examine how he has done and what his challenges are for the Clemson game.
Craig Loston, S, Junior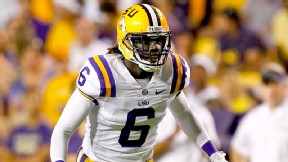 Derick E. Hingle/US PresswireSafety Craig Loston was fifth on the LSU defense with 48 tackles and had three interceptions in 2012.
Accomplishments:
Loston's biggest accomplishment this year is that he's stayed relatively healthy, something he hadn't been able to do in his first three years in Baton Rouge. Starting at strong safety, he finished the regular season with 48 tackles, fifth on the team, and was second on the team with three interceptions. He had a 100-yard interception return for a touchdown against Mississippi State. As a run stopper, Loston brings a linebacker-like physicality.
Shortcomings:
One might note that Loston has been "relatively" healthy this season, but hardly the picture of health. He's missed one game with injury and has been hobbled by others, continuing what has been a litany of health issues throughout his career. When a recurring toe injury bothers him, he can be a step slow in the secondary, although at full speed he's plenty fast enough.
Against Clemson:
If Clemson tries to find a coverage weakness, they may test Loston and his mobility. If he's healthy after a month off, that could be a challenge he's up for. The way Clemson plays offense with
Tajh Boyd
spreading the field, Loston's going to have to step up his game, especially with Boyd's mobility making it difficult for the Tigers' pass rush.
December, 18, 2012
12/18/12
10:12
AM ET
BATON ROUGE, La. -- On bowl selection Sunday, some LSU fans were fighting mad.

LSU, they felt, was one rival program and two games away from being the dominant program in college football right now. Yet, a loss in the BCS title game to Alabama in January and a last-minute, game-winning drive by the Crimson Tide this season combined to have the Tigers in the SEC's No. 5 bowl (Chick-fil-A) and just another team not in the BCS.

Never mind that the Chick-fil-A Bowl deserves to be much better than No. 5 in the SEC bowl pecking order (really No. 6 when you consider SEC is usually a lock to get two teams into BCS bowls). It's one of the best-run bowls out there, it's played in an NFL stadium and could well end up as host site for future national championship playoff games.

LSU fans get that. They honestly appreciate that a bowl matchup with Clemson is one of the best ones in the bowl season. And they are well aware that the SEC had six teams with double digit wins, all deserving of solid bowl matchups.

That's not really why Tigers fans were a little miffed about going to Atlanta and why there's a bit of a lethargy among them.


December, 13, 2012
12/13/12
7:30
AM ET
BATON ROUGE, La. -- All told, it seems most around LSU feel pleased to go the Chick-fil-A bowl.
Now, it's about getting the fans excited too.
LSU coach Les Miles said during a Wednesday news conference that the Chick-fil-A bowl game -- between his No. 8 Tigers and No. 14 Clemson in a matchup of 10-2 teams -- is one of the better bowl pairings of the season. He added that with several players from the area, Atlanta is a place where his guys "love to play" and that Clemson is an opponent they can embrace.
And both Miles and athletic director Joe Alleva seemed to endorse Chick-fil-A Bowl CEO Gary Stokan's claims that their bowl is "BCS without the letters" and is consistently rated as one of the top three or four bowls in terms of how it's run -- regardless of where it is in the bowl pecking order.
Stokan seemed to find the talk of possible fan apathy quite obscure.
He said they are expecting their 17th straight Chick-fil-A Bowl sellout, the second longest streak of bowl sellouts behind the Rose Bowl. He said the bowl could sell out by Dec. 17. The New Year's Eve game has little competition for sports TV audience and he said LSU's 2005 win over Miami is one of the highest rated games in ESPN television history.
If there's dissatisfaction with LSU's bowl placement, you didn't see it Wednesday. Alleva and Miles seemed pleased enough and the big winner is the Chick-fil-A Bowl, which managed to land a 10-game winner from the SEC despite being sixth in the pecking order. One late touchdown by Alabama was all that kept LSU from winning the SEC West, playing for the SEC championship and possibly for the national championship.
"We are ecstatic to have LSU," Stokan said.
If he has his way, Atlanta will become a frequent home of national title contenders.
The city is making a bid to host semifinal and national championship games starting in 2014 when college football goes to a four-team playoff. Atlanta is close to
getting a new stadium
to replace the Georgia Dome, a 20-year-old former Olympic Games venue in good condition but already the 10th-oldest in the NFL. With its facilities, its city and its ambition, The Chick-fil-A bowl already doesn't feel like a bowl that would only get the No. 5 or No. 6 team in the SEC.
December, 3, 2012
12/03/12
1:33
PM ET
Statement of the obvious: When LSU and Clemson kick off in the Chick-fil-A Bowl at the end of this month, a lot of people will be watching.
Statement of import, straight from LSU coach Les Miles: Among the millions of fans tuning in to watch the showdown between the two sets of Tigers, plenty are potential recruits.
"We recognize it's a little easier to get into a [prospect's] home during bowl season when you're prominent in display," Miles said during Monday's Chick-fil-A Bowl conference call. "TV exposure certainly is big for both teams."
To continue reading this article you must be an Insider
November, 25, 2012
11/25/12
11:32
PM ET
BATON ROUGE, La. -- If things had lined up for LSU on Saturday, the Tigers could have finished the day as the SEC West champion, with a berth in the SEC title game and possibly even a shot at the BCS championship game, or at least a BCS bowl.
It was a longshot, but possible.
By the end of the day, not only had it not worked out, but nothing 10-2 LSU needed in a laundry list of upsets transpired. Alabama (11-1) took care of arch-rival Auburn to claim the West and punch its ticket to Atlanta to face Georgia (11-1) for the right to advance to Miami for the BCS title game. Florida (11-1) beat Florida State to all but clinch the second SEC BCS bowl bid (the Sugar Bowl). Texas A&M (10-2) beat Missouri, and South Carolina (10-2) beat Clemson, leaving them with the same record as the Tigers.
To continue reading this article you must be an Insider
Marcus Spears reviews LSU Pro Day
SEC SCOREBOARD
Thursday, 9/3
Saturday, 9/5