LSU Tigers:

Charles Scott
June, 18, 2014
6/18/14
11:30
AM ET
BATON ROUGE, La. -- The idea for this week's
"Position U" series
actually came about during spring football practice at
LSU
-- which I assume some of you know was my first covering the Tigers.
During post-practice interviews with Tigers players, it was common to hear defensive backs refer to LSU as "DBU" (short for "Defensive Back University) when discussing the team's proud decision in the secondary. After hearing that over and over for a while, I started thinking about how to ascertain whether that was actually the case.
[+] Enlarge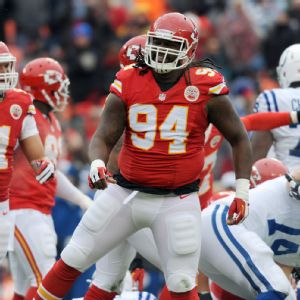 Denny Medley/USA TODAY SportsSuccessful defensive linemen such as Tyson Jackson made LSU 'DLU' in the 'Position U' rankings.
Is LSU actually DBU? How would you even measure that? It seemed like a fun game to play during the summer when we don't have any football to actually watch, so I came up with a formula, pitched it to the bosses and set out to determine which major programs (I tallied results for each member of the big five conferences for 2014, plus independents Notre Dame and BYU -- 66 schools in all) deserve to claim the title at each position for the 2000s.
So I gathered the results of every NFL draft, each of 20 college football's top individual awards, coaches' first-team all-conference selections and consensus All-America picks for each season since 2000-01 and came up with a point system to reward those accomplishments. The team with the most points won the "Position U" title for the 2000s.
It isn't a perfect system -- for instance Notre Dame deserves to rank toward the top of the list at tight end, but the Fighting Irish is penalized in this system by not playing in a conference and thus losing out on that category of points -- and I actually considered leaving the independents out of the equation. I decided, however, to include them and simply include that asterisk within the stories.
The system is also generous to programs such as Louisville that competed in smaller conferences and earned points against lesser competition before jumping into the bigger pond of major-conference football. But otherwise, I think keeping things simple and basing it on the criteria I selected is an effective way of gauging overall excellence.
So since this is an LSU blog, let's take a quick look at how the Tigers fared -- and there was plenty of excellence to gauge:
Quarterback:
Tied for 16th place with 32 points. No. 1 overall NFL draft pick
JaMarcus Russell
is the headliner here as one of only two LSU first-team all-conference picks and as the only QB to go in the first three rounds. The Tigers had six QBs drafted overall.
Running back:
Tied for 16th with 56 points. Eleven draft picks (including first-rounder
Joseph Addai
) and three first-team All-SEC picks (
LaBrandon Toefield
, Charles Scott,
Stevan Ridley
) were the highlights.
Wide receiver:
Second with 124 points. I was well aware of LSU's numerous star wideouts through the years, but I have to admit being a bit surprised when I saw that the Tigers trailed only USC in the position rankings. That's impressive stuff -- and it's largely because of the 14 wideouts that the Tigers who have been drafted since 2001.
Tight end:
Tied for 40th with 10 points. The Tigers have had only one all-conference pick (
Robert Royal
) and two draft picks at tight end (Royal and
Keith Zinger
) since the 2000-01 season.
Offensive line:
Tied for 21st with 94 points. Although the Tigers have had nine all-conference picks and seven draft picks from the line since 2000-01, it has been a bit of a disappointment overall -- which is part of the reason why Jeff Grimes is now coaching the group. The Tigers have not had a first-round offensive lineman in this time period and only had one second-rounder.
Defensive line:
First with 200 points. This was no surprise at all. Not with 21 draft picks (including first-rounders
Glenn Dorsey
,
Marcus Spears
,
Tyson Jackson
,
Michael Brockers
and
Barkevious Mingo
) and a bunch of awards, all-conference picks and three All-Americans (Dorsey, Spears and
Chad Lavalais
). Texas was close, but the Tigers earned the top spot.
Linebacker:
Tied for 22nd with 60 points. I realize that LSU's defensive star power has been on the line and in the secondary, but I kind of expected LSU to fare a bit better here. But the Tigers had just seven all-conference linebackers and five draft picks -- only two of whom (
Kevin Minter
and
Kelvin Sheppard
) went in rounds 1-3.
Defensive back:
Third with 218 points. Well, they aren't DBU after all, but the Tigers did fare extremely well. With six All-Americans and four national awards, LSU threatened Oklahoma for second on the list, but finished a ways behind champion Ohio State.
Kicker:
Tied for 27th with 28 points. The Tigers did have a consensus All-America kicker (Josh Jasper in 2010), but had just two all-conference kickers and one punter. Seventh-round pick
Donnie Jones
became the only draftee at either position in 2004.
September, 27, 2013
9/27/13
7:00
AM ET
ATHENS, Ga. – As an SEC West school, LSU is hardly a fixture on Georgia's annual football schedule. But when the Tigers and Bulldogs do get together, the results are almost always memorable.
Just think back over the past decade. Two meetings in the SEC championship game – one won by each school. The phantom celebration penalty against Georgia receiver A.J. Green in 2009, helping pave the way for LSU's comeback victory. Georgia putting huge point totals on LSU's defending BCS champion teams in 2004 and 2008.
There's a lot to remember – and just like in Saturday's meeting between No. 6 LSU (4-0, 1-0 SEC) and No. 9 Georgia (2-1, 1-0) – there are often major SEC and BCS implications in play.
"[I told the younger players] any game can go down to the last second, but what kind of fight that they're going to have to be ready for," said Georgia fifth-year senior receiver
Rantavious Wooten
, one of the few Bulldogs who were on the team when LSU last visited Athens in 2009. "They've got aspirations just like we do. They want a championship and we want a championship and this game right here, this is the game for it. So I just let them know what to expect and how it's going to be and just to get ready for it."
Georgia coach Mark Richt is 3-4 against LSU since arriving at UGA in 2001 and Tigers coach Les Miles is 2-2 against the Bulldogs. Let's take a look at the last five times their programs squared off:
[+] Enlarge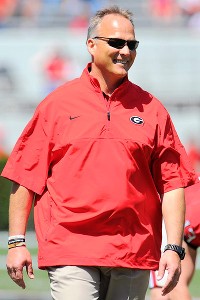 Dale Zanine/USA TODAY Sports Mark Richt and the Bulldogs hope to give LSU its first loss of the season on Saturday.
2011 SEC Championship Game (Atlanta): No. 1 LSU 42, No. 16 Georgia 10
In one of the most bizarre games of Richt's tenure, Georgia's defense thoroughly dominated the first half. LSU didn't muster a single first down and was in danger of falling down by a big margin, but Georgia receivers dropped a pair of potential first-half touchdown passes and LSU punt returner Tyrann "Honey Badger" Mathieu took a kick back for a touchdown to make it 10-7 Georgia at halftime. The second half was a completely different story, as the Bulldogs committed a couple of turnovers, LSU's pounding rushing attack began to have its intended effect and Todd Grantham's defense seemed helpless as the Tigers rushed for 202 yards and three touchdowns after intermission, turning the game into a rout.
Oct. 3, 2009 (Athens): No. 4 LSU 20, No. 18 Georgia 13
This one will forever be remembered among Georgia fans for a referee's questionable decision to penalize Georgia superstar Green for excessive celebration following his leaping, go-ahead touchdown catch with 1:09 to play, giving Georgia its first lead at 13-12. The penalty forced the Bulldogs to kick off from their own 15 and LSU return specialist Trindon Holliday made them pay by returning the kickoff to the Georgia 43, with a 5-yard penalty against the Bulldogs on the kickoff moving LSU even closer to the UGA end zone. Two plays later, Charles Scott rushed for his second touchdown of the fourth quarter, a 33-yard run with 46 seconds to play allowing LSU to improve to 5-0.
Oct. 25, 2008 (Baton Rouge): No. 7 Georgia 52, No. 13 LSU 38
As wild as the ending of the 2009 game was, this one was crazy from the very beginning. Georgia linebacker Darryl Gamble returned an interception for a 40-yard touchdown on the first play from scrimmage and added a 53-yard pick six in the game's closing minutes as the Bulldogs hung half-a-hundred on LSU's porous defense. The Tigers surrendered 50-plus twice that season – the first time in school history that had happened – leading Miles to dump co-defensive coordinators Doug Mallory and Bradley Dale Peveto after the season in favor of former Tennessee coordinator John Chavis, who has been in Baton Rouge ever since.
2005 SEC Championship Game (Atlanta): No. 13 Georgia 34, No. 3 LSU 14
Although fellow receiver Sean Bailey caught a pair of first-quarter touchdowns from D.J. Shockley that got Georgia off on the right foot, Bulldogs senior Bryan McClendon – now the team's running backs coach – might have delivered the play of the game when he blocked a punt midway through the second quarter deep in LSU territory. That helped Georgia score to take a commanding 21-7 halftime lead which LSU never threatened. The Bulldogs' defense also did its job that day, limiting an LSU rushing attack that dominated in their 2003 meeting in Atlanta to just 74 rushing yards.
Oct. 2, 2004 (Athens): No. 3 Georgia 45, No. 13 LSU 16
Nick Saban's final game against Georgia while at LSU ended with a humiliating loss, as the Tigers surrendered the most points allowed by an LSU defense since Florida hung 56 on them in 1996. Georgia quarterback David Greene threw only 19 passes, but set a school record by completing five of them for touchdowns. The Bulldogs had lost twice to Saban's Tigers in 2003 – 17-10 in Baton Rouge and 34-13 in the SEC Championship Game – but they quickly exacted a degree of revenge by jumping out to a 24-0 lead before LSU could answer. The Bulldogs also generated three turnovers and sacked LSU quarterbacks Marcus Randall and JaMarcus Russell five times.
Both teams have been ranked in the top-20 in all seven of their meetings in the Richt era, and this will be the second time they've both been in the top-10. While not every meeting between the two has produced a close contest, they've all been memorable – and almost always impacted their respective championship chases.
"They've been great games. ... Just about every one of them, both teams are ranked teams and at least in the Top 25," Richt said. "It is a cross-conference rival, so it doesn't hold quite the weight of an Eastern Division [game] when it comes to who plays in Atlanta. We could lose the game and still control our destiny, and they could lose the game and still control their destiny, so it's not do-or-die as far as league play, but it's very important for any national title hopes."
March, 27, 2013
3/27/13
8:10
PM ET
BATON ROUGE, La. -- There's a new wrinkle to the
Russell Shepard
saga.
The blue-chip, dual-threat high school quarterback turned underachieving college receiver was worked out by NFL scouts Wednesday during LSU's Pro Day at, of all places, defensive back.
"Never played there in my life," Shepard said. "About six teams asked me to work out there. I thought I did pretty good. Like they told me, it's added value."
[+] Enlarge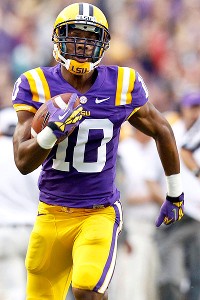 Derick E. Hingle/US PresswireRussell Shepard showed his versatility at LSU's pro day, working out for several teams at defensive back.
Shepard gave NFL teams reason to look for places he might fit. He excelled during physical testing, joining a list of LSU players who had good days.
Shepard ran a 4.5 electronic 40-yard dash and also had a 38.5-inch vertical leap, results that do not suggest a player who struggled to get involved in LSU's offense in his four years and was so marginalized, he was not invited to the NFL combine.
He wasn't the only Tiger to test well. Running back
Michael Ford
ran a 4.44 40-yard dash and had a 39.5-inch vertical leap, both results slightly better than his combine results. Linebacker
Kevin Minter
ran a 4.67 40 and had a 34.5-inch vertical leap, both significant improvements over the combine.
"We were at home," Minter said. "Makes all the difference."
Here are some other notables:
Defensive end Barkevious Mingo did not participate in testing, but like former teammate Tyrann Mathieu got involved in position-specific drills.
Defensive end Lavar Edwards ran a 4.78 and hit 21 repetitions in the bench press, looking like the next LSU player who might be drafted after not starting for the Tigers.
March, 27, 2013
3/27/13
10:15
AM ET
BATON ROUGE, La. -- It's only going to look like an all-comer's combine.
LSU's Pro Day on Wednesday will feature a whopping 28 participants, the result of a year where the Tigers sent 13 players to the NFL combine. Among the players will will participate is former LSU player
Tyrann Mathieu
.

Of the 28, 21 were members of LSU's 2012 team, while seven more participants were members of past LSU teams and are trying to catch the interest of teams as free agents.
Fans can
watch the event live on ESPN3 at 1 p.m. ET
.
Here are the players who are participating, according to LSU:
2012 team members: DE
Chauncey Aghayere
, K
Drew Alleman
, TE
Chase Clement
, DT
Josh Downs
, OT
Josh Dworaczyk
, DE
Lavar Edwards
, OT
Chris Faulk
, RB
Michael Ford
, DT
Bennie Logan
, C
P.J. Lonergan
, DB-KR Tyrann Mathieu, DE
Barkevious Mingo
, LB
Kevin Minter
, DE
Sam Montgomery
, S
Eric Reid
, WR
Russell Shepard
, CB
Tharold Simon
, RB
Spencer Ware
, P
Brad Wing
, DT
Cleveland Davis
, TE
Tyler Edwards
Past Players (last year at LSU):
OG Will Blackwell (2011), LB-DB Karnell Hatcher (2011), OL T-Bob Hebert (2011), QB Jordan Jefferson (2011), QB Jarrett Lee (2011), DS Alex Russian (2011), RB Charles Scott (2009).
September, 9, 2012
9/09/12
12:40
AM ET
BATON ROUGE, La. --
Spencer Ware
was healthy and running hard.
Michael Ford
looked fast and
Kenny Hilliard
was a load.

Alfred Blue
, however, did nothing to indicate that he isn't LSU's main running back going forward during LSU's 41-3 romp over Washington Saturday.
Blue turned in his second straight 100-yard game to start the season, rambling for 101 yards and a touchdown on a mere 14 carries.
"It means I've just started out great," said Blue, a junior who jumped LSU's top two rushers from last season, Ware and Ford, to become the starter at the end of August camp. "But I've just got to keep on running hard, running physical and helping my team win."
Blue was a little opportunistic in becoming a starter. Ware, last season's opening day starter and second-leading rusher for the season, had a nagging leg injury and did not play in last week's 41-14 season-opening win over North Texas. Ford, the Tigers' leading rusher last season, had an academic issue that was cleared up during the UNT week that allowed him to play, but deep off the bench.
Blue, third on the team last season with 539 yards, took advantage by going for 123 yards on 14 carries in the opener and showed it was no fluke against a better defense in the second game, getting outside at will, including a 21-yard touchdown run for LSU's first score of the night.
He became the first Tiger since Charles Scott in 2008 to break 100 yards in the first two games for the Tigers.
Ford added 48 yards on 10 carries, Hilliard had 46 yards on 13 carries with two touchdowns and Ware rushed for 38 yards on eight carries in his season debut.
Marcus Spears reviews LSU Pro Day
SEC SCOREBOARD
Thursday, 9/3
Saturday, 9/5