LSU Tigers:

A.J. McCarron
April, 30, 2014
4/30/14
12:00
PM ET
More talk of scheduling, some NFL draft talk and more in today's lunch links:
November, 22, 2013
11/22/13
12:00
PM ET
It's Friday, which means only a day until game day. Thank goodness. Here's some reading from around the league to get you ready:
November, 5, 2013
11/05/13
9:00
AM ET
When
AJ McCarron
steps behind center on Saturday night for Alabama's first offensive snap in its showdown against LSU, he'll be making his fourth start against the Tigers.
The senior has been the picture of stability the last three years as Alabama's starting quarterback. His first start against LSU was Nov. 5, 2011, dubbed "The Game of the Century," one that LSU won 9-6 in overtime at Bryant-Denny Stadium in Tuscaloosa, Ala.
LSU quarterback
Zach Mettenberger
, McCarron's counterpart on Saturday night, will make his second start against the Tide. LSU hasn't quite enjoyed the same stability that Alabama has, though Mettenberger has provided a steady hand and productive play this season, making LSU's offense the talk of the program for once; hard to do in a program known for its defense.
[+] Enlarge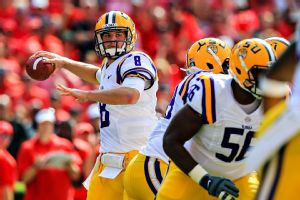 Daniel Shirey/USA TODAY SportsZach Mettenberger was 28-of-35 for 298 yards and a score in his first start against Alabama.
But in the same time span that McCarron has served as Alabama's lone starter in the Tide-Tigers showdowns, LSU has had three different starting quarterbacks. Mettenberger started last season's game but when the teams met twice in 2011 – in November and in January for the BCS championship – the Tigers had a different starter each time.
That's simply a microcosm of these two power programs. Both are championship-caliber teams that are annually in the BCS national championship discussion. Both have stable coaching staffs and a foundation built on great defense and the ability to run the football. Both recruit at a high level and, of course, play in the same division, the SEC West.
But since the Nick Saban took over at Alabama in 2007, the Tide have had just three quarterbacks start against LSU: McCarron, Greg McElroy (2009-10) and John Parker Wilson, who predated Saban and started for the Tide from 2006-08.
In that same time span, the Tigers have had a different starter vs. Alabama six times. In 2007 it was Matt Flynn, who was a senior. Jarrett Lee started the 2008 game, while
Jordan Jefferson
started in 2009 and 2010. In 2011 Lee started the November "Game of the Century," and Jefferson started the BCS national championship later that season. Though the Tigers have had four different quarterbacks in that span, it's been rare that the same one has started twice in a row against the Tide like Mettenberger will do Saturday.
Despite that contrast, the series has been back-and-forth. Alabama has won four times since 2007, LSU three. The Tigers' success despite quarterback turnover is even more fascinating in an age where quarterbacks dominate the headlines and up-tempo spread offenses are en vogue.
Take last season as an example, one in which the Tigers didn't make a change at quarterback but didn't get strong play from the position either. Florida (3rd), Oregon State (13th) and Kent State (25th) were the only schools other than LSU with a Total QBR of less than 55 for the season to finish in the top 25 of the BCS standings at the end of the regular season. The team with the worst QBR of thos, LSU (38), finished eighth in the final BCS standings last season.
Even in 2011, when the Tigers went 13-1 and went to the BCS title game before falling to Alabama, the quarterback situation was far from stable. Lee made nine starts that season, Jefferson made five. There was even discussion in the aftermath of the 21-0 title game loss to the Crimson Tide about LSU coach Les Miles' decision to not play Lee at all that night and leave Jefferson in, which Miles later said was because he wanted a mobile quarterback who could avoid Alabama's tenacious pass rush in the game.
The reason the Tigers were able to succeed despite a sometimes uncertain quarterback situation is their defense. LSU finished in the top 12 nationally in total defense each season from 2010-2012 and had a 34-5 record in that time span. They've also had a reliable running game to turn to move the chains offensively.
Alabama has enjoyed the fruits of both of those traits during their run of three BCS titles in four seasons, but the stability at quarterback is evident. The Tide have finished the season with a better QBR than LSU each of the last five seasons.
Stable or not, life is tough for the quarterbacks in this game. During the Saban era, Alabama quarterbacks have a QBR of 42.8 against LSU, while LSU's is 33.1 against the Tide. The touchdown-to-interception ratios aren't pretty (8-to-6 for Alabama, 7-to-11 for LSU) as the defenses take center stage in this matchup.
But the Tigers have shown that even in this era of offensive dominance, good defense can still get you far. And now, they just might have the quarterback to knock off the nation's top team.
August, 8, 2013
8/08/13
12:20
PM ET
"College Football Live" and its Summer Tour stops in Alabama today. Tom Rinaldi and Todd McShay will check in on Nick Saban, AJ McCarron and Co. Catch them throughout the day on "SportsCenter" and on CFB Live at 5 p.m. ET on ESPNU.
Here are some other things from around the SEC that you may find interesting.
August, 5, 2013
8/05/13
3:17
PM ET
A little lunchtime reading from around the SEC:
June, 6, 2013
6/06/13
9:00
AM ET
COLUMBUS, Ohio -- The explosion of offers and attention was overwhelming enough for
Brandon Harris
when spread over four months.
But it was nothing compared to the 72-hour window a week ago that essentially offered confirmation that the four-star quarterback (Bossier City, La./Parkway) has arrived on the national scene and isn't going away.
January, 9, 2013
1/09/13
8:00
AM ET
BATON ROUGE, La. -- Around the nation, and to those who follow LSU from an arm's length, the news that trickled out from Nicholson Drive in the last week was alarming.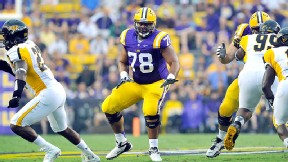 Steve Franz/Getty ImagesVadal Alexander is one of five true freshmen that started for LSU this season, something that might become more commonplace.
The Tigers lost nine, count them,
nine
underclassmen to the NFL draft over the weekend, leaving the defense in a rebuilding mode and their deep stable of running backs an injury away from being dangerously thin.
It was called a mass exodus. Best we can tell, it set the record for the number of underclassmen leaving one school early for the NFL. Before they left, LSU figured to have 10 defensive starters back. After the early exits, it was down to four.
But understand this: It didn't shock those close to the program.
To continue reading this article you must be an Insider
November, 5, 2012
11/05/12
9:36
AM ET
BATON ROUGE, La. -- Our weekly look at LSU's top 10 performers this season up to this point:
1. LB Kevin Minter:
The junior kept up a prolific tackling season with seven more against Alabama, giving him 82 tackles to go with his fifth pass broken up.
2. DE Sam Montgomery:
Flexing his big-play muscle, Montgomery got his fifth sack and 10th tackle for loss of the season against Alabama. Both are team highs. He added his first fumble recovery of the season.
To continue reading this article you must be an Insider
November, 4, 2012
11/04/12
8:34
AM ET
BATON ROUGE, La. -- What we liked, and didn't like, in LSU's 21-17 loss to Alabama Saturday.
THREE UP
1. The passing game:
Not just quarterback
Zach Mettenberger
, but also his receivers. The Tigers quarterback completed 24 of 35 passes for 298 yards and a touchdown. After a shaky start, the junior played his best game, by far, and the receivers made tough catches.
Jarvis Landry
(8 receptions, 76 yards, one touchdown) was outstanding.
To continue reading this article you must be an Insider
November, 2, 2012
11/02/12
9:00
AM ET
BATON ROUGE, La. -- As is often the case with Les Miles, he left a room full of reporters wondering on Wednesday if they just heard brilliance, insanity, nonsense or all of the above.
[+] Enlarge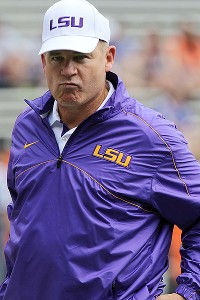 Kim Klement/US PresswireWhat tricks does Les Miles have under his hat? The coach won't tell.
When talking about the atmosphere he's anticipating for Saturday's BCS championship game rematch between his No. 5 LSU team and No. 1 Alabama at Tiger Stadium, Miles compared the potential atmosphere to Superstorm Sandy.
"I think there are a lot of negative ions being forced, which are positive things, into this area," he explained, "and I think the atmosphere will be charged."
To continue reading this article you must be an Insider
January, 8, 2012
1/08/12
9:00
PM ET
NEW ORLEANS -- There has been no shortage of complaining since the Allstate BCS National Championship Game teams were announced.


It's understandable when you consider that No. 1 LSU (13-0, 8-0) and No. 2 Alabama (11-1, 7-1) have already played. But most of the protests stemmed from the fact neither team scored a touchdown when they played in November.
Something called "defense" was played in Tuscaloosa, Ala., but apparently there was too much.
Monday, you won't see PlayStation-like numbers that have been the norm during bowl season, but both teams promise things will be different when they have the ball.
"We're going to have a better game plan this time and hopefully put some more points on the board," LSU wide receiver
Rueben Randle
said.
"I don't think anyone's going to be able to come out 9-6 and win this game."
For Monday's rematch to look different, some things need to change on both sides. Here's a look at why things will be different inside the Mercedes-Benz Superdome:
[+] Enlarge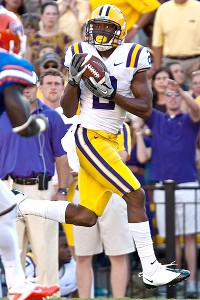 Rob Foldy/Icon SMI"Our passing game is going to have to loosen some things up in order to get our running game started," LSU receiver Rueben Randle said.
LSU's passing game will be more vertical
In November, LSU's passing game was ineffective.
Jordan Jefferson
and
Jarrett Lee
combined to throw under the century mark and just four passes for double-digit yardage.
Now, the talk from LSU's side is how vertical the Tigers want to get against Alabama's defense. LSU ran for 148 yards last time, so Alabama will be keying in on the run.
LSU will want to start on the ground but wants Jefferson to air it out a little more.
"Our passing game is going to have to loosen some things up in order to get our running game started," Randle said. "They're going to fill that box to stop the run, so we need to be ready as receivers to make those plays down field."
Alabama's wide receivers want to prove themselves
Alabama might have had 100 more passing yards than LSU in November, but it never looked great. Quarterback
AJ McCarron
made some mistakes, but wide receiver
Darius Hanks
said the ones who catch the ball need to step up.
Alabama got two catches from tight ends and eight from receivers. Hanks, who caught two, said that should improve Monday.
"Our tight ends and our receivers will be the difference-makers in this game," he said. "They think that if they stop our run game, then they're going to win the game, but I feel differently.
"We can see a lot of their weaknesses, so we're going to attack those areas, go strong and put the ball in the air this time."
He also expects to spearhead Alabama's passing game because he feels he can beat All-American cornerbacks Morris Claiborne and Tyrann Mathieu.
"I definitely feel like those guys, they can't cover me," he said.
P.J. Lonergan is 100 percent
Last time, LSU's starting center wasn't at full speed. He was hobbled by an ankle injury and played sparingly against Alabama.
While LSU was able to run the ball well without Lonergan, he should bolster LSU's pass blocking, which will give Jefferson more time to look downfield.
"It's definitely good that he's back healthy," LSU offensive guard Will Blackwell said.
"A healthy P.J. now will definitely be better than the P.J. that played Nov. 5."
Alabama is prepared for the option
The Tide's defense wasn't as ready for Jefferson and the option in November. The team was prepared to see more of Lee, so when Jefferson came in, holes opened up in Alabama's rush defense.
Now, Alabama knows that Jefferson will be LSU's guy and the defense knows that Jefferson likes the option. LSU might want to throw more, but the running game is the heart of the offense.
Tide defensive tackle Josh Chapman said the key will be locking up the run gaps that were open too often when Jefferson ran the ball. Players were out of position because they weren't ready.
"If we keep our running lanes right and affect him," he said, "we'll have a great ballgame."
[+] Enlarge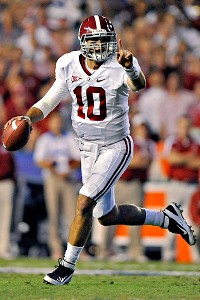 AP Photo/Rick Wilson"I definitely gotta come out and play with emotion in this game like I always do," Alabama quarterback AJ McCarron said.
McCarron will have more confidence and emotion
McCarron didn't play his game last time. He toned down the emotion and that sucked away his confidence.
His teammates had nothing to feed off of, and that hurt Alabama. McCarron has been given the green light to ramp up those emotions, and that should keep his spirits up against LSU's defense.
"I definitely gotta come out and play with emotion in this game like I always do," McCarron said. "Just play my game."
If McCarron can get going, it will help Alabama in the red zone. The Tide moved the ball well between the 30s against LSU but reached the red zone just once.
Alabama's secondary is nicked up
LSU could move the ball through the air better this time because Alabama's secondary is banged up. Safety Mark Barron injured his ribs against Auburn, while cornerbacks DeQuan Menzie and Dee Milliner have leg injuries.
Menzie has a hamstring injury that bothered him all season, while Milliner suffered a thigh injury against Auburn. They say they're fine, but they're called "nagging" for a reason.
Backup safety Will Lowery is also out with a season-ending knee injury he suffered against Georgia Southern.
On the flip side, LSU is healthier.
"The most important thing about this break is we're fresh," LSU linebacker Ryan Baker said. "Going into Nov. 5, guys were nicked up. … The game plan is pretty much the same, it's just those guys [who weren't healthy] will be making plays."
Most of the focus will be on points, but these teams are too old school for this to be a track meet. Defense will continue to be the constant for both teams.
"I'd expect it to be big-boy football," LSU coach Les Miles said. "And I'd expect it to be very, very physical and that it would be a game that would be representative of two quality football teams."
Marcus Spears reviews LSU Pro Day
SEC SCOREBOARD
Thursday, 9/3
Saturday, 9/5