LSU Tigers:

Will Blackwell
January, 29, 2014
1/29/14
7:00
AM ET
BATON ROUGE, La. -- LSU fans are drooling over uncommitted targets such as
Malachi Dupre
and
Adoree' Jackson
, which is understandable since four- and five-star prospects are statistically more likely to become productive college players.
But signing a talented player is only the first step. A coaching staff must also excel at developing talent, which LSU frequently accomplishes since every All-American was not a coveted recruit.
Let's look at how LSU's recent Associated Press All-Americans graded out as high school prospects:
[+] Enlarge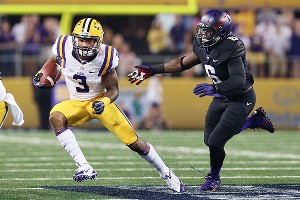 Matthew Emmons/USA TODAY SportsFormer LSU star Odell Beckham Jr. has the type of speed the Jets are seeking in wide receiver prospects.
Odell Beckham
2013 third-team All-American (all-purpose)
ESPN rankings:
78 grade (three stars), No. 62 athlete in 2011
Evaluation highlights:
"Beckham is an exciting athlete that displays some versatility and range as an offensive weapon. He is undersized, but very explosive and shifty with good change of direction and excellent overall instincts with the ball in his hands. ... We feel he would need to be a utility player and certainly has a chance to be an excellent return man."
In hindsight: Not a bad call.
ESPN's analyst pegged Beckham's athleticism correctly, as he developed into one of the nation's most electric receivers and return men. He turned out better than a three-star grade, however.
Kevin Minter
2012 second-team All-American (linebacker)
ESPN rankings:
81 grade (four stars), No. 133 overall prospect in 2009, No. 11 outside linebacker
Evaluation highlights:
"Minter has a great blend of size, speed and toughness. He isn't tall, but has a thick build and carries his weight very well. He's physically ready to make the jump to the next level. ... He should give his future defensive coordinator the flexibility to play him in the middle or on the strong side."
In hindsight: Good call.
Minter had an outstanding junior season, ranking third in the SEC with 130 tackles and fourth with 15 tackles for a loss before jumping to the NFL.
Eric Reid
2012 second-team All-American (safety)
ESPN rankings:
81 grade (four stars), No. 71 overall prospect in 2010, No. 7 safety
Evaluation highlights:
"Reid is a very gifted player that can really excel at the free safety position. He is an excellent field general that plays with confidence and possesses the necessary skills to run the secondary both physically and mentally."
In hindsight:
Good call. Not only was Reid good enough to rank among the SEC's tackles leaders in 2012, he became a 2013 first-round NFL draft pick and made the Pro Bowl as a rookie for the
San Francisco 49ers
.
Brad Wing
2011 first-team All-American (punter)
ESPN rankings:
74 grade (two stars), No. 24 kicker in 2010
Evaluation highlights:
"His long frame and good leg speed allow him to drive the ball 50-60 yards down field. His ability to hang the football is also impressive, with game punts in the 4.8 sec. range. ... Brad has some very good tools to build on. He should become an excellent college punter."
In hindsight: Not quite.
Wing was second in the SEC and 11th nationally in punting for the 2011 conference champs. He encountered problems later in his career, but they were not related to his football talent, which proved better than his prospect ranking.
Tyrann Mathieu
2011 first-team All-American (cornerback)
ESPN rankings:
77 grade (three stars), No. 36 cornerback in 2010
Evaluation highlights:
"Mathieu is an underrated defensive back with a good blend of range, athleticism and closing burst. ... Looks and plays taller on film than his listed measurables. ... Just when you think he is a bit-straight lined he will impress you with his lateral fluidity as a return specialist; overall just a very good, instinctive athlete who should only get better as he receives full-time positional coaching."
In hindsight: Not quite.
Mathieu was probably difficult to grade because of the freewheeling style that turned him into a college star. But he made possibly the biggest impact of any individual player on LSU's outstanding 2011 club, generating key takeaways and highlight-reel kick returns all season.
[+] Enlarge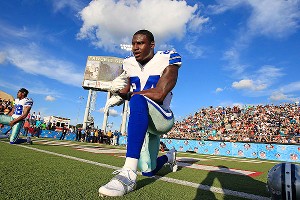 AP Photo/James D SmithOur analysts correctly predicted a change to CB in Morris Claiborne's future. He starred at LSU in his new role and became the Dallas Cowboys' first-round pick in 2012.
Morris Claiborne
2011 first-team All-American (cornerback)
ESPN rankings:
80 grade (four stars), No. 26 athlete in 2009
Evaluation highlights:
"Claiborne is a bit of a secret in recruiting circles, but his talent level won't be kept at bay for long once he enters the college ranks. ... He works out of the QB position in high school and sees some duty on defense, as well. We feel he'll be a wide receiver, but in time cornerback could be where he finds the most success. ... Overall, we would be very surprised if this kid didn't have a very productive college career."
In hindsight: Good call.
ESPN's analyst was on the right track in projecting Claiborne's eventual college path, which is difficult when a prospect plays multiple roles in high school. He was possibly the nation's top cover corner by his junior season before becoming the No. 6 overall pick in the 2012 NFL draft.
Will Blackwell
2011 second-team All-American (offensive guard)
ESPN rankings:
79 grade (three/four stars), No. 15 defensive tackle in 2007
Evaluation highlights:
"Blackwell is an athletic big man who displays good football intelligence. He has a good get off and does a good job of shooting his hands. He can create separation and read blocks. He is physical at the point of attack and displays the ability to hold his ground. ... As he physically grows, he has the tools to be a big, quick, disruptive presence in the trenches."
In hindsight: Wrong position.
The evaluation graded him as a defensive player, but some of the tools that made Blackwell a valuable offensive lineman emerge in the analyst's comments.
Sam Montgomery
2011-12 third-team All-American (defensive end)
ESPN rankings:
84 grade (four stars), No. 26 overall prospect in 2009, No. 2 defensive end
Evaluation highlights:
"Montgomery got a late start in the game, but is an exciting prospect. He is green (only one year of football under his belt), but he appears to be a natural. Has excellent athletic ability and also shows a grasp of some of the game's nuances. ... Montgomery is an excellent prospect who has both immediate value and considerable upside."
In hindsight: Good call.
Natural athleticism helped Montgomery become a two-time All-American. He has yet to maximize those talents, but became a third-round NFL draft pick when he left after his junior season.
March, 27, 2013
3/27/13
10:15
AM ET
BATON ROUGE, La. -- It's only going to look like an all-comer's combine.
LSU's Pro Day on Wednesday will feature a whopping 28 participants, the result of a year where the Tigers sent 13 players to the NFL combine. Among the players will will participate is former LSU player
Tyrann Mathieu
.

Of the 28, 21 were members of LSU's 2012 team, while seven more participants were members of past LSU teams and are trying to catch the interest of teams as free agents.
Fans can
watch the event live on ESPN3 at 1 p.m. ET
.
Here are the players who are participating, according to LSU:
2012 team members: DE
Chauncey Aghayere
, K
Drew Alleman
, TE
Chase Clement
, DT
Josh Downs
, OT
Josh Dworaczyk
, DE
Lavar Edwards
, OT
Chris Faulk
, RB
Michael Ford
, DT
Bennie Logan
, C
P.J. Lonergan
, DB-KR Tyrann Mathieu, DE
Barkevious Mingo
, LB
Kevin Minter
, DE
Sam Montgomery
, S
Eric Reid
, WR
Russell Shepard
, CB
Tharold Simon
, RB
Spencer Ware
, P
Brad Wing
, DT
Cleveland Davis
, TE
Tyler Edwards
Past Players (last year at LSU):
OG Will Blackwell (2011), LB-DB Karnell Hatcher (2011), OL T-Bob Hebert (2011), QB Jordan Jefferson (2011), QB Jarrett Lee (2011), DS Alex Russian (2011), RB Charles Scott (2009).
September, 11, 2012
9/11/12
10:00
AM ET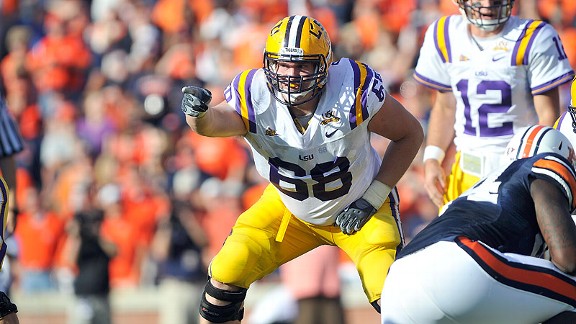 Steve Franz/Getty ImagesJosh Dworaczyk was ready to fill in at any spot on the line this fall, and he performed well at left tackle against Washington.
BATON ROUGE, La. -- On the first of many LSU touchdowns during LSU's 41-3 win over Washington Saturday, left tackle
Josh Dworaczyk
was asked to reach to his left to block Huskies rush end
Josh Shirley
.
Dworaczyk not only got there, but he turned Shirley to the right, creating a gaping seam that running back
Alfred Blue
used to gallop through to a 21-yard touchdown.
It was known that Dworaczyk, a sixth-year senior who served as a de facto sideline offensive line coach while he missed last season with a knee injury, could handle the mental part of the position. On that play, he showed that he could could physically get the job done as well.
August, 22, 2012
8/22/12
9:16
AM ET
BATON ROUGE, La. -- It looks so easy, so natural for
P.J. Lonergan
.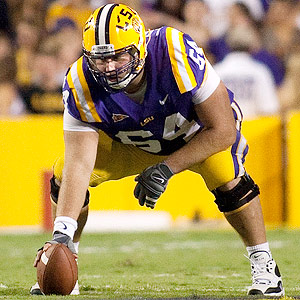 Cal Sport Media via AP ImagesLSU center P.J. Lonergan has embraced the position and is one of the nation's best.
He squats down and grabs the football with one hand, all while monitoring the defense lining up in front of him. From the middle of the offensive line, he calls out blocking assignments to his mates on either side of him. Then, when the quarterback calls for the ball, the LSU center snaps it -- either handing it to him between his legs, or slinging it back in the air in the shotgun, all while quickly firing off the ball as to not allow a defensive player to compromise his ability to block.
So much to do. Yet, he makes it look so easy.
It hasn't always been that way for Lonergan, who enters his third year starting at center for LSU, making him the most experienced of a veteran starting LSU offensive line. Lonergan moved from offensive guard at New Orleans/Archbishop Rummel High School to center during his redshirt freshman season in 2008 and now enters his senior season a master of his craft.
"If you really want to play center, you really have to embrace the position," said Lonergan, a second-generation Tiger whose father and uncle both played at LSU. "I like the position now. I wouldn't want to play anywhere else."
March, 31, 2012
3/31/12
1:48
PM ET
Before the start of the spring game, which symbolizes the move forward to next season, LSU is looked back with a ceremony that wrapped up with the 2011 SEC championship banner being raised in the south end zone.
The team was seated on bleachers at the 50-yard line in Tiger Stadium, taking part in a celebration of the 2011 SEC championship. The team's individual and team trophies were presented there.
That included special presentations of
Tyrann Mathieu
's Bednarik Award (presented by last year's winner, former LSU star Patrick Peterson),
Morris Claiborne
's Jim Thorpe Award (also presented by Peterson, who won last year's award) and Les Miles' AP Coach of the Year award.
To continue reading this article you must be an Insider
January, 10, 2012
1/10/12
3:10
AM ET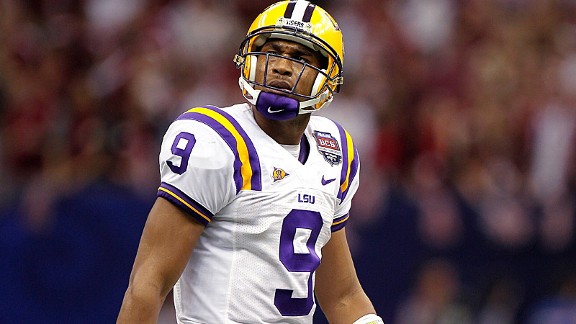 Chris Graythen/Getty ImagesLSU quarterback Jordan Jefferson was held to 53 yards passing and 15 yards rushing against Alabama.
NEW ORLEANS -- The ride is over.
The emotional roller coaster that was LSU's season ended tragically inside the Mercedes-Benz Superdome.
The team that had shaken off a plethora of distractions and back-to-back games with double-digit first-half deficits never made its way out of the French Quarter as No. 1 LSU (13-1, 8-0) fell to second-ranked Alabama (12-1, 7-1)
21-0 in Monday's Allstate BCS National Championship Game
.
For once, there was no spark for the Bayou Bengals. The team that had rolled over each and every opponent it faced this season -- and was on its way to a historic finish -- fell flat when it mattered the most.
"You have to play through adversity," defensive tackle Michael Brockers said. "That's what our coaches teach us.
"(Alabama) made all the big plays and made all the tough plays tonight and tip my hat off to them for making all the big plays and winning tonight."
The defense had more bend then it has been accustomed to Monday, allowing nearly 400 yards, five field goals and a late-game touchdown. Still, for staying on the field for 35 minutes that's pretty good.
For everything the defense did for the offense, it got nothing in return. It got no adjustments, no originality. What it did get was five first downs, 92 total yards, 2.1 yards per play and zero points.
It got an offense that crossed into Alabama territory just once … and that came in the fourth quarter.
Followed by criticism throughout the season, Jefferson couldn't get his offense moving. He couldn't run and his arm didn't help. The vertical passing game LSU promised wasn't there because Jefferson admitted to holding onto the ball too long on designed deep passes because he wasn't confident in where Alabama's defenders were.
Some passes ranged from erratic to short. He was sacked four times and heard boos late in the first half and throughout the second when he took snaps instead of demoted quarterback
Jarrett Lee
.
Jefferson threw for 53 yards and an interception, and was beautifully contained by Alabama's defense, rushing for 15 yards on 14 carries.
"I was seeing things clearly," Jefferson said. "Making decisions with the ball wasn't an issue."
Jefferson turned the ball over twice, but it was his ill-advised flip-pass to an unsuspecting
Spencer Ware
that was extremely devastating. Jefferson thought Ware was ready for the pass, but Ware had turned up field to block before Jefferson released the ball, which was intercepted.
"Other than that, I made great decisions with the ball," Jefferson said. "Offensively, we just fell short."
Very short.
Though there was no sign of Lee. He just stood on the sidelines, tossing the ball occasionally to keep his arm warm.
"It's disappointing," Lee said. "I would have liked to have gotten some snaps, but it is what it is. Didn't get any snaps, so you gotta move on past that."
LSU coach Les Miles' only explanation for not playing Lee was that with Lee's lack of mobility he didn't feel as if he could sustain Alabama's pass rush.
Even with as poorly as Jefferson played, the pounding, wear-'em-down running game that moved this offense never arrived. The Tigers' got 12 carries from their running backs. (Leading rusher
Michael Ford
got four for 1 yard.)
Offensive lineman Will Blackwell said the plan was to run the ball up the middle, but that never materialized so the staff directed runs to outside. Even after those didn't work, adjustments weren't made.
"I feel like we got away from our game plan a little bit," Blackwell said. "We planned on running it inside and pounding them to maybe get the edge.
"We fell away from that and I don't know what the reason for that is. Our game plan just fell apart.
"We got away from the things we've been doing all season and whenever you do that in a championship game it usually doesn't work out for you very well."
LSU finally succumbed to all the adversity. For a team that fed off the negativity, the Tigers weren't ready Alabama. There was no game-changing play from the Honey Badger, the defense didn't force any turnovers, there was no emotion in the second half and the offense never showed up.
For the defense, Monday must have hurt the most. They hunkered down near their own end zone and played well enough to win.
In the end, LSU's defense just couldn't play both ways for the Tigers.
"It was very disappointing," linebacker Ryan Baker said. "We were clawing and fighting out there and we were just sitting back watching them go three-and-out."
January, 9, 2012
1/09/12
8:16
PM ET
NEW ORLEANS -- Will Blackwell knows exactly where LSU should rank among national championship teams in college football if the Tigers take home the trophy after tonight's Allstate BCS National Championship.

"The best," Blackwell said in a very matter-of-fact way. "If we win this game, show me a team that beat tougher opponents on a tougher schedule. We've played ranked teams on the road three or four times. We've beaten, what, two of the four BCS bowl champions? I haven't seen a record better than that."

A win over Alabama would certainly put the Tigers in the discussion with some of the best college football teams in the last 40 years. You have 1972 USC, 2001 Miami, 1995 Nebraska and 1979 Alabama in the running as well.

Is this the most talented team ever? Absolutely not, but for everything the Tigers have been through and the schedule this team has conquered, a win tonight might be enough to put the Tigers into the top spot.

A win over Alabama would give LSU nine wins over teams ranked in the Associated Press poll in one season, which would be a NCAA record.

LSU coach Les Miles was asked about where this team would rank with a win, but he wasn't biting Sunday.

"I've been asked that question a couple of times, and I think certainly it's fair after (Monday) night," Miles said. "I think it's all about this game. It's one that certainly we're all looking forward to, and I think that those conversations are best served for then."

We'll see what he says if the Tigers get the win tonight.
January, 8, 2012
1/08/12
9:00
PM ET
NEW ORLEANS -- There has been no shortage of complaining since the Allstate BCS National Championship Game teams were announced.


It's understandable when you consider that No. 1 LSU (13-0, 8-0) and No. 2 Alabama (11-1, 7-1) have already played. But most of the protests stemmed from the fact neither team scored a touchdown when they played in November.
Something called "defense" was played in Tuscaloosa, Ala., but apparently there was too much.
Monday, you won't see PlayStation-like numbers that have been the norm during bowl season, but both teams promise things will be different when they have the ball.
"We're going to have a better game plan this time and hopefully put some more points on the board," LSU wide receiver
Rueben Randle
said.
"I don't think anyone's going to be able to come out 9-6 and win this game."
For Monday's rematch to look different, some things need to change on both sides. Here's a look at why things will be different inside the Mercedes-Benz Superdome:
[+] Enlarge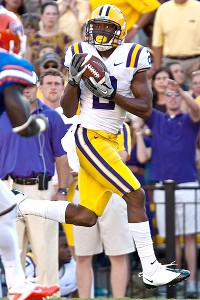 Rob Foldy/Icon SMI"Our passing game is going to have to loosen some things up in order to get our running game started," LSU receiver Rueben Randle said.
LSU's passing game will be more vertical
In November, LSU's passing game was ineffective.
Jordan Jefferson
and
Jarrett Lee
combined to throw under the century mark and just four passes for double-digit yardage.
Now, the talk from LSU's side is how vertical the Tigers want to get against Alabama's defense. LSU ran for 148 yards last time, so Alabama will be keying in on the run.
LSU will want to start on the ground but wants Jefferson to air it out a little more.
"Our passing game is going to have to loosen some things up in order to get our running game started," Randle said. "They're going to fill that box to stop the run, so we need to be ready as receivers to make those plays down field."
Alabama's wide receivers want to prove themselves
Alabama might have had 100 more passing yards than LSU in November, but it never looked great. Quarterback
AJ McCarron
made some mistakes, but wide receiver
Darius Hanks
said the ones who catch the ball need to step up.
Alabama got two catches from tight ends and eight from receivers. Hanks, who caught two, said that should improve Monday.
"Our tight ends and our receivers will be the difference-makers in this game," he said. "They think that if they stop our run game, then they're going to win the game, but I feel differently.
"We can see a lot of their weaknesses, so we're going to attack those areas, go strong and put the ball in the air this time."
He also expects to spearhead Alabama's passing game because he feels he can beat All-American cornerbacks Morris Claiborne and Tyrann Mathieu.
"I definitely feel like those guys, they can't cover me," he said.
P.J. Lonergan is 100 percent
Last time, LSU's starting center wasn't at full speed. He was hobbled by an ankle injury and played sparingly against Alabama.
While LSU was able to run the ball well without Lonergan, he should bolster LSU's pass blocking, which will give Jefferson more time to look downfield.
"It's definitely good that he's back healthy," LSU offensive guard Will Blackwell said.
"A healthy P.J. now will definitely be better than the P.J. that played Nov. 5."
Alabama is prepared for the option
The Tide's defense wasn't as ready for Jefferson and the option in November. The team was prepared to see more of Lee, so when Jefferson came in, holes opened up in Alabama's rush defense.
Now, Alabama knows that Jefferson will be LSU's guy and the defense knows that Jefferson likes the option. LSU might want to throw more, but the running game is the heart of the offense.
Tide defensive tackle Josh Chapman said the key will be locking up the run gaps that were open too often when Jefferson ran the ball. Players were out of position because they weren't ready.
"If we keep our running lanes right and affect him," he said, "we'll have a great ballgame."
[+] Enlarge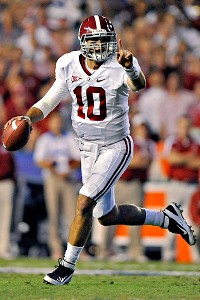 AP Photo/Rick Wilson"I definitely gotta come out and play with emotion in this game like I always do," Alabama quarterback AJ McCarron said.
McCarron will have more confidence and emotion
McCarron didn't play his game last time. He toned down the emotion and that sucked away his confidence.
His teammates had nothing to feed off of, and that hurt Alabama. McCarron has been given the green light to ramp up those emotions, and that should keep his spirits up against LSU's defense.
"I definitely gotta come out and play with emotion in this game like I always do," McCarron said. "Just play my game."
If McCarron can get going, it will help Alabama in the red zone. The Tide moved the ball well between the 30s against LSU but reached the red zone just once.
Alabama's secondary is nicked up
LSU could move the ball through the air better this time because Alabama's secondary is banged up. Safety Mark Barron injured his ribs against Auburn, while cornerbacks DeQuan Menzie and Dee Milliner have leg injuries.
Menzie has a hamstring injury that bothered him all season, while Milliner suffered a thigh injury against Auburn. They say they're fine, but they're called "nagging" for a reason.
Backup safety Will Lowery is also out with a season-ending knee injury he suffered against Georgia Southern.
On the flip side, LSU is healthier.
"The most important thing about this break is we're fresh," LSU linebacker Ryan Baker said. "Going into Nov. 5, guys were nicked up. … The game plan is pretty much the same, it's just those guys [who weren't healthy] will be making plays."
Most of the focus will be on points, but these teams are too old school for this to be a track meet. Defense will continue to be the constant for both teams.
"I'd expect it to be big-boy football," LSU coach Les Miles said. "And I'd expect it to be very, very physical and that it would be a game that would be representative of two quality football teams."
Marcus Spears reviews LSU Pro Day
SEC SCOREBOARD
Thursday, 9/3
Saturday, 9/5