LSU Tigers:

Tommy Moffitt
April, 18, 2014
4/18/14
9:00
AM ET
Editor's note: With LSU's spring practice now in the rearview mirror, this week we'll empty our notebook and cover a few topics that we weren't able to hit prior to the Tigers' spring game. On Friday we focus on a pair of tight ends who could be used in a hybrid receiver role this fall.
BATON ROUGE, La. -- If LSU's tight ends do in fact play an increased role as receivers this season,
DeSean Smith
is sure to play a vital role in the added workload.
He'll have plenty of company from a deep group of veterans at his position, but a newcomer with a similar skillset, freshman
Jacory Washington
, might become Smith's closest competition.
To learn why, take a look at snippets from their ESPN prospect evaluations:
On Smith, whom ESPN rated as the No. 141 overall prospect and No. 5 "H" tight end in the 2013 recruiting class: "Smith is a physically good-looking prospect. He is essentially a big wide receiver at the high school level and is at his best when he can play flexed out. ... What Smith does well, he can do really well, but he needs to keep developing to become a more well-rounded and versatile player at the position. At this stage, he has the tools to make some plays in the passing game and looks best suited for more of a spread attack."
[+] Enlarge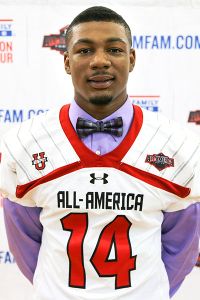 Courtesy of IntersportESPN 300 tight end Jacory Washington will compete with redshirt freshman DeSean Smith to be LSU's receiving tight end.
On Washington, whom ESPN rated as the No. 169 overall prospect and No. 5 "H" tight end of 2014: "Basically a big wide receiver at the high school level, but will likely transition more into the role of a tight end at the next level. Does need to continue to add size and further fill out his frame. ... Washington needs to keep filling out and improving in areas, but is a big target with good hands and is a tight end prospect who can offer some versatility and be a productive weapon for a passing attack."
Sounds fairly similar, right?
Smith anticipates that being the case once the freshman arrives with most of his fellow signees this summer.
"Me and Jacory, I think we're pretty much the same type of tight end," Smith said. "He did the same kinds of things that I did in high school and when he gets here, he's probably going to have to pack on a couple more pounds -- which I had to do the same thing -- and stay lean because he still needs to be able to run and keep his speed. I can't wait until he gets here so I can teach him everything that the veterans taught me."
Smith actually packed on too much weight before he arrived on campus last summer. Listed at 225 pounds as a prospect, Smith said he weighed 255 when he reached Baton Rouge -- and he said the added weight affected his mobility.
"I was able to move, but not as good as usual," Smith said. "But working with Coach [Tommy] Moffitt and my strength coach, I'm definitely much more lean than I've ever been in my life. I feel great, I'm eating right and just need to stay around 240. That's where they want me, so I'm staying there."
While Smith's story is a cautionary tale on how he can't overdo it, Washington definitely needs to add to the 215 pounds that LSU listed as his weight on signing day. LSU regularly has one or two tight ends on the field, but they must be able to function as blockers as well as receivers, so some extra bulk would come in handy.
Both players seem to have the receiving part down pat, however.
"I think I can be a big-time threat," Smith said after catching three passes for 45 yards, including a 19-yard touchdown pass from
Brandon Harris
, in LSU's spring game. "Being 6-5 over certain linebackers and going up for everything, I can make those big-time plays. And I just have to run crisp routes, have to give them a little something off the ball sometimes, and I think I'm able to do that."
LSU's coaches have certainly identified that potential from the two prospects, as Smith's working at a slot receiver position at points during the spring seems to indicate. Offensive coordinator Cam Cameron's scheme has historically utilized tight ends in such a capacity, so perhaps Smith and Washington will continue that tradition.
"We've used them in the past and I think that any time that you have a position that is used to block and he can also receive the ball, it makes a tremendous difference in your attack," LSU coach Les Miles said. "And it's another quality receiver. I think both DeSean Smith and Jacory Washington will be guys that we'll use in the fall."
March, 11, 2014
3/11/14
9:00
AM ET
BATON ROUGE, La. --
Anthony Jennings
and
Brandon Harris
were both supposed to roll right before attempting a pass during a drill at LSU's practice on Monday, but Harris ran right up Jennings' back and disrupted his timing enough to prevent him from even making a throw.
Jennings' frustration quickly evaporated into empathy, however, because it was only a year ago that he was doing the exact same thing to Zach Mettenberger.
"That's fine with me," Jennings chuckled after practice, the Tigers' second team workout of the spring. "I did the same thing to Zach, so Zach was in the same predicament. I guess I'm like the veteran of the quarterbacks [now]. That's hard to say coming in when I guess I'm a sophomore now. But I know how it is. You're not going to be perfect right when you arrive on campus. You're working to start. It's all fun; it's all fine. I'm just ready to get him going and teach him everything that I know -- and I'm still learning, too."
[+] Enlarge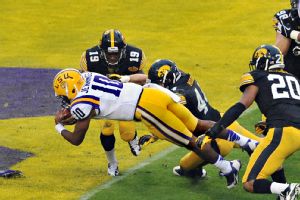 Al Messerschmidt/Getty ImagesSophomore Anthony Jennings is looking to jump into being LSU's starting quarterback, but he'll be challenged by Hayden Rettig and Brandon Harris.
Jennings put himself on the map as an early enrollee last spring, eventually claiming the Tigers' backup quarterback job as a true freshman and starting the Outback Bowl in place of injured senior Mettenberger. Harris is on campus as an early enrollee not only in an attempt to learn Cam Cameron's offense prior to preseason camp, but to try to win the starting job.
Understandably, Harris still has plenty of work to do on that front. He's only been on campus for two months after all. He doesn't possess a veteran's understanding of the offense or a feel for the personnel around him yet. And that's enough to rattle anyone's confidence -- even a player whom every recruiting service ranked among the nation's top dual-threat prospects for 2014.
The constant theme that everyone seems to be reinforcing to the freshman is positivity. Even when Cameron would chastise Harris for reflexively clapping after misfiring on a pass Monday, he'd give his young quarterback a fist-bump moments later in an attempt to encourage him.
"It's definitely going to benefit him," said receiver
John Diarse
, who is in line to start as a redshirt freshman after enrolling early a year ago. "I've been trying to talk to him here and there whenever I get an opportunity, just stay encouraging, stay upbeat because everybody can't do it and apparently you have your opportunity because somebody believes you can do it. So just believe in yourself, stay confident and like [strength and conditioning coach Tommy] Moffitt tells us every day, practice positive self-talk and just believe that you can do it and take your time with it.
"Don't try to be in a rush, don't worry so much about the media or just the pressure around you. Just focus on yourself and what you can do."
The media probably won't be an issue for Harris. As a freshman, he is off limits to reporters until further notice. His plate is full enough in simply adapting to college life and trying to decipher LSU's offense -- much less compete against Jennings and redshirt freshman
Hayden Rettig
.
But with nearly six months remaining until the Tigers' opener against Wisconsin, nobody is winning the quarterback job now.
"The older guys obviously know cadence, and there's some comfort there," LSU coach Les Miles said. "We want to allow a quality competitive environment for Brandon Harris and the other quarterbacks, so we have to bring Brandon to speed, just a comfort of the offense, and then let's have at it. Let's see who's best."
For now, Jennings wants to prove that he's more like the player who came off the bench to lead the game-winning touchdown drive against Arkansas than the one who struggled in his first start, the bowl win over Iowa where he completed just 7 of 19 pass attempts for 82 yards and an interception.
"I don't think that game was one of my best games. If it was, I don't think I would be starting," Jennings said, later adding, "I watched [film of the Iowa game] so many times, I don't think you'd believe it."
Jennings and Rettig were both in Harris' position a year ago, so while they both have the advantage of a year in Cameron's system, nobody has a decided experience advantage -- particularly now that senior
Rob Bolden
has shifted to receiver in an attempt to earn some playing time.
Everyone in the quarterback room has plenty to prove, which is why Jennings said he has been spending six days a week at LSU's football building in an attempt to learn as much as possible from his offensive coordinator.
It should be a competition where knowledge of the offense and daily consistency become enormously important factors as the coaches weigh their options at the position. Jennings is in the lead for now, but he knows -- and Miles guaranteed on Saturday -- that the starting privilege against Wisconsin is "going to be given to no one, earned by the one that plays."
"[Harris and Rettig] wouldn't be here if they couldn't play on this level," Jennings said. "They're going -- just like I am -- to try to progress every day. Brandon's throwing the ball well, still has a lot of things to learn in the offense, but I was in the same predicament last year. Hayden's just learning along with me. He's throwing the ball well, he's speaking, he's vocal. So we're all trying to get better as spring goes along, and I think they're progressing rapidly."
February, 5, 2013
2/05/13
8:00
AM ET
GeauxTigerNation took your questions via Twitter, Facebook and email for DeSean Smith, the ESPN 150 tight end who will sign with LSU on Wednesday.
Here's a little background: Smith, a 6-foot-5 hybrid tight end, played in a wide-open passing offense at Lake Charles (La.) Barbe. Smith, and Barbe, put up big numbers and he impressed with his length, speed for his size and remarkable hands.
Here are your questions and the answers from a "hungry and humble" Smith:
December, 31, 2012
12/31/12
4:55
PM ET
LAKE BUENA VISTA, Fla. -- Although it's doubtful LSU coach Les Miles and his staff wanted a list of players who were missing team workouts made public, it doesn't appear it will have a negative effect with any of the Tigers' targets.
To continue reading this article you must be an Insider
December, 26, 2012
12/26/12
8:00
AM ET
To gear up for 2013 national signing day, GeauxTigerNation's Gary Laney will break down every commitment in the Tigers' 2013 recruiting class.
Vitals:
Offensive tackle
Ethan Pocic
, Lemont, Ill./Lemont, 6-foot-6, 285 pounds
[+] Enlarge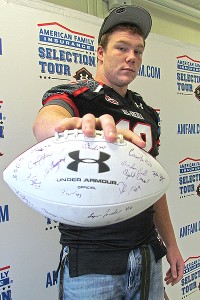 Zach Perry/Intersport Ethan Pocic might have an immediate impact for LSU.
ESPN Grade:
84 (4-star prospect)
To continue reading this article you must be an Insider
Recapping Florida Opening Regionals
SEC SCOREBOARD
Thursday, 9/3
Saturday, 9/5