LSU Tigers:

Tigers-Gators-100612
October, 6, 2012
10/06/12
10:26
PM ET
GAINESVILLE, Fla. – The 41-11 beatdown LSU gave Florida last season took quite the emotional toll on the Gators -- especially the defense.
The Gators were gutted by LSU's ground attack, giving up 238 rushing yards. They looked overmatched, overwhelmed and listless in Baton Rouge, La.
Angry probably isn't the best word to describe how Florida's defense felt, but depressed and humiliated are good starts.
That debilitating pain was something this team didn't want to go through again. It wanted that pain to be transferred over to LSU when the Tigers ventured into the Swamp on Saturday. The Gators wanted LSU to feel what they felt last year … and then some.
"We wanted to come in this game and win, but more, we wanted to come and hurt them," defensive lineman
Dominique Easley
said after No. 10 Florida's
14-6 victory
over fourth-ranked LSU. "We wanted them to feel the pain that we felt last year. We had hurt in our heart and we wanted them to feel the pain that we had."
And for the better part of 60 minutes, Florida's defense pounded LSU, allowing just two field goals, 200 yards and 42 rushing yards. LSU averaged just 1.7 yards per carry and mustered just 12 rushing yards in the second half. The best part of LSU's offense was terminated from the start, and it was all downhill from there.
Say what you will about how poorly quarterback
Zach Mettenberger
played or how banged-up and bewildered LSU's offensive line was, but Florida's defense manhandled LSU. The team that tops the physical charts was outplayed and outmuscled by the Gators. And Florida's defense was the reason for a lot of LSU's offensive ineptitude.
[+] Enlarge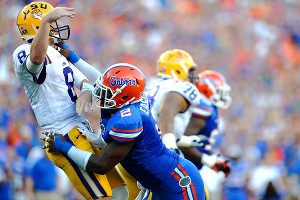 Jake Roth/US PresswireDominique Easley, one of the SEC's most disruptive linemen, might just be Florida's best player and replacing him will be no easy task.
The Gators brought the pressure to Mettenberger, gobbling him up for four sacks and smacking him around all day. When he did throw, Florida's man coverage proved too much, and Mettenberger's confidence looked shaken with all those blue shirts swarming around him, as he completed just 44 percent of his passes.
This unit looked gassed at times last season, but was a total juggernaut Saturday. The Gators flew around on defense, and there was no slowing the Gators down when LSU had the ball.
No play exemplified that more than the game-changing fumble forced by
Matt Elam
late in the third quarter, right after Florida made it 7-6. LSU beat Florida's defense with a double move that completely took cornerback
Marcus Roberson
out of the play, leaving a wide-open
Odell Beckham Jr.
To complicate matters for the Gators, Elam took a bad angle on Mettenberger's pass as he connected with Beckham down Florida's right sideline for a 56-yard play. But Elam kept chugging after Beckham and eventually stripped him of the ball.
Florida's recovery sucked every ounce of life out of LSU.
"Them boys were huffing and puffing," Easley said. "I was looking into people's eyes and they were scared. We wanted to take somebody's will. Not just win the game, take their will, make them remember this night."
Added defensive tackle
Sharrif Floyd
: "We knew that they were banged up and we knew that they were tired and we wasn't taking our foot off the gas."
Florida then drove 77 yards for a touchdown to put the game away.
But that wasn't all the defense had. It made the stop of the season for the Gators when it forced LSU to kick a field goal late in the first half after the Tigers recovered a
Jeff Driskel
fumble at Florida's 7-yard line. LSU gained 3 yards, took two timeouts and settled for three points on a drive that might have buried Florida if the Tigers went up 10.
Florida's defense constantly bailed the offense out, even with all the great field position it gave the offense. Five of LSU's last six drives in the first half were three-and-outs, and LSU's offense crossed into Florida territory just once in the second half … to the 49.
As Gators coach Will Muschamp put it, this defense has the capability to adjust better than it could last season because it's smarter, tougher and deeper.
With Florida's offense stumbling along for most of the game, its defense kept the Gators going with its smothering play.
"Without those guys, we wouldn't be celebrating this," offensive lineman
James Wilson
said. "The defense is amazing."
The offense is worrisome at times, but that defense could keep everyone in Gainesville happy. The offense might not be pretty, but that defense sure is, and it's mean. That's the demeanor it had Saturday, and that's what it intends to be from here on out.
"Defense wins championships, offense wins games," Elam said.
"It's another step to Atlanta and that's our goal. I feel like the sky's the limit from here."
October, 6, 2012
10/06/12
9:21
PM ET
GAINESVILLE, Fla. -- In LSU's last three games against SEC opponents, the Tigers have one touchdown.
That came on
Michael Ford
's 1-yard run in LSU's 12-10 win over Auburn. Other than that, LSU was shutout by Alabama 21-0 in last season's BCS championship game and held to two field goals by Florida in Saturday's 14-6 loss.
In the three games, LSU has 643 yards, an average of 214.3 yards a game.
Conversely, in the four nonconference games in between those games, the Tigers scored 183 points, but that was against North Texas, Washington, Idaho and Towson.
October, 6, 2012
10/06/12
9:16
PM ET
GAINESVILLE, Fla. -- Had LSU linebacker
Kevin Minter
not started cramping in the second half of LSU's 14-6 loss to Florida Saturday, he probably would have broken a school record for tackles.
Minter finished with 20 tackles, one short of the school record set 30 years ago by Al Richardson against South Carolina.
[+] Enlarge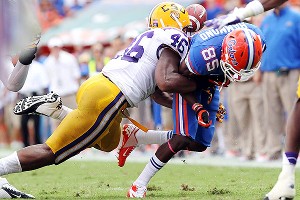 Kim Klement/US PresswireLinebacker Kevin Minter led the Tigers with 20 tackles against Florida.
Asked if he realized how many tackles he was getting, Minter said, "Not really. I was just doing what I could to help my teammates."
He did plenty. Among his tackles were three for loss, including back-to-back sacks of Florida quarterback
Jeff Driskel
in the second quarter. He also forced a fumble from UF's
Frankie Hammond
that killed a Gators first-half drive.
"He played his butt off," LSU coach Les Miles said.
When he was out, it hurt the Tigers. Both Florida drives came after Minter went to the locker room because of cramping issues. One touchdown was scored without Minter on the field. On the second, the drive started without him, then he returned and UF finished the drive.
It's rare for a Tiger to have a singularly dominant game like Minter had. The Tigers usually use a lot of players, and Minter had just 34 tackles entering the night, a number still good enough to lead the team.
October, 6, 2012
10/06/12
7:25
PM ET
It had to be surreal for LSU coach Les Miles to see the events that unfolded Saturday in Ben Hill Griffin Stadium. That No. 10 Florida upset Miles' No. 4 Tigers,
14-6
, wasn't a huge surprise. What was shocking was the way the Gators did it: They beat the Tigers at their own game.


Florida attempted a measly 12 passes for 61 yards and scored only 14 points, forgoing the high-flying offense that has long defined Gators football for a smashmouth, powerful running game and a hard-hitting, opportunistic defense. The Gators looked overwhelmed by LSU for much of the early going but overcame a 6-0 first-half deficit to roar back and make a statement in the SEC pecking order.
Here's how it played out in front of a sold-out Swamp:
It was over when:
Just like in the Sept. 8 win against Texas A&M, Florida quarterback
Jeff Driskel
rolled out on third-and-3 and picked up a crucial first down with his feet in the game's dying minutes. Driskel managed just six yards as opposed to his 21-yard run against the Aggies, but it was enough to kill three minutes off the clock and end LSU's chances of a game-winning drive.
Game ball:
Florida running back
Mike Gillislee
. Stop if this sounds familiar: The senior got stronger as the game went on, tallying an absurd 34 carries for 146 yards and both Gators touchdowns. Gillislee had a hard time running against a stout LSU defensive front in the first half, but he kept pounding and wore the Tigers down. He averaged 4.3 yards per carry.
Game ball, part II:
LSU linebacker
Kevin Minter
. The junior was a one-man wrecking crew on the Tigers' defense, smashing his way to 20 total tackles, two sacks and a forced fumble. It's not a coincidence that Florida pounded its way to its first touchdown of the game while Minter was briefly out injured.
Key stat:
Take your pick from several telling ones. LSU notched just eight first downs -- three of which were earned via a Florida penalty. A big reason for that was the Tigers' atrocious performance on third down, a horrendous 1-for-13. Meanwhile, the Gators' halftime adjustments were almost breathtaking in comparison. Florida went into the break with 49 yards of total offense and finished the game with 237 yards -- 176 of those coming on the ground. Florida won the possession battle 37:17 to 22:43.
Perhaps the craziest stat of all: After shutting out the Tigers after halftime, Florida has outscored its six opponents 78-13 in the second half this season.
Key play:
It looked as if the Tigers had grabbed hold of the momentum when, trailing 7-6 in the third quarter, LSU quarterback
Zach Mettenberger
found wide receiver
Odell Beckham Jr.
open for a 56-yard gain to the Florida 23-yard line. What looked like a huge gain for LSU quickly turned into a momentum swing for Florida, though, as safety
Matt Elam
stripped the ball and recovered it at the Florida 21. What followed was an 11-play, 77-yard Gators touchdown drive to grab the game-winning 14-6 margin.
What it means:
With either Georgia or South Carolina guaranteed to lose tonight, Florida controls its destiny in the SEC East. The Gators leave Florida only one more time this season, which has to make them a contender for the division championship. The Tigers' offensive struggles were concerning while they were still winning games, but the ineptitude on display in Gainesville has to be sounding some panic alarms. LSU still has games against South Carolina, Alabama and Mississippi State -- all of which boast equally stout defenses. That said, one loss won't sink the Tigers if they can handle their business the rest of the way.
October, 6, 2012
10/06/12
5:31
PM ET
GAINESVILLE, Fla. -- If you want pretty, maybe you should stop watching LSU.


In a defensive slugfest at the Swamp, LSU took a 6-0 lead over Florida to halftime, thanks to a
Drew Alleman
's field goals of 31 and 22 yards.
It's a game with more combined quarterback sacks (7) than points. It's college football's counterbalance to last week's West Virginia-Baylor game.
Stat of the half:
0, the number of first downs by LSU after its first possession.
Crippled by offensive line injuries and smothered by a much-improved Florida defense, LSU could nothing going on offense, with 17 yards after its first possession and 81 in the half. The Tigers' first possession was a nice, 10-play, 64-yard drive for the 31-yard field goal. After that, LSU was stuck in neutral.
Player of the half:
LSU LB
Kevin Minter
had back-to-back sacks, then stripped
Frankie Hammond
, a fumble recovered by
Kwon Alexander
, killing UF's best first-half drive.
Minter had his back-to-back sacks of
Jeff Driskel
unblocked early in the second quarter.
What's working for LSU:
The defensive line for LSU continued to apply pressure to Driskel with five first-half sacks, one forcing a field goal, the other setting up a field goal
The line had three of the five sacks. The other two were aided by UF's preoccupation with blocking the front four.
UF had 47 first-half yards, including a 50-yard drive. Aside from that, the Gators were going backwards. Driskel was sacked just before halftime by
Bennie Logan
. It was recovered by
Barkevious Mingo
to set up Alleman's second field goal.
What's not working for LSU:
Not much on offense. Quarterback
Zach Mettenberger
has been sacked three times and the Tigers have struggled to get much going on the running game. After an initial 10-play, 64-yard drive for a field goal, LSU went six straight possessions without a first down.
The offense finished the half with two freshmen,
Vadal Alexander
and
Trai Turner
, playing on the right side of the offensive line after an injury knocked starting right guard
Josh Williford
out for the game.
October, 4, 2012
10/04/12
11:00
AM ET
Watching film of last year's LSU game must be traumatizing for Florida's defense.
All the Gators will notice is the constant pounding LSU's run game put on it. All those defenders were good for was getting pushed around and making each of LSU's running backs look like a Heisman candidate.
That film is probably burning in a trash heap this very moment. And that's perfectly acceptable when you consider the Gators surrendered 238 rushing yards to the Tigers last season.
For as much push as Florida tried to give LSU up front, the Tigers doubled that intensity, constantly knocking the Gators back as they cruised to a 41-14 win at Tiger Stadium.
[+] Enlarge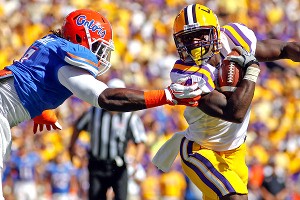 Derick E. Hingle/US PresswireThe Tigers gashed the Gators defense for 238 yards on the ground in last year's meeting.
If the Gators are going to pull off the upset in the Swamp this weekend, the rush defense has to be infinitely better, and it's tangling with basically the same backfield that wore it out last year. LSU's multiback system is alive and pounding, as the Tigers are second in the SEC in rushing, averaging 229.6 yards per game and 5.3 yards per carry.
"They're a team that really likes to run the ball and grind down a team and win the game in the third and fourth quarter," Florida linebacker
Jon Bostic
said.
"We have to come out and make plays, too. We can't just let them come out and run the ball down our throats."
And that's exactly what happened to the Gators last year in October. In back-to-back weeks against the league's strongest running teams in Alabama and LSU, the Gators gave up a combined 464 yards and allowed both teams to run for more than 4 yards per carry.
It's obvious that toughness in the trenches was lacking. As the Gators enter the first weekend in October, they are light-years ahead of last year's squad in the toughness department. The blue-collar approach Will Muschamp wants from his defense is finally starting to come together, and that will go a long way against LSU.
"Toughness is everything," defensive tackle
Sharrif Floyd
said of stopping the run. "You have to have toughness, smartness and discipline. We're working on all of it. Toughness is a big factor when the run game is involved."
Florida is allowing a little less than 120 rushing yards a game and just 3.8 yards per carry, but the Gators have yet to play a team as physical and as deep in the run game.
LSU can throw four backs out on any given drive. There's the quick bruiser in
Kenny Hilliard
, the speedy
Michael Ford
, the pounding
Spencer Ware
and the dynamic
Jeremy Hill
, who has yet to really be unleashed this year. Also, the Tigers have a certified battering ram in 272-pound fullback
J.C. Copeland
.
All five are averaging more than 4 yards per carry, with Hilliard leading the group with 6.9 yards per rush.
"We have guys who can run fast and run hard. It's hard for defenses to prepare for," said Ford, who has 224 yards, but is averaging 5.9 yards per carry.
"Even our defense, it's kind of hard because they always get a different look."
Fresh legs against huffing, puffing defenders is never a fair fight, and that's why the Gators found themselves on defense for the majority of the second half in last season's game. Florida's defense couldn't get off the field on third downs, and you can't win games like that.
"That's just an important storyline in this game -- winning on third down -- because this is a team that knows how to run it, and if they can possess the ball and continue to convert on third downs, it's a hard day," Florida defensive coordinator Dan Quinn said.
The good news for Florida is that opponents have converted on third downs just 29 percent of the time this fall.
Part of Muschamp's plan against the rush is to add defensive backs to the box and control the perimeter. He's also harping on gap control.
But to Bostic, positioning isn't everything. The mental side will be just as important and he wants players to have more composure and be more restrained this time. Overzealous play in pursuit could be detrimental against this running game, so patience is key.
"A lot of guys will get antsy and want to go make a play," he said. "You've got to let the big plays come to you."
LSU will go right at them ... again and again.
Haskins, McElwain Shine At IMG Regional
SEC SCOREBOARD
Thursday, 9/3
Saturday, 9/5