January, 9, 2013
Jan 9
9:00
AM ET
Well, Nick Saban and his gang of future NFL ballers proved to us once again that it is indeed Alabama's world, after claiming their second consecutive national title and third in four years Monday night. That ringing in your ears is just the sound of "Roll Tide" being repeated over and over in your head. I've learned there's nothing we can do about it.
But will 2013 bring college football a team that can really stop the Tide? I mean, REALLY stop Alabama from winning a third straight national championship? Well, ESPN's Mark Schlabach seems to believe that the road to Pasadena is paved in crimson and white, as he has Alabama No. 1 in his Way-Too-Early-Top 25 for 2013.
It's hard to blame him at this point. Sure, Alabama's offensive line won't be nearly as good with Barrett Jones and Chance Warmack leaving. And it will take even more of a hit if/when D.J. Fluker decides to turn pro. But with quarterback AJ McCarron, running back T.J. Yeldon (we're assuming Eddie Lacy and his sweet spin move are headed to the NFL), wide receiver Amari Cooper and a host of studs on the defense returning, Alabama will again be the team to beat.
[+] Enlarge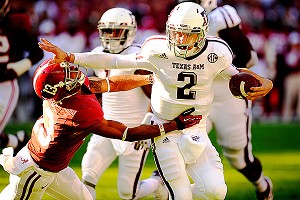 John David Mercer-USA Today SportsJohnny Manziel and Texas A&M, ranked fifth by Mark Schlabach, host way-too-early No. 1 Alabama on Sept. 14 in the SEC opener for both teams.
Oh, and a not-so-tretcherous schedule won't hurt the Tide's chances either.
But there are some quality teams in the SEC that will fight to dethrone Alabama, and Schlabach has four in his top 10. Texas A&M, which returns the Heisman-winning Johnny Football, ranks fifth, Georgia is sixth, South Carolina is seventh and Florida is 10th. The thing about all those teams is that they all return their starting quarterbacks, with Georgia's Aaron Murray being one of the best in the country alongside Johnny Manziel.
South Carolina will be one of the more balanced teams in the SEC next fall, and if Florida can actually find a passing game in 2013, watch out because that defense will still be fierce, even with a few junior defections.
LSU, checking in at No. 13, is the only other SEC team in Schlabach's top 25. The Tigers are expected to have a better offense, especially with Zach Mettenberger finally finding his comfort zone under center, but a poor offensive showing in the Chick-fil-A Bowl defeat to Clemson and the loss of junior running backs Michael Ford and Spencer Ware create an uneasy feeling around the offense. Plus, the defense just took a beating as a result of juniors departing for the NFL, especially up front. All-American punter Brad Wing also left.
The good news for LSU is that running back Jeremy Hill is returning, and he'll only be a sophomore.
It's a good list to start off with, but where in the world is Vanderbilt? The Commodores are coming off of a historic season in Nashville. There were nine wins that included a bowl victory, five conference wins and a seven-game winning streak. The quarterback and running back spots might be up for grabs, but Jordan Matthews is coming back, along with fellow receiver Chris Boyd. And most of the rest of the offense remains intact.
The defense will lose a lot up front, but linebacker Archibald Barnes and cornerback Trey Wilson are the only other significant losses.
There was room for Vandy in there somewhere ...
January, 9, 2013
Jan 9
8:00
AM ET
BATON ROUGE, La. -- Around the nation, and to those who follow LSU from an arm's length, the news that trickled out from Nicholson Drive in the last week was alarming.
The Tigers lost nine, count them,
nine
underclassmen to the NFL draft over the weekend, leaving the defense in a rebuilding mode and their deep stable of running backs an injury away from being dangerously thin.
It was called a mass exodus. Best we can tell, it set the record for the number of underclassmen leaving one school early for the NFL. Before they left, LSU figured to have 10 defensive starters back. After the early exits, it was down to four.
But understand this: It didn't shock those close to the program.
To continue reading this article you must be an Insider
November, 5, 2012
11/05/12
9:36
AM ET
BATON ROUGE, La. -- Our weekly look at LSU's top 10 performers this season up to this point:
1. LB Kevin Minter:
The junior kept up a prolific tackling season with seven more against Alabama, giving him 82 tackles to go with his fifth pass broken up.
2. DE Sam Montgomery:
Flexing his big-play muscle, Montgomery got his fifth sack and 10th tackle for loss of the season against Alabama. Both are team highs. He added his first fumble recovery of the season.
To continue reading this article you must be an Insider
November, 4, 2012
11/04/12
4:47
PM ET
There was nothing pretty about it. Set the final drive aside and LSU was the better team on Saturday night in Death Valley. For 58 minutes, Alabama didn't play like the No. 1 team in the country. The turnaround came in the nick of time -- about two minutes for those counting at home.
But
AJ McCarron
's masterful drive down the field for the game-winning touchdown can't overshadow all. It can't overshadow the litany of three-and-outs on offense, the missed tackles on defense and the poor execution all around.
"I don't think we played our best game" coach Nick Saban said. "I think (LSU) played an outstanding game."
To continue reading this article you must be an Insider
November, 4, 2012
11/04/12
3:08
AM ET
BATON ROUGE, La. -- Alabama coach Nick Saban isn't sure he has ever been prouder of a football team.
Saban's senior center,
Barrett Jones
, isn't sure he has ever seen his coach happier after a football game.
"He gave me a big, old bear hug," Jones beamed. "This is one we'll all remember forever."
As well they should.
Alabama's thrilling come-from-behind
21-17 victory
over LSU on Saturday night answered emphatically what everybody around college football has wanted to know about the Crimson Tide.
How would they respond when they finally found themselves in a close game and with their backs to the wall?
After all, Alabama (9-0, 6-0 SEC) had trailed for all of 15 seconds this season, and nobody had come within 19 points of the Crimson Tide. They'd won their previous eight games by an average margin of 32.5 points.
"We knew a game like this was coming somewhere along the way, and we were going to be ready for it," Alabama senior safety
Robert Lester
said. "We pride ourselves on being ready for any situation, and tonight we created another part of our identity.
"We showed the world that we can overcome hard situations."
It certainly wasn't Alabama's best game. Not even close, really. The Crimson Tide looked like they might be on the verge of putting the game away late in the third quarter, but freshman running back
T.J. Yeldon
lost the handle on a handoff and fumbled at the LSU 10.
Not only that, but junior quarterback
AJ McCarron
missed his first five passes to start the second half, and Alabama's normally suffocating defense was on its way to giving up 435 yards in total offense, the most the Crimson Tide have allowed since Saban's first season in 2007, when they gave up 475 yards to LSU in a 41-34 loss.
"I don't feel like we could have played any worse in the second half. We were just sloppy," Jones said. "But we never panicked."
Instead, the Crimson Tide demonstrated why they're the No. 1 team in the country and why they've won 22 of their past 23 games dating back to the end of the 2010 season.
Tiger Stadium was so loud that it was literally quaking after LSU took a 17-14 lead early in the fourth quarter and seized all the momentum.
Alabama got the ball back on its own 28 with 1:34 to play and no timeouts remaining.
As the Tide players huddled, Jones looked at his teammates and said, "Guys, we have a chance to make history right here. Who wants to make history?"
Sure enough, McCarron completed four of his next five passes, and five plays later, Yeldon was celebrating in the LSU end zone after a 28-yard touchdown catch on a perfectly executed screen pass.
"A lot of things didn't happen right, and a lot of things were out of character for us," Jones said. "But we made plays when we had to."
Saban knew what his team was in for, and he also knew that LSU would find a way to make it a four-quarter game.
[+] Enlarge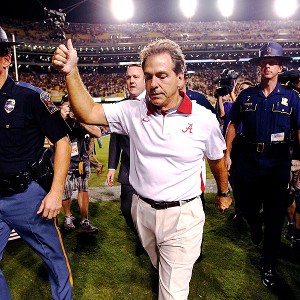 AP Photo/Gerald Herbert"I've never been prouder of a bunch of guys to overcome adversity," Alabama's Nick Saban said.
And while he won't be happy when he watches the tape and sees the missed tackles and some of the other mistakes that plagued his team, Saban will also be reminded of a couple of similar performances in 2009, when Alabama didn't play its best football and still found ways to win against both Auburn and Tennessee en route to the Tide's first national championship under Saban.
In just about every championship season, there are going to be games where you don't play your best, but you find a way to win.
Saban's message to his team at halftime was simple.
"I told our guys that we're going to have to keep fighting in this game and keep punching until we knock them out," Saban said.
It was LSU, though, that did most of the punching coming out of the break and rallied from a 14-3 deficit. Alabama went three-and-out on its first two possessions, which set the tone for the Tigers to climb back into the game.
"We told our players, and it's kind of ironic, that we would have to overcome a lot of adversity to win a game here," said Saban, who's won eight of his past nine games against nationally ranked teams.
"And when things went bad and the momentum of the game changed, that's what we kept talking to them about. They kept their poise, and they kept playing and they kept competing. I've never been prouder of a bunch of guys to overcome adversity."
When you play for Saban, it's never wise to get caught up in reflection during the course of the season. In his world, there are no rearview mirrors.
But Jones did allow himself one brief moment of reflection before leaving the field late Saturday night in Tiger Stadium.
"It was surreal being a part of this game," Jones said. "One day I'll be watching [TV] and the greatest games ever played, and this one will be on there."
The Tide hope their great escape is only a prelude to something bigger and better, like a third national championship in the past four years.
And maybe even another bear hug for Jones.
November, 4, 2012
11/04/12
12:19
AM ET
Top-ranked Alabama (9-0, 6-0) and No. 5 LSU (7-2, 3-2) saved the best for Game 3. It came right down to the final drive, as Alabama squeaked out its
21-17 win
with a 28-yard screen play from quarterback
AJ McCarron
to running back
T.J. Yeldon
with 51 seconds remaining.
After struggling mightily for most of the second half, McCarron connected on four of his final five passes for 72 yards and that touchdown.


While McCarron played his best at the end, LSU quarterback
Zach Mettenberger
played the best game of his career, completing 24 of 35 passes for a career-high 298 yards and a touchdown with no interceptions.
LSU actually outgained Alabama 435 yards to 331.
Alabama is clearly in the driver's seat for a trip to Atlanta for the SEC title game, but it also controls its destiny for the Discover BCS National Championship in Miami.
It was over when:
McCarron and Yeldon orchestrated a beautiful screen call that went 28 yards for a touchdown to make it 21-17 with 51 seconds left. LSU got the ball back, but Mettenberger was sacked on the third play of the drive as time ran out.
Game ball goes to:
Outside of that costly fumble that led to LSU's final scoring drive, Yeldon was a beast for the Tide. He scored the game-winning touchdown and finished with 76 yards on 11 carries. He averaged 6.9 yards per carry and had a long of 23 yards.
Stat of the game:
LSU did a very good job of extending drives against Alabama's vaunted defense, converting 10 of 20 third downs, while Alabama converted just 1 of 9 third downs.
Stat of the game II:
McCarron completed 4 of 5 pass attempts on Alabama's final drive for 72 yards and a touchdown. Before that, he completed 1 of 7 second-half passes.
Second-guessing:
LSU fullback
J.C. Copeland
's penalty took away all the momentum the Tigers gained from
Jeremy Hill
's 19-yard run to Alabama's 13-yard line. He foolishly knocked an Alabama player to the ground after the play was over and well away from where the play ended. It pushed the Tigers back, and they eventually failed to execute a fake field goal that took crucial points off the board.
Second-guessing II:
Les Miles' decision to go for a fake field goal on a 47-yard attempt and then actually go for a 54-yarder in the second quarter will haunt him. Both decisions didn't work out, and that left the Tigers without a crucial second score before halftime. Alabama drove down the field 63 yards and scored a touchdown to make it 14-3 after
Drew Alleman
's 54-yard miss. Miles also decided to go for it on fourth-and-1 at Alabama's 24 with just under 9 minutes left and LSU leading 17-14.
What it means for Alabama:
The SEC title is still in sight and so is the national championship. A win over Texas A&M next week and Alabama is guaranteed a trip to Atlanta for the first time since 2009. If Alabama wins out, it will play for its second national title in as many years.
What it means for LSU:
The Tigers' BCS national title hopes are all but gone, but there's still some hope in Baton Rouge that LSU can still sneak into the Sugar Bowl. If the Tigers win out, they could still be in position to play in New Orleans in January. This was also a big step for Mettenberger, who came into the game as one of the SEC's most scrutinized quarterbacks but grew tremendously against the nation's No. 1 defense.
August, 27, 2012
8/27/12
10:30
AM ET
We all know that there is more to football than just big dudes smashing into each other.
Sure, they provide most of the entertainment, but you can't have a college football season without some fearless predictions to start the year off with. Yes, us media folk are allowed a little fun and some of the attention.
Last year, fellow SEC blogger Chris Low and I split our predictions up, as we came up with 10 each that can be viewed
here
and
here
. This year, we're cleaning things up and creating just one list of 10 SEC predictions for the 2012 season.

We both had are share of hits and misses last year. I only got one of my 10 predictions correct when I said that Chris Rainey would score touchdowns three different ways. I crossed that off Week 1. Some I missed on were predicting that the Heisman trophy would stay in the SEC, Brandon Bolden finally getting 1,000 rushing yards,
Zach Mettenberger
having more touchdowns than Jarrett Lee and the SEC sending 10 teams bowling.
I was pretty close with my prediction that Morris Claiborne would lead the SEC in interceptions and Tyrann Mathieu would lead in defensive touchdowns. Claiborne was third with six, while Mathieu finished with four total touchdowns with two being defensive.
However, Chris showed his veteran ability and hit on seven of his 10. He really is a showoff. But he did whiff on
Spencer Ware
rushing for 1,200 yards. Ware only got 707 yards.
Enough of the walk down memory lane, here are our 10 fearless predictions for 2012:
August, 21, 2012
8/21/12
1:00
PM ET
Now that Edward has unveiled his freshmen of influence in the East this season, I'll take my shot at those first-year players who will make the biggest impacts in the West.

Remember, we're picking only true freshmen.
Here goes:
Amari Cooper, WR, Alabama:
One of the key questions for Alabama heading into the season was who would emerge as the big-play threat in the Crimson Tide's passing game. Enter Cooper, who's drawn rave reviews from coach Nick Saban and several of Cooper's veteran teammates. Even though a foot injury has hampered the 6-foot-1, 198-pound Cooper in recent days, he's given the defending national champions confidence that they won't be lacking when they decide to throw the football in 2012.
De'Vante Harris, CB, Texas A&M:
The Aggies were able to pry Harris away from Oklahoma during the recruiting process, and it's a good thing. He might very well be starting in the Texas A&M defensive backfield from Day 1. In fact, one of the first players Texas A&M coach Kevin Sumlin mentioned following last weekend's scrimmage was Harris, who's been hard to miss this preseason. He's played like a veteran, challenges the receivers and has kept his mistakes to a minimum.
I'Tavius Mathers, RB, Ole Miss:
Nagging injuries have limited junior running back
Jeff Scott
this preseason, which has provided a big opportunity for Mathers. Needless to say, he's taken that opportunity and run with it. So has fellow freshman running back
Jaylen Walton
. Mathers, who's right around 200 pounds, has shown the power and strength to get the tough yards, but he also has breakaway speed. He ripped off a 58-yard touchdown run in last weekend's scrimmage.
Jalen Mills, CB, LSU:
He's not the biggest guy or the fastest guy, but Mills is a fierce competitor and an excellent tackler. Sound familiar? OK, it's way too premature to compare him to Tyrann Mathieu, but Mills has been mighty impressive during preseason camp with his instincts and nose for the ball. With Mathieu gone, Mills worked with the first-team defense last Saturday during the scrimmage and is pushing to be a fixture in the Tigers' secondary rotation this season.
T.J. Yeldon, RB, Alabama:
After enrolling early, Yeldon burst onto the scene this spring and had 91 yards receiving and 88 yards rushing in the A-Day spring game. He had the play of the game on a 50-yard touchdown reception and has picked up where he left off this preseason. The Crimson Tide aren't short on talent at running back, but Yeldon is the kind of playmaker that demands touches. He's explosive as a runner and also makes things happen after the catch. Saban will see to it that Yeldon is a big part of the offense.
August, 8, 2012
8/08/12
7:17
AM ET
In a conference with seven members ranked in the top 25, it's a given LSU is going to run into some playmakers in its bid for conference supremacy this fall.
With that in mind, here's a look at five offensive game changers LSU fans should be excited (and maybe a bit nervous) about facing.
1.
Keith Price
,
Washington QB:
Tiger fans are going to get a good look at their revamped secondary early on in the 2012 campaign, when the Huskies visit Sept. 8.
To continue reading this article you must be an Insider