LSU Tigers:

South Carolina Gamecocks
May, 28, 2013
5/28/13
11:00
AM ET
LSU coach Les Miles doesn't have a problem playing eight SEC opponents every season.
Miles also realizes the Tigers could play nine SEC games in the very near future.
Miles just doesn't think it's fair that LSU has to play Florida every season, while other teams in the SEC West don't.
[+] Enlarge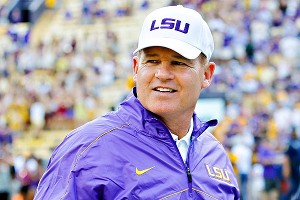 Derick E. Hingle/US PresswireUnder the current SEC scheduling format, Les Miles and LSU play Florida every season.
As SEC presidents, athletics directors and coaches convene this week for the league's annual spring meetings in Destin, Fla., long-term scheduling has become the hot-button issue.
The league is expected to vote whether to change its current 6-1-1 format, in which teams play each opponent from their respective division, along with one rotating foe and one permanent opponent from the opposite division. SEC officials could vote this week to add a ninth conference game or at least eliminate permanent crossover opponents.
The SEC adopted its current scheduling format to ensure that longstanding rivalries like Alabama-Tennessee and Georgia-Auburn would survive expansion.
By drawing the Gators as a permanent crossover opponent, Miles believes the Tigers drew the short end of the stick.
Miles won't complain about the scheduling format publicly, but he knows LSU is at a disadvantage.
And Miles is probably right.
"When they give us our schedule, I'm looking forward to having a great competition," Miles said.
Since 2000, LSU has played Florida and Georgia -- two of the SEC East's best programs -- a total of 17 times. Auburn is the only SEC West team which has faced those teams more often, playing them 19 times. Arkansas, Mississippi State and Ole Miss have faced them a total of 10 times each, while Alabama has played them only eight times.
While it's not fair that LSU has faced the Bulldogs and Gators nearly twice as often as Alabama has played them since 2000, Miles' argument might fall on deaf ears. Auburn and Georgia aren't going to surrender the longtime series -- the Deep South's Oldest Rivalry has been played 116 times since 1892. Likewise, Alabama and Tennessee have played 95 times since 1901, a game so revered it's named for its traditional place on the calendar, the Third Saturday in October.
And Ole Miss would probably rather play Vanderbilt every season instead of Florida, Georgia or South Carolina, and Mississippi State isn't going pass up a chance to play Kentucky every year.
"There's never going to be a fair way," said Texas A&M coach Kevin Sumlin, whose Aggies drew Missouri as a permanent crossover opponent. "If you look back seven or eight years ago, you would have said the SEC East was the strongest division. You can't say what's fair, because things change in this league. You can't look at tradition. Ten years ago, you might have wanted to play South Carolina. Now you don't want anything to do with them. You don't know what Tennessee is going to do with a new coach. I know Butch Jones is going to do a great job."
Florida-LSU has become one of the league's most anticipated games every season. They've been two of the league's most dominant teams over the past decade. They've combined to appear in seven SEC championship games since 2003, and they've combined to play in nine BCS bowl games, including five BCS national championship games. In their past 10 meetings, LSU and Florida were both ranked in the top 25 of the coaches' poll nine times. Conversely, Alabama and Tennessee were both ranked only once in their past 10 meetings.
The loser of the Florida-LSU regular-season game has paid dearly over the past 10 seasons. LSU's 23-10 loss at Florida in 2006 knocked the Tigers out of the SEC championship game (the Gators defeated Arkansas 38-28 and then blasted Ohio State 41-14 to win the BCS title). Last year, LSU's 14-6 loss at Florida probably cost it a spot in the AT&T Cotton Bowl, if not another trip to a BCS bowl game.
Florida's losses to LSU in 2002, '05 and '07 kept them out of the SEC championship game and potentially BCS bowl games.
October, 14, 2012
10/14/12
10:52
AM ET
BATON ROUGE, La. -- What we liked and didn't like from LSU in Saturday's 23-21 win over South Carolina:
Three Up

1. Offensive line
: Few expected LSU's patchwork offensive line to hold up against a defense like South Carolina's. Not only did the line of (from LT-to-RT)
Josh Dworazczyk
,
La'El Collins
,
P.J. Lonergan
,
Trai Turner
and
Vadal Alexander
hold up, they opened holes for a running game that averaged 4.9 yards a carry (led by 124 yards for freshman
Jeremy Hill
) while quarterback
Zach Mettenberger
stayed clean, sacked just once.
October, 13, 2012
10/13/12
9:43
PM ET
BATON ROUGE, La. -- LSU dominated the first half of the showdown with No. 3 South Carolina Saturday, but had a 7-3 deficit to show for it.


A 2-yard pass from
Connor Shaw
to
Ace Sanders
for a touchdown, set up by a 70-yard interception return of a
Zach Mettenberger
pass by
Jimmy Legree
was enough to give South Carolina the lead despite having half the first downs and (5 to LSU's 10) and less than half the yards (69 to LSU's 179).
LSU, usually a team that excels at special teams, had a missed field goal and a shanked punt.
Stat of the half:
7-for-10. A week after the Tigers failed to convert on 12 of 13 third downs in a 14-6 loss at Florida, the Tigers converted 7 of 10 third downs and consistently moved the chains, holding the ball for 17:25.
Player of the half:
Legree, who jumped a slant pass and returned it inside the LSU 1 to change a game that was dominated by the Tigers.
What's working for LSU:
The makeshift offensive line. With two starters out, the Tigers still controlled the clock, piecing together 10 first downs, 87 yards rushing and 178 total yards.
Trai Turner
got his first start for the Tigers at right guard for
Josh Williford
.
Josh Dworaczyk
started at LT for
Alex Hurst
.
What's not working for LSU:
Mettenberger's interception spoiled an otherwise decent half (7-for-14, 91 yards). The Tigers' special teams was off.
Drew Alleman
shanked a 33-yard field goal attempt (he did make a 23-yard attempt for the Tigers' only points) and
Brad Wing
shanked his only punt attempt for 10 yards. The Tigers were good at moving the chains, but all three times they failed to convert a third-down conversion, they were in South Carolina territory, twice in the red zone.
October, 10, 2012
10/10/12
1:32
PM ET
With both LSU and South Carolina possession fearsome pass rushes, the theme for LSU's Les Miles and South Carolina's Steve Spurrier Wednesday morning seemed to be more on how they will be marginalized this week when they meet. With both teams leaning on the run, perhaps this won't be the best showcase for pass-rushers like South Carolina's
Jadaveon Clowney
and LSU's
Sam Montgomery
.

1. Low impact?:
Asked about the possible impact of the two teams' star defensive ends, Spurrier said "If there isn't a lot of passing going on, those pass rushers aren't going to get to show off their skills." In last week's 35-7 win over Georgia, South Carolina only threw 10 passes. Spurrier noted that "LSU doesn't throw it a whole lot" either.
2. Cut, then run:
Spurrier said his desire is to get the ball into the hands of running back
Marcus Lattimore
"as much as possible," but added that he doesn't want to overuse the star running back, who has more carries (116) than any other SEC back and is sixth in yards per game (549 in six games). But Lattimore's presence is a big reason why quarterback
Connor Shaw
has been an effective runner, often using fakes to Lattimore in Shaw's cut/read option run game.
"[Shaw] has good feet and makes good decisions," Miles said. "He's not going to stay in the pocket any length of time."
3. Get it fixed:
Miles said getting LSU's struggling offense moving was his "day job."
"It's the thought process you have when you wake up and go to bed," Miles said. "The players realize nobody's going to get this corrected but us."
LSU's offense has scored one touchdown in its last three games against SEC teams.
October, 8, 2012
10/08/12
5:00
PM ET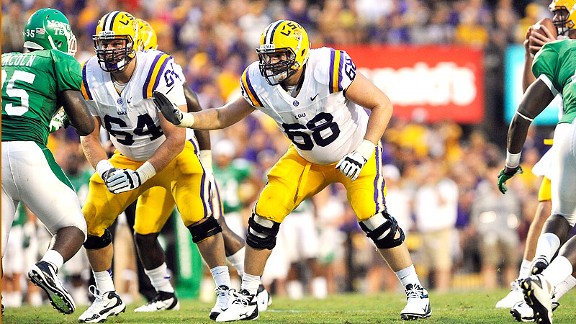 Steve Franz/Louisiana State University/Getty ImagesWith Josh Williford being perhaps the third LSU OL starter to be knocked out of action, Josh Dworaczyk might get another crack at the starting lineup this weekend against South Carolina.
BATON ROUGE, La. -- LSU, a team that has become increasingly dependent on freshmen, lost arguably its best one Saturday against Florida and might call on another to make his first start this weekend against South Carolina.
Tigers coach Les Miles said Monday linebacker
Kwon Alexander
, who had started the last two games, is
likely out for the season
with a foot injury suffered in the 14-6 loss to the Gators. Also questionable for this weekend's game against No. 3 South Carolina at Tiger Stadium is right offensive guard
Josh Williford
, who Miles said was "nicked" after suffering an apparent head injury against the Gators.
They are the latest in what has been a rash of injuries and attrition for No. 9 LSU, which has lost five starters, likely for the season, since August camp.
"Our football team is going through some change," Miles acknowledged Monday. "We need to play better in a number of ways."
While Williford might play, his potential loss for the South Carolina game could have a huge impact. The junior has been one of the better players on an offensive line that has, in general, struggled in the Tigers' 5-1 start. The Tiger are going up against a Gamecocks defense that is third in the league in total defense (278 yards per game) and leads the SEC in sacks (25, eight more than the next team).
August, 24, 2012
8/24/12
7:00
AM ET
GeauxTigerNation writers Gary Laney and David Helman get you ready for the season with a daily breakdown throughout August of what LSU is facing in the fall, from its opponents, to its road trips to who it's recruiting. Today, David Helman previews LSU matchup against South Carolina with Neil White of GoGamecocks.com.
Q: South Carolina coach Steve Spurrier has expressed a lot of confidence in quarterback Connor Shaw this offseason. What's the vibe around the Gamecocks' starter's abilities?
Both Spurrier and quarterbacks coach G.A. Mangus -- raved isn't the right word -- but they've really been happy with what he has done in camp. He was thrown into the fire last year after Stephen Garcia was kicked off the team, but he's got a better grasp of the playbook and better confidence in himself. He'll also have running back Marcus Lattimore in the backfield, so that's really going to help.
To continue reading this article you must be an Insider
Haskins, McElwain Shine At IMG Regional
SEC SCOREBOARD
Thursday, 9/3
Saturday, 9/5