May, 7, 2014
5/07/14
9:00
AM ET
BATON ROUGE, La. –
As we detailed Tuesday
, LSU offensive coordinator Cam Cameron's NFL background played a role in the emergence of several Tigers as top draft prospects. Cameron knows how to coach talented players to perform at the pro level, and he knows what it looks like when said players possess legitimate NFL potential.
Cameron predicted recently that many of LSU's offensive draft prospects possess the potential to hang around the league for a long time after being selected in this week's NFL draft. Here are some thoughts about those ex-Tigers straight from the horse's mouth – the horse in this case being a coach who spent more than a decade in the NFL as an offensive coordinator and head coach before joining Les Miles' LSU staff last year.
[+] Enlarge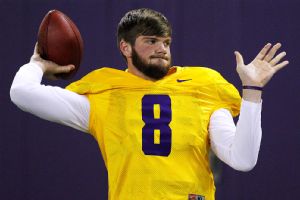 AP Photo/Jonathan BachmanCam Cameron has effusive praise for the passing ability of Zach Mettenberger.
QB Zach Mettenberger
Perhaps the greatest testimony to Cameron's impact on the LSU offense was Mettenberger's improvement in his final fall as the Tigers' starting quarterback. He had long possessed the raw tools to become a success – most notably prototypical size (he's 6-foot-5) and a strong throwing arm – but he didn't put it all together until working with Cameron.
Cameron coached NFL quarterbacks Drew Brees, Philip Rivers and Joe Flacco, and he indicated that Mettenberger has the skills to become a pro starter himself.
"You're looking for innate accuracy, a guy who can just throw the ball accurately and make it look easy. A guy who's not mechanical, a guy who just is a natural thrower and the ball goes where it's supposed to go," Cameron said. "Once you've been around great quarterbacks, you know what it feels like and you know kind of what it looks like, but it has a certain feel to it. What you [saw at LSU's pro day was] a guy throw a football like the great quarterbacks in the National Football League."
RB Jeremy Hill
Hill is another Tiger who, like Mettenberger, dealt with off-the-field issues before working with Cameron. But Cameron vouched for Hill's character, saying, "I think we all, every one of us, make mistakes. May make a mistake or two. I have no issues with Jeremy Hill. He's been a great kid since I've been here. In my dealings with him, he's where he's supposed to be when he's supposed to be there."
As far as on-the-field possibilities, there isn't much to question when it comes to Hill. He rushed for 1,401 yards and 16 touchdowns last season and set an SEC record for a back with at least 200 rushing attempts by averaging 6.9 yards per carry.
Hill's versatility and intelligence inflate his value even further.
"Really look at backs in the league. Go count how many can play on first down, second down and third down, third-down-and-short and inside the 3-yard line. You're not going to find many," Cameron said.
"He's an every-down back and he's an ascending player and he's off-the-charts smart. He is LaDainian Tomlinson-smart and LaDainian is a lot like Darren Sproles, Ray Rice – it's a who's who of guys that were great players in our system and the one thing that they all had that most people didn't know is how smart they were, football smart they were. He's just a young smart, but I think he'll be a brilliant player in the National Football League."
WR Odell Beckham
Beckham will probably be the first Tiger selected in the draft –
ESPN's Todd McShay has him going 13th overall to St. Louis
in his newest mock draft – thanks to his explosive skills as a receiver and return man.
That ability existed before Cameron's arrival, but Beckham made big strides at receiver in 2013, improving from 713 receiving yards in 2012 to 1,152 last season. Cameron credited LSU receivers coach Adam Henry, another former NFL assistant, for teaching Beckham and
Jarvis Landry
how to attack the ball as pass catchers.
"Adam Henry does a tremendous job teaching our guys how to run into the football," Cameron said. "Of course, guys who have great hands aren't cushioning the ball into their body. They just come attack the ball. And those two are the best college receivers I've been around at attacking the football, which you have to do in the NFL."
WR Jarvis Landry
Landry received plenty of love from draft analysts for his strong all-around game – as a blocker, reliable receiver and route-runner – that should translate well to the pros.
After a disappointing result running the 40-yard dash at the NFL combine, Landry helped his cause a bit by running a 4.58-second 40 at LSU's pro day. But straight-line speed is not the only kind of quickness required to play in the NFL, particularly at receiver.
"If you can't win in the first 5 yards, if you don't have short-area quickness, you're not going to last in that league because corners aren't going to play off of you," Cameron said. "And the one thing he's got … He's got NFL explosion, NFL quickness. You've got to win those first 5 yards because now they're going to get their hands off of you."
OL Trai Turner
Turner surprised some when he announced that he would turn pro after an All-SEC redshirt sophomore season. But the Tigers' former right guard has generated positive buzz since the season ended and could come off the board in the draft's early rounds, a possible outcome again strengthened by versatility.
"He has guard-center value," Cameron said. "Most people don't know that about him: If he has to play center, he could play center, because you have to. You only dress seven linemen in the National Football League on Sundays, so you've got to have a guy who can play guard and center. At least one, if not all your guards have to play center. So I think his versatility's critical."
March, 8, 2013
3/08/13
10:00
AM ET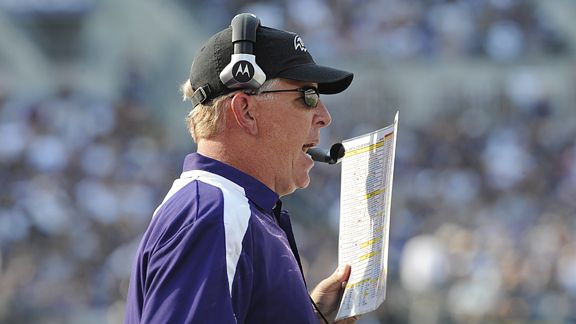 Al Messerschmidt/Getty ImagesCam Cameron's NFL experience is likely to help the LSU Tigers.
As LSU prepares to begin spring practice March 14, GeauxTigerNation will take daily looks at aspects of the spring camp. This is the fifth in the series:
BATON ROUGE, La. -- With LSU bringing in a new offensive coordinator in Cam Cameron, the question is, how will it affect the offense?
Over the years, Tigers teams under Les Miles have had strikingly similar offensive identities. The power running game has been a staple. The downfield passing game has usually been there. Since defensive coordinator John Chavis brought a dominant defense to town in 2009, the willingness to play conservatively and exchange field position with superior special teams has been part of the identity.
With Cameron and his Air Coryell background things might be tweaked. Cameron made his name as the offensive guru of the San Diego Chargers and the Baltimore Ravens and served as head coach of the Miami Dolphins and Indiana University.
Here are some common threads that might continue to be traits of his offense at LSU:
Haskins, McElwain Shine At IMG Regional
SEC SCOREBOARD
Thursday, 9/3
Saturday, 9/5