June, 4, 2012
6/04/12
12:29
AM ET
BATON ROUGE, La. – LSU closer Nick Goody slumped before the Baton Rouge regional, but in two shutout innings in two days, the right-hander had fantastic stuff.

He struck out the side in the 10th inning in Sunday's 6-5, 10-inning win over Oregon State for his 11th save of the season, setting up the Beavers hitters with hard fastballs, then finishing them off with nasty sliders on all three third strikes.

"He was electric," said Oregon State closer Scott Schultz, who was pretty good in his own right in 8 2/3 innings of splendid relief work for OSU in the loss. "He spotted his fast ball and his slider was pretty good. But he spotted his fastball, just like a major leaguer."


May, 31, 2012
5/31/12
6:22
AM ET
On Monday, LSU might be playing to continue its baseball season.

But its most notable player will also be getting his name called on the first day of Baseball's First-Year Player Draft.

Kevin Gausman, the LSU right-hander who will pitch Saturday, is likely to be among the first picks, if not the first pick, when the draft starts Monday.

"Hopefully, we'll all be together Monday night to watch it, but for a positive reason," LSU coach Paul Mainieri said Thursday after his team held a brief practice before Friday's start of the NCAA Baton Rouge Regional.


May, 30, 2012
5/30/12
9:46
AM ET
As far as bang for your buck, Raph Rhymes has to be the best deal in college baseball.

He is the best player in the mighty Southeastern Conference, at least in the eyes of the league's coaches who named him SEC Player of the Year on Tuesday.

He's also the nation's leading hitter, at .459, 29 points better than the second-best hitter.

And what does this cost LSU?

This season, nothing.


May, 12, 2012
5/12/12
11:54
PM ET
All of a sudden, LSU looks a bit vulnerable. Raph Rhymes is slumping, Ty Ross is out and the Tigers dropped a 6-3 game to Vanderbilt in the second game of an SEC series Saturday. No. 4 LSU (39-12, 17-9) dropped to second place in the SEC after Kentucky swept Alabama in Saturday doubleheader, moving a half-game ahead. The Tigers are tied with South Carolina, which also dropped out of first place, losing in extra innings to Georgia.

Overview: LSU hit into four double plays and left nine runners on base as four Vanderbilt pitchers, led by starter Sam Selman (8-3), combined to slow down the Tigers bats just enough.

Offensively, Vandy (25-25, 12-14) knocked LSU starter Aaron Nola (6-3) for nine hits and three runs, two earned, in 5 1/3 innings. Commodores three-hole hitter Anthony Gomez went 4-for-5, scoring twice and driving in two runs to spearhead a 12-hit Vanderbilt attack.
May, 11, 2012
5/11/12
10:42
PM ET
No. 4 LSU stayed in first place in the SEC Friday thanks to the arm of ace pitcher Kevin Gausman. The big right-hander pitched a five-hitter, out-pitching Vanderbilt's T.J. Pecoraro 2-1 in the first game of the three-game SEC series. LSU (39-11, 17-8) stayed in first place in the SEC with five games to go and clinched at least a share of the SEC West.
Overview:
Gausman (8-1) was the story, showing the form that has made him ESPN scout Keith Law's top college prospect in the June draft while throwing his first complete game of the season. Gausman struck out 11, walked just one and would have thrown a shutout if not for one bad play. He failed to touch first base taking the flip on Mike Yastrzemski's ground ball to first base in the third inning. That allowed the Commodores (24-25, 11-14) to score their only run of the night.
LSU also managed just five hits against Pecoraro (0-4), but the Tigers got two runs in the second inning and that was enough to move the Tigers within a win of a 40-win season.
To continue reading this article you must be an Insider
May, 9, 2012
5/09/12
10:47
AM ET
BATON ROUGE -- In the world of college baseball, gaudy statistics are common.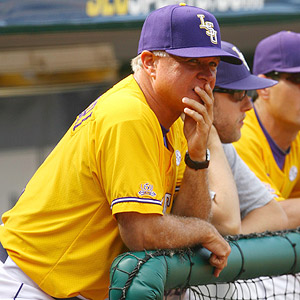 Marvin Gentry/US PresswireLSU head coach Paul Mainieri has seen a lot through the years, but never a .500 hitter in a regular season.
With so much talent spread across such a wide talent pool, it's not unusual to see jaw-dropping stats. For instance, there are 15 batters in the country hitting above .400 and 50 hitting .379 or better. A whopping 41 college pitchers have an ERA of 1.99 or lower, and the nation's best ERA is an astounding 0.63.
None of that knowledge, however, can diminish the absurd tear that LSU left fielder Raph Rhymes finds himself on going into the last week of the season.
With seven regular season games to play, Rhymes is leading not just the Tigers, but the SEC and the entire country with an unbelievable .500 batting average -- 54 points higher than his nearest competitor.
"Somebody asked me the other day, 'What does he have to do to hit .500?' and I said , 'How should I know? I've never seen anybody hit .500' " said LSU coach Paul Mainieri. "If I were to tell you what it takes to hit .500, I'd be fooling you. Because I don't know -- I've never seen anybody do it."
April, 20, 2012
4/20/12
10:09
PM ET
Austin Nola's two-run, two-out double in the fifth inning gave No. 4 LSU the winning runs as the Tigers won their eighth straight game, beating No. 3 Kentucky, 5-4 Friday at Kentucky.
With the win, LSU (32-7) takes sole possession of first place in the SEC at 12-4. LSU continues to lead the Western Division while Kentucky (33-6, 11-5) leads the East. Many also look at the series as a 1 vs. 2 matchup because LSU and Kentucky are ranked 1 and 2, respectively, in the Collegiate Baseball poll.
Close the Door:
LSU ace Kevin Gausman (7-1) didn't have his sharpest outing, getting touched for 10 hits and four earned runs in seven innings, while striking out 11.
To continue reading this article you must be an Insider
March, 31, 2012
3/31/12
11:35
PM ET
Ty Ross' one-out, RBI single in the bottom of the ninth inning plated Mason Katz with the winning run, giving No. 14 LSU a 2-1 win Saturday over No. 3 Arkansas. The Tigers also have the series win and a chance at a huge, and mildly surprising sweep of Arkansas (22-5, 5-3) with a win in Sunday's 1 p.m. finale.
Overview:
LSU's hitters faced quite a gauntlet Saturday. First, it was SEC earned run average leader Ryne Stanek, with his 6-0 record and 1.25 ERA. Then, in the eighth inning, it was the Razorbacks' top reliever, closer Barrett Astin, with his 2-0 record and 0.39 ERA. But LSU pitchers Ryan Eades and Chris Cotton (3-0) matched them pitch-for-pitch and LSU (21-6, 5-3) managed to scratch a winning run in the ninth when Mason Katz led off with a single to left-center field, went to second on Raph Rhymes' ground ball to short, then after and intentional walk, Ross lined a single that one-hopped right-fielder Sam Bates as Katz rounded third and scored.
Turning point:
It was a tight game throughout, but when Cotton (3-0) got LSU out of a one-on, one-out situation in the eighth, LSU's bullpen got the stop it needed to better what Arkansas would eventually get from Astin (2-1), who entered the day second in the SEC with six saves.
To continue reading this article you must be an Insider
Haskins, McElwain Shine At IMG Regional
SEC SCOREBOARD
Thursday, 9/3
Saturday, 9/5