LSU Tigers:

Patrick Towles
August, 31, 2014
8/31/14
1:10
AM ET
Wow, what a first weekend of football around the SEC. And it's not over yet, since Tennessee-Utah State will wrap up the weekend on Sunday.
For now, though, let's recap some of what we've learned so far about the SEC of 2014.
[+] Enlarge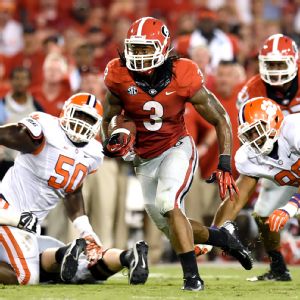 Dale Zanine/USA TODAY SportsTodd Gurley and Georgia made a loud statement with their 45-21 trouncing of Clemson on Saturday.
The league looks wide open:
If we learned anything over the last couple of days, it's that both of these division races will be wide open. It started when Eastern Division favorite South Carolina laid an egg against Texas A&M on Thursday, but several of Saturday's games only solidified the point.
Alabama -- particularly its reconstructed secondary -- had all sorts of problems against West Virginia and its vaunted passing game. Defending league champ Auburn remains an offensive juggernaut, but its defense got manhandled at times early by an improving Arkansas offense. And LSU was on the verge of getting blown out early in the second half before a fake punt gave the Tigers some life, helping them rally from a 24-7 deficit to beat Wisconsin 28-24.
With Texas A&M and Georgia also making statements with impressive wins in their season debuts, it's evident that nobody has a cakewalk to reach Atlanta. The preseason favorites all have questions to answer, and there are several candidates to rise from the middle of the pack to challenge them.
Heisman hopefuls make moves:
Texas A&M quarterback
Kenny Hill
wasn't the only SEC player to jump into the Heisman Trophy conversation. Hill's school-record 511 passing yards and three touchdowns on 44-for-60 passing had to go down as one of the most impressive starting debuts in recent memory. But he had company among SEC offensive standouts.
Todd Gurley
broke Rodney Hampton's Georgia record with 293 all-purpose yards against Clemson -- 198 on the ground and 100 more on a kickoff return for a touchdown (he lost five yards receiving). Between his running and a dominant second half from Jeremy Pruitt's defense, the Bulldogs were able to bury Clemson 45-21.
Cameron Artis-Payne
ran for 122 yards in the second half against Arkansas and finished with 26 carries for 177 yards and a touchdown as Auburn held the Razorbacks scoreless in the second half to put away a 45-21 win.
Quarterback races progress:
Hill made as emphatic a statement as possible about his status as Texas A&M's starting quarterback after winning a preseason battle. But some of the league's other QB races remain, well, unclear.
Blake Sims
(24-33, 250 yards, INT, plus 42 rushing yards) did a fine job in taking nearly every snap in Alabama's win over West Virginia. And
Patrick Towles
(20-29, 377 yards, TD, plus a 23-yard rushing score) was outstanding in Kentucky's rout of overmatched Tennessee-Martin.
But then a couple of QB battles don't seem resolved at all. LSU's
Anthony Jennings
played most of the game against Wisconsin, but the Tigers' offense struggled mightily before closing with a flourish. He finished 9-for-21 for 238 yards and two touchdowns. However, freshman
Brandon Harris
looked lost during the one series he was in the game, so he doesn't appear to be a better option right now.
Vanderbilt also faces a bit of a quandary at the position.
Stephen Rivers
(12-25, 186 yards, INT),
Patton Robinette
(4-6, 38 yards) and
Johnny McCrary
(0-3, 2 INTs) all played, but nothing went right for the Commodores in a 37-7 loss to Temple.
We'll see how Tennessee's
Justin Worley
fares on Sunday night after winning the Volunteers' preseason QB battle.
Bad teams are better:
Arkansas and Kentucky -- two teams that went winless in SEC play a season ago -- made it clear that they will be tougher in 2014.
It's difficult to know what to make of Kentucky's 59-14 win over UT-Martin. We probably shouldn't read too much into a blowout against a middling FCS program, after all. And yet the Wildcats showed off some impressive new weapons.
How about Nebraska transfer
Braylon Heard
taking his only two carries for touchdowns of 73 and 43 yards? And Towles connecting with 10 different receivers? It was an impressive debut to be sure.
Even in a losing effort, Arkansas' physicality had to be what Razorbacks fans wanted to see from a club that lost nine straight games to close out the 2013 season. They pushed Auburn around for a portion of the game and were still thinking upset until Auburn's
Jermaine Whitehead
made it a two-touchdown game by returning a deflected pass for a score with 2:39 left in the third quarter.
Auburn really can pass:
We heard all offseason that Auburn would put the ball in the air more frequently this season, and it looks like the Tigers have the pieces in place to do that.
Junior college transfer
D'haquille Williams
was outstanding in his Auburn debut, catching nine passes for 154 yards and a touchdown, while
Nick Marshall
and
Jeremy Johnson
combined to throw for 293 yards and a pair of scores. The ground game is still the Tigers' calling card (Auburn rushed for 302 yards), but they're going to be even tougher to defend if they keep throwing like this.
April, 29, 2014
4/29/14
12:00
PM ET
Football has taken a back seat this week to the storms that have ravaged parts of the Southeast, but in case you missed anything, here's a look at the latest news and notes across the SEC.
April, 17, 2014
4/17/14
2:30
PM ET
Kentucky and Texas A&M both lost quarterbacks Wednesday, which means the race for their starting jobs is down to two.

Jalen Whitlow
is leaving Kentucky, and
Matt Joeckel
is leaving Texas A&M. Now, the reality might be that neither one of those guys was going to win the job. But in both cases, the Wildcats and Aggies are going to put a quarterback on the field in the fall who has very little experience.
They're hardly the only ones in that boat in the SEC.
Only three teams in the league are bringing back an established quarterback who started all or most of the season a year ago. Auburn returns
Nick Marshall
, while
Dak Prescott
is back at Mississippi State and
Bo Wallace
at Ole Miss. Fifth-year senior
Dylan Thompson
returns at South Carolina, but most of his work to this point has been coming off the bench in relief, although he did have the memorable performance against Clemson two years ago in a start when
Connor Shaw
was injured and couldn't play.
The bottom line: There aren't a ton of rock-solid quarterback situations in the SEC as we exit the spring.
Your homework assignment (the fans) is telling us who has the most precarious quarterback situation heading into the 2014 season. So go vote in our SportsNation poll, and we'll unveil the results in the next few days.
Obviously, the landscape can change pretty dramatically. Did anybody really know what Texas A&M had at quarterback with
Johnny Manziel
entering the 2012 season?
The five schools we've come up with as candidates all have some major question marks.
At Kentucky, sophomore
Patrick Towles
and true freshman
Drew Barker
are now battling it out. And at Texas A&M, it's down to a redshirt freshman (
Kenny Hill
) and a true freshman (
Kyle Allen
). Hill has already been in
trouble this offseason
, too.
Brandon Allen
is the guy at Arkansas, but struggled through an injury-marred season a year ago. The Hogs finished last in the SEC in passing offense.
True freshman
Brandon Harris
outplayed sophomore
Anthony Jennings
in LSU's spring game, so this summer and the preseason should be quite interesting on the Bayou.
And at Alabama, the Crimson Tide's starter for the 2014 season might well be attending classes at another school.
Jacob Coker
is transferring from Florida State and won't be on Alabama's campus until he graduates from FSU in May. Fifth-year senior
Blake Sims
has taken the lead this spring in the Tide's quarterback derby as he adjusts to Lane Kiffin's pro-style offense, but will have to hold off Coker. Whoever wins the job at Alabama will have very little, if any, meaningful game experience.
April, 4, 2014
4/04/14
10:00
AM ET
Brandon Allen
.
Nick Marshall
.
Bo Wallace
.
That's it. That's the list.
Only three quarterbacks who started double-digit games last season return to the SEC this fall, and one of them isn't even guaranteed to be a starter.
[+] Enlarge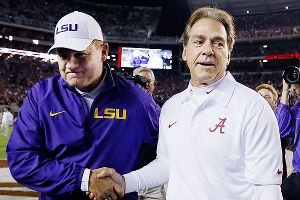 Kevin C. Cox/Getty ImagesLes Miles and Nick Saban are in no hurry to name their starting QBs for the fall.
Everywhere you turn in this league, there's a quarterback competition underway, from Alabama to Georgia, Arkansas to Kentucky, LSU to Texas A&M.
Maty Mauk
is surely the presumptive starter at Missouri, but even he's not a sure thing. Gary Pinkel says he wants competition, never mind that there were times when Mauk looked better than former starter
James Franklin
.
But not every coach in the SEC approaches the quarterback position the same way. A quick glance across the league shows a variety of opinions about how to pick a starter.
Mark Stoops is the most urgent-minded coach of the bunch, and given the inconsistency Kentucky had at quarterback last season, it's easy to understand why. Entering his second season, Stoops said: "I'd love to come out of spring with a clear-cut starter." That means everyone is in the mix.
Maxwell Smith
can't practice while he recovers from shoulder surgery, but
Jalen Whitlow
,
Reese Phillips
,
Patrick Towles
and even true freshman
Drew Barker
are in the hunt.
Barker, a four-star prospect according to ESPN, "has a very good opportunity to take control of it," Stoops said, praising his maturity for such a young quarterback.
"He's a guy [who] has high expectations [for] himself, and he's OK with the pressure that comes along with playing that position," Stoops said. "He's excited about the opportunity, and I'm excited to see what he can do."
Bret Bielema isn't outwardly putting a timetable on anything at Arkansas, but he's encouraging everyone to compete. Allen started 11 games last season but was up and down, with 13 touchdowns and 10 interceptions.
Bielema was about as no-nonsense as any coach gets about the situation.
"In theory, the first time we yell out for the [first string, Allen is] going to step out there," Bielema said before the start of spring practice. "But really, in our program, the competition brings the best out of people.
"So B.A. is going to be the first guy in with the ones, but there will be other guys who get opportunity," he continued. "Who is able to produce and run the offense effectively and who gives us the best chance to win next year's opener against Auburn will be at that position."
Similar to the case at Kentucky, Bielema isn't counting out his true freshman.
Rafe Peavey
, another highly-regarded four-star prospect, is going to be allowed to sink or swim. Bielema loves his talent and praised him as a "football junkie." But he's not pampering the rookie.
"It's no different between the right tackle or the quarterback or the safety," Bielema said. "It's all about what a freshman can handle, how they adjust to adversity and how they enjoy success.
"The quarterback gets a lot of attention. They're usually really pretty, really smart, and everybody likes them. But in reality, they're like everybody else. Those that play well will play and those that don't will sit."
While Bielema and Stoops are anxious for a battle, other coaches around the league are more inclined to sit back and wait.
[+] Enlarge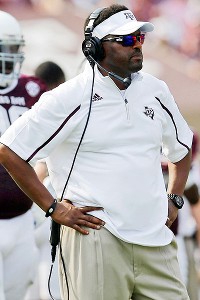 AP Photo/David J. PhillipWho will replace Johnny Manziel as Texas A&M's QB? Kevin Sumlin isn't saying anything right now.
LSU coach Les Miles said he has a good sense of the competition between
Anthony Jennings
and
Brandon Harris
. "But it always plays out," he said, harkening back to when Matt Flynn and JaMarcus Russell duked it out eight years ago. It looked like Flynn had the job in hand after winning a bowl game and watching Russell come into camp out of shape in 2006. But Flynn's body faltered down the stretch and Russell kept going, eventually winning the job.
"I want all the quarterbacks to know that it's going to be given to no one," Miles said. "[It's] earned by the one that plays."
Texas A&M and Alabama are taking similar approaches to replacing
Johnny Manziel
and
AJ McCarron
. In fact, both Kevin Sumlin and Nick Saban are somewhat defiant about holding the cards close to the vest.
Sumlin has gloated before that when people assumed
Jameill Showers
would beat out Manziel in 2013, "I didn't name a starter [after spring]; y'all did."
So while we watch
Matt Joeckel
,
Kenny Hill
and
Kyle Allen
jockey for position, don't expect a starter to be named until close to the season.
Saban, for his part, doesn't want to hear anything about it. His quarterback competition is essentially on hold until the fall, when Florida State transfer
Jacob Coker
arrives. Before the start of spring practice, Saban laid out his plan, saying, "Let me be very clear about this: We're not going to be in a hurry to decide who the quarterback is."
"You guys are going to ask me at least 1,000 times between now and the first game who's the first-team quarterback," he added, "and I'm telling you right now you're probably going to get a 1,000 'We're going to wait and see.' "
The only place in the SEC that doesn't have to be patient in the matter is South Carolina. Coach Steve Spurrier named
Dylan Thompson
the starter well before spring practice ever began.
Replacing
Connor Shaw
won't be easy, but Spurrier said that Thompson was the guy for the job, no question. A fifth-year senior with plenty of in-game experience, Spurrier didn't have a doubt in his mind.
"I didn't know there was any question about it," he said. "Someone said, 'You're just naming him the starting quarterback?' Well, I just said, 'Of course I am. Why wouldn't we?' "
Spurrier did it his way. Saban and Sumlin are doing it theirs. Stoops is anxious, and Bielema and Pinkel are only interested in the competition.
Recruiting a quarterback is the furthest thing from an exact science. Finding out who's ready to start is even more inexact.
This might be the season of new quarterbacks in the SEC, but everywhere there's a different sense of which way the wind blows.
October, 8, 2012
10/08/12
5:34
PM ET
There's movement all over as we check out the SEC power rankings for Week 7:
1. Alabama (5-0; LW: 1):
The Tide was off last week, so it didn't have a chance to widen its lead on the SEC and the rest of the country. The last thing Alabama's upcoming opponents want is a rested Tide team. I can only imagine the extra work Nick Saban put his team through in order to clean up all those little things.
2. South Carolina (6-0; LW: 4):
The Gamecocks completely dominated Georgia over the weekend. South Carolina's offense is extremely balanced and looks like it can just jump on
Marcus Lattimore
's shoulders at this point. He's just getting stronger and stronger. The defense is smothering up front and stopping that defensive line has been a nightmare for teams. But road games at LSU and Florida will be tough.
3. Florida (5-0; LW: 5):
The Gators might not have the most exciting offense, but that defense is tremendous. Florida put a load of pressure on LSU quarterback
Zach Mettenberger
over the weekend and clobbered the Tigers' running game. Behind
Mike Gillislee
, the Gators pounded LSU with their running game, but the passing game is still a concern. If Florida can get more through the air, this offense could start to really give defenses fits.
4. LSU (5-1; LW: 2):
It's obvious that the Tigers can't put everything on their defense. Even with how talented LSU is on the defensive side of the ball, the offense needs major work, especially in the passing game. Mettenberger hasn't come close to living up to the hype and just doesn't look comfortable standing in LSU's pocket. The running game was one of the SEC's best, but was quieted against Florida because there just wasn't the threat to pass. No offensive balance could doom this team.
5. Georgia (5-1; LW: 3):
The concern about the defense continues to grow after the Bulldogs' 28-point loss to the Gamecocks. USC was intent on running and Georgia couldn't do anything to stop it, allowing 232 rushing yards.
Jarvis Jones
has been a non-factor for the past two weeks and
Aaron Murray
's big-game struggles came right back in Columbia, S.C. The good news is the Bulldogs have the SEC East's easiest schedule from here on out.
6. Mississippi State (5-0; LW: 6):
These Bulldogs weren't flashy, but they were very efficient against Kentucky.
Tyler Russell
is one of seven FBS quarterbacks with 10-plus passing touchdowns and fewer than two interceptions this season, while
LaDarius Perkins
is the only player in the SEC to be in the top two in rushing yards per game (99.8) and all-purpose yards per game (130.0). That defense has been pretty stout as well, as the Bulldogs have trailed for just 10:19 this season.
7. Texas A&M (4-1; LW: 7):
Johnny Manziel
grabbed hero status in Oxford, Miss., over the weekend. The redshirt freshman quarterback led the Aggies to 13 straight points in the fourth quarter, after trailing Ole Miss by 10. He had a nifty 29-yard touchdown run to trim the Rebels' lead to four and then found
Ryan Swope
for the game-winning 20-yard touchdown pass with 1:46 remaining. What's more impressive is the Aggies got the win despite committing six turnovers.
8. Tennessee (3-2; LW: 8):
The Vols were off, but have a very important matchup with Mississippi State this weekend. We finally saw good balance out of the Vols against an SEC opponent in their shootout loss to Georgia two weeks ago, but most of the extra time Tennessee had better have been devoted to doing something about that defense. The Vols are 13th in the SEC in total defense (425.8 yards per game), and that just won't cut it if Tennessee is going to make any sort of second-half run.
9. Vanderbilt (2-3; LW: 12):
The Commodores got a big win on the road at Missouri. Like prior games, Vandy wasn't great when it had the ball, but it played tough for four quarters and outlasted a banged-up Mizzou team. The defense really has been impressive for most of the season, but the Commodores have to get more out of the offense.
10. Ole Miss (3-3; LW: 10):
After a heartbreaking loss to the Aggies, Ole Miss now has lost 16 straight SEC games. Blowing that 10-point lead in the fourth quarter probably will haunt this team all week. There's no doubt the Rebels can move the ball, but costly turnovers have doomed this offense. The defense has made strides since last season, but there's still too much break in this unit.
11. Arkansas (2-4; LW: 13):
Just when you think the Hogs are done, they find some strength and walk out of Auburn with a huge win over the struggling Tigers. Auburn has had a plethora of issues this season, but from a mental aspect, this was a big win for Arkansas' team. The Razorbacks aren't totally out of the bowl hunt now, but there's still a lot of ground for this team to make up. Finally holding an offense in check, forcing five turnovers and getting eight sacks is a good start.
12. Missouri (3-3; LW: 9):
This has not been the SEC welcome the Tigers expected. Mizzou has been banged up all year and pushed around by its SEC counterparts.
James Franklin
is out for a few weeks with a knee sprain.
Corbin Berkstresser
is now the starting quarterback, and he'd better get over his rough performance against Vandy, where he hit only 9 of his 30 passes. Things just get harder, as the Tigers host No. 1 Alabama Saturday.
13. Auburn (1-4; LW: 11):
Things just aren't working on the Plains. With an extra week to prepare for the SEC's worst defense, the Tigers mustered only 321 yards of offense against Arkansas and found the end zone once.
Kiehl Frazier
was benched for
Clint Moseley
at quarterback, but two fourth-quarter interceptions doomed Auburn. The offense just has too many issues right now, and the Tigers might have lost their chance at a postseason berth with Saturday's no-show.
14. Kentucky (1-5; LW: 14):
Injuries have crippled this team and things just aren't getting any better for the Wildcats. Kentucky was forced to play two freshmen at quarterback, and lost one (
Patrick Towles
) to an ankle injury, against Mississippi State. The Wildcats already were working without their starting running back. Things continue to heat up around Joker Phillips, whose team is hovering around the bottom of the SEC in most offensive and defensive categories.
October, 6, 2012
10/06/12
3:49
PM ET
Call it a trend at this point: None of Mississippi State's final scores are particularly impressive, but the Bulldogs keep winning games.
Mississippi State didn't score again after its first drive of the second half Saturday against Kentucky, but it was enough for a 27-14 win and the program's first 5-0 start since 1999. Given the cringe-worthy nature of Kentucky's first two SEC losses -- a 38-0 loss to Florida and a 38-17 loss to South Carolina -- you might expect more firepower from the Bulldogs.
Make no mistake, though -- this was a State-dominated affair for 60 full minutes, despite the closeness of the scoreline. The Bulldogs controlled the ball for 36 minutes and ground their way to 427 yards of offense, highlighted by a 23-of-39, 269-yard performance from quarterback
Tyler Russell
.
May, 18, 2012
5/18/12
3:14
PM ET
We're putting spring behind us and looking toward the fall with our post-spring power rankings:
1. LSU:
The Tigers had one of the best springs around. Things were quiet off the field, and the offense rallied behind quarterback
Zach Mettenberger
. Coach Les Miles was very impressed with Mettenberger's play and maturity, and expects LSU's offense to be more balanced with him under center. LSU can still use four or five running backs as well. Defensively, the Tigers are stacked once again, especially up front with two potential first-rounders in ends
Sam Montgomery
and
Barkevious Mingo
. Questions surround the inexperienced linebackers, but
Kevin Minter
had a tremendous spring in the middle. On paper, LSU is equipped with the talent to make another title run, and gets Alabama at home this year.
February, 6, 2012
2/06/12
12:14
PM ET
Now that national signing day is out of the way, we're going to take another look at our SEC power rankings.
You won't see any change really, but we have more confidence in some teams now than we did before:
1. Alabama:
The Crimson Tide hauled in the nation's No. 1 recruiting class last week and not only did Nick Saban sign a handful of top-rated players, but he met all of Alabama's major needs with the 2012 class. There are a few freshmen who could make early impacts in Tuscaloosa, including athlete
Eddie Williams
(Panama City, Fla./Arnold), and wide receivers
Chris Black
(Jacksonville, Fla./First Coast) and
Amari Cooper
(Miami, Fla./Miami Northwestern).

2. LSU:
The Tigers' class wasn't as highly rated as some recent ones, but Les Miles and his coaches brought in a solid group and there are a few defense players who might see some playing time early. Three starting linebackers need to be replaced and a few freshmen will get their chances. While LSU lost
Torshiro Davis
((Shreveport, La./Woodlawn) flipped to Texas, the Tigers brought in ESPNU 150 linebackers
Kwon Alexander
(Oxford, Ala.) and
Ronnie Feist
(Edgard, La./West Saint John).
3. Georgia:
The Bulldogs needed to get bigger up front and add a couple of playmaking linebackers. Georgia did just that with the handful of athletic defensive linemen signed and grabbed top outside linebacker
Josh Harvey
-Clemons (Valdosta, Ga./Lowndes), who should thrive in Todd Grantham's 3-4. Georgia's offense could be even better this fall with
Keith Marshall
(Raleigh, N.C./Millbrook) helping
Isaiah Crowell
, and the wide receiver depth returning.
4. South Carolina:
Talk about underrated. South Carolina didn't make much noise at all on national signing day, but the Gamecocks brought in a very balanced class and have a few players who should contribute early to a team that will yet again compete for the SEC East title. Two freshmen to keep an eye on in 2012 are wide receiver
Shaq Roland
(Lexington, S.C.) and safety
Chaz Elder
(College Park, Ga./Benjamin E. Banneker).
5. Arkansas:
It seemed like the Razorbacks were headed for a very strong finish to its 2012 recruiting class, but watched as top receiver
Dorial Green-Beckham
(Springfield, Mo./Hillcrest) and four-star offensive tackle
Jordan Diamond
(Chicago, Ill./Simeon) committed elsewhere. However, Arkansas is still waiting on top athlete
Davonte Neal
(Scottsdale, Ariz./Chaparral) and signed some pretty talented wide receivers to add to that high-flying offense. Defensive depth was a need and Arkansas added six defensive linemen and snatched Tennessee linebacker commit
Otha Peters
(Covington, La./Covington) late.
6. Auburn:
Before Auburn could complete its recruiting class, it had to find someone to run its offense. The Tigers lured Scot Loeffler away from Temple, getting a coach who knows a thing about teaching quarterbacks. Clint Moseley and
Kiehl Frazier
should be ecstatic. The loss of
Michael Dyer
hurts, but Auburn has a stable of running backs to work with and signed one of the best offensive line classes around. Also, athlete
Ricardo Louis
(Miami Beach, Fla/Miami Beach Senior) could be a real playmaker at wide receiver.
7. Florida:
Will Muschamp wanted his team to get tougher and he took a step in the right direction by hitting the line of scrimmage hard in his first full recruiting class. He also got a big back in
Matt Jones
(Seffner, Fla./Armwood) and having
D.J. Humphries
(Charlotte, N.C./Mallard Creek) in early should really help the offensive line. Florida is also waiting for a potential receiving threat in
Stefon Diggs
(Olney, Md./Our Lady of Good Counsel). Muschamp feels better about this team's attitude and expects a more resilient squad in 2012.
8. Missouri:
These Tigers could come in and frustrate some of its new SEC East family with the depth it returns. No one is quite sure if top running back Henry Josey will return in 2012 after a major knee injury, but the Tigers added a very complete back in
Morgan Steward
(Kansas City, Mo./Staley), who could compete for playing time early. But Missouri took home the biggest national signing day prize when Green-Beckham picked Missouri. Mizzou lacked a big-play receiving threat until now.
9. Tennessee:
There is a lot of talent returning in Knoxville and the Vols added some quality depth with its 2012 recruiting class. Tennessee took a hit when top inside linebacker
Dalton Santos
(Van, Texas) flipped to Texas and needed to add a big-time running back to help that offense, but grabbing junior college wide receiver Cordarrelle Paterson (Rock Hill, S.C./Hutchinson Community College) was big. He'll add to an already solid receiving tandem and could provide more leadership. Tyler Bray should have a fun offseason.
10. Texas A&M:
The Aggies lose a lot heading into their first season as a part of the SEC Western Division, but helped the future by signing a top-25 class. Running back
Trey Williams
(Houston, Texas/Andy Dekaney) could provide an early spark for the offense with
Cyrus Gray
leaving. The receivers got some needed help with the signing of No. 3 receiver
Thomas Johnson
of Dallas, and outside linebacker
Jordan Richmond
(Denton, Texas/Billy Ryan) should see early playing time as well.
11. Vanderbilt:
James Franklin
's first full class at Vanderbilt was a total success. He showed that he won't just compete on the field with the SEC big boys but he'll recruit with them too. He beat out a few bigger schools for ESPNU 150 athlete
Brian Kimbrow
(Memphis, Tenn./East) and the Commodores added a lot of bigger bodies up front and at linebacker. Vandy's veterans shouldn't have an issue mingling with this solid recruiting class.
12. Mississippi State:
The Bulldogs will head into the spring looking to jump start their offense. There is a lot of depth and three senior starters returning at wide receiver, but some oomph needs to return to this offense. It's officially Tyler Russell's time at QB and LaDarius Perkins and Nick Griffin could be a powerful one-two running back punch. Where Mississippi State really struck gold in recruiting was up front, where the Bulldogs added three top defensive linemen, including No. 13 tackle
Quay Evans
(Morton, Miss.).
13. Kentucky:
The Wildcats need playmakers on offense and having running back
Josh Clemons
come back at full health this year, will go a long way. But Kentucky desperately needed to add more with its 2012 recruiting class. The Wildcats are hoping dual-threat quarterback
Patrick Towles
(Fort Thomas, Ky./Highlands) can help in that department. Kentucky won't get anywhere without developing the talent already on campus and that's most important at this point.
14. Ole Miss:
Hugh Freeze had some defensive success in his first recruiting class as the Rebels' head coach. There is a good foundation with ESPNU 150 defensive tackle
Issac Gross
of Batesville, Miss., and ESPNU 150 defensive end
Channing Ward
of Aberdeen, Miss., and the secondary got a boost when safety
Trae Elston
(Oxford, Ala.) picked Ole Miss over LSU. Now, Freeze turns his attention to players a part of a two-win 2011 season. Generating discipline and finding leaders are key for a program glued to the bottom of the SEC.
Marcus Spears reviews LSU Pro Day
SEC SCOREBOARD
Thursday, 9/3
Saturday, 9/5