November, 6, 2014
11/06/14
9:00
AM ET
BATON ROUGE, La. -- A player's career is often defined by performances in the biggest games. There are no bigger games at LSU than the ones against Alabama.
Will
Leonard Fournette
,
Kendell Beckwith
or
Tre'Davious White
become the next Tigers to make their mark in a win against the Crimson Tide? We'll find out when Nick Saban leads his team into Tiger Stadium on Saturay night.
As we approach Les Miles' 11th game against the Tide as the Tigers' coach -- he's 5-5 thus far, although Alabama has won three in a row -- let's review five LSU players from the Miles era who made career-defining plays against Alabama.
WR Dwayne Bowe:
Many of the LSU-Alabama games in the Miles era have come down to the final series, and that trend started with his very first game against the Tide in 2005.
No. 3 Alabama had taken a 13-10 lead in overtime when LSU quarterback JaMarcus Russell hit Bowe with the game-winning, 11-yard touchdown pass to hand the Tide its first loss of the season. Bowe finished that game with seven catches for 98 receiving yards.
He again played a key role in the Tigers' 28-14 win in 2006, catching five passes for 71 yards, including a 19-yard touchdown that put the Tigers up 21-7 in the second quarter.
WR Early Doucet:
Like Bowe, Doucet built his legacy with late-game heroics against Alabama.
The 2007 LSU team -- one that would go on to win the BCS championship -- trailed the Tide late in the fourth quarter when Doucet and quarterback Matt Flynn combined to create some of the magic that marked that season. Facing fourth-and-4, Flynn hit Doucet with a 32-yard touchdown pass to tie the score at 34-all with 2:49 remaining.
The Tigers eventually won 41-34, with Doucet catching five passes for 67 yards – including touchdowns of 10 and 32 yards.
Doucet also played a leading role in LSU's win in 2006, catching seven passes for 101 yards and a 30-yard touchdown.
S Chad Jones:
Doucet scored the game-tying touchdown in the 2007 win against Alabama, and soon thereafter Jones made the play that led to the Tigers' go-ahead score.
The LSU defensive back tracked down Alabama quarterback John Parker Wilson and sacked him for a 16-yard loss, forcing a fumble that Curtis Taylor recovered at Alabama's 3-yard line with 1:39 to play. Two plays later, Jacob Hester plowed into the end zone for the touchdown that secured the Tigers 41-34 victory, wrapping up their rally from a 27-17 deficit late in the third quarter.
Jones finished that game with four tackles, two sacks, a forced fumble and 18 yards on three punt returns.
TE DeAngelo Peterson:
Peterson was at the center of one of the plays that defines the Miles era -- a decade where LSU's coach has certainly proven to be unpredictable.
Alabama led 14-13 in the fourth quarter and LSU faced fourth-and-1 at the Alabama 26. So what did the Tigers do? Run right with Stevan Ridley, who then shocked nearly everyone in the stadium by tossing the ball to Peterson as he streaked left on a reverse.
Peterson's 23-run to the Alabama 3 set up Ridley's go-ahead touchdown run. The Tigers would go on to win 24-21.
Peterson also caught a 12-yard touchdown pass from Jordan Jefferson in the Tigers' 24-15 loss to unbeaten Alabama in 2009.
S Eric Reid:
Although Alabama's 21-0 win later that season in the BCS championship rematch spoiled what had been a magical 2011 for LSU, Reid provided one of the plays that kept the Tigers' title chase on track.
With the score tied at 6-all in the fourth quarter, Reid wrestled a Marquis Maze pass away from Alabama tight end Michael Williams at the LSU goal line. His interception helped the Tigers dodge another bullet and send the game to overtime. They would win 9-6 when Alabama's Cade Foster missed a 52-yard field goal in overtime -- his third miss of the night -- and Drew Alleman hit from 25 on the game-winning kick.
Reid finished the night with six tackles, a forced fumble and an interception.
Reid recorded a team-high 11 tackles and broke up a pass in the teams' rematch that season, although the outcome was nowhere near as satisfying for the Tigers. He also notched a team-high seven tackles in Alabama's 21-17 win the following season at Tiger Stadium.
August, 4, 2014
8/04/14
10:00
AM ET
BATON ROUGE, La. -- With Les Miles opening his 10th season as LSU's head coach today, we'll use each day this week to review the decade under the eccentric Miles. Today we look back at some of the wacky moments, gutsy decisions and memorable press conferences that helped define Les as the entertaining figure that he is today.
[+] Enlarge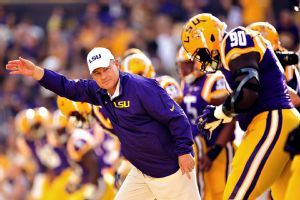 Stacy Revere/Getty ImagesLes Miles has been known to keep things interesting on the LSU sideline.
10. The Harlem Shake:
LSU wasn't left out of the "Harlem Shake" video craze that swept the nation last spring. In the Tigers' version, it first appears as if they are participating in their regular "Big Cat" drill before Miles breaks into an awkward solo dance while the players "argue" behind him.
Then the beat drops and mayhem ensues.
9. "It must have been the shoes:"
The Legend of Les was already fully developed even before he filmed a
2011 backyard basketball video
where he went from hapless to hero while playing against (and dunking on) two of his children. The secret weapon in Miles' turnaround was a pair of purple-and-gold high tops sent by ESPN's Scott Van Pelt following an on-air conversation where he made fun of Miles' all-white game shoes.
8. Les being Les:
Unlike many of his buttoned-up counterparts, Miles has never been afraid to show off his oddball side. It's not particularly unusual to see him
answer a reporter's phone during a press conference
, clap like a weirdo or fill everyone in on
the difference between Columbus Day and St. Patrick's Day
. Nor is it surprising to see him
kiss a pig
or
rappel off the side of a 24-story building
, all in the name of charity. Around Baton Rouge, that's simply known as Les being Les.
7. Crazy wins vs. Tennessee, Florida:
Another example of Les being Les is how his teams have found some wild ways to win (and occasionally lose) ballgames. Two perfect examples came in back-to-back weeks in 2010, when LSU beat Tennessee and Florida to miraculously improve to 6-0.
First, the Tigers were on the verge of a devastating home loss to Tennessee -- and it looked like that's exactly what happened when the Volunteers thwarted LSU's last-gasp effort to score at the goal line. However, the referees determined that on the chaotic final play, the Vols actually had 13 defenders on the field instead of the allowed limit of 11. The ensuing penalty gave LSU one final chance to score, and Stevan Ridley plowed into the end zone on that play to give
LSU a 16-14 victory
.
Miles caught plenty of grief over the next week about LSU's sloppy final moments in regulation before the Tennessee penalty bailed out the Tigers. It would have been understandable if he became a bit gun shy, but timidity is not in Miles' DNA. When the Tigers' final drive stalled late in the Florida game, Miles sent out Josh Jasper to attempt the game-tying field goal -- or so we all thought. Instead, holder Derek Helton flipped the ball over his head to Jasper on a fake field goal, and the kicker's 5-yard run achieved a first down that kept the drive alive.
The Tigers eventually scored the
game-winning touchdown
on a 3-yard pass from Jarrett Lee to Terrence Toliver with six seconds to play. It was yet another example of how you never know what to expect when Miles is making decisions on the sideline.
6. Fourth downs vs. Florida:
Miles already had an SEC West title on his résumé when his third team at LSU in 2007 became one of the most impressive college football squads of the 2000s. There are plenty of moments from that BCS championship season that helped cement Miles' risk-taking reputation, but among the most memorable were his decisions to go for it on fourth down against Florida over and over. In all, Miles and the Jacob Hester-led Tigers went for it on fourth down five times. They achieved a first down or a touchdown all five times in
knocking off the defending BCS-champion Gators 28-24
in one of the greatest games ever played at Tiger Stadium.
5. "Give them a big kiss on the mouth:"
It's difficult to say whether Miles is better known for the wacky things he says behind a microphone or for the gutsy -- and sometimes crazy -- calls he makes on the field.
We've already discussed a couple of the crazy calls. Now let's touch on one of the most memorable press conferences. Following a narrow 2012 win over Ole Miss, he launched into a
profane rant that evolved into a standup comedy routine
. In response to a story that characterized receiver (and former hotshot recruit) Russell Shepard's college career as a disappointment, Miles vehemently defended the contributions his seniors (including Shepard) had made to the program.
The rant ended with Miles instructing those within earshot, "You go find them, you throw your arms around them, you give them a big kiss on the mouth … if you're a girl," before breaking into a wacky grin as the reporters in attendance laughed.
4. Touchdown bomb against Auburn:
In yet another perfectly Les moment from the 2007 season, Miles' Tigers were in position to kick the game-winning field goal while trailing Auburn 24-23 in the final minute.
Tommy Tuberville's defense might have expected LSU to down the ball in the middle of the field to set up a more manageable kick, but Miles had other ideas -- and the unorthodox call caught Auburn off guard. LSU quarterback
Matt Flynn dropped back and hit Demetrius Byrd with a 22-yard touchdown pass with just 1 second showing on the clock
. The enormous risk had paid off, and two weeks after the amazing Florida win, the Tigers delivered some more
Miles magic
.
3. The Mad Hatter:
Miles has been given plenty of nicknames through the years -- some more family-friendly than others -- but the one that seems to resonate most is "The Mad Hatter." ESPN's Rece Davis apparently gave Miles that one, in part because of the white ball caps that awkwardly sit atop his head each fall Saturday and in part because of Miles' general craziness that we've already covered, even if he once told sideline reporter Holly Rowe, "Understand something, it's the hat I wear. There's nothing mad underneath it."
2. Eating grass:
Shortly after LSU scored the go-ahead touchdown in a 2010 win against Alabama – just before the Tigers attempted a two-point pass that would put them up 21-14 – CBS' TV cameras caught Miles in the middle of an
unusual ritual
that he said dates back to adolescence. He leaned down, pinched a blade or two of grass and put it in his mouth.
Miles has made hay out of his grass-eating ways since then, even participating in an
ESPN commercial that gleefully ridiculed the practice
.
1. "Have a great day:"
One of the most unorthodox moments from Miles' first nine seasons at LSU came when he participated in an impromptu press conference BEFORE the 2007 SEC championship game in order to shoot down a report that he was preparing to leave to coach at his alma mater, Michigan.
Miles told those in attendance that, "I've got a championship game to play, and I'm excited about the opportunity of my damn strong football team to play in it. … Please ask me [about Michigan] after. I'm busy."
His smirking line to close, "Have a great day," was so memorable that LSU added those words to the rear door of the football team's equipment hauler.
November, 5, 2013
11/05/13
9:00
AM ET
When
AJ McCarron
steps behind center on Saturday night for Alabama's first offensive snap in its showdown against LSU, he'll be making his fourth start against the Tigers.
The senior has been the picture of stability the last three years as Alabama's starting quarterback. His first start against LSU was Nov. 5, 2011, dubbed "The Game of the Century," one that LSU won 9-6 in overtime at Bryant-Denny Stadium in Tuscaloosa, Ala.
LSU quarterback
Zach Mettenberger
, McCarron's counterpart on Saturday night, will make his second start against the Tide. LSU hasn't quite enjoyed the same stability that Alabama has, though Mettenberger has provided a steady hand and productive play this season, making LSU's offense the talk of the program for once; hard to do in a program known for its defense.
[+] Enlarge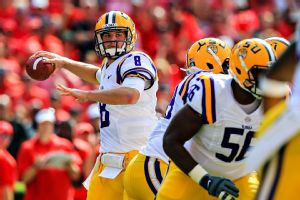 Daniel Shirey/USA TODAY SportsZach Mettenberger was 28-of-35 for 298 yards and a score in his first start against Alabama.
But in the same time span that McCarron has served as Alabama's lone starter in the Tide-Tigers showdowns, LSU has had three different starting quarterbacks. Mettenberger started last season's game but when the teams met twice in 2011 – in November and in January for the BCS championship – the Tigers had a different starter each time.
That's simply a microcosm of these two power programs. Both are championship-caliber teams that are annually in the BCS national championship discussion. Both have stable coaching staffs and a foundation built on great defense and the ability to run the football. Both recruit at a high level and, of course, play in the same division, the SEC West.
But since the Nick Saban took over at Alabama in 2007, the Tide have had just three quarterbacks start against LSU: McCarron, Greg McElroy (2009-10) and John Parker Wilson, who predated Saban and started for the Tide from 2006-08.
In that same time span, the Tigers have had a different starter vs. Alabama six times. In 2007 it was Matt Flynn, who was a senior. Jarrett Lee started the 2008 game, while
Jordan Jefferson
started in 2009 and 2010. In 2011 Lee started the November "Game of the Century," and Jefferson started the BCS national championship later that season. Though the Tigers have had four different quarterbacks in that span, it's been rare that the same one has started twice in a row against the Tide like Mettenberger will do Saturday.
Despite that contrast, the series has been back-and-forth. Alabama has won four times since 2007, LSU three. The Tigers' success despite quarterback turnover is even more fascinating in an age where quarterbacks dominate the headlines and up-tempo spread offenses are en vogue.
Take last season as an example, one in which the Tigers didn't make a change at quarterback but didn't get strong play from the position either. Florida (3rd), Oregon State (13th) and Kent State (25th) were the only schools other than LSU with a Total QBR of less than 55 for the season to finish in the top 25 of the BCS standings at the end of the regular season. The team with the worst QBR of thos, LSU (38), finished eighth in the final BCS standings last season.
Even in 2011, when the Tigers went 13-1 and went to the BCS title game before falling to Alabama, the quarterback situation was far from stable. Lee made nine starts that season, Jefferson made five. There was even discussion in the aftermath of the 21-0 title game loss to the Crimson Tide about LSU coach Les Miles' decision to not play Lee at all that night and leave Jefferson in, which Miles later said was because he wanted a mobile quarterback who could avoid Alabama's tenacious pass rush in the game.
The reason the Tigers were able to succeed despite a sometimes uncertain quarterback situation is their defense. LSU finished in the top 12 nationally in total defense each season from 2010-2012 and had a 34-5 record in that time span. They've also had a reliable running game to turn to move the chains offensively.
Alabama has enjoyed the fruits of both of those traits during their run of three BCS titles in four seasons, but the stability at quarterback is evident. The Tide have finished the season with a better QBR than LSU each of the last five seasons.
Stable or not, life is tough for the quarterbacks in this game. During the Saban era, Alabama quarterbacks have a QBR of 42.8 against LSU, while LSU's is 33.1 against the Tide. The touchdown-to-interception ratios aren't pretty (8-to-6 for Alabama, 7-to-11 for LSU) as the defenses take center stage in this matchup.
But the Tigers have shown that even in this era of offensive dominance, good defense can still get you far. And now, they just might have the quarterback to knock off the nation's top team.
December, 17, 2012
12/17/12
8:53
AM ET
BATON ROUGE, La. -- There's a popular t-shirt floating around Baton Rouge that says "There's Nobody in the Conference that has Swagga Like Us." with LSU in gold letters.

In postseason games, that was largely true...until last season.

When Alabama dominated the Tigers, 21-0 in the BCS National Championship Game, it not only ended LSU's dreams for one of the great seasons of the BCS era, it also put a damper to the notion that the Tigers, 5-1 in bowls under Les Miles, were at their best in postseason games.

That part of its swagger compromised, LSU will look to regain some of that reputation in the Chick-fil-A Bowl, the site of two of the previous five Miles LSU bowl wins.

"Our football team really is anxious for a quality game. We're looking for a bowl game that's a great matchup, and certainly those Clemson Tigers are a very, very talented football team," Miles said.

The Tigers coach has certainly done a masterful job of motivating his teams for bowl games. In 2008, an LSU team that limped to the finish in the worst year of the Miles tenure gouged Georgia Tech at the Chick-fil-A. Miles' Tigers teams have maimed Miami at the Chick-fil-A, knocked out Notre Dame at the Sugar Bowl, tamed Texas A&M in the Cotton Bowl and, of course, owned Ohio State in the 2008 BCS national championship game.

The one blemish in all that came in the 2009 season when LSU met Penn State on a field that was so muddy, it was nearly unplayable, and lost 19-17 in the Capital One Bowl, the only loss to a non-SEC team in Miles' eight years as head coach at LSU. That's what it seemed to take to beat LSU in the postseason, a freakishly muddy field that negated LSU's speed advantage and took away the edge the Tigers seemed to have when Miles had time to prepare.

But that was before Jan. 9, 2012, the day that changed everybody's perception about how Miles-coached LSU teams prepared in bowls. LSU was so inept on offense, it crossed midfield just once. The Tigers looked lethargic, over-matched and ill-prepared at the tail end of what some were calling the greatest regular season college football has seen.

With LSU facing a 10-2 Clemson team averaging 42 points a game, Les Miles will have a chance to prove that last year an anomaly. And maybe restore that swagger.





August, 1, 2012
8/01/12
8:57
AM ET
This was supposed to be the LSU August camp where the quarterback spot was finally going to be a settled issue.
[+] Enlarge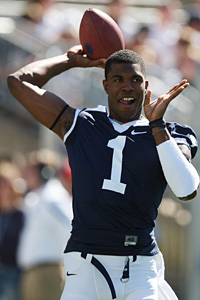 Rob Christy/US PresswireFormer Penn State QB Rob Bolden was planning to transfer before scandal hit Happy Valley.
There is no more Jordan Jefferson vs. Jarrett Lee controversy. It's
Zach Mettenberger's
team and that was supposed to be the extent of the story.
It has not worked out that way.
Marcus Spears reviews LSU Pro Day
SEC SCOREBOARD
Thursday, 9/3
Saturday, 9/5