January, 1, 2014
1/01/14
7:10
PM ET
TAMPA, Fla. -- How did
Jeremy Hill
get so good at closing out wins? Years of practice.
The junior tailback hasn't just been an effective clock-eater at the end of a victory since he arrived at LSU. He's been doing this since his days at Redemptorist High School in Baton Rouge, La.
"It's just something that I took way back in high school. Our coaches just put it in my hands and just told me to go win the football game," Hill said after putting away Iowa in the Tigers'
21-14 victory
in Wednesday's Outback Bowl. "You just have to have that mentality. Great players have that mentality. When everyone's looking for someone to make a play, just being in a tight game the whole time ... I just took it on my shoulders that I needed to make plays to win this football game, and that's exactly what happened."
If Wednesday's performance -- 28 carries, 216 yards, two touchdowns -- was Hill's last as a college player, he made it one to remember. Hill is among a host of draft-eligible players on the Tigers' roster who could leave for the NFL. LSU coach Les Miles said afterward that "there's a chance" star receivers
Jarvis Landry
and
Odell Beckham
could declare for the draft, but Hill said while accepting bowl MVP honors that he still must weigh his decision.
[+] Enlarge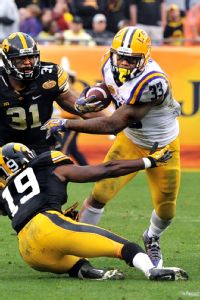 Al Messerschmidt/Getty ImagesLSU's Jeremy Hill earned Outback Bowl MVP honors, rushing for 216 yards and two touchdowns.
Among the factors he said he will consider: the NFL draft advisory board's feedback on where he might be drafted, his family's input and his role within the LSU offense, should he opt to return.
"There's a lot that goes into it. It's a big decision, but like I said, I'm not thinking about it right now," Hill said. "I'm just enjoying this win, and when we get back to Baton Rouge, we'll figure all that out."
His role on Wednesday was as a battering ram. By becoming the first LSU back since Alley Broussard in 2004 to crack the 200-yard mark in a game, Hill finished the season with 1,401 rushing yards and 16 touchdowns, totals that rank second and fourth, respectively, on LSU's single-season lists.
And it was his tackle-breaking, 37-yard touchdown run in the fourth quarter, putting LSU ahead 21-7, that all but sealed the victory.
"Given the opportunity to close out a game, he knows what to do," Miles said. "He made some nice cuts, and you get him that spot, that opportunity to extend the play, he can score. And he did."
LSU's offensive production mirrored the soggy, dreary weather in Tampa on Wednesday, with first-time starting quarterback
Anthony Jennings
struggling to generate much in the passing game. But Hill and a dominant defense were the sledgehammers that put away pesky Iowa, particularly on LSU's first and final full possessions.
The Tigers pounded the run early, keeping it on the ground for the first 12 plays before an incomplete pass. Jennings capped the game-opening 77-yard drive, which started with a 42-yard Hill run, with a 2-yard touchdown dive.
Hill capped a 39-yard touchdown drive in the second quarter, capitalizing on a lost fumble by Iowa punt returner
Kevonte Martin-Manley
, with a 14-yard scoring run that put the Tigers ahead 14-0.
The Hawkeyes rallied to make it 14-7 when
Mark Weisman
pounded in a 2-yard touchdown after
John Lowdermilk
returned a Jennings interception to the LSU 1. And they nearly tied it before LSU's
Craig Loston
intercepted a
C.J. Beathard
pass at the LSU 8 with 5:04 remaining.
Hill and the Tigers made Iowa pay for its miscue. The Tigers kept it on the ground for all six plays on a touchdown drive that nearly iced the win -- including Hill runs of 28 yards, 20 yards and the scoring run of 37 yards -- with its backfield closer playing the leading role.
"They started adjusting and it just became a chess match," Hill said. "I think we won when on that last drive we got a checkmate and we made the right calls, made the right checks and we won the game."
January, 1, 2014
1/01/14
9:30
AM ET
Iowa (8-4) and No. 16 LSU (9-3) will meet Wednesday for the first time since the Hawkeyes shocked LSU with a last-second touchdown to win the 2005 Capital One Bowl in Nick Saban's final game as the Tigers' coach. Here are a few players and matchups to watch for in their rematch nine years later at the Outback Bowl (1 p.m. ET, ESPN).


Who to watch:
This will likely be the last time we see LSU's exciting offense in its current form. We already know resurgent senior quarterback
Zach Mettenberger
is out with a knee injury, and it's highly possible that some of the Tigers' most impressive offensive players could make the leap for the NFL after the Outback Bowl. Receivers
Jarvis Landry
(75 catches, 1,172 yards, 10 TDs) and
Odell Beckham
(57-1,117, 8 TDs), running back
Jeremy Hill
(1,185 yards, 14 TDs) and offensive tackle
La'El Collins
(plus defensive linemen
Ego Ferguson
and
Anthony Johnson
) could follow the lead of the 11 Tigers who jumped to the pros last year before exhausting their college eligibility. On the Iowa side, the defense leads the way – we'll discuss that group in a moment – along with a run-heavy offense.
Mark Weisman
leads the team with 937 rushing yards and seven TDs, and the rushing attack is led by All-Big Ten offensive lineman
Brandon Scherff
, with Florida native
Jake Rudock
(2,281 passing yards, 18 TDs, 12 INTs) at the trigger.
What to watch:
The most intriguing matchup of the day is probably LSU freshman quarterback
Anthony Jennings
against Iowa's stout defense. Jennings did a great job in taking over for an injured Mettenberger against Arkansas in LSU's comeback win, but Iowa presents a different challenge. Led by senior linebackers
James Morris
(98 tackles, 14.5 TFL, five sacks),
Christian Kirksey
(97 tackles) and
Anthony Hitchens
(102 tackles, 13 TFL), Iowa has arguably its best defense since Kirk Ferentz became the Hawkeyes' coach. They are No. 7 nationally in total defense (303.2 yards per game) and No. 11 in scoring defense (18.8 points per game). Jennings obviously has some talented weapons at his disposal, but he's a rookie starter and that can be a scary proposition.
Why to watch:
Aside from the classic offense-versus-defense matchup, we could also see Les Miles' LSU program establish a team standard for consistency. The Tigers can win 10 games for the fourth consecutive season, which would be a school record. LSU has done it in three consecutive seasons twice: 2005-07 and the current streak. On the other sideline, Iowa can complete a surprising bounce-back season with a victory over one of the nation's elite programs. The Hawkeyes are 0-4 against ranked opponents this season, but with a victory, could finish as a ranked team a year after going 4-8.
Prediction: LSU 28, Iowa 21.
Despite Jennings' youth, Las Vegas still favors LSU by 7.5 points at most sites. That's largely because the Tigers simply have more offensive firepower than the Hawkeyes. Iowa's defense is good enough to make LSU sweat, but the Tigers have too many weapons to remain quiet for long.
December, 24, 2013
12/24/13
1:00
PM ET
After a season in the wilderness of transition, Iowa's offense found itself this fall. The next step is to find out what it could be.


The possibilities are exciting for a unit that will lose only three starters and bring back valuable pieces at running back, line and quarterback. While Iowa's offense might not make as dramatic a jump as it did this season -- when it vaulted from 114th nationally to 79th -- it certainly could move into the top half of the Big Ten.
"We have a good understanding of what the identity is," offensive coordinator Greg Davis told ESPN.com this week. "We're a zone, slant team with the tight ends that tries to use play-action. The players understand how we need to play, and that's how we try to go about game-planning."
Davis had three objectives for the offense entering the fall: play faster by incorporating a no-huddle element; maximize the strength at tight end by using two or three on the field together in many sets; and create more explosive plays.
Although few would confuse Iowa with Baylor, the Hawkeyes achieved the first objective by improving their tempo. Senior tight end
C.J. Fiedorowicz
became the team's top red-zone threat (six touchdown catches), while
Jake Duzey
emerged during Big Ten play with 16 receptions and
Ray Hamilton
had eight. Iowa recorded 41 offensive plays of 20 yards or longer, including eight passes of 40 yards or longer, though Davis admits, "We have a hard time creating the big run, the big throw."
[+] Enlarge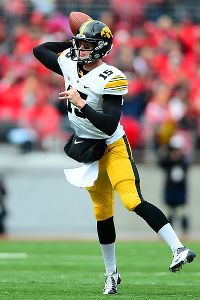 Andrew Weber/USA TODAY SportsJake Rudock stepped in as starting quarterback and provided stability, if not eye-popping numbers.
But the Hawkeyes created some progress after floundering in Davis' first season at the helm. The outlook was bleak for a unit that finished near the bottom of the FBS in so many categories, couldn't keep its running backs healthy and had no quarterbacks with game experience on the roster. Sophomore
Jake Rudock
performed the best in practices, but as Davis knows, things change when the hitting begins.
"He's an extremely bright person, he takes courses I can't spell the name of," Davis said of Rudock, a microbiology and premed major. "We ask a lot of our quarterback at the line. We thought he would handle all that, but we didn't know for sure. There's still that apprehension going into the year."
Rudock's numbers hardly jump off the page (2,281 pass yards, 18 touchdowns, 12 interceptions, 60.2 percent completions), but he steadied the ship and helped the Hawkeyes more than he hurt them. Although Rudock left the regular-season finale against Nebraska with a knee injury, he'll be ready for next week's Outback Bowl clash against LSU.
"He's a real even-keeled guy," Davis said. "Sometimes it's hard to tell if he threw an interception or a touchdown. That serves him well playing quarterback."
Iowa's offense in 2012 essentially consisted of two ball-carriers in
Mark Weisman
(159 attempts) and
Damon Bullock
(135 attempts) and three pass-catchers in
Kevonte Martin-Manley
(52 receptions), Keenan Davis (47) and Fiedorowicz (45). The touches were spread around much more this season.
Four Hawkeyes have more than 60 rushes, including
Jordan Canzeri
, who missed all of last season with a knee injury. Seven players have 12 or more receptions, including
Tevaun Smith
, who led Iowa in catches during conference play with 21, and
Damond Powell
, a junior-college transfer who averages 24.2 yards per reception.
"The more guys you can depend on, the harder it is for the defense," Davis said. "That's what we've tried to do."
The bowl game is a final exam of sorts, and Iowa faces an LSU defense ranked 20th nationally despite having only three seniors on the two-deep. Davis went against LSU defensive coordinator John Chavis during the early to mid 1990s when Davis coached in the SEC and calls the Tigers a "huge challenge."
It's also a huge opportunity for Iowa, not just for now but for the future. Aside from Fiedorowicz, guard
Conor Boffeli
and right tackle
Brett Van Sloten
, Iowa returns every other starter, including standout left tackle
Brandon Scherff
, who recently announced he's passing up the NFL draft for one more year in Iowa City.
"With two years under their belt," Davis said, "we have an opportunity to take another step going into 2014."
December, 10, 2013
12/10/13
10:00
AM ET
These programs gave us one of the most memorable finishes in bowl history nine years ago, and now they return to sunny Florida on New Year's Day for the Outback Bowl. Let's take a closer look at the matchup between No. 16 LSU (9-3) and Iowa (8-4) when they meet at 1 p.m. at Tampa's Raymond James Stadium.


Who's under center?:
This was something of a question for both teams before their coaches cleared it up in the last few days. Iowa coach Kirk Ferentz said
Jake Rudock
should be "absolutely fine" to play against LSU after leaving the regular-season finale against Nebraska with a right knee injury. Meanwhile, LSU's Les Miles said freshman
Anthony Jennings
will take over for the injured
Zach Mettenberger
as the Tigers' starter. Mettenberger suffered a season-ending knee injury in the finale against Arkansas, but Jennings came on to complete the Tigers' comeback, hitting
Travin Dural
with the game-winning, 49-yard touchdown pass with 1:15 to play.
When last we met:
Iowa fans will never forget how the 2005 Capital One Bowl ended, when Drew Tate hit little-used receiver Warren Holloway with a 56-yard touchdown pass to beat LSU as time expired. That 30-25 loss marked an ugly end to Nick Saban's LSU tenure, as he left to coach the Miami Dolphins immediately afterward. Within hours of the game's end, Miles was named as Saban's successor.
What's at stake:
Not much, really. Fresh off an awful 4-8 record in 2012, Iowa started the season with a loss to Northern Illinois. But it's certainly possible that Ferentz's Hawkeyes can finish the season as a ranked team if they beat LSU. Meanwhile, the Tigers have already bid farewell to Mettenberger and could be featuring some of their top draft-eligible skill players for the final time as well. A win in the bowl would give LSU its fourth straight season with at least 10 wins, a school record.
Hit the ground running:
It would not be a surprise to see this become a run-heavy game. Without Mettenberger -- who was one of the nation's most effective passers -- LSU offensive coordinator Cam Cameron might opt to lean heavily on
Jeremy Hill
(1,185 rushing yards, 14 TDs) and
Terrence Magee
(614-8) against the Hawkeyes. The problem there is that Iowa's defense is no pushover. The Hawkeyes rank seventh nationally in total defense (303.2 ypg) and are 17th against the run (120.8 ypg). On the other hand, all Iowa wants to do is run. The bruising
Mark Weisman
(937-7) and slippery duo of
Damon Bullock
(467-1) and
Jordan Canzeri
(451-2) take most of the carries for Iowa, which ranks 41st nationally in rushing (188.6 ypg).
Back to the Outback:
This will be LSU's second visit to the Outback (formerly Hall of Fame) Bowl, having last played in Tampa at the end of the 1988 season when it lost 23-10 to Syracuse. Iowa has played an SEC club in this bowl three times in the previous 11 seasons, beating Florida 37-17 in 2003, losing 31-24 to the Gators in 2005 and blasting South Carolina 31-10 in 2008.
Best wins:
It didn't seem like much at the time, but LSU was the only team to beat No. 2 Auburn, jumping out to a 21-0 lead and winning 35-21 on Sept. 21. LSU also posted a memorable 34-10 victory over
Johnny Manziel
and Texas A&M near the end of the season. Iowa closed with a three-game winning streak to secure its first winning record (5-3) in league play since 2009. That run included a 24-21 win over Michigan and a decisive 38-17 victory at Nebraska to conclude the season.
Worst losses:
Iowa's four losses are all respectable, particularly since three of the teams that beat the Hawkeyes -- Northern Illinois, Ohio State and Michigan State -- finished with 12-1 records, and the other was to 9-3 Wisconsin. LSU's worst loss was certainly its 27-24 defeat against Ole Miss, although the 38-17 loss at Alabama also felt like a low point.
[+] Enlarge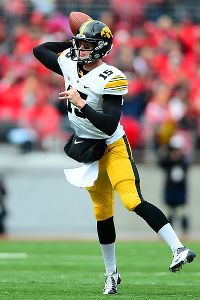 Andrew Weber/USA TODAY SportsWith LSU's Zach Mettenberger out with a knee injury, Iowa has the edge at QB with Jake Rudock.
Offensive stars:
He doesn't generate as many headlines as Rudock or the running backs, but All-Big Ten left tackle
Brandon Scherff
certainly ranks among Iowa's most valuable players. Scherff announced on Monday that he will return for his senior season. Receivers
Odell Beckham
Jr. (57 catches, 1,117 yards, 8 TDs) and
Jarvis Landry
(75-1,172, 10 TDs) will both go down as two of the most dangerous wideouts in LSU history.
Defensive stars:
All-Big Ten linebackers
Anthony Hitchens
(102 tackles, 13 tackles for a loss) and
James Morris
(98 tackles, 14.5 TFLs) are the headliners for Iowa's stingy defense along with defensive back
B.J. Lowery
(55 tackles, three interceptions, 16 pass breakups). Linebacker
Lamin Barrow
leads LSU's defense with 86 tackles, while defensive linemen
Anthony Johnson
(32 tackles, 7 TFLs) and
Ego Ferguson
(58 tackles, 3.5 TFLs) lead the defensive front and safety
Craig Loston
(51 tackles, two interceptions) and cornerback
Jalen Mills
(61 tackles, three sacks, three interceptions) anchor the back end of the defense.
X-factor:
Even if both teams run and run some more, quarterback play could be the determining factor. Jennings will surely need to get the ball to Beckham, Landry and company -- and do so without many costly turnovers -- to force the Hawkeyes to respect the pass. And Rudock will have to prove he can get the job done against a strong opponent. In Iowa's eight wins, he hit 64 percent of his passes for 11 touchdowns and six interceptions. But in the Hawkeyes' four losses -- against the only four ranked teams on their schedule -- he completed 55 percent of his passes for seven touchdowns and six picks.
John Chavis Suing Texas A&M, LSU
SEC SCOREBOARD
Thursday, 9/3
Saturday, 9/5