June, 22, 2013
6/22/13
6:49
PM ET
The Opening, presented by Nike, will feature 162 of the best high school football players in the country. The event, which will include linemen, 7-on-7 and SPARQ testing competitions, is set to run from June 30 to July 3 at the Nike headquarters in Beaverton, Ore.
The following events from The Opening will be televised on ESPNU:
July 1: SPARQ Rating National Championship, 7 p.m.-8:30 p.m. ET
July 2: 7-on-7 Pool Play, 9 p.m.-11:30 p.m. ET
July 3: Linemen Challenge Finals and 7-on-7 semifinal and championship games, 9 p.m.-midnight ET
The players will be divided in to six teams -- Alpha Pro, Apocalypse, Field Generals, Land Sharks, Super Bad and Vapor Carbon. Here is a closer look at how the teams match up.
Team:
Alpha Pro
Coaches:
Offensive coordinator Jordan Palmer, defensive coordinator Hardy Nickerson
The Alpha Pro team will have plenty of targets to spread the ball around.
Ermon Lane
and
Tyler Luatua
, the No. 1-ranked receiver and tight end in the country respectively, bring size and playmaking ability to the passing game. ESPN 300 athletes
Corey Holmes
,
Jalen Hurd
,
John "JuJu" Smith
,
Ja'Von Harrison
, and
Derrell Scott
are all explosive offensive weapons.
Defensively Alpha Pro is led by
Andrew Brown
, the No. 1-ranked defensive tackle in the country, ESPN 150 cornerback
Damon Webb
, defensive end
Andrew Williams
, Ohio State linebacker commit
Dante Booker
and LSU cornerback commit
Chris Hardeman
.
Complete Alpha Pro
roster
.
Team:
Apocalypse
Coaches:
Offensive coordinator Adam Tafralis, defensive coordinator Donovin Darius
The first thing that jumps out about team Apocalypse is the talent in the defensive front seven. Team Apocalypse will be led by five-star defensive end
Da'Shawn Hand
and inside linebacker
Raekwon McMillan
. Hand, from Woodbridge, Va., is the No. 4-ranked player in the country, while McMillan was recently bumped up to a five-star linebacker. Joining Hand and McMillan along the front seven are ESPN 300 defensive linemen
Anthony Moten
and
Ainuu Taua
, and linebackers
D.J. Calhoun
and
Rashaan Evans
.
Offensively, team Apocalypse has no shortage of playmakers. ESPN 300 wide receivers
Artavis Scott
,
K.D. Cannon
and
Michiah Quick
will provide explosiveness in the passing game, while athletic running backs
Joe Mixon
and
Royce Freeman
will provide athletic and reliable targets out of the backfield.
Complete Apocalypse
roster
.
Team:
Field Generals
Coaches:
Offensive coordinator Charlie Frye, defensive coordinator Michael Fletcher
Seven-on-seven events are always geared towards the offense, but with five-star defensive back
Adoree' Jackson
, No. 3-ranked safety
Jamal Adams
, and ESPN 300 cornerback
Adarius Pickett
in the secondary, the Field Generals should more than hold their own. New Ohio State defensive end commit
Jalyn Holmes
and the No. 6-ranked defensive end in the country,
Solomon Thomas
, will be two to watch along the defensive line.
Offensively, the Field Generals are led by ESPN 300 offensive guard
Damien Mama
, ESPN 300 wide receivers
Austin Roberts
and
Thaddeus Snodgrass
and explosive Notre Dame running back commit
Elijah Hood
.
Complete Field Generals
roster
.
Team:
Landsharks
Coaches:
Offensive coordinator Craig Nall, defensive coordinator Keith Bulluck
The Landsharks have some big-time talent along each line of scrimmage. Led by five-star offensive tackle
Cameron Robinson
, the Landsharks also feature ESPN 300 offensive guard
Corey Martinez
. ESPN 300 defensive linemen
Gerald Willis III
and
Thomas Holley
, as well as ESPN 300 defensive end
Chad Thomas
, will form a very physical and athletic defensive line.
In the secondary, the Landsharks will have three defensive backs --
Arrion Springs
,
Chris Lammons
and
Tony Brown
-- that are ranked among the top 85 players in the country. The defense also features ESPN 150 linebacker
Nyles Morgan
.
Offensively, explosive running backs
Dalvin Cook
, a Florida commit, and
Racean Thomas
form a dangerous tandem out of the backfield, and wide receivers
Travis Rudolph
and
Jalen Harvey
are solid receiving threats.
Complete Landsharks
roster
.
Team:
Superbad
Coaches:
Offensive coordinator Dennis Gile, defensive coordinator Harold Nash Jr.
The Superbad defense line is led by five-star defensive end
Lorenzo Carter
and ESPN 150 defensive tackle
Bijhon Jackson
. The linebacking corp is stacked with three ESPN 300 members, including
Clifton Garrett
,
Christian Miller
and
Edwin Freeman
. Cornerback
Jalen Tabor
is the No. 19-ranked player in the country.
Offensively, Superbad has a huge advantage with the No. 1-ranked prospect in the country, running back
Leonard Fournette
. This team is loaded on offense, with wide receivers
Drake Harris
,
Josh Malone
and
Speedy Noil
all in the mix.
Complete Superbad
roster
.
Team:
Vapor Carbon
Coaches:
Offensive coordinator George Whitfield, defensive coordinator Chris Gizzi.
Vapor Carbon will be tough to throw against with defensive backs
Quin Blanding
,
Naijiel Hale
and
Ed Paris
roaming the field. The linebacker group is just as impressive, with Ohio State commit
Kyle Berger
,
Kain Daub
and
Dillon Bates
all leading the way.
The offense for Vapor Carbon could be lethal with running back
Joseph Yearby
and
Nick Chubb
in the backfield. Spreading out wide receivers
T.V. Williams
,
Justin Brent
and tight end
Ian Bunting
on the outside could prove to be an awesome combination for this squad.
Team Vapor Carbon has a lot of pieces to make a long run in the 7-on-7 tournament, but then again, every team is stacked in this competition.
Complete Vapor Carbon
roster
.
January, 4, 2013
1/04/13
12:33
AM ET
ST. PETERSBURG, Fla. --
Kain Daub
(Jacksonville, Fla./Sandalwood) is looking forward to putting his skills to the test.
At Friday's Under Armour Combine, Daub impressed enough to accepted an invitation to the 2014 Under Armour Game.
"That's really all I came out here for, to compete," he said. "I probably won't do all the combine stuff, but I want to compete and get better."
November, 13, 2012
11/13/12
10:30
AM ET
At this point, it's become a bit of a calling card for LSU to rule the roost of major college football by locking down the high school elite within the small but talented state of Louisiana. It's no coincidence the Tigers have risen to national prominence in the decade since they started keeping the vast majority of the state's elite players at home.
But it has also been well-documented in this space that LSU is a national brand and a name-brand program now more than ever. Eleven of the Tigers' 12 games this season ran on national television, which puts the program in front of more recruits than ever before. You can see the evidence in the staggering 13 out-of-state commits in this year's recruiting class. Distance just isn't the factor it used to be, as players from as far away as California, Illinois, Nebraska and North Carolina are slated to join up with the Tigers.
With that in mind, what are some non-Louisiana names you can expect to hear associated with LSU in the next year?
To continue reading this article you must be an Insider
November, 6, 2012
11/06/12
12:33
PM ET
Linebacker
Kain Daub
(Jacksonville, Fla./Sandalwood) is no longer a commitment for LSU's 2014 class, his mother confirmed Tuesday.
"We were kind of talking about, did he commit too early?" said Jeannie Daub. "It's not that he doesn't want to go to LSU. I think it's more that he wants to go to some camps, and he wants to go on some visits. There's some other schools that he wants to visit that he'd probably never get a chance to go visit otherwise."
Daub's reversal is the latest blurb in a long line of recruiting news for the Tigers this week -- though this is the first instance of bad news for LSU. The ESPN Watch List member projects to be one of the top players in the state of Florida next season, and he'll likely be one of the best defenders in the nation.
To continue reading this article you must be an Insider
October, 16, 2012
10/16/12
9:33
AM ET
If there was ever any doubt that LSU was going to lean heavily on that huge 2012 linebacker class this fall, it's gone now. The Tigers signed a truckload of young linebackers last winter -- six to be exact -- to account for a big loss of depth at the position. Partially due to their talent and partially because of LSU's enormous injury history this season, those youngsters are putting their time in.
Five of the six have found regular playing time through the first half of the season, with only
Trey Granier
failing to find his way to the stat sheet.
Kwon Alexander
, last year's top-ranked LSU commit, started two games in place of missing starter
Luke Muncie
before breaking his ankle against Florida. Fellow freshman
Lamar Louis
started in his classmate's place this last weekend and chalked up two tackles.
Even if veteran
Kevin Minter
departs early for the NFL draft this winter, the Tigers appear to have stockpiled plenty of talent at linebacker. But the mission continues for more talent, as evidenced by the fact that LSU's first pickup for 2014 was a linebacker.
To continue reading this article you must be an Insider
October, 10, 2012
10/10/12
4:45
PM ET
JACKSONVILLE, Fla. -- ESPN Watch List inside linebacker
Kain Daub
(Jacksonville, Fla./Sandalwood) will likely be one of the top linebackers in the country next year. After the 6-foot-3, 227-pound athlete committed to LSU on July 14, he shut down his recruitment. But now he is thinking about opening things back up.
"My LSU commit is still pretty solid, but I think I'm going to open up the doors up again," Daub said. "Anything could happen, there could be a coaching change and I just want something to fall back on and not just close all doors just because I committed to LSU."
[+] Enlarge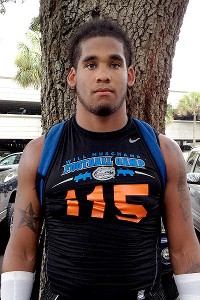 Courtesy of Jeff Barlis, GatorNationLinebacker Kain Daub could be one of the top defensive prospects in the class of 2014.
Daub recently transferred from Ponte Vedra (Fla.) Nease to Sandalwood High School and is now playing alongside Alabama defensive end commit
DeMarcus Walker
. Daub, who has more than 15 offers, said Walker continually tries to get him to switch to Alabama.
To continue reading this article you must be an Insider
September, 27, 2012
9/27/12
3:30
PM ET
National signing day for the class of 2014 seems like a distant speck on the map, but this is already shaping up to be a textbook recruiting effort from LSU.
There's a pretty basic formula the Tigers have followed to recruiting success during the Les Miles era: Lock up the lion's share of the top talent in Louisiana, then grab a few quality prospects from talent-rich states nearby -- Texas, Mississippi, Florida or Georgia.
To continue reading this article you must be an Insider
September, 11, 2012
9/11/12
10:02
AM ET
A lot of college football prospects see a drop off in recruitment efforts when they eventually decide on a school to attend. But it's safe to say that hasn't been the case for
Kain Daub
(Ponte Vedra, Fla./Nease) to this point in his junior campaign.
Daub, LSU's first of three current commitments for 2014, is projected by many to be one of the top defensive prospects in his class when those rankings roll around next year. But plenty of other schools would like to pry his pledge away from LSU, if the number of people calling Daub is any indication.
"Ever since I committed, there's schools I had never talked to that talk to me now," he said. "They talk to me on Facebook because now they can talk to me after Sept. 1."
To continue reading this article you must be an Insider
August, 20, 2012
8/20/12
4:50
PM ET
Class of 2014 prospect Kris Harris (Tallahassee, Fla./Godby) has been forced to wear many hats thus far in summer training camp for his high school program. The 6-foot, 215-pound junior is cross-training at inside and outside linebacker but will also play some offense.
"I'm also working out at running back," Harris said. "I'll probably be one of our running backs when we're in the red zone or in short yardage."
It's the sort of versatility that has put Harris on the map so early in his career. He has played running back in the past and even got the attention of Alabama head coach Nick Saban when he worked out at Alabama's camp before his freshman season.
To continue reading this article you must be an Insider
July, 16, 2012
7/16/12
3:43
PM ET
Chris Hardeman
(Houston/Alief Taylor) had lots of offers and plenty more time to consider a decision. On Monday, he decided the time was right.
The 2014 cornerback recruit has committed to LSU. He pulled the trigger at the Tigers' weekend camp and announced his decision on his Twitter account.
A 5-foot-9, 180-pound prospect considered among the best of a loaded 2014 Texas defensive back class, Hardeman held more than 18 offers and chose LSU over Ohio State, Texas A&M, Texas and Oklahoma State, among others.
To continue reading this article you must be an Insider
July, 15, 2012
7/15/12
1:50
PM ET
With 19 of 25 spots filled for 2013, LSU's current recruiting class is getting crowded. But that didn't stop the Tigers from stockpiling for the future this weekend.
LSU added its first commitment for 2014 in the form of 6-foot-3, 227-pound linebacker
Kain Daub
(Ponte Vedra, Fla./Nease), who starred with the Louisiana Bootleggers during Saturday's 7-on-7 tournament.
It's early, but Daub is projected by many to be one of the top defenders in the 2014 class. Daub's original intention was to visit LSU and go home Friday, but he said he enjoyed his stay enough to extend it to Saturday.
To continue reading this article you must be an Insider
July, 14, 2012
7/14/12
7:25
PM ET
LSU's coaching staff got a first-hand look at its newest batch of offensive talent on Saturday, and the results were impressive to say the least.
The Louisiana Bootleggers -- an all-star 7-on-7 team comprised of mostly LSU commitments and targets -- blitzed through Saturday's 7-on-7 tournament in style, capping off a tournament victory with a 24-13 win against Edna Karr.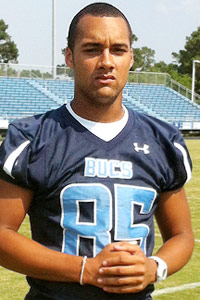 Gary Laney/ESPN.comLSU tight end commit DeSean Smith had a solid day for the Louisiana Bootleggers.
The list of future Tigers featured on the Bootleggers was almost as impressive as the plays they were making. Two-star quarterback
Shane McCarley
(Manvel, Texas/Manvel) went to the line with the likes of Tigers commit and ESPN 150 member
DeSean Smith
(Lake Charles, La./Barbe) lined up to his right, and fellow commits
Tre'Davious White
(Shreveport, La./Green Oaks) and
John Diarse
(Monroe, La./Neville) lined up to his left.
If there was any doubt as to why the trio is among the most coveted recruits in Louisiana, Saturday's games proved why. Smith was a matchup nightmare all afternoon with repeated catches over the middle of the field, and his leaping touchdown reception on a corner fade against St. Augustine belongs on any highlight tape.
White not only excelled as a receiver, but he got into the mix and proved his worth as a cornerback with stifling jams and several breakups.
There was no MVP award, but Diarse truly proved himself as the star of the day. Many consider the four-star athlete to be the best player in Louisiana, and it's hard to argue after watching Diarse race his way to two touchdowns in the championship game. On top of that he switched from receiver to safety on multiple occasions and made several gorgeous picks.
Marcus Spears reviews LSU Pro Day
SEC SCOREBOARD
Thursday, 9/3
Saturday, 9/5