May, 16, 2014
5/16/14
9:40
AM ET
As the 2014 NFL draft drew to a close last Saturday, I could still hear Joe Pendry's prophetic words in the press box on Nov. 5, 2011.
[+] Enlarge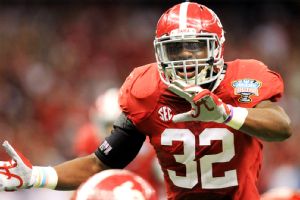 Scott Donaldson/Icon SMIC.J. Mosley was taken in the first round by the Baltimore Ravens.
Pendry, who had just retired the previous year as Alabama's offensive line coach, said there was a very simple reason that nobody could score a touchdown that night in Tuscaloosa, Ala.
"Look out there on the field, and probably 20 of the 22 defensive starters will be playing in the NFL," said Pendry, who was an offensive coordinator for the
Kansas City Chiefs
,
Buffalo Bills
,
Carolina Panthers
and
Houston Texans
before ending his career in the college ranks.
Turns out, he might have undersold just how much talent was on the field, which in my 20-plus years of covering the SEC is unquestionably the gold standard for premium defensive talent on the field together at one time.
In that game alone, which LSU won 9-6 in overtime, there were 28 defensive players who played in the game -- 14 on each side -- who would get drafted. That includes 10 first-rounders.
The grand total of future draftees who played in the game was 42, and that doesn't even count another handful of players who made NFL rosters as undrafted free agents.
"You don't see that every Saturday," said Phil Savage, former
Cleveland Browns
general manager and current executive director of the Senior Bowl.
"That's why it was a tug-of-war in the middle of the field, all those future pros on defense. We call it a logo game. Neither offense could move the ball very far past the logo at midfield."
Savage, the color man on Alabama's radio broadcasts, remembers doing interviews leading up to that epic No. 1-versus-No. 2 encounter and estimating that 40 to 50 players from the game would end up playing in the NFL.
"It's as close to an NFL game as you're ever going to see in terms of a college matchup, with so many future NFL players on each side," Savage said.
The two teams wound up playing twice that season. Alabama avenged its only loss by beating LSU 21-0 in the BCS National Championship in New Orleans. Alabama finished No. 1 nationally that season in scoring defense, and LSU was No. 2. Between them, they gave up 27 touchdowns in 27 games.
The only games in Savage's recent memory that would come close to that Alabama-LSU affair in terms of producing NFL draft picks were the Florida State-Miami game in 2000 and the Miami-Ohio State BCS National Championship game to cap the 2002 season.
Miami beat Florida State 27-24 in 2000, snapping the Seminoles' 26-game regular-season winning streak.
In the next three drafts, Miami produced 26 draft choices, although not all of those players played in that 2000 game. For instance,
Willis McGahee
and
Jerome McDougle
redshirted in 2000, and
Clinton Portis
was injured and didn't play.
Florida State, over the next three drafts, produced 18 draft choices.
But in one game, it's hard to imagine that we'll ever see 42 future draft choices again on the field playing, and certainly not 28 on defense.
As a comparison, in that FSU-Miami game in 2000, there were a total of 17 defensive players who would end up being drafted.
Now, when it comes to one team, good luck in trumping Miami's 2001 national championship team. The Hurricanes had 16 players from that team who would go on to be first-round picks.
Here's a look at the draftees from that Alabama-LSU game in 2011:
ALABAMA
[+] Enlarge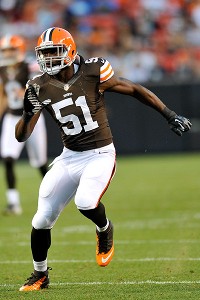 AP Photo/David RichardBarkevious Mingo was one of the many LSU defenders on the 2011 team that was drafted.
2014 draft
2013 draft
2012 draft
LSU
2014 draft
2013 draft
2012 draft
January, 30, 2014
1/30/14
10:30
AM ET
The SEC has
dominated the recruiting world
over the past several years. Since 2008, the SEC has had at least three schools finish in the top 10 of the ESPN recruiting class rankings each year. Last year, the conference had an impressive six schools ranked among the top 10 recruiting classes in the country. This year is much of the same, as seven SEC schools are ranked in the top 10.
Here's a closer look at the five best recruiting SEC schools in the
Ultimate ESPN 300
.
January, 29, 2014
1/29/14
10:30
AM ET
The ESPN Ultimate 300 looks back at the best recruits since 2006, and it's hardly surprising that the SEC made its presence felt in the rankings.
Here's a look at the top five SEC recruits in the
Ultimate ESPN 300
:
To continue reading this article you must be an Insider
November, 4, 2013
11/04/13
10:15
AM ET
Sit down, Michigan-Ohio State.


Take a back seat, Alabama-Auburn. Not so fast, Florida-Florida State. Try a little harder, Notre Dame-USC. Better luck next time, Oklahoma-Texas.
Although you're all amazing rivalry games, you just don't currently compare to the new rivalry in town: Alabama-LSU.
No, this game doesn't have the hatred that comes with the Iron Bowl or the storied tradition that Michigan-Ohio State possesses. But when it comes to the national championship, no other game holds the importance of Alabama-LSU. In the past few years, this game has been
the
game of the season.
On Saturday, when No. 1 Alabama (8-0, 5-0 SEC) hosts No. 13 LSU (7-2, 3-2), it will mark the eighth consecutive time these two have met as ranked opponents, and it will yet again have major SEC West Division championship and national championship implications in the balance.
[+] Enlarge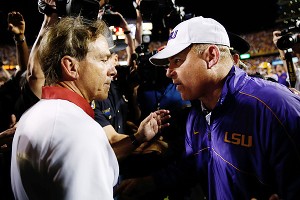 Jamie Squire/Getty Images for ESPN The MagazineThere's always a lot on the line when Nick Saban and Les Miles clash.
The past three games in this series have all dealt with the phrase "Game of the Century." And when the SEC West and the national championships have all been on the line, it's hard to argue against the hyperbole.
Since the 2006 season, these teams have delivered a few gems together. Four times, both have been ranked in the top 10, and twice they've met as No. 1 and No. 2. Oh, and once was in the national championship back in 2011.
"Every year -- past the first year we've been here [2007] -- it's [been a big game]," Alabama coach Nick Saban said.
"We have a tremendous amount of respect for them, being one of the most challenging opponents that we have in this league. The fact that they've been really, really good and we've been pretty good makes this game -- more than it has -- a tremendous amount of significance for both teams. ... It's a great game, and it's a game that players on both sides probably look forward to, but it's a tremendous challenge."
It certainly has become quite the challenge for both teams. Since 2006, Alabama has a 4-3 advantage over the Tigers but has lost at home twice. The winner of this game -- and the loser in 2011 -- has played in the national championship four times and won the SEC West five times. The average margin of victory in the six regular-season meetings between these two during that span has been 6.3 points. Alabama blanked LSU 21-0 in the BCS National Championship at the end of the 2011 season.
Two months earlier, the teams played their first "Game of the Century" when No. 1 LSU went to Tuscaloosa and left with a draining, 9-6 overtime victory over No. 2 Alabama. People poked at the offenses, but the story of that game was just how good both defenses were, as neither team gained 300 yards of offense and both defenses grabbed two takeaways.
Two freight trains smashed into each other in the middle of Bryant-Denny Stadium, but the one coated in purple and gold emerged still on the tracks.
Things were even more entertaining last fall, when No. 1 Alabama won 21-17 in thrilling, comeback style in Baton Rouge, La. While the 2011 game in Tuscaloosa had special-teams blunders and beautiful defensive stops, this one had a high-flying LSU passing game and a screen pass from AJ McCarron to T.J. Yeldon with 51 seconds remaining that put McCarron in tears and etched its place in the college football highlights hall of fame.
We also saw a classic in 2010, which featured two LSU fourth-down conversions and Les Miles introducing us to his appetite for eating grass. The 2009 game had that wonderful 73-yard Julio Jones touchdown and an interception that wasn't for LSU corner Patrick Peterson.
You want talent? There have been 31 players selected in the NFL draft who were on the Alabama or LSU rosters in the 2011 BCS title game.
Outside of the tremendous play on the field, you have the sideshow of Saban versus Miles. Saban is the ultimate perfectionist, and Miles' quirkiness can get the best of both him and his opponents. It truly is a match made in heaven, just like this game.
The animosity and disdain that seeps into every major rivalry isn't really there for this one. Sure, there was the Saban storyline that lingered for a few years because he's coached and won a national championship at both schools, but the loathing between players and fans in other rivalries really doesn't exist here.
This game has more of a mutual respect about it because of what is on the line when the clock hits zero. There isn't a shiny trophy or in-state bragging rights to claim. No, this game's winner is looking for bigger, more important awards, such as a division title and national championship.
"If you played at Alabama or LSU, it's one of those games you measure yourself by," Peterson said. "Look at the players who've come out of both schools, how many of those guys are in the NFL. It's
the
game in college football."
July, 17, 2013
7/17/13
7:00
AM ET
By
TideNation
and
GeauxTigerNation
| ESPN Insider
There have been dozens of All-Americans and first-round picks to come out Alabama and LSU in recent years, talented guys like
Courtney Upshaw
,
Barkevious Mingo
,
Trent Richardson
and
Tyrann Mathieu
. All told, there have been more than 30 NFL draft picks from both programs since Nick Saban arrived in Tuscaloosa in 2007.
But with so many players to choose from, how do you determine the best athletes to compete in the rivalry, the ones who have shown up and played their best when the two schools met on the football field each year?
TideNation writer Alex Scarborough and GeauxTigerNation writer Gary Laney did their best to answer that difficult question.
To continue reading this article you must be an Insider
July, 17, 2013
7/17/13
7:00
AM ET
By
TideNation
and
GeauxTigerNation
| ESPN Insider
The Alabama-LSU rivalry began heating up the minute Nick Saban left the Miami Dolphins in an attempt to resurrect a sleeping giant in Tuscaloosa, and it hasn't slowed down since. Alabama has flourished into a dynasty with three rings and counting, while LSU continues to battle for national championships year in and year out under the sometimes-eccentric leadership of Les Miles.
Head to head, the Crimson Tide and Tigers have had some of the most thrilling games in recent memory, often propelling one team or another on to the SEC championship and beyond. Each matchup has had its defining play or its defining performance, whether it was
T.J. Yeldon
's last-second touchdown in 2012 or Eric Reid's acrobatic interception the year before.
Breaking down each game was no easy matter. In fact, when TideNation writer Alex Scarborough and GeauxTigerNation writer Gary Laney sat down to make up a top 10 list of the best games since 2007, determining No. 1 was so difficult they had to split the difference and stop just short of calling it a tie.
Looking at numbers three through seven wasn't much simpler. But they persevered and ranked the games from best to worst, and here's the order they came up with:
To continue reading this article you must be an Insider
November, 1, 2012
11/01/12
12:20
PM ET
It's only fitting for what has been college football's best rivalry over the past five years or so that we look back at some of the best and most memorable moments.
No. 1 Alabama and No. 5 LSU will meet for the third time in 12 months on Saturday night in Tiger Stadium. It's their seventh meeting since Nick Saban returned to the SEC in 2007 as Alabama's coach, which only spiced up the rivalry. Saban, of course, was LSU's coach from 2000-04.
The teams have combined to win four of the past nine BCS national championships, and they're 3-3 in their past six meetings.
Here's a look back at those six games:
[+] Enlarge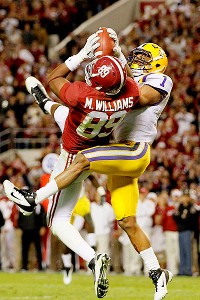 Kevin C. Cox/Getty ImagesLSU's Eric Reid wrestled this pass away from Alabama's Michael Williams for a memorable interception last season.
Fourth-down magic:
It was Saban's first game against his old team, and Alabama nearly pulled off an improbable upset of No. 3 LSU. The Tigers survived 41-34 and would go on to win the 2007 national championship. One of the plays everybody remembers from that season was Early Doucet's 32-yard touchdown catch and run to tie the score on a fourth-and-4 play with 2:49 to play. It was a quick-hitter that Doucet turned into a big play, and Saban lamented afterward that he knew the Tigers were going to Doucet. Saban had recruited and signed more than 30 of the players on that LSU team, and several went over to shake hands with him after the game. Saban said it was like "playing against somebody in your family."
The blitz:
While Doucet's touchdown tied the score in 2007, freshman safety Chad Jones sealed the win for the Tigers when he burst free up the middle on a blitz and forced Alabama quarterback John Parker Wilson to fumble. Curtis Taylor recovered for LSU at the Alabama 3-yard line with 1:39 to play, and Jacob Hester plowed in for the winning touchdown two plays later. The LSU players presented Les Miles with a game ball after the game in the locker room.
The hat trick:
In one of the greatest individual performances in this series' history, Alabama senior safety Rashad Johnson intercepted LSU quarterback Jarrett Lee three times in the 2008 game, and the Crimson Tide escaped 27-21 in overtime to stay unbeaten. Johnson's first interception gave the Tide possession at the LSU 15-yard line and set up their first touchdown. He returned his second interception 54 yards for a touchdown to tie the score in the second quarter, and his third interception was in the end zone in overtime.
The interception that wasn't:
It's a call that still boils the blood of LSU fans. Star cornerback Patrick Peterson appeared to intercept a ball on the sideline late in the game in 2009. Alabama was leading 21-15 at the time, and the official on the field ruled that Peterson was out of bounds when he intercepted Greg McElroy's pass. The call went to the replay booth, and even though replays seemed to show that Peterson had a foot inbounds, it wasn't overturned. Alabama was able to move into position for a clinching field goal to win 24-15 and stay unbeaten on its way to Saban's first national title at Alabama.
Cramped up:
In that same 2009 game in Tuscaloosa, Peterson had done a good job of holding Alabama star receiver Julio Jones in check. But early in the fourth quarter with LSU leading 15-13, Peterson had to leave the game with cramps. The next time Alabama got the ball, the Crimson Tide took advantage of Peterson's absence and tossed a quick screen pass out wide to Jones, and he turned on the jets for a 73-yard touchdown to put Alabama ahead for good.
The gamble:
Miles went into his bag of tricks twice in 2010, and LSU pulled out a 24-21 win, much to the delight of a raucous crowd at Tiger Stadium. Punter Josh Jasper ran for 29 yards on a fake punt in the third quarter. But the key blow for the Tigers came in the fourth quarter, when the "Mad Hatter" called for a double pitch on fourth-and-1 from the Alabama 26-yard line. Running back Stevan Ridley took a toss and then pitched it to tight end Deangelo Peterson on a reverse, and Peterson sprinted 23 yards to the Alabama 3. Ridley scored on third down from the 1 to put LSU ahead to stay.
Reid's acrobatics:
Even now when you go back and watch the play, it's still hard to believe that LSU safety
Eric Reid
managed to wrestle the ball away from Alabama tight end
Michael Williams
in mid-air and come down with possession. Alabama tried a reverse pass early in the fourth quarter, but Marquis Maze's throw hung up a little too long. It gave Reid just enough time to get back there and make his spectacular interception at the 1-yard line. LSU went on to win 9-6 in overtime last season in what was the most hyped regular-season game in SEC history.
Crimson wall:
Alabama got a second chance at LSU last season and made it count in the BCS National Championship Game. The Crimson Tide absolutely suffocated a listless LSU offense and didn't allow the Tigers to cross midfield until the fourth quarter. LSU was held to 92 total yards on offense, and Alabama rolled 21-0 to win its second national title in the past three years.
July, 27, 2012
7/27/12
6:09
PM ET
[+] Enlarge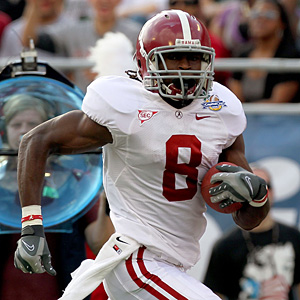 Mike Ehrmann/Getty Images2014 WR Demarcus Bingham looks and plays a lot like former Tide star Julio Jones (above).
HOOVER, Ala. -- At first glance, it looked like Julio Jones circa 2008 was competing at the National Select 7-on-7 tournament in Hoover on Friday. The guy in the No. 8 jersey for Foley High School was split wide and making catches all over the field. He even had the dreadlocks to go with it.
However, it wasn't Julio Jones. It was 2014 wide receiver
Demarcus Bingham
, and it's the not first time he has heard the comparison.
"When I hear people compare me to Julio, it's an honor to be compared to him because he's in the NFL now, of course, and he came out of Foley High School. But I want to be better than him," Bingham said.
To continue reading this article you must be an Insider
Marcus Spears reviews LSU Pro Day
SEC SCOREBOARD
Thursday, 9/3
Saturday, 9/5