February, 21, 2013
2/21/13
11:01
AM ET
Several of RecruitingNation's SEC sites will look this week at the players headed to the NFL combine, which begins Friday in Indianapolis, and other predraft camps. Today: Defensive linemen and linebackers.

If there's any doubt where LSU will need to replenish its stockpile after the 2012 season, watch the NFL combine. LSU has four defensive linemen scheduled to attend, including at least two who are likely to go in the first round. Add linebacker Kevin Minter and the Tigers will have five players from their front seven at the combine. LSU might have the "DBU" reputation, but perhaps it should be more noted for its defensive line production.
October, 5, 2012
10/05/12
8:00
AM ET
BATON ROUGE, La. -- The tough part of beating an elite program like Florida by 30 points, which LSU did a year ago, comes the next time you meet.
LSU's 41-11 win last year at Tiger Stadium, a game most remembered for Tiger punter
Brad Wing
's fake punt run for a touchdown that was called back because he was flagged for taunting on his way to the end zone, was the most lopsided LSU win in the history of the series.
[+] Enlarge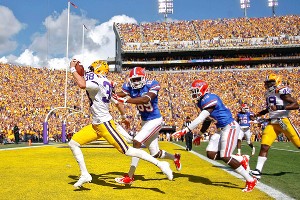 Derick E. Hingle/US PresswireLast season, LSU punter Brad Wing (38) scored on a fake punt that caught Florida's defense napping. But it was called back because of a taunting penalty on Wing.
It was that kind of day for the Gators -- so bad, so one-sided, that even the LSU punter was having fun and their expense.
October, 4, 2012
10/04/12
11:00
AM ET
Watching film of last year's LSU game must be traumatizing for Florida's defense.
All the Gators will notice is the constant pounding LSU's run game put on it. All those defenders were good for was getting pushed around and making each of LSU's running backs look like a Heisman candidate.
That film is probably burning in a trash heap this very moment. And that's perfectly acceptable when you consider the Gators surrendered 238 rushing yards to the Tigers last season.
For as much push as Florida tried to give LSU up front, the Tigers doubled that intensity, constantly knocking the Gators back as they cruised to a 41-14 win at Tiger Stadium.
[+] Enlarge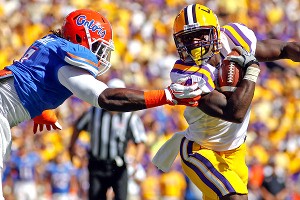 Derick E. Hingle/US PresswireThe Tigers gashed the Gators defense for 238 yards on the ground in last year's meeting.
If the Gators are going to pull off the upset in the Swamp this weekend, the rush defense has to be infinitely better, and it's tangling with basically the same backfield that wore it out last year. LSU's multiback system is alive and pounding, as the Tigers are second in the SEC in rushing, averaging 229.6 yards per game and 5.3 yards per carry.
"They're a team that really likes to run the ball and grind down a team and win the game in the third and fourth quarter," Florida linebacker
Jon Bostic
said.
"We have to come out and make plays, too. We can't just let them come out and run the ball down our throats."
And that's exactly what happened to the Gators last year in October. In back-to-back weeks against the league's strongest running teams in Alabama and LSU, the Gators gave up a combined 464 yards and allowed both teams to run for more than 4 yards per carry.
It's obvious that toughness in the trenches was lacking. As the Gators enter the first weekend in October, they are light-years ahead of last year's squad in the toughness department. The blue-collar approach Will Muschamp wants from his defense is finally starting to come together, and that will go a long way against LSU.
"Toughness is everything," defensive tackle
Sharrif Floyd
said of stopping the run. "You have to have toughness, smartness and discipline. We're working on all of it. Toughness is a big factor when the run game is involved."
Florida is allowing a little less than 120 rushing yards a game and just 3.8 yards per carry, but the Gators have yet to play a team as physical and as deep in the run game.
LSU can throw four backs out on any given drive. There's the quick bruiser in
Kenny Hilliard
, the speedy
Michael Ford
, the pounding
Spencer Ware
and the dynamic
Jeremy Hill
, who has yet to really be unleashed this year. Also, the Tigers have a certified battering ram in 272-pound fullback
J.C. Copeland
.
All five are averaging more than 4 yards per carry, with Hilliard leading the group with 6.9 yards per rush.
"We have guys who can run fast and run hard. It's hard for defenses to prepare for," said Ford, who has 224 yards, but is averaging 5.9 yards per carry.
"Even our defense, it's kind of hard because they always get a different look."
Fresh legs against huffing, puffing defenders is never a fair fight, and that's why the Gators found themselves on defense for the majority of the second half in last season's game. Florida's defense couldn't get off the field on third downs, and you can't win games like that.
"That's just an important storyline in this game -- winning on third down -- because this is a team that knows how to run it, and if they can possess the ball and continue to convert on third downs, it's a hard day," Florida defensive coordinator Dan Quinn said.
The good news for Florida is that opponents have converted on third downs just 29 percent of the time this fall.
Part of Muschamp's plan against the rush is to add defensive backs to the box and control the perimeter. He's also harping on gap control.
But to Bostic, positioning isn't everything. The mental side will be just as important and he wants players to have more composure and be more restrained this time. Overzealous play in pursuit could be detrimental against this running game, so patience is key.
"A lot of guys will get antsy and want to go make a play," he said. "You've got to let the big plays come to you."
LSU will go right at them ... again and again.
October, 4, 2012
10/04/12
9:09
AM ET
With LSU heading to Gainesville this weekend to play Florida, we caught up with Mike DiRocco of GatorNation to check in on the 4-0, 10th-ranked Gators
Q: Does Florida get enough out of Jeff Driskel to win against the better teams it will face in the SEC?
Despite being a sophomore who rarely played last season, Driskel has been surprisingly efficient: He doesn't turn the ball over, he's accurate with his throws, and he's been able to check the Gators into the correct runs when he gets to the line of scrimmage and sees the defense.
January, 10, 2012
1/10/12
4:27
PM ET
We officially said goodbye to the 2011 season Monday night and crowned the
Alabama Crimson Tide
as college football's new champions. Now, it's time to shift our focus to 2012. Here's to hoping the Mayans were wrong:

1. Alabama:
The defense will get hit the hardest by graduation and the NFL draft, but Alabama's offense should be better. While it's almost a forgone conclusion that junior running back
Trent Richardson
will declare for the NFL draft, Alabama returns a veteran offensive line, has a good set of up-and-coming receivers and has some pretty talented running backs to work with, including pounder
Eddie Lacy
. Oh, and that quarterback ain't too bad, either.
2. LSU:
The Tigers might have come up short in the big one, but it's not like LSU is going anywhere. That defense that ranked second nationally was made up by a slew of youngsters. LSU returns double-digit starters next year, including most of its front seven. A major bright spot for this team is that former Georgia quarterback
Zach Mettenberger
will now get his chance, and has skill that
Jordan Jefferson
and
Jarrett Lee
lacked.
3. Georgia:
The Bulldogs might return more starters next year than LSU. After surpassing expectations and challenging LSU for the SEC title, the Bulldogs should enter next fall as the favorites in the SEC East. Stud quarterback
Aaron Murray
returns and so do most of his weapons. With arguably the easiest schedule (again) in the SEC, Mark Richt will be expected to take his Dawgs back to Atlanta.
4. South Carolina:
There won't be any sleeping on the Gamecocks in 2012. After getting 11 wins for only the second time in school history, South Carolina should compete for the SEC East for the third straight year. The Gamecocks return a slew of talent, especially on defense, and saw tremendous improvement in quarterback
Connor Shaw
. Also, running back
Marcus Lattimore
should be back and healthy after his devastating season-ending knee injury.
5. Arkansas:
The Razorbacks will lose a lot of key players that have helped Arkansas get to where it is under Bobby Petrino. Defensively, five seniors will say goodbye, while the offense will lose three NFL wide receivers. However, that offensive line, which grew up as the season progressed, will be much better and star running back
Knile Davis
should be back and healthy. Quarterback
Tyler Wilson
is back, so there shouldn't be much dip in the passing game even with some new faces at receiver.
6. Auburn:
Those youngsters on the Plains will be more mature and much improved in 2012. That has to be a scary thought for other SEC members. Auburn doesn't lose much from its 2011 team and gets a great addition to the defensive side of the ball in new defensive coordinator Brian VanGorder. Offensively, there are weapons everywhere, but the key will be finding the right quarterback ... again.
7. Florida:
Will Muschamp's first year as the Gators' head coach didn't go as planned, but there is still a lot of talent in Gainesville, especially on the defensive side of the ball. Florida loses just one starter on defense and should have one of the fastest, most aggressive defensive units around the SEC. Getting that offense going will be key to Muschamp's second year, but with all that turnover, it should be a fresh start for this unit.
8. Missouri:
This new group of Tigers enters 2012 as a factor in the SEC East. Missouri returns nearly everyone from 2011, including quarterback
James Franklin
and running back
Henry Josey
, who both put up solid numbers in 2011. The Tigers will no doubt hit some snags as they transition into their new home, but with all the talent that returns, Missouri won't be a pushover in its first year in the SEC.
9. Tennessee:
Derek Dooley has the pieces in place on both sides of the ball to compete in the SEC East. That young defense won't be so young in 2012 and quarterback
Tyler Bray
returns with his deep-threat sidekicks at wide receiver. With a solid offensive line, the next step for Tennessee is to find a consistent running back to help take the pressure off of the passing game. There's a lot of pressure on Dooley to get things done, and he has the talent to in 2012.
10. Texas A&M:
The Aggies have the pleasure of entering the SEC as a Western Division team. That's not exactly a warm welcome. It doesn't help that Texas A&M is losing a ton from its 2011 team. There could be six NFL draft picks who won't be back in College Station next season. Quarterback
Ryan Tannehill
and top safety Trent Hunter are gone, and so is receiver
Jeff Fuller
.
Christine Michael
should do well as
Cyrus Gray
's replacement at running back, but the core of this team will be gone.
11. Vanderbilt:
Year 1 of the James Franklin era was a success and there shouldn't be a lot of drop-off for the Commodores next season. Vandy loses top defenders Chris Marve, Tim Fugger and Casey Hayward, but a lot of veterans return on that side of the ball.
Jordan Rodgers
is back at quarterback,
Zac Stacy
returns at running back and wide receivers
Chris Boyd
and
Jordan Matthews
will be back. Running back and specialist
Warren Norman
should be back too and the offensive line returns four starters.
12. Mississippi State:
The Bulldogs lose a lot on both sides of the ball in 2012, but should have a top cornerback combo in Johnthan Banks and Corey Broomfield. Losing Fletcher Cox up front will leave a hole on the defensive line and saying goodbye to linebacker Brandon Wilson won't be easy.
Tyler Russell
will probably get the first crack at quarterback for the Bulldogs, but he will be without his safety net in running back
Vick Ballard
. The good thing is that the receivers are back, but this team will have to grow up in a hurry.
13. Kentucky:
The offensive line will have some missing pieces in 2012 and the defense loses six starters, including star linebacker Danny Trevathan.
Maxwell Smith
and
Morgan Newton
will battle at quarterback, but with how 2011 ended, Smith might have the advantage. This team struggled mightily on offense and the problem was that there wasn't a lot of improvement throughout the year. The offseason should be dedicated to find ways to get this offense moving.
14. Ole Miss:
Hugh Freeze steps into a tough situation at Ole Miss. His first order of business needs to be improving the discipline on this team. It was awful in 2011, and if Ole Miss wants to improve it has to clean that up. The defense should get a boost with leader D.T. Shackelford returning from his season-ending knee injury and offensive playmakers
Jeff Scott
,
Donte Moncrief
and
Nickolas Brassell
are back. The offensive line loses some key components, and the quarterback situation is far from figured out.
Haskins, McElwain Shine At IMG Regional
SEC SCOREBOARD
Thursday, 9/3
Saturday, 9/5