November, 1, 2012
11/01/12
3:13
PM ET
BATON ROUGE, La. -- How big is it for LSU to land
Jarrell Martin
, the No. 14-ranked player in the ESPN 100?
Martin, who committed to the Tigers on Thursday in an assembly at Madison Prep Academy, is the most coveted recruit to commit to the Tigers since
Glen "Big Baby" Davis
, who was ranked as the nation's No. 13 player when he pledged in 2004. If LSU coach Johnny Jones was hired to improve recruiting, Martin's pledge is proof that he's delivering.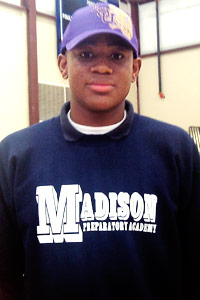 David Helman/ESPN.comNo. 14 hoop prospect Jarrell Martin, decked out in an LSU hat, committed to the Tigers on Thursday.
That makes Martin the the most coveted player to commit to LSU since Davis who, like Martin, prepped at a local high school, as Davis attended University Lab.
Martin should provide Jones with plenty of the firepower he wants in implementing an up-tempo, fast-break offense at LSU.
At 6-foot-7, Martin projects as a power forward, but he said he hopes to move inside and out, depending on how he's matched up -- and Jeff Jones, Martin's coach at Madison Prep, agreed with his star player's assessment, comparing him to North Texas standout and former Johnny Jones pupil Tony Mitchell.
"Really what will help Johnny with his system are the guys he'll have in John Udoh and Deng Deng and [Jordan] Mickey and [Tim] Quarterman," Jeff Jones said. "... There will be a lot of places to move Jarrell around. And whatever you ask Jarrell to do, he's going to do it."
Martin sees his versatility as being similar to a particular player who never even considered attending North Texas.
"I'd say I see my game like LeBron James -- I just take whatever is there," Martin said. "If a big guy is on me I'll go out and use my perimeter game, if a small guy is on me I'll go down low."
In light of that versatility and willingness, the presence of other big men among LSU commits could be a boon for Martin offensively.
Add in LSU's previous commitment from forward
Jordan Mickey
, the No. 46 player in the ESPN 100, and LSU has two Top 50 players in the same class for the first time since 2005 when Mitchell and Magnum Rolle both signed with the Tigers as top 50 recruits on Rivals.com. LSU also has a pledge from
Tim Quarterman
, the No. 66 player on the Rivals 100 and junior college forward
Deng Deng
.
John Odoh
, a junior college center, will join the team in January.
Better than that, Jones' new batch of recruits already have some experience playing with each other.
"I actually played against Tim Quarterman and Jordan Mickey," Martin said. "Me and Jordan Mickey used to be together at the camps, and he was one of the guys that we'd be together at the camps and become close friends."
But it's Martin who stands out among the trio of prospects. LSU has had other top players since Davis, but stars such as Tasmin Mitchell (No. 20, Rivals) in 2005, J'Mison Morgan (No. 26, ESPN),
Aaron Dotson
(No. 45, ESPN) in 2009 and Johnny O'Bryant (No. 46, ESPN) in 2011 were all highly regarded recruits, but not as much as Martin.
It should also be noted that Morgan signed with LSU when John Brady was still head coach and was let out of his letter of intent by Trent Johnson, eventually winding up at at UCLA before transferring to Baylor.
October, 11, 2012
10/11/12
3:33
PM ET
BATON ROUGE, La. --
Anthony Hickey
has a new look this season.
Gone are the thick dreadlocks that became his signature look during a freshman season in which he averaged 8.9 points and 3.8 assists. He now sports a close-cut look that makes him look more streamlined, perhaps a bit shorter and altogether different from last year.
Kind of like his LSU team.
September, 30, 2012
9/30/12
3:21
PM ET
BATON ROUGE, La. -- When Johnny Jones was hired as LSU's basketball coach in the spring, he came with the reputation of being a top-notch recruiter.
Evidence of that has been pouring in this week.
Just two days after the Tigers landed a commitment from ESPN 100 forward
Jordan Mickey
, Jones added a second ESPN 100 commitment Sunday when point guard
Tim Quarterman
(Savannah, Ga./Johnson) pledged to sign with the Tigers. They are the first two ESPN 100 commitments Jones has landed for the Tigers since he arrived on campus to replace Trent Johnson, who left LSU for TCU.
It's huge for LSU, a program that hasn't been to an NCAA tournament since winning the SEC in 2009 and hasn't consistently been able to land top-tier talent. In Jones' short tenure, all of his recruits before this week -- point guard
Corban Collins
and wings
Shane Hammink
and
Shavon Coleman
in the 2012 class and junior college big men
John Odoh
and
Deng Deng
as early commitments in the 2013 class -- were relatively unknown, sleeper-type recruits.
What this week proves is LSU won't necessarily have to rely on the under-the-radar guy -- Jones can contend for top talent.
The addition of Quarterman also further clarifies the picture of what kind of team Jones wants to have. In Coleman and Hammink, Jones signed a pair of long, 6-foot-6 wings and Deng and Mickey are both versatile, athletic, 6-8 players. With big point guards like the 6-foot-5 Quarterman and the 6-3 Collins, LSU's future lineups appear to be ones of across-the-board athleticism and length.
A lineup with Quarterman at the point, Deng and Mickey inside and Coleman and Hammink on the wings would be all players 6-5 and taller, but not taller than 6-8, with the interchangeable ability to switch on screens and get in passing lanes with long arms and athleticism on defense and run with explosiveness and skill on the fast break on offense.
With four commitments already, LSU has one more scholarship to give in the class.
And there is at least one more ESPN 100 player who shares a mutually strong interest with LSU, 6-foot-7 forward
Jarrell Martin
, a local talent from just a few miles north of LSU's campus in Baton Rouge. If Jones can add Martin -- another versatile, athletic forward -- it would further establish the identity of Jones' Tigers teams going forward.
And it would also further establish LSU, under Jones, as a legitimate player in the national recruiting scene.
September, 28, 2012
9/28/12
2:19
AM ET
Remember the summer when new coach Johnny Jones struggled mightily to find big men for LSU?
Seems like a long time ago now.
Jordan Mickey
, a 6-foot-8 forward from Arlington, Texas, announced Thursday that he was the third commitment for LSU's 2013 class, all big men. Mickey, the No. 45 player in the ESPN 100, joined junior college transfers
John Odoh
, a 6-10 shot-blocker, and
Deng Deng
, a versatile, 6-8 Australian, in the class.
To continue reading this article you must be an Insider
September, 4, 2012
9/04/12
12:25
AM ET
LSU landed its second basketball commitment in one day when 6-foot-11 Hill College center
John Odoh
chose to commit to LSU on Monday.
Odoh, a native of Nigeria, originally signed with North Texas last spring, but got out of the letter of intent after head coach Johnny Jones left UNT for LSU. Odoh was unsuccessful in an attempt to become academically eligible to play for the Tigers in summer school and had to return to junior college.
His juco coach, Swede Trenkle, confirmed the commitment via email Monday night.
To continue reading this article you must be an Insider
June, 19, 2012
6/19/12
9:13
AM ET
When point guard
Corban Collins
became LSU's fifth recruit for the 2012 basketball signing class last week, it gave a look of completion for Johnny Jones' first Tigers signing class.
[+] Enlarge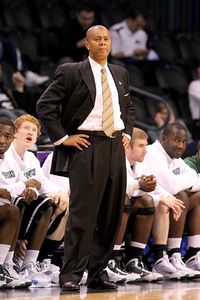 Ronald Martinez/Getty ImagesJohnny Jones' 2012 recruiting class is impressive considering he was named head coach of LSU less than three months ago.
Sort of.
Collins gives LSU two true point guards (along with returning starter
Anthony Hickey
) to go with four wings (returning starter
Andre Stringer
and recruits
Shavon Coleman
,
Malik Morgan
and
Shane Hammink
), two "face-up," perimeter-shooting forwards (
Eddie Ludwig
and
Jalen Courtney
) and two "true" post players (returning starter
Johnny O'Bryant III
and recruit
Calvin Godfrey
).
To continue reading this article you must be an Insider
June, 15, 2012
6/15/12
6:30
AM ET
GTN writers Gary Laney and David Helman answer your questions in this week's mailbag. You can send questions to glaneyespn@gmail.com or helmanespn@gmail.com or their Twitter accounts, helmanespn or glaneyespn.
Today, they'll discuss:
1. Recruiting grades
To continue reading this article you must be an Insider
May, 24, 2012
5/24/12
9:53
AM ET
GeauxTigerNation writers David Helman and Gary Laney answer your questions in our first mailbag, answering your questions on football, recruiting and basketball.
Today's topics include:
Tyrann Mathieu's chances of contending for another Heisman Trophy
The Tulane series
To continue reading this article you must be an Insider
May, 17, 2012
5/17/12
2:25
PM ET
North Texas has changed its stance on highly-regarded junior college center
John Odoh
.
Odoh, a Nigerian who led the nation in rebounding as a sophomore at Hill College (Texas), was released from his NCAA letter of intent by UNT head coach Tony Benford, according to a North Texas news release. He is allowed to explore any program not in the Sun Belt Conference, North Texas' current league, or Conference USA, where the Eagles are headed starting in the 2013-2014 school year.
That's a change in North Texas' stance. Last week, athletic director Rick Villarreal said he
would not grant Odoh a release to LSU
, where former North Texas coach Johnny Jones is now head coach. Jones was North Texas' coach when Odoh signed in the early period. It's widely assumed Odoh would be interested in maintaining his association with Jones at LSU.
To continue reading this article you must be an Insider
Six NOLA players punch Opening tickets
SEC SCOREBOARD
Thursday, 9/3
Saturday, 9/5