LSU Tigers:

John L. Smith
December, 5, 2012
12/05/12
9:00
AM ET
Here we are again talking about another potential national championship for the SEC.
Weren't we having this same conversation last year, the year before that and the year before that?
In fact, does anybody really remember the last time we weren't having this conversation?

The BCS Championship Game festivities will again include an SEC team this season, and once again, it's Alabama carrying the banner for the league.
If you think everybody else in college football is tired of seeing the SEC win all the time, try taking the temperature of fans in Baton Rouge, La., or Athens, Ga., or Auburn, Ala., over how tired they are of seeing Alabama win all the time.
November, 22, 2012
11/22/12
7:00
AM ET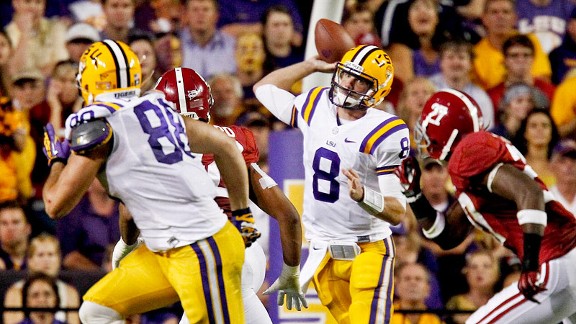 Derick E. HingleLSU quarterback Zach Mettenberger will aim to exploit Arkansas' suspect pass defense.
BATON ROUGE, La. -- Back in August, an LSU at Arkansas game the day after Thanksgiving looked like a pretty sexy matchup of top-10 teams. But then the Razorbacks' season happened. Far from a Top 10 team, Arkansas comes into its season finale at 4-7. LSU is 9-2 and still hoping for a BCS bowl and even with an ever-so-slight chance at the SEC championship. Here are five storylines to watch:
1. The search goes on:
John L. Smith has held out hope that he'd stay on as Arkansas' head coach. Not likely. He was hired for 10 months and $850,000 in April after Bobby Petrino was fired for lying about an extramarital affair. Smith inherited a Top 10 team, but has seen it go off the rails in a season where injuries and other issues have resulted in what he called "a perfect storm" of problems. They won't likely be his problems for long. The big question is, when does Arkansas make it official? Right after the game?
2. Ten-win season?
LSU (9-2, 5-2) is looking for its third straight double-digit win season and sixth in eight seasons under Les Miles. With help, the Tigers could also end up in a BCS bowl and there's a slight chance, with help from an Auburn upset of Alabama on Saturday, that the Tigers could win the SEC West and advance to the SEC championship game in Atlanta. It wouldn't be entirely accurate to say LSU is playing for either a BCS bowl or an SEC title because the Tigers could win and get neither. But lose, and the Tigers get none of it.
September, 23, 2012
9/23/12
10:29
AM ET
It's time to take a look at what we learned from a another weekend of football in the SEC:
1. The East has a trio of legit contenders:
Heading into the season, it was the SEC Western Division that had the big three. Now, it looks like the East might own that distinction. Florida, Georgia and South Carolina have all been playing high-quality ball the past few weeks, and Saturday delivered us the kind of victories we needed to see from the Bulldogs and Gamecocks. We knew Florida had some real bite and fight after back-to-back road wins in tough environments; then Georgia and South Carolina dismantled their opponents at home. Georgia crushed a talented Vanderbilt team 48-3, while South Carolina ran over Missouri 31-10. The race between these three for the East crown should be very exciting this season, and it's time to seriously consider one of them having what it takes to
really
challenge the West winner in Atlanta.
[+] Enlarge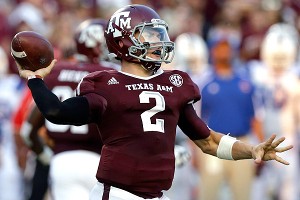 AP Photo/David J. PhillipJohnny Manziel and the Texas A&M offense are clicking on all cylinders right now.
2. The Razorbacks are lost:
Tyler Wilson
's return was supposed to energize a reeling Arkansas team. Having him on the field was supposed to make this team better. But it did neither, as the Hogs lost to Rutgers 35-26 in a game that could have been worse. Again, Arkansas' defense fell apart when the Hogs needed it the most. The Razorbacks surrendered 525 yards of offense, including 397 passing yards from Rutgers quarterback
Gary Nova
and 128 rushing yards. The Hogs squandered an early 10-point lead and looked dazed after Rutgers made its run from the second to third quarter. Wilson threw two interceptions and the running game managed just 73 yards, including 17 from
Knile Davis
. This was a game Arkansas had to win, but the Hogs folded. It's clear John L. Smith isn't the motivator or leader this team needs.
3. Zach Mettenberger has to get better:
If LSU is going to continue to hold the torch as a legitimate SEC/national title contender, its quarterback has to play better. Mettenberger was supposed to make LSU's offense better, especially when it came to throwing the ball, but against Auburn, in his first SEC start, he didn't exactly make LSU's offense look much different from what we saw last year. His decision-making was off, as were some of his passes. In key situations, Mettenberger couldn't deliver the drive-extending throw, as he completed 15 of 27 passes for 169 yards. The Tigers survived against an overmatched Auburn team, but against the likes of Alabama, Florida or South Carolina, LSU might not be so lucky. His field focus has to improve.
4.
The Aggies' offense is dialed in:
The Kevin Sumlin era in College Station has come with a bunch of points and yards. Sure, the competition since the season-opening loss to Florida hasn't been near the quality the Aggies will face in league play, but you can tell A&M players totally understand what Sumlin and offensive coordinator Kliff Kingsbury are trying to do on offense. We thought it might take a while for the Aggies to resemble Houston's old offense, but in the past two games A&M has scored 118 points and put up 1,053 yards. Fifteen of A&M's 17 touchdowns in the past two games have come from the offense, with quarterback
Johnny Manziel
being a part of 11 of them. The Aggies' adaptation to this new offense has been very impressive.
5. Missouri isn't fit for the SEC yet:
We saw the obvious fatigue in the 41-20 loss to Georgia, and Missouri's lack of shape came to light in South Carolina's blowout win Saturday. The Tigers looked like they just didn't have the energy or strength to battle with the Gamecocks up front. Missouri managed just 109 rushing yards (averaging 3.4 yards per run) while giving up 144. Quarterback
James Franklin
was sacked three times and managed just 92 passing yards, as the Gamecocks made his day miserable with constant pressure. You just didn't see much fight against South Carolina. The Tigers were exhausted well before the game ended, and that's not a good thing. This team talked about size not being an issue, but it's clear that Mizzou's lines are wearing down. The Tigers haven't won the battle up front in their two SEC games (both losses).
July, 20, 2012
7/20/12
11:12
AM ET
HOOVER, Ala. -- Now that another year of SEC media days are through, it's time to take a look back at the best moments from this year's three days in the Wynfrey Hotel:
Best interview:
Yes, Missouri wide receiver
T.J. Moe
had a pretty good time with the media in Hoover and Arkansas coach John L. Smith seemed to win over the main ballroom during his press conference, but the best interview of the week had to go to Alabama offensive lineman
Barrett Jones
. The veteran strolled right into our interview room munching on pecan pie bites without a care in the world. But the real magic came during his video interview where he playfully crushed his best friend and former teammate William Vlachos and gave fellow SEC blogger Chris Low a shout out during his hit. Jones came prepared and knew how to have fun.
[+] Enlarge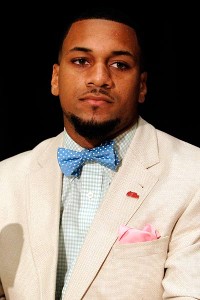 Butch Dill/AP PhotoOle Miss WR Donte Moncrief dresses to the nines for his appearance at SEC media days.
Best quote:
There were so many good one-liners from Moe that we're giving you our top three from the week:
Moe on what's different about the SEC: "They say girls are prettier here, air's fresher and toilet paper is thicker." -- Offensive lineman Elvis Fisher later told us that this line was planned after a conversation during the trip over.
But Moe wasn't done there: "Apparently Ryan Swope is a god because he can come in and get first-team all-SEC. But that's fine."
And this one really got to Arkansas running back Knile Davis: "In the Big 12, we put our best athletes on offense. [In the SEC], they put their best athletes on defense."
Best outfit:
The players came out and dressed well this week, like Auburn's
Corey Lemonier
and bow tie and red-striped socks and Vanderbilt's
Trey Wilson
in his slick charcoal suit with the black checkered shirt and red tie. But Ole Miss wide receiver
Donte Moncrief
stole the show with his colorful outfit. He rocked a light beige jacket over a checkered mint shirt and a blue bow tie. He was also equipped with salmon pants and a bright pink pocket square. The man dresses with confidence.
Best moment:
Davis was as cool and relaxed as ever during his time in Hoover. He had no problem proclaiming that he still was the league's best running back, but the best moment came when he was leaving our room. As Davis headed toward the door, Chris asked him if he still thought he was the best and Davis replied with a smile, "Still the best and tell Marcus [Lattimore] I'm coming for him."
Best interviewer:
We paled in comparison to the journalistic skills of Mississippi State offensive lineman
Gabe Jackson
, who took some time to interview Chris on camera. Chris looked like a deer in headlights when Jackson started firing hard-hitting questions and then asked him to name as many dog breeds as he could in 10 seconds. The tongue-tied Chris didn't even mention bulldog.
Most improved:
LSU quarterback
Zach Mettenberger
has had a very up-and-down college career, but he walked right into media days without a nervous fiber in his body. He's known to boast a little about his talents and had every opportunity to once again, but didn't. He was very humble and praised his teammates before even mentioning his ability. Plus, he handled questions about his past at Georgia like a pro.
Most confident:
We're naming our top four here:
Moe: He's sick of hearing about transitioning over to the SEC and he let everyone know about it.
Davis: No hesitation in claiming he's the SEC's best running back.
Tennessee quarterback Tyler Bray: He doesn't talk much, but he made the statement that Tennessee will win the SEC this season. That's pretty gutsy.
Florida running back Mike Gillislee: His goal for the season: 1,500 rushing yards and 24 touchdowns. Florida hasn't had a 1,000-yard rusher since Ciatrick Fason in 2004 and 24 rushing touchdowns would break Tim Tebow's record of 23.
Best hair:
Georgia linebacker
Jarvis Jones
had his hair braided in a very creative, funky way and it looked clean. It also took three and a half hours to do.
Coming out of his shell:
Florida outside linebacker/defensive end
Lerentee McCray
is pretty soft-spoken and can be shy around the media, but not in Hoover. He was talkative and showed a little confidence when he said his favorite part of football is hitting the quarterback so he can "wipe the smiles off their faces."
July, 19, 2012
7/19/12
8:32
AM ET
HOOVER, Ala. -- Day 2 of SEC media days sent some media members in to a frenzy, as 24 combined representatives from six teams paraded through The Wynfrey Hotel in Hoover, Ala.
Arkansas tried to steal the show Wednesday, as
Knile Davis
anointed himself as the conference's best running back for the second straight year and interim coach John L. Smith sent a barrage of one-liners through the main ballroom.
But get ready for the crowd Friday. That's when Alabama comes to town, meaning a cluster of Crimson Tide faithful will be packing into the Wynfrey and drowning out every bit of noise with a never-ending series of "Roll Tide."
Joining Alabama is Tennessee, Ole Miss and Georgia.
Here are some things to look out for:
Nick Saban hates comparisons, but expect him to receive a few questions about comparing his current defense to the one he had in 2010. He'll certainly love those.
He and his players will also get a plenty of questions about the offense, especially with quarterback AJ McCarron returning and Eddie Lacy taking over at running back. Unfortunately, neither will be in attendance.
It's no secret that Tennessee coach Derek Dooley's seat is pretty hot in Knoxville, so he should expect to receive questions surrounding his job security. But has he really had enough time to right a ship that was sinking when he arrived and is just now patching up the hole?
Tyler Bray will be in the house. He's one of the league's best quarterbacks and he's confident in his ability, but let's see just how much maturing he's done heading into Year 3.
Georgia has dealt with a handful of offseason distractions thus far, including losing starting running back Isaiah Crowell. Mark Richt and his players should be prepared to answer questions about moving on and where the running game goes from here.
Jarvis Jones and his pursuit to be the nation's best linebacker should be a fun subject to tackle.
Ole Miss coach Hugh Freeze is at SEC media days for the first time. He's asked Rebel Nation for patience and is dealing with a roster that has a lot of holes on it. Can he convince people here that the Rebels are ready to turn things around?
July, 18, 2012
7/18/12
3:34
PM ET
[+] Enlarge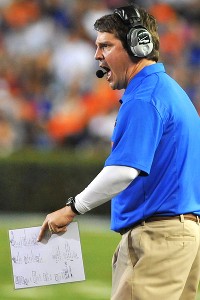 Al Messerschmidt/Getty ImagesGators coach Will Muschamp believes the LSU-UF game is good for the SEC.
Here are some quotes by SEC coaches and players about LSU at SEC Media Days this morning.
Florida coach Will Muschamp on LSU as a permanent cross-division opponent:
"I think that Florida-LSU is good for our game. Les has done a tremendoux job at LSU. Urban did a great job at Florida. You really look at from '03 to know, your'e looking at teams that have won three national championships and LSU played for another one last year. Both programs are operating at a high level."
Mississippi State coach Dan Mullen on last year's LSU game:
"I look back, last year, LSU, NMo. 1 team in the country, wins the SEC championship, it was 14-9 in the fourth quarter. We took some shots down the field, 0-for-3 for those shots. We catch one of those, make a touchdown, that becomes 16-14 at home. On a Thursday night with our defense going out on the field that have played pretty well, you're in the opportunity now to win that game. It's those one big plays that can make difference in the games."
Mullen on Tyrann Mathieu:
"I think Mathieu at LSU is one heck of a football player. He makes plays, does an amazing job in utilizing his ability. He's always around the ball making big plays."
May, 18, 2012
5/18/12
3:14
PM ET
We're putting spring behind us and looking toward the fall with our post-spring power rankings:
1. LSU:
The Tigers had one of the best springs around. Things were quiet off the field, and the offense rallied behind quarterback
Zach Mettenberger
. Coach Les Miles was very impressed with Mettenberger's play and maturity, and expects LSU's offense to be more balanced with him under center. LSU can still use four or five running backs as well. Defensively, the Tigers are stacked once again, especially up front with two potential first-rounders in ends
Sam Montgomery
and
Barkevious Mingo
. Questions surround the inexperienced linebackers, but
Kevin Minter
had a tremendous spring in the middle. On paper, LSU is equipped with the talent to make another title run, and gets Alabama at home this year.
Recapping Florida Opening Regionals
SEC SCOREBOARD
Thursday, 9/3
Saturday, 9/5