April, 11, 2014
Apr 11
9:00
AM ET
BATON ROUGE, La. --
LSU
held its final spring practice this week, officially sending the Tigers into a crucial offseason.
An obvious point this spring was that Les Miles' coaching staff was working with an incomplete roster. Seven underclassmen jumped ship to enter the NFL draft and only two of the Tigers' 23 signees -- quarterback
Brandon Harris
and defensive back
Edward Paris
-- enrolled early to participate in spring practice.
That leaves plenty of questions as the team moves into the offseason -- five of which we'll address now:
5. Do the Tigers have adequate depth in the backfield?
[+] Enlarge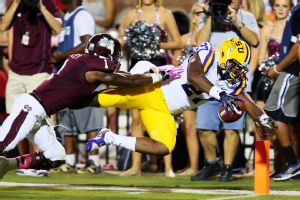 Spruce Derden/USA TODAY SportsOutside of Kenny Hilliard, there is not a lot of returning depth in the backfield and the Tigers will need to rely on incoming freshman.
The answer to this question during the spring was a resounding no --
Terrence Magee
and
Kenny Hilliard
were the only scholarship tailbacks on the roster, and Magee missed a portion of the month after spraining an ankle in a scrimmage -- but that's irrelevant. You don't win or lose a game in March or April.
But even when freshmen
Leonard Fournette
and
Darrel Williams
arrive this summer, will that be enough? An injury here or there could cause major problems. For example, look what happened at Georgia last season. When the season opened, it appeared as though the Bulldogs had one of the nation's top backfields with
Todd Gurley
and
Keith Marshall
leading the way and freshmen
J.J. Green
,
Brendan Douglas
and
A.J. Turman
serving as backups. But then Gurley suffered a minor injury in the opener against Clemson followed by a serious ankle injury in Game 4 against LSU. The next week, Marshall suffered a season-ending knee injury.
All of a sudden, Georgia was down to a bunch of freshmen -- all of whom were mid-level prospects -- by the first week of October. It's no mystery why the Bulldogs went 1-2, and very nearly 0-3, in that October stretch before Gurley returned to the lineup. A lack of backfield depth in the SEC can be a season killer when you make a living on the ground like Georgia and LSU typically do.
4. How many players will figure into the Tigers' plans on the defensive line? And how good can they be this season?
Aside from quarterback play, this might be the most important factor for the 2014 Tigers. Brick Haley's bunch was a bit erratic last season, and now it must function with youngsters replacing departed juniors
Anthony Johnson
and
Ego Ferguson
in the middle.
The good news is that there is plenty of talent on hand along the interior line.
Christian LaCouture
and
Quentin Thomas
worked as first-teamers, with redshirt freshmen
Maquedius Bain
,
Greg Gilmore
and
Frank Herron
chipping in as reserves. There is an extremely high ceiling with that group, but they're about as green as it gets. It will also bear watching during preseason camp to see whether a signee like
Travonte Valentine
can crack Haley's rotation, too.
The end spots are also a bit of a mystery.
Jermauria Rasco
-- who missed the spring while returning from offseason surgery -- and
Danielle Hunter
seem locked in as starters, but will they improve upon middling results in 2013? And who fills in the depth chart behind them?
Tashawn Bower
seems like a safe bet, but who else? We'll see.
3. Who will start at safety?
Jalen Mills
and
Ronald Martin
seemed to have these jobs locked down during the spring, but
Rickey Jefferson
and
Corey Thompson
-- another player who missed spring practice due to injury -- will be in the mix in August.
Keep in mind that nearly every time this position came up in one of his post-practice press gatherings, Miles mentioned how the Tigers' safety signees --
Jamal Adams
,
Devin Voorhies
and
John Battle
-- will be part of the preseason competition, too.
2. Will this offense be productive enough to win a championship?
It probably was last season, but for once it was LSU's defense that was in the middle of a retooling effort. John Chavis' defense appears to be on the rise now, but Cam Cameron must replace nearly every significant skill player from last season's offense.
Freshmen like Fournette, Harris and receiver
Malachi Dupre
don't just look like serviceable college players, they look like superstars in the making. But it's a lot to ask of true freshmen to be superstars immediately.
Cameron's dilemma is that he will almost certainly rely on at least a half-dozen newcomers to make an impact this fall. It's a tricky proposition, but his getting reliable production out of that group might mean the difference between LSU contending for the SEC West title this fall or having to wait another year or two until they mature and bring the Tigers back to national championship contention.
1. Will Harris overtake Anthony Jennings at quarterback?
We can't post this list and fail to address the biggest question surrounding the Tigers this spring. After a month of practice, there doesn't seem to be an answer, although Harris clearly outperformed his sophomore counterpart in the spring game.
LSU's coaches understandably see no need to declare a starter five months before the season starts. They'll battle it out this summer in passing sessions and then again in August. Harris looks to be the contender with higher upside, but he must prove he can avoid the decision-making problems that most freshman quarterbacks encounter when the pressure of the season arrives.
March, 31, 2014
Mar 31
9:00
AM ET
BATON ROUGE, La. -- He probably thought he was prepared to compete at the time, but
Corey Thompson
can now admit that it blew his mind when he first set foot on LSU's practice field as a freshman.
He had been an all-state safety and certainly has athletic genes -- both of his parents were college athletes -- but the speed of the players around him, the increased complexity of the playbook and the intricacies of playing safety in college initially made life rough for Thompson.
[+] Enlarge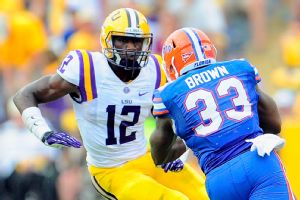 Stacy Revere/Getty ImagesCorey Thompson will have to overcome a late-season knee injury as well as some talented incoming safety prospects.
"Sometimes it was a little bit overwhelming," Thompson said. "I got tired, I got frustrated, questioned myself a few times, but I'm good now."
He eventually made the transition in fine fashion. Thompson played in all 13 games in 2012 as a true freshman, mostly covering kicks on special teams, and had claimed a starting spot by the midway point of his second season.
He had started five of the last six games in 2013 when he suffered a season-ending knee injury against Texas A&M -- an ailment that has kept him out of the Tigers' spring practice while he recovers from offseason surgery.
Now Thompson and his fellow veterans must help a new class of freshman safeties overcome the natural frustration and self-doubt that almost always accompanies their first taste of life in the SEC. That group, which includes ESPN's No. 2 safety and No. 18 overall prospect for 2014,
Jamal Adams
, along with
Devin Voorhies
and John Battle, is one of the nation's top collection of safety signees and will almost certainly compete for playing time in 2014.
Les Miles confirmed as much after Saturday's scrimmage, when a reporter asked whether any safeties had earned a starting spot yet.
"I don't think that decision will be made until the freshman class comes in. We'll be in two-a-days and kind of decide who the best guys are," Miles said.
Competition suits Thompson fine, and LSU's coaching staff will have plenty of options since
Jalen Mills
,
Ronald Martin
and
Rickey Jefferson
also started at safety at least once last fall.
"It'll be interesting to see the young guys come in, make a name for themselves," Thompson said. "It'll be fine. We'll all get together and work out, do some drills together and get into fall camp, teach the young guys how to do it and they'll be good from there."
Martin intercepted two passes in Saturday's scrimmage and Jefferson had one, causing Miles to remark afterward that he thinks the safeties are playing better. If that's the case, that would be a good sign -- since safety was a fairly inconsistent position for the Tigers in 2013. Senior
Craig Loston
was an old hand at safety by then, but Martin was the only other experienced starter -- and he had started just once prior to last fall.
It was a rocky learning experience for all involved, which was part of the reason that Mills finally shifted from cornerback to fill in at safety against Arkansas and then start there in the Outback Bowl against Iowa.
"It was a curve, just trying to be more of a vocal leader and stepping up in a position, trying to be a first-time starter and getting to know the defense more from changing positions," Martin said. "Because when I first got here, I was playing strong and I mixed in free safety. So it's all about knowing the defense."
That last part will probably be the biggest hurdle for the newcomers once they arrive this summer. Adams is LSU's highest-rated safety signee in the ESPN prospect rankings since Loston (the No. 1 safety in 2009), so clearly he has the physical tools to excel in college. It might be only a matter of time until he cashes in on that star potential, but it's no simple task catching on to the job that awaits him at LSU.
"One thing is the speed of the game, but the next is really just knowing your plays, knowing how to mix in different calls and stuff like that because you're the quarterback of the defense at safety," Thompson said. "I'm making calls every play, so I have to know what's going on, where people are lining up at and give them different calls and stuff."
The veterans plan to help teach the newcomers from the moment they arrive on campus. Once they learn the intricacies of the position, that's when the competition will truly begin -- and there will be plenty of that.
"That's what football is all about," Mills said. "It's about that competitive area, the competitive nature. You have to be competitive whether it's on the field, off the field, in practice, wherever you are."
March, 28, 2014
Mar 28
9:00
AM ET
BATON ROUGE, La. -- Les Miles' official title is head football coach at
LSU
, but he might as well add "fortune teller" to the list of roles he fills in his job.
On some level, every big-time college football coaching staff deals with the dilemma that Miles currently faces, but a spate of NFL early entries in recent seasons has made predicting the future an even more vital element in LSU's success. Specifically, Miles and his staff must lead an incomplete 2014 squad through 15 spring practices while also attempting to project whether players who aren't yet on campus will be ready to play key roles this fall.
[+] Enlarge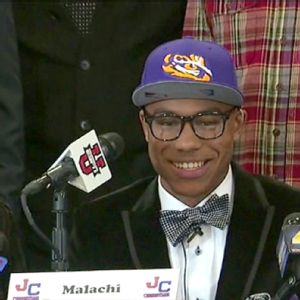 ESPNMalachi Dupre won't be on campus until this summer, but he's one of several LSU freshmen who could vie for playing time immediately.
"We absolutely have to," Miles said after last Saturday's scrimmage. "I think we're trying make a determination as we design the summer plans that, 'This is where this guy's going to be, this is where this guy's going to be' and how to operate it.
"I think the skill players on offense are going to be musts and I think the skill players on defense, with the safeties stepping in there and being able to play -- I just think the recruiting class will hit us just where we need to be hit."
At some positions, LSU's needs are great. At others, it's simply that the caliber of athlete is high enough that Miles' staff knows to include him in its 2014 plans. In some cases, both scenarios are in play.
Take receiver and running back, for example.
When 2014 signees
Malachi Dupre
-- the nation's No. 1 receiver prospect -- and tailback
Darrel Williams
showed up to observe the Tigers' first spring practice, Miles joked afterward that he wished the two players could have participated in the team's workout.
The Tigers are short on proven performers at receiver -- and thanks to several recent injuries at the position, they've been short on warm bodies to even run through drills -- and have only two scholarship tailbacks available this spring.
Those depth shortages are a direct result of several NFL draft early entries in the last couple of seasons. LSU lost two tailbacks to the draft after the 2012 season and two more this year when
Jeremy Hill
and
Alfred Blue
both turned pro. It's a similar story at wideout, where the only two accomplished players on the roster,
Odell Beckham
and
Jarvis Landry
, opted to skip their senior seasons.
Miles' staff addressed those issues in phenomenal fashion on signing day, adding Williams and the nation's No. 1 overall prospect,
Leonard Fournette
, at tailback, plus arguably the top collection of receivers that any program signed in 2014 -- a group that also includes No. 3 wideout
Trey Quinn
and two more ESPN 300 recruits in
D.J. Chark
and
Tony Upchurch
.
The problem is that no member of that group is on campus yet, forcing LSU's coaches to both evaluate what they have at present and how the signees' summer arrival will affect the group dynamic.
"I just think that some of those guys are going to get first-[team] snaps," Miles said of the receiver signees. "They're going to be advantages for us and we've got to use them well."
As Miles mentioned, a high-quality group of safety signees could dent the depth chart in similar fashion. The Tigers have a few returning veterans and have moved
Jalen Mills
over from cornerback to shore up their needs at safety, but signees such as No. 2 safety
Jamal Adams
, ESPN 300 prospect
Devin Voorhies
and
John Battle
could shake up the competition in August.
It's not that those players' absences have made this spring useless for LSU. But Miles and his staff must function this spring with the knowledge that they're coaching an incomplete roster.
That's not much different from Alabama or Texas A&M or Auburn, which also lost players to the draft and have key signees who haven't arrived, but the situation is more extreme in Baton Rouge. If Miles balances the magician part of his job correctly, perhaps he can pull a rabbit out of his famous hat by the end of August, when the Tigers open the season against Wisconsin in Houston.
"Here's what you get out of 15 practices in the spring of the year: You practice the team that you have with you and you advance them and get them taught and get them improved. You teach technique and whatever you can get to, you get to with that team," Miles said recently.
"Before the next team, that next part of your team, shows up, you anticipate where your direction goes. You anticipate that, 'That guy goes here and that guy goes here' and you fit it. Then in the first game, you hope that you prepared them well enough to win and play well in the first game. If you win and play well in the first game, you're all on track."
March, 19, 2014
Mar 19
9:00
AM ET
BATON ROUGE, La. --
Jalen Mills
doesn't view himself as a safety. He doesn't view himself as a cornerback, either.
He views himself as both -- which is coming in handy for LSU's defense these days.
"When you come in, you call yourself a defensive back," said Mills, a rising junior who started at safety for the first time in the Tigers' Outback Bowl win against Iowa. "That means you can play corner to nickel to safety to dime. You want to be able to play all positions. You don't want to be a single-position type of guy if you're a defensive back."
[+] Enlarge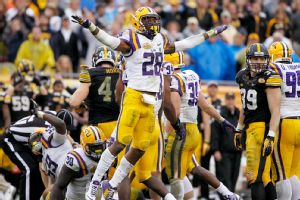 Kim Klement/USA TODAY SportsJalen Mills is helping out at safety this spring after playing the position in LSU's Outback Bowl victory over Iowa.
That's an ideal attitude because Mills is several of those things -- particularly now, when the Tigers must replace starting safety
Craig Loston
and are without part-time starting safety
Corey Thompson
, who is still recovering from offseason knee surgery. Mills is a starting safety in LSU's base defense, remains as the starting nickelback and still finds time to practice in a traditional cornerback role at points.
The Tigers need him most at safety for the time being, which was the message that defensive backs coach Corey Raymond imparted prior to spring practice.
"Him and Chief [defensive coordinator John Chavis], they kind of talked to me or whatever and they were like, 'Right now we need help at safety. You played a pretty good job those last two games of the season. Can you play it for us?' And I was like, 'Yeah,' " Mills said. "And he said, 'But we're still going to need you at corner and you're still going to be our starting nickel when we go Mustang package.' "
With Thompson on the shelf and a group of talented safety signees -- led by ESPN's No. 18 overall prospect and No. 2 safety
Jamal Adams
-- not yet on campus, the Tigers are primarily using Mills and
Ronald Martin
with the first-team defense.
Rickey Jefferson
and
Dwayne Thomas
are also working at safety, and thus far the foursome is pleased with what it has accomplished.
"Rickey, if he keeps coming along, he's going to help us out a lot. Jalen Mills is doing a good job back there, also. And Dwayne Thomas, he's doing a good job," Martin said. "That's the only other ones that we've got working in right now in the spring, just us four. Us guys, we're doing a pretty good job so far, so we're just trying to keep it going."
Perhaps that's a good sign, as safety was a problem area for much of 2013. Loston was the one constant when healthy, but the starting spot opposite him was a revolving door partially because of inconsistency. The Tigers used seven different starting combinations at safety, with Martin, Thompson, Mills and Jefferson all starting at least once.
Once Adams,
Devin Voorhies
and
John Battle IV
arrive on campus this summer, Raymond will have even more safety options from which to choose. And Tigers coach Les Miles said the newcomers will indeed get a long look from the coaching staff.
"We'll have guys back, but I think we'll be looking at some of these young guys that are coming in," Miles said.
Thompson will also be back by then. The rising junior missed the final two games of 2013 after injuring his left knee against Texas A&M and undergoing surgery in December. He said after Tuesday's practice that the knee is back to about 80 percent, but he will not attempt to test it during spring practice.
"I aim to be 100 by May," Thompson said. "I don't want to rush it, get back too early. But then I feel like May is a good time to be 100 and do everything to get in shape and be ready for the season."
So for now, the Tigers will continue to function with the four available safeties -- a group attempting to prove that last season's lapses were only a temporary hiccup for a program known for solid defensive back play. LSU's pass defense totals actually improved slightly (from 206.0 ypg in 2012 to 197.5 last season), but the Tigers' overall defensive slide continued, with Chavis' group dropping from second nationally in total defense in its 2011 SEC championship run (261.5 ypg) to eighth in 2012 (307.6) to 15th last fall (340.7).
That's an 80-yard increase in just a two-year span, and the safeties know they must perform more consistently in order to improve those numbers.
"We've just got to show that we can be leaders out there -- show that we can lead the defense just like those guys in the past like Eric [Reid], Brandon [Taylor], LaRon [Landry] and so on and keep the pedigree going," Martin said.
Continued progress from Mills at the position would offer a big boost, just as he did in his first-ever attempt at playing safety when he intercepted a pass during a comeback win against Arkansas.
Mills still has nuances of the position to learn, such as how to make new reads that are different at safety from those at cornerback, but he believes he is making the transition smoothly.
"I really didn't have a problem with [shifting positions]," Mills said. "Just coming from corner, you know where you want your safety to be sometimes in different types of checks. So just going from cornerback to safety, I know what the corner wants, so I just try to do it."
February, 12, 2014
Feb 12
9:00
AM ET
BATON ROUGE, La. -- With more than three weeks to go until LSU opens spring practice on March 7, we'll use some of the down time to preview the upcoming series of team workouts.
In the first two days of this week's series listing five position groups with room to improve in the fall, we discussed the
tight ends
and
defensive tackles
. Now we move onto the safeties, where LSU must replace starter
Craig Loston
, though the Tigers have added some excellent young players in the most recent signing class.
[+] Enlarge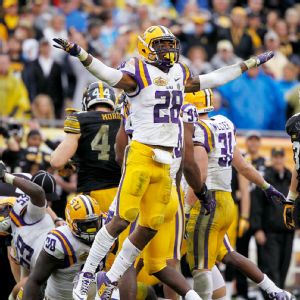 Kim Klement/USA TODAY SportsJalen Mills started at safety in the Outback Bowl.
3. Safety
Battling for No. 1:
For a school that prides itself on its defensive back legacy, LSU's secondary was far too erratic in 2013. Of course, there was a lot to replace --
Eric Reid
made the Pro Bowl as an NFL rookie, for instance -- but it was certainly a transitional season for the Tigers. The transition continues this season with senior Craig Loston leaving for the NFL. It appears that
Jalen Mills
-- whose transition to safety was eased by the emergence of
Rashard Robinson
and
Tre'Davious White
at corneback -- might be in the running for a starting spot. Mills (who had 67 tackles last fall and tied for the team lead with three interceptions) started for the first time at safety in the Outback Bowl win over Iowa after starting the first 12 games at corner. That was the last of seven different starting safety combinations for LSU in 2013, and
Corey Thompson
(40 tackles),
Ronald Martin
(38 tackles) and
Rickey Jefferson
(six tackles) also return among safeties who started at least once last season. But it wouldn't be much of a surprise to see some talented new safety signees immediately enter the mix this fall -- and in the case of early enrollee
Edward Paris Jr.
, this spring.
Strength in numbers:
LSU's coaches did a superb job of not only replenishing the depth chart at safety last week, but in adding players with the potential to play early. Jefferson could play a larger role this season after he was only a minor factor last fall as a true freshman -- one who most recruiting services graded as a wide receiver. Rising junior Thompson also seems like a candidate to occupy a prominent spot on the depth chart, if not start.
New on the scene:
This is the area that has to excite LSU fans. There might have been a program that signed a better crop of safeties last week, but the Tigers' group looks about as good as it gets. In
Jamal Adams
and Paris, LSU added ESPN's Nos. 2 and 4 safeties in this class. The Tigers also landed ESPN 300 athlete (and likely safety)
Devin Voorhies
and three-star safety
John Battle
. Finally, late addition
Russell Gage
has multiple-position ability, but safety could be his eventual landing spot as well. With that collection of talent joining the roster, don't be surprised if freshmen challenge veteran players for spots on the depth chart this fall.
August, 4, 2013
8/04/13
3:56
PM ET
For the first time in nearly 13 months, ESPN 300 cornerback
Chris Hardeman
(Houston/Alief Taylor) is an uncommitted prospect.
Hardeman had been committed to LSU since July 16, 2012, but decommitted on Sunday, according to his father, Cedric Hardeman.
To continue reading this article you must be an Insider
June, 28, 2013
6/28/13
10:00
AM ET
BATON ROUGE, La. -- GTN writer Gary Laney stopped by to take your questions:
From Corey (Tampa, Fla.):
Zach Mettenberger
is the quarterback for now, but who do you think his replacement will be after the 2013 season? And let's assume
Brandon Harris
(Bossier City, La./Airline) goes to LSU.
[+] Enlarge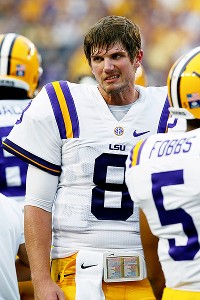 AP Photo/Bill HaberLSU has some options to replace quarterback Zach Mettenberger after the 2013 season.
Gary Laney:
It seems like a lot of people who follow LSU want to write off
Stephen Rivers
, who was the No. 2 quarterback last year as a redshirt freshman, in a battle with Class of 2013 recruit
Anthony Jennings
.
To continue reading this article you must be an Insider
February, 13, 2013
2/13/13
11:27
AM ET
It's been quite a February for
John Battle
(Hallandale, Fla./Hallandale).
No less than five of his eight total offers have come in during the last 12 days -- from schools such as Florida State, West Virginia, South Florida, South Carolina and Rutgers.
To continue reading this article you must be an Insider
Kevin Toliver II Climbs New ESPN 300
SEC SCOREBOARD
Thursday, 8/28
Saturday, 8/30
Sunday, 8/31