March, 14, 2014
Mar 14
3:30
PM ET
BATON ROUGE, La. –
Evan Washington
grinned Tuesday when a reporter joked that
Fehoko Fanaika
said he plans to "smoke" him in the competition to become LSU's starting right guard.
[+] Enlarge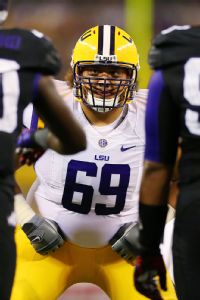 Ronald Martinez/Getty ImagesFehoko Fanaika, who has lost 30 pounds since joining LSU as a juco transfer, is competing with Evan Washington and Ethan Pocic to start at right guard.
"I hope that's his mentality," Washington said. "It needs to be a tough battle."
Fanaika made no such comment, but make no mistake: he has no intention of handing over the job to Washington -- a senior who is shifting from offensive tackle in an effort to win the position -- or
Ethan Pocic
without a fight.
"We want the best out there," Fanaika said. "If someone's beating me out, that's probably going to be hard to do, but I'd want him on the field more than me. I want the best."
So does new offensive line coach Jeff Grimes, who has a long way to go before he settles on anything, however. Pocic said Grimes has been moving his linemen around throughout LSU's early practices in order to identify the combinations he likes.
It's unclear whether one of those combinations will include Pocic at center. An early enrollee last year, Pocic backed up
Elliott Porter
at center during the fall. Pocic said Tuesday that he had practiced only at guard and tackle so far this spring, but Coach Les Miles said Pocic spent about half of Thursday's practice at center.
"When I came in, I went to center and just the whole basic stuff was pretty hard -- like snapping and stepping -- but once you really get the hang of it, you get more into a groove," said Pocic, who played left tackle in high school. "The good part about playing center is you've basically got to know what everyone's doing, so when it's time to play a different position, I pretty much already know it because you've got a good overall base of what the O-line's doing."
If the rotation in the periods of practice that were open to the media are any indication, the seniors are Grimes' top two options at right guard. For the most part, Washington was the first to work alongside starting right tackle
Jerald Hawkins
in drills, but he and Fanaika are both getting their chances to impress the new position coach.
"It's pretty much a great battle right now," Hawkins said. "They both know what they're doing -- especially Evan Washington and Hoko [Fanaika]. They know the playbook from last year, so it's just who really wants it more."
Fanaika said he now weighs 340 pounds after tipping the scales at approximately 370 when he transferred from College of San Mateo junior college last January. He said he wants to get down to 330 pounds before the season.
In addition to dropping more weight, Fanaika said he also needs to prove to Grimes that he's mentally and physically tough enough to claim the job.
"I'm not there, but I'm just trying to get better every day -- as well as everyone who's trying to fight for it," Fanaika said.
That fight will continue for the next couple of weeks, although Washington predicted there will be a clear leader by the time the spring game arrives on April 5.
"I feel like everyone has a chance right now," Fanaika said. "[Grimes] came in actually telling us that no one has a guaranteed spot. We're all going to come out here and work and the best five will start."
March, 13, 2014
Mar 13
4:00
PM ET
We took an expansive look earlier on Thursday on the SEC blog at the coaching changes in the league.

Vanderbilt had the most, including the only head-coaching change with Derek Mason coming over from Stanford. Georgia was second, as the Bulldogs have an entirely new defensive staff.
Who was the most significant assistant coach addition in the SEC for the 2014 season? We'll let you tell us by going to our SportsNation poll and voting.
Interestingly enough, the guys on the Big Ten blog conducted a similar poll, and three of their five choices are moving over from the SEC -- Doug Nussmeier from Alabama to Michigan, Taver Johnson from Arkansas to Purdue and Chris Ash from Arkansas to Ohio State.
Four of the five candidates we've come up with in the SEC are coordinators. Go cast your vote, and we'll go over the results in the coming days.
Here's a quick look at the five candidates (listed alphabetically):
Jeff Grimes, offensive line coach, LSU:
Grimes spent last season at Virginia Tech as the Hokies' offensive line coach, but he's no stranger to the SEC. He was Auburn's offensive line coach from 2009-12 under Gene Chizik and a part of the Tigers' 2010 national championship staff. Grimes, a 20-year coaching veteran, will also assume the role of running game coordinator at LSU. The Tigers return four starters in the offensive line.
Lane Kiffin, offensive coordinator/quarterbacks, Alabama:
Kiffin and Nick Saban may seem like an odd pairing to most, but Saban has long respected Kiffin's mind for the game and his feel for calling plays. He's also a proven recruiter. Kiffin returns to the coordinator ranks after three head-coaching stints. He spent the past three-plus seasons at USC before being fired and was at Tennessee for a season (2009) before that. Kiffin was also the head coach of the Oakland Raiders for the entire 2007 season and part of the 2008 season before being fired.
Jeremy Pruitt, defensive coordinator/secondary, Georgia:
Pruitt is back in the SEC after spending last season as Florida State's defensive coordinator. His FSU defense led the country in scoring defense in helping the Seminoles to the national championship. Pruitt, a finalist for the Broyles Award last season as the nation's top assistant coach, was the defensive backs coach at Alabama for three seasons (2010-12) and has been a part of three straight national championship staffs.
Kurt Roper, offensive coordinator/quarterbacks, Florida:
After a long association with David Cutcliffe, Roper moves back to the SEC to try and pump some life into a Florida offense that has struggled under head coach Will Muschamp. The Gators have never finished higher than 10th in the SEC in total offense under Muschamp. Roper spent the past six seasons as Duke's offensive coordinator. The Blue Devils set a school record with 54 total touchdowns last season. Prior to going to Duke with Cutcliffe, Roper spent all of his time in the SEC with stops at Tennessee, Kentucky and Ole Miss.
Robb Smith, defensive coordinator/secondary, Arkansas:
Smith spent last season in the NFL as the Tampa Bay Buccaneers' linebackers coach, but his previous 14 seasons were spent in the collegiate ranks. He was at Rutgers for four seasons and promoted to defensive coordinator in 2012. His defense that season was ranked fourth nationally in points allowed (14.2). Smith was the defensive coordinator at Maine before joining the Rutgers staff. He inherits an Arkansas defense that finished 12th in the SEC in scoring defense in 2013, allowing an average of 30.8 points per game.
March, 13, 2014
Mar 13
11:00
AM ET
The only head-coaching change in the SEC following this past season was at Vanderbilt, where Derek Mason took over for James Franklin.
That's down from four head-coaching changes the previous year. In fact, Mason will be the 38th different head coach to coach in a game for one of the current SEC schools since the start of the 2004 season.
Even in the volatile world of the SEC, that's a ton. But change is a part of this league's fabric. With 11 of the 14 head coaches making $3 million or more per year, there is no such thing as a five-year plan anymore. Some would argue there's not even a four-year plan.
[+] Enlarge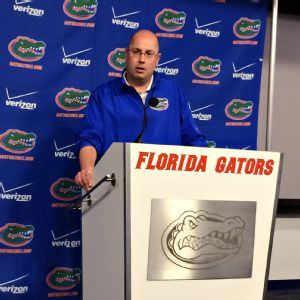 Jeff Barlis/ESPNFlorida hopes new offensive coordinator Kurt Roper will help improve its anemic offense in 2014.
Since the end of last season, we've also seen several changes in the assistant-coaching ranks in the SEC. The five coaching staffs that will return intact next season are Auburn, Missouri, Ole Miss, South Carolina and Tennessee.
One assistant, Arkansas defensive line coach Charlie Partridge, left for a head-coaching gig at Florida Atlantic. His former colleague with the Hogs, Chris Ash, left his post as co-defensive coordinator for the same job at Ohio State.
Georgia's entire defensive staff has a new look, triggered largely by Todd Grantham's move to Louisville as defensive coordinator. Former Florida State defensive coordinator Jeremy Pruitt replaces Grantham along with three other new defensive assistants.
Alabama coach Nick Saban has his fourth different offensive coordinator since coming to Tuscaloosa in 2007. Lane Kiffin, who's no stranger to the SEC after his turbulent 14 months as Tennessee's head coach in 2009, will call the Tide's plays in 2014.
One of the most critical hires was at Florida, where offensive coordinator Kurt Roper comes over from Duke with the mission of resurrecting the Gators' offense.
Here's a rundown of the coaching changes (head coaches and position coaches only; number of new coaches in parentheses):
ALABAMA (2)
Who's in?
Lane Kiffin, offensive coordinator/quarterbacks
Bo Davis, defensive line
Who's out?
Doug Nussmeier, offensive coordinator/quarterbacks
Chris Rumph, defensive line coach
Greg Brown, secondary
Other moves
Kevin Steele moves onto the field as inside linebackers coach and will serve as special assistant to the head coach. He was the Tide's player personnel director last season.

Defensive coordinator Kirby Smart will coach the secondary after coaching linebackers last season.
ARKANSAS (3)
Who's in?
Robb Smith, defensive coordinator/secondary
Clay Jennings, secondary
Rory Segrest, defensive line/specialists
Who's out?
Chris Ash, defensive coordinator
Charlie Partridge, defensive line
Taver Johnson, secondary
Other moves
Randy Shannon was promoted to senior associate head coach.
FLORIDA (3)
Who's in?
Kurt Roper, offensive coordinator/quarterbacks
Mike Summers, offensive line
Coleman Hutzler, special teams coordinator
Who's out?
Brent Pease, offensive coordinator/quarterbacks
Tim Davis, offensive line
Jeff Choate, special teams/outside linebackers
GEORGIA (4)
Who's in?
Jeremy Pruitt, defensive coordinator/secondary
Tracy Rocker, defensive line/weak-side linebackers
Mike Ekeler, inside linebackers/special teams
Kevin Sherrer, strong-side linebackers/nickel backs
Who's out?
Todd Grantham, defensive coordinator
Chris Wilson, defensive line
Kirk Olivadotti, inside linebackers
Scott Lakatos, secondary
KENTUCKY (1)
Who's in?
Craig Naivar, special teams/safeties
Who's out?
Bradley Dale Peveto, special teams/safeties
LSU (2)
Who's in?
Jeff Grimes, offensive line/running game coordinator
Bradley Dale Peveto, special teams coordinator
Who's out?
Greg Studrawa, offensive line
Thomas McGaughey, special teams coordinator
MISSISSIPPI STATE (1)
Who's in?
Brian Johnson, quarterbacks
Who's out?
Les Koenning, offensive coordinator/quarterbacks
TEXAS A&M (1)
Who's in?
Terry Joseph, secondary
Who's out?
Marcel Yates, co-defensive coordinator/secondary
Other moves
Jake Spavital will call plays in 2014 as offensive coordinator. He was the co-offensive coordinator and quarterbacks coach last season.

Clarence McKinney moves back to running backs after calling the plays last season as offensive coordinator.
VANDERBILT (9)
Who's in?
Derek Mason, head coach
Karl Dorrell, offensive line/quarterbacks
David Kotulski, defensive coordinator/inside linebackers
Marc Lubick, receivers
Keven Lightner, offensive line
Gerry Gdowski, tight ends
Brett Maxie, secondary
Kenwick Thompson, outside linebackers
Frank Maile, defensive line
Who's out?
James Franklin, head coach
John Donovan, offensive coordinator/running backs
Bob Shoop, defensive coordinator/safeties
Ricky Rahne, quarterbacks
Herb Hand, offensive line
Josh Gattis, receivers
Brent Pry, co-defensive coordinator/linebackers
Sean Spencer, defensive line
George Barlow, secondary
March, 11, 2014
Mar 11
12:00
PM ET
Half of the SEC teams have started officially-sanctioned football-related activities with Missouri and Vanderbilt opening spring practice on Tuesday. There's a lot going on.
March, 10, 2014
Mar 10
9:00
AM ET
BATON ROUGE, La. -- In the weeks leading up to Saturday's first spring practice, we offered our best guesses -- some on the mark and some off -- on how
LSU
's lineup might look when the Tigers took the field.
Nothing is settled yet, but at least we now have an idea of what the coaches are thinking.
Coach Les Miles addressed some of the Tigers' biggest position battles and lineup alterations after Saturday's initial team workout -- starting with the quarterback battle that will likely be the talk of this camp. Here is where things stand at the positions that are in flux as the Tigers enter today's second practice:
[+] Enlarge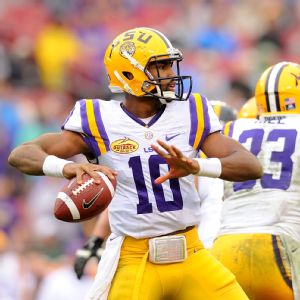 Steve Mitchell/USA TODAY SportsAnthony Jennings is the early favorite to start for the Tigers in 2014, but two freshmen remain in the competition.
Quarterback:
Miles said Saturday that "I think I have a good idea, anyway" about who the Tigers' starting quarterback will be, but the competition for the job still figures to be fierce. By all accounts, the early leader is rising sophomore
Anthony Jennings
, but redshirt freshman
Hayden Rettig
and immensely talented early enrollee
Brandon Harris
could challenge Jennings for the job.
This competition is only beginning, however. Miles said the coaching staff is in no rush to settle on a starter now, preferring to allow the competition to progress over the next few months before making any decisions.
"The idea that you make the decision early is foolish," Miles said. "I think there's always going to be that point in time where a young guy gains speed late or an injury makes the decision or the old guy, the more veteran [player], just shows that he's worthwhile."
Wide receiver:
We learned Saturday that there is one less contender in the quarterback battle since
Rob Bolden
has shifted to wideout. Bolden actually "made a couple nice catches today" after making what "appears to be a pretty good move," Miles said.
Bolden's position change made for an interesting side note, but he isn't the headliner at receiver. Who among the returning players is the headliner? That's still to be determined.
It apparently starts with
Travin Dural
and redshirt freshman
John Diarse
. Candidates such as
Quantavius Leslie
,
Kevin Spears
and
Avery Peterson
need to use this spring to solidify their spots in the rotation before a star-studded freshman class led by
Malachi Dupre
-- who attended Saturday's practice -- and
Trey Quinn
arrives this summer.
"Travin Dural and John Diarse are both guys that really look good. We're going to have the ability to put those guys on the field and go," Miles said. "Q. Leslie and Kevin Spears and those guys that are really behind that group need to come on. This is the time for that. This is an opportunity for those guys. But those first two guys, we would look forward to them playing a lot."
Right guard:
Miles emphasized that for new offensive line coach Jeff Grimes, "playing the best player is obviously the key."
Four offensive line jobs have clear leaders, with returning players who started nearly every game a season ago. But the right guard position is wide open, and
Evan Washington
is shifting from tackle to try to grab the job.
Fehoko Fanaika
and
Ethan Pocic
-- who can also play center -- are among the other candidates at right guard, Miles said, but "we're going to have to see how that all goes."
Linebacker:
It looks like the Tigers will do some juggling at these spots.
Kendell Beckwith
, a utility player last season, worked at middle linebacker on Saturday.
Kwon Alexander
shifted from strongside linebacker to the weak side.
Lamar Louis
practiced on the strong side after playing in the middle in 2013.
"We're really taking the time to multi-train these linebackers so we can put the best three guys on the field," Miles said. "Kwon has moved from his starting spot to the other side, so we think this spring will allow them to be put in either side."
The quarterback battle will attract most of the headlines, but this might wind up becoming the Tigers' most interesting competition this spring. Lots of moving pieces here.
Safety:
We know this much:
Jalen Mills
is a safety and early enrollee
Edward Paris Jr.
-- who is working at cornerback -- is not. Beyond that, we'll see where this battle goes.
Mills and
Ronald Martin
might be the top options here for now, but this is a competition that will begin in earnest when signees
Jamal Adams
,
Devin Voorhies
and
John Battle IV
arrive on campus this summer.
"We'll have guys back, but I think we'll be looking at some of these young guys that are coming in," Miles said. "Ed Paris is lined up at corner right now and getting some corner work and then some of these young guys coming in will get opportunities to fit in there."
Junior safety
Corey Thompson
(knee) might participate at some point this spring, but Miles said did not sound particularly optimistic on that front. Incidentally, he shared a similar spring-time prognosis for defensive end
Jermauria Rasco
(shoulder).
March, 7, 2014
Mar 7
9:00
AM ET
Schedule:
The
Tigers
open spring practice on Saturday. They will conclude with the spring game on April 5 at Tiger Stadium.
What's new:
Former Auburn and Virginia Tech assistant Jeff Grimes joined the staff in January, replacing Greg Studrawa as offensive line coach. An old face will also return to Les Miles' staff, as Bradley Dale Peveto -- a Miles assistant from 2005-08 and participant in a failed experiment as co-defensive coordinator in 2008 -- was recently hired as special teams coordinator. He replaces Thomas McGaughey, who accepted the same position with the New York Jets of the NFL.
[+] Enlarge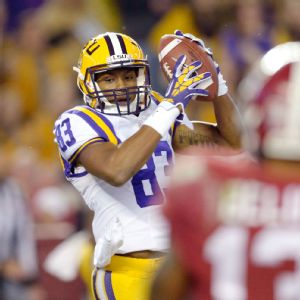 John David Mercer/USA TODAY SportsWideout Travin Dural will need to step up for the Tigers in 2014.
Attrition:
The Tigers once again suffered a big hit from early NFL entry. LSU receivers
Odell Beckham
and
Jarvis Landry
, tailbacks
Jeremy Hill
and
Alfred Blue
, defensive tackles
Anthony Johnson
and
Ego Ferguson
and right guard
Trai Turner
all entered the draft despite having eligibility remaining.
On the move:
If comments he made last month are any indication, Miles and the coaching staff intend to leave
Jalen Mills
at safety on at least a part-time basis. He started at the position in the Tigers' Outback Bowl win against Iowa. Don't be surprised if players who have played other positions -- tackle
Evan Washington
and center
Ethan Pocic
are reportedly among them -- figure into the competition to replace Turner at right guard. Also, keep an idea on how the Tigers deploy
Kendell Beckwith
this spring. He has the ability to contribute at defensive end or linebacker, and he might play both positions at points.
New faces:
The Tigers have two early enrollees participating in spring practice in quarterback
Brandon Harris
and defensive back
Edward Paris Jr
. We'll discuss Harris, who was ESPN's No. 2 dual-threat quarterback and No. 37 overall prospect for the 2014 class, more below. ESPN ranked Paris as its No. 4 safety and No. 50 overall prospect, but LSU listed him as a cornerback when it added the freshmen to the roster.
Key battle:
There will be several position battles worth watching -- right guard, defensive tackle and quarterback are among them -- but let's talk about the wide receivers. With Landry and Beckham jumping to the NFL, LSU lost nearly all of its production at wideout. Speedster
Travin Dural
(seven catches for 145 yards and two touchdowns in 2013) is the only receiver who has done much of anything, and even his production was limited last fall. With arguably the nation's top collection of receiver signees -- led by ESPN's No. 1 wideout
Malachi Dupre
and No. 3
Trey Quinn
-- set to arrive in the summer, now is the time for the players on campus to show they deserve some snaps. Senior
Quantavius Leslie
(1-11) was disappointingly quiet last season as a junior college transfer. Freshmen
John Diarse
,
Avery Peterson
and
Kevin Spears
all redshirted. Conventional wisdom has Dural and Diarse as the most likely contributors in 2014. Will at least one or two of the others join that group?
Breaking out:
Let's see whether cornerbacks
Rashard Robinson
and
Tre'Davious White
continue the ascent that started late last season. They started alongside one another in two of LSU's last three games -- wins against Texas A&M and Iowa -- and the secondary made strong showings in both games. Aggies quarterback
Johnny Manziel
had one of the worst outings of his college career (16-for-41 for 224 yards, one touchdown and two interceptions), with Robinson intercepting the former Heisman Trophy winner once. LSU held Iowa to 13-for-30 passing and 157 yards with a touchdown and two interceptions -- one of which came when White picked off a
Jake Rudock
pass at the LSU 7-yard line in the second quarter. LSU has a longstanding tradition of excellence at cornerback, although the Tigers' entire defense needed to perform more consistently last fall. Perhaps they've found something in sophomores Robinson and White.
Don't forget about:
Most of us have already penciled in No. 1 overall prospect
Leonard Fournette
as the Tigers' starter-in-waiting at tailback. And he very well may be. But he won't arrive on campus until the summer. For now, rising seniors
Terrence Magee
and
Kenny Hilliard
will handle the carries, and both players have proved themselves capable of producing. Magee was Hill's primary backup last season, rushing for 626 yards (and 7.3 yards per carry!) and also flashing good receiving skills (six catches for 49 yards). Hilliard has never been the No. 1 tailback, but he has acquitted himself in a short-yardage role, rushing for at least six touchdowns in all three seasons. Fournette has stardom written all over him, but he won't push the veterans completely out of the way. Count on Magee and Hilliard to keep getting their touches.
All eyes on:
Anthony Jennings
started LSU's bowl game against Iowa after replacing an injured
Zach Mettenberger
-- and leading the game-winning comeback -- against Arkansas. He was shaky to say the least (7-for-19 for 82 yards and an interception) in that first career start, however. With Harris, an excellent passer and explosive runner, already on campus, Jennings needs to show he can handle the starting job. Offensive coordinator Cam Cameron hand-picked Harris and is no doubt excited about what he can bring to the offense, but he needs to learn the offense first before he can truly threaten Jennings for a starting spot. Throughout the summer, LSU fans will dissect the two quarterbacks' performances in the spring game. Jennings seems like the safe bet to open the season as the Tigers' starter, but whether he holds onto that spot is up to him -- and perhaps up to his new freshman competitor, whose ability to execute the offense will be under heavy scrutiny over the next month.
March, 5, 2014
Mar 5
9:00
AM ET
BATON ROUGE, La. -- A brand-new version of LSU's football team will take the field this week for its first spring practice.
In previous weeks, we've broken down several players and position groups to watch this spring. This week, leading up to Saturday's first team workout, we'll make five predictions related to the Tigers' upcoming practices.
Today's prediction: Right guard isn't the only offensive line job up for grabs
[+] Enlarge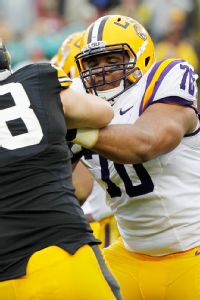 Kim Klement/USA TODAY SportsLa'el Collins is one of four starters back on the LSU O-line, but that doesn't mean their jobs are safe.
Take a look at LSU's depth chart and it's clear that experience isn't an issue among the starters. Left guard
Vadal Alexander
and right tackle
Jerald Hawkins
started all 13 games last season while rising seniors at left tackle,
La'el Collins
, and center,
Elliott Porter
, both started 12.
So that means the Tigers only have one offensive line spot that is open for true competition, right? Maybe, but I'm not sure that will be the case.
Les Miles hired a new offensive line coach, Jeff Grimes, during the offseason and the message he will undoubtedly send this spring is that everyone has a clean slate. He made that very point two weeks ago in a local radio interview, noting that he watched only enough film of the group to get a general idea of what the individual players can do. He wants to see them earn their jobs, starting now.
Now you can comfortably assume Collins will remain as the starting left tackle. He's widely considered one of the nation's better senior offensive tackles and could conceivably become a first-round NFL pick in 2015. Hulking junior Alexander (LSU lists him at 6-foot-6 and 342 pounds) has a similar pedigree among 2016 guard prospects.
So where will the most competition occur? Right guard is obvious since the Tigers must replace
Trai Turner
, who seems to have impressed NFL scouts since deciding to leave after his redshirt sophomore season.
Massive senior
Fehoko Fanaika
(6-6, 348) might be the answer there, but there are other candidates. One of them might be
Ethan Pocic
, who could also push Porter -- whom he backed up at center last season as a true freshman -- for playing time. Another might be
Evan Washington
, who is officially listed as a tackle.
As a sophomore Hawkins naturally had his ups and downs in his first season as a starter, so Grimes will certainly look for more consistency out of him this season before handing him the starting spot once again. But the Tigers shifted Alexander from right tackle to left guard last season to make way for Hawkins, so clearly they liked the athletic Hawkins' potential.
The safe money is on experienced players holding onto their starting spots. And it wouldn't be much of a surprise if Collins, Alexander, Porter and Hawkins man four of the five line spots when the Tigers open the season against Wisconsin.
Grimes has been around the block a time or two, though. This is his eighth different coaching stop since grabbing his first college job coaching the offensive line at Hardin-Simmons in 1998. He knows that the best way for a new coach to motivate players is to give everyone a fair shot and then let them earn their jobs.
That's what he'll do with his new players and, even if the starters remain the same, it's safe to predict that a fresh competition might help the line improve this fall.
February, 28, 2014
Feb 28
9:00
AM ET
BATON ROUGE, La. -- We're closing in on the start of spring practice at LSU, so this week let's take a look at five position battles worth watching this spring.
We covered the wide receivers, defensive tackles, quarterbacks and safeties in the first four installments. We conclude this week's series with the offensive line, which will break in a new position coach, Jeff Grimes, and at least one new starter this fall.
[+] Enlarge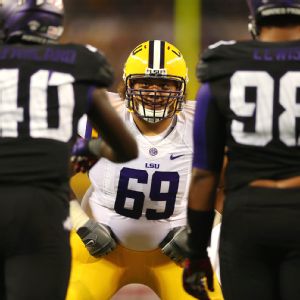 Ronald Martinez/Getty ImagesThis will be a big spring for Fehoko Fanaika, who hopes to earn LSU's starting right guard spot.
Returning starters:
Left tackle
La'El Collins
(second-team All-SEC and 12 starts in 2013), left guard
Vadal Alexander
(13 starts), center
Elliott Porter
(12 starts) and right tackle
Jerald Hawkins
(13 starts) are all back, helping the line rank among the most experienced position groups on the Tigers' roster.
Departures:
Right guard
Trai Turner
(13 starts) entered the NFL draft after a redshirt sophomore season where he became a second-team all-SEC pick. ESPN Scouts Inc. ranks him as the No. 5 guard and No. 113 overall prospect in the upcoming draft.
Returning reserves:
Although Grimes could always elect to shake up the lineup, the most intriguing position at this point is the one that lost a starter: right guard. We recently wrote about how this will be a big spring for
Fehoko Fanaika
to prove that he deserves to inherit Turner's starting spot. Fanaika was an early enrollee after transferring from the College of San Mateo junior college last January and played in 12 games as a backup. The 6-foot-6, 348-pound mauler must now prove he deserves a starting spot. Other reserves of note are
Ethan Pocic
, Porter's backup at center who could play other positions if necessary, and rising sophomore tackle
Josh Boutte
. Tackle
Evan Washington
and guard
Jonah Austin
also played last season, with Washington earning a start against Furman.
Newcomers:
Guards
K.J. Malone
and
Andy Dodd
both redshirted last season after arriving at LSU as four-star prospects. The Tigers signed just two offensive linemen in this class, both of whom will arrive in the summer. One of them,
Garrett Brumfield
, was ESPN's No. 1 guard prospect for 2014, so he might make the guard competition interesting in August if Fanaika doesn't nail down the job this spring. The other signee is four-star guard
William Clapp
.
What to watch:
Beyond the candidates for the right guard spot, it's worth watching how Grimes decides to use his returning players. He said in a local radio interview last week that LSU's line was good, but rarely great in 2013, adding that he hadn't evaluated individual players too closely yet, so that he could give them all a fair shake when they start practicing together. The four returning starters have a decided experience advantage, but Grimes hasn't developed any preferences yet. This will be a valuable evaluation time for the Tigers' new assistant coach.
January, 21, 2014
Jan 21
6:30
PM ET
BATON ROUGE, La. -- LSU on Tuesday confirmed
last week's report
that Jeff Grimes will be the Tigers' offensive line coach and running game coordinator.
"Jeff comes to our staff with great experience and as a coach who is very familiar with the SEC," LSU coach Les Miles said in a university release. "He helped Auburn win a national title in 2010 and has been part of some very successful programs.
"He's a tremendous technician and will do a great job teaching our offensive line. He has a track record of putting guys in the NFL and producing outstanding offensive linemen. He's a great addition to the staff and I'm looking forward to working with him for many years."
Grimes was a member of Gene Chizik's staff at Auburn from 2009-12 and spent last season coaching the offensive line at Virginia Tech. He also has made stops at Colorado, BYU, Arizona State, Boise State and Hardin-Simmons as an assistant and Rice and Texas A&M as a graduate assistant.
His new LSU offensive line returns four starters from last season, including second-team All-SEC honoree
La'El Collins
at left tackle.
January, 16, 2014
Jan 16
12:00
PM ET
Lots of coaches are taking their talents to new locations these days. Let's take a look at what is happening around the SEC.
January, 15, 2014
Jan 15
6:15
PM ET
BATON ROUGE, La. – Virginia Tech assistant coach Shane Beamer confirmed Wednesday what several media outlets had already reported: Fellow Hokies assistant Jeff Grimes will replace Greg Studrawa as LSU's offensive line coach.
Congrats to @coachgrimey on his move to LSU. Excited for him to get closer to his TX roots. Thanks for making our OL better this past year

— Shane Beamer (@CoachSBeamer) January 15, 2014
Grimes spent the last season as offensive line coach and running game coordinator on Frank Beamer's Virginia Tech staff, following a four-year tenure as the line coach at Auburn – a stretch that includes the Tigers' 2010 BCS title run.
LSU coach Les Miles told reporters Tuesday that he didn't expect to announce a hire for approximately a week, but listed some of the attributes he values in a new assistant.
"He's got to be a guy that can show us that he can improve what is already really a pretty good line," Miles said. "And he's going to have to have run-pass technical expertise, he's got to have guys he's put in the league. Coaching in the league is a thought – not necessarily a prerequisite, but certainly a consideration."
Grimes, a 20-year coaching veteran and native of Garland, Texas, does not have NFL experience on his resume. His players have earned their share of postseason accolades, however, with several reaching the pros. Out of the five starters on Auburn's 2010 offensive line, four earned All-SEC or All-America honors in their careers and two became NFL draft picks.
Grimes' 2001 offensive line at Arizona State had four seniors drafted the following spring, including first-round pick Levi Jones.
[+] Enlarge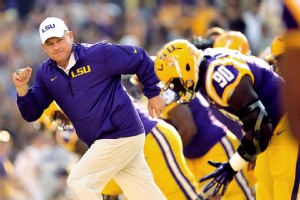 Stacy Revere/Getty ImagesLes Miles is confident that LSU's 2014 offensive line will be a dominant one.
The 45-year-old Grimes also has made stops at Colorado, BYU, Boise State and Hardin-Simmons as an assistant.
He inherits an offensive line that returns four starters – including second-team All-SEC left tackle
La'El Collins
, who announced Tuesday that he will return for his senior season – and loses only guard
Trai Turner
, who decided to forgo his remaining eligibility in order to enter the draft.
The returning starters – Collins, center
Elliott Porter
, right tackle
Jerald Hawkins
and left guard
Vadal Alexander
– collectively started all but two games in 2013.
"I think we'll be a dominant offensive line, without question," Miles said. "There's a number of guys that really are back out there that will step forward and have an opportunity to be really significant. I think obviously La'El returning will just bolster that group."
Mettenberger's Rehab Ahead Of Schedule
SEC SCOREBOARD
Saturday, 12/21
Monday, 12/23
Tuesday, 12/24
Thursday, 12/26
Friday, 12/27
Saturday, 12/28
Monday, 12/30
Tuesday, 12/31
Wednesday, 1/1
Thursday, 1/2
Friday, 1/3
Saturday, 1/4
Sunday, 1/5
Monday, 1/6