LSU Tigers:

George Whitfield
August, 11, 2014
8/11/14
2:00
PM ET
BATON ROUGE, La. -- One of the stars of
LSU
's media day on Sunday was quarterback
Brandon Harris
, who spoke to reporters on campus for the first time since joining the Tigers as an early enrollee in January.
Harris discussed numerous subjects, including his battle with
Anthony Jennings
for the starting quarterback job, his roommate
Leonard Fournette
, possibly sprinkling some option plays into the offense and his summer passing workouts with quarterback guru George Whitfield.
[+] Enlarge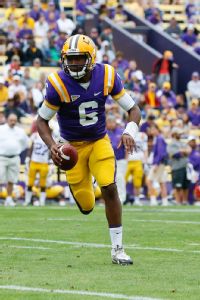 Derick E. Hingle/USA TODAY SportsLSU freshman quarterback Brandon Harris showed plenty of potential this spring.
Here are some highlights of Harris' interview session:
Q: Do you feel like you're ready to be the starter now?
A:
I feel like any guy who gives us the best opportunity to win and play, if that's me, I feel like I'm prepared and ready to play. And if it's Anthony or if it's any of our other quarterbacks, I know we'll all be prepared and ready to play. And whoever they put out there, I know they're going to win.
Q: How much did being here in the spring help you in the summer?
A:
It helped me a lot. Me and Cam [Cameron] joke about it all the time, when I was through the spring and I said I couldn't imagine if I came in the summer. Because obviously I'm a freshman and I make freshman mistakes, I'm not going to lie to you. I'd be lying if I told you I didn't. I make freshman mistakes. I'm not perfect at all. I'll do something that's crazy and we'll laugh about it -- that was in the spring -- and now in the summer, it's all clicking. Now we're in the fall and it's all clicking. I'm not making those same mistakes and we joke around all the time about, 'Hey Brandon, can you imagine if you were just now getting here and we had to deal with these mistakes again?' We just laugh about it, so it's been beneficial.
Q: What did you learn in working with George Whitfield this summer?
A:
George taught me a lot man, he really did. I think people don't realize George is an awesome person with an 18-year-old mentality, which he can reach everybody on every different level. He's just a great person, talking about a guy that I plan on working out with my entire career while I'm at college and continuing to develop. He just worked on me with my drops and understanding again why we take this type of drop on this route and this and that. You've got to realize, coming out of a shotgun offense in high school, you don't take very many drops. But here, we're in a pro-style system, which is one of the reasons why I came here -- because it's a pro-style system with an ex-NFL coach with that background who was going to teach me how to take the proper drops. It's been very beneficial, I'll tell you that much.
Q: How do you feel about the read option as an attack?
A:
If we were running the read option, which I don't know if we're going to do it or not, I think it would be beneficial. You saw teams like Auburn and Florida State, Baylor runs it, Notre Dame, and I was able to see some of those quarterbacks during the offseason.
Q: What are the advantages?
A:
I think the advantage is if you get a quarterback that can run and get out on the perimeter and put some pressure and [with] the running backs like we have in the backfield, you're going to be pretty successful.
Q: What have you seen from Fournette so far?
A:
Nothing that he has done has surprised me. He's my roommate, we've talked about since before we got here, just dreaming it up, texting all the time during the season and hearing about him breaking every record and doing this and that. So nothing surprises me, what he does.
Q: Surely you've heard how freshman quarterbacks in the SEC don't always have it easy early on.
A:
Yeah, I obviously know and I've obviously heard. But I'm a guy with great faith and I believe in defeating the odds. I think everybody does. If that's Anthony, Anthony basically is a freshman. He did start last year at quarterback in the Outback Bowl game, but it wasn't like he took snaps [all season]. So we all are freshmen, so we're obviously aware of the stats and I think we're all out as a group, as that room, because we've got the youngest quarterback room in the country, we're out to prove everybody wrong.
Q: Youngest in the country?
A:
Probably so if you look at it. But the deal is we've got a good defense around us.
May, 2, 2014
5/02/14
9:00
AM ET
BATON ROUGE, La. -- Michigan. USC. Stanford. LSU?
[+] Enlarge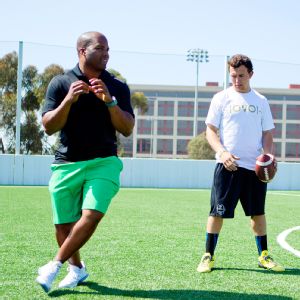 AP Photo/Nick LuceroGeorge Whitfield Jr. has become known as a tutor to such quarterbacks as Johnny Manziel.
Three of those football powers are known for their abilities to attract the nation's top quarterback prospects. The fourth could join their ranks, said quarterback guru George Whitfield Jr., largely because of his mentor, Cam Cameron.
"When your guy that you spend all day with -- meetings, practice, this and that -- has built and grown
Drew Brees
,
[Philip] Rivers
,
[Joe] Flacco
, who two of the three have won Super Bowls and the other one I think is one of the top six, seven, eight quarterbacks in the league, and now you get a chance to partake in this? That's what I'm telling you. This is one of the top destination spots now," Whitfield said during a visit to LSU.
"If I'm a big-time high school quarterback with aspirations to play in the NFL and I want to win in college, this is one of those places on one hand now that you're going to find. And they will be for some time. The recruiting's going to shift now."
Whitfield's respect for Cameron -- now entering his second season as LSU's offensive coordinator and quarterbacks coach after a decade in the NFL as a coordinator and head coach -- traces back more than 20 years. He first worked with Cameron as a pupil, picked his brain as a graduate assistant at Iowa and later interned under Cameron with the San Diego Chargers, where he learned about the importance of attention to detail.
"I would watch how pre-practice he would film quarterback-center exchange for 45 minutes," recalled Whitfield, who interned with the Chargers in 2007, Rivers' rookie season. "I admit there were times I was like, 'Come on, there's nothing to see here folks,' but … he put a guy on the ground with a camera shooting up through the center, from the center's head, and he put a guy on the ground shooting through Philip's legs so they could see the snap.
"That's how meticulous he was. And that's when I thought to myself, 'Oh I get it. I get it. It ain't about rah-rah and a good little soundbite. There's some diligence here.' That's why they never lost a snap, the Chargers, in I think like four or five years."
Today, Whitfield has implemented Cameron's lessons in his own professional life. He is a noted quarterback guru who runs a youth training academy in San Diego and annually works with some of the NFL draft's top quarterback prospects.
Among Whitfield's pre-draft clients were top overall selections
Cam Newton
and
Andrew Luck
, plus
Johnny Manziel
, one of this year's top quarterbacks.
[+] Enlarge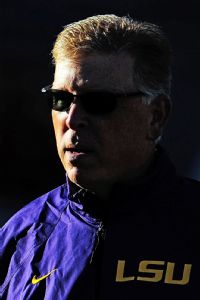 Stacy Revere/Getty ImagesCam Cameron has a long history of working with quarterbacks, a skill he's brought to LSU.
"He's passionate about quarterback play, cares about people and he's become a pro," Cameron said. "He's not just some guy trying to make a buck teaching quarterback play, he's a pro. Pros are passionate about what they do and experts at what they do, and I look at George that way."
In a strange twist, Cameron was actually serving as a guest lecturer at Whitfield's quarterback academy when an old coaching acquaintance, LSU coach Les Miles, called to gauge his interest in returning to college.
"I was out there and he called and obviously I was looking for a job at the time," Cameron said. "That's kind of where that thing kind of got going."
Whitfield remembers well how intrigued his mentor seemed with the opportunity.
"He was so excited. And I was surprised by that," Whitfield said. "This is a longtime NFL coach, now. He'd been a head coach, he hadn't been in college since Indiana [in 2001] and the lowest position he's held since he's been in the NFL is coordinator.
"I said, 'You're about to go to college?' And he goes, 'Yeah, but this isn't any college. This is LSU.' And he goes, 'It's really like a young NFL team. We can teach, coach.' He said, 'I can get back down here. It's not about contracts, 'Can we keep this guy? He's got a bonus.' It's back to teaching.' And I thought, 'Holy cow.' "
In his first year on the job, Cameron helped
Zach Mettenberger
emerge as one of the most improved quarterbacks in the country. And now one of his star pupils, freshman
Brandon Harris
, is one of Whitfield's protégées.
Not that it should come as much of a surprise. Whitfield's reputation has grown to the point that he mentors elite quarterback prospects each year -- a point of pride for an old teacher who has enjoyed Whitfield's rise.
"George and I would sit down at Denny's and eat breakfast, and the biggest difference is I used to buy George breakfast and now he's buying me breakfast," Cameron chuckled. "So yeah, you do [enjoy his success]. I think any parent or any coach who sees a young man grow and flourish in what he's passionate about, it's something that you feel good about."
Whitfield was 13 when he first convinced his parents to let him participate in a high school quarterback camp that Cameron led at Michigan, where he was then coaching receivers and quarterbacks. Their relationship recently came full circle, with Whitfield mentoring Cameron's son Danny and taking him on a prospect tour to visit college campuses.
"It just meant the world that he'd say, 'All right, I want you to work with my son,' " Whitfield said. "I started working with Danny a couple, three, four years ago and now I'm the same age I was when I was working with his dad. "I thought, 'Man, I'm working with your son, but you taught me the majority of what I know, or the foundation, and I'm going to pass it on to your son.' "
Perhaps this mutual admiration society of coaches will someday span three generations.
If
Danny
-- a 2015 quarterback prospect -- one day enters the profession and similarly reflects on the influence that Whitfield had on his development, it would only be fitting. So many of those lessons came from a familiar source.
April, 8, 2014
4/08/14
9:00
AM ET
BATON ROUGE, La. -- The race to become the first quarterback selected in next month's NFL draft is apparently down to three players: Central Florida's
Blake Bortles
, Louisville's
Teddy Bridgewater
and Texas A&M's
Johnny Manziel
.
[+] Enlarge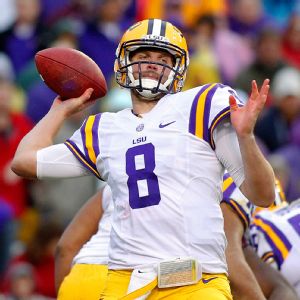 AP Photo, Cal Sport MediaZach Mettenberger will get a chance to show he's 100 percent healthy at LSU's pro day on Wednesday.
But according to quarterback guru George Whitfield, who recently visited LSU to speak at a coaches clinic, there easily could have been another contender had Tigers quarterback
Zach Mettenberger
avoided the late-season injury that prevented him from showing off in postseason all-star games and at the pre-draft combine.
"If he was healthy, I think he's right in this," said Whitfield, who tutored Manziel and Virginia Tech's
Logan Thomas
this year, after working with such prospects as Cam Newton and Andrew Luck in previous draft cycles. "I don't think it's a conversation of three, it could be a conversation of four if Zach was healthy coming down the back stretch. But I don't think it's going to be a shock at all if you see him go in the top couple rounds. Not at all. I think somebody's going to get a great return on investment."
At LSU's pro day on Wednesday, Mettenberger gets his first major opportunity to prove that the knee he injured in the regular-season finale against Arkansas is stable. He already has proven that his arm is NFL caliber, which is why some draft projections have Mettenberger going as high as the second round after a standout senior season.
Mettenberger (3,082 passing yards, 22 touchdowns, eight interceptions) was sixth among FBS quarterbacks with an 85.1 Total Quarterback Rating last season. According to ESPN Stats and Information, he made the biggest jump of any qualified FBS quarterback after ranking 80th out of 122 qualified quarterbacks with a 47.1 Total QBR in 2012.
"I think he's one of the best quarterbacks in this draft," Whitfield said. "I thought the year he had and the growth he had this year, especially with [LSU offensive coordinator] Cam Cameron, just getting a chance to get out there and operate in that system -- [and to] have more responsibility. He was better in the pocket. It was just a shame he did take that injury toward the end of the season, but he just looked more confident, and he wasn't just a big guy [who] was pitching anymore."
Mettenberger is just one member of a large group of LSU prospects who will work out in front of NFL scouts, coaches and player personnel executives on Wednesday. Among those expected to participate are running backs
Jeremy Hill
,
J.C. Copeland
and
Alfred Blue
, receivers
Odell Beckham
,
Jarvis Landry
and
Kadron Boone
, defensive linemen
Anthony Johnson
and
Ego Ferguson
, linebacker
Lamin Barrow
, safety
Craig Loston
and offensive lineman
Trai Turner
.
ESPN Scouts Inc.
rates seven of them among the draft's top 150 prospects: Beckham (No. 21), Landry (47), Hill (69), Turner (109), Loston (110), Ferguson (120) and Johnson (139).
Let's take a closer look at three of them -- Mettenberger, Beckham and Hill -- with a statistical assist from ESPN Stats and Info.
ZACH METTENBERGER
In his first season working with Cameron, Mettenberger greatly improved as a downfield passer. He raised his completion percentage on throws of 15 yards or longer 14 points, to 53.4 percent, in 2013. Among ESPN's top-10 quarterback prospects in this draft, only Clemson's
Tajh Boyd
(53.7 percent) completed a higher percentage of long balls. Of the 10, Mettenberger had by far the highest percentage of total completions (67.7) travel at least 10 yards. Bridgewater was next at 57.1.
He was also outstanding against the blitz and on third down -- assets that should help convince a team looking for a pro-style pocket passer to keep him in mind. Mettenberger (57-for-85, 883 yards, eight touchdowns, two interceptions against blitzing defenses) had the second-highest completion percentage (67.1) against the blitz of any of the top-10 quarterbacks. And on third down, his 53.7 conversion percentage was the best of the bunch. Mettenberger went 58-for-89 with nine touchdowns and one interception on third down, and his 65.2 completion percentage in those situations was third among the top-10 quarterbacks.
JEREMY HILL
Because of the declining value attached to running backs in the NFL, it seems entirely likely that no running backs will go in the first round of this draft. Last year, the first running back went at No. 37 -- the latest the first running back was picked in the common draft era.
Ohio State's
Carlos Hyde
is generally considered the top running back prospect in this draft, although Hill's physical ability makes him an enticing target.
Hill faced eight or more defenders in a stacked box on nearly half of his carries last season (96 of 203), and yet, he still averaged an AQ-best 8 yards per rush in those situations and scored 15 touchdowns.
He was also a phenomenal between-the-tackles runner, picking up 7.9 yards per carry on runs up the middle, with about one in every five (24 of 118) going for at least 10 yards. On runs outside the tackles, Hill had 16 of 85 attempts go for at least 10 yards.
ODELL BECKHAM
Beckham is one of the draft's most explosive playmakers, which is why ESPN's Mel Kiper Jr. had him going 18th overall to the New York Jets in his most recent mock draft. He and Landry are both among the 15 wideouts who rank among Scouts Inc.'s Top 100 players -- the most receivers in the top 100 since 2005.
Beckham (59 catches, 1,152 yards, eight touchdowns, 178.1 all-purpose ypg last season) had an AQ-high 26 receptions on passes thrown at least 15 yards last season. He had at least two catches that covered such a distance in seven of 13 games in 2013, which certainly speaks to the big-play ability that has him so high on Kiper's mock draft board.
Haskins, McElwain Shine At IMG Regional
SEC SCOREBOARD
Thursday, 9/3
Saturday, 9/5