May, 30, 2014
May 30
9:00
AM ET
BATON ROUGE, La. -- This spring was a lonely time in
LSU
's running backs meeting room. That's about to change, but the Tigers still must dodge any major injuries this fall or they might have problems.
[+] Enlarge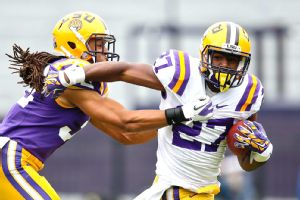 Derick E. Hingle/USA TODAY SportsDue to injuries and NFL draft defections, Kenny Hilliard was the Tigers' top tailback this spring.
After losing two tailbacks with eligibility remaining to the NFL draft -- the second straight offseason where that was the case -- the Tigers went through spring practice with only two scholarship tailbacks on the roster. One of them,
Terrence Magee
, missed a portion of the spring with an ankle injury, leaving fellow senior
Kenny Hilliard
and linebacker-turned fullback-turned emergency tailback
Melvin Jones
to handle most of the practice carries.
Running backs coach Frank Wilson wasn't particularly alarmed by that reality -- LSU did sign the nation's No. 1 prospect, tailback
Leonard Fournette
, and three-star RB
Darrel Williams
in February, after all -- but it was inconvenient at times.
"The gap is in the spring. Guys declare early for the NFL, guys graduate in that time, so we have a lull there," Wilson said earlier this month. "Once we get all 22 or 25 of our guys here, we have a full scholarship roster, then we're fine. We have the depth that we need at every position. But it was tough at times."
Most of LSU's freshmen are set to arrive on campus next week, potentially filling some of the holes that existed during the spring when the Tigers were far short of a full complement of players. But even when Fournette and Williams join the two seniors, LSU will still be one short of Wilson's ideal number of five scholarship tailbacks on the roster.
That's partially because of the NFL early entries by
Jeremy Hill
and
Alfred Blue
and partially by design. Fournette was one of the most sought-after prospects in the history of Louisiana high school football, so LSU obviously made the New Orleans native's recruitment a top priority. The Tigers signed only one tailback in 2013 -- Jeryl Brazil, who was
dismissed from the team
before he completed one season in Baton Rouge -- and added only Hill to the roster in 2012, a year after he initially signed with the Tigers.
So there's a shortage for this season. It certainly won't be a problem from a talent standpoint -- Magee and Hilliard have proven that they can be productive SEC backs, Williams rushed for 2,201 yards and 30 touchdowns as a high school senior and Fournette seems set for nothing short of superstardom -- and will become a physical issue only if injuries crop up.
As long as health doesn't become an issue, Wilson said he'll be able to ease in the freshmen, Fournette in particular, to complement the seniors instead of placing immense pressure on their shoulders.
"This summer's going to be huge for [Fournette]," Wilson said. "He'll come in and he'll learn the system, he'll work hard. I expect him to come in and do things in the weight room as well as from a conditioning standpoint to put himself in position to compete for a starting job. We have two quality backs here that have experience in Kenny Hilliard and Terrence Magee and we expect Leonard to compete with those guys. Nothing more, nothing less."
Obviously the Tigers would be in a more comfortable position had Hill or Blue remained for another season, but Magee (626 rushing yards, eight touchdowns, 7.3 yards per carry in 2013) and Hilliard (310 yards, seven TDs) are a good insurance policy.
It would be a surprise if Fournette isn't a major contributor in LSU's offense this fall, but the seniors' presence means he doesn't have to be a superstar right away.
"I think we're smart enough to not really think we're going to go through a 14-, 15-game schedule and lean on a guy who hasn't played college football yet or that length of time," LSU offensive coordinator Cam Cameron said. "I think they're going to come and be a part of what we do. We've got depth, though it be young. We've got depth at every position."
May, 28, 2014
May 28
1:00
PM ET
BATON ROUGE, La. -- Les Miles has never been afraid to play a true freshman --
LSU
's sports information department reports that the Tigers have played 87 first-year freshmen in Miles' nine seasons -- but it has become one of the program's trademarks only in recent years.
The Tigers ranked among the nation's top-five programs at playing freshmen in each of the last two seasons -- 14 freshmen in 2013 (third) and 15 in 2012 (fifth) -- and Miles has all but guaranteed at least 15 more will see the field this fall once a
star-studded recruiting class arrives on campus
.
It has quickly become a calling card for Miles' staff on the recruiting trail.
[+] Enlarge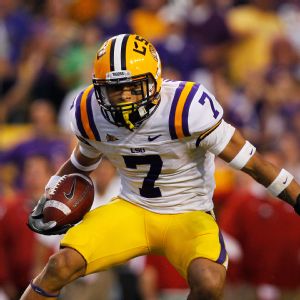 AP Photo/Aaron M. SprecherTyrann Mathieu is one of many LSU players in recent years who've had a chance to contribute as true freshmen.
"I think kids like that about LSU," offensive coordinator Cam Cameron said. "They like our style, they like Coach Miles' philosophy that young guys are going to play early, which we do. I think we've averaged maybe ... at least 15 freshmen a year playing. And so all that plays into recruiting.
"You can't guarantee a guy he's going to play, but if he knows he's given the opportunity and he's got confidence in his ability, the track record speaks for itself. Come in and help us win and here's the key thing, I think, that I've learned since being here is our veteran players -- our juniors and sophomores and redshirt sophomores and so forth -- they expect young guys to come help them play. They're not afraid of young guys coming in and playing with them."
Considering its recent history at the position group, it should come as no surprise that LSU recruiting coordinator Frank Wilson traces the development of this trend back to the arrival of key players in the secondary. The wheels were set in motion when cornerbacks
Patrick Peterson
and
Morris Claiborne
contributed as true freshmen in
2008
and
2009
, respectively, but the freshman movement truly took off with the
2010 class
that featured
Tyrann Mathieu
,
Eric Reid
and
Tharold Simon
.
Those players -- and several others who played bigger roles the next season when LSU won an SEC championship -- started to show what they could do in the second half of their freshman seasons, capped by an
impressive win against Texas A&M in the Cotton Bowl
where Mathieu, Reid and Simon all intercepted passes.
"It really hit because we had three guys in the secondary because so many spread defenses came (along), so we played a lot of nickel and a lot of dime with five and six defensive backs there," Wilson recalled. "So Tyrann Mathieu took to the field, Tharold Simon took to the field as well as Eric Reid, and then offensively
Spencer Ware
began to emerge, et cetera. So probably in that class, the class of [2010], it kind of hit a high point from that point on. These guys have relished and looked forward to the opportunity to contribute as freshmen, and we like it."
Mathieu went on to become the 2011 SEC Defensive Player of the Year, a first-team All-American and a Heisman Trophy finalist thanks to his dynamic playmaking ability. Reid also became an All-American and first-round NFL draft pick. Simon didn't earn the same level of acclaim in college, but he was still able to jump to the NFL after his junior season and become a draft pick himself.
All three players had eligibility remaining when they left LSU, which exemplifies the greatest contributing factor in the program's recent trend of playing youngsters. No program has had more players enter the draft early in the last couple seasons than LSU, and those departures created holes that talented freshmen could fill.
LSU recruited toward that end for this year's class and cashed in on signing day when it landed the
nation's No. 2 recruiting class
, one that featured the top overall prospect in tailback
Leonard Fournette
, the No. 1 receiver (
Malachi Dupre
), top guard (
Garrett Brumfield
) and 16 players who made the
2014 ESPN 300
.
"We knew our needs, we knew what we wanted to get," Wilson said of signing day. "We targeted certain guys, so there was never a panic on our part. We kind of knew early on by way of communication and feedback who we're in good shape with and who we're not and have a plan on people to place and sign in those positions."
Tailback and receiver will certainly be manned at least in part by freshmen this season, and many other freshmen such as quarterback
Brandon Harris
, safety
Jamal Adams
and linebacker
Clifton Garrett
also might follow Mathieu, Reid and Simon's lead by playing key roles this fall.
LSU isn't the only school that relies heavily on young players, but it has quickly gained a reputation as a trendsetter in that regard.
"I think that's a little unique," Cameron said. "Sometimes guys are afraid of young players coming in and taking their position, but here I don't sense that. I sense guys like the competition and they know we're going to need everybody to win a championship."
May, 9, 2014
May 9
9:00
AM ET
BATON ROUGE, La. –
LSU
football assistants Cam Cameron, John Chavis and Frank Wilson were among six Tigers coaches -- a group that also included men's basketball coach Johnny Jones, women's basketball coach Nikki Caldwell and gymnastics coach D-D Breaux -- who spoke at the school's Tiger Tour stop on Wednesday.
We'll flesh out some of what the football coaches had to say in future stories, but here are some of the highlights from their conversations with the media before the booster function.
• Cameron, LSU's offensive coordinator, was clearly chapped over the validity and timing of
recent reports
that former Tigers quarterback
Zach Mettenberger
's drug test results were flagged at the NFL combine. Mettenberger's drug sample was diluted, but his reps claimed that it was because he was drinking extra water to combat dehydration while recovering from offseason knee surgery.
"That information -- which tells you a little bit about the guy who released the story, No. 1, and the way the media works today -- that information's been out 30 days. It's been out for a while," Cameron said. "And then to strategically, I guess, announce it at this time just goes to show what the motive was. It was either selfish motivation individually for that person or it was a message sent by somebody that wanted to see their quarterback above him. We know Zach. I'm pretty worked up over that, by the way.
[+] Enlarge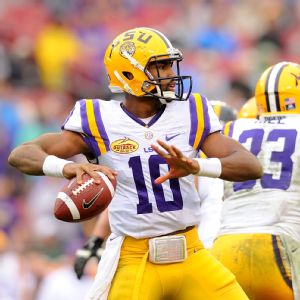 Steve Mitchell/USA TODAY SportsCam Cameron sees plenty of potential for improvement in Anthony Jennings.
"Zach Mettenberger is our guy, one of the great quarterbacks to ever play here, and he's got my and Les [Miles'] and our program's backing 100 percent. So we've been in contact. The guys that were really interested and are looking for that kind of quarterback have already done their homework, contacted us a long time ago, talked to Jack [Marucci, LSU's head trainer], talked to all our people, and the teams that know, it's a non-issue. The teams that didn't do their homework, then they're scrambling now to try to clarify some things."
• Cameron said he was encouraged by the progress made by quarterbacks
Anthony Jennings
and
Brandon Harris
in spring practice, particularly because they were still so raw.
"I'm really excited about where we're headed at the quarterback position, and here's the reason: We're doing some good things and we still don't have the fundamentals down yet," Cameron said. "I've always found that to be a good sign: When you're doing good things but you haven't mastered the fundamentals – whether it be quarterback-center exchange, taking the proper first step, getting the exact first read – and you're still being productive, that's a great sign for LSU football, vs. a guy who's doing everything right and he's really well coached and very coachable and not getting a lot done; that's not good."
• Wilson, LSU's recruiting coordinator, said the offensive line will be one priority in the 2015 signing class. The Tigers might start three seniors in center
Elliott Porter
, left tackle
La'el Collins
and either
Evan Washington
or
Fehoko Fanaika
at right guard, plus a draft-eligible junior in left guard
Vadal Alexander
.
"We're top-heavy in this upcoming class at some positions: at the center position with Elliott Porter, with La'el Collins, with Vadal Alexander. That's the way we want it," Wilson said. "See that's the catch. In one sense, we're saying, 'What are y'all going to do now?' And then in the other sense, it's like, 'Get them to stay.' Do we want them to stay or do we want them to leave? We want them to stay, of course, and have the problem that we have, which is a good problem, to be top-heavy so that the influx of incoming freshmen or junior college transfers can come in and contribute to our team.
"So our plan is just to be conscientious of what we're losing and we have a plan in place to replace those guys that we foresee leaving."
• Chavis, the Tigers' defensive coordinator, listed defensive tackle
Christian LaCouture
and end
Danielle Hunter
as linemen who should make a bigger impact this season.
[+] Enlarge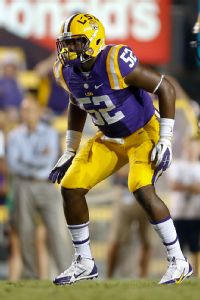 Derick E. Hingle/USA TODAY SportsSophomore linebacker Kendell Beckwith was LSU's highest-rated signee in the Class of 2013.
"There's several guys, with Christian being one of those guys obviously inside [now], that we've got two guys to replace," Chavis said. "I think Danielle Hunter will take his game to a different level even though he played extremely well for us last year. He's capable of going to a different level. So there's some good leadership there. You get
Jermauria Rasco
back out there and get him healthy and we get a chance to see him play healthy for a full season. We'll be fine."
• Chavis added that senior middle linebacker
D.J. Welter
– who won the Tigers' Jimmy Taylor Award, which goes to the player who showed the best leadership, effort and performance in spring practice – was truly outstanding in the spring, in part because of the presence of talented sophomore
Kendell Beckwith
.
"D.J. by far had the best spring practice that you can easily say that I've been around," Chavis said. "He was incredible this spring, and I think rightfully so because he's got a big guy behind him that's pushing him that's going to be a great football player and that's going to play. Kendell Beckwith's going to play a lot of football this year and for a while here at LSU. Competition makes you better and I think he took heed to the competition."
• Cameron, who returned to the college game last year after more than a decade in the NFL, said he has thoroughly enjoyed the recruiting aspect of his job.
"There's no better joy I get than recruiting for LSU, I can tell you. You walk into a school and everybody takes notice. You walk into a school and every kid's eyes light up. And every airport you walk through, I walked through the Dallas airport and it's 'Geaux Tigers' at every gate I go by. Houston, 'Geaux Tigers.' I was in New Jersey recently, 'Geaux Tigers.' It's a joy to recruit for LSU."
March, 20, 2014
Mar 20
10:00
AM ET
BATON ROUGE, La. -- Frank Wilson hasn't been taking it easy on his players lately.
LSU's running backs coach has been giving
Terrence Magee
and
Kenny Hilliard
a heavy workload in spring practice, which was partially out of necessity since the two seniors are the only scholarship tailbacks on the Tigers' spring roster.
"It's getting pretty rough out there," Magee said with a smile. "We're taking a lot of reps. We were rotating every play, but this week Coach Frank wants us to go a little bit longer so we've been going about every three now. So it's getting pretty taxing, but it's going to pay off in the long run."
[+] Enlarge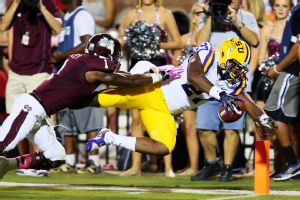 Spruce Derden/USA TODAY SportsSenior Kenny Hilliard is one of two tailbacks that LSU returns from last season, joining Terrence Magee.
This is an unusual time for LSU's tailbacks -- a position group known in the recent past for its impressive depth. In 2011, LSU had four players (Michael Ford, Spencer Ware,
Alfred Blue
and Hilliard) rush for 300 or more yards and score at least seven touchdowns. It was more of the same last season, with
Jeremy Hill
(1,401 yards, 16 TDs), Magee (626-8), Blue (343-1) and Hilliard (310-7) all going for 300-plus and Hill, Magee and Hilliard all scoring at least seven times.
But with Hill and Blue both entering the NFL draft, the Tigers are now forced to work converted linebacker (now fullback)
Melvin Jones
at tailback a bit just to break up the practice reps.
"This is his first time carrying the ball, but he's getting better," Hilliard said of Jones. "His pad level is a little high, but that's part of it. He's never really carried the ball before, so it's just a lot of teaching that he's got to learn, watch film and make sure that he stays in the film room and just look at us and let us lead by example. He can just pay attention to us and he'll be all right."
Any LSU fan who hasn't been living under a rock knows that this situation is only temporary.
Leonard Fournette
-- one of the most heavily hyped prospects ever to emerge from Louisiana, whom two recruiting services, including ESPN, picked as the nation's No. 1 overall recruit -- isn't on campus yet. Neither is
Darrel Williams
, who rushed for 2,201 yards and 32 touchdowns as a senior at Marrero (La.) John Ehret.
Both players seem likely to contribute as true freshmen. And in Fournette's case, anything short of stardom would probably disappoint most Tigers fans -- a reality that is not lost on LSU's returning tailbacks.
"I don't feel like we get overlooked and it doesn't bother us," Magee said of the buzz surrounding Fournette. "All the credit that he gets, he fully deserves. He was the No. 1 player in the country and he's a great running back. I've watched film of him. So everything that he's getting, I feel that he's well deserving of it."
Fournette will still need help adjusting to life on a college campus and within a big-time SEC program, which is where the two seniors can help.
"Those guys have just got to be mentally prepared when they come in, because the transition from high school to college, it's tough," Hilliard said. "As they get here, I'm going to mentor them -- me and Terrence -- like Spencer Ware and Alfred Blue and those guys mentored us."
Even if Fournette immediately emerges as LSU's next superstar back, the Tigers have traditionally spread around the carries under Les Miles. Magee, who averaged 7.3 yards per carry last season, and Hilliard, who has a touchdown for every 10 touches in his career, will almost certainly play key roles in the offense.
"One thing about [offensive coordinator Cam Cameron's] offense: the best player's going to play and the hardest worker's going to play," offensive lineman
Vadal Alexander
said. "I'll tell you one thing, Kenny Hilliard and Terrence Magee are two of the hardest-working players on our team. So they are going to get their carries. You can see that they're talented guys. Terrence has one of the best agility moves, side-to-side quickness, all that. Kenny is one of the most powerful backs in the nation in my opinion."
Once Hill returned from an early suspension last season, Magee found a niche as a third-down back. The former receiver would like to expand upon that role by adding some pass-catching responsibilities out of the backfield -- plus Miles said last week that Magee will rank among the Tigers' top candidates as a kick return man.
He has never carried the ball more than 82 times in a season, but Hilliard has proven to be an especially effective goal-line runner, and that role seems likely to remain in place in the fall.
Obviously no roles for 2014 are established yet, and they won't be until the freshmen arrive and responsibilities begin falling into place during August practices. The only duties Magee and Hilliard are certain to claim are those of mentors -- and they seem happy to help Fournette and Williams, just as their predecessors did when they were underclassmen.
"We've just got to keep the standards and just be able to come out and execute and play hard," Hilliard said. "That's our motto: just come out and play hard and take care of the ball and everything will be all right. We know we have two young guys coming in and we're going to mentor them and make sure they get right and keep the legacy in the room."
February, 6, 2014
Feb 6
7:00
AM ET
BATON ROUGE, La. -- Five years from now, maybe sooner, we'll be able to accurately assess the signing class that LSU assembled on Wednesday. Since we like to prematurely keep score, the crop of new Tigers must be judged on two fronts: How it appears today and how it could have been.
What it is is outstanding. Really, truly outstanding. It includes the top player in the nation, superstar tailback
Leonard Fournette
, two others ranked first at their respective positions (receiver
Malachi Dupre
and offensive guard
Garrett Brumfield
) and three more ranked second (safety
Jamal Adams
, inside linebacker
Clifton Garrett
and dual-threat quarterback
Brandon Harris
). In all, 15 ESPN 300 prospects in a collection of 22 signees and a class that ranked second in the nation once the dust settled on Wednesday.
This group forms the backbone of one of the finest classes Les Miles' staff has assembled over the last decade, but fairly or unfairly, it might also face a perception problem in the short term.
[+] Enlarge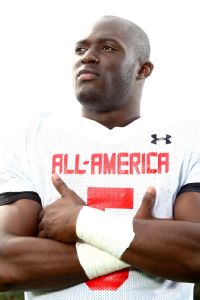 Miller Safrit/ESPNLSU kept the nation's top prospect, RB Leonard Fournette, at home, but missed on a few in-state stars.
Make no mistake, LSU will win a ton of football games with this group playing leading roles. Maybe even championships. Perhaps it will win so much -- Miles predicted that "we ought to compete for a national title or several" after adding Wednesday's signees -- that any hint of a shortcoming will be proven incorrect. But such a hint exists now, largely because LSU didn't live up to its reputation as a program that fences off its home state as well as any other major program.
"We identify the best players in the state of Louisiana and then we work outward and find the best players in the United States," LSU recruiting coordinator Frank Wilson said on the program's signing day special that aired on its website. "We're appealing to some of those kids and we're fortunate enough that we're able to go to Illinois, able to go to Nebraska, able to get six players out of Texas and Florida and all of those things. It's great.
"It's just tough when it happens to us. When one of ours leaves the state, we [say], 'How dare he leave!' But it happens. But for the most part over the year in and year out, I think we've done a great job of wrapping our arms around the best players in the state of Louisiana that fit what we do."
You see, this could have been the nation's top signing class if LSU sealed shut the state's borders the way it has at points in the past. The state was brimming with top-end talent -- it typically is, but this year was particularly special -- although an unusually large portion is heading elsewhere for college.
When a school competes in the SEC West, particularly against a school like Alabama -- which landed the top recruiting class for the third year in a row -- it's imperative to capitalize on every opportunity to keep pace with the Crimson Tide.
But in Louisiana, No. 3 overall prospect
Cameron Robinson
, the top offensive tackle, picked rival Alabama. So did safety
Laurence Jones
and receiver
Cameron Sims
. Versatile wideout
Speedy Noil
-- the No. 7 overall prospect and top athlete -- opted to play in Texas A&M's spread offense.
Gerald Willis III
, the No. 2 defensive tackle, is Florida-bound, and the top overall junior college prospect, receiver
D'haquille Williams
from LaPlace, La., enrolled at Auburn last month.
To be fair, LSU didn't truly pursue all of those prospects, while some combination of personal issues or simply personal preference led the others to their respective choices. But when your reputation is that of the overwhelming recruiting force within your home state, this was the wrong year to only sign half of a dynamic in-state top 10.
"There were at least two players in the state that we coveted and I can tell you that we recruited to those positions and I thought that we helped ourselves significantly," Miles said.
That's how it looks today, with only two members of the class already on campus. Adams looks like a good trade for Jones, and the collection of talent LSU assembled at receiver is phenomenal even without Sims, Noil or Williams. Missing out on Robinson, in particular, might hurt the most, and Miles was already in sales-pitch mode to 2015 offensive linemen about the biggest need LSU must fill this time next year.
"In my time here, if we've had a real area of need, we've been able to go out there and answer it very effectively. I'm certain that we will," Miles said. "But those offensive linemen in the sound of my voice, the opportunity is certainly great to join these Tigers and have an opportunity to compete to play."
As we all know, recruiting rankings are only general predictions of how the group might turn out. The Tigers have had eight players earn Associated Press All-America honors in the last three seasons and there was not a single five-star prospect in the bunch. In fact, half received a three-star grade or worse.
It would be incredibly silly to criticize this class today, months before most signees arrive on campus and years before their full impact will be apparent. To the contrary, it looks to be one that not only will help LSU extend its unprecedented recent run of success, but it might just help the Tigers hoist a crystal football sometime within the next few years.
Today it's understandable to at least address the misses that could have pushed LSU's class over the top from a perception standpoint. It's also worth wondering whether two or three years from now, LSU fans will chuckle over ever having felt any disappointment whatsoever when some in-state stars announced at last month's Under Armour All-America Game that they would play elsewhere.
Let's revisit this conversation in a couple years to settle which of those options reflected the correct viewpoint. At this point, it's up to the 22 newest Tigers to determine how that conversation will go.
February, 5, 2014
Feb 5
9:40
PM ET
BATON ROUGE, La. -- LSU recruiting coordinator Frank Wilson seemed to be experiencing more than one emotion Wednesday as he and his fellow coaches put the finishing touches on the nation's No. 2 recruiting class.
"Huge sigh of relief. Hard work vindicated," Wilson said on the program's signing day special that aired on the school's website. "For such a long time, you've put in hard work -- not only our staff, the 10 on-field coaches, but the entire support staff from the top to the bottom."
[+] Enlarge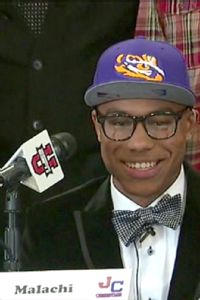 ESPNLanding Malachi Dupre, the nation's No. 1 WR, helped LSU climb to No. 2 in the class rankings.
Wilson was obviously excited, as well, and for good reason. The Tigers not only landed one of the top three remaining uncommitted players in the ESPN 300 -- New Orleans receiver
Malachi Dupre
, the nation's top receiver prospect -- but they added a pair of four-star defensive linemen in
Travonte Valentine
and
Trey Lealaimatafao
. They also flipped defensive end
Sione Teuhema
from Texas, which should help them sign Teuhema's brother,
Maea
, who will be one of next year's top offensive line prospects.
They also held onto at least one -- and probably both -- of the ESPN 300 defensive ends who wavered on their verbal commitments (
Davon Godchaux
and
Deondre Clark
) to the Tigers. LSU has yet to officially confirm Clark's signing, but received his national letter of intent paperwork.
Add the good fortune on signing day to a recruiting cycle that helped LSU land the nation's top overall prospect, tailback
Leonard Fournette
, and two more players ranked first at their position, plus three players who ranked second. Clark's signature would make 16 ESPN 300 selections in LSU's 22-man class.
"I like, more importantly than being a five star, that these guys are in our class, they were evaluated by our coaches and they fill our needs," LSU coach Les Miles.
Wilson barely even had an opportunity to enjoy the fruits of his labor on Wednesday, however. Shortly after LSU received the final NLI on signing day, the recruiting staff had already erased its 2014 wish list off the board in its "war room."
"The board is cleaned off, '15 is up, '16's behind them, and I'm like, 'Wait!' It's minutes guys, you haven't even given me a chance," Wilson chuckled. "That's the reality of it. It's forever moving at a fast pace."
February, 5, 2014
Feb 5
7:10
PM ET
BATON ROUGE, La. -- Capitalizing on one of the largest collections of premium in-state talent in recent memory, LSU wrapped up a dramatic national signing day by jumping to second in
ESPN's class rankings
.
Among the four previously uncommitted prospects who announced Wednesday that they would join the Tigers was
Malachi Dupre
, ESPN's top-rated wide receiver and the No. 17 overall prospect in the ESPN 300. He joins class headliner and No. 1 overall prospect, tailback
Leonard Fournette
, among 15 ESPN 300 honorees in the Tigers' class of 22 total players.
[+] Enlarge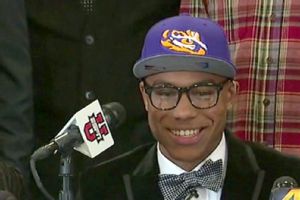 ESPNMalachi Dupre, the nation's top-ranked receiver, gave LSU's recruiting class a big boost on national signing day.
"I think you'll like this group," LSU coach Les Miles said at an afternoon news conference where he first discussed the 2014 class. "I think there's a number of elite players and guys that are good students. They're a very, very talented group and a very quality character group. So if you look at this class like I do, we ought to compete for a national title – or several."
The class could grow by one should ESPN 300 defensive end
Deondre Clark
hold to his verbal commitment to the Tigers. LSU received Clark's signing paperwork on Wednesday afternoon, but has not officially announced his signing.
The Tigers still had a shot at the top three uncommitted players in the ESPN 300 -- cornerback
Adoree' Jackson
, defensive end
Lorenzo Carter
and Dupre -- as signing day approached, but Carter picked Georgia and Jackson USC on Wednesday.
Dupre flirted with multiple schools over the last few weeks, but he picked the home-state Tigers to become the third LSU signee who ranks first nationally at his position. LSU signed Fournette and No. 1 offensive guard
Garrett Brumfield
, plus inside linebacker
Clifton Garrett
, safety
Jamal Adams
and dual-threat quarterback
Brandon Harris
– all of whom rank second at their respective positions.
"All the schools that I had it down to, I had a good relationship with all the coaching staffs," Dupre said on ESPNU's live broadcast of his announcement. "I just felt it was right to stay home and play football for the state of Louisiana and try to bring a national championship back to the state."
His addition helped LSU claim its second-best class ranking since ESPN entered the recruiting business in 2006, trailing only the 2009 class that finished first nationally. The Tigers' class might have ranked even higher had it landed Carter, Jackson or any assortment of the top in-state prospects who signed with other programs, but LSU still made a splash on signing day with a number of late additions:
"
Travonte Valentine
, the No. 164 overall prospect and No. 11 defensive tackle, picked LSU over home-state Miami.
" Four-star defensive tackle
Trey Lealaimatafao
signed with LSU over Oregon.
" Three-star defensive end
Sione Teuhema
flipped from Texas after making a surprise visit to LSU last weekend. Teuhema's signing could make an even bigger impact, since his brother
Maea
, the No. 38 overall prospect and No. 2 offensive guard on the ESPN Junior 300, has long maintained that he will sign next year with the program Sione picked.
"When an opportunity allowed itself for us to continue to pursue them, we seized the moment. We're very fortunate to get that defensive end, Sione Teuhema, who's an outstanding prospect. And coincidentally there may be some other guys that may come," LSU recruiting coordinator
Frank Wilson
said on the signing-day special that aired on LSU's website, humorously acknowledging that he is unable to publicly comment on
Maea Teuhema
's new commitment for 2015.
His signing in 2015 would be good timing for the Tigers with three seniors potentially starting on LSU's offensive line this fall -- perhaps one reason Miles said Wednesday that "we're going to have to have a great class next year on the offensive line."
LSU also held onto at least one commitment from an ESPN 300 defensive end who wavered late in the process.
Davon Godchaux
signed with the Tigers after considering offers from Ole Miss and other suitors, while Clark seemingly picked LSU over home-state Oklahoma although the school has yet to confirm his signing.
That series of positive signing-day developments helped LSU's 2014 class appear to rank among Miles' best even when LSU missed out on several of the headliners from the deepest group of in-state standouts in years.
Louisiana produced 18 players ranked in the ESPN 300 and LSU signed nine: Fournette, Dupre, Harris, Brumfield, Godchaux, No. 3 receiver
Trey Quinn
, tight end
Jacory Washington
, outside linebacker
Donnie Alexander
and receiver
D.J. Chark
. Meanwhile, Alabama signed three of the state's top nine prospects (No. 3 overall prospect and top offensive tackle
Cameron Robinson
, safety
Laurence Jones
and receiver
Cameron Sims
), all of whom rank among ESPN's top 50 national products.
Speaking to the quality of this class of prospects, the state of Louisiana never had more than seven players ranked among ESPN's top 150 between 2006 and 2013. This year it had 11, including nine who ranked in the top 50.
Miles acknowledged that there were at least two in-state prospects who landed elsewhere despite being "coveted" by his coaching staff. He also insisted that this class leaves very little to be desired, even if LSU didn't dominate within the boundaries of its own state.
"You would have to think that with so much right here in the background of this organization … that people of this state just want to stay. I think that that's happening more than not, but occasionally, somebody's just got to get away. I don't necessarily agree with that, but some of those decisions are being made that way," Miles said.
"The question is is LSU attractive to people in really every state. I think absolutely that's true," he added. "I think the success that's been had over time here has made our uniform more recognizable. … I think LSU is becoming it, and has always been, but is becoming more marketable if you will."
October, 17, 2013
10/17/13
5:30
AM ET
The Early Offer is RecruitingNation's regular feature, giving you a daily dose of recruiting in the mornings. Today's offerings: Oregon State coach Mike Riley launched a new Twitter campaign on Tuesday to help the Beavers connect with recruits across the country; LSU's
Frank Wilson
didn't make the first edition of the ESPN recruiting power rankings, but he could be leading the poll by signing day; and a question and answer session on Wednesday helped identify what topics are most important with recruiting fans today.
#SmartRecruitingTool
Oregon State coach Mike Riley has more than 18,900 followers and is great communicating with fans on Twitter. So it was no surprise to see him launch a campaign Tuesday called "Tweet Film Tuesday" where he asked recruits to send him links to their film, and he and his staffers will then select 10 recruits to evaluate each week. With only 140 characters to work with, Riley didn't explain how he and his assistants would pick the 10 recruits to evaluate, but the idea is ingenious. Not only does it help Riley and the Beaver coaches communicate with prospects in a way they're already familiar with, it also allows the OSU coaches to find prospects they might not have been familiar with who are truly interested in the program. Also with Riley's track record of uncovering hidden talent, you can all but guarantee there will be a story a few years down the road where the Beavers found a sleeper through this approach.
February, 7, 2013
2/07/13
9:00
AM ET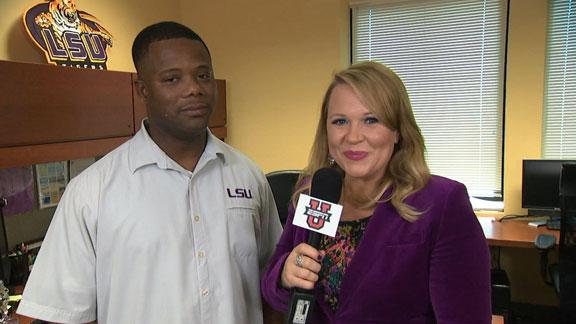 BATON ROUGE, La. -- The night before signing day, Frank Wilson slept on an air mattress in his office
But only for a few hours.
LSU's recruiting coordinator doesn't have much time for that during the height of the recruiting season, especially with LSU's frantic recruiting cycle.
To continue reading this article you must be an Insider
February, 4, 2013
2/04/13
8:00
AM ET
BATON ROUGE, La. -- So much activity, so little resolution.
LSU hosted the nation's No. 1 player, who was considered a long shot before the weekend. He met celebrities, attended a rap concert and seemed to leave Baton Rouge with a good vibe toward the Tigers. Meanwhile, a long-time Tiger commit seemed to waver on his commitment as he took a surprise visit to another school.
To continue reading this article you must be an Insider
December, 21, 2012
12/21/12
8:00
AM ET
BATON ROUGE, La. -- ESPN 150 athlete
Kendell Beckwith
(Clinton, La./East Feliciana) visited Alabama in early December, then got a home visit later in the month from LSU head coach Les Miles.
If it sounds like a two-horse race, Beckwith said as much Thursday.
"I may visit other schools," he said. "But it's a two-team race."
To continue reading this article you must be an Insider
September, 26, 2012
9/26/12
7:57
AM ET
BATON ROUGE, La. -- Say what you want about the name LSU is facing this week, but LSU coach Les Miles knows his team won't play a more accomplished running back this season than Towson's
Terrance West
.
He set an NCAA FCS freshman record with 29 rushing touchdowns last season for the Tigers and has continued that torrid pace with five more in the first three games for Towson (2-1), ranked No. 12 in the FCS's Sports Network poll.
"He's a talented player," Miles said. "He's elusive, has good ball skills."
To continue reading this article you must be an Insider
July, 13, 2012
7/13/12
9:41
AM ET
We're always looking for the next best thing. The coaching world isn't any different.
Who's the next Urban Meyer? The next Chris Petersen? What about another Brady Hoke?
Who's that next great assistant who rises up the ranks and takes over a major program ... and succeeds?

I'm not completely sure, but I have a few ideas. Here are some coaches lurking in the SEC who could be on their way to bigger and better things or are ready to take the next step with their current teams:
July, 9, 2012
7/09/12
7:05
AM ET
You have questions, we have answers. Gary Laney will handle your questions today, as David Helman recharges his batteries before the LSU football camps (July 14-21) and, of course, the start of August camp. Send questions for future mailbags to glaneyespn@gmail.com or helmanespn@gmail.com.
[+] Enlarge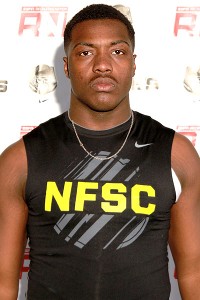 Tom Hauck for ESPN.comKendell Beckwith is an in-state target who might pick LSU.
Question (actually a comment from Dan in New Orleans): Frank Wilson talked the other day about LSU getting the best players from around the country. I hope he doesn't forget how good the players are in Louisiana.
Gary Laney:
I think it's safe to say that's not the case. LSU has already picked up 11 Louisiana commitments out of 19 total and ESPN 150 players like
Tim Williams
, the defensive end from Baton Rouge, La./University and
Kendell Beckwith
of Jackson, La./East Feliciana are still out there.
To continue reading this article you must be an Insider
Blue Chip Battles: ESPN 300 Update
SEC SCOREBOARD
Thursday, 8/28
Saturday, 8/30
Sunday, 8/31