LSU Tigers:

Dont'a Hightower
May, 18, 2012
5/18/12
3:14
PM ET
We're putting spring behind us and looking toward the fall with our post-spring power rankings:
1. LSU:
The Tigers had one of the best springs around. Things were quiet off the field, and the offense rallied behind quarterback
Zach Mettenberger
. Coach Les Miles was very impressed with Mettenberger's play and maturity, and expects LSU's offense to be more balanced with him under center. LSU can still use four or five running backs as well. Defensively, the Tigers are stacked once again, especially up front with two potential first-rounders in ends
Sam Montgomery
and
Barkevious Mingo
. Questions surround the inexperienced linebackers, but
Kevin Minter
had a tremendous spring in the middle. On paper, LSU is equipped with the talent to make another title run, and gets Alabama at home this year.
January, 8, 2012
1/08/12
3:16
PM ET
NEW ORLEANS -- The rest of the college football world will be watching on Monday night.
But in the Big Easy, it's strictly an SEC world.
The SEC will make it six straight national championships when Alabama and LSU clash in the Mercedes-Benz Superdome in what will be the first matchup of two teams from the same league in the BCS National Championship Game.
The players on both sides said they don't see the SEC onslaught ending any time soon. Already, several early preseason polls for 2012 include four and five SEC teams in the top 10.
Everybody wants to know what the common denominator is in the SEC's success.
In short, Alabama linebacker Dont'a Hightower said it's a combination of size, strength and speed mixed in with superior coaching.
"There are a lot of guys who are fast, or they're big and strong," Hightower said. "But in the SEC, you've got both. You've got guys who are 260 and run a 4.5 or 4.6 [in the 40-yard dash], and you see guys who are 200 and 210 pounds that can bench-press 500 pounds. You don't see that in a lot of conferences.
"It's that, and I think the coaches here have more of an edge than other conferences."
LSU defensive tackle Michael Brockers said there's a level of defense played in the SEC with a level of athlete, particularly in the defensive line, that other conferences can't match.
"Look at the front sevens in the SEC," Brockers said. "Where else do you see that kind of size, speed and depth? There are great players all over college football, but every team has them in the SEC, and I'm talking about big guys who can run and make plays."
Alabama center William Vlachos said LSU's depth in the defensive line is a perfect example.
"They run three or four off and bring in three or four just as good," Vlachos said. "There's no drop-off … in size, speed or strength."
Depth, period, is something that sets both Alabama and LSU apart.
Alabama defensive coordinator Kirby Smarts points to LSU's backfield on offense.
Spencer Ware
was the go-to guy to begin the season, but
Michael Ford
goes into the national title game as the Tigers' leading rusher.
Alfred Blue
isn't too far behind, and 240-pound true freshman
Kenny Hilliard
has emerged as their most powerful back toward the end of the season.
"By the fourth quarter, your linebackers are tackling them 30 times, and they're getting tackled for the fourth time and fifth time because they're sharing all the carries," Smart said. "They've got four really good backs, and that's what you better have in this league to be good."
Even when the SEC's streak hits six in a row on Monday, Hightower realizes there will be some people out there who simply won't give the league its due.
Never mind that four SEC teams are poised to finish in the top 8 of the final polls for the first time ever or that five SEC teams finished among the top 16 in the final BCS standings.
"I feel like there's always going to be a debate," Hightower said. "But if you look at the six straight years of winning the national championship and all the bowl games, the SEC has always been the best overall."
January, 7, 2012
1/07/12
8:02
PM ET
NEW ORLEANS – Alabama is still finalizing its defensive plan for Monday night's Allstate BCS National Championship Game.

Junior linebacker Dont'a Hightower, who makes all of the calls on the field, said Friday he can't ever remember this many checks in a game plan since coming to Alabama.

"I think since I've been here, this may be as many checks as we have for certain formations," Hightower said. "I don't know any other game that it's been this many."

But, then, that's part of playing in this Alabama defense. Hightower said he's continually amazed at the adjustments and tweaks coach Nick Saban and defensive coordinator Kirby Smart come up with in preparing for games.

"There's no way I could sit in a room for four and five hours a day and come up with some of the stuff they do," Hightower said.

Smart confirmed that the Crimson Tide have a broader defensive plan for Monday's rematch with LSU, which rushed for 148 yards against Alabama in their first meeting Nov. 5.

"Maybe you take some more chances and do some extra things," Smart said. "You hope with a broader game plan that you don't have to use it. But if you do, you better have it ready."

Hightower, responsible for getting everybody lined up on the field, said the mental stress of playing inside linebacker in Saban's 3-4 scheme can be daunting.

"You definitely have to grow as you go in this defense," Hightower said. "It's not something you can learn in just one year. I've been here for four years, and there are things I still don't know about the defense. I'm learning each and every day.

"I feel like I have a good grasp on it now, but this is definitely one of the bigger games with all the checks. Each and every day, it kind of changes or varies a little bit. We're getting close now, so we know what kind of checks we're going to have."
January, 7, 2012
1/07/12
11:30
AM ET
NEW ORLEANS -- When Alabama's defensive players think about Round 1 with LSU, all those blown assignments in the running game stand out.
LSU was one of only two FBS teams to rush for more than 100 yards against Alabama's defense. The Tigers rushed for 148 yards on 41 carries and wore down one of the best front sevens in the nation.
No matter how good or gritty the defense is, it's tough to stop a running game that throws fresh legs out there like LSU does. The Tigers can have four to five backs carry the ball on any given drive. It keeps the Tigers' legs fresh and defenders exhausted.
"It's hard for teams to prepare for us because they don't know who they're going to get or what they're going to get," said LSU running back
Michael Ford
, who led the Tigers with 72 rushing yards against Alabama in November.
[+] Enlarge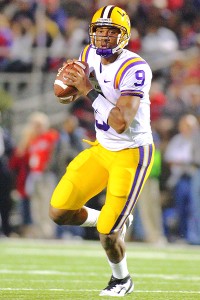 Spruce Derden/US PresswireOne of the Crimson Tide's biggest challenges will be containing Jordan Jefferson, who thrives at escaping pressure and breaking big plays.
Tide players are certainly giving LSU's backs their due. They understand that those guys can play. But they feel some of their own mistakes definitely helped get the Tigers rolling.
Players were out of position. Running gaps weren't filled. Jobs didn't get done.
"We had guys in the right spot, but then we'd have another guy who's not," Alabama linebacker Courtney Upshaw said. "It's on all 11 players on defense to get to the ball and be in the right spot."
The most frustrating part for players is that stopping the run is what Alabama does. Alabama leads the nation in rushing defense and is giving up just 2.5 yards per carry.
Defensive tackle Josh Chapman said the key is to own the big uglies up front and force LSU to throw. The more teams try to beat Alabama through the air, the more mistakes are made.
"We have to go out and create a new line of scrimmage," Chapman said. "One thing we do try to do is make teams one-dimensional, and that's by throwing the ball. Once you throw the ball, our DBs have a mindset that once it's in the air, it's ours."
But that won't be so easy with this LSU team. The Tigers have yet another running threat that creates a supreme multiheaded backfield monster.
When asked what Alabama's defense had to account for most during Monday's Allstate BCS National Championship Game, linebacker Dont'a Hightower emphatically said two words:
Jordan Jefferson
.
"He's their MVP," Hightower said. "He's the reason why they're doing so good right now."
He's become such a weapon because he has the ability to run. He can squirm his way out of tough situations when the pocket collapses, opening up running lanes and passing plays.
Defensive breakdowns helped Jefferson be successful on designed runs, options and wild scrambles. Tide players are particularly worried about the option because it brings the element of Jefferson running AND one of the many running backs right back into the picture.
For Alabama's defense to be successful in stopping LSU's rushing attack, which led the SEC with 220.4 yards against league opponents, Hightower said it comes down to closing in on rushing lanes, filling gaps and throwing in some tricky defensive looks to confuse Jefferson.
When Jefferson keeps the ball, it's all about containment.
"I feel like once you keep a dual-threat quarterback inside the pocket, I feel like he's kind of done," Hightower said.
LSU's ground game can hurt Alabama in so many different ways. From Jefferson's legs, to runners that average well over 220 pounds, LSU's backfield is a physical force that overpowered Alabama the first time.
Well, Hightower says bring it. Hightower is excited for his shot at redemption and wants to prove that Alabama is just as tough.
Hightower wants that robust running game to come right at this defense.
"I like power guys," he said. "I don't like chasing the guys who run the 4.23s. I don't like that. I'd rather them line up in the I-formation and just run at me."
Haskins, McElwain Shine At IMG Regional
SEC SCOREBOARD
Thursday, 9/3
Saturday, 9/5