LSU Tigers:

Darrel Williams
April, 11, 2014
Apr 11
9:00
AM ET
BATON ROUGE, La. --
LSU
held its final spring practice this week, officially sending the Tigers into a crucial offseason.
An obvious point this spring was that Les Miles' coaching staff was working with an incomplete roster. Seven underclassmen jumped ship to enter the NFL draft and only two of the Tigers' 23 signees -- quarterback
Brandon Harris
and defensive back
Edward Paris
-- enrolled early to participate in spring practice.
That leaves plenty of questions as the team moves into the offseason -- five of which we'll address now:
5. Do the Tigers have adequate depth in the backfield?
[+] Enlarge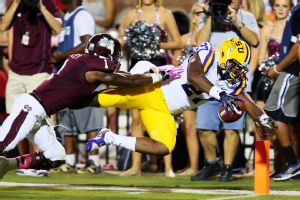 Spruce Derden/USA TODAY SportsOutside of Kenny Hilliard, there is not a lot of returning depth in the backfield and the Tigers will need to rely on incoming freshman.
The answer to this question during the spring was a resounding no --
Terrence Magee
and
Kenny Hilliard
were the only scholarship tailbacks on the roster, and Magee missed a portion of the month after spraining an ankle in a scrimmage -- but that's irrelevant. You don't win or lose a game in March or April.
But even when freshmen
Leonard Fournette
and
Darrel Williams
arrive this summer, will that be enough? An injury here or there could cause major problems. For example, look what happened at Georgia last season. When the season opened, it appeared as though the Bulldogs had one of the nation's top backfields with
Todd Gurley
and
Keith Marshall
leading the way and freshmen
J.J. Green
,
Brendan Douglas
and
A.J. Turman
serving as backups. But then Gurley suffered a minor injury in the opener against Clemson followed by a serious ankle injury in Game 4 against LSU. The next week, Marshall suffered a season-ending knee injury.
All of a sudden, Georgia was down to a bunch of freshmen -- all of whom were mid-level prospects -- by the first week of October. It's no mystery why the Bulldogs went 1-2, and very nearly 0-3, in that October stretch before Gurley returned to the lineup. A lack of backfield depth in the SEC can be a season killer when you make a living on the ground like Georgia and LSU typically do.
4. How many players will figure into the Tigers' plans on the defensive line? And how good can they be this season?
Aside from quarterback play, this might be the most important factor for the 2014 Tigers. Brick Haley's bunch was a bit erratic last season, and now it must function with youngsters replacing departed juniors
Anthony Johnson
and
Ego Ferguson
in the middle.
The good news is that there is plenty of talent on hand along the interior line.
Christian LaCouture
and
Quentin Thomas
worked as first-teamers, with redshirt freshmen
Maquedius Bain
,
Greg Gilmore
and
Frank Herron
chipping in as reserves. There is an extremely high ceiling with that group, but they're about as green as it gets. It will also bear watching during preseason camp to see whether a signee like
Travonte Valentine
can crack Haley's rotation, too.
The end spots are also a bit of a mystery.
Jermauria Rasco
-- who missed the spring while returning from offseason surgery -- and
Danielle Hunter
seem locked in as starters, but will they improve upon middling results in 2013? And who fills in the depth chart behind them?
Tashawn Bower
seems like a safe bet, but who else? We'll see.
3. Who will start at safety?
Jalen Mills
and
Ronald Martin
seemed to have these jobs locked down during the spring, but
Rickey Jefferson
and
Corey Thompson
-- another player who missed spring practice due to injury -- will be in the mix in August.
Keep in mind that nearly every time this position came up in one of his post-practice press gatherings, Miles mentioned how the Tigers' safety signees --
Jamal Adams
,
Devin Voorhies
and
John Battle
-- will be part of the preseason competition, too.
2. Will this offense be productive enough to win a championship?
It probably was last season, but for once it was LSU's defense that was in the middle of a retooling effort. John Chavis' defense appears to be on the rise now, but Cam Cameron must replace nearly every significant skill player from last season's offense.
Freshmen like Fournette, Harris and receiver
Malachi Dupre
don't just look like serviceable college players, they look like superstars in the making. But it's a lot to ask of true freshmen to be superstars immediately.
Cameron's dilemma is that he will almost certainly rely on at least a half-dozen newcomers to make an impact this fall. It's a tricky proposition, but his getting reliable production out of that group might mean the difference between LSU contending for the SEC West title this fall or having to wait another year or two until they mature and bring the Tigers back to national championship contention.
1. Will Harris overtake Anthony Jennings at quarterback?
We can't post this list and fail to address the biggest question surrounding the Tigers this spring. After a month of practice, there doesn't seem to be an answer, although Harris clearly outperformed his sophomore counterpart in the spring game.
LSU's coaches understandably see no need to declare a starter five months before the season starts. They'll battle it out this summer in passing sessions and then again in August. Harris looks to be the contender with higher upside, but he must prove he can avoid the decision-making problems that most freshman quarterbacks encounter when the pressure of the season arrives.
March, 28, 2014
Mar 28
9:00
AM ET
BATON ROUGE, La. -- Les Miles' official title is head football coach at
LSU
, but he might as well add "fortune teller" to the list of roles he fills in his job.
On some level, every big-time college football coaching staff deals with the dilemma that Miles currently faces, but a spate of NFL early entries in recent seasons has made predicting the future an even more vital element in LSU's success. Specifically, Miles and his staff must lead an incomplete 2014 squad through 15 spring practices while also attempting to project whether players who aren't yet on campus will be ready to play key roles this fall.
[+] Enlarge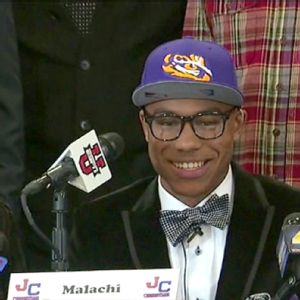 ESPNMalachi Dupre won't be on campus until this summer, but he's one of several LSU freshmen who could vie for playing time immediately.
"We absolutely have to," Miles said after last Saturday's scrimmage. "I think we're trying make a determination as we design the summer plans that, 'This is where this guy's going to be, this is where this guy's going to be' and how to operate it.
"I think the skill players on offense are going to be musts and I think the skill players on defense, with the safeties stepping in there and being able to play -- I just think the recruiting class will hit us just where we need to be hit."
At some positions, LSU's needs are great. At others, it's simply that the caliber of athlete is high enough that Miles' staff knows to include him in its 2014 plans. In some cases, both scenarios are in play.
Take receiver and running back, for example.
When 2014 signees
Malachi Dupre
-- the nation's No. 1 receiver prospect -- and tailback
Darrel Williams
showed up to observe the Tigers' first spring practice, Miles joked afterward that he wished the two players could have participated in the team's workout.
The Tigers are short on proven performers at receiver -- and thanks to several recent injuries at the position, they've been short on warm bodies to even run through drills -- and have only two scholarship tailbacks available this spring.
Those depth shortages are a direct result of several NFL draft early entries in the last couple of seasons. LSU lost two tailbacks to the draft after the 2012 season and two more this year when
Jeremy Hill
and
Alfred Blue
both turned pro. It's a similar story at wideout, where the only two accomplished players on the roster,
Odell Beckham
and
Jarvis Landry
, opted to skip their senior seasons.
Miles' staff addressed those issues in phenomenal fashion on signing day, adding Williams and the nation's No. 1 overall prospect,
Leonard Fournette
, at tailback, plus arguably the top collection of receivers that any program signed in 2014 -- a group that also includes No. 3 wideout
Trey Quinn
and two more ESPN 300 recruits in
D.J. Chark
and
Tony Upchurch
.
The problem is that no member of that group is on campus yet, forcing LSU's coaches to both evaluate what they have at present and how the signees' summer arrival will affect the group dynamic.
"I just think that some of those guys are going to get first-[team] snaps," Miles said of the receiver signees. "They're going to be advantages for us and we've got to use them well."
As Miles mentioned, a high-quality group of safety signees could dent the depth chart in similar fashion. The Tigers have a few returning veterans and have moved
Jalen Mills
over from cornerback to shore up their needs at safety, but signees such as No. 2 safety
Jamal Adams
, ESPN 300 prospect
Devin Voorhies
and
John Battle
could shake up the competition in August.
It's not that those players' absences have made this spring useless for LSU. But Miles and his staff must function this spring with the knowledge that they're coaching an incomplete roster.
That's not much different from Alabama or Texas A&M or Auburn, which also lost players to the draft and have key signees who haven't arrived, but the situation is more extreme in Baton Rouge. If Miles balances the magician part of his job correctly, perhaps he can pull a rabbit out of his famous hat by the end of August, when the Tigers open the season against Wisconsin in Houston.
"Here's what you get out of 15 practices in the spring of the year: You practice the team that you have with you and you advance them and get them taught and get them improved. You teach technique and whatever you can get to, you get to with that team," Miles said recently.
"Before the next team, that next part of your team, shows up, you anticipate where your direction goes. You anticipate that, 'That guy goes here and that guy goes here' and you fit it. Then in the first game, you hope that you prepared them well enough to win and play well in the first game. If you win and play well in the first game, you're all on track."
March, 20, 2014
Mar 20
10:00
AM ET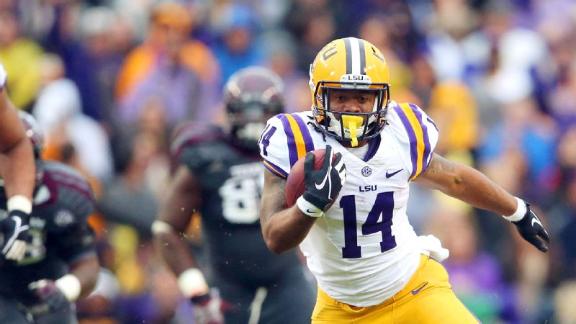 BATON ROUGE, La. -- Frank Wilson hasn't been taking it easy on his players lately.
LSU's running backs coach has been giving
Terrence Magee
and
Kenny Hilliard
a heavy workload in spring practice, which was partially out of necessity since the two seniors are the only scholarship tailbacks on the Tigers' spring roster.
"It's getting pretty rough out there," Magee said with a smile. "We're taking a lot of reps. We were rotating every play, but this week Coach Frank wants us to go a little bit longer so we've been going about every three now. So it's getting pretty taxing, but it's going to pay off in the long run."
[+] Enlarge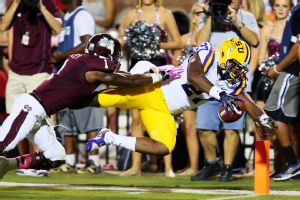 Spruce Derden/USA TODAY SportsSenior Kenny Hilliard is one of two tailbacks that LSU returns from last season, joining Terrence Magee.
This is an unusual time for LSU's tailbacks -- a position group known in the recent past for its impressive depth. In 2011, LSU had four players (Michael Ford, Spencer Ware,
Alfred Blue
and Hilliard) rush for 300 or more yards and score at least seven touchdowns. It was more of the same last season, with
Jeremy Hill
(1,401 yards, 16 TDs), Magee (626-8), Blue (343-1) and Hilliard (310-7) all going for 300-plus and Hill, Magee and Hilliard all scoring at least seven times.
But with Hill and Blue both entering the NFL draft, the Tigers are now forced to work converted linebacker (now fullback)
Melvin Jones
at tailback a bit just to break up the practice reps.
"This is his first time carrying the ball, but he's getting better," Hilliard said of Jones. "His pad level is a little high, but that's part of it. He's never really carried the ball before, so it's just a lot of teaching that he's got to learn, watch film and make sure that he stays in the film room and just look at us and let us lead by example. He can just pay attention to us and he'll be all right."
Any LSU fan who hasn't been living under a rock knows that this situation is only temporary.
Leonard Fournette
-- one of the most heavily hyped prospects ever to emerge from Louisiana, whom two recruiting services, including ESPN, picked as the nation's No. 1 overall recruit -- isn't on campus yet. Neither is
Darrel Williams
, who rushed for 2,201 yards and 32 touchdowns as a senior at Marrero (La.) John Ehret.
Both players seem likely to contribute as true freshmen. And in Fournette's case, anything short of stardom would probably disappoint most Tigers fans -- a reality that is not lost on LSU's returning tailbacks.
"I don't feel like we get overlooked and it doesn't bother us," Magee said of the buzz surrounding Fournette. "All the credit that he gets, he fully deserves. He was the No. 1 player in the country and he's a great running back. I've watched film of him. So everything that he's getting, I feel that he's well deserving of it."
Fournette will still need help adjusting to life on a college campus and within a big-time SEC program, which is where the two seniors can help.
"Those guys have just got to be mentally prepared when they come in, because the transition from high school to college, it's tough," Hilliard said. "As they get here, I'm going to mentor them -- me and Terrence -- like Spencer Ware and Alfred Blue and those guys mentored us."
Even if Fournette immediately emerges as LSU's next superstar back, the Tigers have traditionally spread around the carries under Les Miles. Magee, who averaged 7.3 yards per carry last season, and Hilliard, who has a touchdown for every 10 touches in his career, will almost certainly play key roles in the offense.
"One thing about [offensive coordinator Cam Cameron's] offense: the best player's going to play and the hardest worker's going to play," offensive lineman
Vadal Alexander
said. "I'll tell you one thing, Kenny Hilliard and Terrence Magee are two of the hardest-working players on our team. So they are going to get their carries. You can see that they're talented guys. Terrence has one of the best agility moves, side-to-side quickness, all that. Kenny is one of the most powerful backs in the nation in my opinion."
Once Hill returned from an early suspension last season, Magee found a niche as a third-down back. The former receiver would like to expand upon that role by adding some pass-catching responsibilities out of the backfield -- plus Miles said last week that Magee will rank among the Tigers' top candidates as a kick return man.
He has never carried the ball more than 82 times in a season, but Hilliard has proven to be an especially effective goal-line runner, and that role seems likely to remain in place in the fall.
Obviously no roles for 2014 are established yet, and they won't be until the freshmen arrive and responsibilities begin falling into place during August practices. The only duties Magee and Hilliard are certain to claim are those of mentors -- and they seem happy to help Fournette and Williams, just as their predecessors did when they were underclassmen.
"We've just got to keep the standards and just be able to come out and execute and play hard," Hilliard said. "That's our motto: just come out and play hard and take care of the ball and everything will be all right. We know we have two young guys coming in and we're going to mentor them and make sure they get right and keep the legacy in the room."
February, 4, 2014
Feb 4
12:15
PM ET
On the eve of national signing day, all eyes have turned
to the world of recruiting
. How will your team finish? Who will be the next great player in the SEC? Tuesday's lunch links provide a preview of the big day and also take a look around the league.
February, 4, 2014
Feb 4
7:00
AM ET
BATON ROUGE, La. – National signing day isn't always dramatic, but this could be a memorable one at LSU.
Between the half-dozen spots still available, the uncommitted heavyweights who are reportedly still considering the Tigers and the players who have already committed to LSU and recently considered other options, Les Miles and his staff have plenty of work to do before the end of the day Wednesday.
We'll start our look at how LSU is addressing its positions of need with the group that is the source of the most intrigue -- the defensive line -- before discussing how premium talent such as tailback
Leonard Fournette
, receiver
Trey Quinn
, linebacker
Clifton Garrett
and offensive lineman
Garrett Brumfield
should make this one of the nation's top signing classes regardless of what happens with the Tigers' uncommitted targets.
Defensive line:
Position coach Brick Haley might not sleep too well tonight, as even he is probably unsure of who will become a Tiger on Wednesday.
Not only have committed ESPN 300 defensive ends
Deondre Clark
(Oklahoma, Arizona State) and
Davon Godchaux
(UCLA, Auburn) looked around a bit lately, but several prospects are still flirting with LSU late in the process.
The biggest fish was ESPN's No. 14 overall prospect
Lorenzo Carter
-- most recruiting analysts predict he will sign with home-state Georgia -- but LSU also seems to be in the mix for No. 164 overall prospect and No. 11 defensive tackle
Travonte Valentine
(Hialeah, Fla./Champagnat Catholic) and four-star tackle
Trey Lealaimatafao
(San Antonio/Warren). The Tigers also received a weekend visit from three-star end
Sione Teuhema
(Keller, Texas/Keller), a Texas commit whose brother
Maea
-- the No. 38 prospect and No. 2 offensive guard in the
ESPN Junior 300
-- seems likely to sign next season with the school Sione chooses Wednesday.
As of now, Godchaux (Plaquemine, La./Plaquemine) and Clark (Oklahoma City/Douglass) are LSU's only publicly committed defensive linemen, so the quality and size of this group is far from set. Stay tuned.
Receiver:
The good news is that LSU is on the verge of signing one of the nation's top groups of wide receivers regardless of what happens with ESPN's top player at the position,
Malachi Dupre
(River Ridge, La./John Curtis). Dupre is set to announce on Wednesday -- he visited UCLA over the weekend after a whirlwind of trips to LSU, Alabama, Florida State and Ole Miss -- and LSU seems to be the favorite.
[+] Enlarge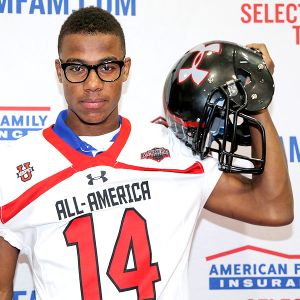 Courtesy of IntersportIf LSU signs Malachi Dupre, the nation's No. 1 wide receiver, the Tigers would have a fantastic class of wide receivers.
Generally considered the must-have prospect among LSU's remaining targets, Dupre would join record-setting receiver Quinn (Lake Charles, La./Barbe), ESPN's No. 3 wideout, and fellow ESPN 300 honorees
D.J. Chark
(Alexandria, La./Alexandria Senior) and
Tony Upchurch
(Pearland, Texas/Glenda Dawson) in the class. The Tigers also continue to pursue four-star TCU commit
Emanuel Porter
(Dallas/Lincoln).
With
Jarvis Landry
and
Odell Beckham
entering the NFL draft after exceptional junior seasons, LSU has an immediate need at receiver because the Tigers have no proven options at the position. Some members of this signing class will almost certainly become immediate contributors in the fall.
Secondary:
As with Carter, five-star cornerback
Adoree' Jackson
(Gardena, Calif./Junipero Serra) -- ESPN's No. 9 overall prospect and No. 3 cornerback -- makes LSU recruitniks' hearts go pitter-pat. There has been heavy competition from USC, Florida and UCLA, but LSU gave Jackson its best sales pitch. And he could make an immediate impact if he picks the Tigers. LSU returns almost everyone from a young secondary, save senior
Craig Loston
, but will almost certainly feature one or two 2014 signees in some role this fall.
Early enrollee
Edward Paris Jr
. (Arlington, Texas/Timberview), ESPN's No. 50 overall prospect and No. 4 safety, is the first name that comes to mind, as he will participate in spring practice. But No. 18 overall prospect and No. 2 safety
Jamal Adams
(Lewisville, Texas/Hebron) -- a huge get when the Tigers missed out on in-state prospect Hootie Jones – could also figure into the mix.
LSU also has a commitment from ESPN 300 athlete
Devin Voorhies
(Woodville, Miss./Wilkinson County), who should play safety, and three-star defensive backs
John Battle IV
(Hallandale Beach, Fla/Hallandale) and
Russell Gage
(Baton Rouge, La./Redemptorist).
Running back:
Every recruiting analyst has
thoroughly covered by now
that LSU's commitment from No. 1 overall prospect Fournette (New Orleans/St. Augustine) was massive. With
Jeremy Hill
leaving for the draft, the Tigers needed to sign a top-tier back and Fournette should more than fit the bill. The Tigers are also adding three-star back
Darrel Williams
(Marrero, La./John Ehret), whose north-south running style should fit well in the Tigers' running game.
Offensive line:
The Tigers return four starters along the offensive line, so it's not an immediate need. Rarely does a school sign high school offensive linemen looking to fill immediate needs, however. Down the road, ESPN's No. 1 guard and No. 54 overall prospect Brumfield (Baton Rouge, La./University Laboratory) should become a fixture in the lineup. The Tigers also have a commitment from four-star guard
William Clapp
(New Orleans/Brother Martin) and continued to pursue three-star tackle
Derrick Kelly Jr.
(Quincy, Fla./East Gadsden) late in the process.
Linebacker:
This much we know: No. 31 overall prospect and No. 2 inside linebacker Garrett (Plainfield, Ill./Plainfield South) looks like LSU's next great run-stopping linebacker. He and ESPN 300 outside linebacker
Donnie Alexander
(New Orleans/Edna Karr) are the Tigers' two committed linebackers. LSU is also among the leading suitors for Dupre's teammate
Kenny Young
(River Ridge, La./John Curtis), who will also announce on Wednesday.
The Sun-Sentinel in Fort Lauderdale also reported Monday that LSU reiterated its interest in Miami commit
Terry McCray
(Pompano Beach, Fla./Blanch Ely), a three-star outside linebacker.
January, 23, 2014
Jan 23
7:00
AM ET
BATON ROUGE, La. – An unusual set of circumstances must exist when one of the most productive running backs in school history leaves early for the NFL draft and nobody seems too concerned.
Jeremy Hill
rushed for 216 yards in LSU's season-ending victory over Iowa in the Outback Bowl -- a performance that, even before he made it official, seemed as if it would be the sophomore's final college game. Then the nation's No. 1 prospect, New Orleans running back
Leonard Fournette
, committed to LSU the very next day.
Les Miles' staff had put all of its eggs in the Fournette basket, opting not to sign a single running back in 2013 in an effort to land the biggest recruit available in 2014. And Fournette is certainly that, earning the highest prospect rating of any running back since ESPN began grading recruits in 2006. LSU's efforts paid off when he verbally committed to the Tigers during the Jan. 2 Under Armour All-America Game, creating a sigh of relief throughout an LSU fan base that desperately wanted to see Fournette play next season in purple and gold.
[+] Enlarge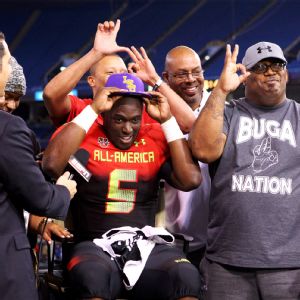 Miller Safrit/ESPNLSU fans celebrated -- and were surely relieved -- when No. 1 running back Leonard Fournette donned an LSU hat at the Under Armour All-America Game.
How could they not? Recruiting analysts have been comparing Fournette to Minnesota Vikings All-Pro Adrian Peterson for years. ESPN national recruiting director Tom Luginbill likened him to Georgia superstar
Todd Gurley
, only with better speed. And ESPN recruiting coordinator Craig Haubert weighed in on how LSU's offensive scheme was the ideal fit for a player with Fournette's well-rounded set of skills.
"They have a player who is meeting needs if you think about Jeremy Hill declaring for the NFL draft and
Alfred Blue
being a senior," Haubert said in an ESPN Recruiting Nation video discussing Fournette's commitment. "That leaves only two running backs [rising seniors
Terrence Magee
and
Kenny Hilliard
] on the roster, so obviously Leonard Fournette fills a big need and he's also a great fit if you think about LSU's power running game -- that two-back, downhill scheme. That is ideally the best fit for Leonard Fournette."
LSU's sports information department might have built a Heisman Trophy campaign around Hill had he returned for his junior season. After his 1,401-yard, 16-touchdown campaign in 2013, Hill might have ranked among the nation's most dominant college backs in 2014. His final college season certainly was one of the best in school history, with the yardage total ranking second all-time at LSU and the touchdown total ranking fourth.
But with Fournette coming aboard after rushing for 1,802 yards and 17 touchdowns and totaling 745 receiving yards and six more scores as a senior at St. Augustine High School, and Magee (86 carries for 626 yards and 8 TDs in 2013) and Hilliard (68-310, 7 TDs) returning, the Tigers should be able to absorb Hill's departure without much difficulty.
Fournette and fellow running back commit
Darrel Williams
(Marrero, La./John Ehret) won't arrive at LSU until summer, but they seem like good fits for what LSU wants to do in the running game, frequently with young players in its backfield.
"We don't look at them as young kids -- like my freshman year, when I was able to play my freshman year, a couple of guys went down and that's what led me to play," said Hilliard, who rushed for 336 yards and eight touchdowns as a freshman while splitting time with Blue,
Michael Ford
and
Spencer Ware
. "So everybody's just got to be ready to play when their number's called."
Magee became a productive counterpuncher behind Hill in 2013, and he will most likely continue to play a big role in LSU's backfield as a senior. And while Hilliard has never been the lead back, he has three 100-yard games on his résumé and has rushed for 21 touchdowns in just 212 career carries.
"At any point in time you can turn to a guy that's as veteran as Kenny Hilliard and know you're going to get quality play," Miles said last week.
They're all capable of providing quality play, but everyone expects Fournette to claim the lead role at some point. He's just that good -- and he'll have to live up to those astronomical expectations if he is to make Tigers fans forget about what Hill could have brought to the offense in 2014.
December, 10, 2013
12/10/13
10:33
PM ET
LSU picked up commitment No. 15 on Tuesday night as three-star running back
Darrel Williams
(Marrero, La./John Ehret) gave his verbal commitment to the Tigers. The news was reported by several media outlets.
The 5-foot-11, 203-pound back decommitted from Arizona State earlier this month and also held offers from Florida, Auburn, Georgia, and many others.
Reports earlier on Tuesday claimed four-star running back
Dalvin Cook
(Miami/Central) could possibly be visiting LSU this weekend. With
Leonard Fournette
(New Orleans/St. Augustine), the No. 1-ranked player on in the country, still on LSU's recruiting board, Williams decided to pull the trigger and commit to his home-state team.
As a senior, Williams finished the regular season with 2,036 yards and 27 touchdowns and helped his team reach the regional round of the playoffs. His hard-nosed, downhill running style might be a perfect fit for the LSU offense.
"For teams looking for a downhill power-back with some shake, Williams may be the guy," his ESPN scouting report reads. "He lacks game-breaker speed and elusiveness, but has workhorse type of attributes and the downhill strength and decisive running style that should translate well in the right downhill offense. Could get recruited to play linebacker with continued physical development."
The Tigers currently have the No. 11-ranked class in the country, which includes 11 prospects ranked in the ESPN 300.
November, 14, 2013
11/14/13
2:00
PM ET
July, 17, 2013
7/17/13
4:25
PM ET
BATON ROUGE, La. -- When you think of a Cam Cameron offense, one of the first things that comes to mind is his use of fast, versatile running backs in space who can make a tackler miss.
Think
LaDainian Tomlinson
during Cameron's days as offensive coordinator with the
San Diego Chargers
. Or perhaps
Ray Rice
in Baltimore.
To continue reading this article you must be an Insider
July, 2, 2013
7/02/13
10:00
AM ET
BATON ROUGE, La. -- LSU is targeting many of the top athletes in the ESPN 300, some because the Tigers' strong brand name makes it an attractive option and others because the fertile Louisiana recruiting base is strong this year, even by the state's lofty standards.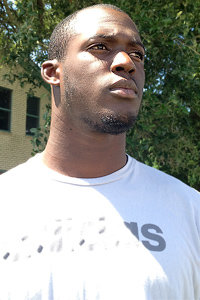 Alex Scarborough/ESPNLSU has its eyes on top recruit Leonard Fournette.
But what needs is LSU trying to meet?
That's a little trickier to figure out at LSU than many other schools because the frequency of underclassmen departures. But we can take a guess based on likely attrition.
To continue reading this article you must be an Insider
May, 28, 2013
5/28/13
10:00
AM ET
BATON ROUGE, La. -- Sometimes a picnic is just a picnic.
LSU hosted its annual Bayou Picnic recruiting day Saturday, an invitation-only event targeting select high-profile recruiting targets. And while some recruits were on "commitment alert," the Tigers had not landed any new commitments by the time Memorial Day weekend ended.
That's not to say it wasn't a significant event in the recruiting process.
To continue reading this article you must be an Insider
May, 24, 2013
5/24/13
10:00
AM ET
BATON ROUGE, La. -- GeauxTigerNation writer Gary Laney took your questions:
From: Hunter Johnson:
Do you think LSU would rather sign
Racean Thomas
or
Darrel Williams
at running back with
Leonard Fournette
, and does
Kwon Alexander
being from the same high school as Thomas helps us? Also any update on the situation at kicker?
To continue reading this article you must be an Insider
May, 15, 2013
5/15/13
10:00
AM ET
BATON ROUGE, La. -- In the last couple of weeks, GeauxTigerNation has spent plenty of time in New Orleans metro, visiting with coaches and players from River Ridge John Curtis, Metairie Archbishop Rummel (to watch practice) and New Orleans St. Augustine.

That's just the tip of the iceberg. New Orleans is loaded, so we'll be back. We haven't even hit loaded Karr, or prospect-laden programs such as Brother Martin, Marrero Archbishop Shaw and Marrero John Ehret yet.
Meanwhile, LSU spread its wings well away from Louisiana on the recruiting trail:
To continue reading this article you must be an Insider
April, 24, 2013
4/24/13
10:00
AM ET
BATON ROUGE, La. -- We all know LSU's top targets.
Louisiana has nine ESPN 150 prospects, nine which have LSU ofers and two who have already committed to the Tigers.
Who else might the Tigers target in state? Here's a look at some dark horses outside the ESPN 150, excluding already committed players such as
William Clapp
and
Donnie Alexander
:
To continue reading this article you must be an Insider
Kevin Toliver II Climbs New ESPN 300
SEC SCOREBOARD
Thursday, 8/28
Saturday, 8/30
Sunday, 8/31