April, 16, 2013
Apr 16
4:00
PM ET
We asked your opinion earlier this week on LSU's Les Miles being ranked by Athlon Sports as the SEC's seventh best head coach.
We heard plenty, too, both yea and nay.

Miles has won two SEC championships and one national championship at LSU, and he's also won 11 or more games in five of his eight seasons in Baton Rouge.
Is he the league's most underappreciated head coach?
Or is it Georgia's Mark Richt, who according to a loud sect of Georgia fans I hear from regularly, should have been gone several years ago. Never mind that he's been to the SEC championship game each of the past two years and came within a tipped pass of playing for the national championship last season.
Then again, maybe it's Florida's Will Muschamp, Mississippi State's Dan Mullen or Missouri's Gary Pinkel.
We'll let you tell us who is the SEC's most underappreciated head coach by voting in our SportsNation poll.
We'll give you the rest of the week to vote, and we'll go over the results later in the week. This ought to be interesting.
December, 5, 2012
12/05/12
10:15
AM ET
We've come to the end of the regular season for the SEC, so here is our final batch of power rankings until the new year:

1. Alabama (12-1; last week: 1): No, Alabama wasn't perfect in its 32-28 victory against Georgia in the SEC title game, but talk about resolve. This team trailed by 11 in the second half, but fought back with a punishing running game and just wore down one of the most talented defenses around to throw itself into the Discover BCS National Championship against Notre Dame. The Crimson Tide will now play for their second national championship in a row, and third in four years.

2. Florida (11-1; LW: 3): The Gators didn't win their division and weren't in Atlanta, but it's hard to find a team with a better résumé. Florida finished the season with four wins against teams currently ranked in the top 12 of the BCS standings. Three of them are in the top 10. Florida is headed to a BCS bowl for the first time since 2009. The Gators will face Louisville in the Allstate Sugar Bowl.


November, 9, 2012
11/09/12
9:00
AM ET
BATON ROUGE, La. -- So you're LSU and you woke up Sunday morning feeling sorry for yourself.
Your goal for back-to-back SEC championships and your fifth league title in 11 years were dashed when Alabama drove for a last-minute touchdown and a 21-17 win Saturday night in Tiger Stadium. You won't be able to go to the BCS championship game for a second straight year and for the fourth time since the 2003 season.
That's tough, sure.
To continue reading this article you must be an Insider
November, 8, 2012
11/08/12
2:35
PM ET
BATON ROUGE, La. -- Remember the 20th century?
Seems like a long time ago now. It was way back then, in 1999 to be exact, when Mississippi State last defeated LSU. That was also the last MSU team to start 7-0 before this year's team pulled it off.
The Bulldogs are 7-2 now, and after consecutive lopsided defeats at the hands of Alabama and Texas A&M, MSU is hoping to bounce back with its first win over LSU this century.
To continue reading this article you must be an Insider
November, 6, 2012
11/06/12
8:52
AM ET
BATON ROUGE, La. -- A week ago, Alabama coach Nick Saban complimented LSU for being "the most consistently successful team in our league."
That might not seem the case after Saturday's epic 21-17 Crimson Tide win over LSU, a game where Alabama re-established itself as the SEC West's reigning bully and put itself into position to contend for its third national championship in four years.
But what Saban said was true. LSU has finished among the top two spots in the SEC West in 11 of the last 12 seasons, making it the most consistent finisher at the top of the SEC West standings during that stretch.
To continue reading this article you must be an Insider
October, 1, 2012
10/01/12
8:00
AM ET
BATON ROUGE, La. -- LSU is off to a 5-0 start, but the Tigers have seen their ranking drop from No. 1 in the first preseason poll to No. 4 in Sunday's latest AP poll.
Why?
A schedule against five teams with a combined 8-14 record -- a list that includes teams from the FCS (2-2 Towson), the WAC (0-5 Idaho) and The Sun Belt (2-3 North Texas) -- has done little to inspire. Even LSU's one SEC game so far was versus a 1-3 Auburn team that appears to be going through a down year. And LSU struggled to win that one, holding on for a 12-10 win.
To continue reading this article you must be an Insider
September, 24, 2012
9/24/12
10:29
AM ET
Another week and it still remains pretty clear Alabama is top dog in the SEC and nationally.
But has our No. 2 team fallen after a sloppy win on the road?
1. Alabama (4-0; LW: 1):
I feel like a broken record, but Alabama dominated yet again Saturday. It's hard to find any real weaknesses in this team. Although the backups did give up a touchdown to Florida Atlantic, so there's that.
2. LSU (4-0; LW: 2):
The Tigers looked pretty sloppy offensively in a tough 12-10 win against Auburn Saturday. LSU probably will have its name dragged through the mud after its play this weekend, but all good teams have those hiccup games. Quarterback
Zach Mettenberger
has to play better, but the defense still looks extremely dominant. The goal now is to not let that hiccup bleed into future games.
3. Georgia (4-0; LW: 3):
This Bulldogs offense has been really fun to watch through the first four weeks. Quarterback
Aaron Murray
has looked like a real Heisman candidate at times, while freshman running back
Todd Gurley
just gets better every time he gets on the field. Georgia completely overwhelmed Vanderbilt and heads into a fun showdown with Tennessee with a load of confidence.
4. South Carolina (4-0; LW: 4):
Connor Shaw
has proven he's a true player for the Gamecocks. He battled through a hairline fracture in his throwing shoulder to complete 20-of-21 passes in a blowout win against Missouri. You're starting to see more balance from this Gamecocks offense and that will be very important as SEC play continues. The defensive front is also getting stronger each week.
5. Florida (4-0; LW: 5):
The Gators seem to be growing up with each week. After back-to-back tough road wins, Florida shut out Kentucky at home and now has two weeks to prepare for LSU. This really has become more of the blue-collar team Will Muschamp wants, but we'll really find out how tough Florida is when LSU ventures into the Swamp.
6. Mississippi State (4-0; LW: 6):
Dan Mullen wasn't exactly pleased with the effort the Bulldogs gave in their lackluster 30-10 win against South Alabama, but a win is a win these days. This team can't be too happy with the way it has played in the past two weeks, but it's still undefeated. It's obvious players are losing focus against lesser opponents, and that should change with SEC play starting back up next week.
7. Tennessee (3-1; LW: 7):
There were some tense moments in the Vols' win over Akron Saturday, but the second half belonged to Tennessee.
Tyler Bray
showed off that cannon of a right arm, passing for 401 yards and four touchdowns. The running game also got going with
Rajion Neal
rushing for a career-high 151 yards. The key for this team is to duplicate those kinds of efforts against SEC opponents.
8. Texas A&M (2-1; LW: 9):
Man, the Aggies know how to use that football, right? In the past two games (both wins), A&M has averaged 526.5 yards and 59 points. Sure, you can point your nose up at the competition, but those are pretty good numbers for a team dealing with a brand new coaching staff and philosophy. Let's see how this offense performs with the SEC slate coming up.
9. Missouri (2-2; LW:8):
The Tigers just didn't put up much of a fight against South Carolina. Both the offensive and defensive lines got pushed around and it's looking more and more like the size up front is an issue for this team. Mizzou has too much talent offensively not to get the ball moving, but the Tigers failed to get big plays against South Carolina. You have to wonder what sort of offensive changes might come heading into the Central Florida game.
10. Ole Miss (3-1; LW: 11):
The Rebels really rebounded from that Texas blowout with a 39-point shutout of Tulane. Through four games, Ole Miss is third in the SEC in total offense (488 yards per game) and is averaging 36.8 points per game. This team has to cut down on the turnovers and the defense still needs some work, but the product on the field is much better than it has been the past two years.
11. Auburn (1-3; LW: 10):
The Tigers suffered a tough loss at home to LSU over the weekend. It was a game in which Auburn played its toughest ball of the season, but just didn't have anything going on offense. Like, absolutely nothing. The defense made strides, but the offense is still a major concern. Defense wins championships, but you have to put points on the board and move the ball, and Auburn has issues doing both, scoring only 20 points in two SEC games.
12. Arkansas (1-3; LW: 12):
Things just aren't working in Fayetteville, Ark.
Tyler Wilson
returned against Rutgers, but he couldn't help a defense that gave up 525 yards in the loss to the Scarlet Knights. Arkansas has now lost three straight -- all in the state of Arkansas -- and it's fair to say that leadership is lacking inside that locker room. There shouldn't be any smiling this week as the Hogs prepare for Texas A&M.
13. Vanderbilt (1-3; LW: 13):
The Commodores had nothing in the tank against Georgia. For a team that is supposed to have a different attitude, Vandy lacked any form of passion in its 45-point loss to the Bulldogs. The defense was shredded and the offense just never got into rhythm. This team is also dealing with quarterback issues. You never know who is going to be throwing the ball for the Commodores, and that's not a good thing.
14. Kentucky (1-3; LW: 14):
Nothing seems to be going right for the Wildcats.
Maxwell Smith
missed Saturday's loss to Florida with a bum shoulder and
Morgan Newton
did noting to help in Smith's place. Kentucky's offense has lacked any sort of consistency this season and the defense has been walked over. The bad news is that things get a lot tougher for the Wildcats with the teeth of the schedule coming up.
September, 13, 2012
9/13/12
10:15
AM ET
We're heading into Week 3 in the SEC, so here's what to watch:
1. Quarterback health:
The statuses of Arkansas'
Tyler Wilson
and South Carolina's
Connor Shaw
are still unknown. Wilson suffered a head injury against Louisiana-Monroe, while Shaw is still nursing a bruised shoulder from Week 1. For the Gamecocks, losing Shaw for the second straight week won't really hurt South Carolina's offense. It was just fine without him against East Carolina. However, Arkansas isn't in the same position.
Brandon Allen
completed just 6 of 20 passes against Louisiana-Monroe in place of Wilson. Not having Wilson will make Saturday's game against No. 1 Alabama that much tougher for the Razorbacks.
[+] Enlarge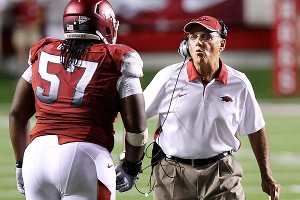 AP Photo/Danny JohnstonCoach John L. Smith and his Razorbacks face a formidable foe in No. 1 Alabama this week.
2. Arkansas' defense:
Speaking of the Razorbacks, what has happened to that defense? It was supposed to be more aggressive and more disciplined under Paul Haynes. We saw neither in the second half against Louisiana-Monroe, as the Razorbacks blew a 21-point lead. The defense was shredded against a lesser opponent and now has to play one of the most balanced attacks in the SEC. Last year, Alabama wore down this defense. If Arkansas is going to pick itself up, it has to play much tougher than it has in the first two games. Alabama has far more talent than Arkansas' first opponents and has the capability to really beat this unit down.
3. Tennessee's passing game vs. Florida's secondary:
This game always comes down to the running game, but the difference this time will be Tennessee's passing game against Florida's secondary. The Gators are loaded with talent back there and made tremendous strides during the second half of the Texas A&M game, while Tennessee might have the best passing game in the SEC, led by quarterback
Tyler Bray
. The matchups between
Justin Hunter
and
Marcus Roberson
and
Cordarrelle Patterson
and
Loucheiz Purifoy
should be great.
Zach Rogers
is another deep threat the Gators have to be careful about, but
Matt Elam
has the ability to take the deep ball away for Florida. Should be fun.
4. Must-wins:
Both Auburn and Vanderbilt are 0-2 and are coming off tough losses. The Commodores blew a halftime lead at Northwestern, while Auburn was overmatched across the board at Mississippi State. The Tigers are struggling with or without the ball this season, and that's a major concern. Quarterback
Kiehl Frazier
has to get going, and he's facing the team that just knocked off Arkansas. Vandy just can't get anything going on offense. The explosion we expected to see has been mostly absent through two games and the Commodores have to generate some sort of offensive momentum this weekend against Presbyterian.
5. Mississippi State keeping its edge:
Now that Dan Mullen and his Bulldogs have gotten over the hump of beating a West opponent not named Ole Miss, the Bulldogs can't get complacent. That was just one win, and this team has far bigger goals than just beating Auburn. With the schedule Mississippi State has, it's very possible the Bulldogs could be 6-1 or 7-0 heading into the Alabama game at the end of October. But this team has to focus on Troy and come out strong against a team that won't be a pushover.
6. Showdown in the Grove:
It's been a long time since a game in Oxford got attention like Saturday's showdown with Texas has been receiving. It's eerily similar to the 2003 game with Eli Manning and LSU, although there isn't hatred in the air. The Grove is gonna be poppin' and Oxford is expected to double in size. There's more confidence around that town because Ole Miss is 2-0 for the first time since 2009. The talent difference between Ole Miss and Texas is obvious, but the Rebels have some momentum and some conviction. Can the Rebels stop that burnt orange wave coming to town?
7. The newbie's returns:
Missouri and Texas A&M got a nice taste of what life will be like in the SEC last weekend. Now, it's time for both teams to regroup. Both teams lost a lot of steam in the second half, which was expected. Missouri has the challenge of playing Arizona State and its high-flying offense. The Sun Devils have averaged 54 points through two games, averaging 532 offensive yards in the process. The Tigers got into a shootout with Arizona State last year, but can they handle another one after that physical loss to Georgia? The Aggies are taking on SMU in Dallas, and are also recovering from a tough loss to Florida. This is a game where Texas A&M should try to get more out of its running game, which has to generate more production up the middle.
8. Mettenberger's arm:
Through the first two games of the season, we've been anxiously waiting to see what
Zach Mettenberger
could really do in LSU's offense. So far, he's yet to eclipse the 200-yard passing mark in a game and has just two touchdowns -- pedestrian numbers compared to what everyone expected. But the Tigers have utilized their running game flawlessly and haven't needed to send the ball downfield much. Saturday, that should change. It's time to unleash Mettenberger and get him going more in the offense before LSU gets into conference play.
9. Lattimore's workload:
If Steve Spurrier wanted to push
Marcus Lattimore
anymore last week, he would have. But the Head Ball Coach gave his workhorse a bit of a rest against East Carolina, running him just 13 times. Maybe Spurrier just wanted to get his new quarterback,
Dylan Thompson
, a chance to show his stuff in place of Shaw. But as Lattimore continues to return from his knee injury, he'll need to get more reps and get more comfortable on the field before league play revs up. UAB should provide him the opportunity to do that.
10. Florida's winning streak:
The Gators have had Tennessee's number for seven straight years now. Not since Dallas Baker's infamous slap in Knoxville have the Vols bested Florida. This might be Tennessee's best shot since. There's no question that this is the best and most complete Vols team Derek Dooley has had. The Vols have cruised through the first two weeks, while Florida's offense stumbles in with a lot of uncertainty concerning the passing game. Florida might have the edge on defense, but Tennessee's offense knows how to put up points. Is this the year Tennessee finally gets the Gator off its back?
September, 3, 2012
9/03/12
1:04
PM ET
Here's a quick primer for Week 2 in the SEC:
SATURDAY
Auburn (0-1) at Mississippi State (1-0), Noon ET, ESPN:
Mississippi State coach Dan Mullen is looking for his first win against a West opponent not named Ole Miss. Auburn is looking to rebound after its rush defense was shredded against Clemson. It won't get easier for that defense Saturday. This game set the tone for both teams last year and probably will again.
East Carolina (1-0) at No. 9 South Carolina (1-0), 12:21 p.m. ET, SEC Network:
Quarterback
Connor Shaw
's shoulder will be monitored all week, and the receivers have got to step up this week. The good news is that
Marcus Lattimore
shook off the rust early in his return against Vanderbilt and is back to his bullish ways. The Gamecocks know all too well that they can't sleep on the Pirates, so the focus should be good this week.
No. 23 Florida (1-0) at Texas A&M (0-0), 3:30 p.m. ET, ESPN:
The Gators have named
Jeff Driskel
the starting quarterback and that's a step in the right direction. This offense struggled mightily in the opener, but now those players know who their quarterback is. That can only help with chemistry and timing. The Aggies are opening the season with Florida after their original opener was postponed. Florida's defense could provide first-time starting quarterback
Johnny Manziel
with a bunch of problems, but this team will be itching to get on the field. Expect an electric environment in College Station.
July, 18, 2012
7/18/12
3:34
PM ET
[+] Enlarge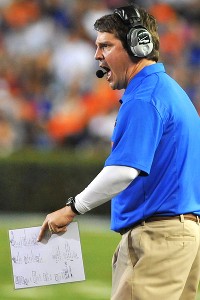 Al Messerschmidt/Getty ImagesGators coach Will Muschamp believes the LSU-UF game is good for the SEC.
Here are some quotes by SEC coaches and players about LSU at SEC Media Days this morning.
Florida coach Will Muschamp on LSU as a permanent cross-division opponent:
"I think that Florida-LSU is good for our game. Les has done a tremendoux job at LSU. Urban did a great job at Florida. You really look at from '03 to know, your'e looking at teams that have won three national championships and LSU played for another one last year. Both programs are operating at a high level."
Mississippi State coach Dan Mullen on last year's LSU game:
"I look back, last year, LSU, NMo. 1 team in the country, wins the SEC championship, it was 14-9 in the fourth quarter. We took some shots down the field, 0-for-3 for those shots. We catch one of those, make a touchdown, that becomes 16-14 at home. On a Thursday night with our defense going out on the field that have played pretty well, you're in the opportunity now to win that game. It's those one big plays that can make difference in the games."
Mullen on Tyrann Mathieu:
"I think Mathieu at LSU is one heck of a football player. He makes plays, does an amazing job in utilizing his ability. He's always around the ball making big plays."
July, 13, 2012
7/13/12
9:41
AM ET
We're always looking for the next best thing. The coaching world isn't any different.
Who's the next Urban Meyer? The next Chris Petersen? What about another Brady Hoke?
Who's that next great assistant who rises up the ranks and takes over a major program ... and succeeds?

I'm not completely sure, but I have a few ideas. Here are some coaches lurking in the SEC who could be on their way to bigger and better things or are ready to take the next step with their current teams:
May, 30, 2012
5/30/12
12:48
PM ET
DESTIN, Fla. -- When SEC commissioner Mike Slive and the rest of the SEC elites leave the 2012 SEC spring meetings later this week the hope is that there will be a concrete scheduling format for the 2013 football season and possibly beyond.
The addition of Missouri and Texas A&M means teams will have to play six divisional games instead of five, making things a little complicated.
Right now, it looks like the most likely format, which could be set as early as Friday, will be a 6-1-1 model. That gives teams six divisional games, one permanent crossover game and rotating crossover. The rotating crossover would no longer be a traditional two-year home and home series. It would simply be a one-year rotation. It's the same model that will be used for the 2012 season.

LSU coach Les Miles said he'd like the structure of future SEC schedules to be "definable," and wouldn't mind if the league re-examined how it chose permanent crossovers.
"Legitimately tell me about how you're picking crossover games," Miles said at the spring meetings Tuesday. "Is it the best team in the East, the best team in the West, top three and top three? OK, if you guys want to do that let's do that. It might change the matches, but if you want to say, 'Well, we really are going to seed the best teams verses the lesser teams,' well, OK, let's do that, but define the structure and let's stay with it.