LSU Tigers:

Corey Lemonier
November, 16, 2012
11/16/12
12:00
PM ET
With the season winding down, we figured we'd start looking to the future. Like, beyond bowl games future.
We are looking into our crystal ball to check out some of the SEC best who could declare for April's NFL draft early. We've talked to people around the league, those in the know at ESPN when it comes to the NFL draft, and came up with the top 10 underclassmen we feel are the best bets to come out and go the highest in next spring's draft.
Draft guru Mel Kiper Jr. updated his
Big Board

this week and featured 12 SEC players in his top 25. Ten were juniors.
We're going in alphabetical order, so here are 10 SEC underclassmen we feel have the highest draft stock:
[+] Enlarge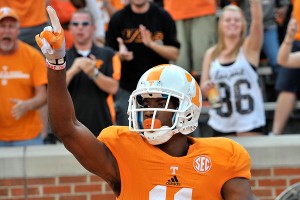 Jim Brown/US PresswireTennessee receiver Justin Hunter has the potential to be a first-round pick in the NFL.
Justin Hunter, WR, Tennessee:
Pro scouts have drooled over Hunter's natural ability and his breakaway speed. He was a little hesitant on his knee early after undergoing ACL surgery last year, but he's made nice strides as the season has progressed, catching 65 passes for 979 yards and eight touchdowns. He has four 100-plus-yard receiving games, and some think he could be a mid-first-round draft pick in April.
Luke Joeckel, OT, Texas A&M:
It's hard to find a better left tackle out there. Joeckel entered the season as a surefire first-round pick and has only helped his draft stock with an excellent junior season. He hasn't been rattled by the speed of opposing SEC ends, and has provided very good protection in the pass game. It sounds like he could be the first tackle off the board if he declares early.
Jarvis Jones, LB, Georgia:
He was the SEC's top defender last season, and has been one of the nation's best pass-rushers the last two years. He really can do it all. He drops into coverage, stops the run and constantly harasses quarterbacks. He also never seems to lose energy. He's been banged up this season, but Kiper still has him No. 1 on his Big Board.
Jake Matthews, OT, Texas A&M:
The Aggies are really getting greedy with their tackles. Matthews has been excellent all season, and could play either right or left tackle in the NFL. He's very powerful and moves well up front. He could be a late first-round pick if he decides to come out.
Dee Milliner, CB, Alabama:
He has had some struggles lately in coverage, which could hurt his stock, but he's so athletic and so physical that teams will be all over him if he opts to leave early for the NFL. He can play the run, has tremendous speed and has very good field intelligence. He's defended an SEC-high 16 passes this season.
Barkevious Mingo, DE, LSU:
He might not be burning up the stat books this season, but he might be the nation's fastest pass-rusher. He has been extremely agressive all season against the pass and run. He has great length, and doesn't really have to take on many blocks because of his speed. He entered the season as an early first-round draft pick, and that still seems to be the case.
Sam Montgomery, DE, LSU:
It's hard to find anyone with the same on-field personality and energy. He might be bigger than Mingo, but he's chased down his fair share of running backs during his career. He has six sacks this season and 11 tackles for loss. He could have left early last year, but decided to stay and still has early first-round potential.
Damontre Moore, DE, Texas A&M:
Talk about really breaking out onto the national stage. He was excellent as an outside linebacker last season, but has been an absolute monster at defensive end in his first (and probably only) year in the SEC. He really adjusted to the new 4-3 scheme, and might have played himself into a top-10 pick. He has a team-high 74 tackles, leads the nation with 20 tackles for loss and is tied for first with 12.5 sacks.
Alec Ogletree, LB, Georgia:
Some think he might be better suited for the NFL than Jones because of his speed, athleticism and instincts. He had a rusty start to his season after serving a four-game suspension, but he's been outstanding in recent weeks. He can make plays all over the field, and should be a first-rounder if he decides to leave school early.
Sheldon Richardson, DT, Missouri:
He is arguably Missouri's best player, regardless of position. He's constantly taking on double-teams, but figures out a way to blow them up. He leads Mizzou with 70 tackles, has 9.5 tackles for loss and four sacks. He's quick and can disrupt both the run and pass. However, his recent suspension could make his draft stock fall some.
Keep an eye on ...
Tyler Bray, QB, Tennessee:
Has all the physical tools to be special in the NFL, but off-field issues could push him out of the first round.
Sharrif Floyd, DT, Florida:
Has been extremely disruptive all year up front for the Gators, and could hear his name called in the second round.
D.J. Fluker, OT, Alabama:
Has had a solid season, but he still needs to develop his game more, and there are more NFL-ready tackles ahead of him.
Corey Lemonier, DE, Auburn:
Was very productive last season, but has fallen a bit this season. Still has all the tools to be a top 40 pick in April.
September, 30, 2012
9/30/12
10:41
AM ET
BATON ROUGE, La. -- Few would say LSU's defensive line, considered by many to be the nation's best, has been disappointing this season.
[+] Enlarge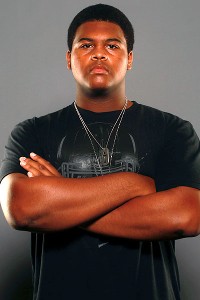 Tom Hauck for ESPN.comLSU true freshman Vadal Alexander made his first start at right tackle.
The LSU defensive front, led by relentless end
Sam Montgomery
and fast-emerging tackle
Anthony Johnson
, has led a defense that has an eye-popping 41 tackles for loss, including 11 sacks.
Can't complain about that if you're a Tigers fan.
What it does do, however, is provide context for perhaps the biggest trouble spot on LSU's team: pass protection.
For as much heat as LSU's vaunted defensive line has put on opposing quarterbacks, LSU quarterback
Zach Mettenberger
has felt just as much pressure when the Tigers have the ball. Facing defensive fronts not nearly as highly regarded as his own, the junior quarterback has been sacked 11 times this season, exactly the same number of sacks as LSU's defense has produced.
Four of the sacks came from Towson, LSU's FCS opponent that gave the Tigers more than they bargained for in a 38-22 LSU win Saturday in what was supposed to be a light tuneup before the Tigers faced a brutal stretch of possibly five straight games against ranked opponents starting Saturday when they face No. 11 Florida in the Swamp. LSU, working with a new look on the offensive line that included the first start at right tackle for true freshman
Vadal Alexander
, gave up six plays for negative yards.
"We'll watch the film on Monday, but I'm sure most of it was miscommunicating, technique, things that can be fixed," said
Alex Hurst
, normally the right tackle who got his first start at left tackle.
Certainly, not all the pass protection was the fault of the offensive line. Towson cornerback
Tye Smith
had two sacks for Towson on blitzes, both on plays where Miles said running backs needed to pick them up. On one, Mettenberger took a big hit from Smith who came unblocked from his blind side, bringing up memories of the big hit Mettenberger took on a similar blitz in the season opener against North Texas, temporarily knocking him out of the game.
On the other, Mettenberger fumbled for the third time in two weeks, twice on sacks. On the play, Mettenberger rolled to his left from the pressure he felt coming off the edge, but was stripped by Smith as he turned to throw the ball.
"I think for the most part, protection was pretty decent inside," LSU coach Les Miles said. "The problem with it was, we had a bust that I remember [on Smith's blitz] and that's probably the one we can fix the easiest."
In other cases, the line did get beat as Mettenberger felt pressure from both sides, evidence that LSU is struggling finding a combination that will work up front since losing left tackle
Chris Faulk
, arguably LSU's best offensive lineman, to a knee injury after the season's first game.
After Faulk went down, LSU went with sixth-year senior
Josh Dworaczyk
, a former starter at left guard, at left tackle for three games. But Dworaczyk, though uninjured, did not play against Towson after giving up two sacks to Auburn star
Corey Lemonier
last week. Instead, Alexander started and Hurst moved to the left side.
"It was different, but something I'll get used to," Hurst said. "I just have to keep working at it."
Because he'll keep starting? That part is unclear.
After the Towson game, Miles sent mixed messages that suggested the LSU might stick with Alexander as a starter going forward, or might go back to Dworaczyk at left tackle and Hurst at his more familiar right tackle spot.
"We are playing some young guys," Miles said. "It's important that we play these young guys because they have to grow up. We are going to play them the rest of the year."
Asked if he would stick with Hurst on the left side and Alexander at right tackle, Miles said, "Yeah, I kind of like that. I have to watch film and see."
Asked about Dworaczyk, Miles then said he could have played, but he felt it was good to rest Dworaczyk, who's coming off a knee injury that sidelined him for the 2011 season.
"We're getting him some rest to get him ready for the push," Miles said.
Mettenberger got more time to throw late and ended up throwing for a career-high 238 yards on 15-for-26 passing, including two touchdowns.
Towson wasn't sold.
"We knew that was their weakness," said Towson defensive end
Frank Beltre
. "They couldn't pass. So that's what we attacked."
Eventually, Mettenberger did pass good enough to beat Towson.
Will he be given the time to do it against the meat of the SEC schedule?
LSU has one week to try to resolve an issue that it hasn't figured out in the season's first five games.
September, 24, 2012
9/24/12
4:32
PM ET
BATON ROUGE, La. -- LSU is 11th in the SEC in penalty yards, 10th in the league in red-zone offense and has had more turnovers than games played.
That's the bad news coming from No. 3 LSU on Monday, two days after the 4-0 Tigers struggled to a 12-10 win at 1-3 Auburn. The good news? Most of the problems that have haunted the Tigers can be corrected.
"Auburn, with their backs against the wall, really had a very strong game plan and played extremely well," LSU coach Les Miles said. But in the next breath, he added this, "The key is us. We handle our opponent more efficiently if we don't make mistakes, if we're not sloppy.
"I have to give it to some youth, some guys who don't understand the position we are in and the recognition of what makes a very well-played ball game as opposed to that game, which was sloppy and gave your opponent every opportunity to stay in that game."
LSU had nine penalties for 80 yards and two inopportune turnovers that killed momentum, one at the Auburn 3 and the other setting up an Auburn touchdown after LSU had jumped to a 9-0 lead and was dominating the game late in the first quarter. The Tigers repeatedly gave up field position with penalties on special teams.
"In order to become the team we are capable of being, we have to become more disciplined," said wide receiver
Russell Shepard
-- who also plays on special teams, where LSU had penalty issues. "Learning how to take the foot off the gas when the whistle is blown. Learning discipline in the heat of the moment. Those are things this team is capable of."
Miles said some of the penalties called against the Tigers on Saturday were for things like pulling opposing players off teammates after the whistle blew -- "Not cheap shots," Miles said -- and added that the teammates would "enjoy it" if the offending player simply stopped at the whistle.
As for the turnovers, quarterback
Zach Mettenberger
was charged with both lost fumbles. On one, at the Auburn three, Miles blamed redshirt freshman center
Elliott Porter
, who he said did not snap the ball at the right time. Porter was in the game for starter
P.J. Lonergan
who was shaken up, but returned. Mettenberger said he also shares part of the blame. On the other fumble, Mettenberger had the ball stripped from him by Auburn defensive end
Corey Lemonier
.
September, 22, 2012
9/22/12
8:46
PM ET
AUBURN, Ala. --LSU had Auburn on the ropes early on its own field, then
Corey Lemonier
showed why you always have a chance when you have a big-time pass-rusher against a young quarterback.


The Auburn defensive end stripped
Zach Mettenberger
on a sack at the LSU 26 yard-line and
Angelo Blackson
recovered it, setting up a touchdown that cut what had been a dominating early, 9-point LSU lead to a 2-point game game. It was the second of two turnovers by Mettenberger in his first road and SEC start.
The game stayed close the rest of the first half, with Auburn taking a 10-9 halftime lead on
Cody Parkey's
40-yard field goal with 1:21 left in the half.
Stat of the half:
182-88. LSU's total yardage advantage, which was offset by Mettenberger's two redzone turnovers.
The LSU quarterback was otherwise effective, completing 10-of-13 passes for 78 yards, but he felt Auburn's pressure and turned the ball over.
Player of the half:
Lemonier, whose sack changed the game, spearheaded AU's effort to stay close to LSU. It offset a solid 70-yard rushing half for LSU's
Spencer Ware
.
What's working for LSU:
LSU's defense allowed four first downs and just 90 yards in the first half, killing Auburn's efforts to get to the edge with
Onterio McCalebb
with penetration.
Sam Montgomery
had a tackle in the end zone of
Tre Mason
of Auburn for a safety.
What's not working for LSU:
Mettenberger, with his two fumbles in his first SEC start, allowed Auburn to get off the hook, possibly for 14 points. His fumbled snap at the Auburn 3 yard-line in the first quarter, recovered by Auburn
Jeffrey Whitaker
, might have negated an eventual LSU touchdown and his second fumble set up an Auburn touchdown.
September, 21, 2012
9/21/12
7:00
AM ET
BATON ROUGE, La. -- It's a series that has brought us earthquakes (during LSU's 1988 win in Baton Rouge), fires (in 1996, when the old Auburn Sports Arena burned down outside Jordan-Hare Stadium) and hurricanes (in 2004, when Hurricane Ivan brushed by Auburn).
There have been plenty of strange happenings around the Auburn-LSU series, which will be renewed Saturday when No. 2 LSU (3-0) visits Jordan-Hare to face AU (1-2), but perhaps none more strange for LSU than the story of Cecil "The Diesel" Collins.
To those who follow LSU closely, Collins is one of the great talents ever to play running back at LSU, but he played a mere four games for the Tigers. In his only season, he was suspended for the 1997 opener for violating team rules, then piled up 596 yards in four games before being lost for the season to a broken leg.
His highlight game was 15 years ago Thursday, when he piled up 232 rushing yards against an Auburn team that eventually won the SEC West, in no small part because it escaped Baton Rouge with a 31-28 win on Collins' big night. But so good was Collins, there was talk that he would become a front-runner for the Heisman Trophy the next season.
Instead, in June 1998, he was arrested for unauthorized entry into an inhabited dwelling and assault (reduced from sexual assault) in a Baton Rouge apartment, an incident he blamed on sleepwalking. He was kicked off LSU's team, resurfaced at McNeese State, and washed up after two unspectacular games for failing a drug test.
He briefly went to jail (the failed drug test was a violation of his bond for the original charges), got a shot with the Miami Dolphins in 1999, had a decent rookie season, then broke into another apartment in 1999 in Miami, for which he was sentenced to 15 years in prison. The incident, he said, occurred because he wanted to watch a woman sleep.
A strange story, indeed. Perhaps every bit as strange as arenas burning down outside a stadium or touchdown celebrations that register as earthquakes (that was on Eddie Fuller's game-winning touchdown catch in LSU's 7-6 win in 1988).
Will another strange chapter be written Saturday?
Three Things to Watch:
1. Running like a Diesel?: Every week, AU's defense must feel like the 1997 defense trying to stop Collins. Auburn is last in the SEC in rush defense, allowing 217 yards a game. LSU leads the SEC in rushing (269.3 ypg). Even with LSU missing injured starting RB Alfred Blue, Auburn has its hands full.
2. Youth is served: LSU first-year starting quarterback Zach Mettenberger will get his first road start and first SEC start Saturday. His counterpart, Kiehl Frazier, is also a first-year starter who has struggled (two touchdowns, five interceptions).
3. Still Badgering: Even without Tyrann Mathieu, LSU leads the SEC in total defense (205 yards per game), bettering even the impressive numbers of Alabama (210 ypg). Can Frazier and Auburn make a dent?
LSU Tigers to Watch
1. RB Kenny Hilliard: The most likely choice to replace Blue as the starter, he leads LSU and is third in the SEC with 303 rushing yards, and he leads the SEC with six touchdowns.
2. DT Anthony Johnson: Off to a strong start (11 tackles, 2.5 for loss), the sophomore will be a key figure against an Auburn team that will present LSU's defense with the most physical rushing game it has faced so far.
3. Mettenberger: In his first true road and SEC test, will the LSU quarterback continue to blossom or be overwhelmed by a road environment?
Auburn Tigers to watch
1. RB Onterio McCalebb: McCalebb is second on the team in rushing (214 yards on 31 carries), but has game-changing, big-play ability. He has a 100-yard kick return for a TD this season, and in 2010 his 70-yard TD run against LSU was a game-winner in a 24-17 AU win.
2. DE Corey Lemonier: With three sacks and a blocked kick, Lemonier's the kind of disruptive force who can change the course of a game for an underdog.
3. Frazier: The sophomore will probably have to play the best game of his young career for Auburn to have a chance.
Key matchup
AU special teams vs. LSU special teams: LSU prides itself on special teams and has an all-American punter (Brad Wing), the SEC's most accurate field goal kicker in 2011 (Drew Alleman) and return threats (Odell Beckham, Jr., already has a punt return for a TD). Auburn is also good with McCalebb's TD return, a 6-for-6 season so far for kicker Cody Parkey, and three blocked kicks.
By the numbers
5-1: Auburn's record in the last five home games against LSU.
1980: The last year Auburn started SEC play 0-2, a record it's hoping to avoid Saturday.
8: SEC West championships claimed by the winner of the LSU-Auburn game in the last 12 years.
September, 20, 2012
9/20/12
8:00
AM ET
BATON ROUGE, La. -- To Auburn coach Gene Chizik, No. 2 LSU is playing "at the top of its game." But that game, to this point, has not been against opponents like Auburn that are built to combat physical SEC opponents like LSU and have the resources to get it done. With LSU heading to the Plains, what will that mean Saturday when the two SEC West Tigers meet?

1. An opportunity, a stumbling block?

For 1-2 Auburn, a win Saturday would erase the memories of early struggles, including losses to Clemson and Mississippi State and a near-loss, in overtime, against Louisiana-Monroe while cooling down the seat of coach Gene Chizik. For 3-0 LSU, Auburn represents the first team with the physicality and SEC speed to challenge LSU at its strengths.
September, 19, 2012
9/19/12
8:59
AM ET
BATON ROUGE, La. -- Ever since left offensive tackle
Chris Faulk
was lost for the season to an ACL injury two weeks ago, LSU coach Les Miles has said he was interested in seeing a lineup that includes true freshman
Vadal Alexander
at right tackle and
Alex Hurst
, normally the starting right tackle, sliding over to the left side.
[+] Enlarge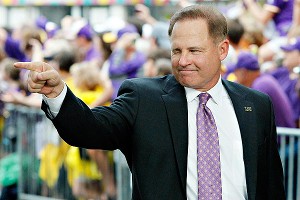 AP Photo/Patrick SemanskyDespite injuries on the offensive line, Les Miles likes the way it is performing.
That plan was put on the backburner as
Josh Dworaczyk
emerged as a solid option at left tackle -- that is, until Dworaczyk suffered a knee bruise that knocked him out of last Saturday's 63-14 rout of Idaho. It allowed LSU to try the Hurst-Alexander experiment for extended snaps.
And how did it go?
"Vadal gave us a pressure [on the quarterback], but he also played pretty well after he got comfortable," Miles said. "I kind of liked what happened. I don't want injury to dictate, but I kind of like the fact that we moved guys around that will play significant snaps for us and that they performed pretty well.
Alexander has been working as the backup and likely heir apparent at right tackle behind Hurst, a senior. But Miles said he wasn't surprised that Hurst seemed to have little issue moving to the left side.
"I liked Hurst on the left side, but I like Hurst on the ride side, too," Miles said. "It didn't seem to bother him, his change of footwork and stance, in any way."
Dworaczyk said Tuesday night that he felt like he was 100 percent for Saturday's game at Auburn, where he'll be called upon to block Auburn pass-rushing end
Corey Lemonier
, who already has three sacks.
In the Idaho game, LSU also started sophomore
Elliott Porter
at center instead of usual starter
P.J. Lonergan
, who was slowed by a nagging injury. Miles said he expects Lonergan to be fine for Saturday's game with Auburn, although he was pleased with Porter's play.
No experiment for Ford:
When a reporter asked Miles about the "experiment" of using running back
Michael Ford
to return kickoffs against Idaho Saturday, Miles responded by saying "It was no experiment. We like him back there."
July, 20, 2012
7/20/12
11:12
AM ET
HOOVER, Ala. -- Now that another year of SEC media days are through, it's time to take a look back at the best moments from this year's three days in the Wynfrey Hotel:
Best interview:
Yes, Missouri wide receiver
T.J. Moe
had a pretty good time with the media in Hoover and Arkansas coach John L. Smith seemed to win over the main ballroom during his press conference, but the best interview of the week had to go to Alabama offensive lineman
Barrett Jones
. The veteran strolled right into our interview room munching on pecan pie bites without a care in the world. But the real magic came during his video interview where he playfully crushed his best friend and former teammate William Vlachos and gave fellow SEC blogger Chris Low a shout out during his hit. Jones came prepared and knew how to have fun.
[+] Enlarge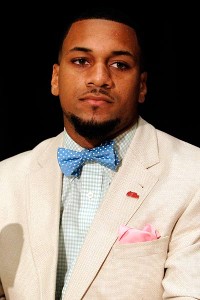 Butch Dill/AP PhotoOle Miss WR Donte Moncrief dresses to the nines for his appearance at SEC media days.
Best quote:
There were so many good one-liners from Moe that we're giving you our top three from the week:
Moe on what's different about the SEC: "They say girls are prettier here, air's fresher and toilet paper is thicker." -- Offensive lineman Elvis Fisher later told us that this line was planned after a conversation during the trip over.
But Moe wasn't done there: "Apparently Ryan Swope is a god because he can come in and get first-team all-SEC. But that's fine."
And this one really got to Arkansas running back Knile Davis: "In the Big 12, we put our best athletes on offense. [In the SEC], they put their best athletes on defense."
Best outfit:
The players came out and dressed well this week, like Auburn's
Corey Lemonier
and bow tie and red-striped socks and Vanderbilt's
Trey Wilson
in his slick charcoal suit with the black checkered shirt and red tie. But Ole Miss wide receiver
Donte Moncrief
stole the show with his colorful outfit. He rocked a light beige jacket over a checkered mint shirt and a blue bow tie. He was also equipped with salmon pants and a bright pink pocket square. The man dresses with confidence.
Best moment:
Davis was as cool and relaxed as ever during his time in Hoover. He had no problem proclaiming that he still was the league's best running back, but the best moment came when he was leaving our room. As Davis headed toward the door, Chris asked him if he still thought he was the best and Davis replied with a smile, "Still the best and tell Marcus [Lattimore] I'm coming for him."
Best interviewer:
We paled in comparison to the journalistic skills of Mississippi State offensive lineman
Gabe Jackson
, who took some time to interview Chris on camera. Chris looked like a deer in headlights when Jackson started firing hard-hitting questions and then asked him to name as many dog breeds as he could in 10 seconds. The tongue-tied Chris didn't even mention bulldog.
Most improved:
LSU quarterback
Zach Mettenberger
has had a very up-and-down college career, but he walked right into media days without a nervous fiber in his body. He's known to boast a little about his talents and had every opportunity to once again, but didn't. He was very humble and praised his teammates before even mentioning his ability. Plus, he handled questions about his past at Georgia like a pro.
Most confident:
We're naming our top four here:
Moe: He's sick of hearing about transitioning over to the SEC and he let everyone know about it.
Davis: No hesitation in claiming he's the SEC's best running back.
Tennessee quarterback Tyler Bray: He doesn't talk much, but he made the statement that Tennessee will win the SEC this season. That's pretty gutsy.
Florida running back Mike Gillislee: His goal for the season: 1,500 rushing yards and 24 touchdowns. Florida hasn't had a 1,000-yard rusher since Ciatrick Fason in 2004 and 24 rushing touchdowns would break Tim Tebow's record of 23.
Best hair:
Georgia linebacker
Jarvis Jones
had his hair braided in a very creative, funky way and it looked clean. It also took three and a half hours to do.
Coming out of his shell:
Florida outside linebacker/defensive end
Lerentee McCray
is pretty soft-spoken and can be shy around the media, but not in Hoover. He was talkative and showed a little confidence when he said his favorite part of football is hitting the quarterback so he can "wipe the smiles off their faces."
July, 19, 2012
7/19/12
11:14
AM ET
HOOVER, Ala. -- The 2012 SEC media days All-SEC team was announced Thursday, and LSU led the conference with the most first-team selections with seven. The media has voted for a preseason All-SEC team and predicted the order in which each team would finish since 1992.
It should be noted that the media has only picked the correct SEC champion four times since 1992. Those correct picks were Florida in 1994 and 1995, LSU in 2007 and Florida in 2008.
Here are some notes from the league on the All-SEC team:
[+] Enlarge

Daniel Shirey/US PresswireSEC members are expecting big things this season for South Carolina's Marcus Lattimore.

The 222 voters is an all-time high for SEC media days. The previous high was 177 voters in 2010.
South Carolina running back Marcus Lattimore was the leading vote-getter this season with 201 of 222 votes. He is the fourth running back in the past six years to be the highest vote-getter (2007 – Darren McFadden, Arkansas; 2008 – Knowshon Moreno, Georgia and Percy Harvin, Florida; 2009 – Tim Tebow and Brandon Spikes, Florida; 2010 – Mark Ingram, Alabama; 2011 – Alshon Jeffery, South Carolina).
Lattimore (2012) and Jeffery (2011) have been the leading vote-getters the last two seasons.
Alabama offensive lineman Barrett Jones is a three-time member of the SEC media days first team
South Carolina has had a sophomore make the media days first team for the third straight season – Jadeveon Clowney, South Carolina, DE (2012); Marcus Lattimore, South Carolina, RB (2011); Stephon Gilmore, South Carolina, DB (2010).
Since 2000, Arkansas' Darren McFadden is the only unanimous selection to the SEC media days All-SEC team, collecting all 80 votes.
LSU had the most first-team selections this season with seven. Since 1992, the most players on a first team were nine by Alabama in 2011 and eight by Alabama (2010) and Florida (2009).
LSU leads with the most overall selections this season with 13. The total is the second highest ever, behind Alabama's 16 last season. Prior to last season, Alabama (2010) and Florida (2009) had the most overall selections with 12.
LSU is predicted to win the SEC championship by the media for the first time since 2007. It is the second time since 1992 that LSU has been predicted to win the league title. LSU did win the SEC title in 2007 and went on to win the BCS title.
Here is what the complete first team looks like:
July, 16, 2012
7/16/12
9:28
AM ET
We ranked the guys in the trenches on Friday, so now it's time to take a look at the outside guys on the defensive line.
Below is the way we would rank the top 10 defensive ends in the SEC heading into the 2012 season. One thing to note is that Florida's
Ronald Powell
, who plays a hybrid end/linebacker role for the Gators, is not on this list because he's recovering from ACL surgery and could miss the first part of the season.
Here's what we came up with:
[+] Enlarge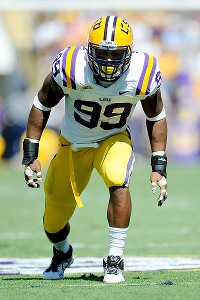 Stacy Revere/Getty ImagesSam Montgomery led the Tigers with nine sacks last season.
1. Sam Montgomery, Jr., LSU:
The SEC's most complete defensive end, Montgomery is big enough and explosive enough to stuff the run as well as rush the passer. He had nine sacks last season.
2. Jadeveon Clowney, Soph., South Carolina:
His freshman season was just a glimpse. Clowney had eight sacks and five forced fumbles and was playing on talent alone. He'll be an every-down force in 2012.
3. Barkevious Mingo, Jr., LSU:
LSU defensive coordinator John Chavis predicted that Mingo would emerge as the best pass-rusher in the SEC. He's well on his way after racking up 15 tackles for loss last season.
4. Corey Lemonier, Jr. Auburn:
He's the leading returning sack man among SEC defensive ends with 9.5 last season. Lemonier could play his way into the first round of the NFL draft with a big junior season.
5. Damontre Moore, Jr., Texas A&M:
He may be new to the SEC, but Moore will quickly introduce himself to opposing quarterbacks in this league. He finished with 17.5 tackles for loss a year ago and forced four fumbles.
July, 13, 2012
7/13/12
4:31
PM ET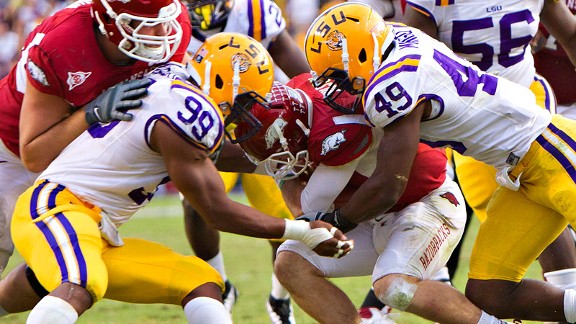 Wesley Hitt/Getty ImagesLSU's Barkevious Mingo and Sam Montgomery will head up the strongest D-line in the SEC in 2012.
We've already gone through the different position groups on offense in SEC.
Now, it's on to the side of the ball this league is known for -- defense.
More specifically, we examine the top defensive lines, and there are at least five or six in the SEC that would rank among the best in the country.
In fact, defensive line play is one of the things that has separated the SEC from everybody else over the years.
Here's how we would rank the defensive lines going into the 2012 season:
July, 13, 2012
7/13/12
7:01
AM ET
The SEC has a nation-leading 19 players on the 2012 preseason watch list for the Bronko Nagurski Trophy, which is awarded annually to the nation's best defensive player. Alabama leads the SEC with five players on the list, while LSU is second with four.
Here are all 19 SEC players on the Nagurski Trophy list:
For the complete Nagurski Trophy watch list,
go here
.
The SEC also leads the country with 19 players on the 2012 preseason watch list for the Outland Trophy, which is presented annually to the nation's top interior lineman. Alabama leads the SEC with four players on the list, including reigning Outland Trophy winner
Barrett Jones
.
Here are all 19 SEC players on the Outland Trophy watch list:
Alvin Bailey, OG, Arkansas
Josh Boyd, DT, Mississippi State
Chris Faulk, OT, LSU
Sharrif Floyd, DT, Florida
D.J. Fluker, OT, Alabama
Alex Hurst, OT, LSU
Gabe Jackson, OG, Mississippi State
John Jenkins, DT, Georgia
Luke Joeckel, OT, Texas A&M
T.J. Johnson, C, South Carolina
Wesley Johnson, OT, Vanderbilt
Barrett Jones, C, Alabama
Bennie Logan, DT, LSU
Jake Matthews, OT, Texas A&M
Travis Swanson, C, Arkansas
Dallas Thomas, OG, Tennessee
Larry Warford, OG, Kentucky
Chance Warmack, OG, Alabama
Jesse Williams, DT, Alabama
For the full Outland Trophy watch list,
go here
.
Marcus Spears reviews LSU Pro Day
SEC SCOREBOARD
Thursday, 9/3
Saturday, 9/5