LSU Tigers:

Connor Neighbors
April, 7, 2014
Apr 7
11:00
AM ET
BATON ROUGE, La. -- You know what early enrollees typically do when they play in their first spring game? They stink up the joint -- and understandably so.
By all rights, they should still be in high school, making prom plans or figuring out where to go for spring break. They've had only a couple of months to digest a complex college playbook, and they're competing against more seasoned, more physically mature athletes.
[+] Enlarge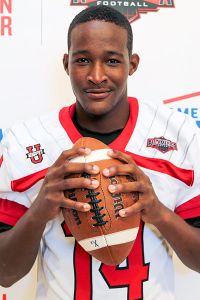 Courtesy of IntersportEarly enrollees aren't supposed to make an impact in spring ball, but QB Brandon Harris did just that in the spring game.
But not only did
Brandon Harris
not stink up the joint in LSU's spring game on Saturday, he was arguably the star of the show with three touchdown passes and 195 passing yards. He also flashed impressive escapability when the pocket collapsed, rushing six times for 76 yards and another score.
It was an eye-opening performance, but let's pump our breaks before declaring the Tigers' quarterback race over -- even if
Anthony Jennings
followed an underwhelming performance in the Outback Bowl by going 9-for-17 for 157 yards and tossing interceptions that linebackers
Deion Jones
and
Kwon Alexander
returned for touchdowns.
Let's be clear: if LSU had been playing Alabama -- which seems to be the measuring stick for anything around this program these days -- the performances by either Jennings or Harris would have probably led to an LSU loss.
"There needs to be improvement at the position for both guys," LSU coach Les Miles confirmed afterward.
Obviously the pair of pick-sixes determined the day's narrative for Jennings, but Harris had plenty of misfires himself. He displayed a phenomenal skillset and made some remarkable plays, without question, but he simply must reduce the mistakes before he can fulfill his obviously sky-high potential.
Case in point: in the second quarter, Harris overthrew a wide-open
DeSean Smith
-- wide open as in there was nobody within 10 yards of the big tight end -- and then floated an ugly throw over fullback
Connor Neighbors
' head on his next pass attempt. Later, he made a debatable decision to throw into double coverage in the end zone, with the pass luckily falling incomplete.
"I really think he made, I don't know, four, five, six major errors in the scrimmage and yet had the ability to get beyond it, which always is a tremendous mark," Miles said of Harris, whom LSU has not made available to speak to the media. "And if we can eliminate the mistakes and really play to the advantages, that's what we're looking to do."
If there was anything positive that Jennings could take away from the day, it's that he at least finished with a flourish. In the first two quarters, Jennings presided over seven drives -- the longest of which covered 31 yards -- with those seven possessions ending in five punts and the two interception returns for touchdowns.
He wrapped up his day with an efficient 73-yard touchdown drive in the third quarter, concluding the possession with a 13-yard scoring pass to
Travin Dural
.
"If you throw an interception and you don't come right back, you're not a good quarterback," Jennings said afterward. "So every quarterback goes through adversity. It's how you respond, it's not how you fall."
He seemed to take a nasty fall on Saturday, but Jennings now has plenty of time to respond. The good news for the Tigers is that they don't play Alabama for seven months. In fact, they don't play anybody until the Aug. 30 kickoff against Wisconsin. That's nearly five months for both quarterbacks to keep developing a rapport with their receiving corps and battling for the right to take the first snap against the Badgers.
Asked about the message he will send the quarterbacks going into summer workouts, Miles' message was simple: "Compete. That's it." This after saying in his press conference that the coaches plan to "let the competition continue and see how this thing plays out" this summer.
Competition was also the theme of this spring, and it was apparently a productive period for both players, of whom Miles reiterated after Saturday's game that "I think both guys are talented enough to be our quarterback."
The talent was apparent, particularly when Harris was throwing darts and sprinting away from defenders for big gains. But will LSU's coaches be able to harness that talent quickly enough to beat opponents like Wisconsin, Auburn, Florida, Mississippi State and, of course, the mighty Crimson Tide?
That is going to be the deciding factor in LSU's 2014 season. With what should be an improved defense and with
Leonard Fournette
,
Terrence Magee
and
Kenny Hilliard
in the backfield, the Tigers should be able to pound most of their opponents into submission. But against the nastiest teams on the schedule, they need to be able to at least make opposing defenses respect the pass -- and not make any catastrophic errors when they do choose to put the ball in the air.
Both quarterbacks made some potentially catastrophic throws on Saturday, and that's OK for now. Jennings and Harris need to make great strides in this summer's passing sessions, however, or it will be 2015 at the earliest before the Tigers again rank among the top contenders for a national championship.
LSU SPRING AWARDS
Here is the full list of spring practice awards that LSU coach Les Miles presented after Saturday's spring game:
Jimmy Taylor Award (Comprehensive spring award for outstanding leadership, effort and performance):
D.J. Welter
Ralph Norwood Performance Award (Outstanding performance in spring drills, offense):
Kenny Hilliard
,
La'el Collins
,
Elliott Porter
,
Jerald Hawkins
Toby Caston Performance Award (Outstanding performance in spring drills, defense):
Deion Jones
,
Tre'Davious White
,
Rashard Robinson
,
Danielle Hunter
,
D.J. Welter
,
Kwon Alexander
Eric Andolsek Leadership Award (Outstanding leadership in spring drills, offense):
La'el Collins
,
Connor Neighbors
,
Kenny Hilliard
,
Terrence Magee
,
Jerald Hawkins
Mike Miley Leadership Award (Outstanding leadership in spring drills, defense):
Danielle Hunter
,
Christian LaCouture
,
D.J. Welter
,
Jalen Mills
,
Ronald Martin
Alvin Roy Fourth Quarter Award (Outstanding performance in LSU offseason program):
Danielle Hunter
,
Duke Riley
,
K.J. Malone
,
Ethan Pocic
,
Travin Dural
,
Christian LaCouture
,
Lewis Neal
,
Tre'Davious White
,
Tre' Sullivan
,
Terrence Magee
,
Luke Boyd
,
Jeff Lang
Most Improved Award:
Ronald Martin
,
Lewis Neal
,
Quentin Thomas
,
Dillon Gordon
,
Dwayne Thomas
,
Fehoko Fanaika
,
K.J. Malone
,
DeSean Smith
,
Anthony Jennings
,
Tashawn Bower
Jerry Stovall Special Teams Award:
Colby Delahoussaye
,
Reid Ferguson
,
Tre'Davious White
Newcomer Award:
Brandon Harris
,
Ed Paris
Overcoming Adversity Award:
Dwayne Thomas
,
Quantavius Leslie
,
Lamar Louis
Coaches Award:
Devante Meullion
,
John David Moore
,
Chris LaBorde
,
Tommy LeBeau
,
Tre' Sullivan
,
Brad Kragthorpe
,
Alex Cheramie
April, 7, 2014
Apr 7
10:00
AM ET
BATON ROUGE, La. – This was a spring of transition for
LSU
offensive coordinator Cam Cameron, with inexperienced players sliding into leading roles at most of the skill-position spots.
That might cause the Tigers to utilize some positions -- like tight end -- differently than they did a season ago, as LSU will certainly carry more question marks into preseason practice than it did last year with a senior quarterback and veteran stars at tailback and receiver.
[+] Enlarge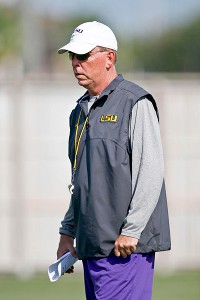 Derick E. Hingle/USA TODAY SportsLSU's Cam Cameron isn't quite ready to name a starting quarterback.
Cameron discussed that possibility and a variety of other subjects with reporters after Saturday's spring game. Here is some of what he had to say:
Q: How important will it be that you work the ball to the fullbacks and tight ends in the passing game this season?
A:
It's critical. We want every guy on our offense involved in both phases of our game, run and pass. And at any point in time, if a defense knows you're not going to throw the ball to a guy, then I think you make it tough on yourself. But
Connor Neighbors
is as good a receiving fullback as I've been around.
Melvin Jones
is going to be outstanding. All our tight ends, I just mentioned all of them, even
J.D. Moore
came in and made a big play at the end, so we've got great depth at tight end, we've got two really outstanding fullbacks and we're going to need them this season.
Q: How much did you have to tinker with the scheme to work the ball to the tight ends?
A:
Our system is what it is. It's a route tree that allows tight ends to do what they do best. We didn't feature it last year for obvious reasons, knowing the talent at outside, and then we would move
Jarvis [Landry]
and
Odell [Beckham]
down inside almost in a tight end-type role. But this year is different. Every year with different personnel creates a whole new set of opportunities and I think the opportunities for our tight ends are going to be critical. I was thrilled -- for the most part I thought they made the most of it.
Q: How much will the group of signees arriving this summer cause you to re-evaluate how you use the different positions?
A:
You're always evaluating. But I think everyone knows this: we bring young players here to play. It's Les [Miles'] philosophy. No one plays more young players than we do to my knowledge. But the key thing is, they know, we expect them to come in and play a major role. Not just play. Not just letter. They need to take a major role and make big plays in big games and this is a freshman class that I know our current players are looking forward to playing with. And at the same time, it's a group that's looking forward to coming in here and playing big roles in big games.
Q: How did Rob Bolden make the transition from quarterback to receiver this spring?
A:
Rob is 6-5, he looks the part. He's spatially starting to get a feel for how to play out in space. Was really pleased. First thing he said to me coming through the tunnel was, 'Gosh, I should have made a couple of those plays,' and we know that. But I think I'm confident he'll make those plays.
Q: How much of Brandon Harris' feel for the pocket and his decisions to tuck it and run were natural and how much was by design?
A:
You mean total panic, scramble and run? [Laughs] The only reason I'm saying that is we tease Brandon about that. He may not be doing it for reasons you think he is. But again, I think mobility is something that we like in a quarterback. We know what to do, we think, with a quarterback that doesn't have mobility and I think there's certain things that you try to allow QBs to do when they have it, and he and
Anthony [Jennings]
and even
Hayden [Rettig]
-- you saw Hayden's an athlete -- all our guys are pretty athletic and mobility's going to be a big thing for us this season.
Q: How different are those two quarterbacks from where they were when you started at the first of March?
A:
That's a good question. They're better. They should be better. They'll continue to get better. I would think that all our quarterbacks, until the day they leave, will be continuing to improve and will be ascending players after they leave here. That would be our goal. So every snap these guys get in practice or in a scrimmage or in a game, if they can stay healthy, they should get better -- especially when you're 18, 19 years old.
Q: As you get ready to send them into the summer, what's the message you're sending them over what to work on?
A:
You know, I haven't thought about that yet. I'm going to kind of look at the tape, think about it [Sunday] and we'll meet on Monday, we'll talk to them on Tuesday. And we'll kind of get with the staff collectively, 'OK, where are we? What are our strengths right now? What are the areas we need to improve?' We'll kind of let this marinate for a night, think about it and kind of come up with something for them by Monday or Tuesday.
November, 29, 2013
11/29/13
12:00
PM ET
It was a good start to Week 13 with a thriller in the Egg Bowl. There still are plenty of games to be played, including Saturday's Iron Bowl. Let's take a look around the SEC:
March, 14, 2013
3/14/13
10:00
AM ET
BATON ROUGE, La. -- Here are things to know as LSU starts spring practice:
Practice dates:
March 14, 15, 16, 19, 21, 23 (scrimmage), 25, 26 and 28. After spring break, resumes April 9, 11, 13 (scrimmage), 16, 18 and 20 (spring game).

What's new:
Offensive coordinator Cam Cameron will install his new offense, and four new starters will man the defensive line.
What's old:
The Tigers have eight returning starters on offense, led by quarterback
Zach Mettenberger
.
Offensive outlook:
Starters returning (8):
QB Mettenberger, RB
Jeremy Hill
, FB
J.C. Copeland,
WR
Jarvis Landry
, WR
Odell Beckham
, LT
La'el Collins
(moved from left guard), LG
Josh Williford
(moved from right guard), RG
Trai Turner
, RT
Vadal Alexander
.
New starters:
TE
Dillon Gordon
or
Logan Stokes
, C
Elliott Porter
. Key reserves -- QB
Stephen Rivers
, RBs
Alfred Blue
,
Kenny Hilliard
and
Terrance Magee
, FB
Connor Neighbors
, LT
Jerald Hawkins
, RG
Fehoko Fanaika
, RT
Ethan Pocic
, WR
James Wright
,
Kadron Boone
,
John Diarse
and
Travin Dural
, TE
Travis Dickson
.
January, 4, 2013
1/04/13
10:17
AM ET
BATON ROUGE, La. -- There are some unknown variables when trying to figure out where true freshmen might play a big role on a team.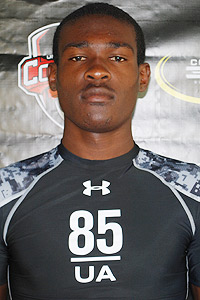 Davide De Pas/ESPN.comClass of 2012 wide receiver Avery Johnson looks to re-enroll after going to prep school for a year. He could contribute to LSU as soon as next season.
Take LSU right tackle
Vadal Alexander
. The 2012 signee became a true freshman starter at right tackle halfway through the season, something nobody saw coming. But when left tackle
Chris Faulk
suffered a season-ending knee injury, it opened the door for Alexander to move into the lineup, and he took the job and ran with it after another veteran starting tackle,
Alex Hurst
, left the team.
Similarly, with a veteran stable of running backs returning, few saw true freshman
Jeremy Hill
emerging as a primary running back for LSU this year. Yet, it took only one injury -- to original starter
Alfred Blue
-- to get Hill the break he needed to start getting carries and eventually become the starter and the Tigers' leading rusher.
To continue reading this article you must be an Insider
December, 4, 2012
12/04/12
8:24
AM ET
BATON ROUGE, La. -- When news came down last week that LSU had lost a pair of commitments from wide receiver
Chuck Baker
and fullback
Kennard Swanson
, it wasn't met with the angst from fans that one might think.
It wasn't long before the 4-star receiver and 3-star fullback parted ways that some were wondering how LSU would make room if all the star prospects who are considering LSU and still available -- including the nation's top two athletes in
Ricky Seals-Jones
and
Kendell Beckwith
-- want to come.
That doesn't seem to be an issue now.
To continue reading this article you must be an Insider
October, 9, 2012
10/09/12
8:33
AM ET
BATON ROUGE, La. -- As its beleaguered offense has looked for answers to injury and ineffective play this season, LSU has found itself shuffling players around.
The Tigers have started three running backs at least one game this season. Because of injury, three players have started at least one game at left tackle and two at right tackle.
Alex Hurst
has started at both right tackle and left tackle and
Josh Dworaczyk
has spent time at guard and tackle.
But even with a recent trend to struggle offensively against SEC opponents, including an anemic 200-yard offensive performance in last week's 14-6 loss to Florida, there are two shuffles LSU coach Les Miles isn't considering: his offensive coaching staff and the Tigers' offensive approach.
[+] Enlarge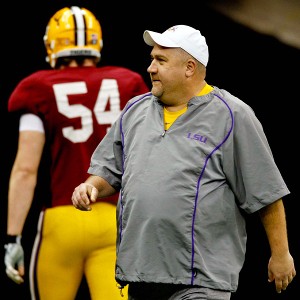 Derick E. Hingle/US PresswireOffensive coordinator Greg Studrawa will continue to call plays from the press box, LSU coach Les Miles said.
Asked if he would consider any changes in game-day responsibility for his offensive staff heading into this week's game against No. 3 South Carolina, Miles said, "We're all doing the things we've been doing for the last number of years and there's no reason to change responsibilities in my mind."
That's not exactly the case. Offensive coordinator Greg Studrawa was promoted from offensive line coach after then-offensive coordinator Steve Kragthorpe was diagnosed with Parkinson's disease in August 2011. Kragthorpe is now quarterbacks coach and coaches from the field while Studrawa calls plays in the press box.
Tight ends coach Steve Ensminger is available to deal with the linemen on the sideline during games.
In recent games against SEC opponents, the approach hasn't worked well. While the issues were often masked by a forgiving early schedule in which the Tigers piled up points in wins over North Texas, Idaho and Washington, LSU has managed 18 points and one touchdown in two SEC games this season.
Dating to last season's 21-0 loss to Alabama in last season's BCS championship game, the Tigers have 18 points, one touchdown and 643 yards in their last three games against SEC opponents.
"In our view," Miles said, "we have to run it and throw it better."
And maybe call plays better.
October, 4, 2012
10/04/12
9:11
AM ET
BATON ROUGE, La. -- When LSU fullback
J.C. Copeland
left the Towson game last week with an apparent knee injury, it looked scary.
He didn't put any weight on his knee when he was helped off the field. It was iced and he walked off the field on crutches, putting no weight on the leg. On Monday, Tiger players and coach Les Miles suggested his backup,
Connor Neighbors
, was about to make his first start.
So it came as a bit of a surprise to the gathered media Wednesday when Miles said that Copeland was not only back at practice, but running with the first team heading into Saturday's game at Florida.
To continue reading this article you must be an Insider
October, 1, 2012
10/01/12
4:56
PM ET
BATON ROUGE, La. -- When you envisioned LSU's power-run identity coming into the season, you might have thought of this:
Alfred Blue
, the running back who emerged from the Tigers' five-man competition at the position, carrying the ball behind bruising 270-pound fullback
J.C. Copeland
to the left side of the line and through a hole opened by arguably the Tigers' most talented offensive lineman, left tackle
Chris Faulk
.
A daunting sight for defenses, indeed, but not one No. 11 Florida will have to worry about when No. 4 LSU visits The Swamp Saturday.
To continue reading this article you must be an Insider
September, 30, 2012
9/30/12
10:52
AM ET
BATON ROUGE, La. -- Injuries continue to mount for LSU's offense.
[+] Enlarge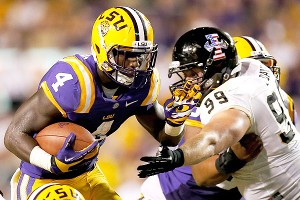 Chris Graythen/Getty ImagesAlfred Blue (4) is already out with an injury, and it appears fullback J.C. Copeland might be as well.
Fullback
J.C. Copeland
, a valuable part of the run-first offense, left Saturday's 38-22 win over Towson with a knee injury. He later had ice put on the knee and he left the field on crutches, putting no weight on the injured leg.
Asked about Copeland's status, LSU coach Les Miles said "We still have a couple fullbacks there we can line up and play with. Obviously we don't have J.C."
To continue reading this article you must be an Insider
September, 5, 2012
9/05/12
3:12
PM ET
BATON ROUGE, La. -- In many preseason projections, LSU's defensive line was rated among the
two best in college football
, along with Florida State.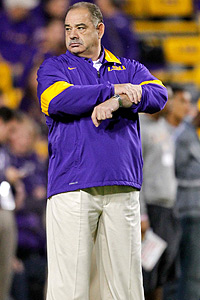 Derick E. Hingle/US PresswireLSU DC John Chavis would like to see his unit rush the passer better.
With FSU losing its best defensive lineman,
Brandon Jenkins
,
for the season
, the Tigers' front four looks to now be considered the nation's best without question.
So that makes the Tigers' lack of defensive line production in a season-opening 41-14 win over North Texas Saturday that much more puzzling. LSU had no sacks on Mean Green quarterback
Derek Thompson
, the result of a UNT game-planning and things LSU wants to improve on.
"I felt like we had a good pass rush against [North Texas], but sometimes they were getting rid of it very quickly and under duress," LSU head coach Les Miles said.
On North Texas' two touchdowns, however, the Tigers blitzed and did not get to Thompson, who threw touchdown passes with the aid of mistakes in the secondary.
"Frankly, on the two [touchdown] completions, we would have enjoyed a little more pass rush," Miles said. "I think what we are doing is correct. We just need to improve on our technique and get to the passer. We need pressure."
Kevin Toliver II Climbs New ESPN 300
SEC SCOREBOARD
Thursday, 8/28
Saturday, 8/30
Sunday, 8/31