November, 21, 2013
11/21/13
1:35
PM ET
For a league that has made its mark (and left a few bruises) with bone-crunching defense over the years, this hasn't necessarily been a season to remember in the SEC on the defensive side of the ball.
Vanderbilt defensive coordinator Bob Shoop probably summed it up best.
"What a crazy year to be on defense in the SEC," Shoop said.
Some of the numbers on defense are even crazier.
Already, there have been 10 SEC matchups this season where both teams scored 30 or more points. A year ago, there were only five such shootouts for the entire season.
[+] Enlarge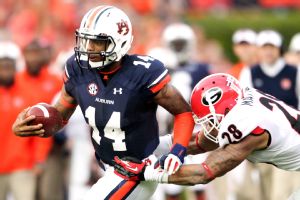 AP Photo/Jay SailorsA talented group of quarterbacks and the speed at which they run offenses is stressing SEC defenses.
With two weeks remaining in the regular season, there are only five SEC teams ranked in the top 40 nationally in total defense -- No. 5 Alabama, No. 7 Florida, No. 22 South Carolina, No. 24 LSU and No. 40 Vanderbilt.
By contrast, five SEC teams finished in the top 20 nationally in total defense last season, and four of those -- Alabama, Florida, LSU and South Carolina -- finished in the top 11.
There's no question that the quarterback play in the SEC this season, both the caliber and experience of the quarterbacks across the league, has had a huge impact.
And as veteran Auburn defensive coordinator Ellis Johnson points out, the NFL draft the last few years has decimated the top defensive fronts and pass rushers in the league.
In the most recent draft, 17 defensive linemen and/or outside linebackers from the SEC were selected. Nine of those players were underclassmen.
"You've seen a little dip in this league on defense as far as where it's going to be in the future because of some of these things," said Johnson, who's at his fifth different SEC school as a defensive coordinator.
"But I also think you're seeing a gradual changing of college football. What's deteriorating defenses more than anything is the way the offenses are practicing and the way you have to practice against them. You can't run a fast-paced offense and be extremely physical on defense."
It's not just at Auburn, either. Johnson has seen it throughout college football.
"We practice against our scout team, and that deteriorates your fundamentals and deteriorates your physical toughness," Johnson said. "I understand it because if you're going to run that style of offense, the only way you can perfect it is to practice that way.
"But you are what you play against every day in practice. We try to hit a hit happy medium here, but it's never going to be enough to satisfy me. We don't tackle good backs except on Saturdays, so how good is your tackling going to be?"
At least half of the teams in the SEC are running some form of a hurry-up attack on offense, and it's no coincidence that the offensive numbers are up.
Nine of the 14 SEC teams are averaging more than 430 yards per game in total offense. Of the five who aren't, only Vanderbilt has a winning record. Arkansas, Florida, Kentucky and Tennessee all have losing records.
What's more, nine of the 14 SEC teams are averaging more than 30 points per game. A year ago, only six averaged more than 30. And in 2011, it was only five.
It's no secret that Alabama coach Nick Saban isn't a fan of the fast-paced offenses and being able to snap the ball before the defense is lined up or has a chance to make situational substitutions. That said, Saban is also smart enough to realize that playing that way can be a huge advantage for the offense and has even suggested the Tide could look to play faster in the future.
"

A lot of the rules that we have in college football can help offenses that are willing to try and take advantage of them.

"

-- Nick Saban
"The offenses are taking advantage of the rules that we have, whether it's to play fast or keep the defense from being able to do some situational things that it would like to do to create an advantage for themselves," Saban said. "A lot of the rules that we have in college football can help offenses that are willing to try and take advantage of them, whether it's throwing the ball behind the line of scrimmage and being able to block downfield or whatever these things are.
"It's more difficult to play good defense in this day and age. I don't know that you reconstitute how you evaluate it. But the way you try to play defense, you have to re-evaluate and try to do a better job against the things that we're seeing now."
Five teams in the SEC this season are allowing nearly 30 yards more per game than they did a year ago. Topping that list is Texas A&M, which has seen its total defensive average climb by 64.2 yards per game.
LSU, which lost eight starters on defense, is allowing 46.1 yards more per game than it did last season. Vanderbilt is up 38.6 yards, South Carolina 33.9 yards and Georgia 29.1 yards.
The Bulldogs were also hit with major personnel losses on defense, and their youth on that side of the ball has taken its toll. They're giving up an average of 30.2 points per game after allowing just 19.6 a year ago.
All but three teams in the SEC this season are giving up more than 350 yards per game. But as first-year Kentucky coach Mark Stoops notes, some stats matter more than others.
"Different teams are so explosive, and if you hold them under a certain number of yards and a certain number of points, you feel like that's maybe as good as you can do with certain teams," Stoops said. "A lot of statistics matter, and as a defensive guy, every yard and every point is personal.
"Sometimes, the bottom line is just winning games."
September, 3, 2013
9/03/13
9:00
AM ET

The first week of college football is in the books, and it's time to see where we think all 14 SEC teams stack up in our weekly power rankings:
1. Alabama (1-0; LW: 1):
OK, Alabama isn't perfect. Contrary to what
AJ McCarron
said, the offensive line looked ugly for most of the night in Alabama's win over Virginia Tech. It has to get better in a hurry. But when your defense and special teams are clicking like they were on Saturday, who needs offense?
2. South Carolina (1-0; LW: 4):
Two players I've been saying to keep an eye on since the spring:
Mike Davis
and
Shaq Roland
. Both looked pretty good, especially Davis, in that opening win, and both will be fun to watch this weekend. The defensive front looked great, but can someone please give
Jadeveon Clowney
some vitamin C and an extra Gatorade?
3. LSU (1-0; LW: 6):
Don't sleep on these Tigers. They're undervalued, but were very impressive in their 37-27 victory over a ranked TCU team in their own backyard. The defense still looks fast, and the offense racked up nearly 450 yards behind some explosive plays. The return of running back
Jeremy Hill
should make this team even better.
4. Texas A&M (1-0; LW: 2):
Johnny Manziel
looked good when he was actually playing football Saturday. He went through his progressions and didn't think "run" first. But his antics have to stop (just ask Kevin Sumlin), and that defense has to get much, much, MUCH better before Alabama rolls into town in two weeks.
5. Florida (1-0; LW: 5):
It doesn't look like the Gators will miss much of a beat defensively after they suffocated Toledo and that uptempo offense. The offense? Well, it did look more polished and the passing game actually moved down the field, but the Gators were very vanilla. Expect that to change against Miami.
6. Georgia (0-1; LW: 3):
We knew the defense would struggle against Clemson's high-octane offense, but the Bulldogs looked really bad in the tackling department. This group has to go back to the basics, and that isn't a good thing with physical South Carolina coming to town this weekend. Also, that offensive line has to protect
Aaron Murray
better because
Todd Gurley
can't do it all himself on offense.
7. Ole Miss (1-0; LW: 8):
The future certainly looks bright in Oxford, Miss., but this program is hoping the present is just as bright. The Rebels kicked off the college football season with an electric, back-and-forth win over Vanderbilt. This offense looks built to go the distance, but depth is still a major concern. Health is key.
8. Vanderbilt (0-1; LW: 7):
The Commodores lost a heartbreaker to the Rebels at home, but this team still looks as explosive as it was last year. The defense has some things to clean up, but defensive coordinator Bob Shoop should make sure that happens.
Jordan Matthews
has star status, but not having
Chris Boyd
on the other side of him hurts the offense.
9. Auburn (1-0; LW: 9):
The Tigers had quite a fun opener. Both the offense and defense were up and down, but it had to be nice for Gus Malzahn to see his running game put up 295 yards on Washington State. The pass defense has some work to do and injuries won't help.
10. Missouri (1-0; LW: 11):
The 58-point, 694-yard performance from the Tigers' offense looked more like what people in Columbia, Mo., expected to see more often last year. Granted, it was against Murray State, but that sort of outing will build some confidence within this group. It was good to see
James Franklin
and
Henry Josey
on the field and healthy again.
11. Arkansas (1-0; LW: 13):
By looking at the box score, you'd think Bobby Petrino's offense was back in Fayetteville, Ark., after the Hogs put up 522 yards on Louisiana-Lafayette. The Hogs could run and pass, and the defense held the Ragin' Cajuns to just 274 yards. The Hogs still have a couple of cupcakes to face before things get interesting at Rutgers.
12. Tennessee (1-0; LW: 12):
We really don't know what to take from Tennessee's thumping of a very overmatched Austin Peay team, but the Vols looked to have some real legs in the running game. How long that will last is a mystery, but it was a good start. Things get tougher this weekend when Western Kentucky and Bobby Petrino visit Rocky Top.
13. Mississippi State (0-1; LW: 10):
That was a bad offensive performance by the Bulldogs in their 21-3 loss to Oklahoma State. Mississippi State was 2-for-16 on third downs and
Tyler Russell
threw for only 133 yards against a defense that ranked 113th nationally in pass defense last year. The Bulldogs held the Cowboys to just 146 passing yards, but allowed nearly 286 rushing yards.
14. Kentucky (0-1; LW: 14):
That was not the opener Mark Stoops wanted or needed. The Wildcats looked overmatched against Western Kentucky and are still struggling mightily to find playmakers in the passing game. What had to really upset Stoops was that his defensive line, which was supposed to be this team's best unit, didn't get enough pressure up front and allowed the Hilltoppers to rush for more than 200 yards.
March, 25, 2013
3/25/13
10:11
PM ET
Thanks to Vanderbilt defensive coordinator Bob Shoop, I'm more convinced than ever that you better be pretty salty when it comes to stopping the run if you want to win a championship.
That's especially true in the SEC.
Shoop pointed out during a recent visit that only one of the last 11 national champions has finished outside the top 15 nationally in rushing defense, and that was Texas in 2005. Not only that, but seven of the last 11 national champions have been ranked in the top five nationally in rushing defense.
During the SEC's streak of seven straight national championships, only twice has the team winning the title finished outside the top 10 nationally against the run. Florida was 15th in 2008, and LSU was 12th in 2007.
Of the last 10 SEC champions, nine have been ranked in the top 15 nationally against the run. The only exception was Georgia in 2005. The Bulldogs were 52nd nationally in rushing defense that season. But they were 14th nationally (and second in the SEC) with 29 forced turnovers.
"I call turnovers the great equalizer," Shoop said. "They can turn a bad defense into a good one, a good one into a great one, and a great one can become a championship one. The top 11 teams in turnover margin in the country last season were a combined 120-32, so there's something there."
Under Shoop, Vanderbilt has finished in the top 20 nationally in total defense each of the last two seasons. Only four other SEC schools can say that -- Alabama, Florida, LSU and South Carolina.
Clearly, the Commodores are in good company, but Shoop would like to see them create more turnovers in 2013. They finished with 18 last season after coming up with 29 in his first season in 2011. However, they got 10 of their 18 turnovers last season in their last three games.
"We didn't create as many takeaways last year," Shoop said. "We played great third-down defense, but I think we got a little of our mojo back in those last three games."
Vanderbilt will be going for a third straight season as a top-20 defense (total defense). Alabama, Florida and LSU are the only three SEC schools to have been ranked in the top 20 in total defense each of the last three seasons. In fact, Alabama and Florida have finished in the top 20 in total defense for five consecutive seasons.
Here's a look at where the last 10 SEC champions finished nationally in rushing defense:
2012 -- Alabama (1st)
2011 -- LSU (5th)
2010 -- Auburn (9th)
2009 -- Alabama (2nd)
2008 -- Florida (15th)
2007 -- LSU (12th)
2006 -- Florida (5th)
2005 -- Georgia (52nd)
2004 -- Auburn (12th)
2003 -- LSU (3rd)
July, 13, 2012
7/13/12
9:41
AM ET
We're always looking for the next best thing. The coaching world isn't any different.
Who's the next Urban Meyer? The next Chris Petersen? What about another Brady Hoke?
Who's that next great assistant who rises up the ranks and takes over a major program ... and succeeds?

I'm not completely sure, but I have a few ideas. Here are some coaches lurking in the SEC who could be on their way to bigger and better things or are ready to take the next step with their current teams:
Marcus Spears reviews LSU Pro Day
SEC SCOREBOARD
Thursday, 9/3
Saturday, 9/5