LSU Tigers:

Auburn football
September, 23, 2012
9/23/12
11:00
AM ET
AUBURN, Ala. -- LSU's offense, unlike last year's version, has a tendency to turn the ball over, especially in the red zone.
And the special teams? Last season was near perfection for a unit that routinely flipped the field. This year, the Tigers are missing field goals, getting penalties on returns and at times are just plain sloppy.
The defense, however, is vintage.
In Saturday's 12-10 win over Auburn, No. 2 LSU allowed the Plainsmen's offense a season-low 183 yards. It was another dominant performance from a unit that entered the night leading the SEC in total defense at 205 yards a game.
[+] Enlarge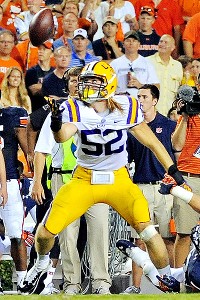 Shanna Lockwood/US PresswireLSU linebacker Luke Muncie forced one of Auburn's three turnovers.
Unlike LSU's three previous performances, the Tigers needed every stop it could get against Auburn in what was LSU's first close game of the season.
"We were tested," said defensive end
Sam Montgomery
, who was at his disruptive best with 3.5 tackles for loss, including his second sack of the season. "I loved this. I loved the challenge."
The LSU defense kept answering challenges, even when other parts of the team struggled. The offense shot itself in the foot with a fumble in the red zone and another fumble that set Auburn up for a short field on its only touchdown. LSU has now failed to score in red zone possessions more times in four games this season (5) than it did in 14 games last season (4).
The special teams had destructive moments, including one punt return where the return team was flagged for not only a hold on the return, but a dead ball personal foul. There was also a missed field goal late in the game.
"Sloppy," head coach Les Miles called the performance.
Maybe he should leave the defense out of that critique. The defense was even turning the failures of the other phases of the game into positives. When quarterback
Zach Mettenberger
fumbled a snap on a third-and-goal in the first quarter, giving Auburn the ball at its own 3, Montgomery dumped Auburn running back
Tre Mason
in the end zone on the very next play for a safety, giving LSU a 2-0 lead and what was eventually the final margin of the game.
LSU's offense took the ensuing free kick and marched down for its only touchdown of the night. Montgomery's play had turned the negative of the first turnover into nine points for LSU.
It was one of those nights where the defense had to carry the load and make it hard for the opposing offense to carry its load
Auburn had to earn all nine first downs (none by penalty). Quarterback
Kiehl Frazier
ran for his life most of the night and often didn't get away. Safety
Micah Eugene
, who has found a niche as a blitzing dime back in long-yardage packages, had two of LSU's four sacks of Frazier. Montgomery was in his face all night and
Barkevious Mingo
had three of LSU's five quarterback hurries.
How disruptive was LSU? Of Auburn's 52 plays, 14 resulted in negative yards and two in interceptions.
"We played a great team," said Frazier, who threw for just 97 yards, completing 13 of 22 passes. "We have to give them all their credit. There's a reason why they're No. 2 in the country."
LSU was at its best in the second half.
After halftime, LSU got both of its interceptions of Frazier, including an interception of his last-play desperation heave by
Tharold Simon
, his first of the season. Linebacker
Luke Muncie
picked him off and often blanketed Frazier's favorite and most reliable target, tight end
Philip Lutzenkirchen
.
Most importantly, LSU shut out Auburn in the second half after a late AU field goal on its only sustained drive of the night -- 9 plays, 42 yards -- gave the home team a 10-9 lead shortly before halftime.
It started with an impassioned plea by Montgomery at halftime -- "He told them to 'play like me,' Miles said," -- and continued with inspired play. With the offense, which got off to a strong start, sputtering after halftime, the defense stayed under pressure, but kept playing sound football.
Auburn tried to beat LSU with misdirection, but often those plays would result by a disciplined LSU lineman staying home and dumping the Auburn ball-carrier for a loss. Auburn coach Gene Chizik said that running inside on LSU was "extremely difficult" and thought the best bet was to use misdirection to get to the perimeter.
With the Tigers usually not biting on the misdirection, a third of Auburn's 30 run plays resulted in lost yardage. And six of 26 pass plays ended in interceptions and sacks. Almost a third of Auburn's plays were disasters for the offense.
LSU had its disasters too, just not by a defense that was too busy carrying a Tigers team that, otherwise, looked vulnerable in its first real test of the season.
September, 23, 2012
9/23/12
12:55
AM ET
AUBURN, Ala. -- LSU's pass rush evidently would rather face BCS-level opponents than mid-major opponents.

LSU had four sacks of
Kiehl Frazier
in Saturday's 12-10 win over Auburn, including two by dime back
Micah Eugene
, who leads LSU with three sacks on the season.
For the season, LSU has eight, all against its two opponents from BCS automatic-qualifier conferences. The first four came in the Tigers' 41-3 win over Washington. In wins over Idaho and North Texas, LSU was held without a sack.
Defensive end
Sam Montgomery
had his second sack to go with 3.5 tackles for loss.
Anthony Johnson
also got his first sack of the season.
September, 22, 2012
9/22/12
8:46
PM ET
AUBURN, Ala. --LSU had Auburn on the ropes early on its own field, then
Corey Lemonier
showed why you always have a chance when you have a big-time pass-rusher against a young quarterback.


The Auburn defensive end stripped
Zach Mettenberger
on a sack at the LSU 26 yard-line and
Angelo Blackson
recovered it, setting up a touchdown that cut what had been a dominating early, 9-point LSU lead to a 2-point game game. It was the second of two turnovers by Mettenberger in his first road and SEC start.
The game stayed close the rest of the first half, with Auburn taking a 10-9 halftime lead on
Cody Parkey's
40-yard field goal with 1:21 left in the half.
Stat of the half:
182-88. LSU's total yardage advantage, which was offset by Mettenberger's two redzone turnovers.
The LSU quarterback was otherwise effective, completing 10-of-13 passes for 78 yards, but he felt Auburn's pressure and turned the ball over.
Player of the half:
Lemonier, whose sack changed the game, spearheaded AU's effort to stay close to LSU. It offset a solid 70-yard rushing half for LSU's
Spencer Ware
.
What's working for LSU:
LSU's defense allowed four first downs and just 90 yards in the first half, killing Auburn's efforts to get to the edge with
Onterio McCalebb
with penetration.
Sam Montgomery
had a tackle in the end zone of
Tre Mason
of Auburn for a safety.
What's not working for LSU:
Mettenberger, with his two fumbles in his first SEC start, allowed Auburn to get off the hook, possibly for 14 points. His fumbled snap at the Auburn 3 yard-line in the first quarter, recovered by Auburn
Jeffrey Whitaker
, might have negated an eventual LSU touchdown and his second fumble set up an Auburn touchdown.
September, 21, 2012
9/21/12
8:00
AM ET
By
GeauxTigerNation staff
| ESPN Insider
BATON ROUGE, La. -- Here are GeauxTigerNation's predictions for Saturday's LSU-Auburn game.

Gary Laney: As weird as it is sounds, an Auburn team that's last in the SEC in rush defense will be the best rush defense LSU has faced so far this season for two reasons:

1. AU recruits high-end BCS talent (unlike Idaho and North Texas), and ...
September, 21, 2012
9/21/12
7:00
AM ET
BATON ROUGE, La. -- It's a series that has brought us earthquakes (during LSU's 1988 win in Baton Rouge), fires (in 1996, when the old Auburn Sports Arena burned down outside Jordan-Hare Stadium) and hurricanes (in 2004, when Hurricane Ivan brushed by Auburn).
There have been plenty of strange happenings around the Auburn-LSU series, which will be renewed Saturday when No. 2 LSU (3-0) visits Jordan-Hare to face AU (1-2), but perhaps none more strange for LSU than the story of Cecil "The Diesel" Collins.
To those who follow LSU closely, Collins is one of the great talents ever to play running back at LSU, but he played a mere four games for the Tigers. In his only season, he was suspended for the 1997 opener for violating team rules, then piled up 596 yards in four games before being lost for the season to a broken leg.
His highlight game was 15 years ago Thursday, when he piled up 232 rushing yards against an Auburn team that eventually won the SEC West, in no small part because it escaped Baton Rouge with a 31-28 win on Collins' big night. But so good was Collins, there was talk that he would become a front-runner for the Heisman Trophy the next season.
Instead, in June 1998, he was arrested for unauthorized entry into an inhabited dwelling and assault (reduced from sexual assault) in a Baton Rouge apartment, an incident he blamed on sleepwalking. He was kicked off LSU's team, resurfaced at McNeese State, and washed up after two unspectacular games for failing a drug test.
He briefly went to jail (the failed drug test was a violation of his bond for the original charges), got a shot with the Miami Dolphins in 1999, had a decent rookie season, then broke into another apartment in 1999 in Miami, for which he was sentenced to 15 years in prison. The incident, he said, occurred because he wanted to watch a woman sleep.
A strange story, indeed. Perhaps every bit as strange as arenas burning down outside a stadium or touchdown celebrations that register as earthquakes (that was on Eddie Fuller's game-winning touchdown catch in LSU's 7-6 win in 1988).
Will another strange chapter be written Saturday?
Three Things to Watch:
1. Running like a Diesel?: Every week, AU's defense must feel like the 1997 defense trying to stop Collins. Auburn is last in the SEC in rush defense, allowing 217 yards a game. LSU leads the SEC in rushing (269.3 ypg). Even with LSU missing injured starting RB Alfred Blue, Auburn has its hands full.
2. Youth is served: LSU first-year starting quarterback Zach Mettenberger will get his first road start and first SEC start Saturday. His counterpart, Kiehl Frazier, is also a first-year starter who has struggled (two touchdowns, five interceptions).
3. Still Badgering: Even without Tyrann Mathieu, LSU leads the SEC in total defense (205 yards per game), bettering even the impressive numbers of Alabama (210 ypg). Can Frazier and Auburn make a dent?
LSU Tigers to Watch
1. RB Kenny Hilliard: The most likely choice to replace Blue as the starter, he leads LSU and is third in the SEC with 303 rushing yards, and he leads the SEC with six touchdowns.
2. DT Anthony Johnson: Off to a strong start (11 tackles, 2.5 for loss), the sophomore will be a key figure against an Auburn team that will present LSU's defense with the most physical rushing game it has faced so far.
3. Mettenberger: In his first true road and SEC test, will the LSU quarterback continue to blossom or be overwhelmed by a road environment?
Auburn Tigers to watch
1. RB Onterio McCalebb: McCalebb is second on the team in rushing (214 yards on 31 carries), but has game-changing, big-play ability. He has a 100-yard kick return for a TD this season, and in 2010 his 70-yard TD run against LSU was a game-winner in a 24-17 AU win.
2. DE Corey Lemonier: With three sacks and a blocked kick, Lemonier's the kind of disruptive force who can change the course of a game for an underdog.
3. Frazier: The sophomore will probably have to play the best game of his young career for Auburn to have a chance.
Key matchup
AU special teams vs. LSU special teams: LSU prides itself on special teams and has an all-American punter (Brad Wing), the SEC's most accurate field goal kicker in 2011 (Drew Alleman) and return threats (Odell Beckham, Jr., already has a punt return for a TD). Auburn is also good with McCalebb's TD return, a 6-for-6 season so far for kicker Cody Parkey, and three blocked kicks.
By the numbers
5-1: Auburn's record in the last five home games against LSU.
1980: The last year Auburn started SEC play 0-2, a record it's hoping to avoid Saturday.
8: SEC West championships claimed by the winner of the LSU-Auburn game in the last 12 years.
September, 20, 2012
9/20/12
6:52
PM ET
By
ESPN Stats
and
Information
| ESPN.com
Here are some interesting statistics from the crew of ESPN stats of information, all encouraging if you are an LSU fan:
Mettenberger extends the field
NEXT LEVEL:
Zach Mettenberger has completed more than 50 percent of his passes thrown 15 yards or more downfield in three straight games. Mettenberger is the first LSU quarterback to accomplish this feat in the last four seasons. The Tigers are 12-0 since the start of 2010 when they complete more than 50 percent of their throws of 15 yards or more. LSU passing on throws of 15 or more yards since start of 2010 season:
Completion percentage:
Mettenberger, 75.0
Rest of team, 36.4
Yards per attempt
Mettenberger, 19.8
Rest of team, 11.3
TD-Int
Mettenberger, 3-0
Rest of team, 12-8
• LSU completed 4-of-7 passes thrown downfield 15 yards or more for 138 yards and two touchdowns in its win against Auburn last season. In its loss to Auburn in 2010, LSU was 1-of-7 for 38 yards with one touchdown and an interception.
• Auburn is allowing its ranked opponents to complete 41.7 percent of their passes thrown 15 yards or more since the start of 2011 season. In the Tigers' five losses to ranked opponents during that time period, they allowed opponents to complete 48.3 percent with five touchdowns and no interceptions (31.6 pct, 2 TD, 2 Int in 2 wins).
Four is enough
NEXT LEVEL:
LSU has sent five or more pass rushers on 24.7 percent (24 of 97) of its opponents' passing plays (passing attempts and sacks) this season. When blitzing this season, the Tigers have allowed three touchdowns and have yet to sack the quarterback. When sending four or fewer pass rushers, they have four sacks and have allowed just one touchdown on 69 attempts. LSU pass defense when sending five or more pass rushers this season:
Pct. of passing plays:
Blitz, 24.7
No blitz, 75.3
TD-Int:
Yards per play:
Sacks:
• Auburn completed 2-of-8 passes when LSU sent five or more pass rushers last season (12-16 vs four or fewer pass rushers).
LSU's secondary tough to beat deep
NEXT LEVEL:
LSU has not allowed a completion on a pass thrown 25 yards or more downfield this season. Since the start of last season, only Alabama in the National Championship Game and West Virginia in Week 4 have had more completions than the Tigers have had interceptions on these throws. LSU's defensive performance against throws of 25 or more yards since the start of last season:
Attempts, 46
Passes defended, 16
Interceptions, 9
Completions, 5 (1 TD)
September, 20, 2012
9/20/12
8:00
AM ET
BATON ROUGE, La. -- To Auburn coach Gene Chizik, No. 2 LSU is playing "at the top of its game." But that game, to this point, has not been against opponents like Auburn that are built to combat physical SEC opponents like LSU and have the resources to get it done. With LSU heading to the Plains, what will that mean Saturday when the two SEC West Tigers meet?
1. An opportunity, a stumbling block?
For 1-2 Auburn, a win Saturday would erase the memories of early struggles, including losses to Clemson and Mississippi State and a near-loss, in overtime, against Louisiana-Monroe while cooling down the seat of coach Gene Chizik. For 3-0 LSU, Auburn represents the first team with the physicality and SEC speed to challenge LSU at its strengths.
To continue reading this article you must be an Insider
September, 19, 2012
9/19/12
8:59
AM ET
BATON ROUGE, La. -- Ever since left offensive tackle
Chris Faulk
was lost for the season to an ACL injury two weeks ago, LSU coach Les Miles has said he was interested in seeing a lineup that includes true freshman
Vadal Alexander
at right tackle and
Alex Hurst
, normally the starting right tackle, sliding over to the left side.
[+] Enlarge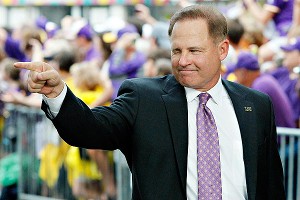 AP Photo/Patrick SemanskyDespite injuries on the offensive line, Les Miles likes the way it is performing.
That plan was put on the backburner as
Josh Dworaczyk
emerged as a solid option at left tackle -- that is, until Dworaczyk suffered a knee bruise that knocked him out of last Saturday's 63-14 rout of Idaho. It allowed LSU to try the Hurst-Alexander experiment for extended snaps.
And how did it go?
"Vadal gave us a pressure [on the quarterback], but he also played pretty well after he got comfortable," Miles said. "I kind of liked what happened. I don't want injury to dictate, but I kind of like the fact that we moved guys around that will play significant snaps for us and that they performed pretty well.
Alexander has been working as the backup and likely heir apparent at right tackle behind Hurst, a senior. But Miles said he wasn't surprised that Hurst seemed to have little issue moving to the left side.
"I liked Hurst on the left side, but I like Hurst on the ride side, too," Miles said. "It didn't seem to bother him, his change of footwork and stance, in any way."
Dworaczyk said Tuesday night that he felt like he was 100 percent for Saturday's game at Auburn, where he'll be called upon to block Auburn pass-rushing end
Corey Lemonier
, who already has three sacks.
In the Idaho game, LSU also started sophomore
Elliott Porter
at center instead of usual starter
P.J. Lonergan
, who was slowed by a nagging injury. Miles said he expects Lonergan to be fine for Saturday's game with Auburn, although he was pleased with Porter's play.
No experiment for Ford:
When a reporter asked Miles about the "experiment" of using running back
Michael Ford
to return kickoffs against Idaho Saturday, Miles responded by saying "It was no experiment. We like him back there."
September, 17, 2012
9/17/12
9:41
AM ET
BATON ROUGE, La. -- It was Oct. 22 of last season, the last time LSU and Auburn met, that we found out just how deep LSU really was.
[+] Enlarge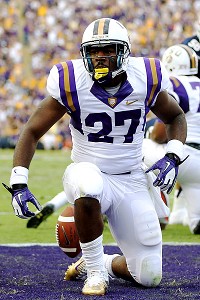 Jamie Squire/Getty ImagesKenny Hilliard rushed for two touchdowns and 65 yards against Auburn in 2011 while filling in for a suspended Spencer Ware.
The Bayou Bengals were without three key players that day in running back
Spencer Ware
and defensive backs Tyrann Mathieu and
Tharold Simon
, all suspended for one game for violation of the school's drug policy.
Instead of it being a devastating blow, LSU simply shrugged it off.
Ron Brooks
, starting for Mathieu, had an interception he returned for a touchdown. Derrick Bryant, a rarely-used senior, took the fifth defensive back role and had a sack. Little-used true freshman running back
Kenny Hilliard
took Ware's role as LSU's physical runner and rambled for 65 yards on 10 carries.
To continue reading this article you must be an Insider
Marcus Spears reviews LSU Pro Day
SEC SCOREBOARD
Thursday, 9/3
Saturday, 9/5