September, 2, 2014
9/02/14
4:40
PM ET
BATON ROUGE, La. -- After getting by far the heaviest workload of his college career against Wisconsin,
Travin Dural
was still feeling the aftereffects well after LSU wrapped up its 28-24 win Saturday night.
"[I felt a] big difference. I still felt like that yesterday," Jennings said Tuesday afternoon. "Me and Anthony [Jennings, LSU's quarterback] were talking about it and he was like, 'Man, my body's hurting,' and I was like, 'Mine too.' He was like, 'It's because I ain't played in two years,' and I was like, 'That's probably it.' "
Dural made the most of his opportunity, finishing with three catches for a career-high 151 yards, including an 80-yard touchdown in the first quarter. But as one of only four Tigers wide receivers who played against the Badgers, Dural definitely got more than his share of playing time.
[+] Enlarge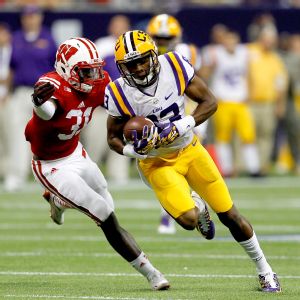 Photo by Bob Levey/Getty ImagesTravin Dural has sparked LSU's offense this season with numerous impact plays.
Among SEC teams who played on opening weekend, LSU and Ole Miss played the fewest wideouts with four apiece. Only one other school (Arkansas) played as few as six, while Texas A&M played the most with 10.
Freshman
Malachi Dupre
, who sat out the Wisconsin game with an injury, hopes to raise the Tigers' number to at least five when the Tigers host Sam Houston State on Saturday night.
"He practiced yesterday," LSU coach Les Miles said at his Tuesday press luncheon. "We'd expect him to compete for playing time in this very next game at home."
Ideally other youngsters like redshirt freshman
Avery Peterson
and true freshman
D.J. Chark
will also prove this week that they deserve some playing time in order to decrease the demands on those who played against Wisconsin -- a group that also includes senior
Quantavius Leslie
, redshirt freshman
John Diarse
and true freshman
Trey Quinn
.
"In our receiving room, we have a good bit of people who can play," Dural said. "It's just gaining the trust of the coaches and actually them feeling like on game day they're not going to be too nervous. Because no one has really played in the receiving room.
Dural continued, "[We'd like to] actually let those guys get their feet wet, let guys who haven't taken the field, guys who are fresh out of high school, actually get a chance to see what that feels like and see how they react. It's going to be a big thing. That way before we get into conference play, we can know who we can count on."
The next two games should be ideal in that regard, as Sam Houston State and Louisiana-Monroe are nowhere near the same caliber opponent as Big Ten power Wisconsin. With what could be a difficult SEC opener against Mississippi State approaching on Sept. 20, now is the time for receivers coach Adam Henry to begin solidifying his depth chart.
"I think this week we're just going to do our best to get guys in," Diarse said. "We're going to expect a great game from Sam Houston. Looking at the film, those guys are really, really fast. They really play hard no matter who they play. It just depends on who the game plan is. We may rotate six in this game and we may rotate in three, I'm not sure. But every guy in that receiving room is ready to go. I trust and believe that."
Diarse played his first college game against Wisconsin and made two huge catches. The first was a 12-yard completion on a third-and-7 that kept a third-quarter field-goal drive alive. The second reception was even bigger, as he broke four tackles on a third-and-21 completion and not only bolted past the first-down marker, but streaked all the way to the end zone for a touchdown that helped cut Wisconsin's lead to 24-21.
Diarse said he doesn't remember anything between making the catch and crossing the goal line, but fans and friends have made him well aware of what happened since then.
"Many people have sent it to me. A lot of people tweeted it to me, Instagram, all over the place," Diarse said. "So I'm very shocked at what happened, seeing that I don't really recall doing all of that. But I've watched it over 1,000 times. It feels even better every time I watch it."
You can't get any more efficient than Diarse was against Wisconsin. Jennings targeted him with two passes and both went for either a first down or a touchdown. Likewise, although Dural caught just three of the seven passes where he was the intended target, all three went for a first down or touchdown and a fourth target earned a pass interference penalty and another first down.
In fact, dating back to last season all 10 of Dural's college receptions achieved either a first down or a touchdown -- and the stat would be even better if you include his five catches for 130 yards and two scores in an outstanding spring game where he seemed to establish himself as the Tigers'go-to wideout.
"Travin Dural kind of went back to some of the things that he did in the Arkansas game [when Dural caught the game-winning, 49-yard touchdown pass with 1:15 to play] and it's become more expected in who he is," Miles said. "We're excited at his growth. He had a couple of huge catches."
Now it's a matter of getting more Tigers wideouts near his level of production. Preferably as soon as possible.
"We're going to need everybody," Dural said. "It's going to take more than four receivers. We might need five or six. So just come out every day and practice hard and show the coaches that they can trust them and they can put them in the game."
August, 6, 2014
8/06/14
5:10
PM ET
BATON ROUGE, La. -- The wait was long and sometimes painful, but
Jermauria Rasco
is finally healthy again.
Throughout his LSU career, the senior defensive end has dealt with torn labrums in both shoulders – injuries that dated back to his early years of high school. Rasco had the left shoulder surgically repaired last year and underwent the procedure on the right shoulder this year, which forced him to miss spring practice.
The rehab process is grueling enough after surgery on just one shoulder. Doing both at the same time, essentially rendering his arms useless for a while, might have been more than he could bear, Rasco said.
"When I had gotten my left one done, my right one was still torn, so I just had to play last year with it because they didn't want me to get both of them done at the same time," Rasco said. "That would have been real miserable."
Considering how he played with only one good arm in 2013, it's interesting to consider how Rasco might improve upon his production – 56 tackles, four sacks, 6.5 tackles for a loss – now that he is able to reach and punch and hold off offensive linemen more easily.
"I'm glad I don't have to get another surgery," Rasco said. "But I'm just ready to go. It's going to be my best year because this is the strongest I've been in my whole life."
LSU coach Les Miles said at SEC media days that his defensive end tandem of Rasco and
Danielle Hunter
might rank among the nation's best this season, a status that would require a much more consistent season from both of them. But center
Elliott Porter
said he believes a healthy Rasco is on the verge of a big season.
"Rasco doesn't get enough credit, I believe," Porter said. "Rasco's a great defensive end. The last three years, I've seen him make big plays in big games. I think he will continue to do so."
Old man in the room:
Quantavius Leslie
arrived at LSU last season as a junior college transfer. In little more than a year, he's gone from one of the least experienced receivers on the roster to by far the oldest player in the Tigers' wideout meeting room.
Leslie is the only scholarship senior receiver on the roster. The Tigers don't have a scholarship junior, although
Travin Dural
is a redshirt sophomore. Otherwise, the depth chart is loaded with redshirt and true freshmen.
"We always joke about that in the receiving room about me being the oldest, but I take pride in being an older guy," Leslie said. "I just tell them what's right. I've been through this, so this is not my first year going through it. I just kind of tell the guys what to expect and stuff."
Leslie had a quiet debut season at LSU, when he struggled to pick up the one position – the "X" receiver – that receivers coach Adam Henry asked him to learn. Since the start of spring practice, Leslie has learned all three receiving positions, which he hopes will allow him to become a more productive player.
"It's different from last year because last year coming in, I was really just getting my feet wet and everything. I really didn't know everything I needed to know," Leslie said. "I barely knew one position as to now where I know all the positions and know what to do."
Mustang personnel:
The first-team defense worked on a number of front-seven progressions in defensive coordinator John Chavis' "Mustang" package on Wednesday morning.
Jalen Mills
and
Dwayne Thomas
served as the extra two defensive backs who line up at either end of the line,
D.J. Welter
and
Kwon Alexander
were the linebackers and Rasco,
Christian LaCouture
and Hunter were the linemen.
After several reps, Chavis worked several other players in the dime package, including defensive back
Jamal Adams
behind Thomas,
Quentin Thomas
,
Maquedius Bain
and
Frank Herron
behind LaCouture in the defensive tackle spot,
Sione Teuhema
for Hunter and
Deondre Clark
for Rasco at end.
Lamar Louis
came in behind Welter and
Ronnie Feist
replaced Alexander at linebacker.
Morning movement:
The Tigers' quarterback rotation continued as it had the previous two days, with
Anthony Jennings
shifting back to work with the starting offense in Wednesday's split-squad practice, as he had Monday.
Brandon Harris
moved back to Wednesday's afternoon session after practicing with the varsity on Tuesday morning.
Freshman running back
Leonard Fournette
switched places with
Kenny Hilliard
on Wednesday, working with
Terrence Magee
and the varsity for the first time after practicing in the afternoon sessions on Monday and Tuesday.
Additionally, LSU's top four tight ends –
Dillon Gordon
,
Travis Dickson
,
DeSean Smith
and
Logan Stokes
– all practiced with the varsity on Wednesday morning after splitting up between the two groups in the first two days.
May, 7, 2014
5/07/14
9:00
AM ET
BATON ROUGE, La. –
As we detailed Tuesday
, LSU offensive coordinator Cam Cameron's NFL background played a role in the emergence of several Tigers as top draft prospects. Cameron knows how to coach talented players to perform at the pro level, and he knows what it looks like when said players possess legitimate NFL potential.
Cameron predicted recently that many of LSU's offensive draft prospects possess the potential to hang around the league for a long time after being selected in this week's NFL draft. Here are some thoughts about those ex-Tigers straight from the horse's mouth – the horse in this case being a coach who spent more than a decade in the NFL as an offensive coordinator and head coach before joining Les Miles' LSU staff last year.
[+] Enlarge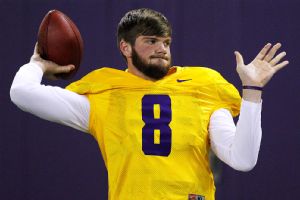 AP Photo/Jonathan BachmanCam Cameron has effusive praise for the passing ability of Zach Mettenberger.
QB Zach Mettenberger
Perhaps the greatest testimony to Cameron's impact on the LSU offense was Mettenberger's improvement in his final fall as the Tigers' starting quarterback. He had long possessed the raw tools to become a success – most notably prototypical size (he's 6-foot-5) and a strong throwing arm – but he didn't put it all together until working with Cameron.
Cameron coached NFL quarterbacks Drew Brees, Philip Rivers and Joe Flacco, and he indicated that Mettenberger has the skills to become a pro starter himself.
"You're looking for innate accuracy, a guy who can just throw the ball accurately and make it look easy. A guy who's not mechanical, a guy who just is a natural thrower and the ball goes where it's supposed to go," Cameron said. "Once you've been around great quarterbacks, you know what it feels like and you know kind of what it looks like, but it has a certain feel to it. What you [saw at LSU's pro day was] a guy throw a football like the great quarterbacks in the National Football League."
RB Jeremy Hill
Hill is another Tiger who, like Mettenberger, dealt with off-the-field issues before working with Cameron. But Cameron vouched for Hill's character, saying, "I think we all, every one of us, make mistakes. May make a mistake or two. I have no issues with Jeremy Hill. He's been a great kid since I've been here. In my dealings with him, he's where he's supposed to be when he's supposed to be there."
As far as on-the-field possibilities, there isn't much to question when it comes to Hill. He rushed for 1,401 yards and 16 touchdowns last season and set an SEC record for a back with at least 200 rushing attempts by averaging 6.9 yards per carry.
Hill's versatility and intelligence inflate his value even further.
"Really look at backs in the league. Go count how many can play on first down, second down and third down, third-down-and-short and inside the 3-yard line. You're not going to find many," Cameron said.
"He's an every-down back and he's an ascending player and he's off-the-charts smart. He is LaDainian Tomlinson-smart and LaDainian is a lot like Darren Sproles, Ray Rice – it's a who's who of guys that were great players in our system and the one thing that they all had that most people didn't know is how smart they were, football smart they were. He's just a young smart, but I think he'll be a brilliant player in the National Football League."
WR Odell Beckham
Beckham will probably be the first Tiger selected in the draft –
ESPN's Todd McShay has him going 13th overall to St. Louis
in his newest mock draft – thanks to his explosive skills as a receiver and return man.
That ability existed before Cameron's arrival, but Beckham made big strides at receiver in 2013, improving from 713 receiving yards in 2012 to 1,152 last season. Cameron credited LSU receivers coach Adam Henry, another former NFL assistant, for teaching Beckham and
Jarvis Landry
how to attack the ball as pass catchers.
"Adam Henry does a tremendous job teaching our guys how to run into the football," Cameron said. "Of course, guys who have great hands aren't cushioning the ball into their body. They just come attack the ball. And those two are the best college receivers I've been around at attacking the football, which you have to do in the NFL."
WR Jarvis Landry
Landry received plenty of love from draft analysts for his strong all-around game – as a blocker, reliable receiver and route-runner – that should translate well to the pros.
After a disappointing result running the 40-yard dash at the NFL combine, Landry helped his cause a bit by running a 4.58-second 40 at LSU's pro day. But straight-line speed is not the only kind of quickness required to play in the NFL, particularly at receiver.
"If you can't win in the first 5 yards, if you don't have short-area quickness, you're not going to last in that league because corners aren't going to play off of you," Cameron said. "And the one thing he's got … He's got NFL explosion, NFL quickness. You've got to win those first 5 yards because now they're going to get their hands off of you."
OL Trai Turner
Turner surprised some when he announced that he would turn pro after an All-SEC redshirt sophomore season. But the Tigers' former right guard has generated positive buzz since the season ended and could come off the board in the draft's early rounds, a possible outcome again strengthened by versatility.
"He has guard-center value," Cameron said. "Most people don't know that about him: If he has to play center, he could play center, because you have to. You only dress seven linemen in the National Football League on Sundays, so you've got to have a guy who can play guard and center. At least one, if not all your guards have to play center. So I think his versatility's critical."
May, 6, 2014
5/06/14
9:00
AM ET
BATON ROUGE, La. -- It's no mystery why NFL scouts like the offensive skill players that
LSU
is sending into the draft this year.
Watch
Zach Mettenberger
launch a pass downfield or
Jarvis Landry
haul in another clutch reception or
Odell Beckham Jr
. run circles around would-be tacklers or
Jeremy Hill
rumble for a long touchdown and the ex-Tigers' physical tools are apparent. But they also credit a common source for expediting their development in their final college season: offensive coordinator Cam Cameron.
[+] Enlarge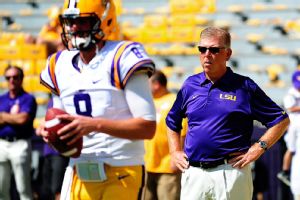 Stacy Revere/Getty ImagesCam Cameron brought more than a decade of NFL experience to LSU's offense.
"He just knows what teams are looking for and that's an advantage that all of us offensive guys have going into the draft," Mettenberger said last month at LSU's pro day. "So many guys have worked in great college systems or worked with gurus for different positions and stuff, but we have a very successful NFL offensive coordinator that's been with us for the last year and three months, so that's definitely an advantage that we have going into the draft."
As the Tigers' former quarterback mentioned, Cameron isn't your run-of-the-mill college assistant. He returned to the college game a year ago after more than a decade as an offensive coordinator and head coach in the NFL. He was able to instill a professional mentality into his star players that helped them make enormous progress in 2013, to the point that all of them rank among
ESPN Scouts Inc.'s top 125 prospects

in this week's draft.
His influence, plus that of receivers coach Adam Henry -- who came to LSU in 2012 following a five-year stint with the Oakland Raiders -- played a huge part in Landry and Beckham developing into perhaps the nation's top receiver tandem last season.
"I can't say enough about the attitude that he brought to the script that we had, to coaching me this final year," said Landry, who led the Tigers with 77 catches for 1,193 yards and 10 touchdowns last season. "And not only that, but being able to let Coach Henry do his job, also -- being able to let Coach Henry coach us the way that an NFL receiver is supposed to be coached.
"I think that his mentorship and the things that he did for us off the field allowed us to be a stronger band of brothers. I think that his contribution to LSU not only this year, but for years to come, is going to be great."
At pro day, the coaches provided clear evidence that their relationship with the ex-Tigers didn't end when the underclassmen announced in early January that they would enter the draft. With hundreds of his former NFL colleagues observing, Cameron was the ringleader when the quarterbacks, running backs and receivers worked out in position drills, just like it was any other LSU practice where he would instruct the offense.
It made perfect sense to all involved, seeing as how he knows better than most what those in attendance wanted to see.
"I told our guys, 'They're going to have an opinion of you coming in here. We're not going to reinvent the wheel. We're just going to go out there and show them how we practice. This is not some drill that we've conjured up for pro day. We're going to go out there and you're going to see us do exactly what we do every day in practice, " Cameron said. "When I was a pro coach, I wanted to get a feel for if a guy has great practice habits and he's got talent, he's going to be successful in our system. But if a guy's lazy or he skips out of this drill or you just get that feel -- he's not a worker or whatever those things would be -- I'm going to have concerns because if a guy's not going to work, if a guy doesn't know how to practice, then he's not going to be a great pro.
"Our guys know how to work, they know how to practice. I think all our guys offensively will have extensive NFL careers."
If they do, their final developmental season at LSU will have been instrumental in that success.
Mettenberger was arguably the country's most improved quarterback as a senior, ranking sixth among FBS quarterbacks with an 85.1 Total QBR last season after he was 80th with a 47.1 Total QBR as a junior.
Likely first-round pick Beckham (59 catches, 1,152 yards, eight touchdowns, plus 178.1 all-purpose yards per game) and Landry both became focal points in LSU's revived passing game, and both players were able to flash skills that jumped out at scouts.
Despite serving a suspension that kept him off the field at the start of the season, Hill still rushed for 1,401 yards and set a new SEC record for a back with at least 200 carries by averaging 6.9 yards per rushing attempt.
Perhaps they might have made such progress last season even if Cameron hadn't joined Les Miles' coaching staff. LSU didn't have any problems sending players to the pros before he arrived, after all. But the players acknowledge that he made an impression, helping them advance to their current positions as probable early-round draft picks.
"He just made us think like pros," Mettenberger said. "For Jarvis and Odell being three years removed from high school playing their final season and thinking like Steve Smith, who's been in the NFL for 13 years, they approach the game that way. The same for me. I had one online class. I was basically an NFL quarterback as a senior in college and every day was just dedicated to getting better and game planning and trying to fix some of the problems that we had in the previous week.
"I think that's something that not only myself, but everybody has an advantage on the other guys in this draft is we know how to approach this game like a pro. We thought like pros and really all that credit goes to Coach Cam."
March, 18, 2014
3/18/14
9:00
AM ET
BATON ROUGE, La. -- Let's get this out of the way first:
Rob Bolden
might be playing receiver now, but he hasn't completely abandoned the idea of playing quarterback.
"I'm still open to quarterback," he said last week, only a few days into his first-ever attempt at playing wideout. "I want to play quarterback and any time that they would need me, I'm willing to switch back and forth or whatever."
Bolden is also a realist, though. He sees the writing on the wall -- most likely, LSU will pick between dual-threat quarterbacks
Anthony Jennings
or
Brandon Harris
as the starter -- and knows that playing receiver might be his best chance to get on the field during his senior season.
[+] Enlarge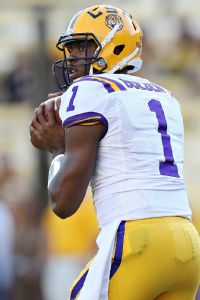 Ronald Martinez/Getty ImagesRob Bolden knows it's unlikely he will be at quarterback for LSU this coming season.
So for the first time in his life -- Bolden said he played safety, tight end and quarterback as youth football player, but never receiver -- he's attempting to become the guy who catches the passes instead of the guy who throws them.
"It's just going to take a little extra, just after practice, doing a little bit with Coach [Adam Henry, LSU's receivers coach]," Bolden said. "He's going to coach me up and show me how to do all the stuff that I need to learn."
Catching the ball doesn't appear to be a problem. In his first practice at receiver, Bolden turned heads with a one-handed catch. At 6-foot-4 and 209 pounds, overpowering cornerbacks who try to jam him at the line of scrimmage probably won't be an issue, either.
"He's pretty big," receiver
Travin Dural
chuckled. "I was telling him some techniques about how to get off the jam and he was like, 'I'm bigger than all the cornerbacks and I'm stronger, so I can just throw them around.'"
Not that brute force is a completely effective method.
"It's a little bit of that, but at the same time, you've got to learn how to use your hands, which [at last Tuesday's practice] I kind of struggled with that," Bolden said. "But once I learn, I'm sure -- I'm a big, strong guy and that won't really faze me at all."
It's still extremely early in Bolden's transition, so any predictions of future stardom would be premature. Understandably, LSU's coaches are taking a wait-and-see attitude as he learns the ins and outs at his new position.
"He's taking some snaps at receiver and it appears to be a pretty good move," LSU coach Les Miles said. "He made a couple nice catches [in the first spring practice]. Yeah, it'll be interesting to see how he performs."
Such a move is not unprecedented. For example, Kodi Burns shifted from wideout at Auburn in 2009 when he lost a quarterback competition against Chris Todd. Burns became a valuable role player and even caught a touchdown pass against Oregon in the BCS title game the following season.
As it was with Burns, one thing that should ease Bolden's transition is that he has a quarterback's working knowledge of the offensive scheme. He already knew how the various receivers' routes complemented each other in the passing game and thinks he might be able to help players at his new position gain a better understanding of what a quarterback sees on different plays.
"It's a great opportunity with me knowing the offense the way that I do," Bolden said. "I know it like a quarterback, so I know the thought process of it, I know the reads, I know everything. So I may be able to help some of the other guys out as far as lining up and doing all that type of stuff.
"You know a lot of stuff that a lot of other guys wouldn't. Being in there with [offensive coordinator Cam Cameron], you're going to learn the offense in and out -- this way, that way, every type of way. That's going to benefit me a lot. The only thing that I will have to really learn is how to run certain routes and that type of stuff."
Bolden certainly has spent enough time in quarterback meeting rooms to develop that knowledge base. He's entering his fifth season in college -- and his third at LSU -- although he hasn't appeared in a game since 2011. At the time he was at Penn State, where he started 17 games as a freshman and sophomore before transferring to LSU in the wake of the Jerry Sandusky scandal.
He has only watched from the sidelines at LSU, redshirting in 2012 and backing up Zach Mettenberger last season. Even when Mettenberger suffered a season-ending knee injury late last fall, Miles' staff turned to then-freshman Jennings to start against Iowa in the Outback Bowl, which offers some insight into where Bolden sat in the quarterback pecking order.
So now he's a wideout, and his new position mates are willing to teach Bolden the ins and outs of the job. Considering how the Tigers lost their most experienced and productive wideouts in
Odell Beckham
,
Jarvis Landry
,
Kadron Boone
and
James Wright
, Bolden should have more than enough opportunity to gain some experience this spring.
LSU signed four receivers whom ESPN ranked among the nation's top 300 prospects -- led by No. 1 wideout
Malachi Dupre
and No. 3
Trey Quinn
-- but those signees won't arrive on campus until this summer. For now, Bolden is the newest member of an inexperienced receiving corps, and his fellow receivers are trying to encourage him that wideout is a position where he can be successful.
"It was kind of funny seeing him put on gloves and catch balls with us, but I just took him in just like he's any other guy," redshirt freshman
John Diarse
said. "Any little question he has, I try to answer to the best of my knowledge and just try to keep him encouraged that, 'You're an athlete. You can do anything you put your mind to.' So I'm trying to keep him going here."
March, 18, 2013
3/18/13
10:00
AM ET
BATON ROUGE, La. -- When LSU landed its seventh 2014 football commitment,
Tony Upchurch
, on Saturday, it sent a message about LSU's recruiting area and how the Tigers will approach recruiting the wide receiver position
If there's one big take-away from the commitment, it's this ...
September, 12, 2012
9/12/12
8:00
AM ET
BATON ROUGE -- With Jordan Jefferson still suspended and starter Jarrett Lee having led LSU to a 25-point half lead, quarterback
Zach Mettenberger
got the most significant snaps of his sophomore season in a 49-3 Sept. 10, 2011 win over Northwestern State.
Playing the entire second half, Mettenberger completed 8 of 11 passes (the only passes he threw all season) for 92 yards, including his first, and only, touchdown pass of the season, a 19-yard fourth-quarter touchdown to little-used receiver
Kadron Boone
.
It was, evidently, a sign of things to come.
To continue reading this article you must be an Insider
August, 8, 2012
8/08/12
3:54
PM ET
For
Zach Mettenberger
, finishing second is something he's grown accustomed to.
Frankly, he's tired of it.
[+] Enlarge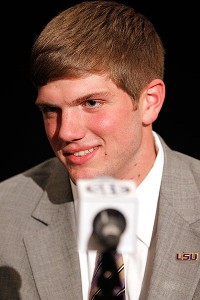 AP Photo/Butch DillZach Mettenberger is ready to end a season with a national title. The past two teams he played for ended up No. 2.
LSU's quarterback has been on teams that lost in national championship games for two straight years. In January, he watched from the sidelines as Alabama beat his Tigers 21-0 in the BCS national championship game. A season earlier, he was the starting quarterback at Butler Community College when they were defeated by Navarro Junior College, 13-12 for the 2010 National Junior College Athletic Association championship.
To continue reading this article you must be an Insider
July, 12, 2012
7/12/12
7:00
AM ET
GeauxTigerNation writers David Helman and Gary Laney break down the competitions, issues and talking points of LSU's August camp. Players report to campus Aug. 1 and we'll have a preview segment every weekday in July leading up to the day the players report:
When you look for the reasons why
Adam Henry was a good fit to replace Billy Gonzales
as LSU's wide receiver coach last February, it's not hard to come up with a long list.
Consider these:
As a former player (1990-93) and assistant coach at McNeese State (1997-2006) and, briefly, as a member of the New Orleans Saints, Henry has strong roots in the state. In that time, he's built relationships around Louisiana that make him an effective recruiter of in-state athletes for the Tigers.
As a native of Beaumont, Texas, Henry's roots are in what's likely going to be a growth area for Tigers recruiting, Southeast Texas. Henry came to McNeese from Beaumont's Kelly High and, when McNeese brought him back as an assistant coach, he was a key figure in maintaining a pipeline of players from the Beaumont and Houston areas for the Cowboys. This is a different level of recruiting, but the relationships he built as recruiter back then remain relevant at his current job. LSU may look to expand its Texas recruiting with Texas A&M bringing the Lone Star State into the SEC footprint.
As a former assistant coach for the Oakland Raiders (2007-2011), he brings an NFL pedigree to a school where it carries a lot of weight. At a program where most of the players you recruit have pro aspirations, Henry's background as a pro player and coach is a plus.
Henry is already getting rave reviews on the recruiting trail -- he's been involved with some of the top players in what's rounding into another quality class for LSU -- but the big question is, does any of this mean he'll be effective at coaching the Tigers' wideouts?
LSU has plenty of issues at the position. With Rueben Randle having moved on to the NFL, the Tigers are trying to replace their most productive receiver and their top returning pass-catcher,
Odell Beckham, Jr.
, is just a sophomore.
And Henry will have the challenge of trying to
increase the production of Russell Shepard
, who is coming off the least-productive season in what's been an underwhelming career to this point.
The good news for LSU fans is Henry coached some of the most prolific wide receivers in McNeese history and was known for the precision with which he got the Cowboys' pass catchers to play with.
That looks nice on his resume, but it's not the SEC and in the NFL, he coached tight ends. So the question remains, is he the coach that will make the young LSU receivers productive?
To continue reading this article you must be an Insider
July, 11, 2012
7/11/12
7:00
AM ET
GeauxTigerNation writers David Helman and Gary Laney break down the competitions, issues and talking points of LSU's August camp. Players report to campus Aug. 1 and we'll have a preview segment every weekday in July leading up to the day the players report:
Before he moved to a pro career with the New York Giants,
Rueben Randle
emerged as a go-to receiver for LSU.
A big target who was fast enough to haul in the tough pass, he caught 53 passes for 917 yards and eight touchdowns as a junior, good enough production in an otherwise sub-par passing game to motivate him to leave LSU a year early and eventually get selected at the end of the second round of the NFL draft by the Giants.
To continue reading this article you must be an Insider
Marcus Spears reviews LSU Pro Day
SEC SCOREBOARD
Thursday, 9/3
Saturday, 9/5