LSU Tigers:

2014-uncommitted breakdown
January, 23, 2014
1/23/14
10:00
AM ET
This is part of a series on the nation's top uncommitted recruits leading up to signing day. Click here for the full series.
Five-star defensive end
Lorenzo Carter
(Norcross, Ga./Norcross) is one of the most heavily recruited football players in the country. But football stardom didn't always seem like it would be in the 6-foot-5, 234-pound athlete's future.
"It was basketball for me early," Carter said. "Me and my family always played basketball. It was kind of weird being recruited for football because I had spent so much time playing basketball and developing for basketball and then football comes and I'm like 'I guess I have to change my time and effort to football now.'"
[+] Enlarge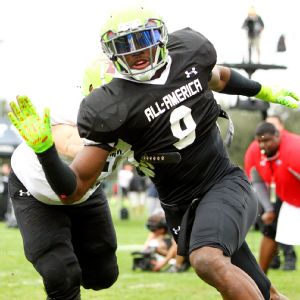 Miller Safrit/ESPNLorenzo Carter has several factors to weigh before picking among Florida, FSU, Georgia and LSU.
Carter's mother, Lisa, admits it was her advice that pointed her son in the right direction.
"He could never decide if he wanted to go football or basketball," Lisa said. "So I always told him 'Lorenzo, if you grow taller then basketball is the direction you need to go. Because at your current size -- think about the next level, they truly have 7-footers and guys that are 6-11. You're not quite there. You've been playing in the post the whole time, so if you get taller it's basketball but if you stay at your size, stay with football. You have beautiful size for football.'"
Beyond his imposing football physique, Lisa offered some hard truths.
"[Lorenzo] didn't get any taller and we're like 'your ballhandling skills are not that great -- especially to be a guard," Lisa said. "Take a look at some of the guards in the NBA and look at their heights and compare them to you. Can you play with LeBron?' He's taller than you.' He's like yeah you got a point, so football it is."
Now that her son is an All-American football player, Lisa and her husband, Leo, are helping Lorenzo make the best college decision for his future.
"Look at each school," said Lisa, describing her advice. "See what it has to offer academically and then see what the coaching staff has to offer for you athletically. Are they producing academically and athletically? If they are then those are the schools that you need to look at on your list. Once you determined who meets your needs, then how do you feel about those schools? Because you have to have a feeling, you have to have a connection with those schools. When you find the strongest connection, that's where you need to be."
For Lorenzo, there is one school with which he has made the best connection.
"I'd say Florida. I had the best relationship with the Georgia staff, but yeah, they are gone now," Lorenzo laughed, "so I'd say Florida. I always spent time with the Florida and Georgia staffs. I went to Georgia all the time, then Florida was one of my favorites early so I just spent so much time with those schools. Florida is always here and every time they come they bring like four coaches to see me."
Luckily for Georgia, new defensive coordinator Jeremy Pruitt knows Carter from his time at Florida State. Carter said Pruitt has made him a priority since taking the new job.
"I think it was a good pickup for Georgia," Lorenzo said. "I really didn't talk to him much when he was at Florida State but I feel like I'll have a better relationship now that he's at Georgia. He's been working hard to get a better relationship with me. He came to the house probably the day after he got hired."
Carter has a top four of Georgia, Florida, Florida State and LSU and this week will be hectic for the No. 14-ranked player in the country.
All four of Carter's top schools have visited or are scheduled to visit this week. In fact, Florida and FSU had coaches at his basketball game on Tuesday night and LSU coach Les Miles met with Carter's mother on Wednesday. Pruitt will visit Carter on Thursday while head coach Mark Richt will do his in-home visit on Monday.
In addition, Carter is still planning to take an official visit to FSU this weekend followed by his last official visit, to Georgia, the weekend of the Jan. 31.
With less than two weeks until signing day things are coming down to the wire. Factors like academics, distance and program stability will all factor in to Carter's decision. Lisa, however, said there is one particular school she would like for her son to attend.
"I have a daughter, Larrisa, who plays basketball at Coppin State in Baltimore, Md. With Larrisa playing basketball in Maryland and Lorenzo here doing sports, we hardly ever had an opportunity to see Larissa play," Lisa said. "That was very difficult. On holidays she couldn't come home, she would have to spend Thanksgiving at a coach's house and Christmas here for only two days. So distance was an issue for our family.
"Of course I would love for him to go to Georgia -- it's an hour away. It's close enough to get to him but not close enough to where I'm just going to drive up there every day. But, I have great respect for all of the coaches and, like I told Lorenzo, it's his decision, wherever he goes -- we'll be there. I favor Georgia, but only because of distance, not because of pressure or anything else. It's only the distance for me. I'd be OK if he went to the University of Hawaii, if that's what he wanted to do."
And that sentiment is shared throughout the Carter family. The family will help guide and give their opinions, but at the end of the day, it will be Lorenzo making the final decision.
"I can't let it play that big of a factor because I'm going to have to grow up and leave the house eventually anyway," Lorenzo said. "They are going to have influence but it's going to be my decision. We know that as a family."
January, 23, 2014
1/23/14
9:00
AM ET
This is part of a series on the nation's top uncommitted recruits leading up to signing day. Click here for the full series.
[+] Enlarge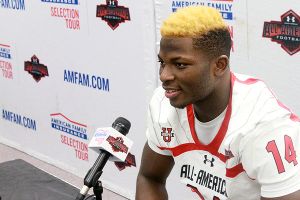 Courtesy of IntersportFive-star defensive end Lorenzo Carter is planning to make his decision on signing day.
Lorenzo Carter
(Norcross, Ga./Norcross), the top uncommitted front-seven defender, is a promising DE/OLB hybrid type prospect. For Carter, scheme and physical development will determine how he can best fit at the college level. Carter is a long, lean prospect who will need to work to further fill out his frame and improve strength. His strength at this stage is as a pass-rusher, with his length and initial quickness he can present problems coming off the edge. He needs to learn to better use his hands and reach to his advantage, but flashes ability to turn the corner as well as redirect inside after working upfield. He also possesses very good speed for his size and can be a factor in pursuit while offenses will always have to account for him on the backside of plays. Carter flashes upside as an edge run defender, but here is where the talented prospect needs the most development, as running at him, rather than away from, is a better way to try and neutralize him. He needs to watch his pad level, and when he stays low, he flashes ability to hold ground, but at this stage lacks a prototypical anchor to set the edge against bigger linemen. Early in his college career, Carter will be more of a situational player, but he possesses some very good natural tools to contribute well in those areas with the upside to grow into a more complete defender once he fills out further and finds his fit.
To continue reading this article you must be an Insider
January, 21, 2014
1/21/14
10:00
AM ET
This is part of a series on the nation's top uncommitted recruits leading up to signing day. Click here for the full series.
The term "two-sport star" is thrown around a lot in recruiting.
There are many prospects that have the desire to play football and run track or play basketball in college, but few actually possess the talent to play two sports at a collegiate level and handle the demands it takes.
[+] Enlarge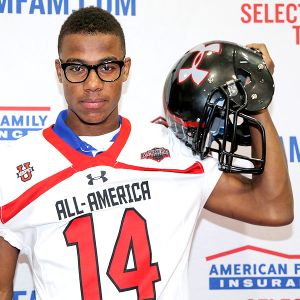 Courtesy of IntersportESPN 300 receiver Malachi Dupre has planned upcoming official visits to Florida State and UCLA.
One of those rare talents is the nation's No. 1 wide receiver,
Malachi Dupre
(River Ridge, La./John Curtis Christian).
Not only does the No. 17 prospect have elite ball skills and leaping ability on the football field, but that skill set carries over to track and field, as well.
The 6-foot-3, 187-pound Dupre burst onto the scene as a sophomore taking home the LHSAA state indoor high jump title with a leap of 6-7.25, breaking the 2A state record.
"His 10th-grade year, Malachi had a basketball game on a Friday night," Dupre's father, Mike, said. "Then, he had to go high jump the next day at the indoor state meet in Baton Rouge. He went home after the basketball game and iced his legs. He got up early the next morning and we went to Baton Rouge and he won the high jump, and set a state record."
Dupre followed that with another 2A state title in the triple jump (45-6.25) that spring, and three gold medals in the spring of his junior year on the track.
Last May, he took home state titles in the long jump (23-5.76), high jump (6-6) and triple jump (44-2.75).
If Dupre focused on the jumps, there is little doubt he has the ability to develop and compete at the major college level.
But Dupre is different. He's narrowing his focus to football at the next level.
A Shift To Football
For Dupre, it was his freshman year when the gravitation to football began in full.
"I did football, basketball and track, and I liked baseball too growing up," Dupre said. "I liked football and basketball the most as I got older ... It was probably sophomore year when I realized football was the best fit for me. I have point-guard height in basketball, and realized my athletic ability would be best in football ... but I didn't realize I would turn out this good."
As a former college athlete at Southwest Louisiana, Mike Dupre knew football was his son's future.
"I always said football was the one," Mike said. "Basketball is tough because you only have 12 or 13 players, and in football you have 85. You could always see his athleticism in basketball, but he didn't have the height to play forward or the handles to play point guard. His athleticism and size carried over to the football field."
Making The Decision
Dupre has gone from a relative unknown as an underclassman to the top of the rankings at his position.
It's even more impressive considering his high school, John Curtis Christian, is primarily a running team in a day and age when high school receivers are putting up monster statistics in spread offenses.
The sure-handed wide receiver, who runs a 4.58-laser-timed 40-yard dash, takes another route when looking at his rise.
Though his stat sheet pales in comparison to others, he understands the program he been a part of has helped shape him.
"The offseason preparation and mental toughness that we have to go through at Curtis definitely helps prepare me," Dupre said. "College coaches, when they come through and talk to me, say Curtis practices are the closest thing to a college-level practice they have seen. ... I knew the talent I had, and it's more than stats and catches."
Dupre has also seen, as teammates got recruiting, just how to deal with the pressure-packed process.
"Seeing how their process went, and how they handled it has helped me," he said. "Friends that have done this before and friends that are already in college that I can trust in is the probably the best advice you can get. Somebody that has gone through it recently, and can tell me what to look at and look forward too is big."
While LSU, Alabama, Florida State and UCLA are still in the running for Dupre's services, there is pressure to stay in state.
And while Dupre has received advice from family and former teammates, the final decision will be his alone.
"Wherever Malachi goes, he will face adversity," Mike Dupre said. "It's very important for him to make that decision of where he wants to be, so when that adversity hits, he doesn't want to immediately transfer or have a sense of negativity. If it's the place he truly wants to be, then that will help him respond to the adversity that he will face."
The words of wisdom from his parents will be a big part of Dupre being comfortable with his decision, which will be announced live on ESPNU during on national signing day on Feb. 5.
"When I sit down to make that decision, it will be my mom, dad and my brothers, Vernon and Matthew. It will come down to where I'm the most comfortable," Dupre said.
January, 21, 2014
1/21/14
9:00
AM ET
John Chavis Suing Texas A&M, LSU
SEC SCOREBOARD
Thursday, 9/3
Saturday, 9/5